Ubank takes out AQUIS Grand Prix at Elysian Fields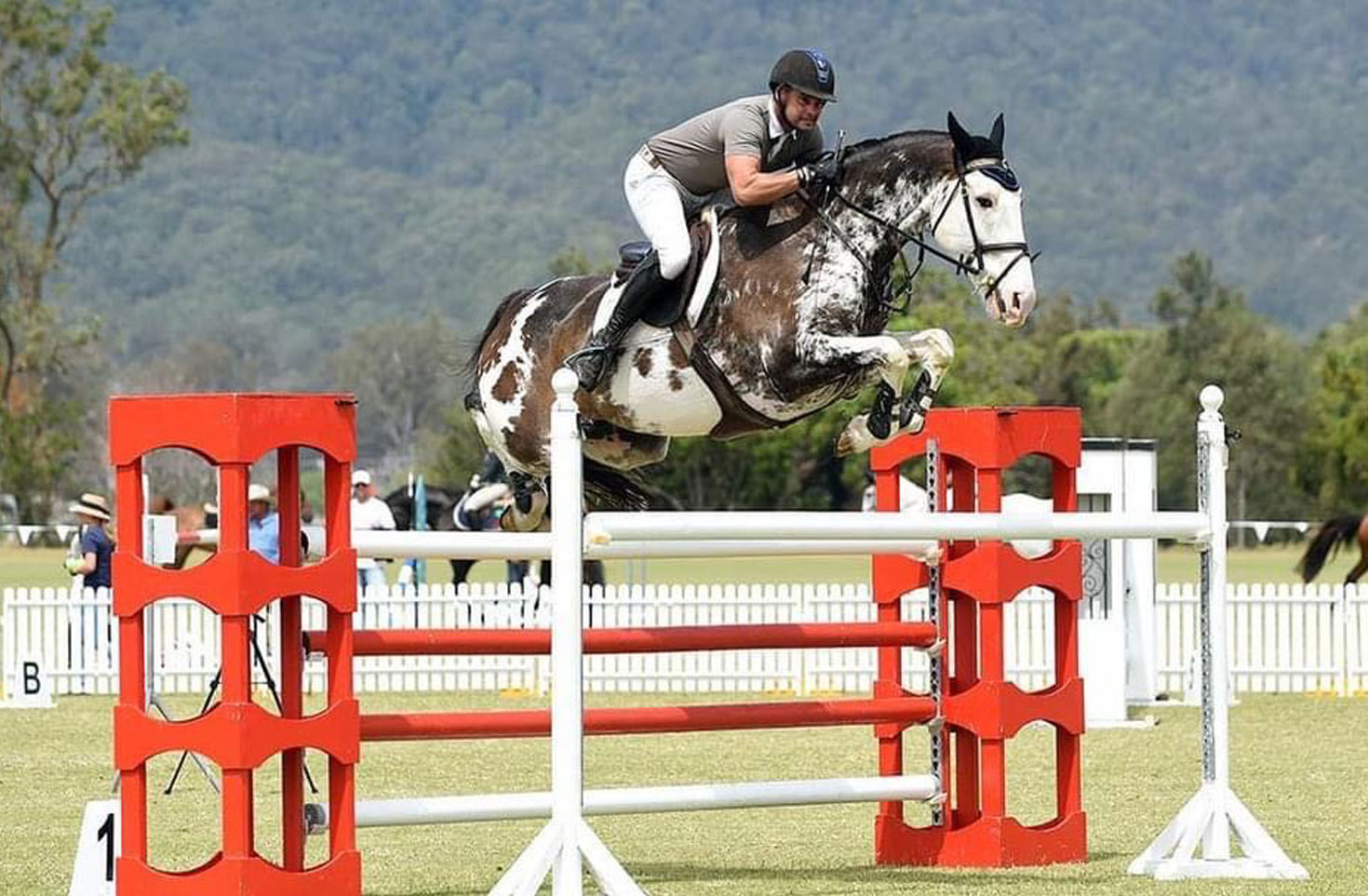 Oz Shotz Photography
Merrick Ubank and Elmo. Photo Credit Oz Shotz Photography
Elysian Fields was the location of a splendid two day show over the weekend. Conducted in fantastic weather for jumping, classes were conducted across two arenas on both Saturday and Sunday.
The feature class on Sunday was the AQUIS Grand Prix and with almost $5,500 in prize money on offer, the event attracted a strong field of 29 combinations. The first round saw 12 combinations go clear and in an exciting jump-off, four of these went on to record double clears. The winning combination was Merrick Ubank and the gelding Elmo, who recorded a jump-off time of 53.13 seconds, almost 1.5 seconds faster than the second placed combination of Olivia Hamood and Alan 111 Z. Ubank and Warrego Landedon were only 0.25 seconds away in third place. The other double clear combination were the fourth placed Emily Patterson and her thoroughbred gelding, Libertarian.
Advertisement


Also held on Sunday was the David Overton Memorial Future Stars Cup, which was taken out by a legend of Queensland Jumping, Clem Smith and his gelding Quantico 12, with the only double clear performance in the class. Sam Overton and Yirrkala Cameron took a single rail in the jump-off, but recorded the fastest jump-off time to secure second place with Chris Tomkins and Caraca Jack almost 2.5 seconds behind in third.
Australian Jumping congratulates all the winners and placegetters over the weekend.
See below for a full listing of all the results from the weekend.
SATURDAY RESULTS – RING 1
CLASS 1: Super 2 Phase – Open – 1.20m
The first five placings in this class were:
| | | |
| --- | --- | --- |
| PLACE | RIDER | HORSE |
| 1st | Cody Tincknell | Copabella Tattiana |
| 2nd | Courtney Tincknell | Santa Cruz |
| 3rd | Jamie Raymont | Lady Croft |
| 4th | Emily Patterson | Libertarian |
| 5th | Cody Tincknell | Barrabadeen Sir Lancalot |
CLASS 2: Super 2 Phase – Open – 1.30m-1.35m
The first five placings in this class were:
| | | |
| --- | --- | --- |
| PLACE | RIDER | HORSE |
| 1st | Courtney Tincknell | Screwdriver |
| 2nd | Billy Raymont | YPH Capulet |
| 3rd | Olivia Hamood | Sundance GHP |
| 4th | Merrick Ubank | Elmo |
| 5th | Billy Raymont | Bicento |
CLASS 3A: Super 2 Phase – Junior – 1.10m-1.15m
The first five placings in this class were:
| | | |
| --- | --- | --- |
| PLACE | RIDER | HORSE |
| 1st | Cody Tincknell | Alice's Wonderland |
| 2nd | Kaitlyn Parlevliet | Stella |
| 3rd | Lili Waddell | Touch Of Quality |
| 4th | Grace Overton | Chironic Dominant Visage |
| 5th | Holly Tomkins | Finch Farm Vroom |
CLASS 3B: Super 2 Phase – Amateur – 1.10m-1.15m
The first five placings in this class were:
| | | |
| --- | --- | --- |
| PLACE | RIDER | HORSE |
| 1st | Kylie Zabel | Dusty Girl |
| 2nd | Megan Boyd | Ellesmere Amici |
| 3rd | Mandy Hatten | Celerity Park Dublais |
| 4th | Nicolas Weisbach | Togo d'Oumba |
| 5th | Marijke Hartman | Simply Ollie Ooba |
CLASS 4: AQUIS Thoroughbred Super 2 Phase – 0.90m
The first five placings in this class were:
| | | |
| --- | --- | --- |
| PLACE | RIDER | HORSE |
| 1st | Penny Newbold | Sticks n Stones |
| 2nd | Ella Shackel | Polly's Chance |
| 3rd | Mack Rudder | Neptune Ascending |
| 4th | Holly Penfold | Whypeeo |
| 5th | Isabella Forsyth | Ethereal Moonlight Shadow |
Advertisement

SATURDAY RESULTS – RING 2
CLASS 5: AM2 – Open – 0.80m
The first five placings in this class were:
| | | |
| --- | --- | --- |
| PLACE | RIDER | HORSE |
| 1st | Tyler Short | Belle Phylnn Park Alices Dream |
| 2nd | Lily Short | Mauve Keeva Casteil |
| 3rd | Josie Rosa | Lady Of Diamonds |
| 4th | Lorna Clifford | Kahean Trooper Nelson |
| 5th | Jazmin Waddell | Get Up And Go |
CLASS 6: AM2 – Open – 0.90m
The first five placings in this class were:
| | | |
| --- | --- | --- |
| PLACE | RIDER | HORSE |
| 1st | Lily Short | Pathfinder |
| 2nd | Lorna Clifford | Ngahiwi Possum |
| 3rd | Josie Rosa | Lady Of Diamonds |
| 4th | Lily Short | Mauve Keeva Casteil |
| 5th | Jaime Page | JPS Caribbean |
CLASS 7A: AM2 – Open – 1.00m
The first five placings in this class were:
| | | |
| --- | --- | --- |
| PLACE | RIDER | HORSE |
| 1st | Nicky Meredith | Dutch Kellina |
| 2nd | Bree Wiblen | Glenshea Riversong |
| 3rd | Nora Palasthy | Kahean Trooper Diamond |
| 4th | Tara Khan | Lanardo |
| 5th | Simone Sorensen | Caboonbah Baileys |
CLASS 7B: AM2 – Horses Under 7 years – 1.00m
The first five placings in this class were:
| | | |
| --- | --- | --- |
| PLACE | RIDER | HORSE |
| 1st | Nicky Meredith | Xmas Eve |
| 2nd | Katy Penman | Tulare For Real |
| 3rd | Michelle Helmore | Calistus |
| 4th | Jodie Skeels | Laurel Glen Tupelo Honey |
| 5th | Bree Wiblen | Silverado EZ |
CLASS 8: AM2 – Open – 1.10m
The first five placings in this class were:
| | | |
| --- | --- | --- |
| PLACE | RIDER | HORSE |
| 1st | Cody Tincknell | Copabella Tattiana |
| 2nd | Michelle Helmore | Calistus |
| 3rd | Natalie Siiankoski | Supa Nova BEP |
| 4th | Brooke Dougall | Heart Of A Warrior |
| 5th | Nora Palasthy | Kahean Trooper Diamond |
SUNDAY RESULTS – RING 1
CLASS 9: AQUIS Thoroughbred Class – Super 2 Phase – 0.90m
The first five placings in this class were:
| | | |
| --- | --- | --- |
| PLACE | RIDER | HORSE |
| 1st | Kylie Zabel | Stukwun |
| 2nd | Alice Rigby | Final Warning |
| 3rd | Rebecca Humphries | Super Force |
| 4th | Olivia Rhau | King Of Light |
| 5th | Bridgette Thompson | On vacation |
CLASS 10A: David Overton Memorial Future Stars Class – 1.25m (starting height)
The first five placings in this class were:
| | | |
| --- | --- | --- |
| PLACE | RIDER | HORSE |
| 1st | Clem Smith | Quantico 12 |
| 2nd | Sam Overton | Yirrkala Cameron |
| 3rd | Chris Tomkins | Caraca Jack |
| 4th | Thomas Sedger | Casino Jack |
| 5th | Shane Davidson | Viva Blue |
CLASS 11: AQUIS Grand Prix – 1.40m
The first five placings in this class were:
| | | |
| --- | --- | --- |
| PLACE | RIDER | HORSE |
| 1st | Merrick Ubank | Elmo |
| 2nd | Olivia Hamood | Alan 111 Z |
| 3rd | Merrick Ubank | Warrego Landedon |
| 4th | Emily Patterson | Libertarian |
| 5th | Olivia Hamood | Knockout 111 Z |
CLASS 12: Elysian Fields Classic Speed Class – 1.20m
The first five placings in this class were:
| | | |
| --- | --- | --- |
| PLACE | RIDER | HORSE |
| 1st | Jamie Raymont | Lady Croft |
| 2nd | Jamie Raymont | Warrill Park Amoen |
| 3rd | Tesse Cook | Rimfire Park Vogue |
| 4th | Grace Overton | Pabello |
| 5th | Thomas Sedger | Kid Rock |
SUNDAY RESULTS – RING 1
CLASS 13: Open – 0.80m
The first five placings in this class were:
| | | |
| --- | --- | --- |
| PLACE | RIDER | HORSE |
| 1st | Emma Hutton | Charlotte |
| 2nd | Tyler Short | Belle Phylnn Park Alices Dream |
| 3rd | Savannah Whitehead | Calveston Gossip Girl |
| 4th | Lily Short | Mauve Keeva Casteil |
| 5th | Ella Vizer | Rich Glen Freckles Q |
CLASS 14: Open – 0.90m
The first five placings in this class were:
| | | |
| --- | --- | --- |
| PLACE | RIDER | HORSE |
| 1st | Tyler Short | King Of Soul |
| 2nd | Lily Short | Its Who |
| 3rd | Tyler Short | Belle Phylnn Park Alices Dream |
| 4th | Holly Taunton | Nawarrah Austin Powers |
| 5th | Jaime Page | Animosity |
CLASS 15: Open – 1.00m
The first five placings in this class were:
| | | |
| --- | --- | --- |
| PLACE | RIDER | HORSE |
| 1st | Jaime Page | Whizkey N Diamons |
| 2nd | Kaiyana Fullarton | Heza Lil Tuff Western |
| 3rd | Harrison Waldron | Ethereal Eclipse |
| 4th | Holly Taunton | Nawarrah Austin Powers |
| 5th | Blake Jones | NZ Powerfull |
CLASS 16A: Open – 1.10m-1.15m
The first five placings in this class were:
| | | |
| --- | --- | --- |
| PLACE | RIDER | HORSE |
| 1st | Courtney Tincknell | Santa Cruz |
| 2nd | Blake Jones | NZ Powerful |
| 3rd | Rebecca Jenkins | Jayem Now Or Eva |
| 4th | Natalie Siiankoski | Supa Nova BEP |
| 5th | Megan Boyd | Ellesmere Amici |
CLASS 16B: Junior – 1.10m-1.15m
The first five placings in this class were:
| | | |
| --- | --- | --- |
| PLACE | RIDER | HORSE |
| 1st | Kaitlyn Parlevliet | Stella |
| 2nd | Zali Young | Alta Ego |
| 3rd | Holly Tomkins | Donegal Red |
| 4th | Cody Tincknell | Connect The Dots |
| 5th | Holly Tomkins | Finch Farm Vroom |
CLASS 16C: Amateur – 1.10m-1.15m
The first five placings in this class were:
| | | |
| --- | --- | --- |
| PLACE | RIDER | HORSE |
| 1st | Sarah Weiss | Twins Delux |
| 2nd | Lisette Schuls-Rand | Barry |
| 3rd | Jacinta Kennedy | Danzero |
| 4th | Zack Baldwin | On The Point Ratu |
| 5th | Kylie Slaughter | Bizet |
Results sourced from https://online.equipe.com/
View Comments