Victorian State Titles off to a Flying Start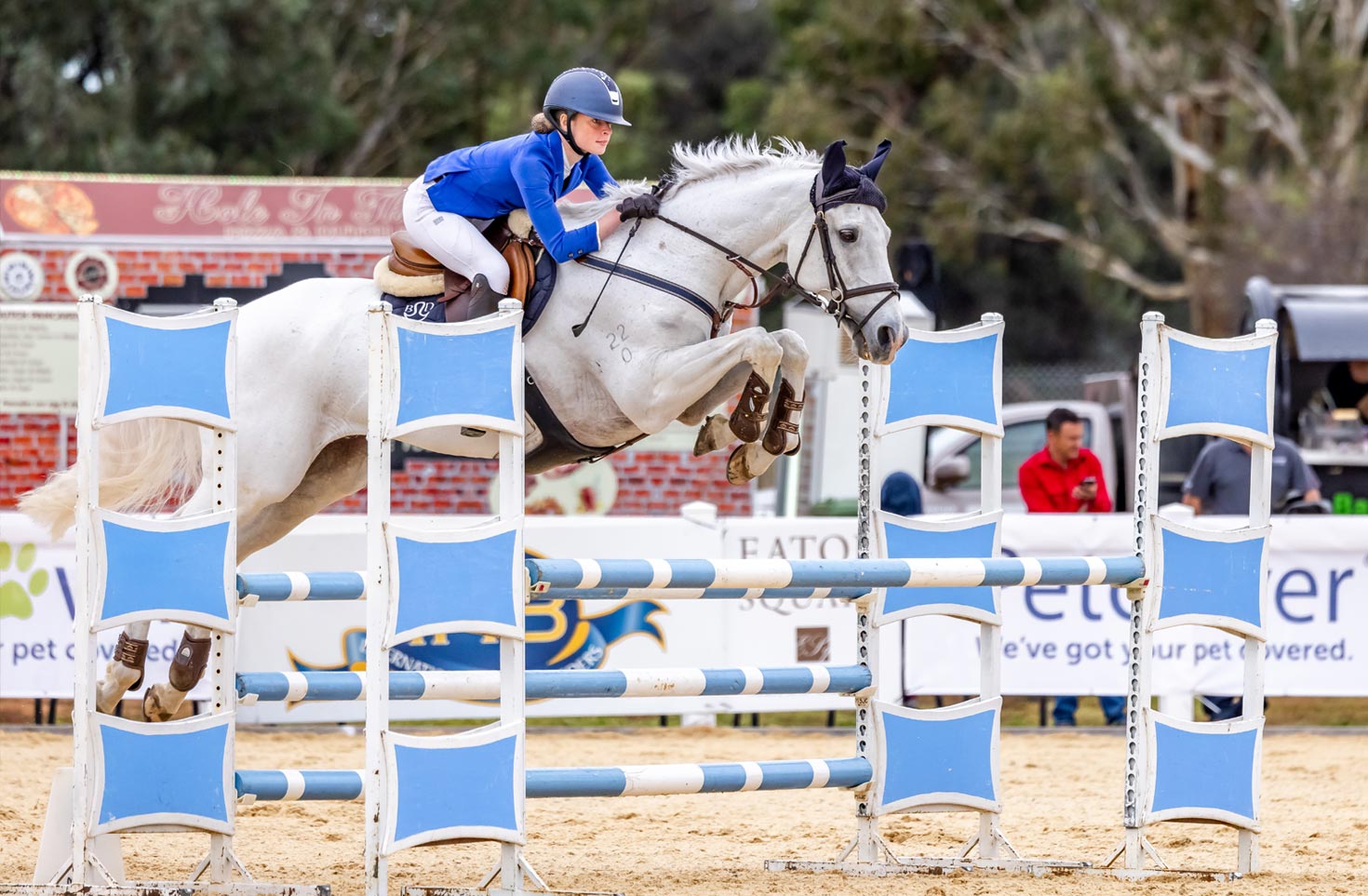 One Eyed Frog Photography
Above: Imogen Lindh and Nightwish
Day One of the Cavalor Equicare Victorian State Jumping Titles have wrapped up today at the Werribee Park National Equestrian Centre with Round 1 competition held in all Series.
Advertisement


On the Cavelor Arena, the first class of the day was, Round 1 of the Leader Equine Victorian Childrens Series which saw the win going to South Australian visitors Imogen Lindh and Nightwish who were the fastest in the jump-off of eight double clear combinations. They were just 0.15 seconds faster than local star Zara Adnams and Tally Ho Primrose, with Olivia Curtain and Indi's Mr Zorba Jones just over 2.5 seconds slower in third.
Tilley Fair and Bella Bonita were the fastest of nine clear rounds in Round 1 of the Petcover Victorian Junior Series, giving them the win. They were over a second faster than Hayden Parker and Yirrkala Pippi Longstockings, with Australian Childrens Champion rider Charlie Dobbin and Yarra Valley Jelly Bean coming in third, over two seconds behind.
In the feature class of the day, it was a family affair. First place in the first round of the Petstock Victorian Senior Series went to Ally Lamb and Eagle Rock in a time of 71.78 seconds. Just 0.60 seconds slower in second place were husband Andrew Lamb and Spartava DP. In third place, less than a quarter of a second behind were James Paterson-Robinson and Equador MVNZ, fresh from their recent success at Sydney Royal where the horse was named as the best performed in Section 2.
Advertisement


The first round of the Petcover Victorian Young Rider Series went to Lorna Reilly and Bellhaven Jazz, clear in 69.37 seconds. They were just ahead of NSW based combination of Jess Rice-Ward and Dinero, with more than half a second back to third placed Hayden Parker and Tulara Spangenburg, also clear in 70.40 seconds.
The last class on the main arena for the day was the Kiernan Plant Hire Mini Prix Series Round 1, which saw Russell Morrison and C.E. Cajun take the win. Second place went to Phillip Lever and BP Jedak Du Rouet. Third place went to Jess Stones and Chatina JRE, which was a great result for Jess who returns to riding after an enforced break of several months following a serious foot injury.
Advertisement


Congratulations to all the winners and placegetters from Day 1 of the titles and we look forward to tracking the progress of each series as they advance towards finals on weekend.
Placegetters in all classes held today are listed below:
CAVELOR ARENA
CLASS 1: LEADER EQUINE – VICTORIAN CHILDRENS SERIES – ROUND 1
| | | |
| --- | --- | --- |
| PLACE | RIDER | HORSE |
| 1st | Imogen Lindh | Nightwish |
| 2nd | Zara Adnams | Tally Ho Primrose |
| 3rd | Olivia Curtain | Indi's Mr Zorba Jones |
| 4th | Tanner Robinson | Charlie |
| 5th | Kaylee Stephens | LH Beckham |
| 6th | Lucy Borrack | Might Tosca |
CLASS 2: PETCOVER – VICTORIAN JUNIOR SERIES – ROUND 1
| | | |
| --- | --- | --- |
| PLACE | RIDER | HORSE |
| 1st | Tilley Fair | Bella Bonita |
| 2nd | Hayden Parker | Yirrkala Pippi Longstockings |
| 3rd | Charlee Dobbin | Yarra Valley Jelly Bean |
| 4th | Jack Barker | Tulara Colchic |
| 5th | Tanner Robinson | Shady Creek Snickers |
| 6th | Dakota Pinton | Heartline NZ |
CLASS 3: PETCOVER – VICTORIAN SENIOR SERIES – ROUND 1
| | | |
| --- | --- | --- |
| PLACE | RIDER | HORSE |
| 1st | Ally Lamb | Eagle Rock |
| 2nd | Andrew Lamb | Spartava DP |
| 3rd | James Paterson-Robinson | Equador MVNZ |
| 4th | Phillip Lever | Lomachenko |
| 5th | Russell Johnstone | Dondersteen |
| 6th | Amanda Ross | RLE Poynstown Will |
CLASS 4: PETCOVER – VICTORIAN YOUNG RIDER SERIES – ROUND 1
| | | |
| --- | --- | --- |
| PLACE | RIDER | HORSE |
| 1st | Lorna Reilly | Bellhaven Jazz |
| 2nd | Jess Rice-Ward | Dinero |
| 3rd | Hayden Parker | Tulara Spangenburg |
| 4th | Georgia Bouzaid | AP Ninja |
| 5th | Kendall Richards | Bonita Aurelia |
| 6th | Abbey Page | Riverlad |
CLASS 8: KIERNAN PLANT HIRE – MINI PRIX SERIES – ROUND 1
| | | |
| --- | --- | --- |
| PLACE | RIDER | HORSE |
| 1st | Russell Morrison | C.E. Cajun |
| 2nd | Phillip Lever | BP Jedak Du Rouet |
| 3rd | Jess Stones | Chatina JRE |
| 4th | Madeline Sinderberry | Camie Z |
| 5th | Megan Joyce | Blackall Park Cha Cha |
| 6th | Frida Lindgren | Big Dream Z |
GM SPECIALTY VEHICLES ARENA
CLASS 5: EATON SQUARE – VICTORIAN AMATEUR SERIES – ROUND 1
| | | |
| --- | --- | --- |
| PLACE | RIDER | HORSE |
| 1st | Taliah Daniels | Lamperds Stella |
| 2nd | Katelin Clark | Katelle Grand |
| 3rd | Monique Johnstone | Winterwood Banjo |
| 4th | Bradley Hearn | RBH Chaccarla |
| 5th | Paige Cartwright | Kitara Boizel |
| 6th | Bianca Henderson | Atari SR |
CLASS 6: RACING VICTORIA – OFF THE TRACK SERIES – ROUND 1
| | | |
| --- | --- | --- |
| PLACE | RIDER | HORSE |
| 1st | Louise Abbey | Sail On By |
| 2nd | Isabella Lloyd | Bashboy |
| 3rd | Alice Lawrence | Mucho Mucho Deniro |
| 4th | Katelin Clark | Katelle Grand |
| 5th | Jorja Kirsopp-Cole | Sunday Rhatigan |
| 6th | Anthony Bentley | Aleksandr Meerkat |
CLASS 7: IHB – STARS OF THE FUTURE SERIES – ROUND 1
| | | |
| --- | --- | --- |
| PLACE | RIDER | HORSE |
| 1st | Jamie Winning-Kermond | Yandoo Honolulu |
| 2nd | Andrew Lamb | Oaks Ever Red |
| 3rd | Ally Lamb | Glenara Chacco DP |
| 4th | Madeline Sinderberry | Balentino |
| 5th | Melissa Blair | Connollys Karuba |
| 6th | Jess Brown | Oaks Botswana |
CLASS 12: MILTON – ROUND 1 – 1.20m
| | | |
| --- | --- | --- |
| PLACE | RIDER | HORSE |
| 1st | Dave Middleton | WEC In The Breeze |
| 2nd | Sam Conway | Karlotta DP |
| 3rd | Tori Glass | Bonnie Valley Nobuck Boris |
| 4th | Madeline Sinderberry | Quinrose |
| 5th | Murray Lamperd | Secret Mojo |
| 6th | Jess Brown | Oaks Cryptic |
CLASS 13: SNOWMAN – ROUND 1 – 1.30m
| | | |
| --- | --- | --- |
| PLACE | RIDER | HORSE |
| 1st | Melissa Backman | Blackall Park Coloe |
| 2nd | Isabel Houghton | Tulara Diarangol |
| 3rd | Asha Warnock | Lane End Bond |
| 4th | James Harvey | Patangas Hiccup |
| 5th | Jess Stones | PPP Seductor |
| 6th | Jess Stones | PPP Quinten Bear |
RACING VICTORIA ARENA
CLASS 9: AE EQUESTRIAN – GEM TWIST – ROUND 1 – 0.90m
| | | |
| --- | --- | --- |
| PLACE | RIDER | HORSE |
| 1st | Louise Abey | Leminx |
| 2nd | Caleb Bertram | Ceejay Park Private Buddy |
| 3rd | Tim Clarke | Yalambi's Lola |
| 4th | Ava Harrington | Miss Demeanor |
| 5th | Charli Murfett | Rich Reliance |
| 6th | Heleni Goodman | La Strange |
CLASS 10: STROLLER – ROUND 1 – 1.00m
| | | |
| --- | --- | --- |
| PLACE | RIDER | HORSE |
| 1st | Tim Haworth | Wondaree Sparkle |
| 2nd | Stuart Abrahams | Blue Print |
| 3rd | Holly Bolzon | Affresco |
| 4th | Lucy Borrack | Get Rhythm |
| 5th | Kristy McSween | Busy Bee |
| 6th | Kate Beadel | Camilla Elmare |
CLASS 11: HICKSTEAD – ROUND 1 – 1.10m
| | | |
| --- | --- | --- |
| PLACE | RIDER | HORSE |
| 1st | Tim Haworth | Wondaree Sparkle |
| 2nd | Victoria Montaro | Bling Du Rouet |
| 3rd | Stuart Brennan | SV Little Lady |
| 4th | Ally Wake | Glenwood Park Catie |
| 5th | Chelsea Hair | Cassilis |
| 6th | Kate Beadel | Flex E |
Results sourced from online.equipe.com
View Comments