Victory Day for David Cooper at SSJC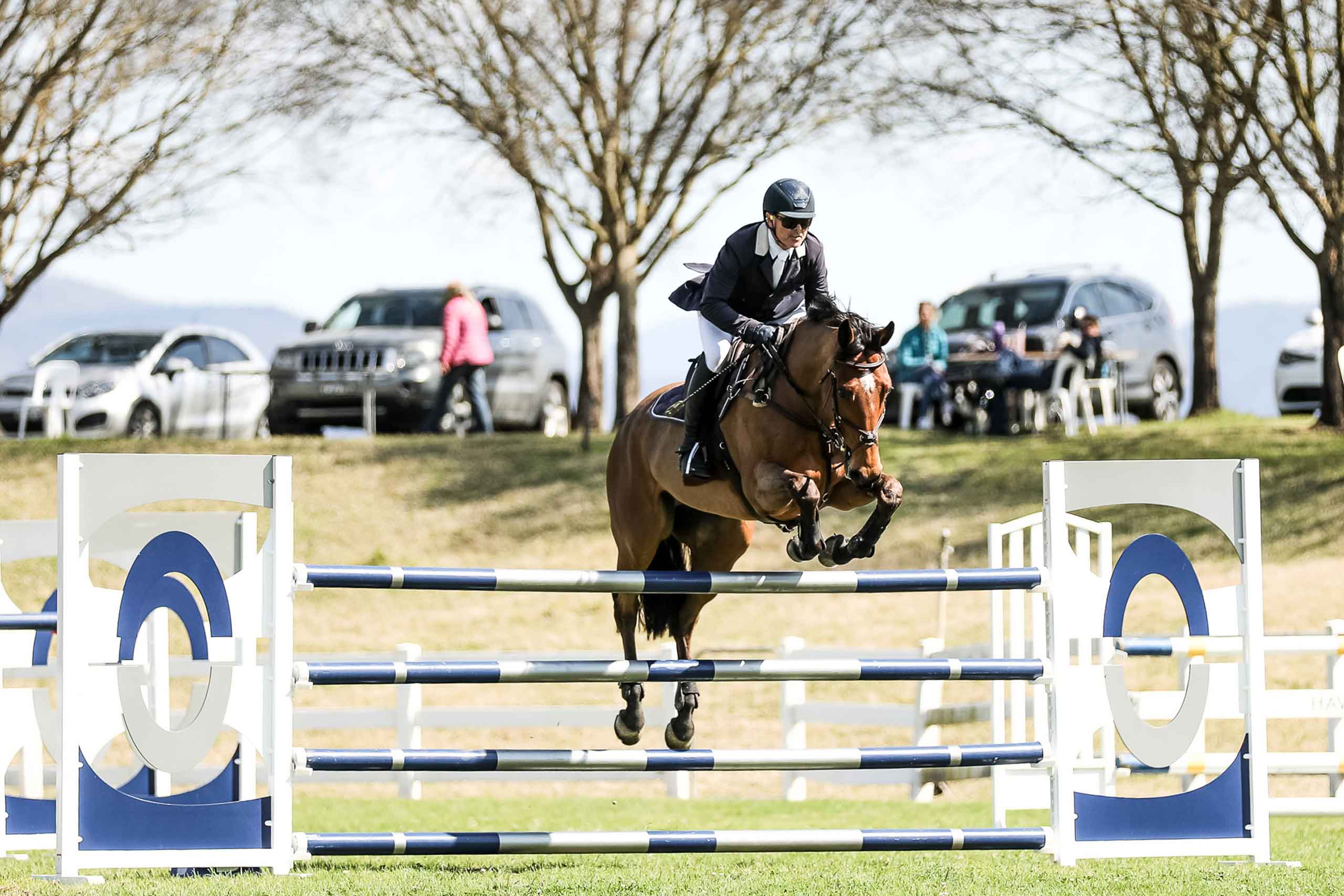 Gaby Nurick
The first weekend in September traditionally sees the Sydney Showjumping Club hold its "Jump into Spring" Championship Show and this year was no exception. Held in perfect early spring weather, classes were held across four arenas with classes ranging from 0.55m to 1.35m, providing something for everyone to compete in.
Advertisement


After a day of warm up classes on Saturday, the show moved into Championship mode on Sunday, seeing winners crowned in a range of categories.
The feature class of the show was the Emcee Apparel 1.35m Open Championship, which was decided only after an exciting three combination jump off. Atlanta Olympian David Cooper and the very appropriately named Victory Day put in the only double clear performance to take the win. They prevailed over Andrew Inglis and Alillie, who had to settle for second after unfortunately taking the very last rail in the jump off, yet finishing in a slightly faster time than the winner. Third place was a tie, between Andrew Inglis and Laracas, who were eliminated after two refusals and James Mooney and his World Cup horse KPH Cavatina, who were granted permission by the judge to withdraw from the jump off.
All was not lost for Andrew Inglis, however. He and another of his horses, Indiana Goodtimes, put him in the winners list after they put in a pair of double clear efforts to take out both the Coolibah 1.25m Open Championship and the Equine International Airfreight Open 1.20m Championship. In the 1.25m class, second place went to young Charlie Magnier aboard Master Stevie G with Georgia Apps and Finch Farm Viduka in third, both also double clear. In the 1.20m championship, second place went to Teigan Matthews and Baloubell, some four seconds behind the winner. A further four seconds astern were Jessica Spence and Clasique Emerella, filling third,
There were three championships decided at 0.90m. The Junior division went to Grace Vassallo and Little Valley Xfactor, while Emma Fontanot and Fidem Elpis Amor won the Adult division. Jeff Penza and Bojack were successful in the Amateur division.
With the rails at 1.00-1.05m, a further three championships were competed for. The Junior section was won by Isla Fotofili and her OTT thoroughbred Tommy. Alicia Daly and Navarra Eclipse were the Adult champions while Jeff Penza and Bojack completed a very successful day, by again taking out the Amateur title.
Camden Hire sponsored championships for a pair of horse age related classes. Both at 1.10m, the championship for horses 8 years and younger went to Teigan Matthews and Baloubell. In the 9 years and older championship, the winners were Ruby Conlon and Lamondale Mika.
The feature class for the amateurs, over 1.15m, was won by Rebecca Swinton and Moonwalk. They were two seconds clear in the jump off from Jeff Penza and his OTT mount Fireball. Third place, also double clear were Lori James and Bond Girl SHP.
Congratulations to all the winners and placegetters over the two days. Below is a listing of the top six finishers in all classes.
SATURDAY RESULTS
CLASS 1A: KONKE'S OWN: ADULT – 0.90m
| | | |
| --- | --- | --- |
| PLACE | RIDER | HORSE |
| 1st | Kylie Howard | Claireveaux Dreams |
| 2nd | Jeff Penza | Bojack |
| 3rd | Abby Cooper | Glenara Cassandra |
| 4th | Colleen Brook | Yalambi's La Bohème |
| 5th | Emily Newton | Petal Bomb |
| 6th | Athos Galassi | K S Double Dare |
CLASS 1B: KONKE'S OWN: JUNIOR – 0.90m
| | | |
| --- | --- | --- |
| PLACE | RIDER | HORSE |
| 1st | Charlotte Alexander | Lady Blue Scherezade |
| 2nd | Grace Vassallo | Just Peachy |
| 3rd | Evie Magnier | Sir King Charles |
| 4th | Chloe Simpson | Oscar |
| 5th | Charlie Smith | Visages Valentine |
| 6th | Toller Cave | Selassie |
CLASS 1C: TSHA: 0.90m
| | | |
| --- | --- | --- |
| PLACE | RIDER | HORSE |
| 1st | Shanae Bohr-Howell | Daunies Surprise |
| 2nd | Abigail Fuggle | Expressen |
| 3rd | Alex Cunningham | Miss Popularity |
| 4th | Charlotte Whyld | Island Tycoon |
| 5th | Sophia Masciantonio | Where's The Kaboom |
| 6th | Martina Kovacs | Sterntaler Midnight Music |
CLASS 2A: RAINE & HORNE: ADULT – 1.00m
| | | |
| --- | --- | --- |
| PLACE | RIDER | HORSE |
| 1st | Melanie Brindley | Bandit |
| 2nd | Laura Norley | KPH Schillia |
| 3rd | Andrew Inglis | Arthur |
| 4th | Stephanie Davies | Oaks Cordeaux |
| 5th | Colleen Brook | L3 |
| 6th | Athos Galassi | K S Double Dare |
CLASS 2B: RAINE & HORNE: JUNIOR – 1.00m
| | | |
| --- | --- | --- |
| PLACE | RIDER | HORSE |
| 1st | Grace Vassallo | Just Peachy |
| 2nd | Jasmine Cook | Sherbet Wizz Fizz |
| 3rd | Madison Musladin | Pamelet |
| 4th | Jorja Lenehan | Centeria Vos |
| 5th | Olivia Carter | Warrego Rueben |
| 6th | Luiza Dias Marucio | Cardrona Xtreme |
CLASS 2C: TSHA: 1.00m
| | | |
| --- | --- | --- |
| PLACE | RIDER | HORSE |
| 1st | Isla Fotofili | Tommy |
| 2nd | Shanae Bohr-Howell | Daunies Surprise |
| 3rd | Serena Traynor | Flor De Cana |
| 4th | Len Foster | KPS Mr Bo Jangle |
| 5th | William Hodgekiss | Anembo Jedi |
| 6th | Jeremy Williams | Dalton |
CLASS 3: HAWKSBURY EQUINE VETERINARY CENTRE: JUNIOR – 1.05m
| | | |
| --- | --- | --- |
| PLACE | RIDER | HORSE |
| 1st | Jorja Lenehan | Centeria Vos |
| 2nd | Isla Fotofili | Tommy |
| 3rd | Madison Musladin | Pamelet |
| 4th | Jessie Gui | Courage |
| 5th | William Hodgekiss | Anembo Jedi |
| 6th | Tayla Norley | KPH Snickerdee |
CLASS 4: CHATHAM PARK: OPEN – 1.25m
| | | |
| --- | --- | --- |
| PLACE | RIDER | HORSE |
| 1st | Andrew Inglis | Indiana Goodtimes |
| 2nd | Andrew Inglis | Laracas |
| 3rd | Andrew Inglis | Alillie |
| 4th | Charlie Magnier | Quinn Z |
| 5th | Colleen Brook | Connollys Karachi |
| 6th | George Johnson | Dusky Farm Hope |
CLASS 5: EMCEE APPAREL: CHAMPIONSHIP WARM-UP – OPEN – 1.35m
| | | |
| --- | --- | --- |
| PLACE | RIDER | HORSE |
| 1st | David Cooper | Victory Day |
| 2nd | George Johnson | Wallaroo Carina |
| 3rd | Andrew Inglis | Laracas |
| 4th | Rhys Stones | Riverton Kanntador |
| 5th | George Johnson | Dusky Farm Hope |
| 6th | Coco Dulhunty | Wallaroo Caracajack |
CLASS 6A: TOM MCDERMOTT: OPEN – 1.20m
| | | |
| --- | --- | --- |
| PLACE | RIDER | HORSE |
| 1st | Andrew Inglis | Indiana Goodtimes |
| 2nd | Vicki Roycroft | Kenny Casino |
| 3rd | Belinda Torrens | Bella Blu |
| 4th | Molly Mooney | Wallaroo Carnival |
| 5th | Gemma Tinney | Fernhill Aisling Star |
| 6th | Gemma Tinney | PHS Hilton |
CLASS 6B: TSHA: 1.20m
| | | |
| --- | --- | --- |
| PLACE | RIDER | HORSE |
| 1st | Elissa Schneider | Carve It Up |
| 2nd | Lori James | Restauranter SHP |
| 3rd | Jorja Lenehan | SR Barnaby |
| 4th | Rebecca Swinton | Moonwalk |
| 5th | Robyn Ball | Snowmoose |
| 6th | Tara Wilson | Tribute |
CLASS 7A: CAMDEN HIRE: ADULT – 1.05m
| | | |
| --- | --- | --- |
| PLACE | RIDER | HORSE |
| 1st | Jeff Penza | Fireball |
| 2nd | Tara Sheridan | Views Reflection |
| 3rd | Zara Hourigan | Inous Miss Ally |
| 4th | Emily Riley | Charisma Blues |
| 5th | Rachael Lee | Neil Diamond VBT |
| 6th | Emma Mason | Bee Crafty |
CLASS 7B: CAMDEN HIRE: AMATEUR – 1.05m
| | | |
| --- | --- | --- |
| PLACE | RIDER | HORSE |
| 1st | Abby West | Aniklas |
| 2nd | Samantha Chaney Butt | GP Elevation |
| 3rd | Judy Clarke | Oaks Quasimodo |
| 4th | Abigail Fuggel | Expressen |
| 5th | Alicia Daly | CF Cassius |
| 6th | Charlotte Chambers | Amaretto MVNZ |
CLASS 8A: CONTINUUM ACCOUNTING: OPEN – 1.10m
| | | |
| --- | --- | --- |
| PLACE | RIDER | HORSE |
| 1st | Lori James | Bond Girl SHP |
| 2nd | David Robertson | Luis 95 |
| 3rd | Vicki Roycroft | Kenny Casino |
| 4th | Nicola Ferendinos | MW Soraya |
| 5th | Vicki Roycroft | Copabella Ventura |
| 6th | Tara Sheridan | Views Reflection |
CLASS 8B: TSHA: 1.10m
| | | |
| --- | --- | --- |
| PLACE | RIDER | HORSE |
| 1st | Lori James | Restauranter SHP |
| 2nd | Bree Baker | Its All In The Timing |
| 3rd | Tara Wilson | Tribute |
| 4th | Gemma Tinney | Goldrossa |
| 5th | Jorja Lenehan | SR Barnaby |
| 6th | Rebecca Swinton | Moonwalk |
CLASS 9: HAIRY PONY: OPEN – 0.55m
| | | |
| --- | --- | --- |
| PLACE | RIDER | HORSE |
| =1st | Ruby Cale | Willow Wood Mahalo |
| =1st | Alisa Moir | Westlake Gold Cup |
| 3rd | Charlie Brister | Nemo |
| 4th | Natalie Mohr | Ironman |
| 5th | Sue Coonan | Eastwood GPF |
| 6th | Sloane Locock | Dreamer |
CLASS 10A: FREEJUMP: ADULT – 0.65m
| | | |
| --- | --- | --- |
| PLACE | RIDER | HORSE |
| 1st | Anne Stephenson | Zazu |
| 2nd | Megan Rogers | Vinnie |
| 3rd | Nicolette Evans | Redeemer |
| 4th | Abby West | Jasper |
| 5th | Serena Traynor | You Rock Dude |
| 6th | Alexis Clark | Voveray |
CLASS 10B: FREEJUMP: JUNIOR – 0.65m
| | | |
| --- | --- | --- |
| PLACE | RIDER | HORSE |
| 1st | Abbie Taylor | Rory |
| 2nd | Sophie Butler | Dromara Park Rupert |
| 3rd | Alexa Garcia | Spirit |
| 4th | Ruby Cale | Willow Wood Mahalo |
| 5th | Sloane Locock | Dreamer |
| 6th | Evie Magnier | Centaur MVNZ |
CLASS 11A: RAINE & HORNE: ADULT – 0.75m
| | | |
| --- | --- | --- |
| PLACE | RIDER | HORSE |
| 1st | Tom Van Kouterik | Harley |
| 2nd | Yelena Udy | Ashwagandha |
| 3rd | Alyson Hodgekiss | Night Flash |
| 4th | Sharon Beahan | Brotherhood |
| 5th | Coralie Christie | Bricabrax |
| 6th | Megan Rogers | Vinnie |
CLASS 11B: RAINE & HORNE: JUNIOR – 0.75m
| | | |
| --- | --- | --- |
| PLACE | RIDER | HORSE |
| 1st | Alexa Garcia | Spirit |
| 2nd | Luiza Dias Marucio | Moonbah Ridge Truflles |
| 3rd | Victoria Tierney | Royal Hardhat |
| 4th | Kayla Ghalloub | Earth To Angel |
| 5th | Ellenore Stutsel | Kenny |
| 6th | Sienna Tierney | Mo Jo Jo Jo |
CLASS 13A: AGNES BANKS EQUINE CLINIC: JUNIOR CHAMPIONSHIP – 0.90m
| | | |
| --- | --- | --- |
| PLACE | RIDER | HORSE |
| 1st | Grace Vassallo | Little Valley Xfactor |
| 2nd | Jasmine Cook | Sherbet Wizz Fizz |
| 3rd | Chloe Simpson | Oscar |
| 4th | Sophie Mcallan | Wallaroo Harlequin |
| 5th | Grace Vassallo | Just Peachy |
| 6th | Luiza Dias Marucio | Cardrona Xtreme |
CLASS 13B: AGNES BANKS EQUINE CLINIC: ADULT CHAMPIONSHIP – 0.90m
| | | |
| --- | --- | --- |
| PLACE | RIDER | HORSE |
| 1st | Emma Fontanot | Fidem Elpis Amor |
| 2nd | Leo Tyndall | BS On Air |
| 3rd | Emma Parker | K S Double Dare |
| 4th | David Robertson | Dusky Farm Cristafly |
| 5th | Colleen Brook | L3 |
| 6th | Charlotte Whyld | Island Tycoon |
CLASS 13C: AGNES BANKS EQUINE CLINIC: AMATEUR CHAMPIONSHIP – 0.90m
| | | |
| --- | --- | --- |
| PLACE | RIDER | HORSE |
| 1st | Jeff Penza | Bojack |
| 2nd | Sandra Tremier | TT Captain |
| 3rd | Stefanie Cass | Blueberry R |
| 4th | Kylie Howard | Claireveaux Dreams |
| 5th | Jane Hemingway-Mohr | Victoria D'Ivraie |
| 6th | Martina Kovacs | Sterntaler Juniper |
CLASS 14A: SYDNEY EQUINE PRACTICE: JUNIOR CHAMPIONSHIP – 1.00-1.05m
| | | |
| --- | --- | --- |
| PLACE | RIDER | HORSE |
| 1st | Isla Fotofili | Tommy |
| 2nd | Jessie Gui | Courage |
| 3rd | Jorja Lenehan | Centeria Vos |
| 4th | Alexa Garcia | Spannerkop |
| 5th | Tayla Norley | KPH Snickerdee |
| 6th | William Hodgekiss | Anembo Jedi |
CLASS 14B: SYDNEY EQUINE PRACTICE: ADULT CHAMPIONSHIP – 1.00-1.05m
| | | |
| --- | --- | --- |
| PLACE | RIDER | HORSE |
| 1st | Alicia Daly | Navarra Eclipse |
| 2nd | Tara Sheridan | Views Versarchie |
| 3rd | David Cooper | Habanero |
| 4th | Jeremy Inglis | Sweet Dream Baby |
| 5th | Belinda Cosimon | Tesla |
| 6th | Emma Parker | K S Double Dare |
CLASS 14C: SYDNEY EQUINE PRACTICE: AMATEUR CHAMPIONSHIP – 1.00-1.05m
| | | |
| --- | --- | --- |
| PLACE | RIDER | HORSE |
| 1st | Jeff Penza | Bojack |
| 2nd | Leo Tyndall | BS On Air |
| 3rd | Jane Hemingway-Mohr | Victoria D'ivraie |
| 4th | Hannah Rogers | Margarita |
| 5th | Samantha Chaney Butt | GP Elevation |
| 6th | Tonya Burrowes | Bell Farm Renegade Master |
CLASS 15: COOLIBAH: OPEN CHAMPIONSHIP – 1.25m
| | | |
| --- | --- | --- |
| PLACE | RIDER | HORSE |
| 1st | Andrew Inglis | Indiana Goodtimes |
| 2nd | Charlie Magnier | Master Stevie G |
| 3rd | Georgia Apps | Finch Farm Viduka |
| 4th | Tess Mcinerney | Quintation |
| 5th | Andrew Inglis | Laracas |
| 6th | George Riley | Valmira |
CLASS 16: EMCEE APPAREL: OPEN CHAMPIONSHIP – 1.35m
| | | |
| --- | --- | --- |
| PLACE | RIDER | HORSE |
| 1st | David Cooper | Victory Day |
| 2nd | Andrew Inglis | Alillie |
| =3rd | Andrew Inglis | Laracas |
| =3rd | James Mooney | KPH Cavatina |
| 5th | Clemency Hughes | YPH Capulet |
| 6th | George Johnson | Dusky Farm Hope |
CLASS 17: EQUINE INTERNATIONAL AIRFREIGHT: OPEN CHAMPIONSHIP – 1.20m
| | | |
| --- | --- | --- |
| PLACE | RIDER | HORSE |
| 1st | Andrew Inglis | Indiana Goodtimes |
| 2nd | Teigan Matthews | Baloubell |
| 3rd | Jessica Spence | Clasique Emerella |
| 4th | Tara Rogers | Denison Park Smooth |
| 5th | Shannon O'Meara | Isle Of D'lago |
| 6th | Belinda Torrens | Bella Blu |
CLASS 18A: CAMDEN HIRE: HORSES 8 YEARS AND YOUNGER CHAMPIONSHIP – 1.10m
| | | |
| --- | --- | --- |
| PLACE | RIDER | HORSE |
| 1st | Teigan Matthews | Baloubell |
| 2nd | Emily Riley | Oaks Quinella |
| 3rd | Tara Sheridan | Views Reflection |
| 4th | Emily Riley | Charisma Blues |
| 5th | Jorja Lenehan | Centeria Vos |
| 6th | Shannon O'Meara | Isle Of D'lago |
CLASS 18B: CAMDEN HIRE: HORSES 9 YEARS AND OLDER CHAMPIONSHIP – 1.10m
| | | |
| --- | --- | --- |
| PLACE | RIDER | HORSE |
| 1st | Ruby Conlon | Lamondale Mika |
| 2nd | Jeremy Inglis | Saffron |
| 3rd | Jim Scobie | Soxdown |
| 4th | Jim Scobie | Fernhill Aussie Balou |
| 5th | Lori James | Restauranter SHP |
| 6th | Lori James | Bond Girl SHP |
CLASS 19: SYDNEY SPRING AMATEUR CHAMPIONSHIP – 1.15m
| | | |
| --- | --- | --- |
| PLACE | RIDER | HORSE |
| 1st | Rebecca Swinton | Moonwalk |
| 2nd | Jeff Penza | Fireball |
| 3rd | Lori James | Bond Girl SHP |
| 4th | Mark Atkins | Elite Partners |
| 5th | Lori James | Restauranter SHP |
| 6th | Nicola Ferendinos | Mw Soraya |
CLASS 20: ANNETTE KOHEN: OPEN – 0.55m
| | | |
| --- | --- | --- |
| PLACE | RIDER | HORSE |
| 1st | Sloane Locock | Dreamer |
| 2nd | Isabella Hill | Larkspur Neva |
| 3rd | Erin Banks | Rexi |
| 4th | Charlotte Wells | Ave Maria |
| 5th | Evie Magnier | Centaur MVNZ |
| 6th | Susanne Benzko | Navarre |
CLASS 21A: LEADING EDGE LIFE SKILLS: ADULT – 0.65m
| | | |
| --- | --- | --- |
| PLACE | RIDER | HORSE |
| 1st | Megan Rogers | Vinnie |
| 2nd | Alisa Moir | Westlake Gold Cup |
| 3rd | Susanne Benzko | Navarre |
| 4th | Rebecca Nicholls | Bijou |
| 5th | Sharon Beahan | Brotherhood |
| 6th | Charlotte Wells | Ave Maria |
CLASS 21B: LEADING EDGE LIFE SKILLS: JUNIOR – 0.65m
| | | |
| --- | --- | --- |
| PLACE | RIDER | HORSE |
| 1st | Toby Stutsel | Coco |
| 2nd | Estella Walker | Dubendorf Xena |
| 3rd | Alexa Garcia | Spirit |
| 4th | Evie Magnier | Centaur MVNZ |
| 5th | Isabella Hill | Larkspur Neva |
| 6th | Erin Banks | Rexi |
CLASS 22A: WILLOWWOOD STABLES: ADULT – 0.75m
| | | |
| --- | --- | --- |
| PLACE | RIDER | HORSE |
| 1st | Serena Traynor | You Rock Dude |
| 2nd | Yelena Udy | Ashwagandha |
| 3rd | Warren Wu | G |
| 4th | Belinda Torrens | KPH Cassarchie |
| 5th | Belinda Torrens | Chevy |
| 6th | Sharon Slater | Tex |
CLASS 22B: WILLOWWOOD STABLES: JUNIOR – 0.75m
| | | |
| --- | --- | --- |
| PLACE | RIDER | HORSE |
| 1st | Sophie Butler | Dromara Park Rupert |
| 2nd | Jett Newman | Kitra Park Petch |
| 3rd | Toby Stutsel | Coco |
| 4th | Victoria Tierney | Royal Hardhat |
| 5th | Alexa Garcia | Spirit |
| 6th | Brooke Anderson | The Real Slim Shady |
CLASS 23A: CHIC MANAGEMENT: ADULT – 0.85m
| | | |
| --- | --- | --- |
| PLACE | RIDER | HORSE |
| 1st | Belinda Torrens | Chevy |
| 2nd | Sharon Slater | Tex |
| 3rd | Charlotte Whyld | Bentleys Whyld Ride |
| 4th | Ruby Conlon | Henbury Charlotte |
| 5th | Belinda Torrens | KPH Cassarchie |
| 6th | Sarnia Rusbridge | My Lucky Eagle |
CLASS 23B: CHIC MANAGEMENT: JUNIOR – 0.85m
| | | |
| --- | --- | --- |
| PLACE | RIDER | HORSE |
| 1st | Luiza Dias Marucio | Moonbah Ridge Truflles |
| 2nd | Ellenore Stutsel | Kenny |
| 3rd | Georgia Mcquaid | TT Simply Priceless |
| 4th | Gracie Clements | Glenormiston Sullivan |
| 5th | Victoria Tierney | Royal Hardhat |
| 6th | Sophie Butler | Dromara Park Rupert |
Results sourced from globalentriesonline.com.au
View Comments