Victory to Versteegen in Hygain Patrons Cup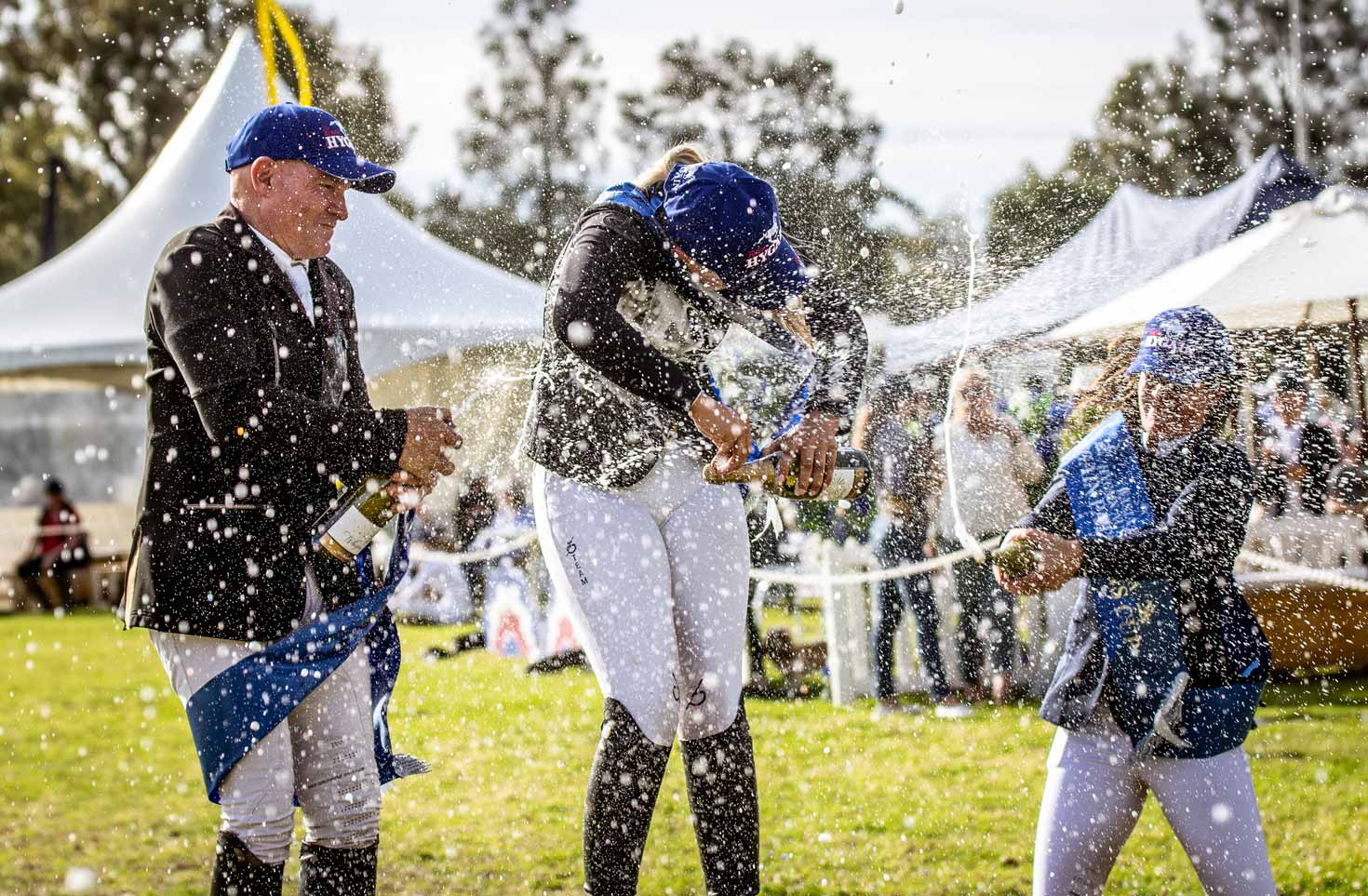 Eric Lloyd Photography
Three days of magnificent Jumping action wrapped up on Sunday, when the WA Show Jumping Association held their three-day Hygain Feeds Patrons Cup Show at the State Equestrian Centre. Perfect spring temperatures and sunny skies added to the spectacle that saw the State Equestrian Centre at it's finest. Kevin Tully worked his magic to provide tracks which were appreciated by all and thanks to a hardworking committee, the three days went like clockwork.
Advertisement


After a day of preliminaries on Friday, the action started to heat up on Saturday, where highlights included Georgie Siciliano and Sovereign's Gizelle winning a round of the EWA Horse of The Year Series. Next, Chadd Donovan paired up with stallion Tulara Colmar, a horse new to the Western Australian Jumping scene, having campaigned under NSW based rider Rhys Stones, to take the win in the EWA Silver Series Class. The day concluded with the Speed Class, won in style by Michael Dagostino and TMP Razzle Dazzle.
Sunday started with a dominant performance by Grace Fuchsbichler, who not only took the EWA Amateur Series class with Isla FPH, but also finished second with Parker GHP. Replicating Fuchsbichler's 1, 2 performance, Chloe Versteegen also dominated the EWA Junior Series Class by finishing first on MC Pico Diamonds and second on LG Brandy Man. The Kalamunda Pharmacy Mini-Prix was won by 2021 WA State Youth Jumping Squad member Tessa Lill and the locally bred Yalambi's Key Largo.
While the course was being built for the main class of the day, the Hygain Feeds Patrons Cup, the large crowd which had assembled in the VIP marquee were treated to another fantastic performance of a slightly different kind when "Slinky" the whippet won the large dog race for the third year in a row.
Advertisement


Finally after the course had been set and walked and the Calcutta auction completed, we were ready for the highlight of the weekend. There were 16 of the best jumping combinations in the state entered in what was a competition over two rounds, with a jump-off to be held if there were an equality of penalties accumulated over the two rounds.
The conditions of the class meant that the judge has some discretion about the number of combinations invited back to the arena to continue competing in the second round. The six clear performances were always in line for a second round appearance, and the judge added an additional combination on 4 faults, a 6-faulter and two 8-faulters to make up a second round field of 10.
Tessa Lill and Tulara Stolmine were first out, but a pair of rails left them with a total of 16 and out of contention unless a series of the combinations that followed had disastrous rounds. Next out, were the reigning State Champion combination of Caitlin Bolger and Caprino, who were looking to improve on their first round four faults. They had a great clear round to finish on a total of four, which placed them in the provisional lead and put some pressure on the first round clears which were yet to come. After a short delay, it was Tessa Lill again into the arena with Yalambi's Hogo Boss, carrying their six first round faults. Like Bolger and Caprino before them they also went clear to finish with a total of six faults and a wait to see where they would finish in the final order. The final combination carrying faults into round 2 were Rosie Oliver and Cadeau, who saw a rail and a refusal add to their eight faults from Round 1 to put them out of contention. Now it was the turn of the six first round clears to strut their stuff.
First of these was Chadd Donovan and Oaks Diabella, and in form combination having won the Susan Bond Memorial class at the Perth Royal show just two weeks earlier. They had another wonderful round which saw all the rails intact and our first double clear performance. The lead was theirs and so a nervous wait began for them. Rachel Yovich and Benson's Cat Balou were next. Just when it looked like they were about to go clear and set up a jump-off, sadly for them, a rail at the last fence meant that today was not going to be their day.
The third first round clear combination were the winners of the Horse Of The Year class at last year's Patrons Cup show, Sarah Isbister and Lafayette MVNZ. They had a great clear round to set up a jump-off with at least two starters. As it turned out, the Jump-off soon became a five-way affair. The combination which were runners up in last year's Patrons Cup, Chloe Versteegen and Diamond B Vigo went clear, as did Sophie Ahmat and Noblewood Park Noblesque and Georgie Siciliano and Sovereign's Gizelle, to set up what turned out to be a very exciting jump off. With five double clears, the standard of Jumping had been wonderful, but little did we know that these five were about to step it up a notch.
Advertisement


Chadd Donovan and Oaks Diabella were first to tackle the shortened course and they showed the way with a third clear round, in a time of just 39.57 to put the pressure on this to come. It would have been with mixed feelings that Sarah Isbister, the next rider out, entered the arena. Although she would have wanted to do well on her mount, Lafayette MVNZ, she and her family would have been happy that Oaks Diabella was in the lead. Two rails in the Jump-off saw them eventually finish in fifth place.
Next out was the Current State Young Rider Champion and the youngest rider in the class, Chloe Versteegen and Diamond B Vigo. They, like Donovan and Oaks Diabella before them went clear and only a very urgent ride to the last fence saw them finish just 0.34 seconds faster to place them in the lead. With just two more combinations to come, the question of everybody's lips was would this combination go one better than last year's second placing.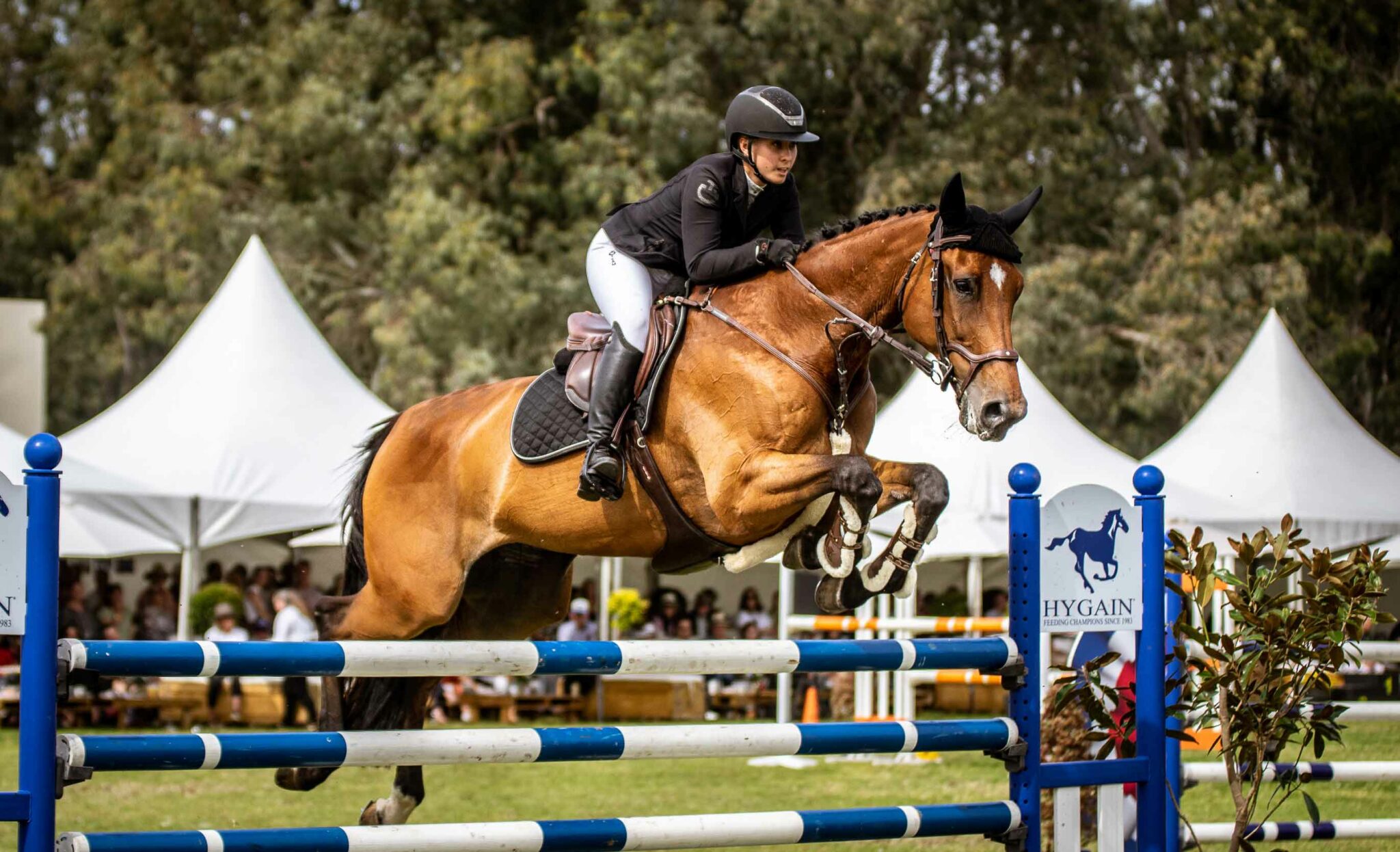 Chloe Versteegen and Diamond B Vigo. Photo Credit Eric Lloyd Photography.
The first combination to try and stop them doing so was the experienced Sophie Ahmat riding Noblewood Park Noblesque. Ahmat knew what had to be done to win the Cup, having been successful twice before in the Patron's Cup in 2014 and again in 2016 and she was riding a horse she had competed at World Cup Qualifyer level at Sale almost two years ago. Unfortunately, it was not their day as a refusal and a consequent slow time of 52.24 put paid to their chances. In the end, Ahmat had to be satisfied with fourth place.
The last combination on course was one of WA's finest riders, Georgie Siciliano in combination with Sovereign's Gizelle. Siciliano who earlier in the year competed in the first leg of the Australian Jumping Teams League at Caboolture and has World Cup Qualifyer experience attacked the course, but it was not to be their day. Unfortunately for them a single rail down at the third last jump meant that third place was the best they could do.
So when the dust settled, it was Chloe Versteegen and Diamond B Vigo victorious over Chadd Donovan and Oaks Diabella in second place. It was a fine effort from them both, each with three perfect rounds and only a fraction of a second between them. Versteegen was also awarded the Glen Bolger Memorial Shield for being the highest placed Junior rider in the class. At the presentation, Versteegen thanked the spectators for adding to the atmosphere of the day, the WASJA committee for organising such a fantastic show, her personal sponsors and Hygain for sponsoring the class. She added that although she had once considered Diamond B Vigo to be "a princess" she has now become a jumping Queen!
The top eight finishers in the Hygain Feeds Patrons Cup were as follows:
CLASS 13: Hygain Feeds Patrons Cup – 1.35m
| | | |
| --- | --- | --- |
| PLACE | RIDER | HORSE |
| 1st | Chloe Versteegen | Diamond B Vigo |
| 2nd | Chadd Donovan | Oaks Diabella |
| 3rd | Georgie Siciliano | Sovereign's Gizelle |
| 4th | Sophie Ahmat | Noblewood Park Noblesque |
| 5th | Sarah Isbister | Lafayette MVNZ |
| 6th | Caitlin Bolger | Caprino |
| 7th | Rachel Yovich | Benson's Cat Balou |
| 8th | Tessa Lill | Yalambi's Hugo Boss |
Congratulations goes to all the winners and placegetters over the weekend. Below is a full listing of the top five placegetters in every class held in the show.
FRIDAY RESULTS
RING 1
CLASS 1: Helena Valley Podiatry: AM7 – 1.05m
| | | |
| --- | --- | --- |
| PLACE | RIDER | HORSE |
| 1st | Rick Dabner | Luisianna E |
| 2nd | Georgie Siciliano | Adele |
| 3rd | Ailish Donovan | Caprioska |
| 4th | Matilda O'Connor | TS Callista |
| 5th | Lucy Rowe | Barrabadeen Cognac |
CLASS 2: PETstock Bio John: AM7 – 1.10m
| | | |
| --- | --- | --- |
| PLACE | RIDER | HORSE |
| 1st | Spook March | Caracos |
| 2nd | Chelsea Whittington | JEP Heartwarming JP |
| 3rd | Debbie Greenwood | Tyrooki Slim Shady |
| 4th | Lucy Rowe | Barrabadeen Cognac |
| 5th | Matilda O'Connor | TS Callista |
CLASS 2A: Quickmail and Off The Track: AM7 – 1.10m
| | | |
| --- | --- | --- |
| PLACE | RIDER | HORSE |
| 1st | Sophie Stott | Allwest |
| 2nd | Sara Mullins | Key Emblem |
| 3rd | Brooke Vigar | Secret Dancer |
| 4th | Sara Mullins | Springfield Cezarina |
| 5th | Leah Possingham | Hartley's Vintage |
CLASS 3: Osborne Park Equine: AM7 – 1.15m
| | | |
| --- | --- | --- |
| PLACE | RIDER | HORSE |
| 1st | Spook March | Caracos |
| 2nd | Cameron Mitchell | Penny Cornetta |
| 3rd | Chelsea Whittington | JEP Heartwarming JP |
| 4th | Grace Fuchsbichler | Isla FPH |
| 5th | Sophie Ahmat | Yalambi's Fiorenza |
CLASS 4: PCA Piping: AM5 – 1.20-1.25m
| | | |
| --- | --- | --- |
| PLACE | RIDER | HORSE |
| 1st | Sophie Ahmat | Sovereign's Rolls Royce |
| 2nd | Cameron Mitchell | Penny Cornetta |
| 3rd | Shane Giblett | Benson's Verismo |
| 4th | Nellandra Henry | Noblewood Park Corsair |
| 5th | Rosie Oliver | Bicento |
CLASS 5: EC Solutions: AM5 – 1.30-1.35m
| | | |
| --- | --- | --- |
| PLACE | RIDER | HORSE |
| 1st | Rachel Yovich | Benson's Cat Balou |
| 2nd | Caitlin Bolger | Caprino |
| 3rd | Tessa Lill | Tulara Stolmine |
| 4th | Ben Wilson | Bondi Beach |
| 5th | Cameron Mitchell | Bellucci |
RING 2
CLASS 1: Horseland Midland: Optimum Time – 0.60m
| | | |
| --- | --- | --- |
| PLACE | RIDER | HORSE |
| 1st | Lincoln Workman | Miss Behave |
| 2nd | Jacob Wilding | Oaks Karma |
| 3rd | Nate Kelly | Mortwynt Jezabeel |
| 4th | Kym Tilka | Aerthius Petite Cherie |
| 5th | Penelope Freeman | Wandoo Topmaster |
CLASS 2A: Horseland Midland: Over 18 years – 0.75m
| | | |
| --- | --- | --- |
| PLACE | RIDER | HORSE |
| 1st | Alyson Ayre | Springfield Tinkabell |
| 2nd | Alide Fear | Diamond B Chiquita |
| 3rd | Jacob Wilding | Oaks Karma |
| 4th | Lynn Dique | Joshua Brook Kuper |
CLASS 2B: Horseland Midland: 18 years and under – 0.75m
| | | |
| --- | --- | --- |
| PLACE | RIDER | HORSE |
| 1st | Lincoln Workman | Miss Behave |
| 2nd | Nate Kelly | Mortwynt Jezabeel |
| 3rd | Olivia Crossen | Golden Prospect |
| 4th | Lily Bennett | Karma Park Sorreno |
| 5th | Noah Woodyer | Judaroo Love Bug |
CLASS 3A: Eric Lloyd Photography: Over 18 years – 0.90m
| | | |
| --- | --- | --- |
| PLACE | RIDER | HORSE |
| 1st | Shawn Squire | Kentaur Airborne |
| 2nd | Spook March | Glenara Manhattan |
| 3rd | Jane Barry | Equus Holiday |
| 4th | Casey Gill | Lakesides Kid Shelleen |
| 5th | Ailey Rowe | Delacados Little Amira |
CLASS 3B: Eric Lloyd Photography: 18 years and Under – 0.90m
| | | |
| --- | --- | --- |
| PLACE | RIDER | HORSE |
| 1st | Jasmin Holland | Rox My Sox |
| 2nd | Portia-Lee Freeman | Tiimli Enzo |
| 3rd | Adrian Thomas | Kentaur Valencia |
| 4th | Adrian Thomas | Phenix |
| 5th | Katelyn Skalecki | Blue Blood Brumby |
CLASS 3C: Off The Track: AM7 – 0.90m
| | | |
| --- | --- | --- |
| PLACE | RIDER | HORSE |
| 1st | Chayse Bager | Tuareg |
| 2nd | Monika Magalengo | Johnny Walker |
| 3rd | Jasmin Holland | Inverglen |
| 4th | Jessie Davis | Truie |
| 5th | Olivia Muir | Electric Storm |
CLASS 4: Equissage Therapy Australia: AM7 – 1.04m
| | | |
| --- | --- | --- |
| PLACE | RIDER | HORSE |
| 1st | Carol Warwick | Kehlani Heavensent |
| 2nd | Leon Carroll | Concorde's Balou |
| 3rd | Rory Hovell | Yalambi's New Sienna |
| 4th | Jack Bennett | Belcam Charlotte |
| 5th | Casey Gill | Lakesides Kid Shelleen |
SATURDAY RESULTS
RING 1
CLASS 6: Delamerie Stud: AM5 – 1.10m
| | | |
| --- | --- | --- |
| PLACE | RIDER | HORSE |
| 1st | Chelsea Whittington | Gladdys Van De Breemeersen |
| 2nd | Chloe Versteegen | LG Brandy Man |
| 3rd | Kayla Adamson | Noblewood Park Casper |
| 4th | Nikki Oliver | Centime |
| 5th | Georgie Siciliano | Adele |
CLASS 7: KAMCo Arenas Mini-Prix Warm Up: AM5 – 1.20m
| | | |
| --- | --- | --- |
| PLACE | RIDER | HORSE |
| 1st | Tessa Lill | Yalambi's Key Largo |
| 2nd | Georgie Siciliano | Hero Chin P |
| 3rd | Sophie Ahmat | Yalambi's Fiorenzo |
| 4th | Spook March | Caracos |
| 5th | Grace Fuchsbichler | Isla FPH |
CLASS 8: EWA HOTY and West Coast Vets: AM5 – 1.35m
| | | |
| --- | --- | --- |
| PLACE | RIDER | HORSE |
| 1st | Georgie Siciliano | Sovereign's Gizelle |
| 2nd | Caitlin Bolger | Caprino |
| 3rd | Chadd Donovan | Oaks Diabella |
| 4th | Rosie Oliver | Bicento |
| 5th | Sophie Ahmat | Noblewood Park Noblesque |
CLASS 9: EWA Silver Series and Dog Shed: AM5 – 1.25m
| | | |
| --- | --- | --- |
| PLACE | RIDER | HORSE |
| 1st | Chadd Donovan | Tulara Colmar |
| 2nd | Annabel Cowcher | Our Gatsby |
| 3rd | Paris Endersby | Tinka's Bay |
| 4th | Sophie Ahmat | Sovereign's Rolls Royce |
| =5th | Rick Dabner | Afrodizijak E |
| =5th | Gail Hellier | BP Ringo Starr |
| =5th | Cameron Mitchell | Penny Cornetta |
CLASS 10: Combined Horse Transport: Speed Class – 1.15m
| | | |
| --- | --- | --- |
| PLACE | RIDER | HORSE |
| 1st | Michael Dagostino | TMP Razzle Dazzle |
| 2nd | Taylah Ridley | Bisdale Timeless |
| 3rd | Saachi Travers | Kareenya's Gypsy Belle |
| 4th | Chelsea Whittington | Gladdys Van De Breemeersen |
| 5th | Evie Ipsen | JEP Galourado |
RING 2
CLASS 6: Kentaur Australia: AM5 – 0.60-0.70m
| | | |
| --- | --- | --- |
| PLACE | RIDER | HORSE |
| 1st | Nate Kelly | Mortwynt Jezabeel |
| 2nd | Noah Woodyer | Judaroo Love Bug |
| 3rd | Matilda March | Judaroo Espionage |
| 4th | Lily Bennett | Rox My Sox |
| 5th | Lily Bennett | Karma Park Sorreno |
CLASS 7A: Kentaur Australia: 18 Years and Under – 0.85m
| | | |
| --- | --- | --- |
| PLACE | RIDER | HORSE |
| 1st | Adrian Thomas | Phenix |
| 2nd | Olivia Williams | Happyvale Flynn Ryder |
| 3rd | Chayse Kelly | BPP Rhapsody In Blue |
| 4th | Adrian Thomas | Kentaur Valencia |
| 5th | Isobella Day | Canterbury Robson |
CLASS 7B: Kentaur Australia: Over 18 years – 0.85m
| | | |
| --- | --- | --- |
| PLACE | RIDER | HORSE |
| 1st | Ailey Rowe | Delacados Little Amira |
| 2nd | Monika Magalengo | Johnny Walker |
| 3rd | Carol Warwick | Just Quietly |
| 4th | Alexandra Flannery | Classy Diva |
| 5th | Jacob Wilding | Oaks Karma |
CLASS 8A: Bubbles and Bites: 18 years and Under – 0.95m
| | | |
| --- | --- | --- |
| PLACE | RIDER | HORSE |
| 1st | Isobella Day | Canterbury Robson |
| 2nd | Senae Marriott | Western Diva |
| 3rd | Berlin De waal | MPH Contesta |
| 4th | Chayse Kelly | BPP Rhapsody In Blue |
| 5th | Isobel Egan | Orange Hill Vienna |
CLASS 8B: Bubbles and Bites: Over 18 years – 0.95m
| | | |
| --- | --- | --- |
| PLACE | RIDER | HORSE |
| 1st | Carol Warwick | Kehlani Heavensent |
| 2nd | Claire Hogue | Saltriver Greylock |
| 3rd | Jane Barry | Equus Holiday |
| 4th | Rick Dabner | Pablo Rabann E |
| 5th | Jade Robinson | GB Forte |
CLASS 9: Kentaur Australia: AM5 – 1.04m
| | | |
| --- | --- | --- |
| PLACE | RIDER | HORSE |
| 1st | Jack Bennett | Belcam Charlotte |
| 2nd | Rory Hovell | KP Luciana |
| 3rd | Jane Barry | Equus Holiday |
| 4th | Zenniah Albonetti | My Pocket Rocket |
| 5th | Lynn Dique | Joshua Brook Kazimba |
SUNDAY RESULTS
RING 1
CLASS 11A: EWA Amateur Series and Jump 4 Joy: AM5 – 1.15m
| | | |
| --- | --- | --- |
| PLACE | RIDER | HORSE |
| 1st | Grace Fuchsbichler | Isla FPH |
| 2nd | Grace Fuchsbichler | Parker GHP |
| 3rd | Evie Ipsen | Jep Galourado |
| 4th | Nikki Oliver | Centime |
| 5th | Chelsea Whittington | Gladdys Van De Breemeersen |
CLASS 11B: EWA Junior Rider Series and Combined Horse Transport: AM5 – 1.15m
| | | |
| --- | --- | --- |
| PLACE | RIDER | HORSE |
| 1st | Chloe Versteegen | MC Pico Diamonds |
| 2nd | Chloe Versteegen | LG Brandy Man |
| 3rd | Saachi Travers | Kareenya's Gypsy Belle |
| 4th | Ailish Donovan | Caprioska |
| 5th | Leah Possingham | Hartley's Vintage |
CLASS 12: Kalamunda Pharmacy Mini-Prix: Under 40 points – 1.25m
| | | |
| --- | --- | --- |
| PLACE | RIDER | HORSE |
| 1st | Tessa Lill | Yalambi's Key Largo |
| 2nd | Shane Giblett | Benson's Verismo |
| 3rd | Georgie Siciliano | Hero Chin P |
| 4th | Rachel Yovich | Yalambi's Kilimanjaro |
| 5th | Ben Wilson | Yalambi's Isaiah |
CLASS 13: Hygain Feeds Patrons Cup – 1.35m
| | | |
| --- | --- | --- |
| PLACE | RIDER | HORSE |
| 1st | Chloe Versteegen | Diamond B Vigo |
| 2nd | Chadd Donovan | Oaks Diabella |
| 3rd | Georgie Siciliano | Sovereign's Gizelle |
| 4th | Sophie Ahmat | Noblewood Park Noblesque |
| 5th | Sarah Isbister | Lafayette MVNZ |
| 6th | Caitlin Bolger | Caprino |
| 7th | Rachel Yovich | Benson's Cat Balou |
| 8th | Tessa Lill | Yalambi's Hugo Boss |
RING 2
CLASS 11: Equine World Pony Grand Prix: AM5 – 0.80m
| | | |
| --- | --- | --- |
| PLACE | RIDER | HORSE |
| 1st | Nate Kelly | Mortwynt Jezabeel |
| 2nd | Noah Woodyer | Judaroo Love Bug |
| 3rd | Jasmin Holland | Rox My Sox |
| 4th | Layla Diamantis | Rayne Park Rising Sun |
| 5th | Chayse Kelly | BPP Rhapsody In Blue |
CLASS 12: Claremont Therapeutic Horse Classic: AM5 – 0.90m
| | | |
| --- | --- | --- |
| PLACE | RIDER | HORSE |
| 1st | Isabella Day | Canterbury Robson |
| 2nd | Tia Hall | Devereaux Paprika |
| 3rd | Adrian Thomas | Kentaur Valencia |
| 4th | Jasmin Holland | Inverglen |
| 5th | Alexandra Flannery | Classy Diva |
CLASS 13: Finesse Fine Fencing and Horseland Midland: Pony 6-Bar Championship – 0.70m
| | | |
| --- | --- | --- |
| PLACE | RIDER | HORSE |
| 1st | Senae Marriott | Western Diva |
| 2nd | Layla Diamantis | Rayne Park Rising Sun |
| 3rd | Jasmin Holland | Rox My Sox |
| =4th | Chayse Kelly | BPP Rhapsody In Blue |
| =4th | Nate Kelly | Mortwynt Jezabeel |
CLASS 14: Finesse Fine Fencing and Horseland Midland: 6-Bar Championship – 0.95m
| | | |
| --- | --- | --- |
| PLACE | RIDER | HORSE |
| 1st | Isabella Day | Canterbury Robson |
| 2nd | Mike Bennett | Palm Springs |
| =3rd | Jack Bennett | Belcam Charlotte |
| =3rd | Jasmin Holland | Inverglen |
| 5th | Kayla Tappan | Joshua Brook Inspiration |
Results sourced from the WASJA – WA Show Jumping Association Facebook Page
View Comments