Winter feels at Sydney Showjumping Club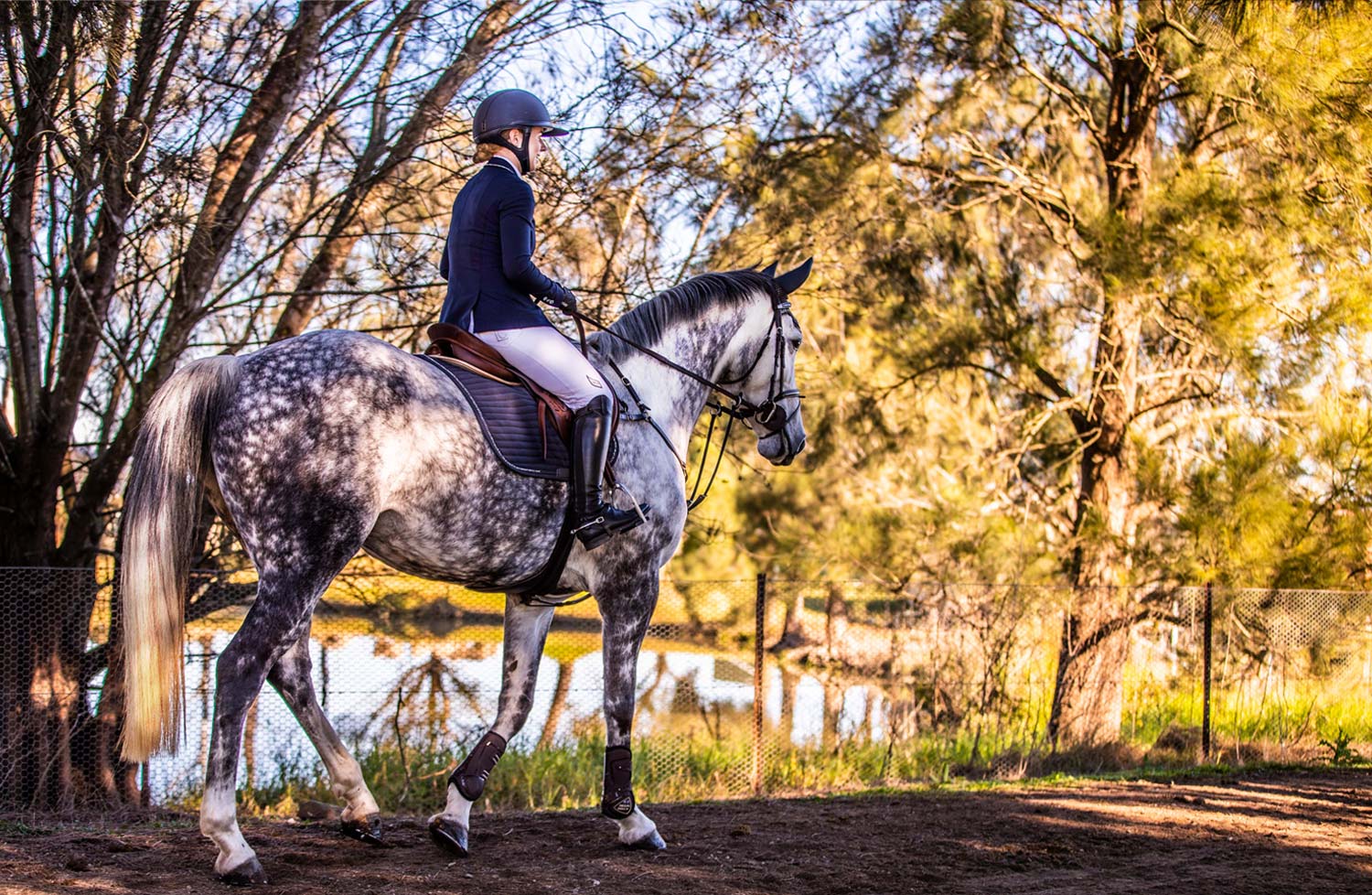 Australian Jumping
Above: Teigan Matthews and Baloubell.
On the crispest of winter weekends, Sydney Showjumping Club rolled into action once again to put on their winter jumping competition. Run over two days to accomodate the maximum number of competitors, we saw the bigger classes run on Saturday, leaving Sunday free for the lower heights.
Advertisement


The club is focussed on giving back to members, through the provision of top quality equipment and weekends such as this, being open to members only. It was great to see recognition for placegetters across all classes large and small, with a podium set up on the hill.
The grounds were beautifully prepared as always and the courses well built to provide a great level of competition.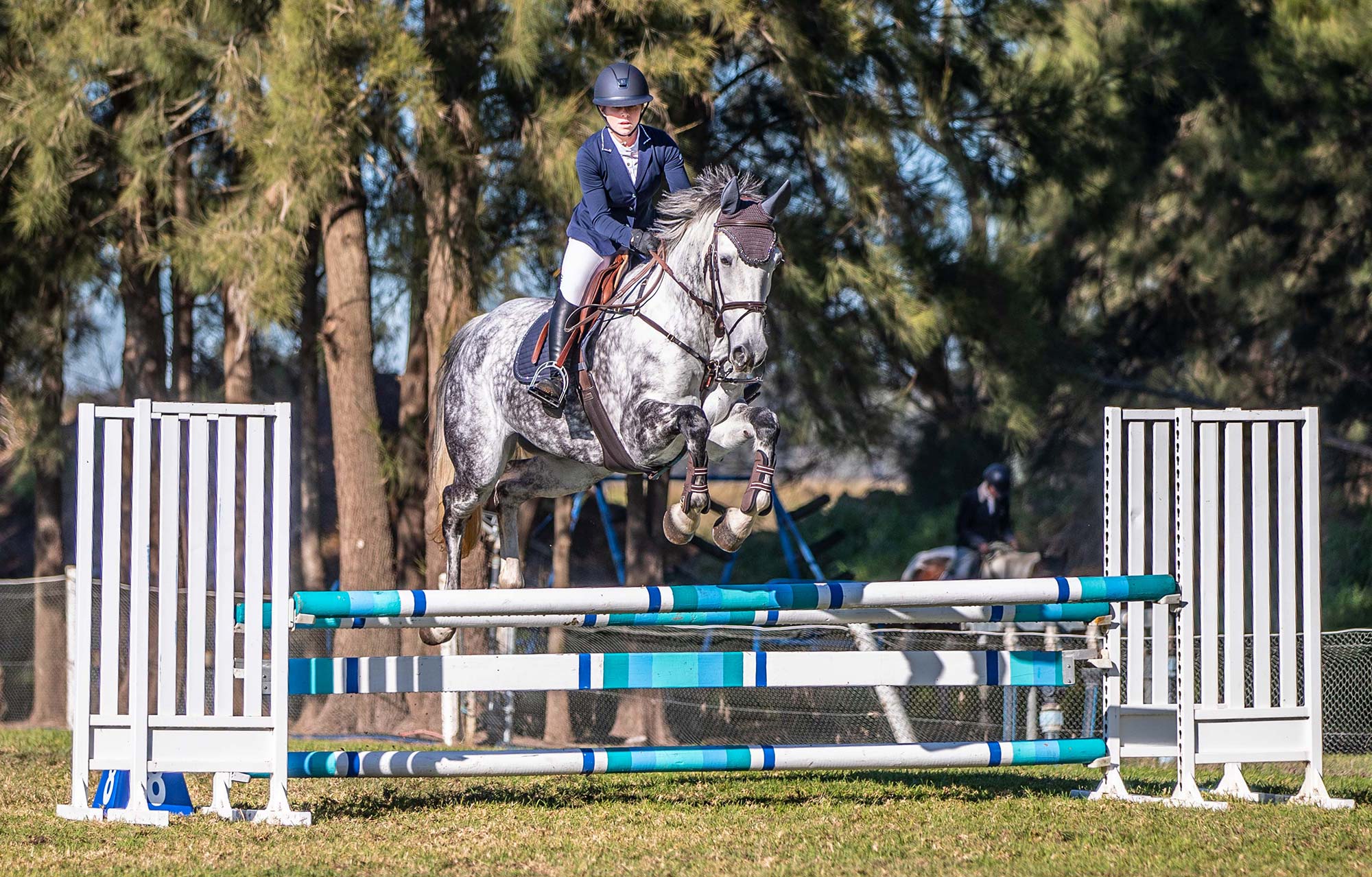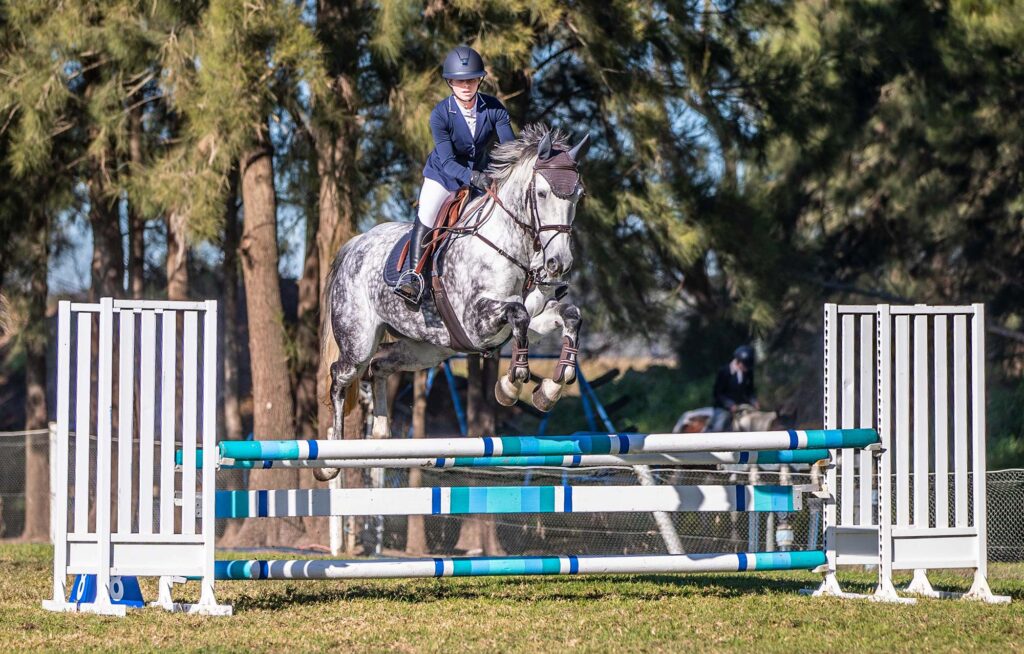 Congratulations to all the winners and placegetters across the weekend. Full results below.
SATURDAY
CLASS 4A: Open – 1.20m
| | | |
| --- | --- | --- |
| PLACE | RIDER | HORSE |
| 1st | Andrew Inglis | Laracas |
| 2nd | Sarah Duggan | Glenhill Bounce |
| 3rd | Maverick Miles | Cavalier Ludicrous |
| 4th | Lucy Locke | Diamont |
| 5th | Aria Baker | That's Limo |
CLASS 4B: Camelot Rugs – Horses 7 years and under – 1.20m
| | | |
| --- | --- | --- |
| PLACE | RIDER | HORSE |
| 1st | Andrew Inglis | Indiana Goodtimes |
| 2nd | James Paterson-Robertson | Diamond B Beethoven |
| 3rd | Luke Brown | Misty Blue Ego Z |
| 4th | Tess McInerney | Quintation |
| 5th | Melissa Blair | Connollys Karuba |
CLASS 5A: Equine International Airfreight – Open – 1.30m
| | | |
| --- | --- | --- |
| PLACE | RIDER | HORSE |
| 1st | Jamie Priestley | Kolora Stud Optimus |
| 2nd | Jamie Priestley | Courage |
| 3rd | Isobel Guinness | Copabella Verdi |
| 4th | James Mooney | JB Evolution |
| 5th | Tom McDermott | Alpha Activity |
CLASS 5B: Horses 8 years and under – 1.30m
| | | |
| --- | --- | --- |
| PLACE | RIDER | HORSE |
| 1st | William Mathew | Bronte B |
| 2nd | Caitlin Bolger | Caprino |
| 3rd | Nicholas Taliana | Adesman |
| 4th | Tom McDermott | Tulara Stolzette |
| 5th | Jess Brown | Oaks Bermuda |
CLASS 5C: Young Rider – 1.30m
| | | |
| --- | --- | --- |
| PLACE | RIDER | HORSE |
| 1st | Lucie Aldridge | Ollie Olae |
| 2nd | Amelia Douglass | Sirius Du Granit |
| 3rd | Carlyle Bellotti | Finn MVNZ |
| 4th | Madeline Sinderberry | Keilor Bamboo |
| 5th | Lucie Aldridge | Twins Royalty |
CLASS 6: Sydney Equine Vet – 1.40m
| | | |
| --- | --- | --- |
| PLACE | RIDER | HORSE |
| 1st | Aaron Hadlow | Vahlinvader |
| 2nd | Amber Fuller | Nopal Van Tallaert |
| 3rd | Tom McDermott | Yalambis Finnigan |
| 4th | Tom McDermott | Alpha Activity |
| 5th | Tom McDermott | Elegance De La Charmille |
CLASS 8A: Open – 1.00m
| | | |
| --- | --- | --- |
| PLACE | RIDER | HORSE |
| 1st | Jeff Penza | Eli Lamar |
| 2nd | Sienna Bellis | Xcella |
| 3rd | Andrew Inglis | Aniklas |
| 4th | Antoinette Inglis | Diamond B Babybel |
| 5th | Josephine Connors | Oaks Kestrel |
CLASS 8B: Horses 4 or 5 years – 1.00m
| | | |
| --- | --- | --- |
| PLACE | RIDER | HORSE |
| 1st | Tara Sheridan | Views Reflection |
| 2nd | Aaron Hadlow | Bellhaven Nevada |
| 3rd | Amber Fuller | Bickley's Leviosa |
| 4th | Sarah-Louise McMillan | Everest JEP |
| 5th | Laura Sloey | Redleaf Cabbage |
CLASS 9A: Open – 1.10m
| | | |
| --- | --- | --- |
| PLACE | RIDER | HORSE |
| 1st | Emma Smith | Crestfields Waiting Game |
| 2nd | Tahlia Hurley | Easy Tiger |
| 3rd | Anna Thian | Cushavon Lilibet |
| 4th | Heidi Stewart | Oaks Tinkabelle Tap |
| 5th | Giorga Gall | Belcam Aim |
CLASS 9B: AJCS – Horses 6 years and under – 1.10m
| | | |
| --- | --- | --- |
| PLACE | RIDER | HORSE |
| 1st | Laura Munt | Bella Blu |
| 2nd | Tess McInerney | Yalambi's Kandy Ripple |
| 3rd | Sarah-Louise McMillan | Kakadu BHV |
| 4th | James Mooney | JB Delightful |
| 5th | Tara Sheridan | Views Reflection |
CLASS 10: Open – 1.15m
| | | |
| --- | --- | --- |
| PLACE | RIDER | HORSE |
| 1st | Coco Miles | Emcee Ezra |
| 2nd | Emma Smith | Crestfields Waiting Game |
| 3rd | Michelle Niass | Warraleigh Park Ally Umbro |
| 4th | Natalie Mohr | Talbot Cece |
| 5th | James Mooney | JB Delightful |
Advertisement

SUNDAY
CLASS 11A: Adult – 0.55m
| | | |
| --- | --- | --- |
| PLACE | RIDER | HORSE |
| 1st | Tamara Dover | TT Captain Jack |
| 2nd | Amelia Heafey | Rishahl FA |
| 3rd | Alice Field | Beach Boy Bart |
| 4th | Jo Jennings | Sangria |
| 5th | Rod Bower | Cruise |
CLASS 11B: Junior – 0.55m
| | | |
| --- | --- | --- |
| PLACE | RIDER | HORSE |
| 1st | Oliver Kings | Moonwind Park Philedelphia |
| 2nd | Alexa Garcia | Spirit |
| 3rd | Georgia Wiesener | Misty |
| 4th | Evie Magnier | Pencader Recital |
| 5th | Melia Bloch | Kurt |
CLASS 12A: Adult – 0.65m
| | | |
| --- | --- | --- |
| PLACE | RIDER | HORSE |
| 1st | Len Foster | Koonama Take A Bow |
| 2nd | Emily Deece | Creagan Rocklow Lady |
| 3rd | Natalie De Souza | Coy |
| 4th | Alice Field | Beach Boy Bart |
| 5th | Linda Dicmanis | Fax |
CLASS 12B: Junior – 0.65m
| | | |
| --- | --- | --- |
| PLACE | RIDER | HORSE |
| 1st | Hannah Doolan | Royal Romance Jewels |
| 2nd | Olivia Wiesener | Scout |
| 3rd | Evie Magnier | Mirabelle Patterson |
| 4th | Natalia Randle | All The Stars |
| 5th | Oliver Kings | Moonwind Park Philedelphia |
CLASS 13A: Adult – 0.75m
| | | |
| --- | --- | --- |
| PLACE | RIDER | HORSE |
| 1st | Emily Deece | Creagan Rocklow Lady |
| 2nd | Len Foster | Koonama Take A Bow |
| 3rd | Megan Rogers | Vinnie |
| 4th | Chantell Thorpe | Banjo |
| 5th | Sandra Tremier | TT Gorgeous Girlfriend |
CLASS 13B: Junior – 0.75m
| | | |
| --- | --- | --- |
| PLACE | RIDER | HORSE |
| 1st | Jett Newman | Armarndo Otis |
| 2nd | Hannah Doolan | Royal Romance Jewels |
| 3rd | Grace Vassallo | Little Valley Xfactor |
| 4th | Jett Newman | Bolagamy Royal Review |
| 5th | Olivia Wiesener | Scout |
CLASS 14A: Adult – 0.85m
| | | |
| --- | --- | --- |
| PLACE | RIDER | HORSE |
| 1st | Michelle Penza | Eli Larmar |
| 2nd | Sandra Tremier | TT Gorgeous Girlfriend |
| 3rd | Manami Mizuno | Jerry |
| 4th | Lori James | Bond Girl Shp |
| 5th | Steffanie Barudzija | Ergo |
CLASS 14B: Junior – 0.85m
| | | |
| --- | --- | --- |
| PLACE | RIDER | HORSE |
| 1st | Jett Newman | Armarndo Otis |
| 2nd | Jett Newman | Bolagamy Royal Review |
| 3rd | Molly Mooney | LC Texas Ranger |
| 4th | Katherine Meyers | A Sip Of Moet |
| 5th | Alyssa Fowler | Oscars Rising |
CLASS 15A: Amateur – 1.00m
| | | |
| --- | --- | --- |
| PLACE | RIDER | HORSE |
| 1st | Emma Brauer | Romac Pepe |
| 2nd | Lori James | Restauranter SHP |
| 3rd | Abby West | Aniklas |
| 4th | Lori James | Illusion SHP |
| 5th | Grace McCarthy | AB Elaganz |
CLASS 15B: Camelot Rugs – Adult – 1.00m
| | | |
| --- | --- | --- |
| PLACE | RIDER | HORSE |
| 1st | Jeremy Inglis | Rusty |
| 2nd | Charlie Brister | Beatrix |
| 3rd | Nathan Wood | Vamous B |
| 4th | Matt Irvine | Greengrove Calle I |
| 5th | Nelson Smyth | Stellar Artois |
CLASS 15C: Junior – 1.00m
| | | |
| --- | --- | --- |
| PLACE | RIDER | HORSE |
| 1st | Madi Nolis | BP Spring Carnival |
| 2nd | Sophie Baldwin | Alcheringa Tradition |
| 3rd | Ella Silk | Go Theodorable |
| 4th | Charlie Magnier | KEC Sofia |
| 5th | Jasmine Spira | Quin Marvel |
CLASS 16A: Amateur – 1.10m
| | | |
| --- | --- | --- |
| PLACE | RIDER | HORSE |
| 1st | Sienna Weir | Carisma |
| 2nd | Jane Wilcox | Miss Pippa |
| 3rd | Natalie De Souza | Romley Corsair |
| 4th | Melanie Heygate | Oaks Quebec |
| 5th | Abby West | Aniklas |
CLASS 16B: Peter Beck Dentistry – Adult – 1.10m
| | | |
| --- | --- | --- |
| PLACE | RIDER | HORSE |
| 1st | Ned Calcraft | Platinum Ego Z |
| 2nd | George Johnson | Callie |
| 3rd | Mackenzie Johnson | Along Came Polly |
| 4th | Charlie Brister | Beatrix |
| 5th | Laura Harland | Vamous B |
CLASS 16C: Junior – 1.10m
| | | |
| --- | --- | --- |
| PLACE | RIDER | HORSE |
| 1st | Gemma Silk | WS Raising Roxy |
| 2nd | Ella Silk | Redgum Conan |
| 3rd | Emma Galea | Excals Romance |
| 4th | Sophie Scarce | Daffodil The Frog |
| 5th | Lauren Routledge | Yalambi's Isodora |
CLASS 17A: Equine International Airfreight – Open – 1.20m
| | | |
| --- | --- | --- |
| PLACE | RIDER | HORSE |
| 1st | Jane Wilcox | Miss Pippa |
| 2nd | Colleen Brook | Connollys Karachi |
| 3rd | Natalie De Souza | Romley Corsair |
| 4th | Ned Calcraft | Platinum Ego Z |
| 5th | Colleen Brook | Equus Archer |
CLASS 17B: Junior – 1.20m
| | | |
| --- | --- | --- |
| PLACE | RIDER | HORSE |
| 1st | Charlie Magnier | Master Stevie G |
| 2nd | Gemma Silk | WS Raising Roxy |
| 3rd | Ella Silk | Redgum Conan |
| 4th | Lauren Routledge | Tamingas Bellhaven Colletto |
| 5th | Jessica Sophia Ramsay | Narrado MVNZ |
CLASS 18A: Diamond B Farm – Amateur – 0.90m
| | | |
| --- | --- | --- |
| PLACE | RIDER | HORSE |
| 1st | Sharon Beahan | Tichino Fiorucci |
| 2nd | Samantha Harrison | Celtic Luck |
| 3rd | Alyce Stoeckl | Diamond B Beethoven |
| 4th | Hannah Rogers | Margarita |
| 5th | Martina Kovacs | Sterntaler Juno |
CLASS 18B: Adult – 0.90m
| | | |
| --- | --- | --- |
| PLACE | RIDER | HORSE |
| 1st | Chantell Thorpe | Bronson |
| 2nd | Bronte Webb | WP Charleston |
| 3rd | Nadia Benedetti | Alpha Zeppelin |
| 4th | Bronte Webb | CP Furst Gentleman |
| 5th | Nathan Wood | Carona B |
CLASS 18C: Junior – 0.90m
| | | |
| --- | --- | --- |
| PLACE | RIDER | HORSE |
| 1st | Madi Nolis | BP Spring Carnival |
| 2nd | Jasmine Spira | Avenly Bundy |
| 3rd | Mackenzie Patterson Hollibone | Sunview Lenas Playboy |
| 4th | Olivia Dubois Mcintosh | TT Cedarhill Scooter |
| 5th | Emily Mohrmann | The Radish |
CLASS 19A: Mark Colbran – Amateur – 1.05m
| | | |
| --- | --- | --- |
| PLACE | RIDER | HORSE |
| 1st | Emma Brauer | Romac Pepe |
| 2nd | Clare Watkinson | Lots Of Love |
| 3rd | Jud Arthur | I Knew That |
| 4th | Samantha Harrison | Springfield Firefly |
| 5th | Sarah Magee | Marsmagic |
 CLASS 19B: Adult – 1.05m
| | | |
| --- | --- | --- |
| PLACE | RIDER | HORSE |
| 1st | Mandy Stephens | Beethovens Symphony |
| 2nd | Bronte Webb | Cera Dakira |
| 3rd | Nathan Wood | Carona B |
| 4th | Bronte Webb | Ace |
CLASS 19C: Junior – 1.05m
| | | |
| --- | --- | --- |
| PLACE | RIDER | HORSE |
| 1st | Jasmine Spira | Avenly Bundy |
| 2nd | Teigan Matthews | Equus Hooroo |
| 3rd | Sophie Baldwin | Station Master |
| 4th | Millie Arthur | Sigfried |
| 5th | Teigan Matthews | Baloubell |
CLASS 20A: Open – 1.15m
| | | |
| --- | --- | --- |
| PLACE | RIDER | HORSE |
| 1st | Samantha Harrison | Springfield Firefly |
| 2nd | Rachel Higgins | De Lago Resort |
| 3rd | Philippa Lawson | U.C. My Buddy |
| 4th | Michelle Spiteri | Araluen Gold |
| 5th | Robyn Ball | Snowmoose |
CLASS 20B: Junior – 1.15m
| | | |
| --- | --- | --- |
| PLACE | RIDER | HORSE |
| 1st | Emma Galea | Excals Romance |
| 2nd | Lauren Routledge | Tamingas Bellhaven Colletto |
| 3rd | Lauren Routledge | Yalambis Isodora |
| 4th | Mackenzie Patterson Hollibone | Bolong Park Ego Cyrano |
| 5th | Jessica Galea | Bellhaven Kahlua |
Results supplied by Sydney Showjumping Club
Advertisement


View Comments