Day 2 Wrap-up from the JNSW Summer Show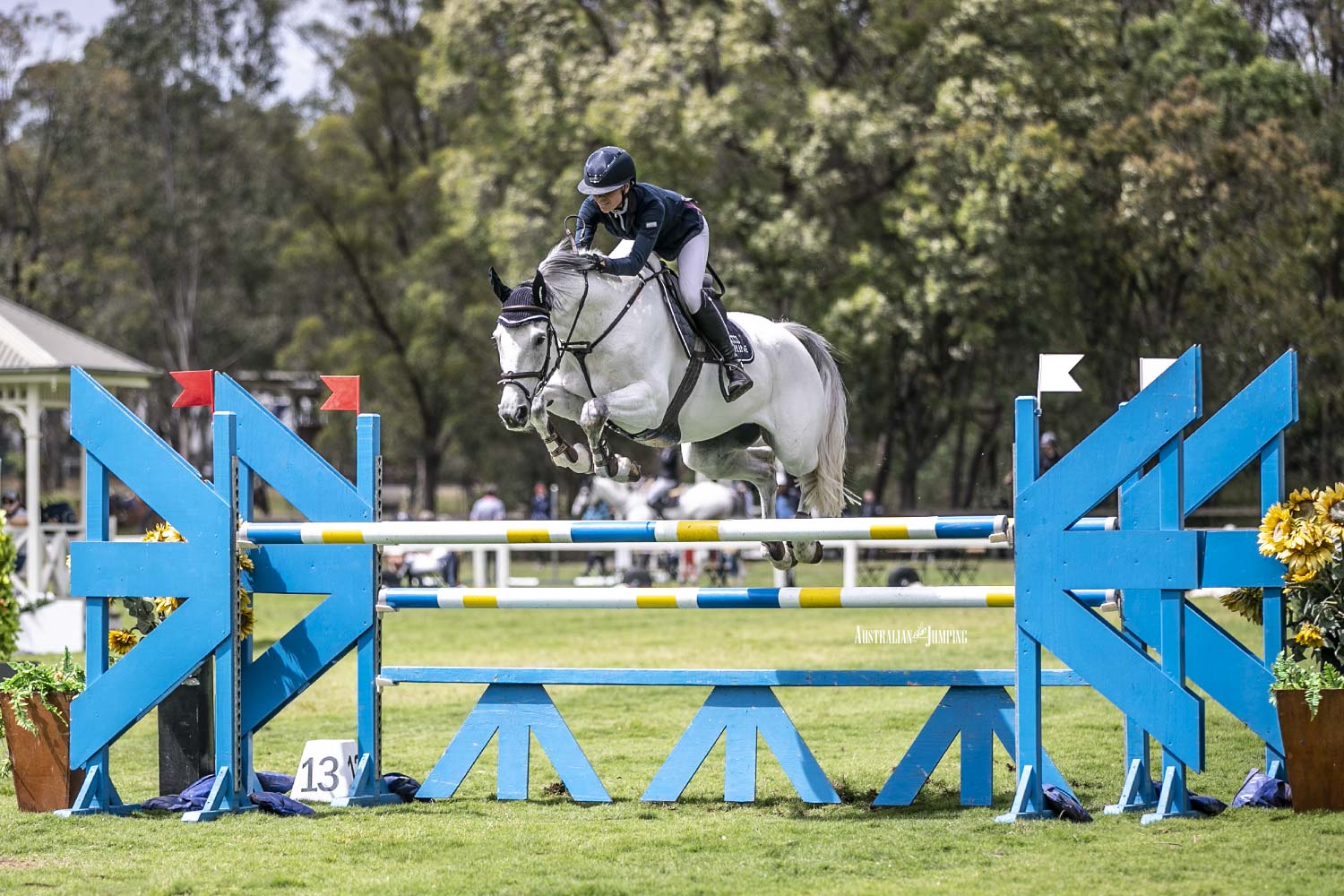 Australian Jumping
Above: Anneliese Wansey and Aveden Indigo.
Cooler and much less blustery conditions than we saw on Day 1 were the order of the day for the second day of The Jumping NSW Summer Show, held at the Sydney International Equestrian Centre (SIEC). The competition was wonderful to watch with an exciting series of classes scheduled. With 1.10m being the lowest rails height of the day, not only were the fences high, but so was the standard of competition.
Advertisement


Action in the main grass arena kicked-off with an open 1.30m class, sponsored by Equestrian NSW. A total of 62 combinations entered the class, 27 of which recorded clear rounds to qualify for a jump-off. In the jump-off, an even dozen again went clear to finish both rides with a total of zero penalties. So it came down to times and we saw a fantastic performance from one of the youngest riders in the field. Last year Anneliese Wansey was the NSW Junior Champion and it is fair to say that her riding is progressing in leaps and bounds. The Southern Highlands teenager combined with Aveden Indigo (Indoctro x Belcam Alabaster by Aachen) to take out the class with a jump-off time of 34.01 seconds. Not content with this, Wansey also filled third place after she and Kolora Stud St Patrick (which was her winning mount in the NSW Junior Championship) cleared the jump-off course in 35.11 seconds. Splitting Wansey's performances to secure third second place was yesterday's 1.25m class winning rider, Victorian Brook Dobbin with Velvet Cate, a combination which has had some success recently taking out an open 1.20m at Werribee just a few weeks ago.


Anneliese Wansey and Kolora Stud St Patrick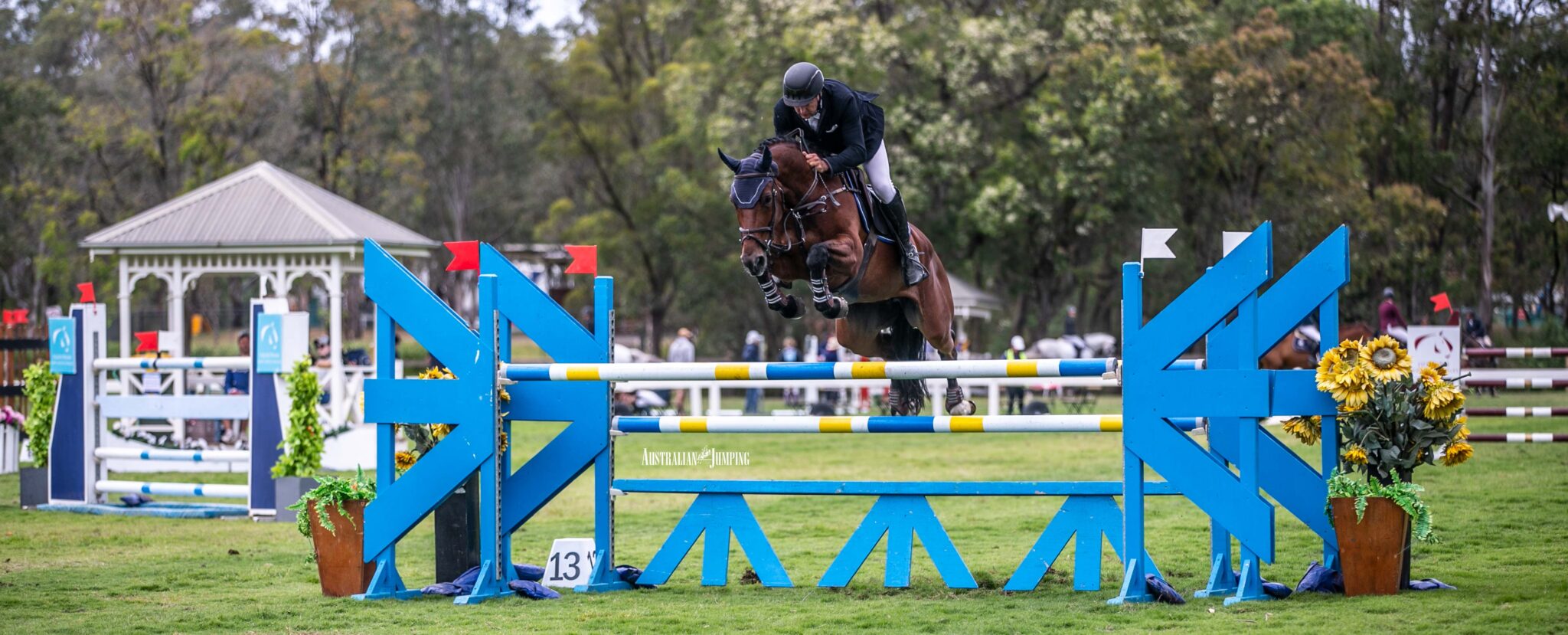 Brook Dobbin with Velvet Cate
After a short re-positioning of the course, the feature class of the day, the Camden Equine Centre sponsored Mini-Prix got underway. For a story about this class, please click HERE.
Advertisement

The final class of the day on the main arena saw the rails lifted to 1.45m-1.50m, which many saw as an opportunity to test themselves in preparation for Sunday's Grand-Prix. A small field of 15 combinations started and with no jump-off scheduled, there was no room for error right from the start. In the end, only three combinations recorded a clear round, the slowest of which was Tom McDermott and Alpha Activity (Animate x Alice by Aggasi), in 82.62 seconds. Second place went to multiple Australian representative Jamie Kermond and Galliano MS in 75.96 seconds. However, the winner, by well over 1.5 seconds and recording his first win of the show was Tom McDermott and Warraleigh Park Cortez.


Tom McDermott and Warraleigh Park Cortez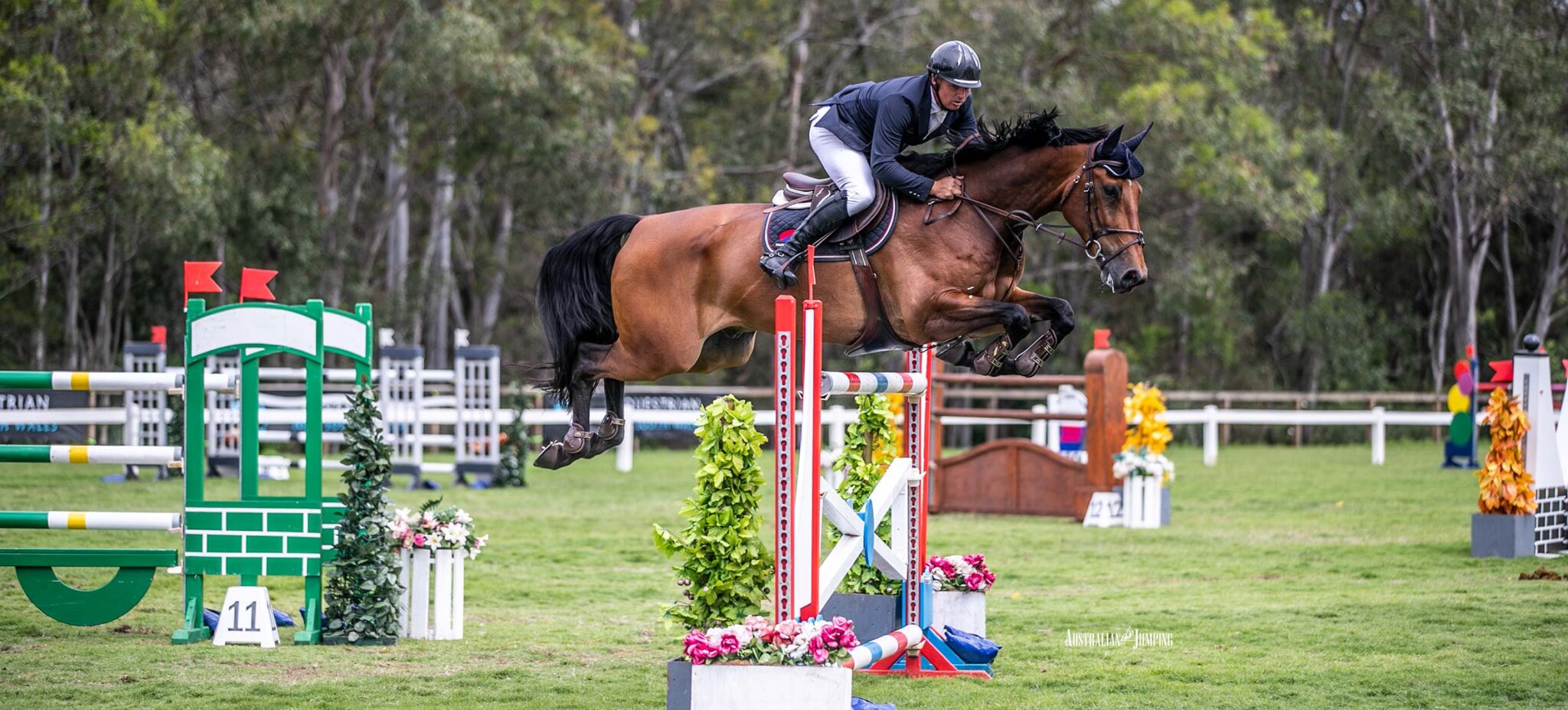 Jamie Kermond and Galliano MS
Congratulations to all the winners and placegetters from today.
See below for a full listing of all today's results for both arenas.
GRASS ARENA
CLASS 6: Equestrian NSW – (AM5) – Open – 1.30m
The first twelve placings in this class were:
| | | |
| --- | --- | --- |
| PLACE | RIDER | HORSE |
| 1st | Anneliese Wansey | Aveden Indigo |
| 2nd | Brook Dobbin | Velvet Cate |
| 3rd | Anneliese Wansey | Kolora Stud St Patrick |
| 4th | Rhys Stones | Oaks Carmine |
| 5th | Clay Simmonds | Hillbreeze Chacco De Lux |
| 6th | Tom McDermott | Diamond B Corvina |
| 7th | Shimona Fraid | Unreachable |
| 8th | Sarah-Louise McMillan | Rafiki |
| 9th | Erin Roddy | Oaks Sharko |
| 10th | Shimona Fraid | Dassina |
| 11th | Jamie Priestley | Team Priestley Kitara Lanson |
| 12th | Kate Hinschen | Yalambis Jadore |
CLASS 7: Camden Equine Centre – (AM5) – Mini-Prix – 1.40m
For a full write-up on this class click HERE. The first twelve placings in this class were:
| | | |
| --- | --- | --- |
| PLACE | RIDER | HORSE |
| 1st | Billy Raymont | YPH Capulet |
| 2nd | Amber Fuller | Upperclass Z |
| 3rd | Tom McDermott | Cachassini II |
| 4th | Josh Collins | Anssioso Z |
| 5th | Olivia Hamood | Alan 111 Z |
| 6th | Brook Dobbin | Gabriel MVNZ |
| 7th | Tess McInerney | Alpha Centauri |
| 8th | Emma Smith | Cera Charisma |
| 9th | Vicki Roycroft | Licaviv |
| 10th | Paul Brent | Kablesse Kavita |
| 11th | Isobel Guinness | Cassandro B |
| 12th | Amber Fuller | Nopal Van Tallaert |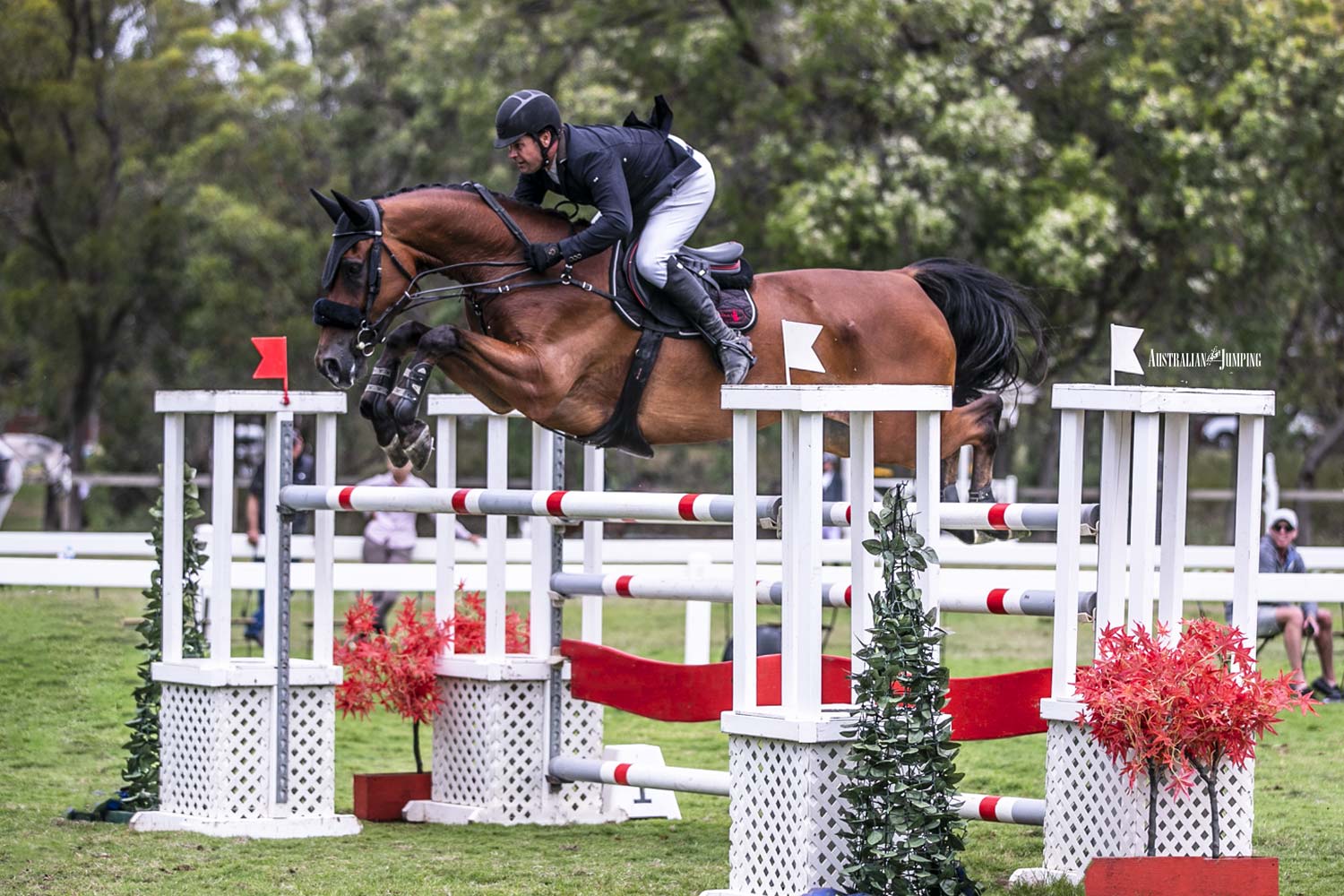 Billy Raymont and YPH Capulet
CLASS 8: Winning Group – (A2) – Open – 1.45m-1.50m
The first twelve placings in this class were:
| | | |
| --- | --- | --- |
| PLACE | RIDER | HORSE |
| 1st | Tom McDermott | Warraleigh Park Cortez |
| 2nd | Jamie Kermond | Galliano MS |
| 3rd | Tom McDermott | Alpha Activity |
| 4th | Josh Collins | Cornel |
| 5th | Kate Hinschen | Finch Farm Cadel |
| 6th | Tom McDermott | Yalambis Finnigan |
| 7th | Paul Brent | Fontaine Blue VDL |
| 8th | Billy Raymont | Anton |
| 9th | Clay Simmonds | Oaks Castanza |
| 10th | Tallara Cameron | Oaks Come By Chance |
| 11th | Olivia Hamood | Jane Fonda DVD |
| 12th | Aaron Hadlow | Vahlinvader |
SAND ARENA
CLASS 9A: (AM7) – Open – 1.10m
The first six placings in this class were:
| | | |
| --- | --- | --- |
| PLACE | RIDER | HORSE |
| 1st | William Wood | Dusky Farm Comtess |
| 2nd | Andrew Inglis | Kalysta |
| 3rd | Andrew Inglis | Laracas |
| 4th | Andrew Inglis | Indiana Goodtimes |
| 5th | William Wood | Powerhouse Park Ego Roc |
| 6th | Eva Rasmussen | Devil Wears Prada |
CLASS 9B: (AM7) – Horses 16 points and less – 1.10m
The first six placings in this class were:
| | | |
| --- | --- | --- |
| PLACE | RIDER | HORSE |
| 1st | James Arkins | Rosthwaite Cover Girl |
| 2nd | Billy Raymont | Cera Cadbury |
| 3rd | James Paterson-Robinson | Tulara Spangenberg |
| 4th | Michael Cross | Emmaville Da Vinci |
| 5th | Gemma Silk | WS Raising Roxy |
| 6th | Maddie Cox | Vamous B |
CLASS 9C: Blake Ryan Racing – (AM7) – Thoroughbred Horses – 1.10m
The first six placings in this class were:
| | | |
| --- | --- | --- |
| PLACE | RIDER | HORSE |
| 1st | Matilda McCarroll | Cosmic Cube |
| 2nd | Jessica Bott | Raise An Angel |
| 3rd | Vicki Roycroft | Tommy |
| 4th | Milly Clarke | Rosthwaite Grumfus |
| 5th | Aria Baker | That's Limo |
| 6th | Jessica Ryan | Aviator |
CLASS 10A: Tumut Freight Service – (AM7) – Open – 1.20m
The first six placings in this class were:
| | | |
| --- | --- | --- |
| PLACE | RIDER | HORSE |
| 1st | Andrew Inglis | Indiana Goodtimes |
| 2nd | Kathy O'Hara | Emissary Lass |
| 3rd | Sienna Weir | Carisma |
| 4th | Aaron Hadlow | Bellhaven Coolibah |
| 5th | Andrew Inglis | Laracas |
| 6th | Andrew Inglis | Kalysta |
CLASS 10B: Freedman Brothers – (AM7) – Thoroughbred Horses – 1.20m
The first six placings in this class were:
| | | |
| --- | --- | --- |
| PLACE | RIDER | HORSE |
| 1st | Milly Clarke | Rosthwaite Grumfus |
| 2nd | Aria Baker | That's Limo |
| 3rd | Cassie Webb | Go Tommy |
| 4th | Michael Cross | Little Bear |
| 5th | Vicki Roycroft | Tommy |
| 6th | Michelle Spiteri | Araluen Gold |
View Comments