Aaron Hadlow takes top spot at challenging Waratah World Cup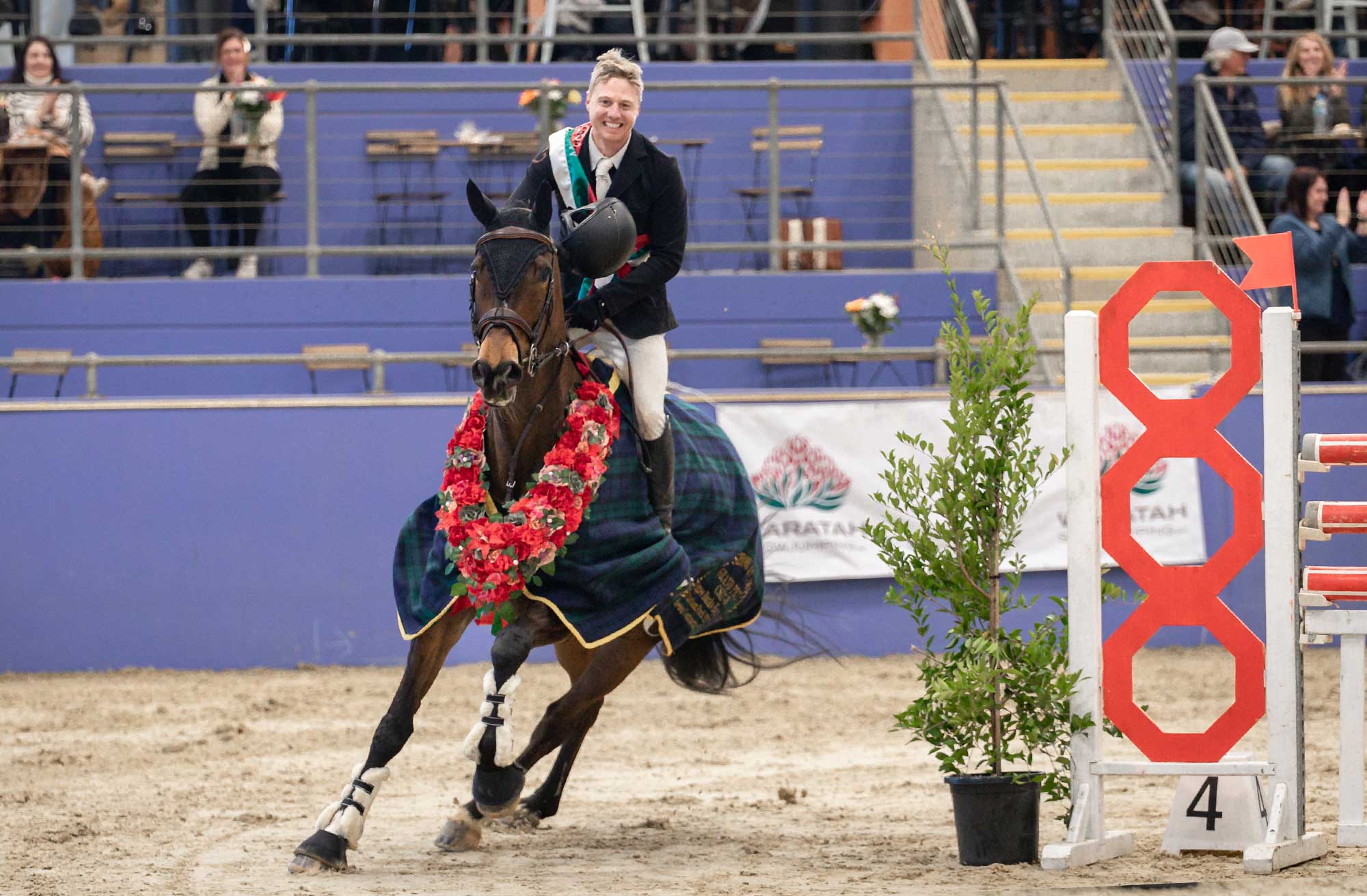 Simon Scully Photography
Above: Aaron Hadlow and Vahlinvader. Photo Credit: Simon Scully Photography.
After a break of almost two months, the 2022 Australian World Cup Series resumed with an exciting leg held this afternoon as the feature class of the Waratah Showjumping World Cup Weekend at the Sydney International Equestrian Centre (SIEC).
Advertisement


Sponsored by the Agnes Banks Equine Clinic, Chatham Park, Emcee Apparel, Keeden Contracting and the Tripp Family, this CSI1*W class kept the gathered spectators on the edge of their seats right until the very last combination completed the course.
Going into the fourth leg of the series, Queensland rider Olivia Hamood held the series lead with 50 points after placing third twice before taking the win at Caboolture in the previous leg. She was 22 points clear of Aaron Hadlow on 28, with Sam Overton and Billy Raymont (who did not compete today) tied in third, just a point behind Hadlow.
A total of 23 combinations lined up to tackle the Mark Atkins designed course which had a time allowed of 88 seconds. Right from the time that the first combination on course, Tom McDermott and Warraleigh Park Cortez took a rail at the first fence, you had the feeling that clear rounds were going to be hard to come by. By the time that the first seven combinations had competed, the best score was 8 and there had already been one elimination. It wasn't until the eighth combination out, reigning New Zealand World Cup Qualifier series champions Tegan Fitzsimon and 12-year-old gelding Windermere Cappuccino, showed the Australians how it was done by recording the first clear round. As it turned out, this was the only clear, however, a further five combinations finished on 4 faults.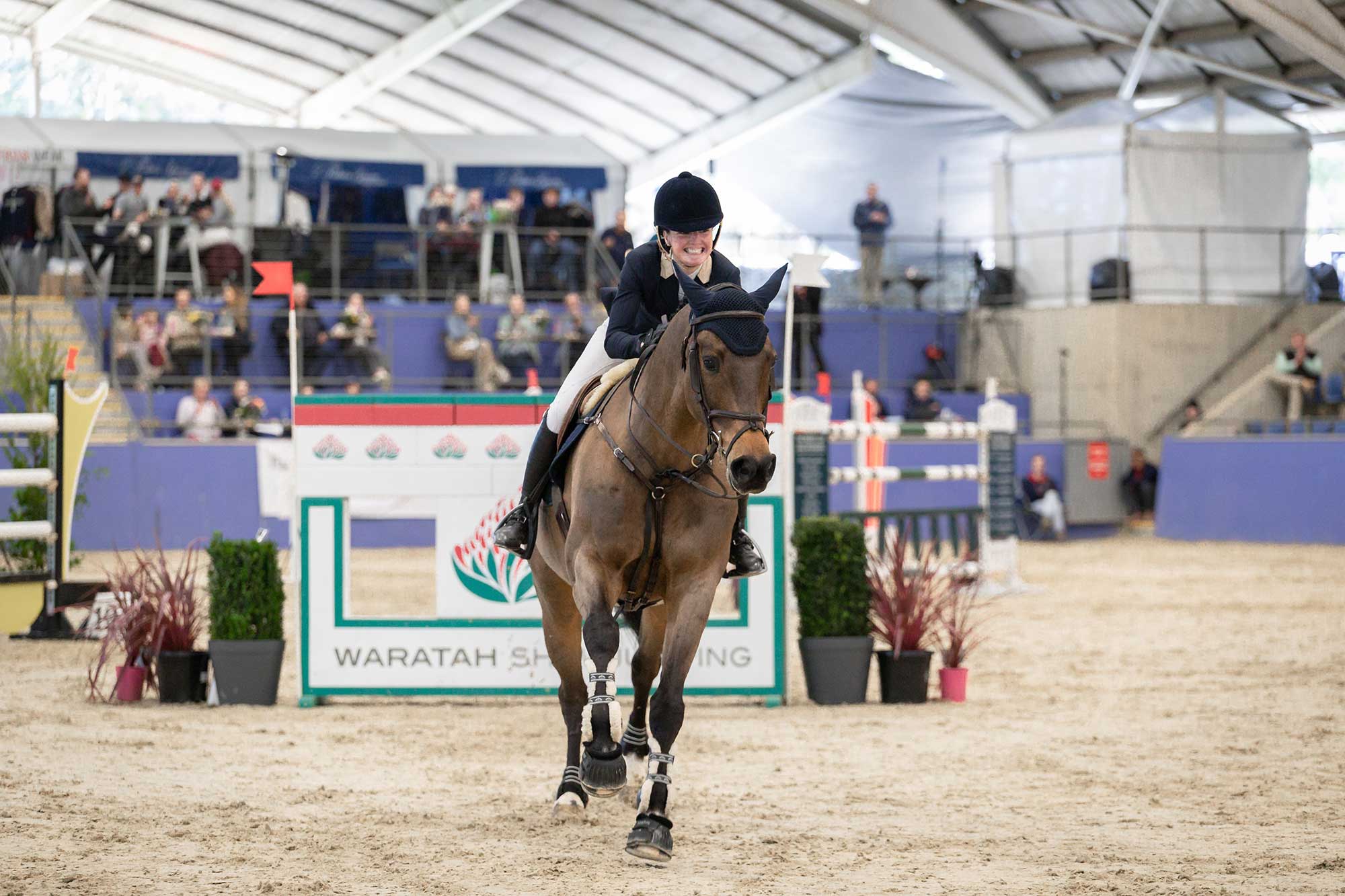 Above: Tegan Fitzsimon and Windermere Cappuccino.
World Cup rules allow the top 12 combinations to return for a second round, so coming back were Tegan Fitzsimon and Windermere Cappuccino as the only clear, the five four-faulters, a pair on 8 faults, another pair on 12 faults, a 13-faulter and the fastest of the 16-faulters, who returned to the arena after a short break.
Advertisement


First out in the second round were the 16-fault carrying Rhys Stones and Tulara Colmar, who would have been hoping for a clear round and then a lot of rails to fall if they were any chance in the class. They took just a single rail to finish on a total of 20.
The next combination we saw were Jamie Winning-Kermond and Yandoo Oaks Constellation who were carrying 13 faults from their first round. They had a slightly slower round, but leaving all the rails in place, a time of 58.97 seconds saw them incur three time penalties, which was later reduced to one when the course time allowed was altered from 56 to 58 seconds. Their final total was 14, which was enough to hold the lead for the time being.
Third out were Tom McDermott and Warraleigh Park Cortez who were in the unusual situation of having to carry 12 faults into a second round. Unfortunately for them, a further three rails and a time penalty saw them finish on a total of 25.
The series leading combination of Olivia Hamood and Jane Fonda DVD, followed, adding a single rail to the three down in Round 1, putting them on a total of 16, which meant a podium finish would elude them today.
The first of the two combinations carrying eight faults into the second round were the next pair on course. Mattea Davidson and Jaybee Vigilante, took a further two rails to end up on a total of 16. The other 8-fault combination fared much better. Amanda Madigan and Diamond B Vivienne were the first combination to record a clear second round, giving them a total of 8 and the lead with Round 2 exactly half finished.
Advertisement


Next out were the first of the four-faulters. Visitors from New Zealand, Phillip Steiner and Cassina Dior, took two rails and incurred two time penalties, to give them a total of 14. New Zealand ex-pat Josh Collins and Cornel were next. They took just a single rail for a total of eight faults, however, a slightly slower time than Amanda Madigan and "Vivienne" saw them slot into second place with just four combinations to come.
A pair of rails by Amber Fuller and Nopal Van Tallaert, saw them finish on a total of 12. There would be no place on the podium for them today, however, in the end, they went on to finish a very solid sixth.
The next combination out were Sam Overton and Oaks Cassanova. They produced a wonderful clear round, in a fast time of 51.62 seconds. They took over the lead with this performance and put some real pressure on the two combinations to come.
If there was pressure to be felt it did not impact the next combination of Aaron Hadlow and Vahlinvader. They emulated Overton and "Cassanova's" performance by also going clear, but the fastest time so far of 49.30 seconds saw them snatch the lead with just one combination to come.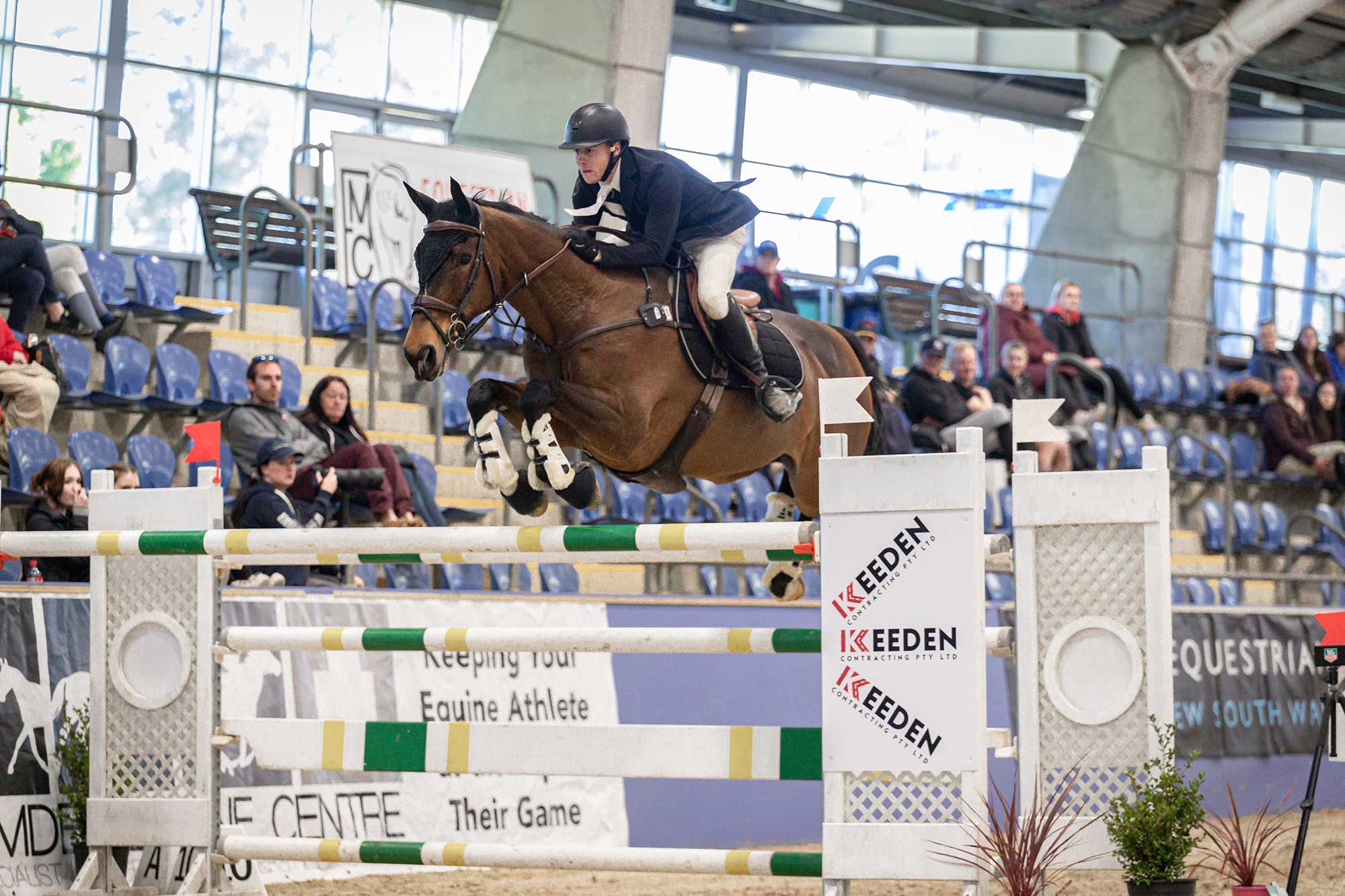 Above: Aaron Hadlow and Vahlinvader
When Tegan Fitzsimon and Windermere Cappuccino trotted into the arena, their task was a clear one. A clear round would ensure the win, but if a rail was to fall, they would have to be quick. The started their work with a steady air of purpose. They did not push hard to try and beat Hadlow's time, backing their ability to go clear and take the win. It all looked like a completely successful plan until the very last fence, which we were told be the commentators was set at 1.60m. To the gasps of the crowd, Fitzsimon and "Cappuccino" clipped the top rail, sending it to the floor and with it, so fell the pair's hopes of victory. All eyes immediately turned to the clock to compare their time to the leader and cheering and applause rang out when the crowd saw that it read 55.79 seconds, meaning that Aaron Hadlow and Vahlinvader had secured victory.
That time of 55.79 meant that Fitzsimon and "Cappuccino" had joined the other two leading combinations on a total of four faults, however that time was the slowest and they had to settle for third.
Advertisement


It is always an exciting class when the winner can only be determined after the last combination has reached the last fence, and this class was one of them. Aaron Hadlow and Vahlinvader, the 2018 World Cup Series Champions were the deserved winners. They were clearly the fastest combination in both the first round and the second round and to do so with just a single rail down on a testing track was a fantastic effort. By taking the win they will retain second place on the series pointscore. Second place went to Queensland combination Sam Overton and Oaks Cassanova. They are having a very consistent season so far and will now sit in third place in the series pointscore. Tegan Fitzsimon and Windermere Cappuccino had to settle for third, rounding out the podium.
To top all this off, the great news is that we only have to wait a one week for the fifth leg of the series to take place, which will be in Tamworth, NSW.
The top 12 placings in the Waratah Showjumping World Cup Qualifier were as follows:
CLASS 19: AGNES BANKS EQUINE CLINIC, CHATHAM PARK, EMCEE APPAREL, KEEDEN CONTRACTING AND THE TRIPP FAMILY: WARATAH SHOWJUMPING GRAND PRIX – CSI1*-W
| | | |
| --- | --- | --- |
| PLACE | RIDER | HORSE |
| 1st | Aaron Hadlow | Vahlinvader |
| 2nd | Sam Overton | Oaks Cassanova |
| 3rd | Tegan Fitzsimon | Windermere Cappuccino |
| 4th | Amanda Madigan | Diamond B Vivienne |
| 5th | Josh Collins | Cornel |
| 6th | Amber Fuller | Nopal Van Tallaert |
| 7th | Jamie Winning-Kermond | Yandoo Oaks Constellation |
| 8th | Phillip Steiner | Cassina Dior |
| 9th | Olivia Hamood | Jane Fonda DVD |
| 10th | Mattea Davidson | Jaybee Vigilante |
| 11th | Rhys Stones | Tulara Colmar |
| 12th | Tom McDermott | Warraleigh Park Cortez |
Results sourced from online.equipe.com
View Comments