Aussies Take Takapoto Teams' Crown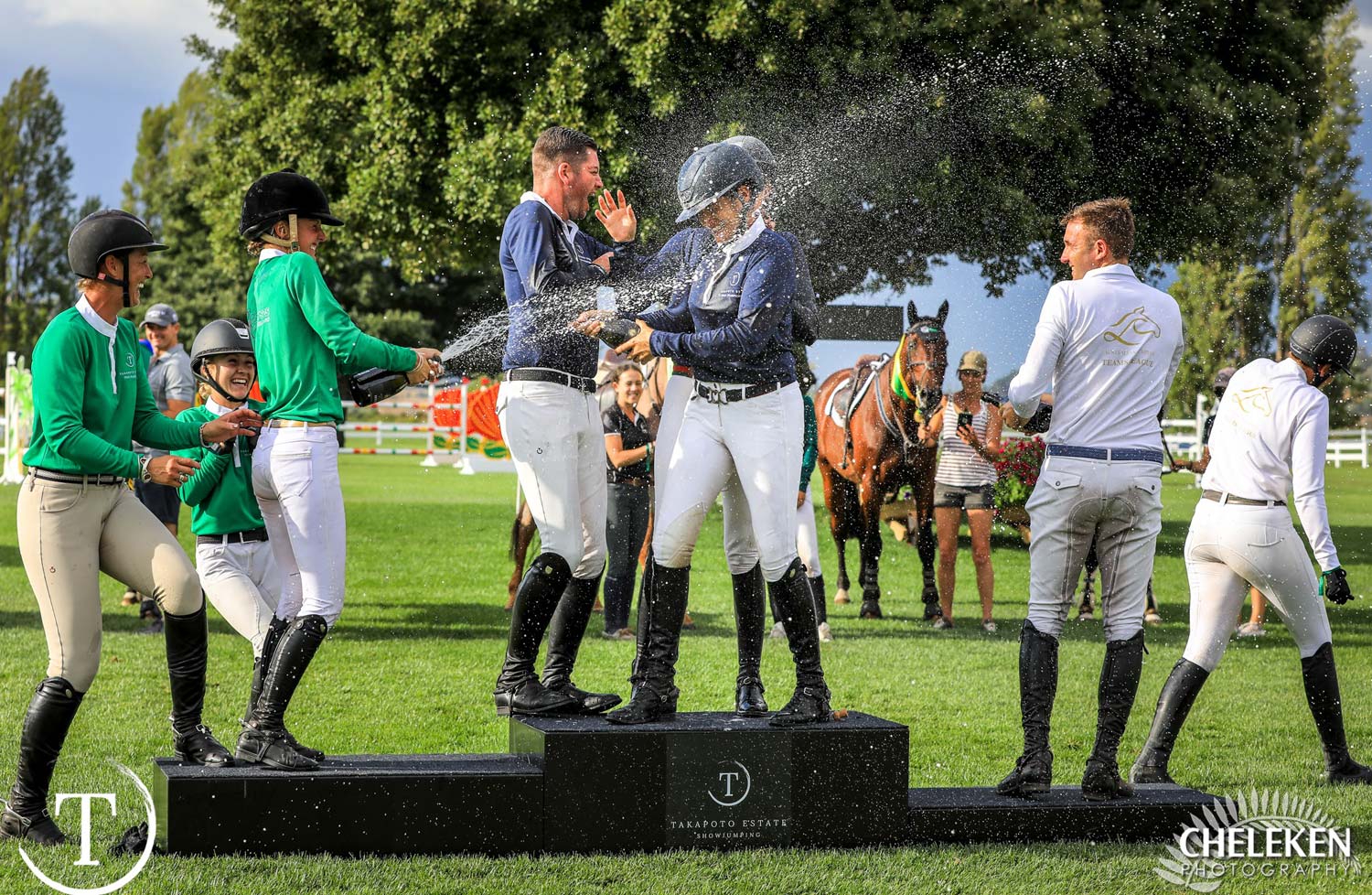 Ana Rattray/Cheleken Photography
Media Release: Diana Dobson, Takapoto Estate Showjumping
"That was a good day at the office," said Amber Fuller who led her Australian Chatham Park crew to victory in the inaugural Takapoto Teams' Championship on Friday afternoon.
As expected, it turned into a ding dong Kiwi Aussie battle and it came down to the last two riders before the final placings were decided. New Zealand team iSpy Horses came in for second with Aussies AJTL in third and Waikato Equine Vets fourth.
Advertisement


French course designer Michel Ismalun challenged the 12 teams of three combinations, all of whom rode the first round, with just the six best coming back for the second to decide who would ride off with the $18,000 winners' cheque.
There were eight clear rounds in the opener and six in the second but only Tegan Fitzsimon aboard the well-performed Windermere Cappuccino for iSpy Horses and James Arkins riding for AJTL on Eurostar managed double clears.
Amber Fuller admitted to a few little worries when she looked at the class list before the competition. "They all looked very strong," she said. "You'd be a brave person to pick a winner."
She's no stranger to team competitions and says she loves what they bring to a competition. "The team dynamic is great and you start to appreciate just how hard it is to get three double clear rounds from a single team. It comes right to the wire every time."
She and her team mates were already making plans to come back to Takapoto next year. "It is extraordinary what has been created here," she said. "It is world class across the board and a real stand out. We are so lucky to have this within our reach. What Mitch and Kate have done is incredible. We should all be grateful the Plaw family have got behind equestrian sport and that's something we all benefit from."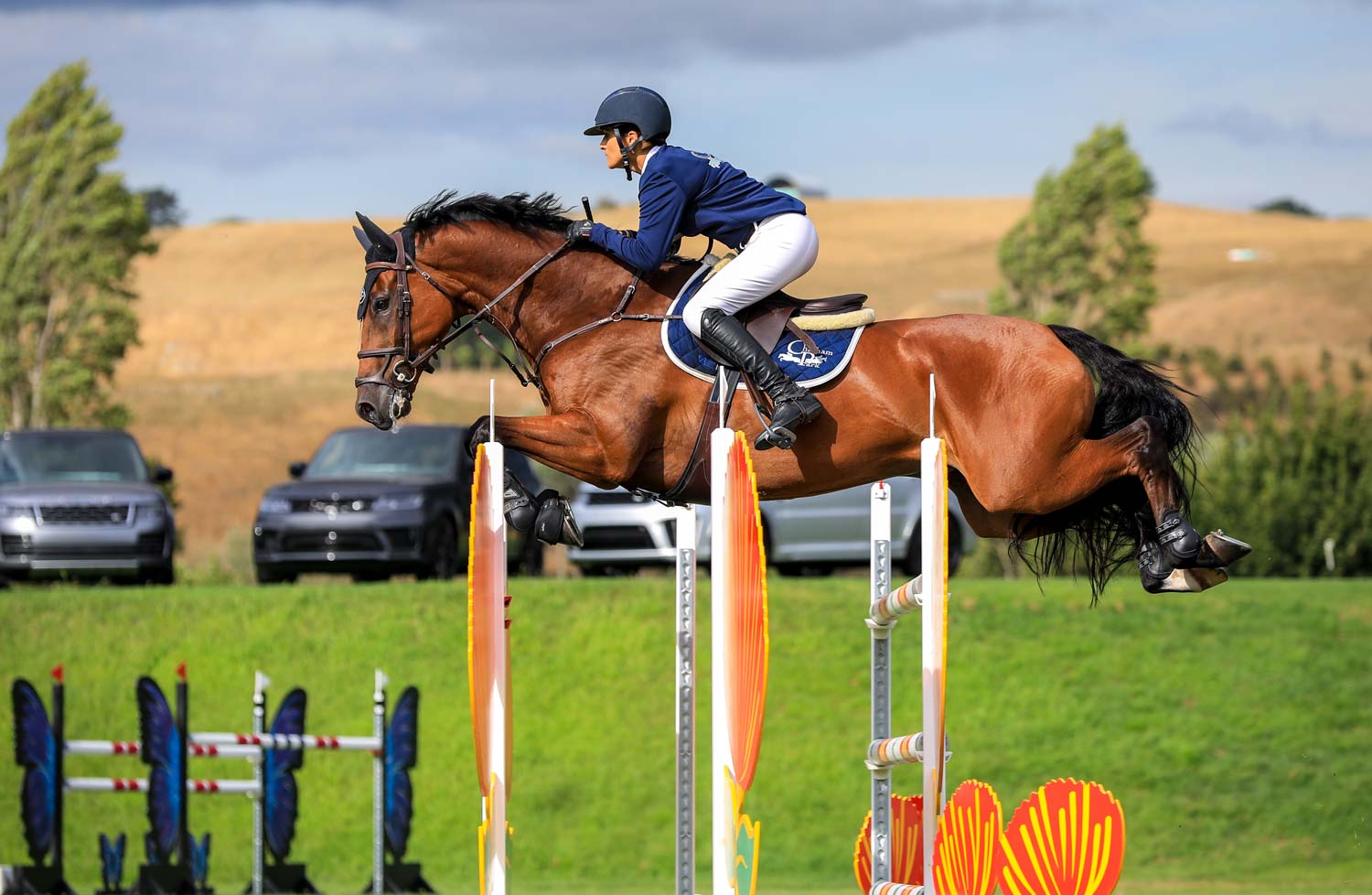 Amber Fuller and CP Aretino.  Photo credit:Ana Rattray/Cheleken Photography
Mitch Plaw was ecstatic to see the sport as exciting entertainment before a very appreciative crowd. "You've got to have both sport and entertainment, and I think this was just that," he said. "I can't wait to grow this even further. It will definitely become an annual competition and I guess now the thing is to look at how long the show runs for – that is one of the decisions we need to make. Do we make it three weeks? That certainly opens a lot of opportunities."
The age group finals were all decided today, with Brooke Hawthorne (Cambridge) winning the Four-Year-Old Final aboard Latona, Logan Massie (Dannevirke) and Cassio Xtreme, with another Xtreme Sporthorse taking the honours in the Six-Year-Old Final when Jaime Tiller (Cambridge) and Casanova Xtreme headed the field home. Vicki Wilson (Havelock North) and Daminos TWS took the honours in the Seven-Year-Old Final.
The show continues through to Sunday.
Advertisement


Results –
Takapoto Teams' Championship: Chatham Park (Amber Fuller/CP Aretino, Amelia Douglass/Sirius Du Granit/Tom McDermott/Elegance De La Charmille) 12 faults 1, iSpy Horses (Brooke Edgecombe/LT Holst Andrea, Briar Burnett-Grant/Fiber Fresh Veroana, Tegan Fitzsimon/Windermere Cappuccino) 17 2, AJTL (Kate Hinschen/Finch Farm Cadel, Jess Rice-Ward/Dusky Farm Cavalier, James Arkins/Eurostar) 24 3, Waikato Equine Vets (Drew Carson/Winston V Driene, Julie Davey/Joligne de Carmel, Robert Steele/LT Holst Bernadette) 36 4, GPI Racing/Yandoo Park (James Paterson-Robinson/Galliano MS, Melissa Blair/Gigant Z, Izzabella Stone/Lincoln MVNZ) 77 5, Harrison Lane (Emelia Forsyth/Henton Faberge, Emily Hayward/Belischi HM, Clarke Johnstone/Quainton Labyrinth) 97 6.
Seven-Year-Old Final: Vicki Wilson (Havelock North) Daminos TWS (Diarado/B'Lanca Nieve) 1, Oliver Croucher (Cambridge) Scotsman's Valley (Quinor/Power Girl) 2,  Jesse Linton (Hastings) LT Holst Elsbeth (Cascadello/Beryl) 3, Paula Mussen (Pukekohe) Déjà vu NZPH (Untouchable M/Riviera NZPH 4, Tegan Fitzsimon (West Melton) Glenbrooke All Roses (Euro Sport Heart Breaker/Dozen Roses) 5,  Vicki Prendergast (Matamata) Selena C (Cardento VDL/Sofee) 6, Laura Inkster (Clevedon) Nikama MVNZ (Canto/Dolche MVNZ) 7 Kim Best (Hastings) LT Holst Teacher's Pet (Centrico/River) 8.
Six-Year-Old Final: Jaime Tiller (Cambridge) Casanova Xtreme (Corofino II/JK Looks Good) 1, Logan Massie (Dannevirke) Avenger Xtreme (Andretti/Corteeza) 2, Brett Horsburgh (Cambridge) Epic NZPH (Non Plus Ultra III/Paparazzi NZPH) 3, Rachel Malcolm (Cambridge) Onessa MVNZ (Escudo I/Contessa) 4, Heloise Tolo (Wellington) Heartline (Euro Sport Heartbreaker/Calusa) 5, Deanna Horsburgh (Cambridge) Entourage NZPH (Kannan/Vidal NZPH) 6, Sam Peters (Cambridge) Orietta MVNZ (Carrado MVNZ/Bonito LVPZ) 7,
Sophia Blackbourn (Cambridge) Octavia MVNZ (Cassiano/Charming Princess) 8.
Five-Year-Old Final (on style): Logan Massie (Dannevirke) Cassio Xtreme (Cassiano/Cordette Xtreme) 1, Julie Davey (Hastings) LT Holst Freda (Colman/LT Holst Andrea) 2, Brooke Edgecombe (Waipukurau) LT Holst Helen (Casall/Charmante) 3, Logan Massie (Dannevirke) Florence (Lord Lorino/Molly) 4, Samantha Carrington (Takapau) Double J Hurricane (Euro Sport Heartbreaker/Double J Breeze) and Jeremy Whale (Cambridge) Bannockburn ECPH (Cassiano/Ngahiwi Emillionaire) =5, Oliver Croucher (Cambridge) Takapoto Lombardi (Andretti/Zoe CSNZ), Mackenzie Barclay (Taupo) Corolitta ECPH (Corofino II/Don't Kick My Float) and James Paterson-Robinson (Australia) Caprioska (Cassiano/Zara) =7.
Four-Year-Old Final (on style): Brooke Hawthorne (Cambridge) Latona (Lordeutz/Rwenzori Heights) 1, Jaime Tiller (Cambridge) Takapoto Sienna (Euro Sport Centavos/Belize Di Cantero) 2, Kylee McCambridge (Cambridge) PHS Armando (Andretti/Sabertage) 3, Rachel Nelson (Havelock North) Good Tune NZPH (Non Plus Ultra III/Tune to Blues NZPH) 4,
Oliver Croucher (Cambridge) Takapoto DC (Cartell GNZ/Claire) 5, Laura McGregor (Auckland) Cavalli GNZ (Cartell GNZ/Nearco Black) 6, Jackie Jermyn (Hamilton) Sandradel (Sandrao's Adel/Penelope) 7, Oliver Croucher (Cambridge) Takapoto China (Cassiano/Lanice van de Heffnick) 8.
Horse 1.3m: Duncan McFarlane (Taupo) Be Mine NZPH 1, Clarke Johnstone (Matangi) Aces High 2, Charlotte McKenzie (Cambridge) LC Lin D'or 3, Vicki Wilson (Havelock North) Celebrity VWNZ 4, Georgina Dormer (Rangiora) Casanova NZPH 5, Laura Inkster (Auckland) Oporaes Jackamoe 6.
Horse 1.35m: Annabel Francis (Taupo) La Quinara 1, Tors Rattray (Mangatangi) Versace NZPH 2, Katharine Van Tuyl (Palmerston North) Centavino 3, Annabel Francis (Taupo) Cherokee NZPH 4, Tegan Fitzsimon (West Melton) Campari 5, Bailey Rutter (Balclutha) Henton Serenade 6.
Horse 1.1m: Lily Sutherland (Hawke's Bay) Flashover 1, Madison Jackson (Auckland) Kiwi Monarch 2, Vicki Wilson (Havelock North) Royal Levado VW 3, Ella Davison (Tauranga) El Luna Eclipse 4, Kimberley Bird (Ashburton) Cera Cassina 5, Brooke Knight Willis (Auckland) Everything Equine Totara 6.
Horse 1.2m: Chloe Hansen (Palmerston North) Fancy Pants 1, Blyth Tait (Karaka) Billy Sparky 2, Alexa Randall (Auckland) Carnival NZPH 3, Anneke van Rooyen (Taumarunui) Double J Monarch 4, Bundy Philpott (Cambridge) Tresca NZPH 5, Bobbie Hewson (Taupo) Ngahiwi Blue Moon 6.
View Comments