Australian Jumping Horses of 2018 – Blue Movie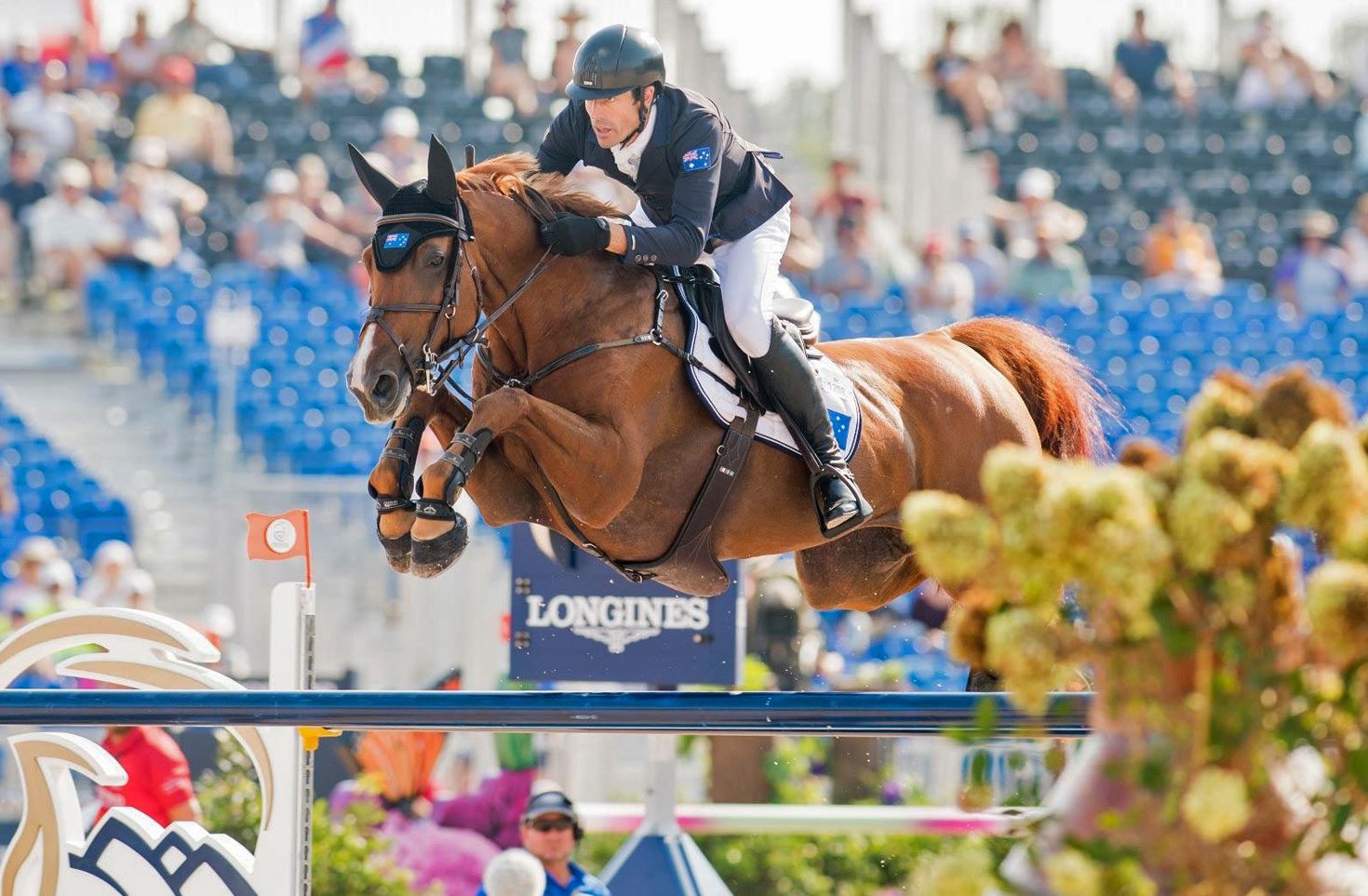 EA / Cara Grimshaw
Rowan Willis and Blue Movie have certainly made some headlines for themselves this year. The highlight for us would have to have been watching them compete in the World Equestrian Games in Tryon, where they became the talk of the jumping world by placing 3rd in the first round and then 12th overall. By all accounts not the easiest of horses, but Willis manages her beautifully and together they make an exceptional team. We look forward to following the progress of this mare leading up to Tokyo 2020.
Advertisement

We asked Rowan a few questions about his wonderful horse:
Horse Name: Blue Movie
Stable Name: Carrots
Sex: Mare
Age: 12
Height: 16.1
Colour:  Chestnut
Sire: Chacco Blue
Dam: Showtime (Nick Skelton – 1996 Olympic Games Atlanta)
Breeder: Sue Welch
Owner: Rowan Willis with his sister Renee, parents David and Elsa, Micheal and Wendy Jackson from Guyra and Warren Coventry from Armidale.
Owned since: 5 yr old
What particular characteristics of the Sire and Dam attracted you and do you think Blue Movie has inherited these?
Her mother was a very good mare, very careful and won a lot. I always knew Carrots would be good since she was a foal, she was really strong and so sharp in her mind, she would not miss anything that was going on. She always knew where her feet were. I tried to buy her since she was a foal, and finally succeeded when she turned 5.
Tell us a bit about her personality. What is she like at home and out at competitions?
She was really difficult to break in, so sensitive, she took me a lot longer than any other horse, it took me months to even get a pair of front boots on her, years to get hind boots her!
She is still very sensitive, I always have to lunge her before I get on. She mainly gets led off another horse at home, or if I ride her I just walk her for one to two hours, then maybe a little bit of trot. She does get lunged a lot, and a little free jump at home if she hasn't been to a show for a while.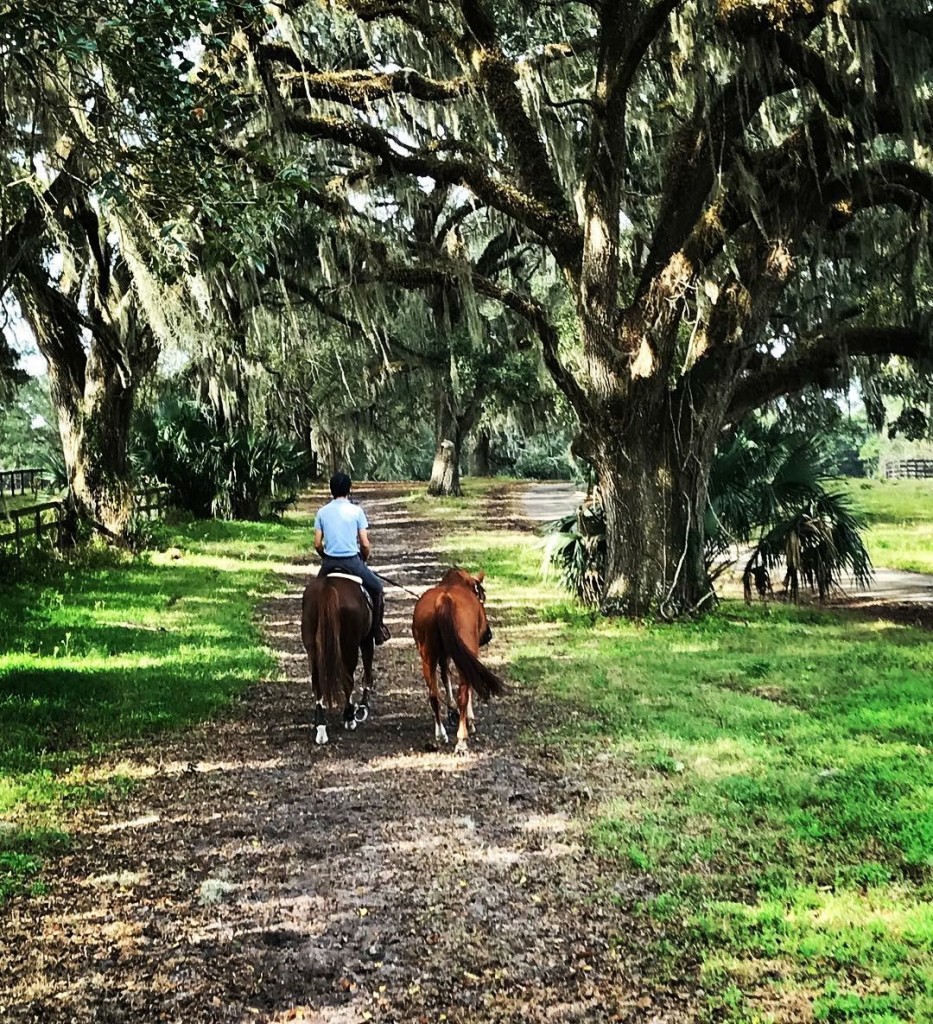 She is very well mannered on the ground, but she has to know you. I am lucky to have Robert, who has worked for me for ten years, she loves Robert and he does everything with her, including lunging her before a competition so all I have to do is get on and jump a couple of jumps and go into the ring.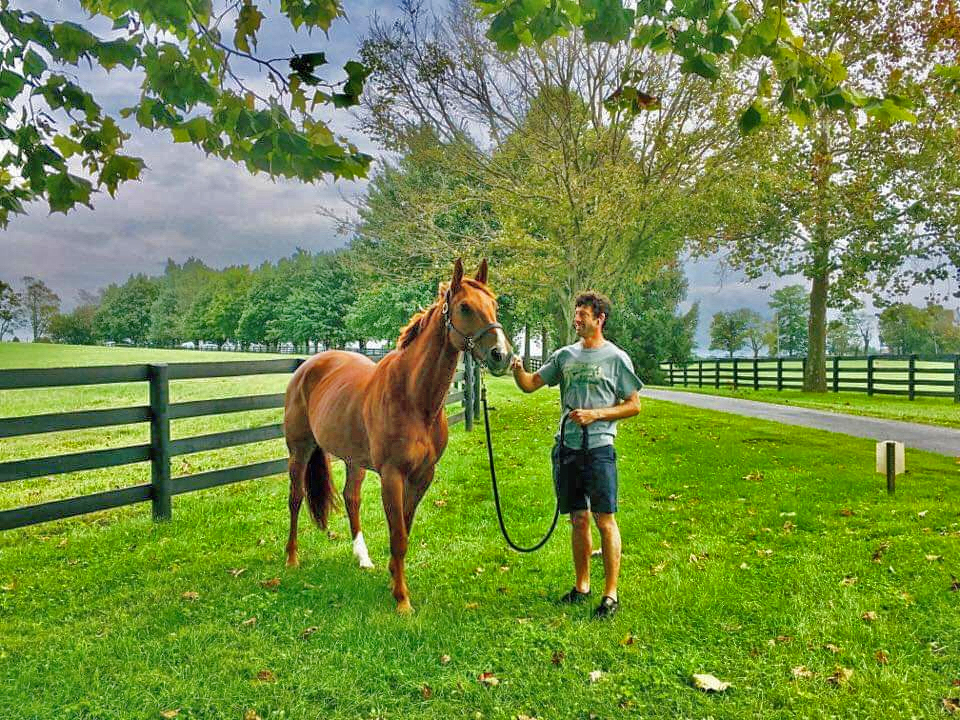 What do you consider the highlights of her career so far?
She had done some good things earlier but she first made her mark winning the 4* Grand Prix at Samorin July 2017, then 2 weeks later she won the 3* Grand Prix in Bratislava. Then this year she started off winning the 5* Grand Prix at the nations cup show in Ocala against some of the worlds best riders, she has followed this up with many good placing in numerous 5* Grand Prix's including the Spruce Meadows Masters, the largest GP in the world. Then of course her 12th place at WEG.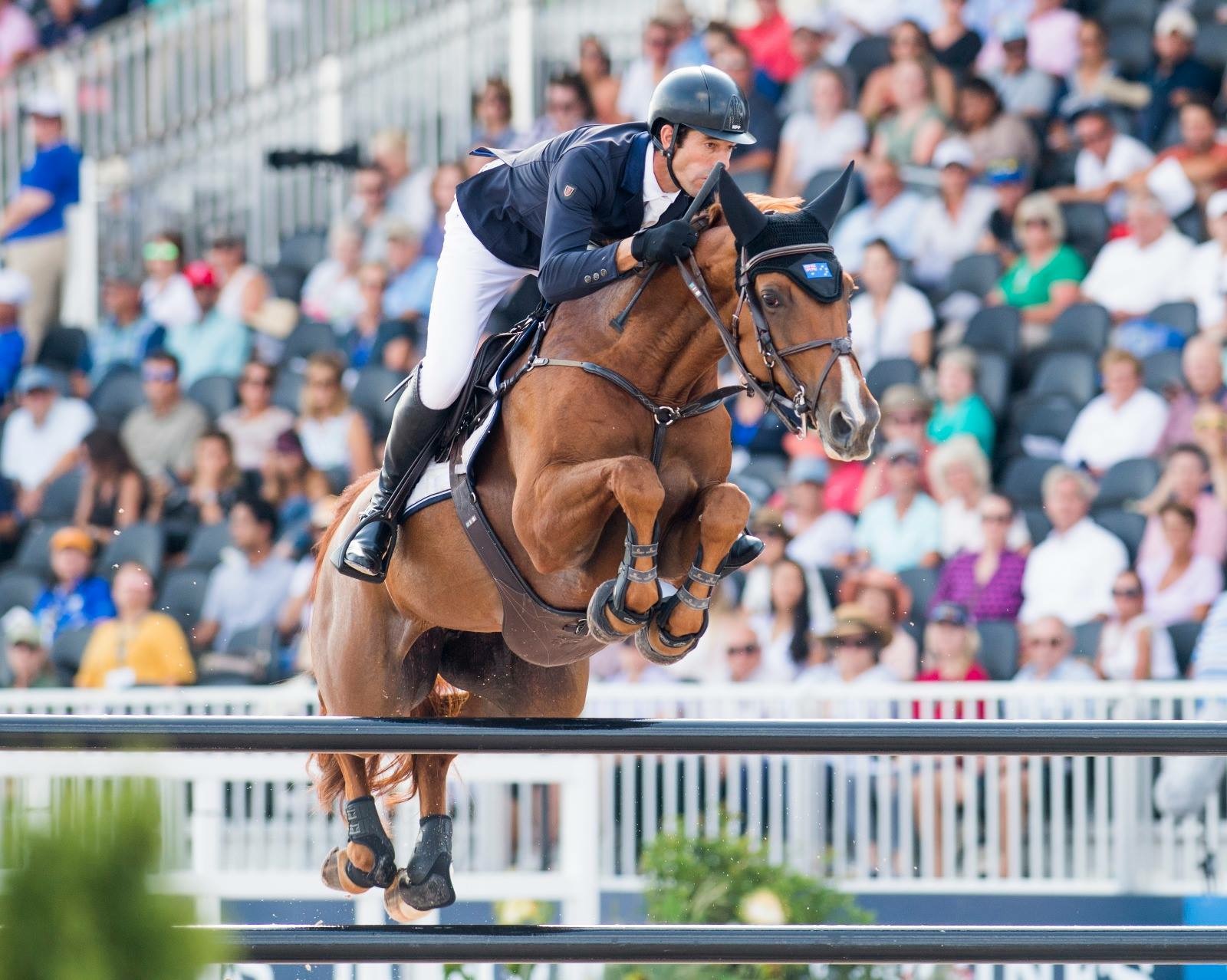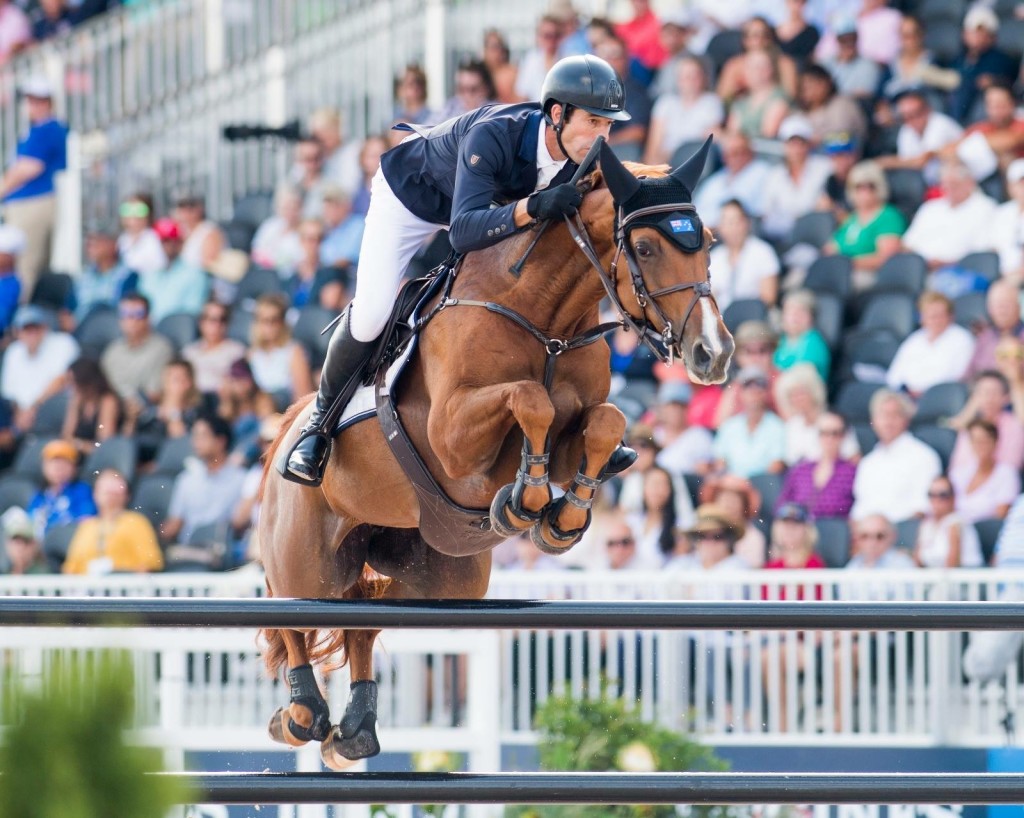 Photo Credit Equestrian Australia / Cara Grimshaw Photography.
What are your short and long term goals for Carrots?
My aim now is Tokyo, I have already made a rough plan leading up to the Olympics, starting with some classes in Florida and California at the beginning of next year.
Anything else you would like to tell us about her?
She is an incredibly special horse to me, she has taught me to work with her, not try to make her fit into a normal routine. She always tries her hardest and I feel she has many more exciting times to come.
The below table details highlights for Blue Movie from this year.
| | | | | |
| --- | --- | --- | --- | --- |
| Date | Show | Event | Height | Position |
| 10/11/2018 | Toronto ON | CSI4*-W | 140-160 | 13 |
| 08/11/2018 | Toronto ON | CSI4*-W | 160 | 4 |
| 03/11/2018 | Lexington KY | CSI4*-W | 140-160 | 22 |
| 01/11/2018 | Lexington KY | CSI4*-W | 155 | 18 |
| 20/10/2018 | Tryon NC | CSI5* | 160 | 4 |
| 18/10/2018 | Tryon NC | CSI5* | 150 | 8 |
| 23/09/2018 | Tryon NC | WEG-S | 165 | 12 |
| 23/09/2018 | Tryon NC | WEG-S | | 12 |
| 21/09/2018 | Tryon NC | WEG-S | 165 | 6 |
| 20/09/2018 | Tryon NC | WEG-S | 165 | 14 |
| 19/09/2018 | Tryon NC | WEG-S | 155 | 3 |
| 09/09/2018 | Calgary, Spruce Meadows AB | CSIO5* | 170 | 11 |
| 06/09/2018 | Calgary, Spruce Meadows AB | CSIO5* | 150 | |
| 05/09/2018 | Calgary, Spruce Meadows AB | CSIO5* | 150 | 38 |
| 19/08/2018 | Crete, IL | CSI5* | 160 | 4 |
| 16/08/2018 | Crete, IL | CSI5* | 145 | 18 |
| 07/07/2018 | Calgary, Spruce Meadows AB | CSI5* | 160 | 4 |
| 05/07/2018 | Calgary, Spruce Meadows AB | CSI5* | 145 | 24 |
| 01/07/2018 | Calgary, Spruce Meadows AB | CSI5* | 160 | |
| 29/06/2018 | Calgary, Spruce Meadows AB | CSI5* | 155 | 27 |
| 17/06/2018 | Calgary, Spruce Meadows AB | CSI5* | 160 | 9 |
| 15/06/2018 | Calgary, Spruce Meadows AB | CSI5* | 155 | 18 |
| 09/06/2018 | Calgary, Spruce Meadows AB | CSI5* | 160 | 17 |
| 06/06/2018 | Calgary, Spruce Meadows AB | CSI5* | 155 | 10 |
| 19/05/2018 | Lexington KY | CSI3* | 150 | 3 |
| 17/05/2018 | Lexington KY | CSI3* | 145 | 36 |
| 27/04/2018 | Lexington KY | CSI3* | 145 | 8 |
| 27/04/2018 | Lexington KY | CSI3* | 160 | 9 |
| 24/02/2018 | Wellington FL | CSI5* | 160 | 8 |
| 22/02/2018 | Wellington FL | CSI5* | 150 | 46 |
| 16/02/2018 | Ocala FL | CSIO5*-NC NAm | 160 | 1 |
| 14/02/2018 | Ocala FL | CSIO5*-NC NAm | 145 | 17 |
Source: FEI
View Comments