Australian Jumping Horses of 2018 – Flaire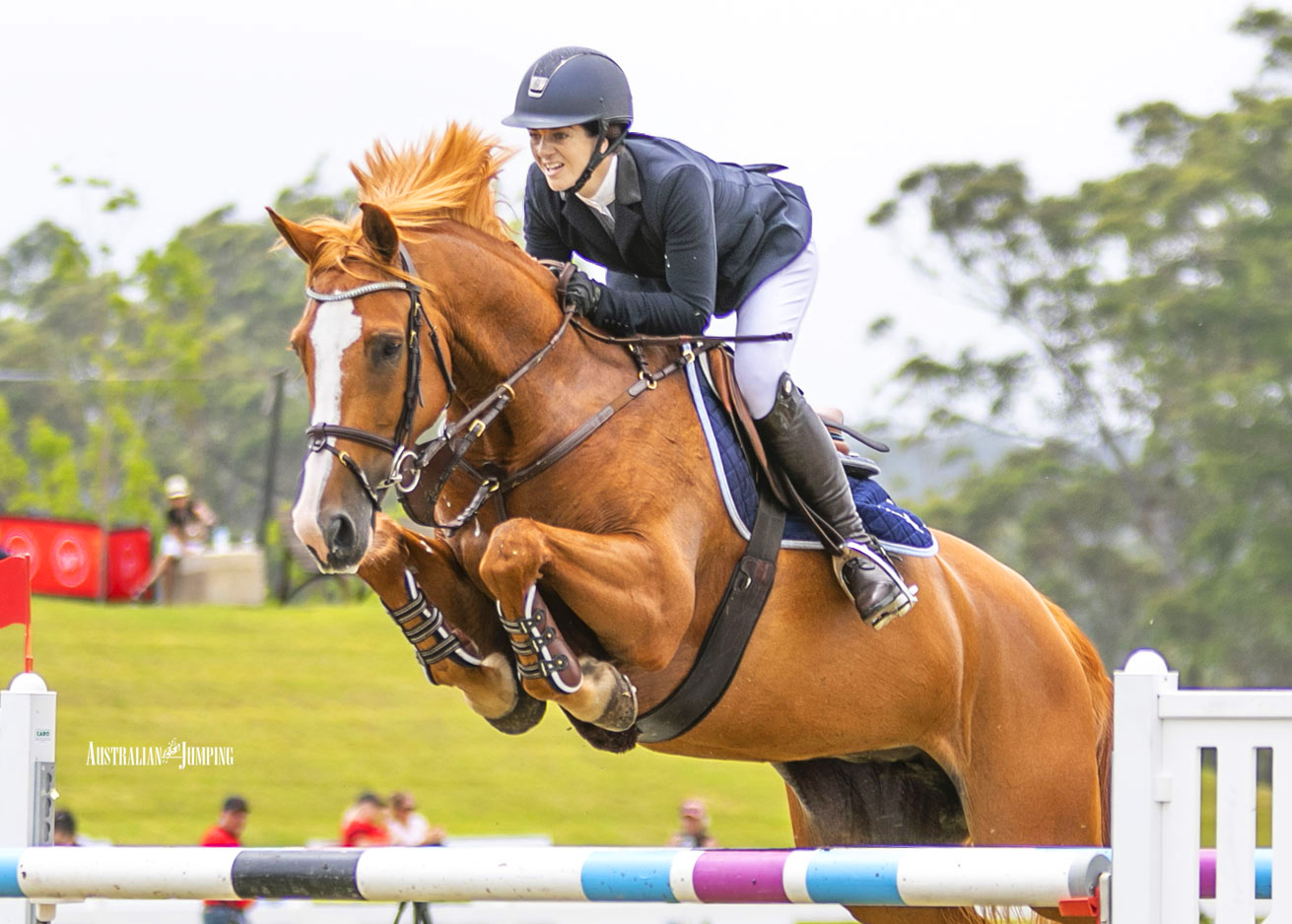 Australian Jumping
There wouldn't be many of us who have been lucky enough to watch this mare in action that haven't fallen a little in love. With her stunning looks and obvious ability she certainly is a head turner. Currently ranked 6th in the Australian League World Cup Qualifying Series, from only 3 out of 8 possible starts, we look forward to seeing how far this horse can go in the experienced and talented hands of the team at Chuggy Equestrian.
We hope you enjoy reading about this mare from the perspective of her proud owner Gabi Kuna:
Horse Name: Flaire
Stable Name: She has a few names that she goes by at home… Flaire Bear, Flairesens, Queen
Sex: Mare
Age: 8
Height: 16.2
Colour:  Chestnut
Sire: Carthino Z
Dam: Aranca (sire Lupicor)
Breeder: Stal Linssen
Owner: Gabrielle Kuna
Owned since: September 2016
What characteristics in particular attracted you to Flaire?
I remember when I first saw her at a show.. she was so beautiful to look at and she has this amazing blue eye which is a little unusual so she was a bit of a stand out and hard to forget.
Tell us a bit about her personality. What is she like at home and out at competitions?
She is a very sweet character, kind, loves attention, loves a cuddle and a smooch and loves food! She knows how good she is and knows she is my favourite so plays on that a little bit. She loves getting out to the shows, she is a real competitor!
Does she have any quirky traits?
Flaire is pretty straight forward, but she has a lot of blood! So sometimes if she is fresh she can be a bit firery but that's a part of her and I wouldn't change it!
What do you consider the highlights of her career so far?
Placing 4th and 3rd in our first two World Cup starts together.
What are your short and long term goals for Flaire?
I would like to represent Australia at as many championships as I can on her. Olympics, WEG, World Cup finals are definitely on the wish list!
Anything else you would like to tell us about her?
As well as being a competitor she has also done some embryo transfers during the time I have owned her. She has a filly by Big Star and twins (one filly and one colt) by Emerald that were born 2017 and she has a foal due this year by Diamant de Semilly.
FEI results for Flaire with Gaby Kuna as pilot are as follows:
| | | | | |
| --- | --- | --- | --- | --- |
| Date | Show | Event | Height | Position |
| 06/10/2018 | Tamworth NSW | CSI1*-W | 140-160 | 3 |
| 24/08/2018 | Sydney NSW | CSI1* | 140 | 14 |
| 05/08/2018 | Gatton QLD | CSI1*-W | 140-160 | 4 |
| 11/03/2018 | Sydney NSW | CSI1* | 140 | 18 |
| 27/08/2016 | Lastrup (Klein-Roscharden) | CSI1* | 130 | 31 |
| 26/08/2016 | Lastrup (Klein-Roscharden) | CSI1* | 130 | 33 |
| 25/08/2016 | Lastrup (Klein-Roscharden) | CSI1* | 125 | 10 |
| 14/08/2016 | Opglabbeek | CSI1* | 130 | 38 |
| 13/08/2016 | Opglabbeek | CSI1* | 125 | 26 |
| 12/08/2016 | Opglabbeek | CSI1* | 125 | 7 |
| 07/08/2016 | Valkenswaard | CSI1* | 135 | 16 |
| 06/08/2016 | Valkenswaard | CSI1* | 125 | 10 |
| 05/08/2016 | Valkenswaard | CSI1* | 120 | 25 |
View Comments