Australian Young Horse Champions show their form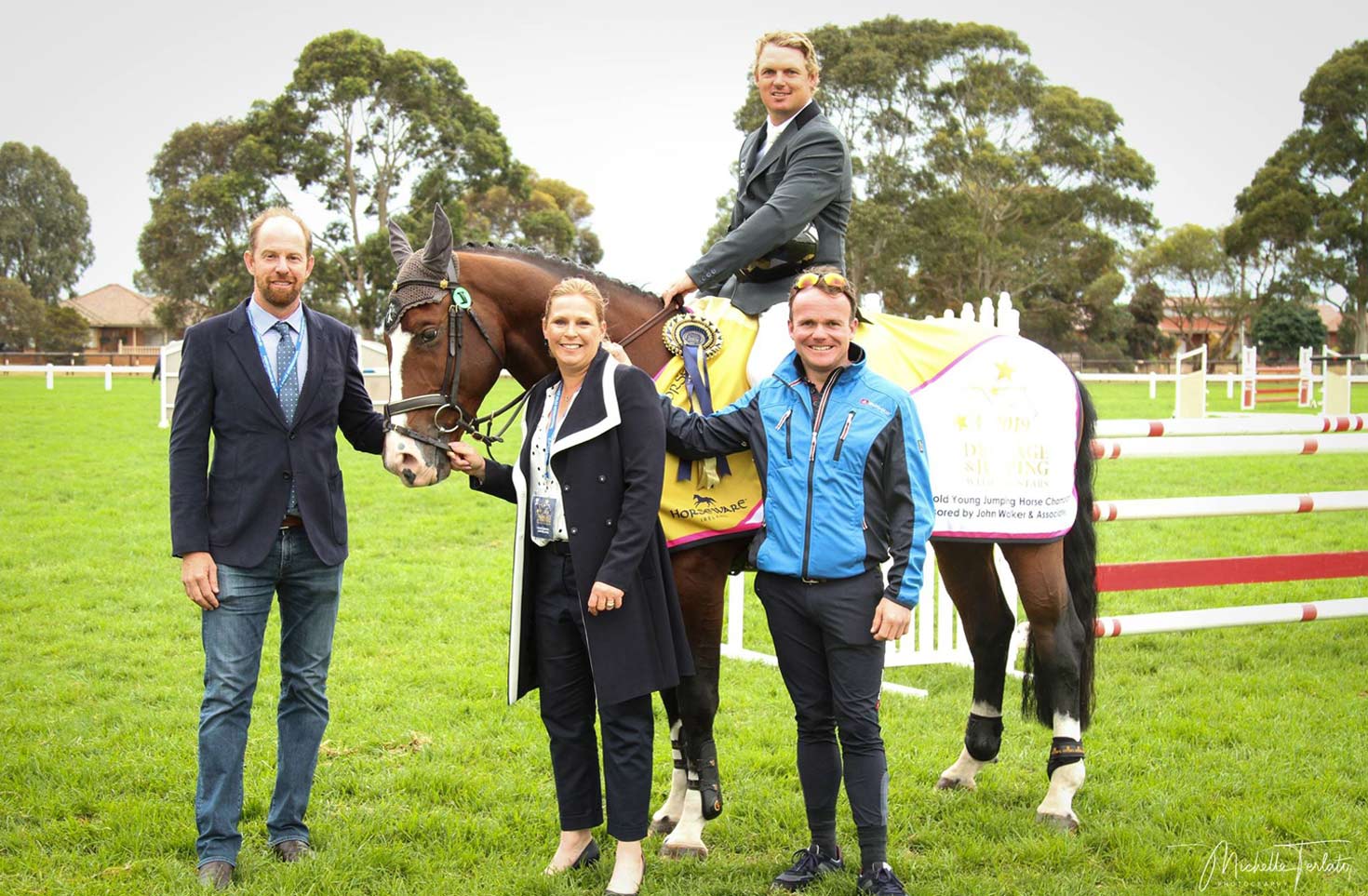 Michelle Terlato
Above: Jamie Kermond with Seumas and Danielle Marwood's Wild Kard. Five Year Old Champions
Dressage & Jumping with the Stars (DJWTS) has grown to become one of the most prestigious young horse events in Australia with the addition of the Young Jumping Horse Championship in 2002.
Over three days, the Young Horse Championships were decided over three rounds with the top 10 horses from the first two rounds invited to compete in the final on Saturday. Many thanks to the three Jumping Judges (Rory Hovell, Becky Jenkins and Franz-Josef 'Peppi' Dahlmann) for judging what was a very high class of competition.
Advertisement

After a full three days of jumping, the Dressage and Jumping with the Stars Australian Young Horse Champions are as follows:
Fiber Fresh 4yo Young Jumping Horse
After coming 1st in Round 1, 2nd in Round 2 and winning the final. Philip Lever and the Jami Hurley bred JHM Veritas were  very deserved winners of this age group.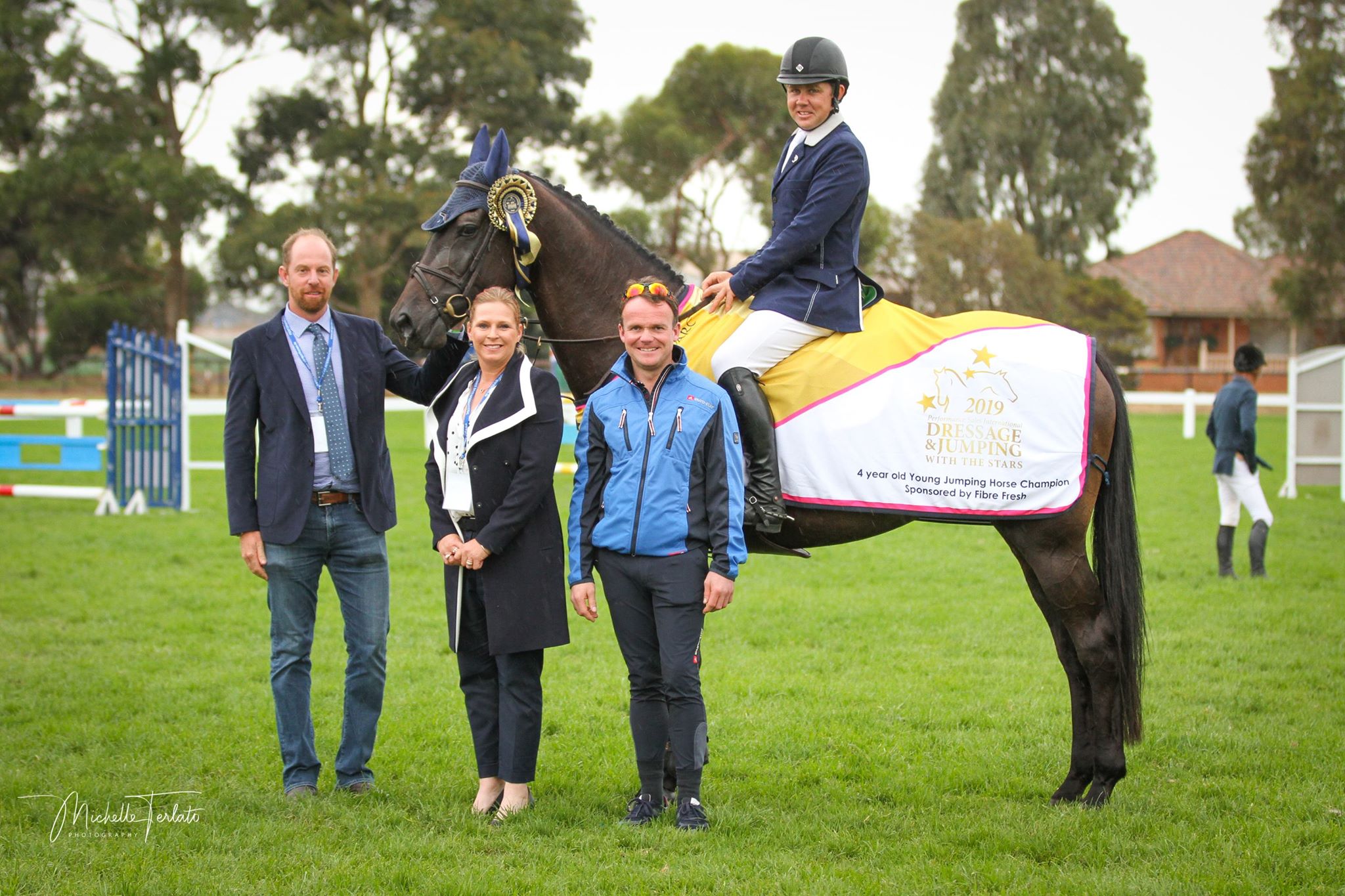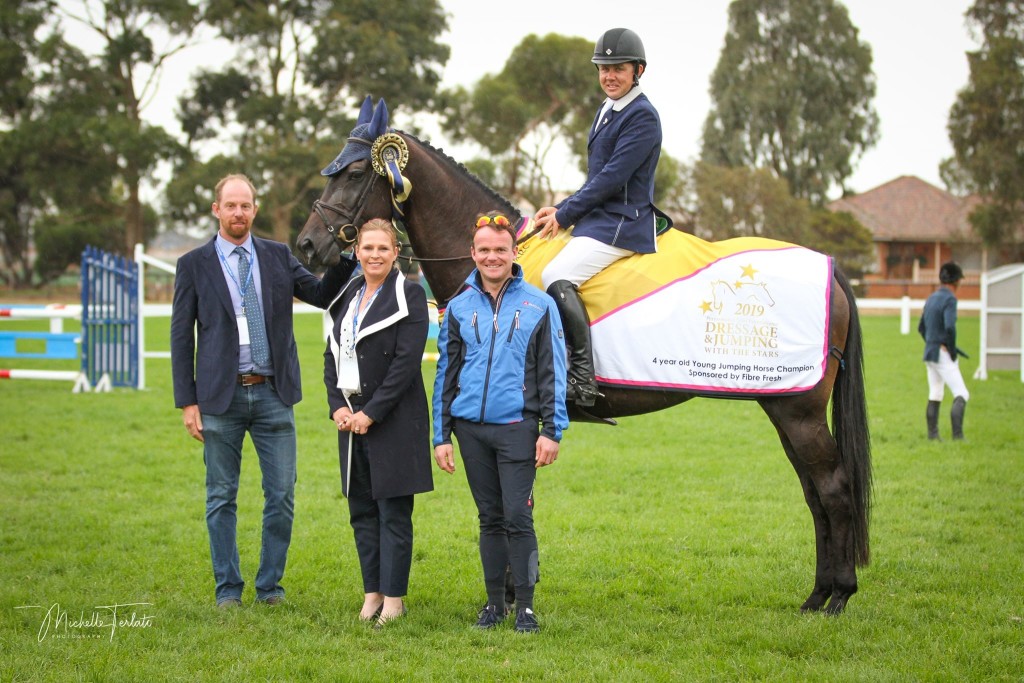 Philip Lever and JHM Veritas. Photo Credit: Michelle Terlato.
John Walker & Associates 5yo Young Jumping Horse
Jamie Kermond riding Seumas and Danielle Marwood's Wild Kard started well and just got better, with a 2nd in Round One, followed by two consecutive wins they left no doubt that they were indeed the champions for this age group.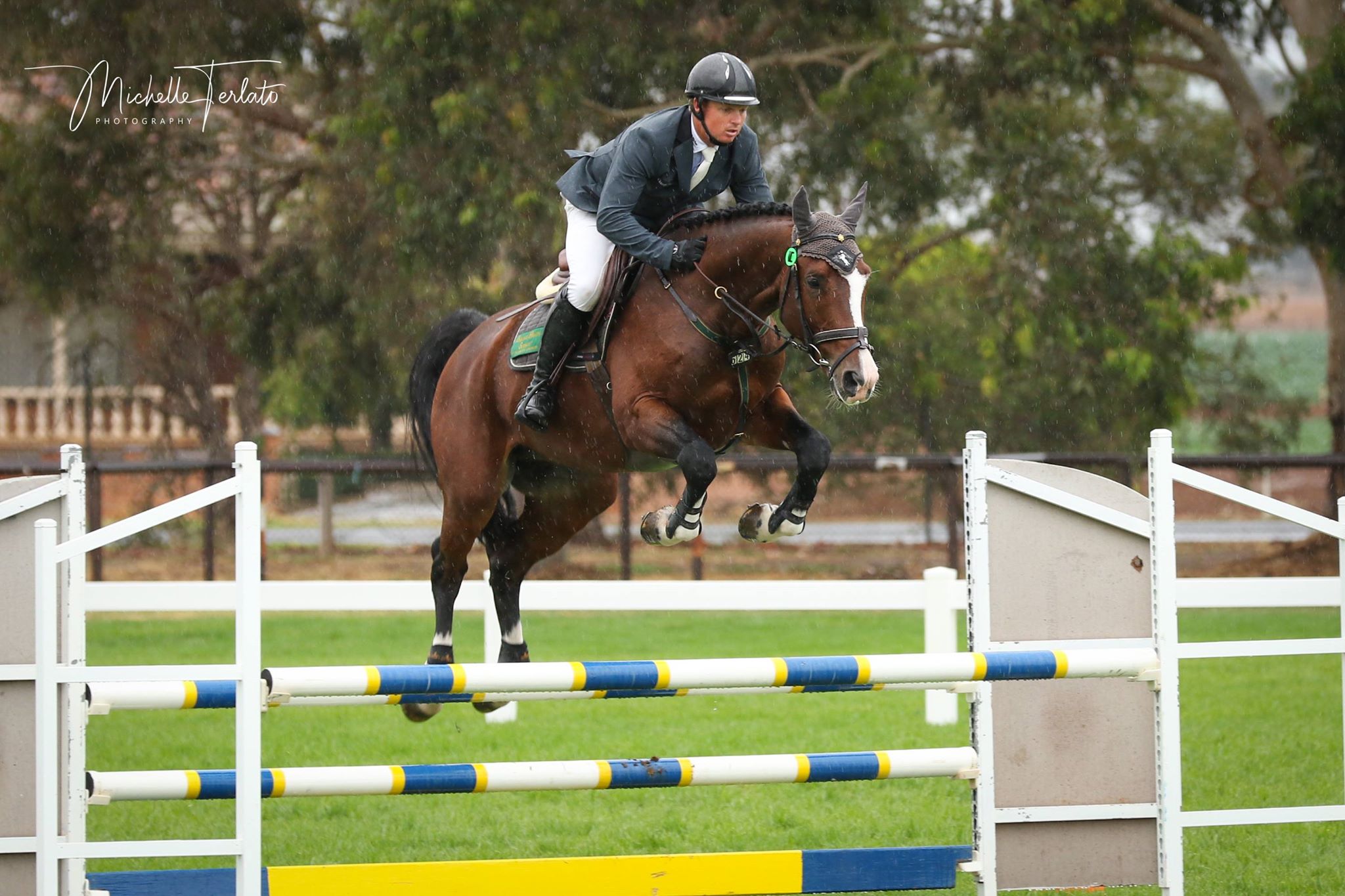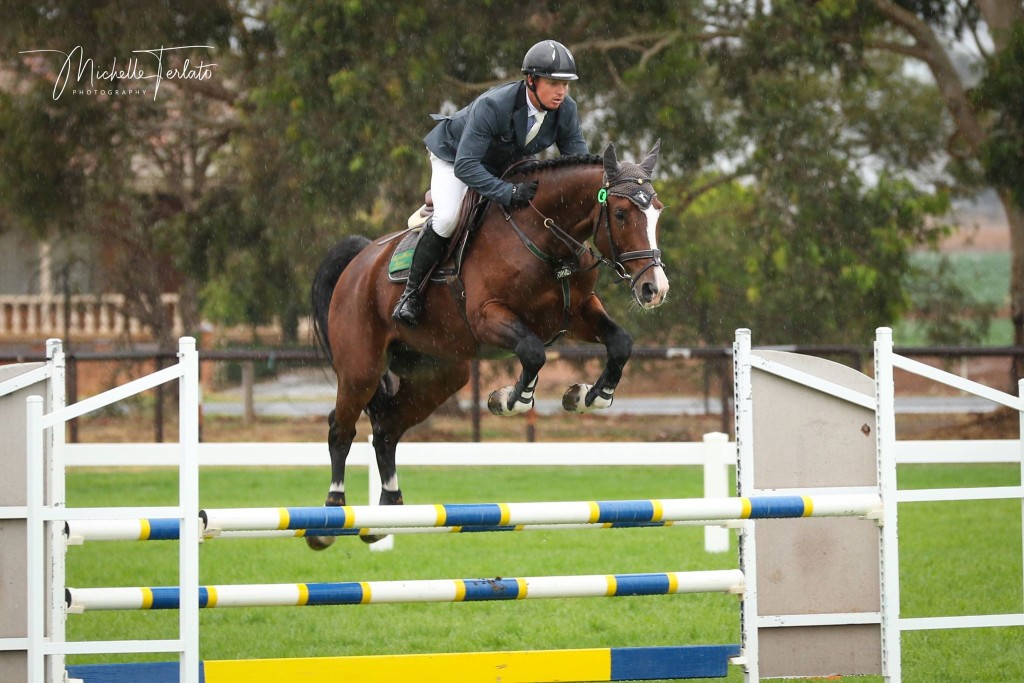 Jamie Kermond and Wild Kard. Photo Credit: Michelle Terlato.
Glenara Park 6yo Young Jumping Horse
It was a clean sweep for Frida Lindgren and Lomachenko (bred by Michael and Trevor Webster), who aced all three rounds to be crowned the 6 year old champion.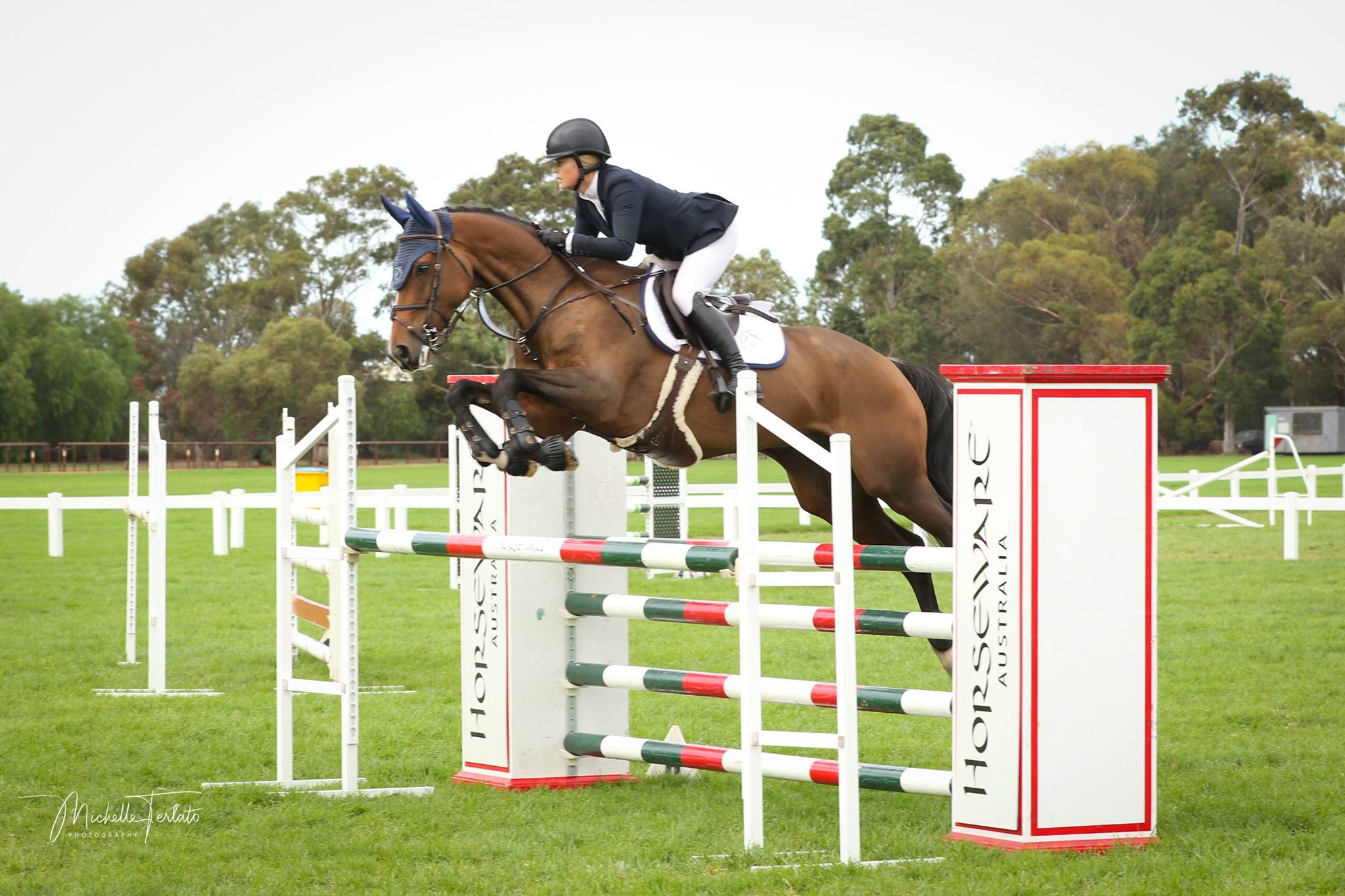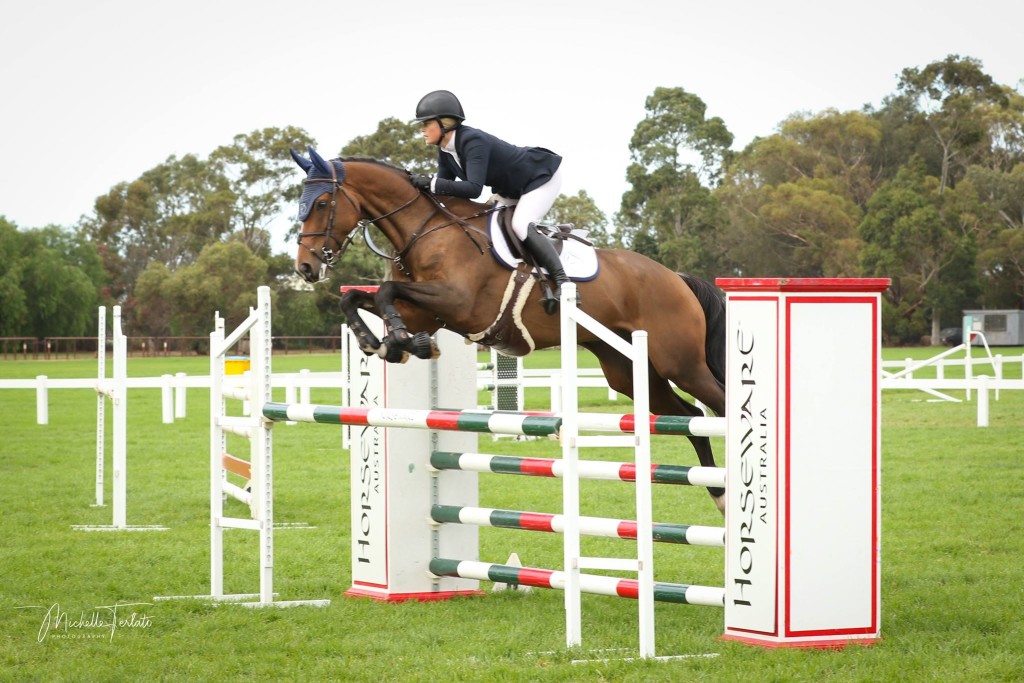 Frida Lindgren and Lomachenko. Photo Credit: Michelle Terlato
Furphy 7yo Young Jumping Horse.
Jamie Kermond continued his great form, and after taking out the 5 year old championship on Wild Kard, he wrapped up the weekend by riding Sue Middleton's Ciel to claim top points from the judges in all three rounds of the 7 year old class and claiming the championship.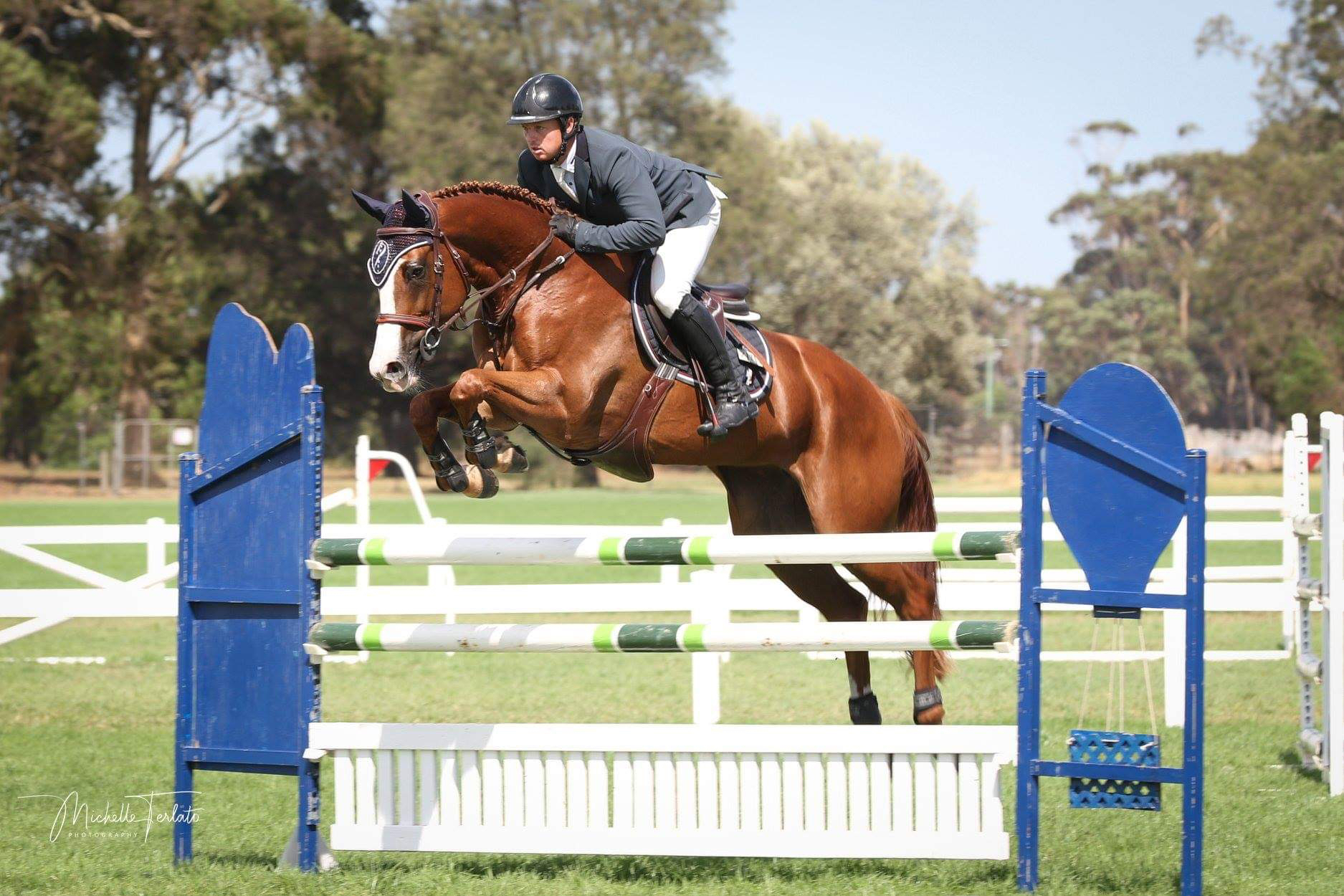 Jamie Kermond and Ciel. Photo Credit: Michelle Terlato.
With the Young Horse Championships decided, it was time for the Rivenlee Current Stars 1.40m Grand Prix, with 31 horses vying for this prestigious title. The Rivenlee Current Stars Champion was the combination that jumped consistently over the whole three days of competition with points accumulating from each day's results. And the 2019 winner was Paul Brent and Fontaine Blue VDL, who collected enough points with a 3rd place in Round One, 4th in Round Two and 3rd in the Final to fend off the competition.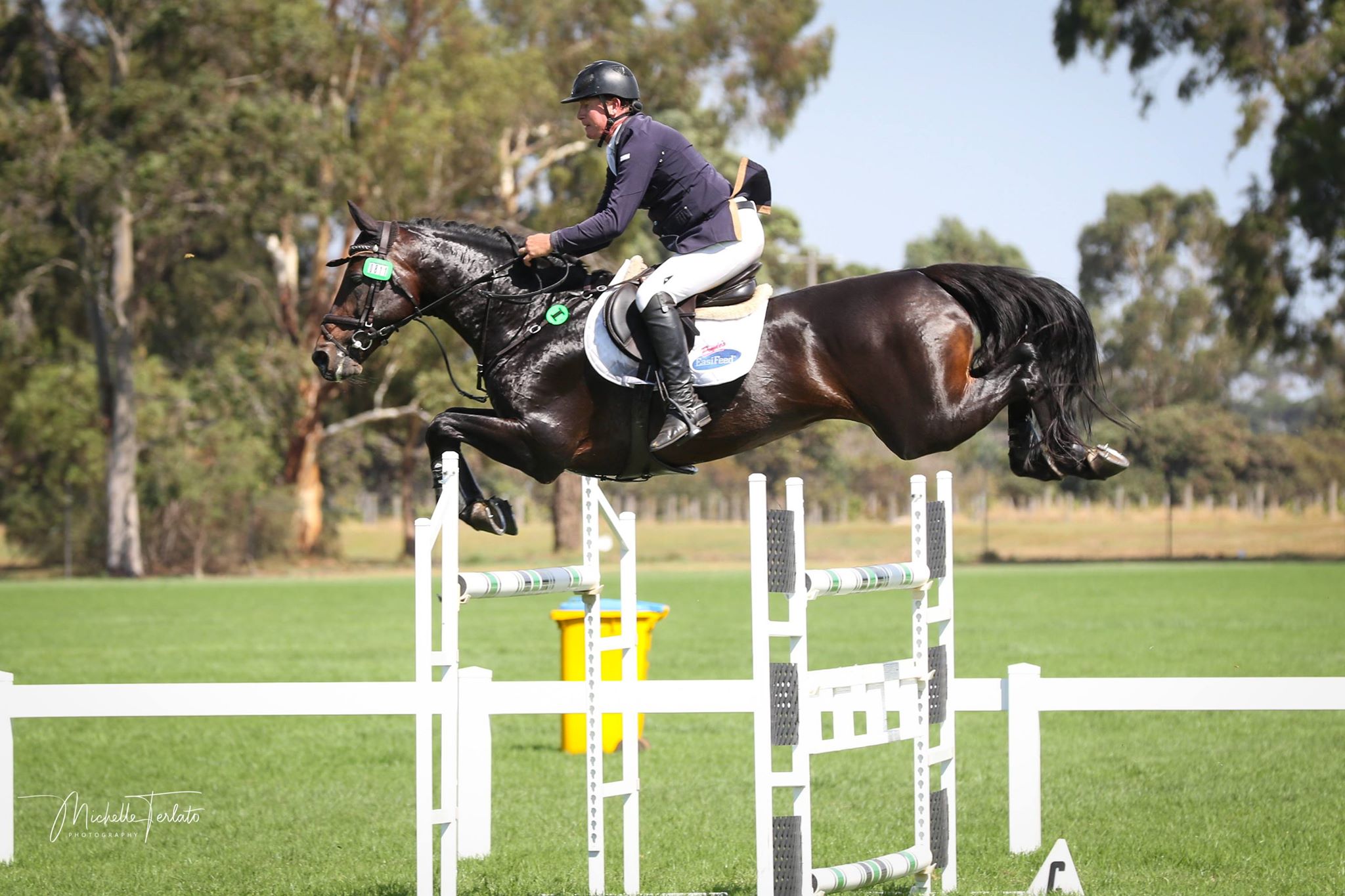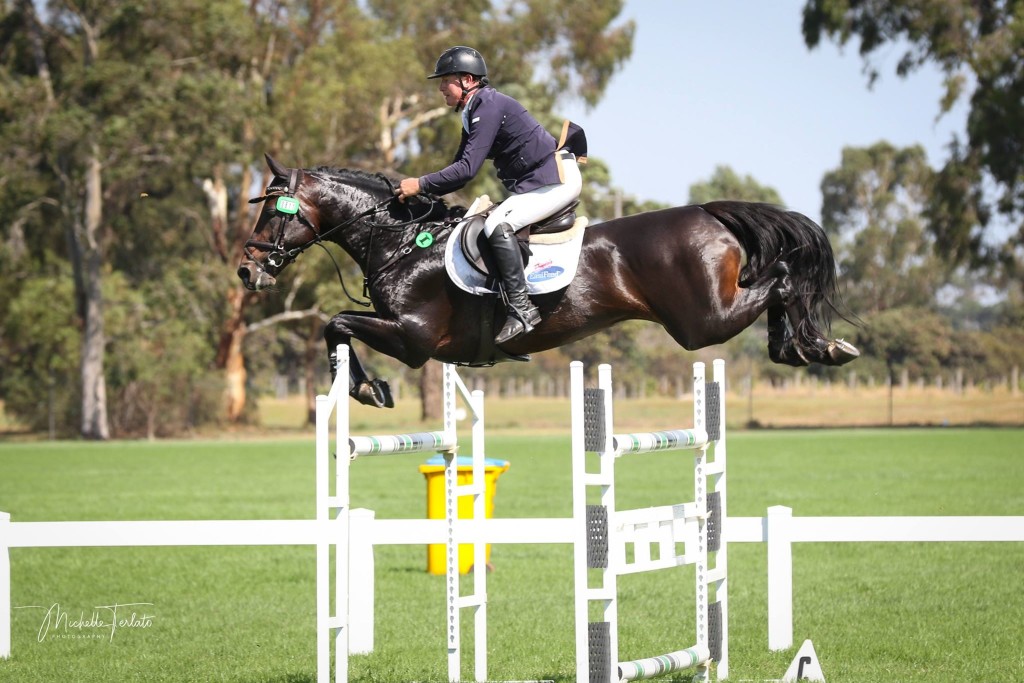 Paul Brent and Fontaine Blue VD. Photo Credit: Michelle Terlato.
Congratulations to all the winners and placegetters across all the classes over the past three days. The top 6 results from each of the three rounds were:
ROUND 1 
Fiber Fresh 4yo Young Jumping Horse

PLACE
RIDER
HORSE
1st
Philip Lever
JHM Veritas
Sire: Versace
Dam: JB Carlotta
Breeder: Jami Hurley
2nd
Josh Collins
Tulara Casciado
Sire: Cascadello
Dam: Tulara Diarango
Breeder: Tulara Warmbloods
3rd
Paul Brent
Cavalli Park Ciara
Sire: Cardento
Dam: Kablesse Kavita
Breeder: Cavalli Park
4th
Emma Smith
Baloubell
Sire: Balou Du Rouet
Dam: Ellie
Breeder: Unknown
5th
Adelyn Fallon
Valentine Rose
Sire: Kannan
Dam: Laetitia 56
Breeder: Grandview Equestrian
6th
Brooke Campbell
Just Friends VEH
Sire: Unknown
Dam: Unknown
Breeder: Ven Eyk Horses
 John Walker & Associates 5yo Young Jumping Horse:

PLACE
RIDER
HORSE
1st
Jamie Coman
Camacho
Sire: Balou Du Rouet
Dam: Caltango
Breeder: Tim and Ingrid Clarke
2nd
Jamie Kermond
Wild Kard
Sire: Kannan
Dam: Wild Oats
Breeder: Seumas & Danielle Marwood
3rd
Paul Brent
Cavalli Park Bella
Sire: Balou Du Rouet
Dam: Cavalli Park Anibell
Breeder: Cavalli Park
4th
Frida Lindgren
Van Damme
Sire: Val Desere
Dam: Ashleigh Dolly
Breeder: Colin and Judy Gronn
5th
Tori Stuckey
Jaybee Ballon Dor
Sire: Baluga
Dam: Unknown
Breeder: Unknown
6th
Jamie Winning-Kermond
Yandoo Honolulu
Sire: Animate
Dam: Hedgehog
Breeder: Yandoo Equestrian
Glenara Park 6yo Young Jumping Horse
PLACE
RIDER
HORSE
1st
Frida Lindgren
Lomachenko
Sire: Lord Pezi
Dam: Humdela
Breeder: Michael and Trevor Webster
2nd
Brooke Campbell
Copabella Camouflage
Sire: Copabella Cadiz
Dam: Copabella Venice
Breeder: Copabella Sporthorses
3rd
Clint Beresford
Emmaville Dontago
Sire: Cil Dara Cartland
Dam: Emmaville Darius
Breeder: Grant Hughes
4th
Jamie Coman
Nows The Time
Sire: Wirragulla Nicklaus
Dam: Rosa
5th
Brook Dobbin
Byron
Sire: Baluga
Dam: Diamond B Viva La Rose
Breeder: Diamond B Farm
6th
Rebecca Burns
Illuminate
Sire: Le Belvedere
Dam: Belcam Coralline
Breeder: Barton Equine
 Furphy 7yo Young Jumping Horse

PLACE
RIDER
HORSE
1st
Jamie Kermond
Ciel
Sire: Conquistador
Dam: Vouloir
Breeder: Sue Middleton
2nd
Phillip Lever
Calavino
Sire: Katoo
Dam: Calido 1
Breeder: Naeve Gerd
3rd
Frida Lindgren
Ashleigh City Lights
Sire: Caracas
Dam: Ashleih Dolly
Breeder: Colin and Judy Gronn
4th
Brook Dobbin
Miranda MVNZ
Sire: Carrado MVNZ
Dam: Evita
Breeder: Mount View Sport Horses
5th
Sam Williams
Yandoo Pennsylvania
Sire: Cassiago
Dam: War Penny
Breeder: Yandoo Equestrian
6th
Melissa Blair
Gigant Z
Sire: Glasgow vh Merelsnest N.O.P
Dam: Letizia
Breeder: Unknown
Rivenlee Current Stars 1.40m Grand Prix
PLACE
RIDER
HORSE
1st
Sam Williams
Commander NZPH
Sire: Unknown
Dam: Unknown
Breeder: Unknown
2nd
Brook Dobbin
Leopoldo MVNZ
Sire: Clinton 1
Dam: Sunday
Breeder: Unknown
3rd
Paul Brent
Fontaine Blue VDL
Sire: Toulon
Dam: Ocinthe
Breeder: VDL Stud
4th
Paul Brent
Kablesse Kavita
Sire: Zirocco Blue VDL
Dam: Uvita-Rose H
Breeder: Ruben Radde
5th
Brook Dobbin
Carrado MVNZ
Sire: Cassini 11
Dam: Noah
Breeder: Unknown
6th
Madeline Sinderberry
Oaks Kosmo
Sire: ASB Conquistador
Dam: Galaxie Pierevile
Breeder: Oaks Sport Horses
ROUND 2 
Fiber Fresh 4yo Young Jumping Horse

PLACE
RIDER
HORSE
1st
Josh Collins
Tulara Casciado
Sire: Cascadello
Dam: Tulara Diarango
Breeder: Tulara Warmbloods
2nd
Philip Lever
JMH Veritas
Sire: Versace
Dam: Carlotta
Breeder: Unknown
3rd
Paul Brent
Cavalli Park Ciara
Sire: Cardento
Dam: Kablesse Kavita
Breeder: Cavalli Park
4th
Brooke Campbell
Just Friends VEH
Sire: Unknown
Dam: Unknown
Breeder: Van Eyk Horses
5th
Bronwyn Shortt
Desert Sands Isle of DBling
Sire: Somerset Disle
Dam: Isle of Calia
Breeder: Desert Sands Stud
6th
Emma Smith
Baloubell
Sire: Balou Du Rouet
Dam: Ellie
Breeder: Unknown
 John Walker & Associates 5yo Young Jumping Horse:

PLACE
RIDER
HORSE
1st
Jamie Kermond
Wild Kard
Sire: Kannan
Dam: Wild Oats
Breeder: Seumas & Danielle Marwood
2nd
Jamie Coman
Camacho
Sire: Balou Du Rouet
Dam: Caltango
Breeder: Tim and Ingrid Clarke
3rd
Jess Embling-Kiernan
Cera Cascaletto
Sire: Cassall ASK
Dam: Cera Calista
Breeder: Cera Performance Horses
4th
Sam McCrae
Jameison
Sire: Host
Dam: Kaeduna
Breeder: Unknown
=5th
Kristy Bruhn
Blackall Park Chopin
Sire: Blackall Park Kokomo
Dam: Daisy's Yarn
Breeder: Blackall Park
=5th
Georgia Price
Zara PPH
Sire: Numero Uno
Dam: Unknown
Breeder: Unknown
 Glenara Park 6yo Young Jumping Horse
PLACE
RIDER
HORSE
1st
Frida Lindgren
Lomachenko
Sire: Lord Pezi
Dam: Humdela
Breeder: Michael and Trevor Webster
2nd
Clint Beresford
Emmaville Dontago
Sire: Cil Dara Cartland
Dam: Emmaville Darius
Breeder: Grant Hughes
3rd
Brook Dobbin
Byron
Sire: Baluga
Dam: Diamond B Viva La Rose
Breeder: Diamond B Farm
4th
Brooke Campbell
Copabella Camouflage
Sire: Copabella Cadiz
Dam: Copabella Venice
Breeder: Copabella Sporthorses
5th
Emma Smith
Cera Charisma
Sire: Casall
Dam: Valenzia
Breeder: Cera Performance Horses
6th
RBH Dante
Jamie Coman
Sire: Diarado
Dam: RBH Champs Elysees
Breeder: RBH
 Furphy 7yo Young Jumping Horse

PLACE
RIDER
HORSE
1st
Jamie Kermond
Ciel
Sire: Conquistador
Dam: Vouloir
Breeder: Sue Middleton
2nd
Phillip Lever
Calavino
Sire: Katoo
Dam: Calido 1
Breeder: Naeve Gerd
3rd
Frida Lindgren
Ashleigh City Lights
Sire: Caracas
Dam: Ashleih Dolly
Breeder: Colin and Judy Gronn
4th
Brook Dobbin
Miranda MVNZ
Sire: Carrado MVNZ
Dam: Evita
Breeder: Mount View Sport Horses
5th
Sam Williams
Yandoo Pennsylvania
Sire: Cassiago
Dam: War Penny
Breeder: Yandoo Equestrian
6th
Melissa Blair
Gigant Z
Sire: Glasgow vh Merelsnest N.O.P
Dam: Letizia
Breeder: Unknown
 Rivenlee Current Stars 1.40m Grand Prix
PLACE
RIDER
HORSE
1st
Melissa Froesch
Glenara Lady Bollinger
Sire: ASB Conquistador
Dam: Glenara Bollinger
2nd
Clint Beresford
Emmaville Jitterbug
Sire: Park View June Bug
Dam: Dina AWHA
3rd
Sam Williams
Anssioso Z
Sire: Andiamo Z
Dam: Rush Wonderland Z
4th
Paul Brent
Fontaine Blue VDL
Sire: Toulon
Dam: Ocinthe
5th
Melissa Blair
Zidora
Sire: Zircon Blue VDL
Dam: LIdora
6th
Jamie Winning-Kermond
Yandoo Oaks Constellation
Sire: Conquistador
Dam: Galaxie Pierville
FINAL
Fiber Fresh 4yo Young Jumping Horse

PLACE
RIDER
HORSE
1st
Phillip Lever
JHM Veritas
Sire: Versace
Dam: JB Carlotta
Breeder: Jami Hurley
2nd
Josh Collins
Tulara Casciado
Sire: Cascadello
Dam: Tulara Diarango
Breeder: Tulara Warmbloods
3rd
Brooke Campbell
Just Friends VEH
Sire: Unknown
Dam: Unknown
Breeder: Ven Eyk Horses
4th
Paul Brent
Cavalli Park Ciara
Sire: Cardento
Dam: Kablesse Kavita
Breeder: Cavalli Park
5th
Emma Smith
Baloubell
Sire: Balou Du Rouet
Dam: Ellie
Breeder: Unknown
6th
Bronwyn Shortt
Desert Sands Isle of DBling
Sire: Somerset Disle
Dam: Isle of Calia
Breeder: Desert Sands Stud
7th
Emma Smith
Lhiver
Sire: Calgary GNZ
Dam: Licara
Breeder: Unknown
8th
Emma Smith
Denison Park Arnie
Sire: Denison Park Amaroo
Dam: Lacona Park Abbey
Breeder: Dennison Park
9th
Anthony Bentley
Chickabe
Sire: Tyrone VDL
Dam: Narnia
Breeder: Unknown
10th
David Prior
Highfield Luda Adelaide
Sire: Stalypso
Dam: Highfield Luda Cherry
Breeder: Unknown
John Walker & Associates 5yo Young Jumping Horse:

PLACE
RIDER
HORSE
1st
Jamie Kermond
Wild Kard
Sire: Kannan
Dam: Wild Oats
Breeder: Seumas & Danielle Marwood
2nd
Jamie Coman
Camacho
Sire: Balou Du Rouet
Dam: Caltango
Breeder: Tim and Ingrid Clarke
3rd
Paul Brent
Cavalli Park Bella
Sire: Balou Du Rouet
Dam: Cavalli Park Anibell
Breeder: Cavalli Park
4th
Frida Lindgren
Van Damme
Sire: Val Desere
Dam: Ashleigh Dolly
Breeder: Unknown
5th
Jess Embling-Kiernan
Cera Cascaletto
Sire: Cassall ASK
Dam: Cera Calista
Breeder: Cera Performance Horses
6th
Kristy Bruhn
Blackall Park Chopin
Sire: Blackall Park Kokomo
Dam: Daisy's Yarn
Breeder: Blackall Park
7th
Tori Stuckey
Jaybee Ballon Dor
Sire: Baluga
Dam: Unknown
Breeder: Unknown
8th
Sam McCrae
Jameison
Sire: Host
Dam: Kaeduna
Breeder: Unknown
9th
Jamie Winning-Kermond
Yandoo Honolulu
Sire: Animate
Dam: Hedgehog
Breeder: Yandoo Equestrian
10th
Adam Johnston
Gonna Fly Now
Sire: Tyrone VDL
Dam: Moonrise Serenade
Breeder: Unknown
Glenara Park 6yo Young Jumping Horse
PLACE
RIDER
HORSE
1st
Frida Lindgren
Lomachenko
Sire: Lord Pezi
Dam: Humdela
Breeder: Michael and Trevor Webster
2nd
Clint Beresford
Emmaville Dontago
Sire: Cil Dara Cartland
Dam: Emmaville Darius
Breeder: Grant Hughes
3rd
Brooke Campbell
Copabella Camouflage
Sire: Copabella Cadiz
Dam: Copabella Venice
Breeder: Copabella Sporthorses
4th
Emma Smith
Cera Charisma
Sire: Casall
Dam: Valenzia
Breeder: Cera Performance Horses
5th
Anthony March
Desert Sands Caprini
Sire: Yalambis Carpino Z
Dam: Belcam Glasmay
Breeder: Unknown
6th
Brook Dobbin
Byron
Sire: Baluga
Dam: Diamond B Viva La Rose
Breeder: Diamond B Farm
7th
Jamie Coman
Dante RBH
Sire: Diarado
Dam: RBH Champs Elysees
Breeder: RBH
8th
Jayden Hanley
Fort Wurth
Sire: Bernardini
Dam: Fleur De Belle
Breeder: Unknown
9th
Rebecca Burns
Illuminate
Sire: Le Belvedere
Dam: Belcam Coralline
Breeder: Barton Equine
10th
Shimona Fraid
Dancing Queen HP
Sire: Unknown
Dam: Diamante De Semilly
Breeder: Stal Tops
Furphy 7yo Young Jumping Horse

PLACE
RIDER
HORSE
1st
Jamie Kermond
Ciel
Sire: Conquistador
Dam: Vouloir
Breeder: Sue Middleton
2nd
Phillip Lever
Calavino
Sire: Katoo
Dam: Calido 1
Breeder: Naeve Gerd
3rd
Brook Dobbin
Miranda MVNZ
Sire: Carrado MVNZ
Dam: Evita
Breeder: MVNZ Sport Horses
4th
Frida Lindgren
Ashleigh City Lights
Sire: Caracas
Dam: Ashleih Dolly
Breeder: Colin and Judy Gronn
5th
Sam Williams
Yandoo Pennsylvania
Sire: Cassiago
Dam: War Penny
Breeder: Yandoo Equestrian
6th
Georgia Price
Batman Xtreme
Sire: Backgammon
Dam: Lanstar Xtreme
Breeder: Xtreme Sporthorses
7th
Melissa Blair
Gigant Z
Sire: Glasgow vh Merelsnest N.O.P
Dam: Letizia
Breeder: Unknown
8th
Shimona Fraid
Unreachable
Sire: Untouchable
Dam: Meatloaf|
Breeder: Stal Tops
9th
Jamie Coman
Desert Sands Calavino
Sire: Bellaire Cannavaro
Dam: Genadendal
Breeder: Desert Sands Stud
10th
Brad Hearn
RBH Charlie Brown
Sire: Chacco Blue
Dam: RBH Narla
Breeder: RBH Park
 Rivenlee Current Stars 1.40m Grand Prix (only 6 placings listed)
PLACE
RIDER
HORSE
1st
Sam Williams
Anssioso Z
Sire: Andiamo Z
Dam: Rush Wonderland Z
Breeder: Unknown
2nd
Clint Beresford
SL Donato
Sire: Daley K
Dam: Unknown
Breeder: Unknown
3rd
Paul Brent
Fontaine Blue VDL
Sire: Troulon
Dam: Ocinthe
Breeder: VDL Stud
4th
Brook Campbell
Copabella Voltage
Sire: Copabella Visage
Dam: Holland Rose
Breeder: Unknown
5th
Melissa Blair
Zidora
Sire: Zircon Blue VDL
Dam: Lidora
Breeder: Unknown
6th
Megan Joyce
Blackall Park Cha Cha
Sire: Daley K
Dam: Blackall Park Astra
Breeder: Unknown
View Comments