Aussie riders enjoy amazing London LGCT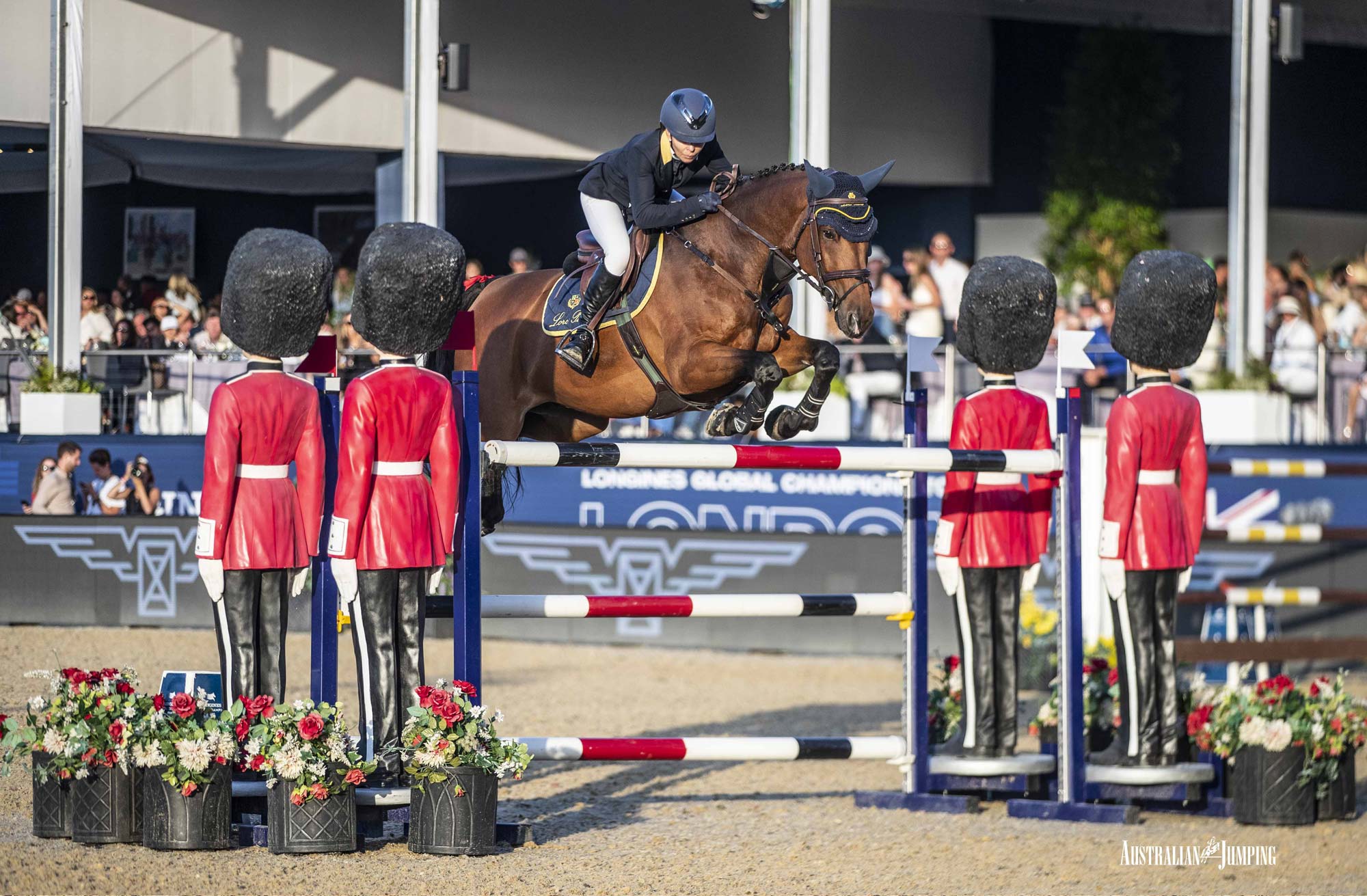 Australian Jumping
Above: Edwina Tops-Alexander and Fellow Castlefield
The Longines Global Champions Tour is an annual series of Jumping events held in landmark cities around the world. Starting in Doha in March, the Series winds it way through, among other cities, Miami Beach, Cannes, Paris, Monaco, Rome and New York, before a season ending Finale in Prague in November. London represents the eleventh of sixteen cities on the tour and sees the resumption of competition after a seven-week break leading up to the World Championships last week in Herning. This weekend, the Series landed in London, where Australian Jumping were fortunate enough to witness some of the action.
Advertisement


The London leg is held in a pop-up facility in the grounds of the spectacular Chelsea Hospital. While it may be pop-up, no expense is spared, or detail to small to be considered. Large temporary grandstands are erected around a world class arena, installed for the weekend. A huge VIP area overlooks the arena, while the stables are, while temporary, wonderfully appointed. A large press area is provided as well as a large range of trade stands and food and refreshment outlets.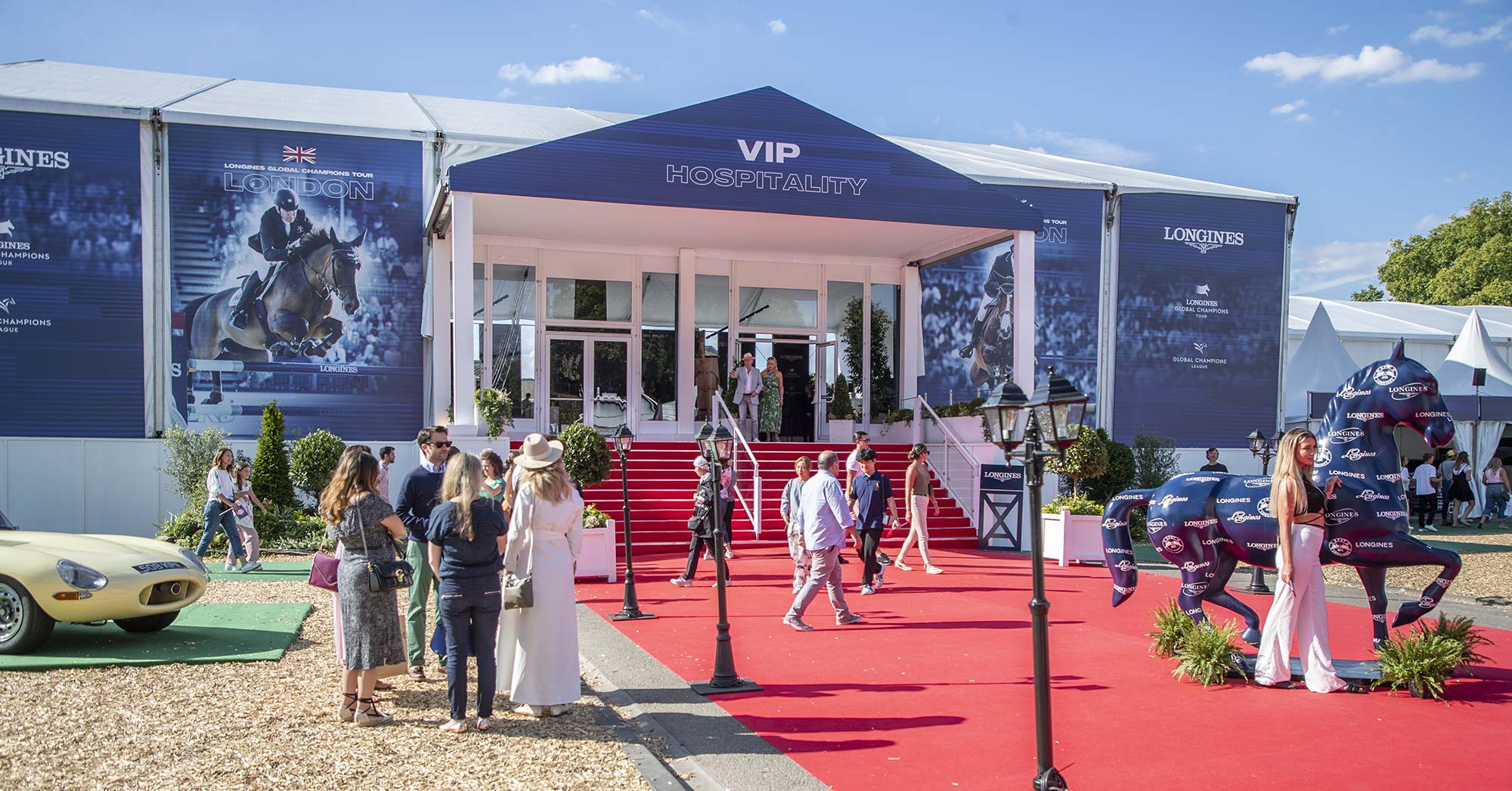 There were two Australians competing. Dual Australian Olympic Eventing representative Christopher Burton, who has recently decided to specialise in Jumping was heavily involved in the support classes, while four-time Olympian Edwina Tops-Alexander was involved in the 5* classes, including the Global Champions League (GCL) – the teams competition where she represents Valkenswaard United and the Longines Global Champions Tour (LGCT) – the individual competition.
Advertisement


Christopher Burton had a number of rides over the three days of competition. He was first in action on Friday in the 1.25m CSI2* Martin Collins London Cup, along with the 6-year-old mare Cheddington Azzurra. In this two-phase class, they were clear all the way and just on 2.5 seconds slower than the winners, finishing in fourth. Also on Friday, he combined with the 10-year-old mare that he owns, Cheddington Hazy Toulana in a CSI2* 1.40m class. Although they left all the rails up, a time almost 13 seconds slower than the winners, saw them into 21st place.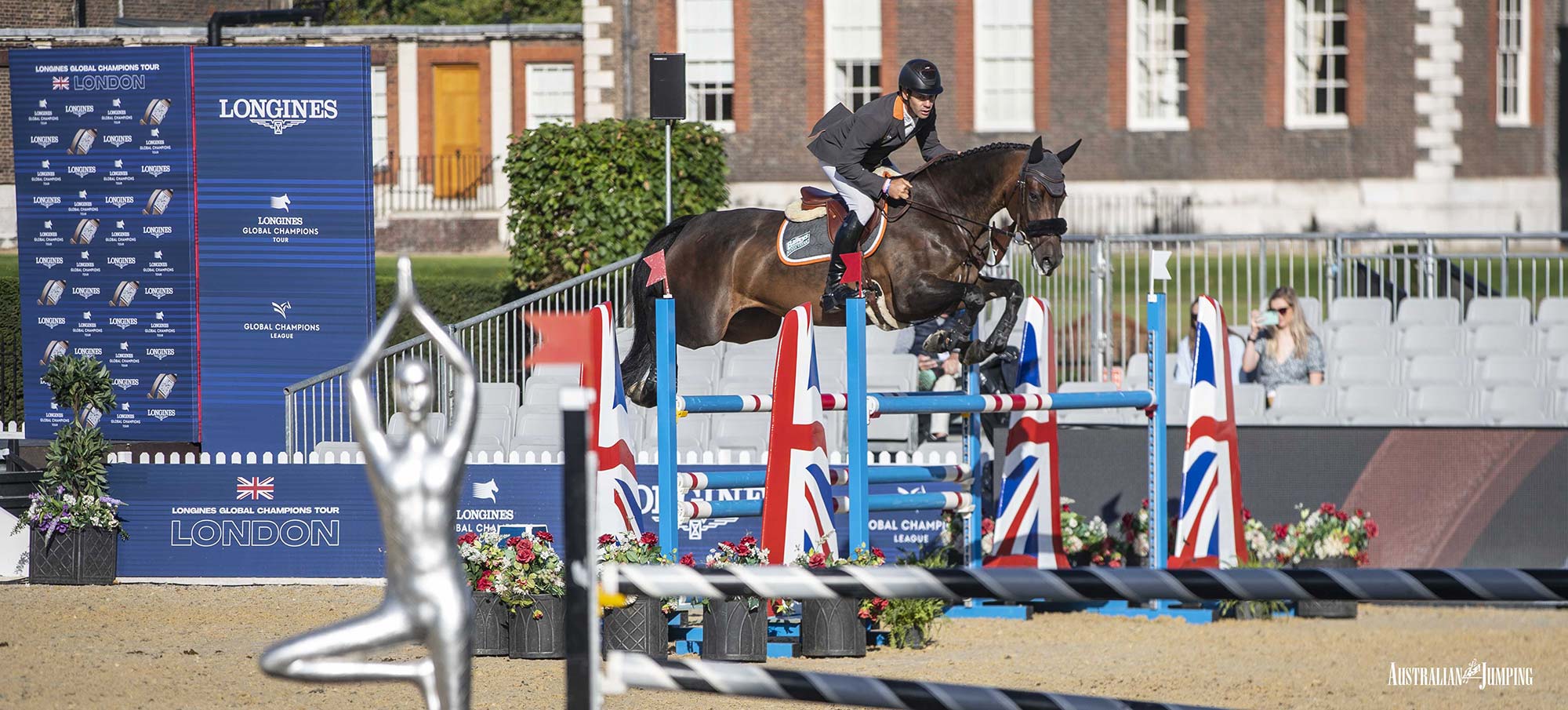 Above: Christopher Burton and Cheddington Azzurra.
Burton and Cheddington Azzurra were out again on Saturday, this time in a CSI2* 1.30m competition. Again they went clear, but just 3.5 seconds slower than the winner, giving them their second fourth placing of the show. In the afternoon, Burton and Cheddington Hazy Toulana lined up with 48 other combinations in the 1.40m CSI2* Hunterwood Shavings Class. Unfortunately, things did not go to plan and 23 faults saw them finish in 46th place.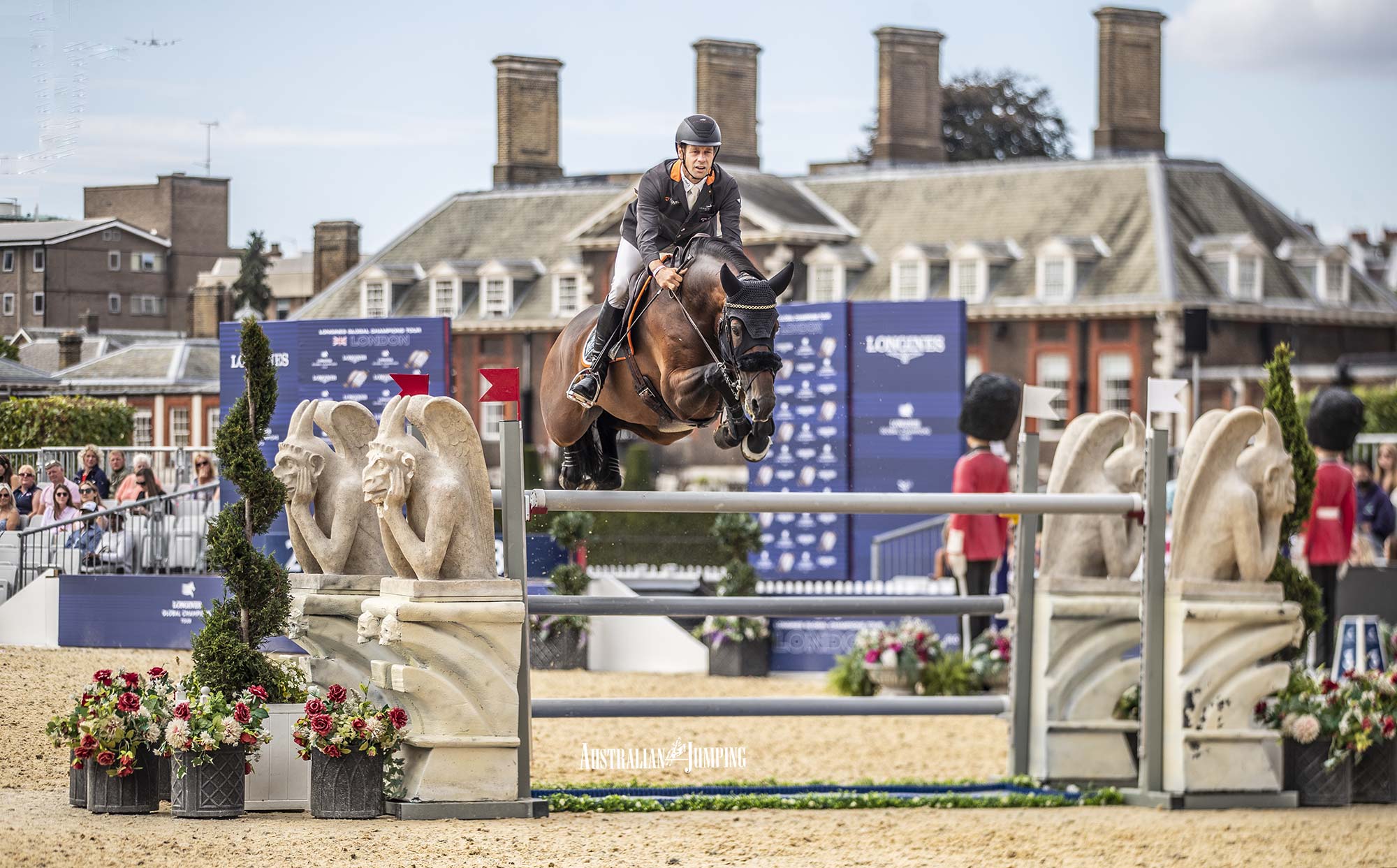 Above: Christopher Burton and Cheddington Hazy Toulana
On the Sunday, Burton and Cheddington Azzurra were one of 55 combinations out early in the CSI2* Martin Collins Cup over 1.30m. In what can only be described as a successful weekend for this combination, they were one of 18 combinations going clear and invited to jump off, where they again went clear, but with Chris rightly giving this young horse an easy ride, they were five seconds off the pace, finishing in 10th place. The CSI2* Fiji Water Grand Prix, over 1.45m was the final class of the weekend for Burton, this time with Cheddington Hazy Toulana. A total of 11 faults saw them finish in 26th place.
Edwina Tops-Alexander, who competed exclusively at CSI5* level, had a weekend full of great results, even though a win eluded her. She first appeared with her 11-year-old mare Catenda on Friday in a 1.45m 2-phase class. A single rail and a second phase time of 29.62 seconds saw them place in 25th spot. Later on Friday, the first competition of the GCL of London was held. Edwina combined with 12-year-old gelding Fellow Castlefield in this 1.55m class, which all the rails left up, however a time of 79.01 incurred a single time fault by the barest of possible margins. Fortunately for Valkenswaard United, her team mate John Whittaker, riding the exquisitely named Equine America Unick du Francport, went clear, putting the team on just one fault in total, which left them in sixth place behind five teams on zero.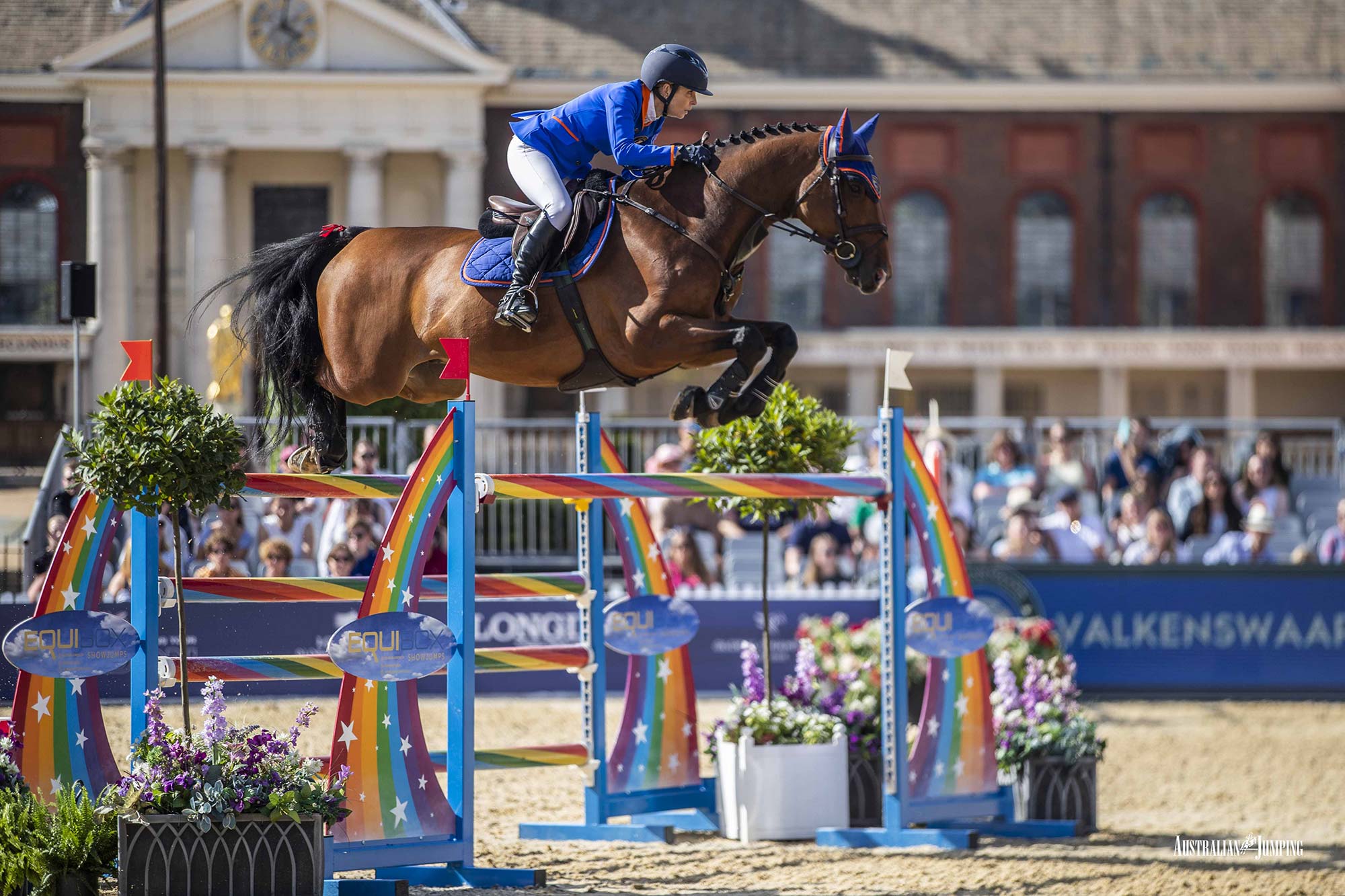 Edwina Tops-Alexander and Fellow Castlefield
Saturday afternoon saw the second competition in the GCL. While some teams replaced riders and/or horses for the second two rides, Valkenswaard United stuck firm with the same two combinations. Edwina and Fellow Castlefield  this time took a rail, however team-mates Whittaker and "Francport" again saved the day by going clear. With a total of 5 faults, they were going to need some luck, but it was not to be. In the end, they were placed fifth, behind the winners the Berlin Eagles and then three other teams ending up on four faults. It was fantastic riding from the Berlin pair of Philipp Weishaupt and Christian Kukuk. To be the only one of 16 teams to complete four clear rounds meant it was a well-deserved win. The win kept the Berlin Eagles in second place on 207 points, now just seven points behind the leaders, Stockholm Hearts. Valkenswaard United are in equal fifth place on 173 points.
Saturday competition cumulated in the Longines GCT Grand Prix of London. With the rails set at 1.60m it was a true test of the world's best. Edwina was second out with Fellow Castlefield and rode a superb round, clear in 78.74 seconds. This set them up as one of just six out of 33 to go clear and come back from a jump off. The jump off did not go as Edwina might have hoped, taking a rail and eventually finishing in sixth place. There were four double clear performances which kept the massive crowd enthralled. When the British rider Scott Brash who won gold in the teams Jumping at the London Olympic Games entered the arena as the last rider, the roar from the crowd was deafening. The disappointment was palpable when he took a rail during the jump off as a loud gasp rang out through the arena. In the end, it was the Belgian pair of Pieter Devos taking the win with Olivier Philippaerts in second who lead the way with scintillating rides.
Advertisement


After the competition, the cumulative pointscore for the season saw Pieter Devos, who picked up 40 points for the win, rocket into second place with 198 points, chasing the leader, German, Christian Ahlmann on 216. Edwina picked up 31 points for her efforts, putting her on a total of 155 points in sixth place.
Sunday saw Edwina back with Catenda to compete in just one class, the Total Waste Management 1.45m competition. The pair were first in the draw and looked to clear most of the fences by a considerable margin. They delivered one of just eight clears from 25 starting combinations, however, in this class there was no jump off and they finished up in sixth place, around 12 seconds from the winners, Gilles Thomas and Feromas van Beek Z from Germany.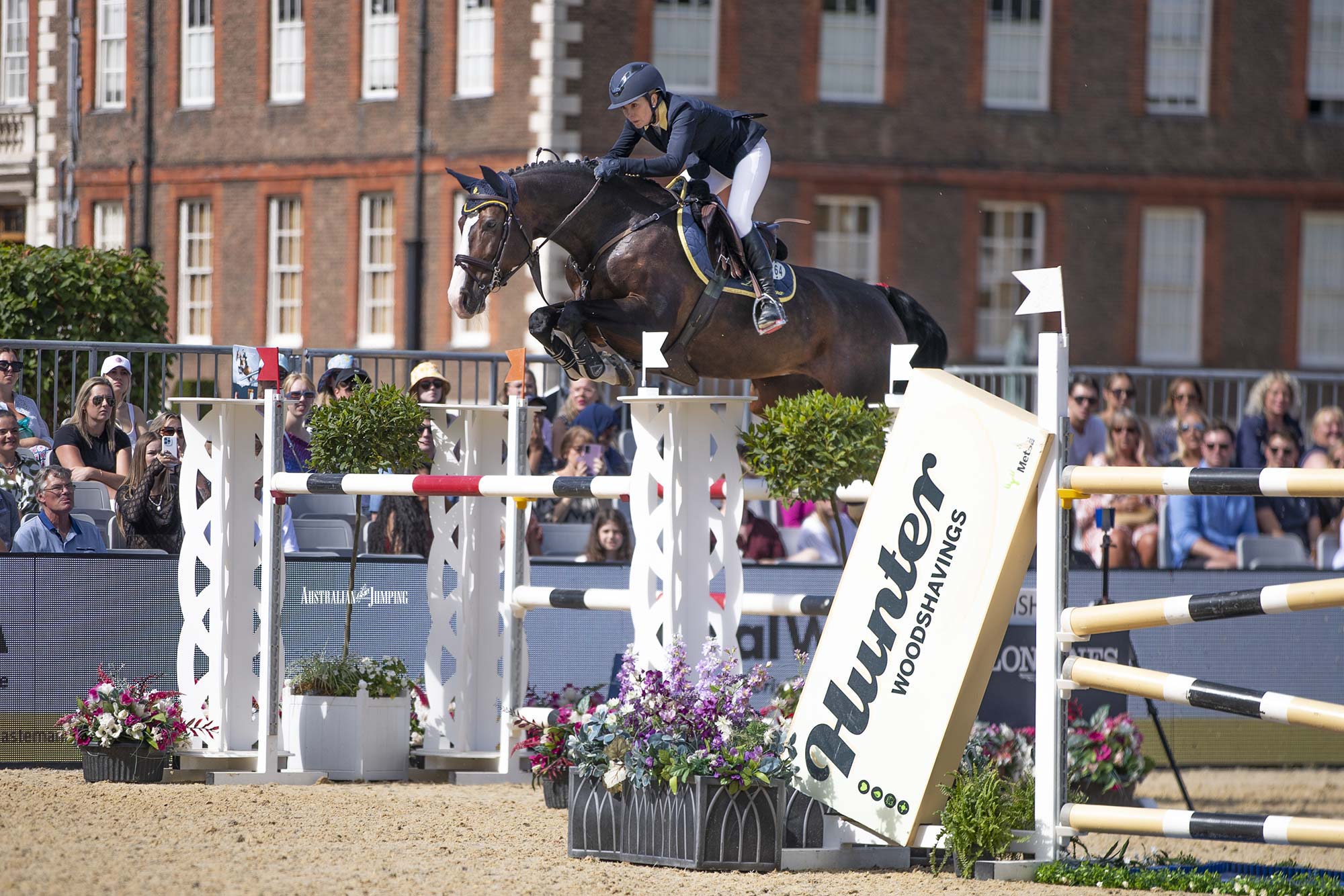 Edwina Tops-Alexander and Catenda.
In all it was a weekend filled with solid performances from the Australians. We look forward to attending Leg 12 of the 2022 GCL Series to be held at Edwina's place, Stal Tops Arena in Valkenswaard, Netherlands next weekend.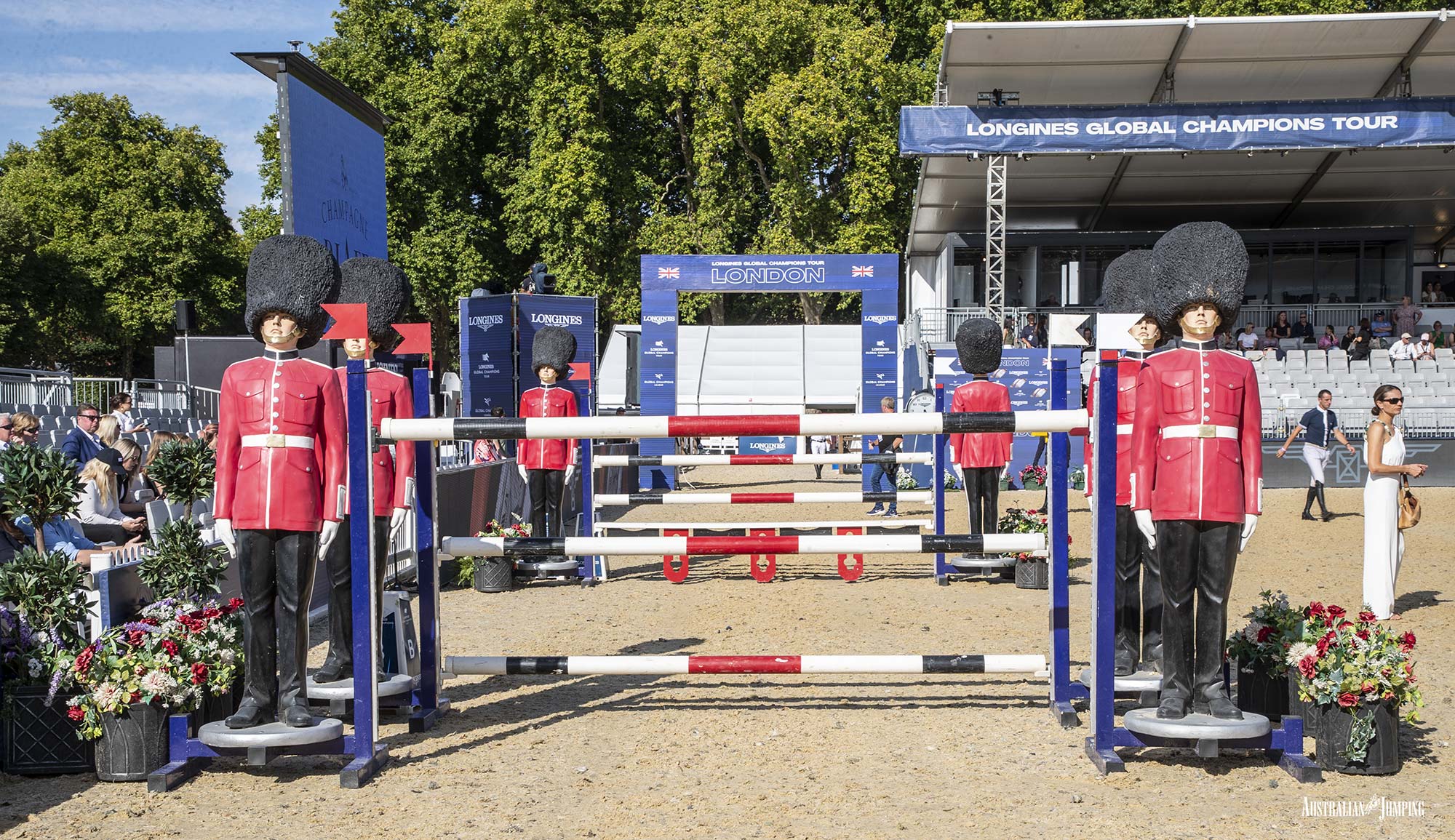 View Comments