Balentino 'Stars' again – this time at GDP Classic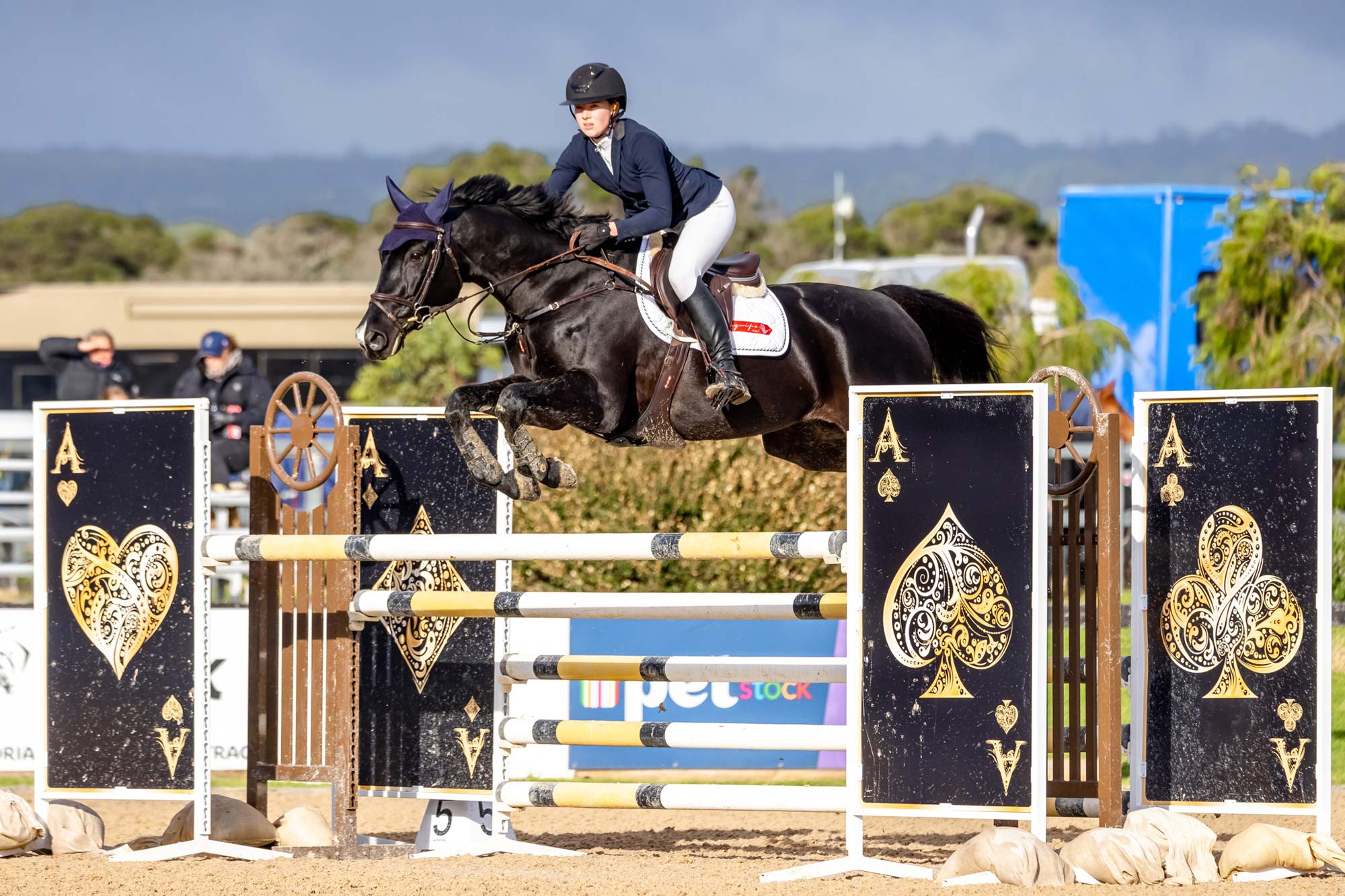 One Eyed Frog Photography
Above: Madeline Sinderberry and Balentino. Photo credit: One Eyed Frog Photography.
Day 3 of the 2022 GDP Classic has wrapped up this afternoon at the wonderful Boneo Park Equestrian Centre. For a full wrap of the first two days of competition, click HERE. Once again, the conditions were cool and showery, however, it did little to dampen the enthusiasm of the many competitors, both locally based or from interstate.
Advertisement


Proceedings on the main arena kicked-off with the second round of the JPR Equestrian 6-year-olds competition. Nine combinations went clear setting up an exciting jump-off, which saw five combinations again go clear. Fastest, with a jump-off time of 45.44 seconds were Ally Lamb and Kiara DP, just 0.19 seconds faster than the second placed Brook Dobbin and Devos GP. Tori Stuckey and Tulara Colette were third, only 0.03 seconds slower again. The final of this competition will be held tomorrow morning.
The Childrens Final was the next class with six combinations going clear to qualify for a jump-off. In a dominant display, it was Sienna Holdsworth-Rose who succeeded taking both first and second placings with a pair of double clear performances. With a jump-off time of 37.96, it was Sienna and Coolart Farm Short Torque taking the win, followed by in second place, Sienna and Atlas E, with whom she combined to take equal first place in Round 1 on Thursday. Also double clear in third place, were Tanner Robinson and Cracker.
Advertisement


The Strathmerton Drilling Junior Final was taken out by Jack Barker and Tulara Colchic, which follows on from their second placing in last weekend's Victorian Junior Championship. This combination were deserved winners as they produced the only clear round of today's final. Second and third placings both went to Tanner Robinson, which is a fantastic effort considering she is still competing at Childrens level. Tanner was second with Bringmoore with a single rail in 71.04 seconds, and third with Shady Creek Snickers, again with just a single rail down and a time of 71.37 seconds.
The final class of the day on the main arena was the Pink Hills Pastoral Future Stars and as with the previous class, the win went to a combination in red hot form. Three months ago, Madeline Sinderberry and her gelding Balentino won the Future Stars Final at the Australian Championships and last week they won the Stars of the Future Series at the Victorian State titles. As if we needed further confirmation of just what a star this horse looks like becoming, today they added the GDP Classic Future Stars title to their ever-expanding title list. In one of five double clear performances, they were first home in the jump-off in a time of 45.57 seconds, in the process, relegating Olympian James Paterson-Robinson and Connollys Karuba into second place, with a time of 46.84 seconds. Third place went to Andrew Lamb and Oaks Ever Red, who were just 0.02 seconds slower in 46.86 seconds.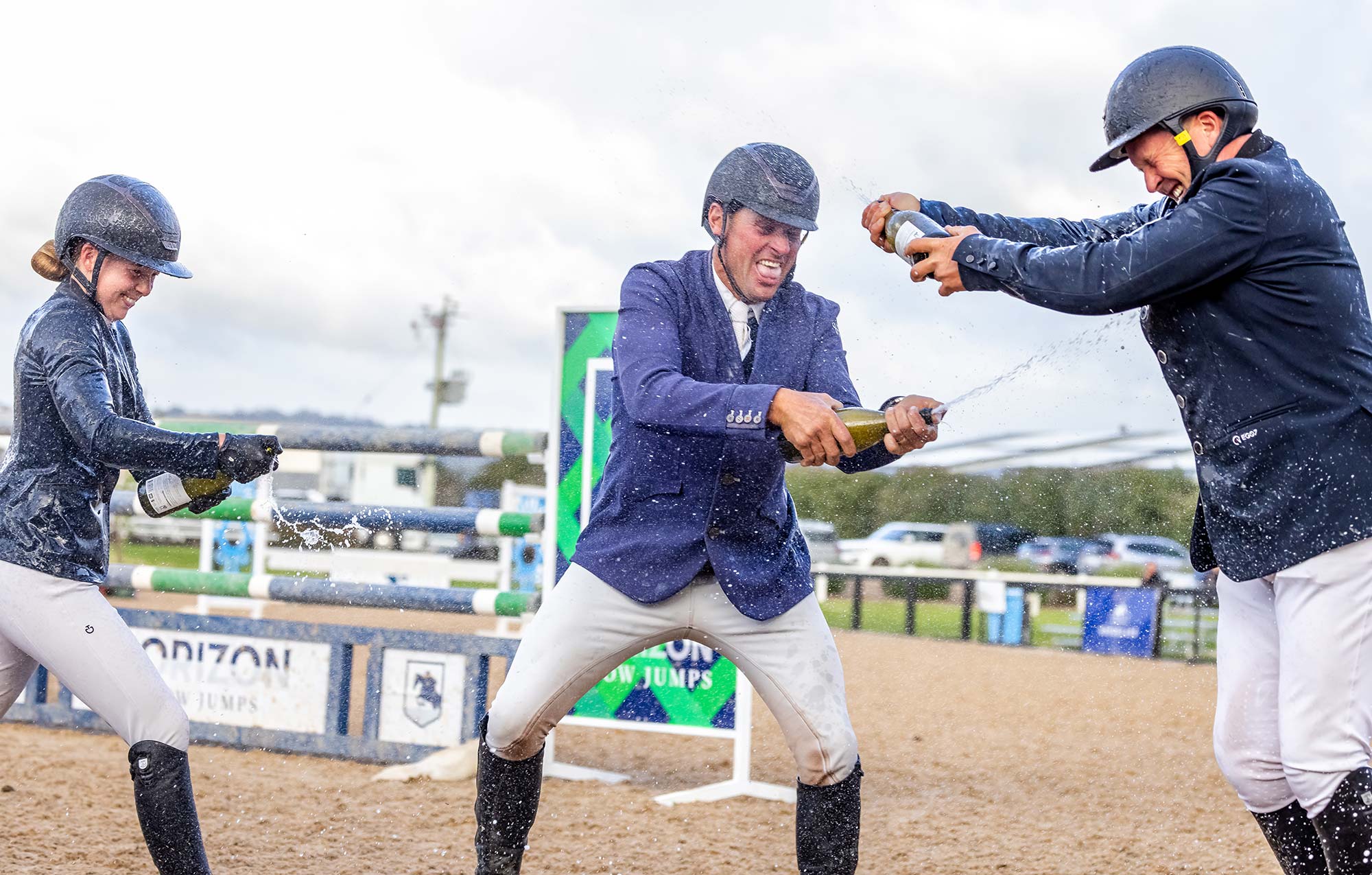 Madeline Sinderberry (1st), Andrew Lamb (3rd), James Paterson-Robinson (2nd). Photo credit: One Eyed Frog Photography.
Out on the second arena, Andrew Long and Hidden Option took out the second round of the Home and Acreage Amateur Title, with a clear round and a margin of more than two seconds to the second placed combination. There were also three open height classes. Tayla Anderson and her gelding Rimondi D were winners by more than three seconds in the 1.00m class, before Airlie Robinson and Tulara for Quinar won the 1.10m class by a convincing margin. The last class of the day was the open 1.20m, which was won by the very experienced Rod McQueen and mare Yirrkala Charlotte.
So all is set for a great day of finals action tomorrow including finals of the 4, 5 and 6-year-old competitions, as well as the Mini Prix and Grand Prix. The program will end with the first round of the Stal Tops Australian Young Rider Series.
Congratulations to all the winners and placegetters from today's classes. Placegetters in all classes held today are listed below.
GDP ARENA – GRASS
CLASS 14: JPR EQUESTRIAN – 6YO – ROUND 2 – 1.10m
| | | |
| --- | --- | --- |
| PLACE | RIDER | HORSE |
| 1st | Ally Lamb | Kiara DP |
| 2nd | Brook Dobbin | Devos GP |
| 3rd | Tori Stuckey | Tulara Colette |
| 4th | Chloe Hughes | Christalou |
| 5th | Adam Johnston | Destiny Forsaken |
| 6th | Jess Kiernan | Amenadiel |
CLASS 15: GDP CHILDRENS SERIES FINAL – 1.00m
| | | |
| --- | --- | --- |
| PLACE | RIDER | HORSE |
| 1st | Sienna Holdsworth-Rose | Coolart Farm Short Torque |
| 2nd | Sienna Holdsworth-Rose | Atlas E |
| 3rd | Tanner Robinson | Cracker |
| 4th | Kaylee Stephens | LH Beckham |
| 5th | Imogen Lindh | Blackall Park Koraleigh |
| 6th | Joel Lamb | Versace Vsiion |
CLASS 16: STRATHMERTON DRILLING- JUNIOR FINAL – 1.20m
| | | |
| --- | --- | --- |
| PLACE | RIDER | HORSE |
| 1st | Jack Barker | Tulara Colchic |
| 2nd | Tanner Robinson | Bringmoore |
| 3rd | Tanner Robinson | Shady Creek Snickers |
| 4th | Elissa Stephens | Da Vince |
| 5th | Charlee Dobbin | Glenshea Riversong |
| 6th | Arienne Holdsworth-Rose | Glenayre Skyline |
CLASS 17: PINK HILLS PASTORAL – FUTURE STARS
| | | |
| --- | --- | --- |
| PLACE | RIDER | HORSE |
| 1st | Madeline Sinderberry | Balentino |
| 2nd | James Paterson-Robinson | Connollys Karuba |
| 3rd | Andrew Lamb | Oaks Ever Red |
| 4th | Frida Lindgren | Velvet Cate |
| 5th | Teagan Chester | Callista |
| 6th | Phillip Lever | Bonita |
ARENA 2 – GDP ARENA FIBRE
CLASS 18: OPEN – 1.00m
| | | |
| --- | --- | --- |
| PLACE | RIDER | HORSE |
| 1st | Tayla Anderson | Rimondi D |
| 2nd | Paris Wilkinson | Konquest K |
| 3rd | Lucy Borrack | Get Rhythm |
| 4th | Charlene Zwar | Patangas Diamonte |
| 5th | Maggie Brewer | Linc |
| 6th | Olivia Osborne | Volador |
CLASS 19: OPEN – 1.10m
| | | |
| --- | --- | --- |
| PLACE | RIDER | HORSE |
| 1st | Airlie Robinson | Tulara For Quinar |
| 2nd | Amelia Tsilfidis | Pride Of Gold |
| 3rd | Stuart Brennan | Babalon |
| 4th | Jordyn Lee Madgwick | Oaks Trickery |
| 5th | Katrina Hope | Finch Farm Gunn |
| 6th | Teagan Chester | Quinrose |
CLASS 20A: HOMES AND ACREAGE – AMATEUR – ROUND 2 – 1.20m
| | | |
| --- | --- | --- |
| PLACE | RIDER | HORSE |
| 1st | Andrew Long | Hidden Option |
| 2nd | Cindy Morrison | Chatham Park Richard |
| 3rd | Jessica Grant | For Fly Heldenlaan Z |
| 4th | Ken Weir | Cosmorex Coffee Vienetta |
| 5th | Vanessa Weir | Jaybee Artist B |
| 6th | Imogen Tutton | Ramirus |
CLASS 20B: OPEN – 1.20m
| | | |
| --- | --- | --- |
| PLACE | RIDER | HORSE |
| 1st | Rod McQueen | Yirrkala Charlotte |
| 2nd | Jess Stones | PPP Seductor |
| 3rd | Andrew Lamb | Springin Matilda |
| 4th | Jess Stones | PPP Vive Le Mop |
| 5th | Alysso Ho | Cha Ching BE |
| 6th | Linkai Wang | Kitara Bellafon |
Results sourced from online.equipe.com
View Comments