Behind the Scenes – with Course Designer David Sheppard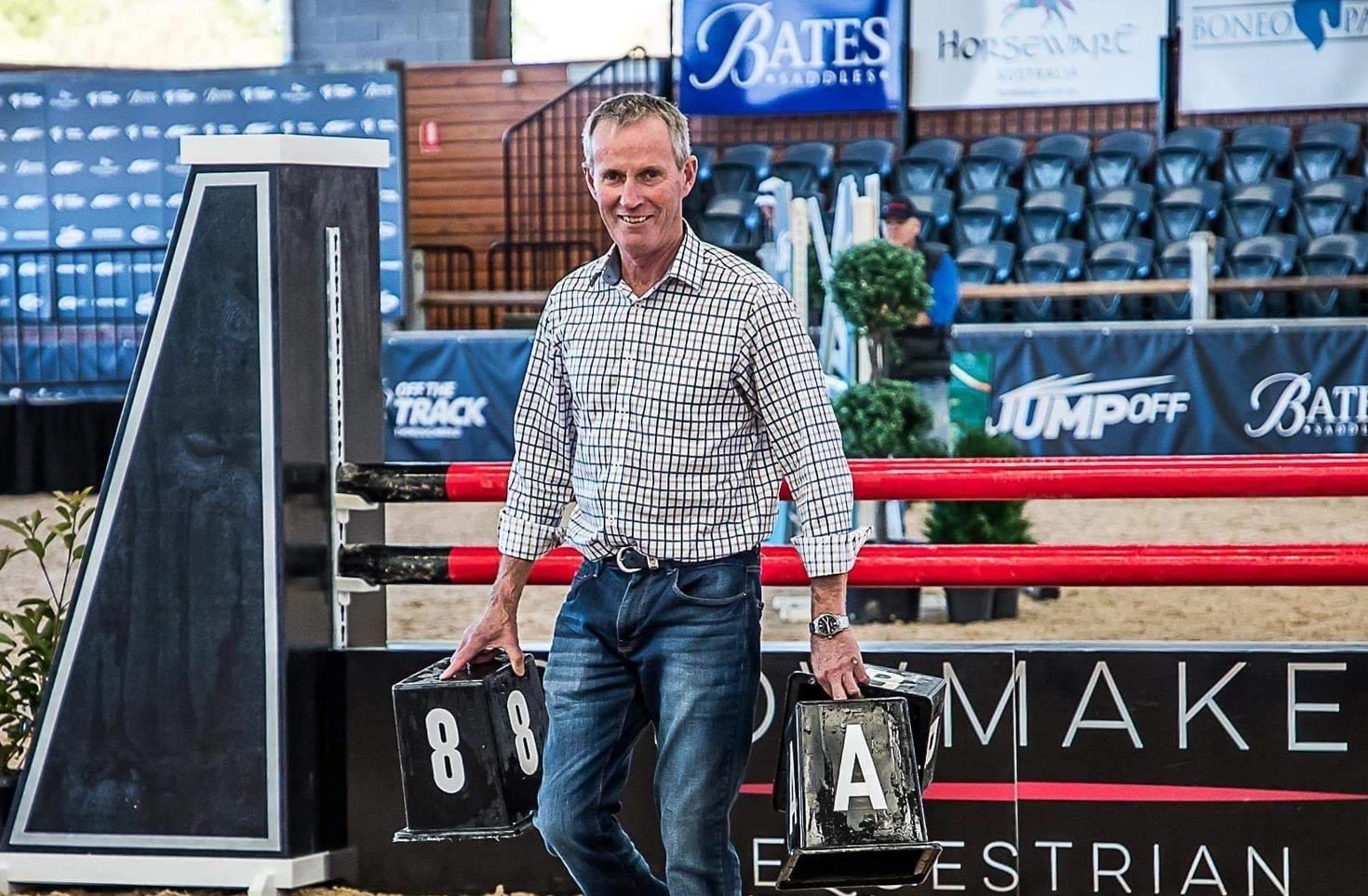 Stephen Mowbray
Above: David Sheppard at the 2019 Series of Jump Off.  Photo Credit: Stephen Mowbray.
We all know that Course Designers are integral to our sport and a key success factor of good competition. However, the path to becoming a successful Course Designer is long, hard and often bumpy and requires much enthusiasm, passion and patience so we are fortunate in this country to have a number of very talented people in this field. We recently caught up with Level 3 FEI Course Designer David Sheppard to find out what makes him tick and what goes into a successful course.
Advertisement


How long have you been involved in the sport?  Some people might not count Pony Club but I think it was definitely the start of the love of the sport and the horse, so well over 40 years first as a rider then later as a course designer. I've probably always been a jumping tragic through studying what the top riders were doing.
What brought you to course designing in the first place?  Again, I started doing some courses in Pony Club mainly because I was intrigued by it and basically no one else was doing it. I also think my father was a lot better horseman than he gave himself credit for.
Who were your early influences ? In the very early days it was Allan Edmonds who was a great horseman, instructor and course designer whom I revered. When I moved to the Yarra Valley in the 1990's I joined Melbourne Showjumping Club and learnt a lot from Reg Cleland and John Vallance. When John moved to Sydney I inherited some of the shows that he had worked at so that time was my start building at shows. I was assistant to Graeme Watts at Melbourne Royal Show in 1999, a great experience. Also special mention to the late Ted Dwyer who was instrumental in organising seminars to enable course design promotion.  I also assisted Werner Deeg at Sydney Royal Show for three years.
What gives you the most satisfaction in the role and what are the most challenging aspects? I always think the satisfaction comes from hopefully producing good sport and seeing a nice horse well trained and well ridden at the head of the lineup, although the course designer is busiest immediately after the last horse in the draw has gone so I don't always recall who the placegetters were when I'm asked.
Challenging aspects, there are literally dozens ranging from footing issues – so where you had intended to build a combination is now not suitable and so as a Designer we must be very adaptable. Also programming – how many entries for the day, timing of classes particularly the main class. is there a sponsor fence that needs to be in the jump off. If using a Liverpool or an open water be aware of sunrise/sunset, basically be careful with it as it's very easy to create a problem.
There's another one that happens regularly: you build the course the day before a the show and on arrival on show morning there's a trade stand with something very distracting (flags, noisy machinery, etc) built right beside part of the course, or your whole course has blown over.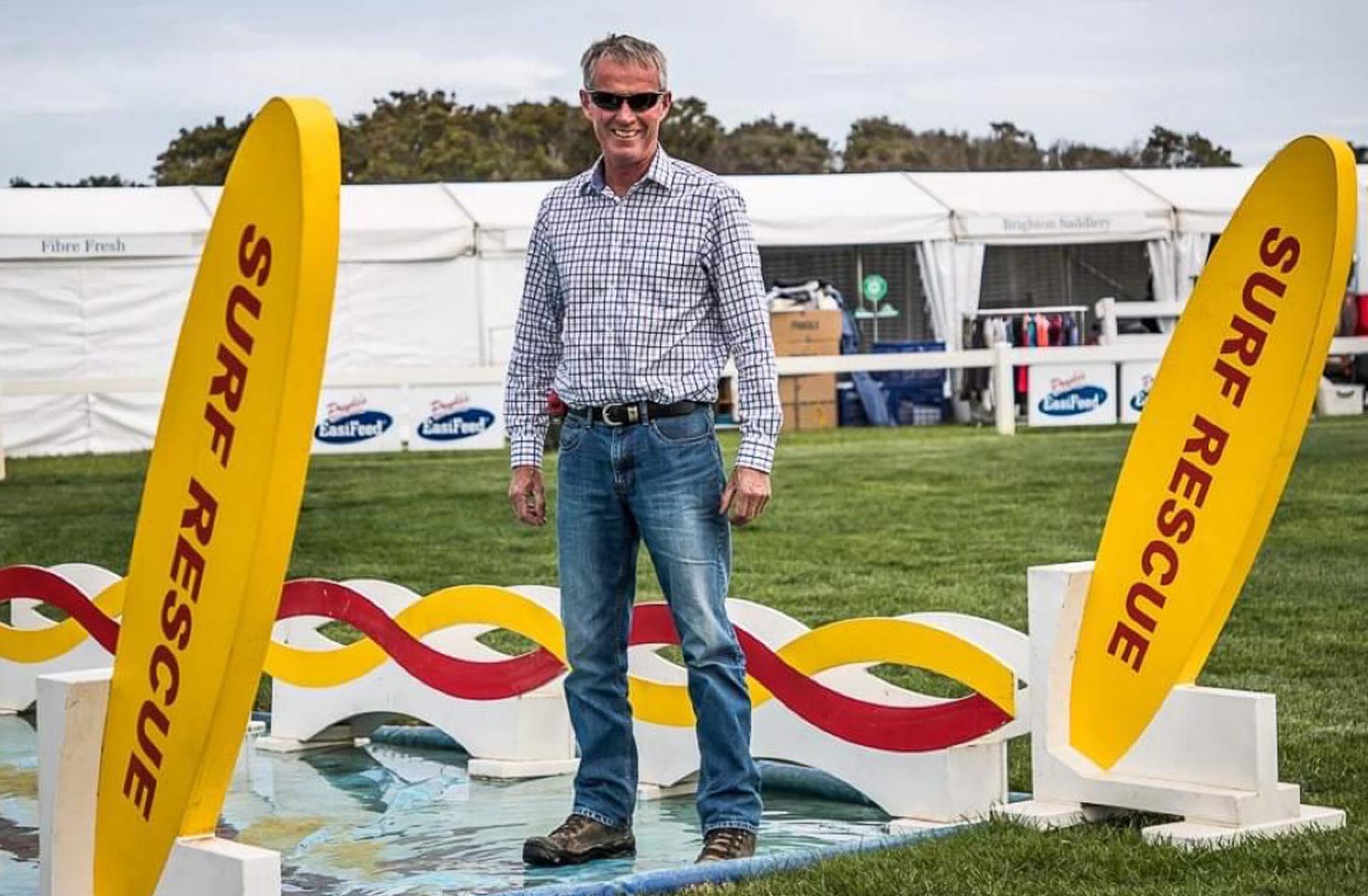 Above: David Sheppard at the Australian Championships.  Photo Credit: Stephen Mowbray.
What are the key considerations when planning a course?  That it has flow, the shape or line is important – different tests on either rein. Safety is paramount.  The location of the in gate has an effect, does the arena have a gradient – also has more effect than you would think. Know the quality of the starters, although sometimes that's difficult to gauge if you haven't been there before. Better to underdo it on the first day than the opposite. Having said that I'm adamant the World Cup Qualifiers are not to be dumbed-down because that is a standard.
Arena size, if it's large use it and if it's not, that can create a challenge, a good course design can give the illusion of a spacious arena when it's not.
It's not that often we build for the elite level so we need to encourage good jumping, as confidence (for horse and rider) is a very valuable commodity. I like the way the sport has evolved with lighter equipment with a stricter time allowed at the top level, and we're using more open distances to accommodate the improvement in sport horse breeding. It's definitely a job where you never stop learning. There's an article written by Canadian Designer Dave Ballard (also in Sydney 2000 arena crew) who does a "course discourse" every week of WEF (13 weeks) on the tracks of the Grand Prix, whether it be a 3,4 or 5 star GP. Different CD each week and he puts up course plan with dimensions, distances and photographs of each fence. For me it's absolute compulsive reading, and a way of comparing to what is being done in this country.
Advertisement

What characteristics do you think make for a good course designer? Passion for the sport, be a good observer of the horse, attention to detail. You don't have to have ridden but it has to be an advantage. As with riding, experience is a great teacher. It's a job where you're going to make mistakes, with experience they'll get less, so joining a club and being involved is a great start. Simple is good, the KISS principal works very well. I don't think any of us should be asking questions we don't know the answer to. Always be fair to the horse, learn what is a test and what isn't so much.
I think it's also important we have a good working (possibly even social) relationship with your fellow officials.
Are there any course designers you particularly admire? I have a rather large fan list, I worked with a  group of CD's in the arena crew for Sydney 2000 Olympics under Leopoldo Palacios – Frank Rothenberger was crew also, so those two gentlemen. I also admire Guillermo Jorge, Santiago Varela, Uliano Vezzani but if I have to pick one, Alan Wade.
What are some of the most significant events you have designed at? I haven't kept records and I really should of … Australian Showjumping Championships 2016 and 2017, the first of which was very wet – in a notable circumstance the same 3 riders won Senior, Young Rider and Junior Titles both years (talented riders and good horse managers) …. at least 4 Equitana's, around 6 Melbourne Royals, at least a dozen Melbourne Three Day Events and probably 25 World Cup Qualifiers in the three Eastern states. I was reminded this week of a World Cup Qualifier at Tonimbuk in the early 2000's by Chris Chugg who won on Kayak van Gravenhof, my first. In all I think Chris has won five that I have officiated at.
Are there any events that you would particularly love to design for in the future? I think Jumping in this country has been very good to me and I think my bucket list is more than I ever thought possible, and feel privileged to somehow be involved in the sport I love and be able to watch the elite at close quarters.
I would however really like to visit the best shows in the world  (Aachen, Spruce Meadows and maybe WEF) this should have been the year but not to be.
How have you been filling your time during the COVID shutdown?  Pushups. No, like many this year has not been great.  I've done a bit of fencing at home but on a positive note I've found time to get back to riding after a break of around 5 years. Now I remember why I stopped, I'm not good at it .
Can you tell us something we don't know about you? I'm pretty much an open book, but I'm slightly colour blind. So if I ask someone to put up the purple fence I possibly mean the blue fence.
View Comments