Billy Raymont and Anton take the World Cup Qualifier in Sale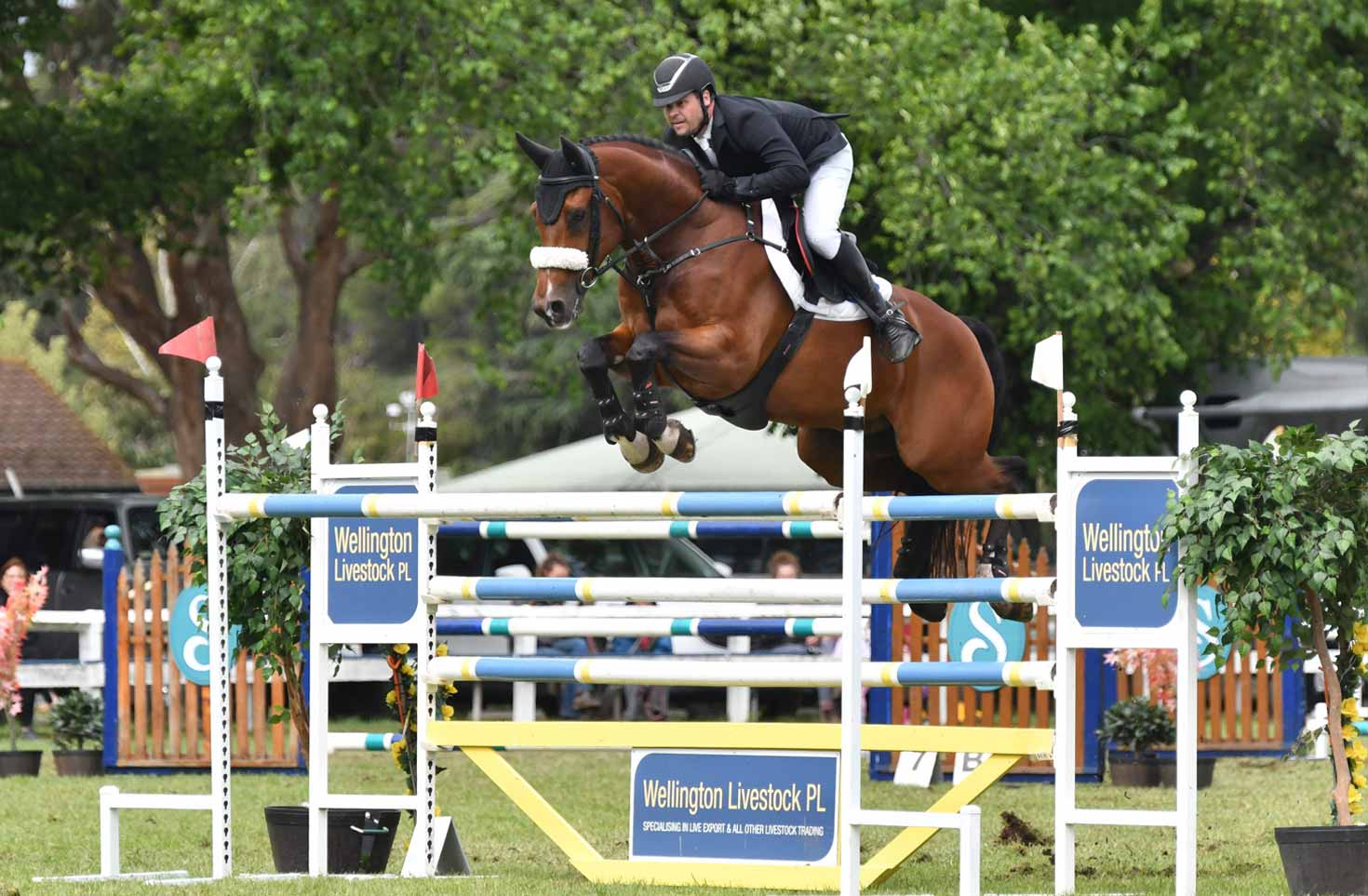 Julie Wilson Equestrian Photography
Sixteen combinations tackled the Gavin Chester designed course at The Elms Showjumping World Cup Qualifier this afternoon in Sale, Victoria. With heavy conditions on the track, Chester allowed more time than the standard 350m per minute for course completion. Even though there was a relatively small field for this 7th leg of the 2018/2019 season, we enjoyed an exhilarating competition as riders battled it out for valuable World Cup Points .
Advertisement

It was the second combination out, Ally Lamb (current Victorian Senior Champion) and her World Cup nominated horse Denison Park Combat who produced the first clear round of the competition in a time of 82.88.
Zoe Boulton and her mare Valcheta in their first World Cup Qualifier class had a lovely round to finish on just 4 faults – a fantastic achievement on this challenging track. Like Boulton, the next combination out, 18 year old Clay Simmonds and Oaks Castanza, also in their first World Cup start, finished on 4 faults but well under the time allowed, in 79.67 seconds.
The second clear of Round 1 was delivered by last year's Australian World Cup League winners Billy Raymont and Anton in 83.61 seconds. Recently returned from Europe, Raymont has been building up Anton's fitness and the combination had a great round.
Experienced local competitor Andrew Lamb and CP Argento delivered the third clear of the round in a time of 85.42. The fourth clear came from Merrick Ubank and Alantinus in another quick time of 54.50.
With two combinations remaining, Brooke Langbecker and Quintago 1, who have been placing consistently all year, had a great ride to give us the 5th and final clear of Round 1.
Advertisement

As per World Cup Qualifier rules, the top twelve combinations came back for the jump off, carrying their faults from Round 1. Brook Dobbin and Equador MVNZ managed the best round of the 8 faulters, adding only 4 faults to their total.
Tesse Cooke and Heatherton Park Alfonz had a lovely round, picking up only 4 additional faults, to take her into the lead early in the jump off.
To take the lead from Cooke, Aaron Hadlow and Vahlinvader (winners of the Gatton World Cup Qualifier) needed to jump clear, or only have one rail, in a time quicker than 63.70. Ending the round on 4 faults in a time of 60.09, Hadlow rose straight to the top of the pack.
Clay Simmonds and Oaks Castanza took a couple of superb lines to deliver the first clear round of the jump off in a super  fast time of 53.43 to remain on their 4 faults and rocket into the lead.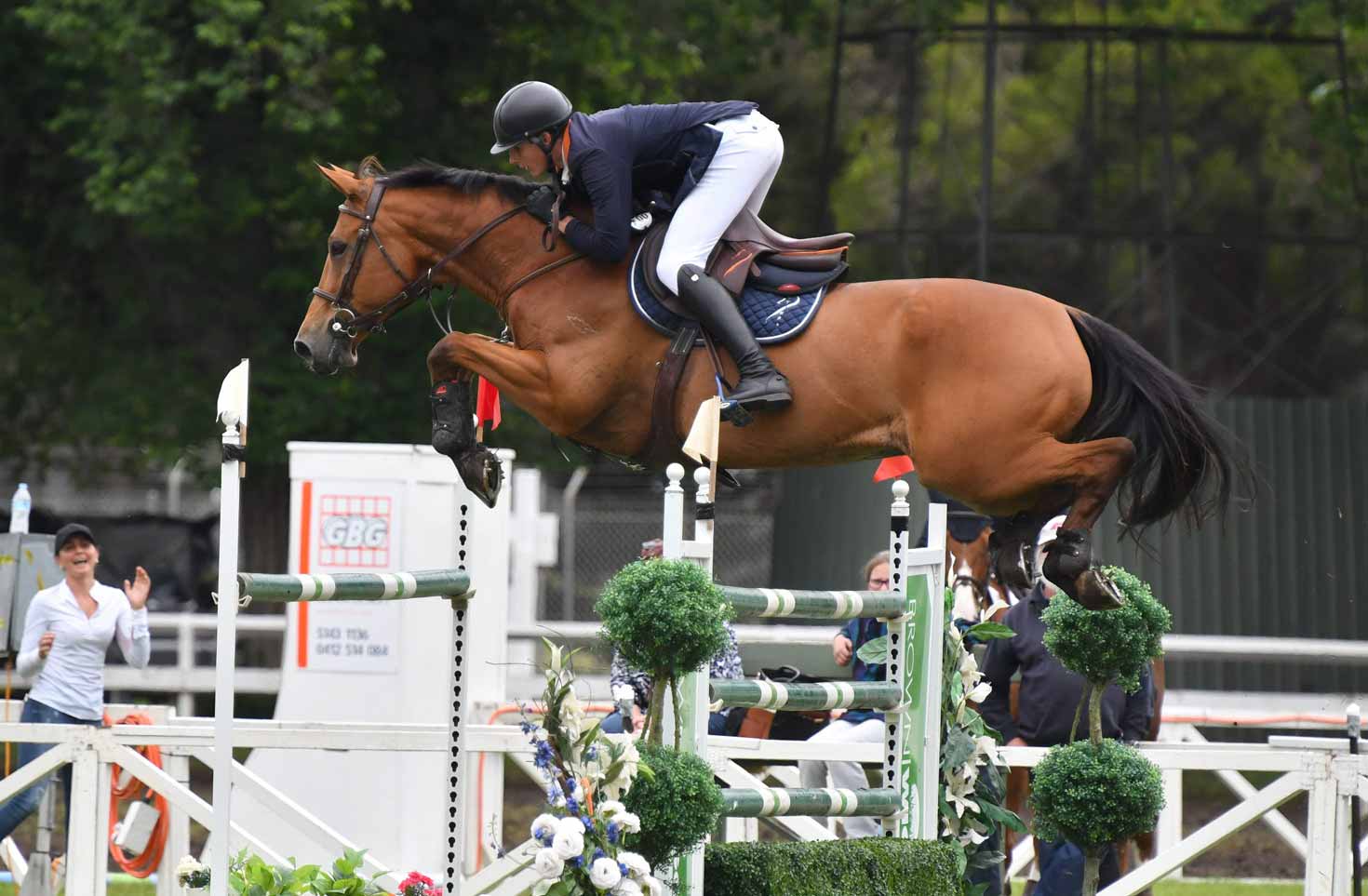 Clay Simmonds and Oaks Castanza. Photo Credit: Julie Wilson
With only three combinations remaining, all with zero penalties carried forward, we reached the pointy end of the competition. Billy Raymont and Anton entered the arena, aiming to remain on zero penalties and not only take the lead, but pick up the $1000 bonus for jumping double clear. A clear round it was, and in fact turned out to be the only double clear of the class. Ally Lamb and Denison Park Combat unfortunately picked up 12 penalties in the jump off and were out of the race.  It all came down to Merrick Ubank and Alantinus, however a lost stirrup and a rail down at the second fence relegated them to third place.
Congratulations to all the competitors for taking up the challenge, in the less than ideal Sale weather, and giving us a great 7th World Cup Qualifier round for the 2018/2019 season.  We look forward to the next round at SIEC in early December.
The top 12 positions from this 7th leg are below.
RIDER
HORSE

1

st

Billy Raymont

Anton

2

nd

Clay Simmonds

Oaks Castanza

3

rd

Merrick Ubank

Alantinus

4

th

Brooke Langbecker

Quintago 1

5

th

Andrew Lamb

CP Argento

6

th

Aaron Hadlow

Vahlinvader

7

th

Tesse Cook

Heatherton Park Alfonz

8

th

Zoe Boulton

Valcheta

9

th

Katie Laurie

Esteban MVNZ

10

th

Ally Lamb

Denison Park Combat

11

th

Brook Dobbin

Equador MVNZ

12

th

Nelson Smyth

Laurel Glen Lucky Time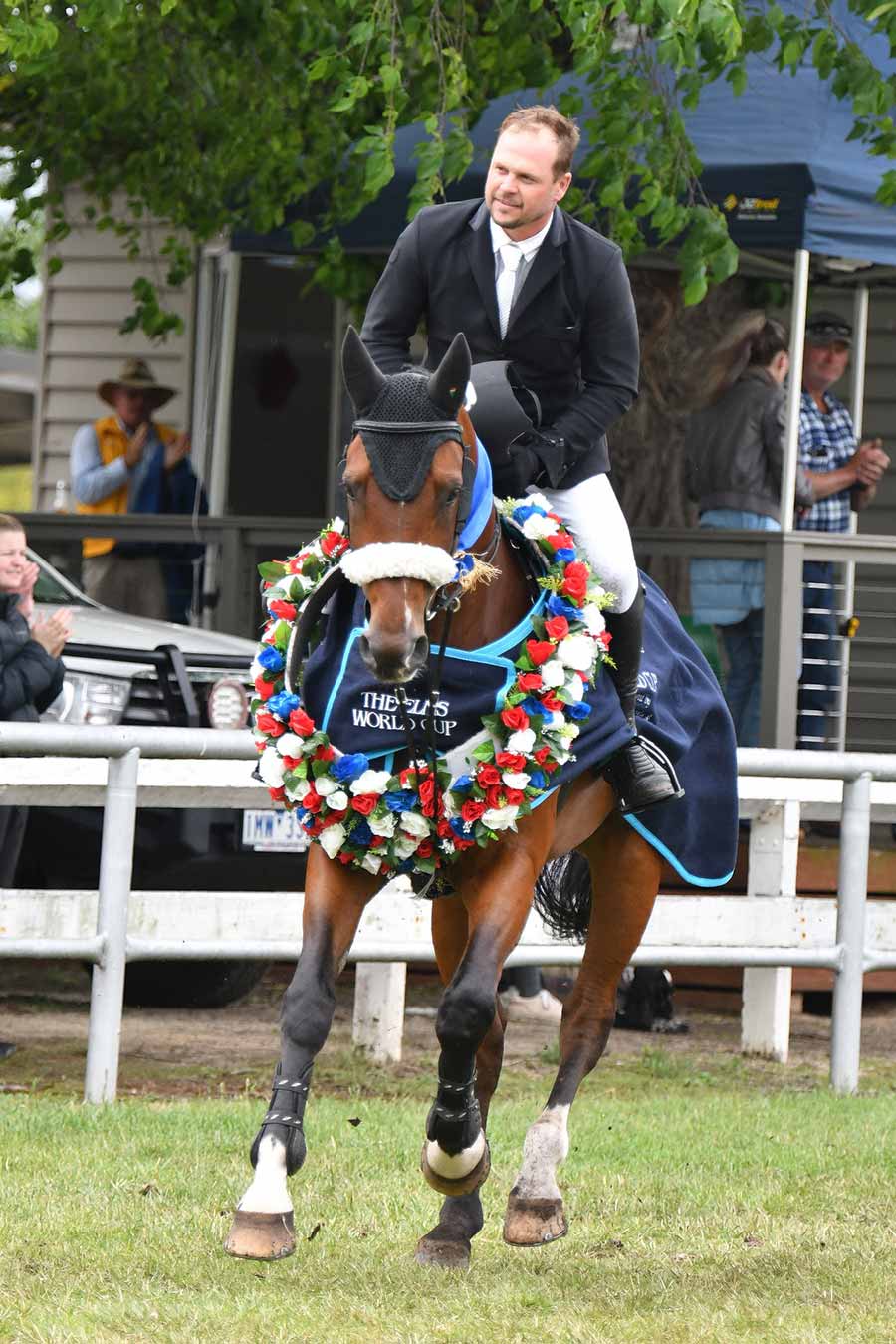 Billy Raymont and Anton. Photo Credit: Julie Wilson
View Comments