Edwina Tops-Alexander competing on home soil as the LGCT heads to Valkenswaard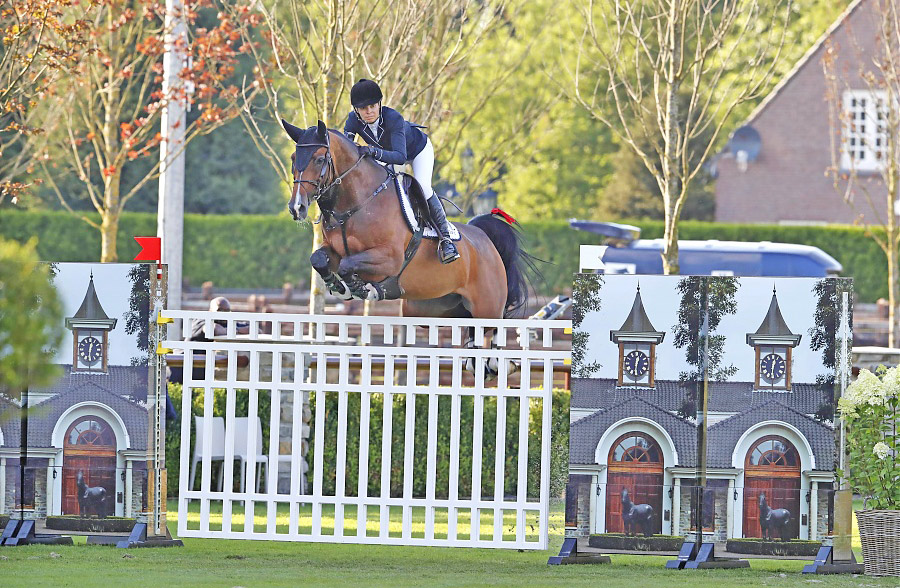 Stefano Grasso/LGCT
Source: LGCT
Nine out of the top ten in the Longines Global Champions Tour ranking will be taking centre stage in Valkenswaard, The Netherlands, with the potential for a shake up at the top of the Championship leaderboard.
Ben Maher (GBR) extended his overall ranking lead at his home event of LGCT London, where he now enjoys a points tally of 270 – 38 points from his closest rival – however will not be competing in the Championship this weekend, giving an opportunity to his closest rival Harrie Smolders (NED) to try and close the gap to the top. Hungry to secure a second LGCT title, the Longines World Number 1 Smolders sits in second with 234 points overall, and will be looking for a home advantage at the only Dutch leg of the Championship. Edwina Tops-Alexander (AUS), who is based at the Tops International Arena, maintains third with a score of 212.
Just thirteen points separate the next five ranked riders – Daniel Deusser (GER) heads to Valkenswaard with a score of 203, just one point ahead of fifth ranked rider Alberto Zorzi (ITA). LGCT Grand Prix of London winner Scott Brash (GBR) has shot up to sixth where he now has a tally of 197 points, just five points ahead of Christian Kukuk (GER) on 192, who is in turn just two points ahead of Nicola Philippaerts (BEL) on 190 overall. Rounding out the top ten in action this weekend are German stars Christian Ahlmann (GER) and Marcus Ehning (GER).
Advertisement

The blockbuster weekend of top-level show jumping in Valkenswaard will mark the 25th anniversary of the home of the Longines Global Champions Tour and GCL. The special milestone will be celebrated in style at the prestigious facility which is one of the foremost equestrian destinations in the world.
For the 2018 season of the world's premier show jumping season, the state-of-the-art Tops International Arena will host the 14th round of the Tour from 10th – 12th August. Designed with the horse as the top priority, the show ground features an exceptional 125m by 85m sweeping grass arena, four further sand arenas featuring top class footing, canter tracks and lunging arenas, expansive warm up arenas, exceptional wash areas and facilities for grooms to provide top standard care and over 500 world class and beautifully designed stables available for visiting competitors. Within the impressive complex there is a shopping village, refreshments and entertainment areas – all of which are available for everyone in the family to enjoy, and tickets allowing the perfect view of the action under covered grandstands.
Advertisement

There will be a whole host of illustrious names in action this weekend including the likes of Kent Farrington (USA), Eric Lamaze (CAN), Olivier Philippaerts (BEL), Simon Delestre (FRA), Rolf-Göran Bengtsson (SWE), Michael Whitaker (GBR), Luciana Diniz (POR), Henrik von Eckermann (SWE), Roger-Yves Bost (FRA), Peder Fredricson (SWE), Philipp Weishaupt (GER), Sergio Alvarez Moya (ESP), Pedro Veniss (BRA), Jessica Springsteen (USA), Pius Schwizer (SUI), Leopold van Asten (NED), Marlon Zanotelli (BRA), Constant Van Paesschen (BEL), Pieter Devos (BEL), Jur Vrieling (NED), Martin Fuchs (SUI), Maikel and Eric van der Vleuten (NED) to name a few.
With many of the biggest names in the sport in action this weekend, all eyes will be on who will be the next qualifier for a coveted spot in the Longines Global Champions Tour Super Grand Prix, the ultimate showdown in show jumping which will take place at the GC Playoffs in Prague this December.
CSI5* CLASSES IN AEST
Friday 10th August
22:30 AEST CSI 5* Two Phases – 1.45m (€25.000) 
Saturday 11th August
01:15 AEST CSI 5* GCL of Valkenswaard Round 1 – 1.50/1.55m (€60.000 to individual class winners)
22:30 AEST CSI 5* GCL of Valkenswaard Round 2 – 1.55/1.60m (€93.000 to individual class winners) 
Sunday 12th August
02:15 AEST CSI 5* LCCT Grand Prix of Valkenswaard – 1.60m (€300.000)
11:00 AEST CSI 5* Against-the-clock 1.45m (€25.000)
Monday 13th August
01:00 AEST CSI 5* Against-the-clock with jump-off 1.50m (€93.000)
View Comments