Edwina Tops-Alexander finishes 6th in 2018 LGCT & heads to €12 million GC Playoffs in Prague!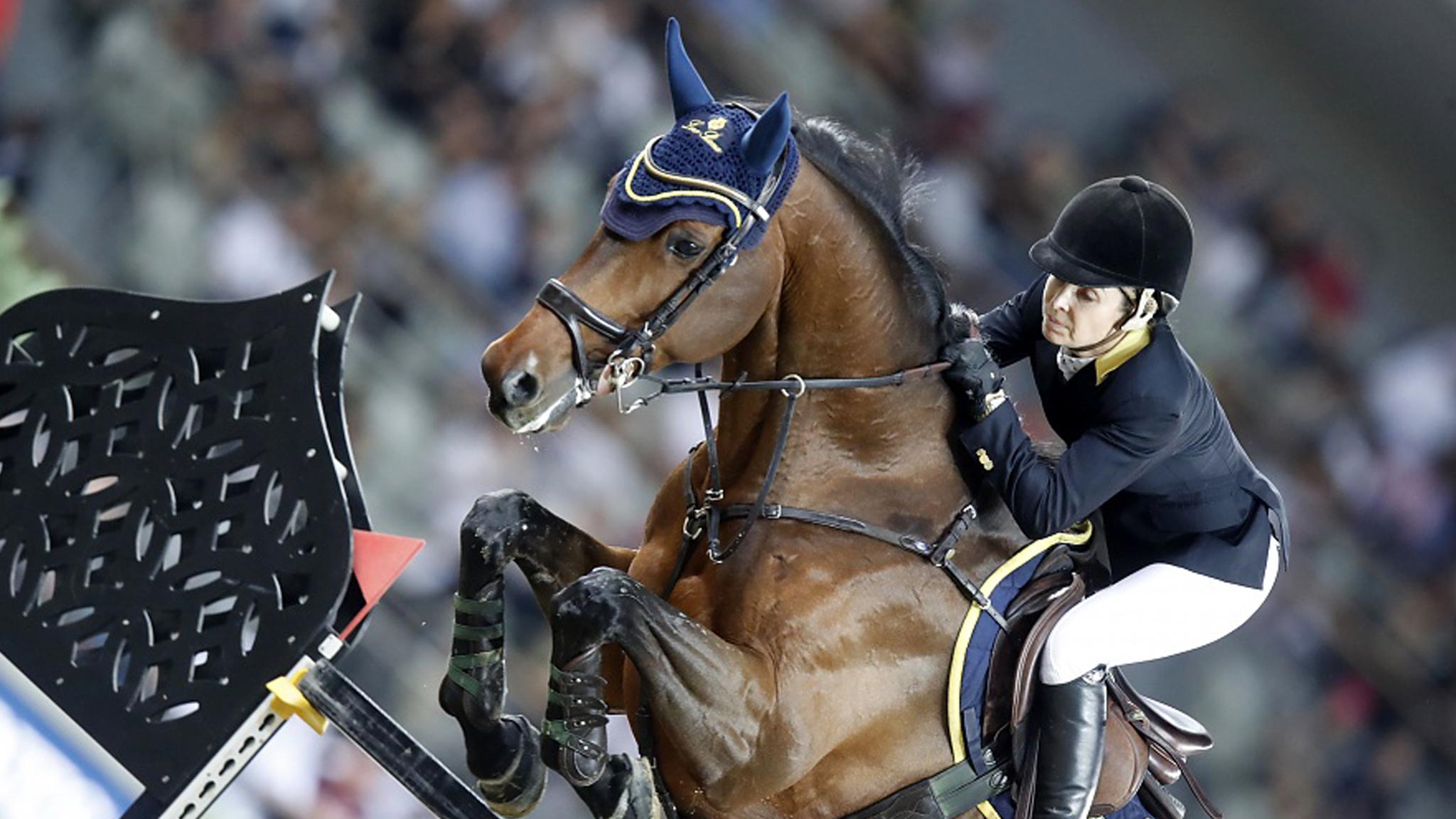 LGCT / Stefano Grasso
Unstoppable and untouchable Ben Maher (GBR) crowned a season of a lifetime winning the LGCT Grand Prix final in Doha on the superstar young stallion Explosion W and was crowned the new 2018 Champion of Champions.
Riding the crest of a wave the British rider was also the main anchor of the dominant London Knights who won the final of the GCL team championship on the same day.
It was a phenomenal end to 2018 for Ben with no less than five LGCT Grand Prix wins and after today's triumph the British Olympic gold medallist almost lost for words: "I can't quite take it in to be honest. I have such a good bond with Explosion W."
Advertisement

He will be the one to watch at the new €12 million GC Playoffs in Prague in December where he will compete in the LGCT Super Grand Prix and the GCL Super Cup.
At the press conference last year's LGCT Champion and current World No1 Harrie Smolders (NED) said of Ben: "He was out of our league."
Her Highness Sheikha Mozah bint Nasser Al Missned presented the winning medal and His Excellency Sheikh Joaan Bin Hamad Al Thani was also in attendance as the British national anthem rang out across the vast floodlit arena of AL SHAQAB in Doha. There were amazing scenes as The Father Emir of Qatar Hamad Bin Khalifa Al Thani, who had the vision to create the magnificent AL SHAQAB equestrian faciilty, toured the arena where families had enjoyed a programme of top-level sport.
In the LGCT Championship ranking Ben Maher finished 43 points ahead of last year's Champion Harrie Smolders and London Knights team mate Nicola Philippaerts (BEL) came in third on the podium after a hugely successful season.
Ben's incredible performance during the season secured the Championship at the last leg in Rome netting almost €1 million in prize money in the individual alone. And this weekend he swept the board with wins in all of the major classes. But there was a fiercely competitive 7-way battle to reach the LGCT Championship podium in Doha today. Alberto Zorzi (ITA), Harrie Smolders (NED), Daniel Deusser (GER), Scott Brash (GBR), Nicola Philippaerts (BEL), Edwina Tops-Alexander (AUS) and Christian Ahlmann (GER) were all in contention.
Advertisement

And riders were going all out to win the final qualifying place in the LGCT Super Grand Prix at the Playoffs in Prague in December.
Spectators filled the grandstands, with the ringside cafes and traditional Qatari cultural tent bustling with excitement in anticipation of the final LGCT Grand Prix of the 2018 season. A shopping village and Kids' Activity area kept families entertained, with children enjoying pony rides, bouncy castles and fun-filled activities in the beautiful indoor Riding Academy.
Uliano Vezzani's course was a tough test, fitting for the 2018 finale featuring the world's top riders. The flowing course featured an imposing Longines treble which caught out many top combinations, and an option of five or six strides to the last oxer gave riders plenty to think about.
Last year's winner Bassem Hassan Mohammed (QAT) had the unenviable task of going first with Gunder – the hopes of local spectators resting on his shoulders. But it wasn't to be their day, as the duo took out three fences and went out of contention. There was plenty early drama, the Longines treble claiming a few victims including Piergiorgio Bucci (ITA) and Driandria who had a last minute stop at the final element. A retirement from Leopold van Asten (NED) and VDL Groep Beauty and Scott Brash (GBR) and Hello Shelby would prove that Vezzani's course another serious test.
Alberto Zorzi (ITA) and Contanga 3 set off at a bouncing pace, but fence 7, the gappy vertical set towards the in-gate, would tumble. Pushing towards the second half of the course to better their time, the penultimate plank fell.
Peder Fredricson (SWE) on Hansson WL gave a masterclass of a performance to deliver the first clear. He was swiftly followed by Edwina Tops-Alexander (AUS) and California, the Australian rider delightedly praising her bay mare after their foot-perfect performance.
There was an unlucky pole for Maikel van der Vleuten (NED), as the GC back rail fell after an exuberant Verdi TN flew around the course in dramatic style. And the intimidating Longines treble took out the likes of David Will (GER) with Teavanata II C Z, with others such as Bertram Allen (IRL) with Molly Malone V, and Nicola Philippaerts (BEL) and H&M Chilli Willi falling foul of the GC oxer. Daniel Deusser (GER) and Calisto Blue also failed to make the jump off along with Jos Verlooy (BEL) and Igor who were one of the pairings that had a pole at the Arabian coffee pot fence.
Harrie Smolders (NED) and the powerful Don VHP Z were a clear round machine once more securing their place in the jump off and were swiftly followed by Laura Kraut (USA) on Zeremonie going clear in determined fashion. Pieter Devos (BEL) looked formidable on Espoir jumping an impressive clear round.
There was disappointment for Ludger Beerbaum (GER) on Casello, but delight for Lorenzo de Luca (ITA) and the nine year old grey mare Irenice Horta pulling a flawless round out of the bag. He would be joined by Shane Breen (IRL) with Golden Hawk, Athina Onassis (GRE) with MHS Going Global. And Ben Maher and the athletic Explosion W duly delivered a clear round to ensure they were in the nine-strong jump off.
Peder Fredrcison set a blistering pace on Hansson WL coming home in 36.34 on the big-striding bay stallion. There was disappointment for Shane Breen and Golden Hawk finishing on 12 faults after mistakes in the stride before the combination. And both Pieter Devos and Athina Onassis ended on four faults.
Edwina Tops-Alexander and California produced another superb clear round but their time of 37.63 was not quick enough. Peder has landed at the GC fence at 30 seconds and Lorenzo de Luca and Irenice Horta looked close but stopped the clock behind in 37.19.
Harrie Smolders and Don VHP Z were on top form again and matching Peder's time but just fell short to finish in 36.94 taking the third spot on the podium.
It all came down to the seemingly untouchable final pairing of Ben Maher and Explosion W. They ate up the ground at a great pace and took every opportunity to turn tight before the final gallop where they stopped the clock in a winning 35.50 pushing Peder in to second.
To Lorenzo's delight he learned he had won the last coveted place in the LGCT Super Grand Prix at the Playoffs in Prague next month.
The 2018 season now finishes, but all eyes will be on the GC Playoffs in Prague, taking place from Decemeber 13th – 16th at the O2 Arena.
View Comments