Edwina Tops-Alexander has widened her lead slightly heading into Paris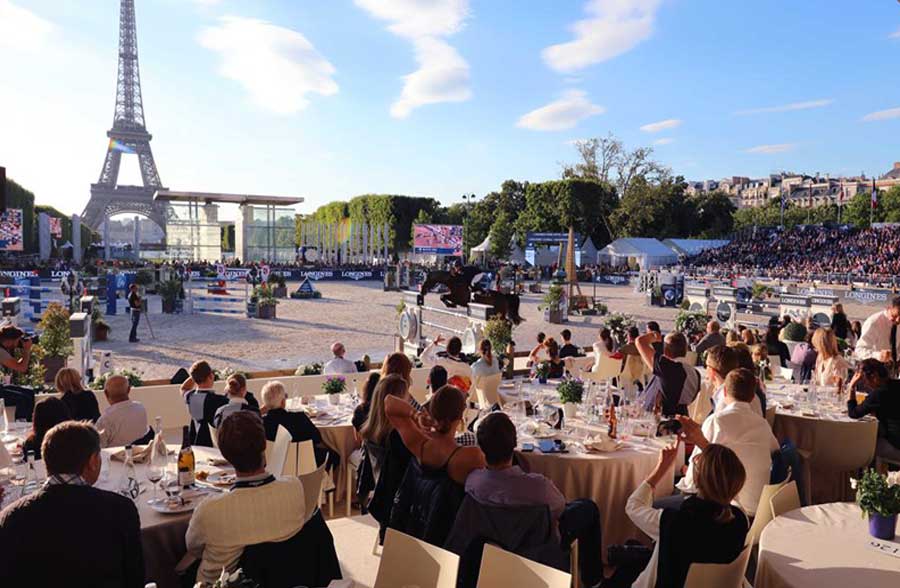 LGCT / Stefano Grasso
Source: LGCT
Big expectations have been set ahead of this week's Longines Global Champions Tour – Longines Paris Eiffel Jumping, as seven out of the top 10 in the LGCT ranking will head to the magical city to square up for the tenth leg of the Championship race.
The current top three riders in the Championship give a fascinating insight into their approach for success, as they head to Paris this weekend for what promises to be a unique sporting, social and cultural spectacular, set once again against the backdrop of one of the world's most iconic landmarks, the Eiffel Tower.
Current overall ranking leader Edwina Tops-Alexander (AUS) has widened her lead slightly, where she now sits on 186 points overall. Ahead of the event, she spoke of what it takes to succeed at the highest level of the sport. "You've got to be switched on, you've got to be on the ball and you have to know your horse very well. There are so many different elements that go towards it, and that's the thing about being good and having good results – it's precision. You only get that by practising and continually going at this high level – and when you're continuously at this high level, with the best riders in the world, it keeps you up there. That's the only way to stay at the top."
Advertisement

Second in the ranking, but breathing down the neck of Australia's leading lady is Ben Maher (GBR) on 172 points overall, the only rider to win two Grand Prix events this season. Maher expands on his game plan heading into the show-ring: "The goal is to end up in the right place at the right time but that comes from the horse listening – the communication between horse and rider. I have a very clear plan when we walk the course and set strides. Then everything comes very fast in the arena, so I think it's important just to slow everything down. You pick your pace, you pick your canter when you go in the ring, then trust the system, trust your plan. Obviously you have to make split seconds decisions when you're going around the ring, how your horse is feeling and not get distracted – it's about not panicking, not rushing and letting the rhythm of the horse carry you to the next jump."
Two time LGCT Champion Scott Brash (GBR) will also be in Paris, and with the Olympic Gold Medallist sitting in third in the rankings on 157 points, he places emphasis on a winning formula coming from a partnership with his horses: "It all comes from years of training and practice on your horse. We can always do something better. It's very difficult to have that perfect round – there's something you can always be working on or improving on to make it better. I just want to win, I want to do well – you have to be so in tune with your horse, you have to know what stride will suit your horse. That's why we ride them every day and why we work with them, so we can create that partnership and understand our horses inside out."
Indeed, seven out of the top 10 in the LGCT ranking will be in action with Harrie Smolders (NED), Alberto Zorzi (ITA), last year's LGCT Grand Prix of Paris winner Julien Epaillard (FRA) and Jos Verlooy (BEL) all looking for a big points haul under the iconic Eiffel Tower.
One of the most visited cities in the world, Paris is brimming with famous attractions and landmarks. Spectators can enjoy world-class show jumping in the heart of the 'International City of Style', against one of the most recognisable landmarks in the world. French "art de vivre" will as well be celebrated through gastronomy in the reception areas with restaurants run by two famous 3-star chefs, Alain Ducasse and Frédéric Vardon. Over 50,000 visitors are expected to what's become a meeting place for horse lovers around the world.
Other top international riders this weekend include names such as Christian Ahlmann (GER), Maikel van der Vleuten (NED), Simon Delestre (FRA), Jerome Guery (BEL), Gregory Wathelet (BEL), Roger-Yves Bost (FRA), Rolf-Goran Bengtsson (SWE), Ludger Beerbaum (GER), Marcus Ehning (GER), Bertram Allen (IRL), Laura Kraut (USA), Olivier Philippaerts (BEL), Lorenzo de Luca (ITA), Michael Whitaker (GBR), Niels Bruynseels (BEL), Peder Fredricson (SWE), Henrik von Eckermann (SWE), Sergio Alvarez Moya (ESP), Beezie Madden (USA) and Philippe Rozier (FRA).
Advertisement

CSI 5* Class Times in AEST:
Thursday 5th July
20:30 AEST CSI 5* Prix Renaut – 1.45m (€25.000) 
Friday 6th July
01:00 AEST CSI 5* GCL of Paris Round 1 – 1.50/1.55m (€60.000 to individual class winners)
04:15 AEST CSI 5* Record de Saut en Hauteur presented by Renault – 6 bars (€50.000)
20:30 AEST CSI 5* Prix Renault Mobility – 1.45/1.50m (€50.000)
Saturday 7th July
02:45 AEST CSI 5* Longines Eiffel Challenge 1.50/1.55m (€100.000)
Sunday 8th July
00:00 AEST CSI 5* GCL of Paris presented by Massimo Dutti Round 2 – 1.55/1.60m
(€93.000 to individual class winners)
03:15 AEST CSI 5* LCCT Grand Prix of Paris – 1.60m (€300.000)
View Comments