Fuller flies to victory at the JNSW Autumn Classic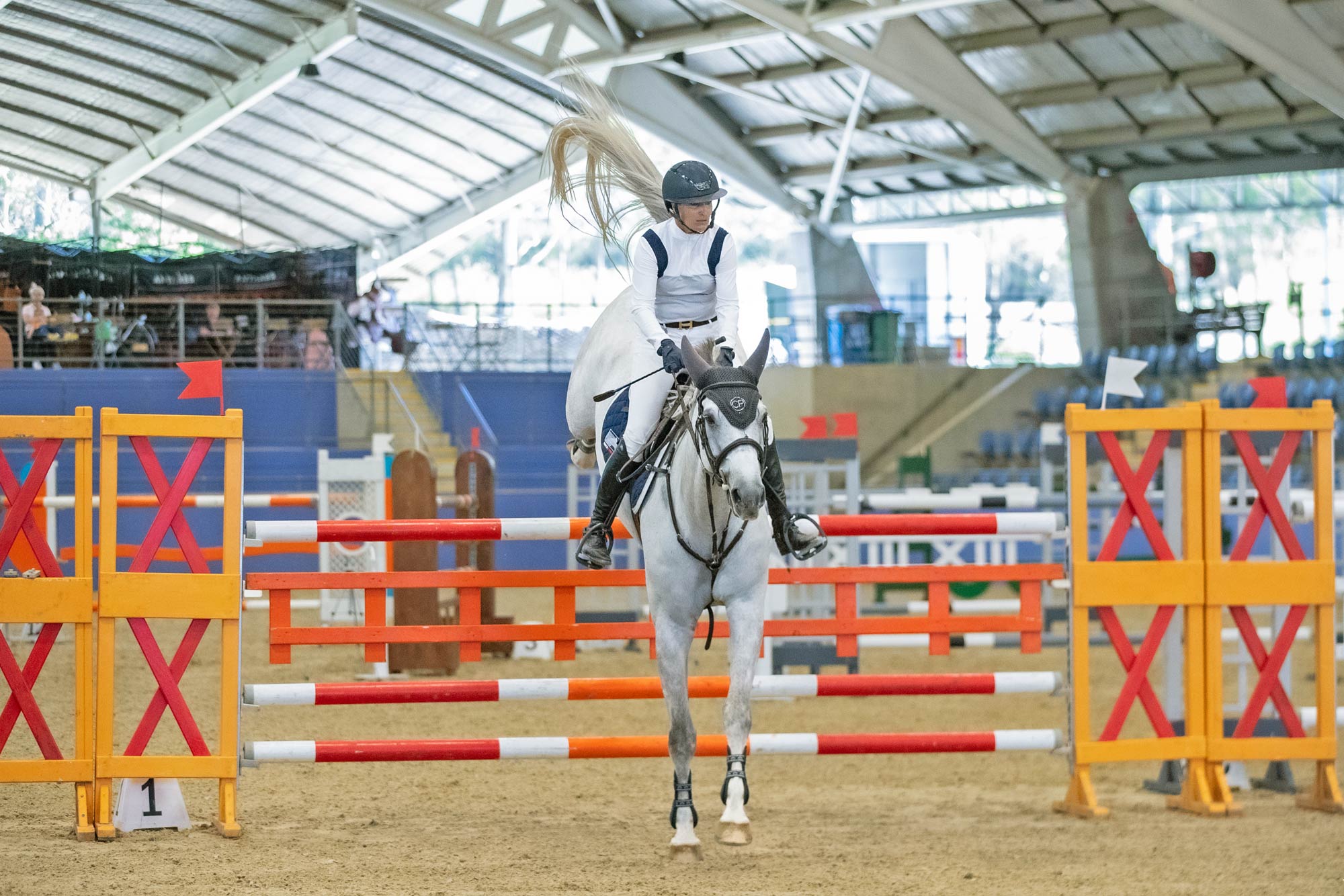 Australian Jumping
Jumping NSW held their Autumn Showjumping Classic Show last weekend, to high acclaim all around. Following a training day on Friday, the competition went for two days with both the indoor arena and one outdoor arena at Sydney International Equestrian Centre (SIEC) filled with action.
The feature class of the program was an Open 1.40m class where there was only one double clear performance and saw Amber Fuller and the 10-year-old gelding Nopal Van Tallaert take the win. This was a great start to what could be a very exciting year for this combination. Two other combinations contested the jump-off with the experienced James Mooney with KPH Cavatina taking a single rail to finish second, while third went to Sarah McMillan and Tyrone VDL.
Advertisement


The show was also very successful for a trio of riders who managed to win two classes, all on the Saturday program. Ex-jockey Lori James combined with the OTT gelding Restauranter SHP to win both the open 1.10m class before taking out the Jumping NSW Amateur Series (1.15m) class in a two way jump off.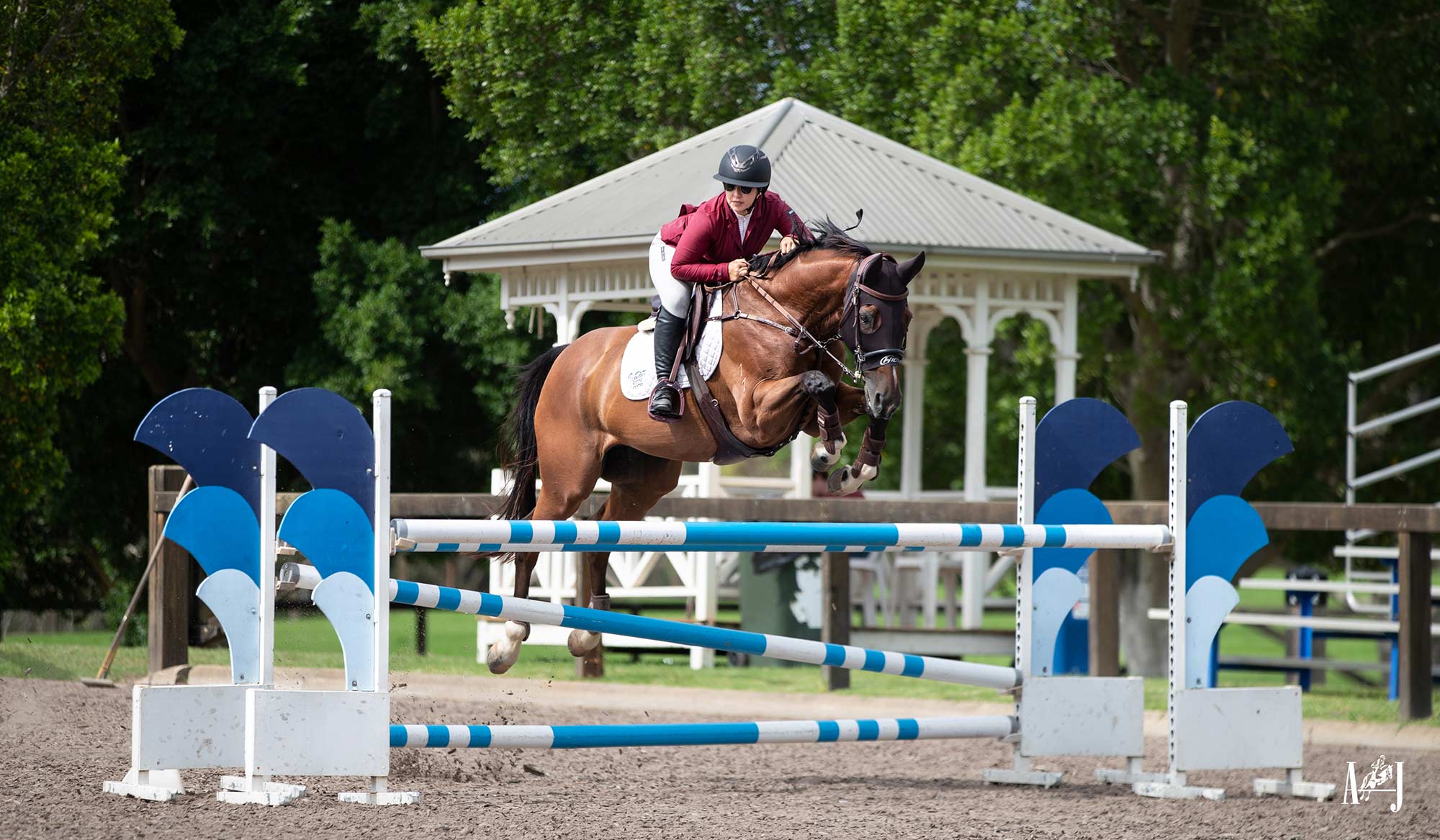 Above: Lori James and Restauranter SHP
Young Hunter Valley based rider Charlie Magnier showed his class by winning open competitions at 1.20m and 1.30m with Master Stevie G and Quinn Z respectively. The third dual winner on the program was a Western Australian who is now residing on the east coast, Chloe Versteegen. Chloe won a 1.30m Young Rider class with Cera Quantero, before winning on the outside arena with the 2019 Australian Senior Title winning horse Elegance De La Charmille, a ride she has taken over from Tom McDermott.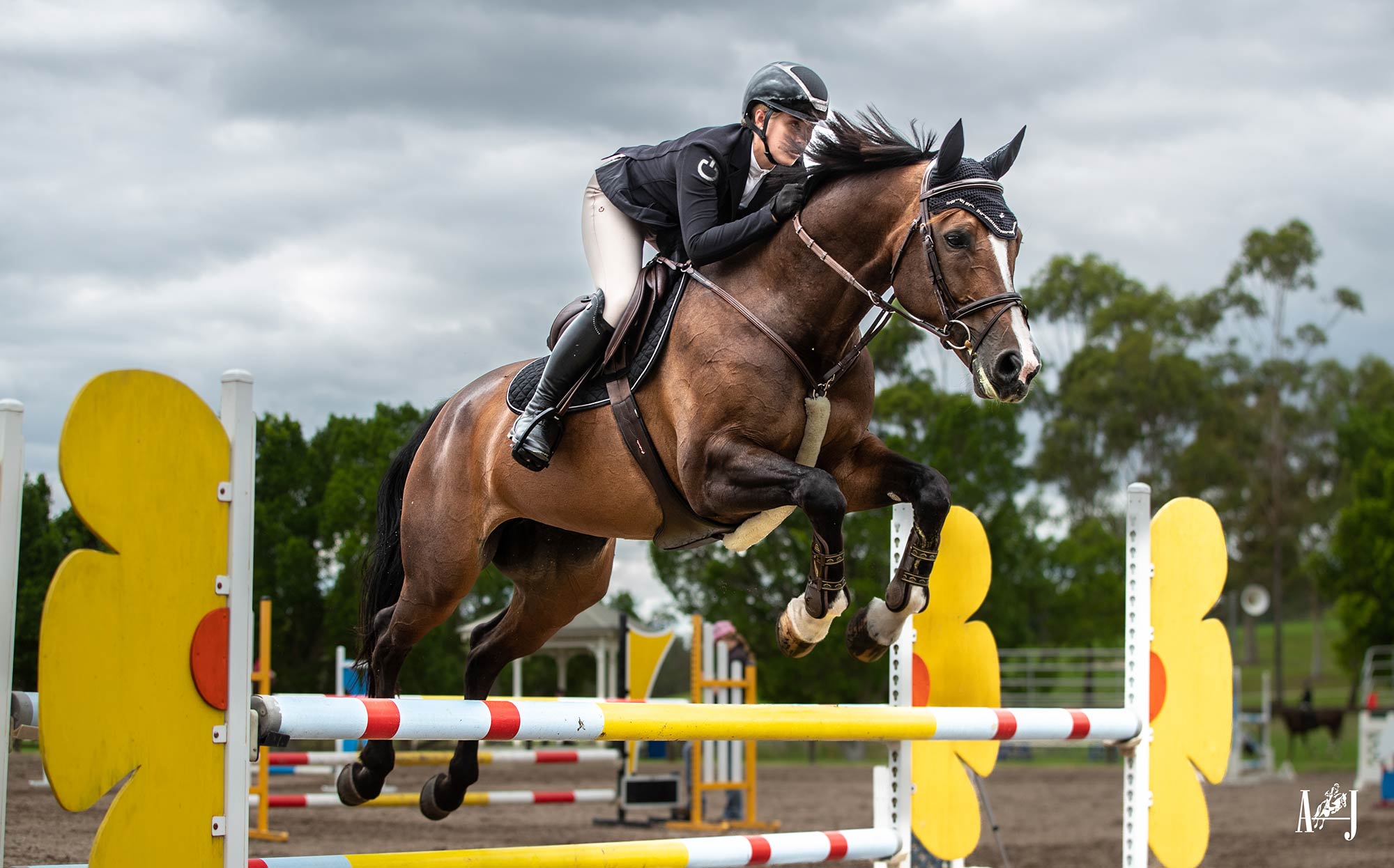 Above: Chloe Versteegen and Elegance De La Charmille
Advertisement


Congratulations to all the winners and placegetters over the weekend. The top six placings from every class on the program are listed below:
SATURDAY RESULTS
INDOOR ARENA
CLASS 1A: OPEN – 1.10m
| | | |
| --- | --- | --- |
| PLACE | RIDER | HORSE |
| 1st | Lori James | Restauranter SHP |
| 2nd | Andrew Inglis | Indiana Goodtimes |
| 3rd | Natalie Mohr | Talbot Cece |
| 4th | Brad Frankum | Warraleigh Park Umbrayas |
| 5th | Monique Barrett | Dusky Farm Duncan |
| 6th | Sarah McVicker | Somerset Kenobi |
CLASS 1B: JUNIOR RIDERS – 1.10m
| | | |
| --- | --- | --- |
| PLACE | RIDER | HORSE |
| 1st | Alexander Jang | PPP Seductor |
| 2nd | Molly Mooney | JB Evolution |
| 3rd | Jasmine Spira | Quin Marvel |
| 4th | Alexandra Inglis | Glenara Affogato |
| 5th | Sienna Bellis | Platinum Ego Z |
| 6th | Jasmine Spira | Outlawed W |
CLASS 2: OPEN – 1.20m
| | | |
| --- | --- | --- |
| PLACE | RIDER | HORSE |
| 1st | Charlie Magnier | Master Stevie G |
| 2nd | Andrew Inglis | Indiana Goodtimes |
| 3rd | Tess McInerney | Quintation |
| 4th | Monique Barrett | Dusky Farm Duncan |
| 5th | George Johnson | Dusky Farm Hope |
| 6th | Georgia Apps | Finch Farm Viduka |
CLASS 3A: OPEN – 1.30m
| | | |
| --- | --- | --- |
| PLACE | RIDER | HORSE |
| 1st | Charlie Magnier | Quinn Z |
| 2nd | Tess McInerney | Yalambi's Fair Diamond |
| 3rd | Jess Rice-Ward | Dinero |
| 4th | Gabrielle Chugg | KG Queenie |
| 5th | Tess McInerney | Quintation |
| 6th | Amelia Douglass | Finch Farm Cadel |
CLASS 3B: YOUNG RIDERS – 1.30m
| | | |
| --- | --- | --- |
| PLACE | RIDER | HORSE |
| 1st | Chloe Versteegen | Cera Quantero |
| 2nd | Emily Baldwin | Twins Ava |
| 3rd | Georgia Bouzaid | Vitess |
| 4th | Anneliese Wansey | Texas |
| 5th | Clemency Hughes | Diamond B Corvina |
| 6th | Charlie Richardson | Mavrick |
OUTDOOR ARENA
CLASS 4A: OPEN – 0.80m
| | | |
| --- | --- | --- |
| PLACE | RIDER | HORSE |
| 1st | Evie Magnier | Sir King Charles |
| 2nd | Evie Magnier | Mirabelle Patterson |
| 3rd | Rhys McEvoy | Royal Romance Jewels |
| 4th | Emily Whitworth | Petal Bomb |
| 5th | Carissa Holmes | Kira |
| 6th | Michelle Penza | Eli Lamar |
CLASS 4B: JUNIOR RIDERS – 0.80m
| | | |
| --- | --- | --- |
| PLACE | RIDER | HORSE |
| 1st | Phoebe Macklin | Kaewing Maximus |
| 2nd | Ella Mifflin | Miss California |
| 3rd | Luiza Dias Marucio | Cardrona Xtreme |
| 4th | Alexa Garcia | Spannerkop |
| 5th | Emma Fontanot | Fidem Elpis Amor |
| 6th | Georgia Wiesener | Cavalier Carolus |
CLASS 5A: OPEN – 0.90m
| | | |
| --- | --- | --- |
| PLACE | RIDER | HORSE |
| 1st | Jesper Barrett | Monty |
| 2nd | Rhys McEvoy | Royal Romance Jewels |
| 3rd | Valentina Hercus | Gold Play |
| 4th | Emma Fontanot | Fidem Elpis Amor |
| 5th | Grace Maher | WS Raising Roxy |
| 6th | Charli Stevens | Royal River Phantasia |
CLASS 5B: CHILDREN RIDERS – 0.90m
| | | |
| --- | --- | --- |
| PLACE | RIDER | HORSE |
| 1st | Charlie Anne Smith | Nugget |
| 2nd | Alexa Garcia | Spannerkop |
| 3rd | Jake McEvoy | Avenly Bundy |
| 4th | Luiza Dias Marucio | Cardrona Xtreme |
| 5th | Brooke Anderson | Aced It |
CLASS 6A: OPEN – 1.00m
| | | |
| --- | --- | --- |
| PLACE | RIDER | HORSE |
| 1st | Belinda Carruthers | Your Honour |
| 2nd | Elizabeth Koob | Caribbean CJB |
| 3rd | Jacqueline Basquil | Converse |
| 4th | Jane Hemingway-Mohr | Victoria D'ivraie |
| 5th | Anna Musgrove | Statford Narnia |
| 6th | Valentina Hercus | Foxground Kahtia |
CLASS 6B: YOUNG RIDERS – 1.00m
| | | |
| --- | --- | --- |
| PLACE | RIDER | HORSE |
| 1st | Chloe Versteegen | Elegance De La Charmille |
| 2nd | Charlie Richardson | Bee Cool |
| 3rd | Callie Beare | Le Minx |
| 4th | Hannah Goodwin | Yandoo Orange County |
| 5th | Makaila Pecanac | BHM Black Galliano |
| 6th | Nina Hillier | Darcy Daybreak |
CLASS 7: JNSW AMATEUR SERIES CLASS – 1.15m
| | | |
| --- | --- | --- |
| PLACE | RIDER | HORSE |
| 1st | Lori James | Restauranter SHP |
| 2nd | Charlotte Chambers | Amaretto MVNZ |
| 3rd | Abby West | Aniklas |
| 4th | Belinda Torrens | Bella Blu |
| 5th | Jacqueline Basquil | Converse |
| 6th | Jessie O'Connell | One Way Van De Kwakkelhoek |
SUNDAY RESULTS
INDOOR ARENA
CLASS 8: OPEN – 1.20m
| | | |
| --- | --- | --- |
| PLACE | RIDER | HORSE |
| 1st | Andrew Inglis | Indiana Goodtimes |
| 2nd | Molly Mooney | JB Evolution |
| 3rd | Sophie Baldwin | CW Conquest |
| 4th | Belinda Torrens | Bella Blu |
| 5th | Vicki Roycroft | Kenny Casino |
| 6th | Amanda Madigan | Diamond B Bleubry |
CLASS 9A: OPEN – 1.30m
| | | |
| --- | --- | --- |
| PLACE | RIDER | HORSE |
| 1st | Clemency Hughes | Diamond B Corvina |
| 2nd | Tess McInerney | Alpha Centauri |
| 3rd | Olivia Barton | Henrik APH |
| 4th | Lara Christoffelsz | Yalambis Jasmine |
| 5th | Anneliese Wansey | Texas |
| 6th | Aaron Hadlow | Cera Stiletto |
CLASS 9B: YOUNG HORSES – 1.30m
| | | |
| --- | --- | --- |
| PLACE | RIDER | HORSE |
| 1st | Izabella Stone | Bellhaven Coolibah |
| 2nd | Matt Irvine | Chalina DP |
| 3rd | Jess Brown | Oaks Cryptic |
| 4th | Georgia Bouzaid | Benthen's Balou |
| 5th | Tess McInerney | Quintation |
| 6th | Andrew Ellis | Glenhill Volant |
CLASS 10: OPEN – 1.40m
| | | |
| --- | --- | --- |
| PLACE | RIDER | HORSE |
| 1st | Amber Fuller | Nopal Van Tallaert |
| 2nd | James Mooney | KPH Cavatina |
| 3rd | Sarah McMillan | Tyrone VDL |
| 4th | Aaron Hadlow | Vahlinvader |
| 5th | Andrew Ellis | Chumbawumba |
| 6th | Jess Brown | Yirrkala Miss Darcy |
OUTDOOR ARENA
CLASS 11: OPEN – 0.90m
| | | |
| --- | --- | --- |
| PLACE | RIDER | HORSE |
| 1st | Jake McEvoy | Avenly Bundy |
| 2nd | Jesper Barrett | Monty |
| 3rd | Jane Hemingway-Mohr | Victoria D'ivraie |
| 4th | Carissa Holmes | Kira |
| 5th | Emily Whitworth | Petal Bomb |
| 6th | Martina Kovacs | Sterntaler Juniper |
CLASS 12: OPEN – 1.00m
| | | |
| --- | --- | --- |
| PLACE | RIDER | HORSE |
| 1st | Jane Hemingway-Mohr | Victoria D'ivraie |
| 2nd | Sandra Tremier | TT Gorgeous Girlfriend |
| 3rd | Callie Beare | Le Minx |
| 4th | Grace Maher | WS Raising Roxy |
| 5th | Elaine Robl | Sagesse |
| 6th | Claire Ramsbotham | Clevedon Oboe |
CLASS 13A: OPEN – 1.10m
| | | |
| --- | --- | --- |
| PLACE | RIDER | HORSE |
| 1st | Jacqueline Basquil | Converse |
| 2nd | Donna Satara | Confucius |
| 3rd | Lucy Locke | Kosmos |
| 4th | Nadia Gronow | Oaks Cobalt |
| 5th | Chloe Versteegen | Elegance De La Charmille |
| 6th | Sarah McVicker | Somerset Kenobi |
CLASS 13B: YOUNG HORSES – 1.10m
| | | |
| --- | --- | --- |
| PLACE | RIDER | HORSE |
| 1st | Elaine Robl | Sagesse |
| 2nd | Matt Irvine | Greengrove Caspian |
| 3rd | Tess McInerney | Yalambi's Kandy Ripple |
| 4th | Shannon Breen | Lontache Blue PS |
| 5th | Amanda Madigan | Diamond B Chinook |
| 6th | Vicki Roycroft | Danni |
Results sourced from globalentriesonline.com.au
View Comments