Gatton success for Olivia Hamood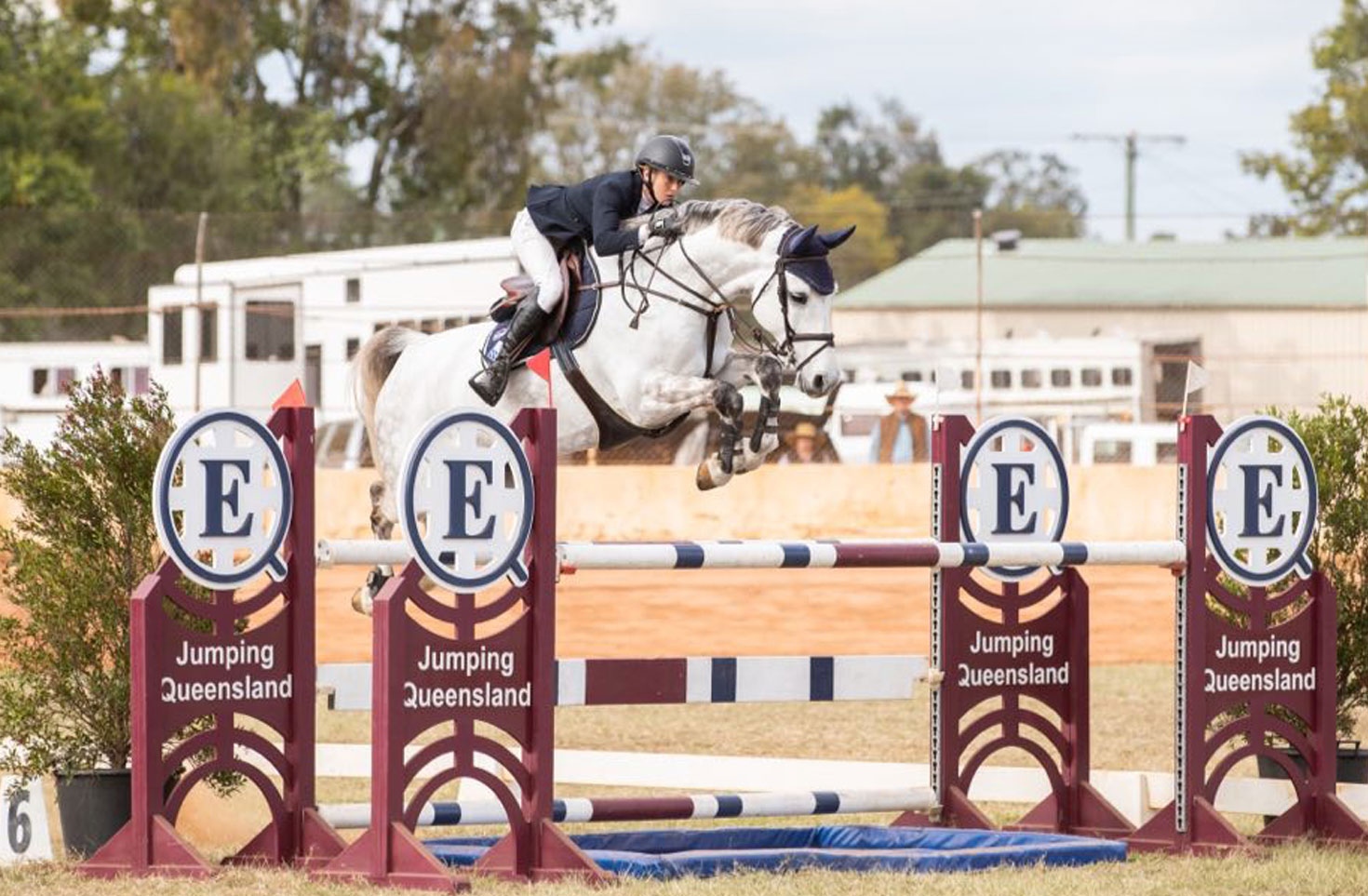 Calico Pony
Above: Olivia Hamood and Knock Out 111. Photo credit: Calico Pony
Despite the absence of a World Cup Qualifying round this year a fantastic three days of Jumping was held at Gatton over the weekend. Sponsored by Pryde's EasiFeed, classes were conducted over fences starting at 0.80m up to 1.40m, on two arenas over three days. The program also featured four classes conducted by the TSHA.
Advertisement


The feature class of the weekend was an open class, conducted over 1.35-1.40m which saw some excellent jumping, with the first seven placegetters all recording double clears. Olivia Hamood was well rewarded for making the trip down from Kilcoy by finishing first, third and seventh in the event. The win was taken in combination with her 10-year-old mare, Knock Out 111, while she paired with Alan 111 Z to fill third place. Second place went to the consistent Sam Overton and Oaks Cassanova, who also placed second in the Saturday 1.35m class.
Below are a full listing of all the results from the weekend. But before you get to those, have look at these gorgeous photos courtesy of Katie Mendl at Calico Pony.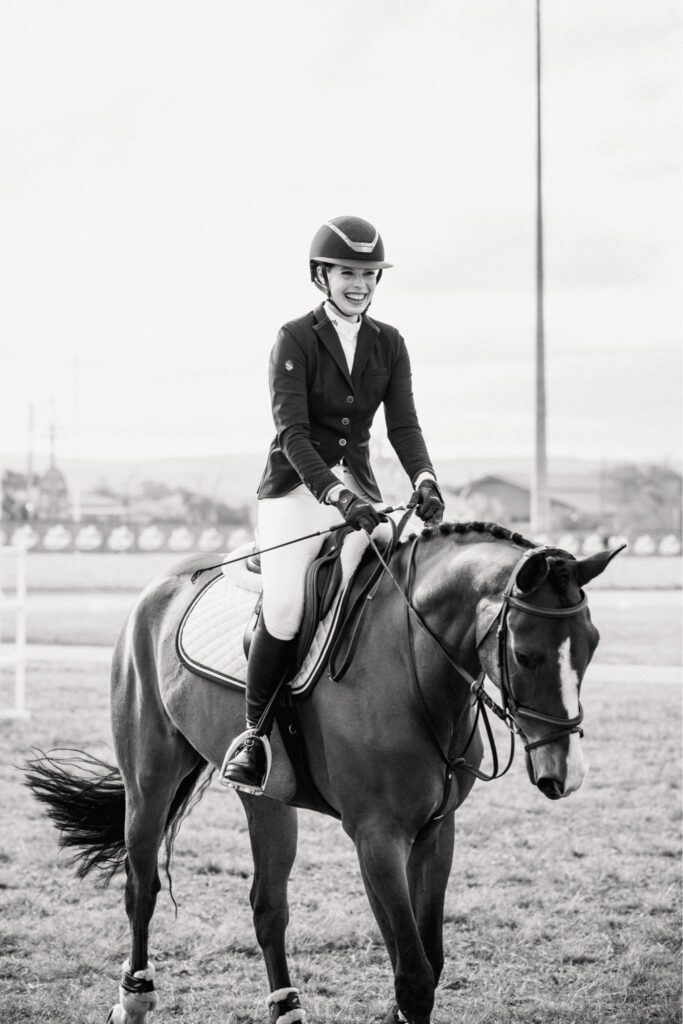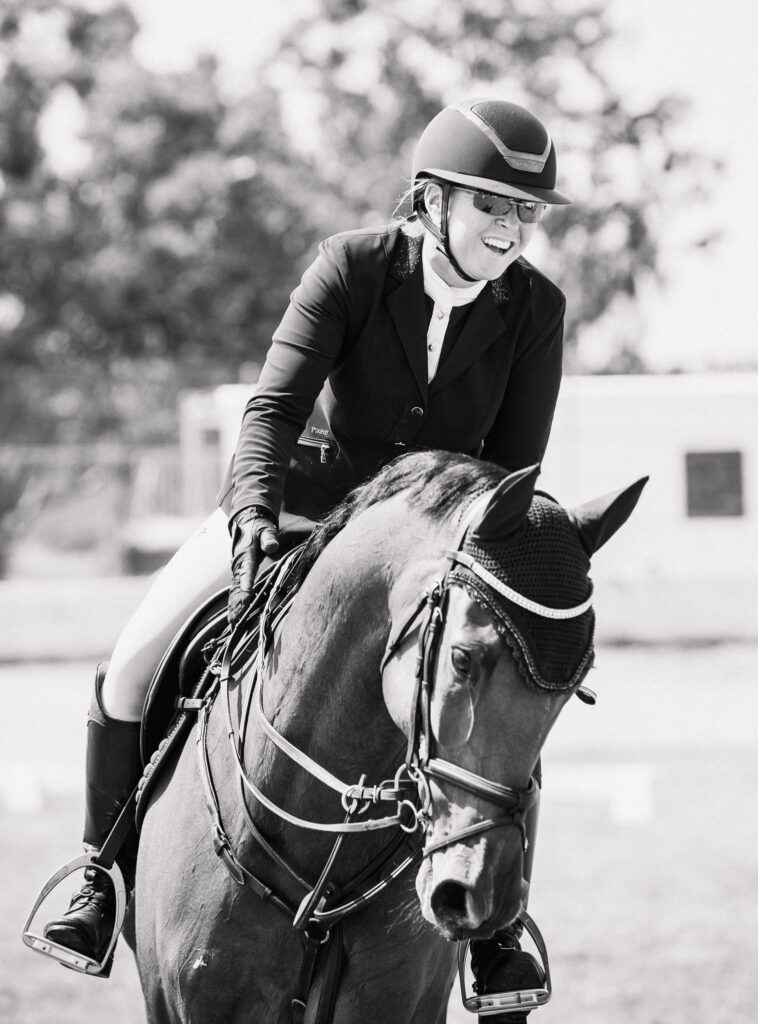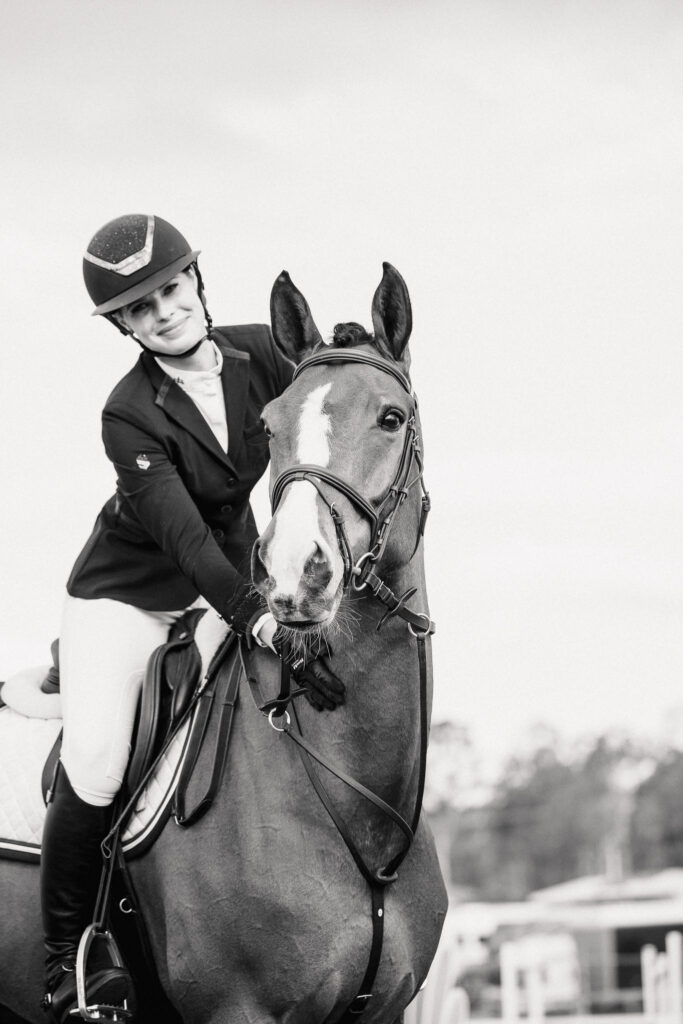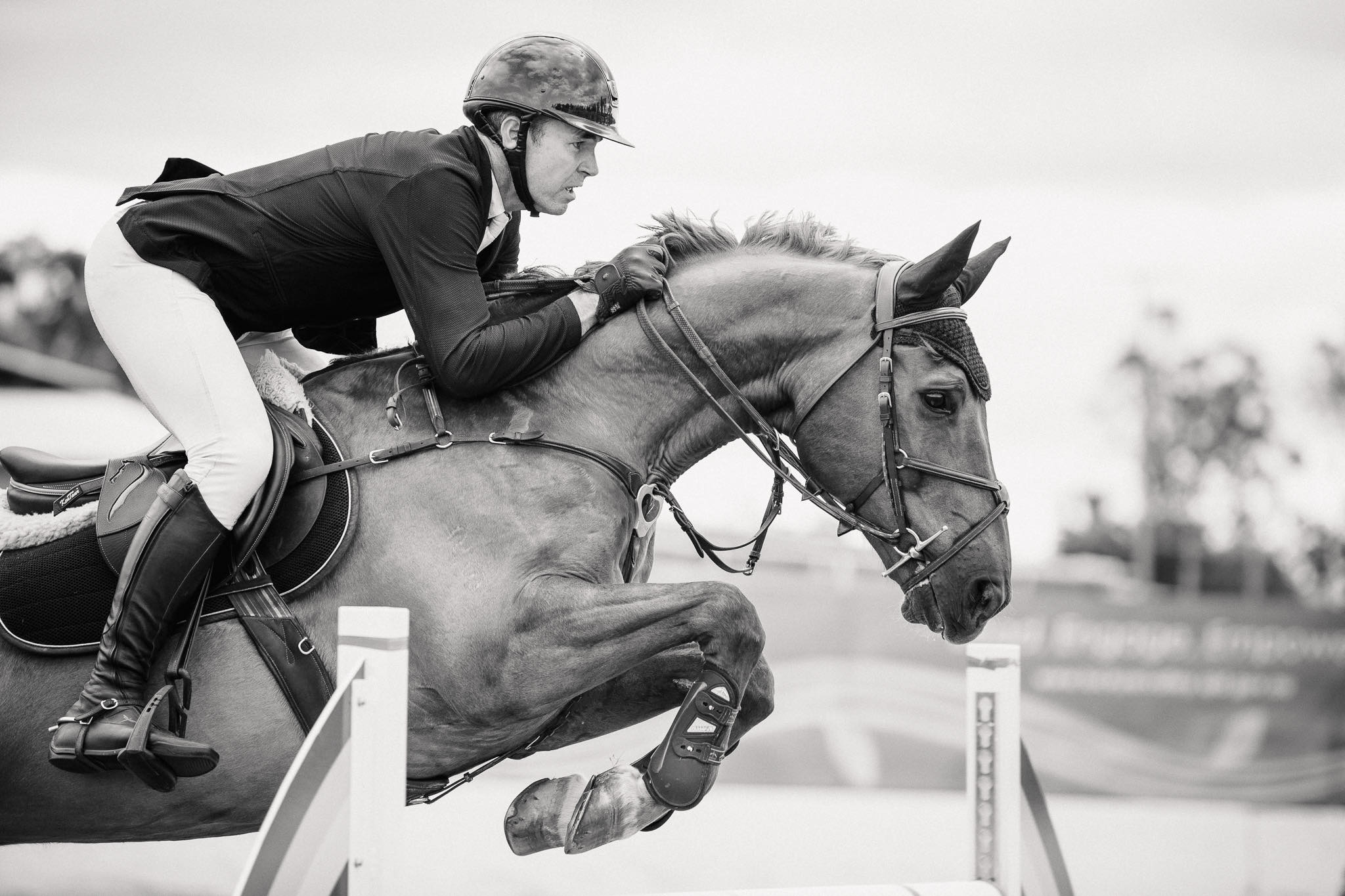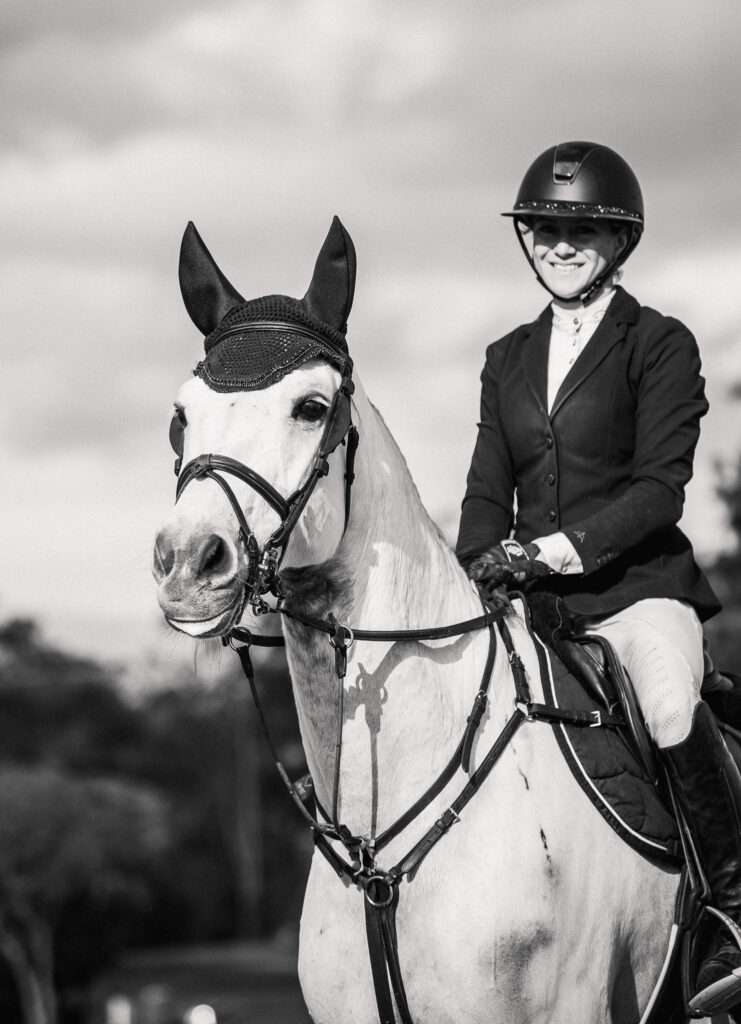 FRIDAY – PRYDES EASIFEED ARENA 1
CLASS 1: Coastal Business Insurance – (238.2.1) – 1.10m
The first six placings in this class were:
| | | |
| --- | --- | --- |
| PLACE | RIDER | HORSE |
| 1st | Cody Tincknell | Diamon J Connect the Dots |
| 2nd | Cody Tincknell | Copabella Tattiana |
| 3rd | Gemma Creighton | Ricochet CG |
| 4th | Hayley Morris | Lady Constance |
| 5th | Kylie Zabel | Stratton Oakmont |
| 6th | Nicole Murphy | Jayem Amablique |
CLASS 2: Manuel Equine Transport – (238.2.1) – 1.20m
The first six placings in this class were:
| | | |
| --- | --- | --- |
| PLACE | RIDER | HORSE |
| 1st | Courtney Tincknell | CC's Casper |
| 2nd | Clem Smith | Quantico 12 |
| 3rd | Maleah Lang-McMahon | Finch Farm Carlsberg |
| 4th | Gemma Creighton | Gizmo |
| 5th | Tim Amitrano | Killy Billy Castanoo |
| 6th | Shane Davidson | Viva Blue |
CLASS 3: Pryde's EasiFeed – (238.2.1) – 1.30m
The first six placings in this class were:
| | | |
| --- | --- | --- |
| PLACE | RIDER | HORSE |
| 1st | Courtney Tincknell | Screwdriver |
| 2nd | Gemma Creighton | Its Silkbridge |
| 3rd | Hugh Buchanan | Diamond B Carla |
| 4th | Brooke Langbecker | Beijing LS La Silla |
| 5th | Maleah Lang-McMahon | KS Capulet Ego Z |
| 6th | Clem Smith | Alite |
FRIDAY – HINO ARENA 2
CLASS 4: Calico Pony – (238.2.1) – 0.80m
The first six placings in this class were:
| | | |
| --- | --- | --- |
| PLACE | RIDER | HORSE |
| 1st | Ada Spring | Spring Lily |
| 2nd | Thomas Brasch | Shes My Mate |
| 3rd | Mandy Gillan | Ava |
| 4th | Merrick Ubank | Grenwood Blue Steal |
| 5th | Tim Amitrano | Cabalito Wind TP |
| 6th | Tim Amitrano | Carlero TP |
CLASS 5: Morning View Spelling & Agistment – (238.2.1) – 0.90m
The first six placings in this class were:
| | | |
| --- | --- | --- |
| PLACE | RIDER | HORSE |
| 1st | Lily Short | Pathfinder |
| 2nd | Austin Brown | Miss Bella |
| 3rd | Amelia Kuiken | Remi Fifth Dimension |
| 4th | Holly Taunton | Nawarrah Austin Powers |
| 5th | Mandy Gillan | Little V |
| 6th | Lucy Griffiths | Sausalito |
CLASS 6: RV Online – (238.2.1) – 1.05m
The first six placings in this class were:
| | | |
| --- | --- | --- |
| PLACE | RIDER | HORSE |
| 1st | Cody Tincknell | Alices Wonderland |
| 2nd | Emmy Ravenscroft | Shady Creek Chance Encounter |
| 3rd | Sarah Harms | Calveston Cavalier |
| 4th | Elkee Lang-McMahon | It's Jealousy |
| 5th | Simone Sorensen | Bayview Wishlist |
| 6th | Natalie Siiankoski | Royal Sensation |
Advertisement


SATURDAY – PRYDES EASIFEED ARENA 1
CLASS 7A: Kolora Lodge – (238.2.2) – 1.10m
The first six placings in this class were:
| | | |
| --- | --- | --- |
| PLACE | RIDER | HORSE |
| 1st | Gemma Creighton | Ricochet CG |
| 2nd | Kerry Langbecker | ES Angelica |
| 3rd | Cody Tincknell | Diamon J Connect The Dots |
| 4th | Nicole Murphy | Jayem Amablique |
| 5th | Sharnee Johnson | Glenwood Park Mystery |
| 6th | Hugh Buchanan | Finch Farm Tango |
CLASS 7B: Peachester Lodge – TSHA Group 2 – (238.2.2) – 1.10m
The first six placings in this class were:
| | | |
| --- | --- | --- |
| PLACE | RIDER | HORSE |
| 1st | Hayley Morris | Lady Constance |
| 2nd | Hugh Buchanan | Its Bandito |
| 3rd | Bridgette Thompson | Magic Option |
| 4th | Kylie Zabel | Dusty Girl |
| 5th | Cameron Moffatt | Isabelle Rose |
| 6th | Holly Penfold | Gold King |
CLASS 8A: Langfield Lodge – (238.2.2) – 1.20m
The first six placings in this class were:
| | | |
| --- | --- | --- |
| PLACE | RIDER | HORSE |
| 1st | Olivia Hamood | Sundance GHP |
| 2nd | Gemma Creighton | Dada Des Brimbelles Z |
| 3rd | Olivia Hamood | Lola GHP |
| 4th | Maleah Lang-McMahon | Finch Farm Carlsberg |
| 5th | Shane Davidson | Viva Blue |
| 6th | Stuart Jenkins | Fairview Alicana |
CLASS 8B: Peachester Lodge – TSHA Group 1 – (238.2.2) – 1.20m
The first four placings in this class were:
| | | |
| --- | --- | --- |
| PLACE | RIDER | HORSE |
| 1st | Chloe Hughes | Ned O'Reilly |
| 2nd | Amilia Schooley | Grand Exito |
| 3rd | Chase Naylor | Showem Flash |
| 4th | Anita Bridge | Genuine Princess |
CLASS 9: Kennedy Homes – (238.2.2) – 1.35m
The first six placings in this class were:
| | | |
| --- | --- | --- |
| PLACE | RIDER | HORSE |
| 1st | Peter McMahon | KS Sovereigns Cadel |
| 2nd | Sam Overton | Oaks Cassanova |
| 3rd | Courtney Tincknell | Screwdriver |
| 4th | Clem Smith | Oaks Conjuror |
| 5th | Gemma Creighton | Its Silkbridge |
| 6th | Tom Sedger | Big Dream Z |
SATURDAY – HINO ARENA 2
CLASS 10A: The Jtaime – Open (238.2.2) – 0.80m
The first six placings in this class were:
| | | |
| --- | --- | --- |
| PLACE | RIDER | HORSE |
| 1st | Bridgette Thompson | Adaroser |
| 2nd | Alison Denny | Pinelands Brego |
| 3rd | Clive Hicks | Croydon Park Dare Too |
| 4th | Olivia Hamood | Angelucci GHP |
| 5th | Katrina Harrison | Triple A Yarra |
| 6th | Gemma Creighton | Its Zamiera |
CLASS 10B: Hino – Junior (238.2.2) – 0.80m
The first six placings in this class were:
| | | |
| --- | --- | --- |
| PLACE | RIDER | HORSE |
| 1st | Isabella Forsyth | Star Wrangler |
| 2nd | Josie Rosa | Lady Of Diamonds |
| 3rd | Ella Viser | Rich Glen Freckled Q |
| 4th | Lily Short | Its Who |
| 5th | Daisy Harrison | Bourkey |
| 6th | Liberty Clark | King Tytan |
CLASS 11A: Equestrian Queensland – Open (238.2.2) – 0.90m
The first six placings in this class were:
| | | |
| --- | --- | --- |
| PLACE | RIDER | HORSE |
| 1st | Sarah Weiss | Baloubabe Z |
| 2nd | Thomas Sedger | Check It Out |
| 3rd | Tim Amitrano | Cabalito Wind TP |
| 4th | John Broadbent | Bordervale Cerise |
| 5th | Michelle Helmore | Ad Astra |
| 6th | Stuart Jenkins | Fairview Calquidam |
CLASS 11B: Finch Farm – Junior (238.2.2) – 0.90m
The first six placings in this class were:
| | | |
| --- | --- | --- |
| PLACE | RIDER | HORSE |
| 1st | Lucy Griffiths | MT Moy Snippets |
| 2nd | Tyler Short | Maeve Keeva Casteil |
| 3rd | Holly Taunton | Nawarrah Austin Powers |
| 4th | Jessica Fedrick | Just Mickey |
| 5th | Ada Spring | K A Epic |
| 6th | Matisse Weeks | Garnet Vanquish |
CLASS 11C: Peachester Lodge – TSHA (238.2.2) – 0.90m
The first six placings in this class were:
| | | |
| --- | --- | --- |
| PLACE | RIDER | HORSE |
| 1st | Rebecca Bates | Rocket Of Gold |
| 2nd | Bella Youngberry | Notdaneprince |
| 3rd | Thomas Brasch | Shes My Mate |
| 4th | Kylie Zabel | Stukwun |
| 5th | Jessica Boyd | Clonmacnoise |
| 6th | Gemma Creighton | Its To Be (Oriental Ruler) |
CLASS 12A: Haultech Engineering – Open (238.2.2) – 1.05m
The first six placings in this class were:
| | | |
| --- | --- | --- |
| PLACE | RIDER | HORSE |
| 1st | Rebecca Jenkins | DP Vahana |
| 2nd | Mandy Gillan | Finch Farm Nikko |
| 3rd | Tyrone Latham | Arion Carasun |
| 4th | Matthew Afford | Isle Of Kaluna |
| 5th | Alison Denny | Bellhaven Cyrus |
| 6th | Iris Amann | Leroy Browne |
CLASS 12B: Finch Farm – Junior (238.2.2) – 1.05m
The first six placings in this class were:
| | | |
| --- | --- | --- |
| PLACE | RIDER | HORSE |
| 1st | Dakota Cooke | Ancorbar Santos |
| 2nd | Sarah Harms | Calveston Cavalier |
| 3rd | William Turner | Mi Mi |
| 4th | Lucy Griffiths | Sausalito |
| 5th | Lily Short | Belle Phlynn Park Corizon |
| 6th | Emmy Ravenscroft | Regal Rock |
CLASS 12C: Peachester Lodge – TSHA Group 3 (238.2.2) – 1.05m
The first six placings in this class were:
| | | |
| --- | --- | --- |
| PLACE | RIDER | HORSE |
| 1st | Lili Waddell | Touch Of Quality |
| 2nd | Brooke Dougall | Heart Of A Warrior |
| 3rd | Jacqui Tait | Rangeview Maelstrom |
| 4th | Holly Penfold | One Inch Punch |
| 5th | Colleen Krahnen | Les Palmier |
| 6th | Anita Bridge | Genuine Article |
SUNDAY – PRYDES EASIFEED ARENA 1
CLASS 13: Finch Farm – (238.2.2) – 1.15m
The first six placings in this class were:
| | | |
| --- | --- | --- |
| PLACE | RIDER | HORSE |
| 1st | Hayley Morris | Lady Constance |
| 2nd | Courtney Tincknell | Santa Cruz |
| 3rd | Nicole Murphy | Jayem Amablique |
| 4th | Hugh Buchanan | Finch Farm Tango |
| 5th | Thomas Sedger | Kid Rock |
| 6th | Hugh Buchanan | Its Bandito |
CLASS 14: Hino – Open (238.2.2) – 1.25m
The first six placings in this class were:
| | | |
| --- | --- | --- |
| PLACE | RIDER | HORSE |
| 1st | Maleah Lang-McMahon | Finch Farm Carlsberg |
| 2nd | Olivia Hamood | Sundance GHP |
| 3rd | Clem Smith | Quantico 12 |
| 4th | Tim Amitrano | Killy Billy Castanoo |
| 5th | Gemma Creighton | Dada Des Brimbelles Z |
| 6th | Peter Carcary | Adecci |
CLASS 15: Pryde's EasiFeed – Open (238.2.2) – 1.35-1.40m
The first six placings in this class were:
| | | |
| --- | --- | --- |
| PLACE | RIDER | HORSE |
| 1st | Olivia Hamood | Knock Out III |
| 2nd | Sam Overton | Oaks Cassanova |
| 3rd | Olivia Hamood | Alan 111 Z |
| 4th | Clem Smith | Alite |
| 5th | Maleah Lang-McMahon | PSS Chantilly |
| 6th | Brooke Langbecker | Quintago 1 |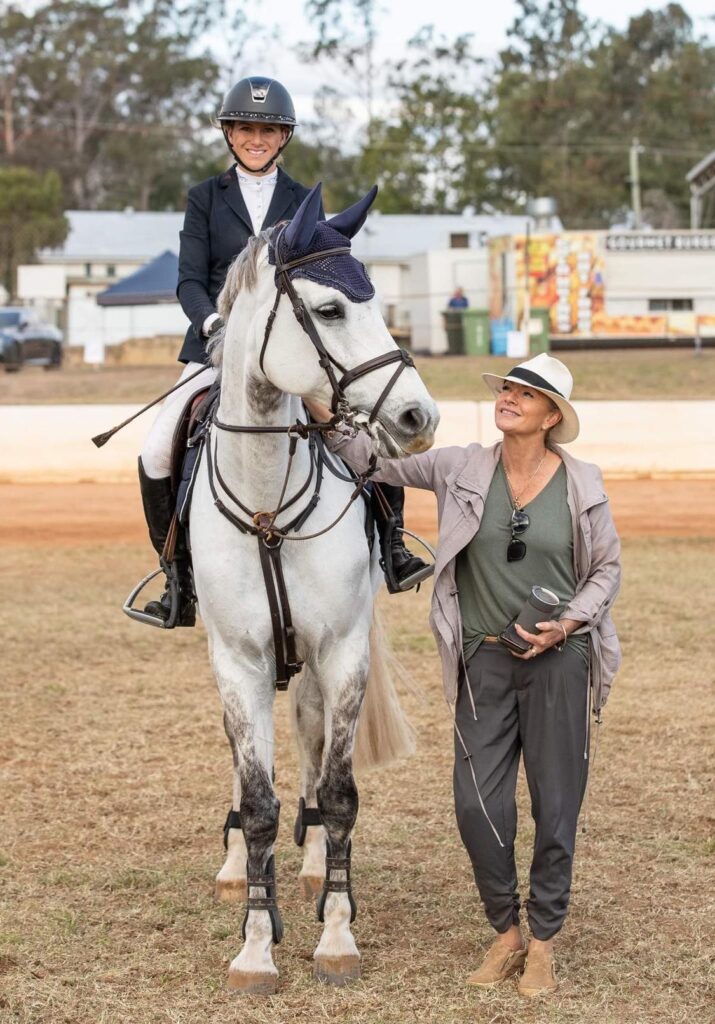 Olivia Hamood and Knock Out III. Photo credit: Calico Pony
SUNDAY – HINO ARENA 2
CLASS 16A: David and Mandy Gillan – Open (238.2.2 245.3) – 0.85m
The first six placings in this class were:
| | | |
| --- | --- | --- |
| PLACE | RIDER | HORSE |
| 1st | Stuart Jenkins | Jaybee Arimus |
| 2nd | Katrina Harrison | Triple-A Yarra |
| 3rd | Bridgette Thompson | Adaroser |
| 4th | Alison Denny | Pinelands Brego |
| 5th | Matthew Whalley | Shadow |
| 6th | Alicia Mcmahon | Kiaurora Gt |
CLASS 16B: Tom Sedger Farrier Service – Junior (238.2.2 245.3) – 0.85m
The first six placings in this class were:
| | | |
| --- | --- | --- |
| PLACE | RIDER | HORSE |
| 1st | Tyler Short | Maeve Keeva Casteil |
| 2nd | Thomas Brasch | Shes My Mate |
| 3rd | Clare Fedrick | Rise Of The Phoenix |
| 4th | Josie Rosa | Lady Of Diamonds |
| 5th | Lily Short | It's Who |
| 6th | Jazmin Waddell | Get Up And Go |
CLASS 17A: Equestrian Queensland – Open (238.2.2) – 0.95m
The first six placings in this class were:
| | | |
| --- | --- | --- |
| PLACE | RIDER | HORSE |
| 1st | Sarah Weiss | Baloubabe Z |
| 2nd | Tim Amitrano | Cabalito Wind TP |
| 3rd | Callum Waddell | Belcam HB |
| 4th | Sian Munn | Animatic |
| 5th | Olivia Hamood | Normandy GHP |
| 6th | Lachlan Manuel | Tulara Cascadel |
CLASS 17B: Finch Farm – Junior (238.2.2) – 0.95m
The first six placings in this class were:
| | | |
| --- | --- | --- |
| PLACE | RIDER | HORSE |
| 1st | Lorna Clifford | Ngahiwi Possum |
| 2nd | Emily Lang-McMahon | KS Esmerelda |
| 3rd | Simone Sorensen | Yalambi's Karijini |
| 4th | Bella Youngberry | Notdaneprince |
| 5th | Isabella Forsyth | Ethereal Moonlight Shadow |
| 6th | Jasmine Holland | Finch Farm Splish Splash |
CLASS 18A: Davidson Equestrian – Open (238.2.2) – 1.10m
The first six placings in this class were:
| | | |
| --- | --- | --- |
| PLACE | RIDER | HORSE |
| 1st | Rebecca Jenkins | DP Vahana |
| 2nd | Cameron Moffatt | Isabelle Rose |
| 3rd | Matthew Afford | Isle Of Kaluna |
| 4th | Jacinta Kennedy | Danzero |
| 5th | Kylie Zabel | Dusty Girl |
| 6th | Rockell Williamson-Rudder | Springvale Stalymag |
CLASS 18B: Fairview Performance Horses – Junior (238.2.2) – 1.10m
The first six placings in this class were:
| | | |
| --- | --- | --- |
| PLACE | RIDER | HORSE |
| 1st | Elkee Lang-McMahon | Flash Az |
| 2nd | Kaitlyn Parlevliet | Stella |
| 3rd | Emmy Ravenscroft | Bellhaven Arizona |
| 4th | Tayla Parlevliet | Caleo |
| 5th | Cody Tincknell | CC's Casper |
| 6th | William Turner | Mi Mi |
Results sourced from Pryde's EasiFeed Gatton World Cup Show Facebook Page. All Photos Copyright: Calico Pony
View Comments