GDP Classic heads into a weekend of action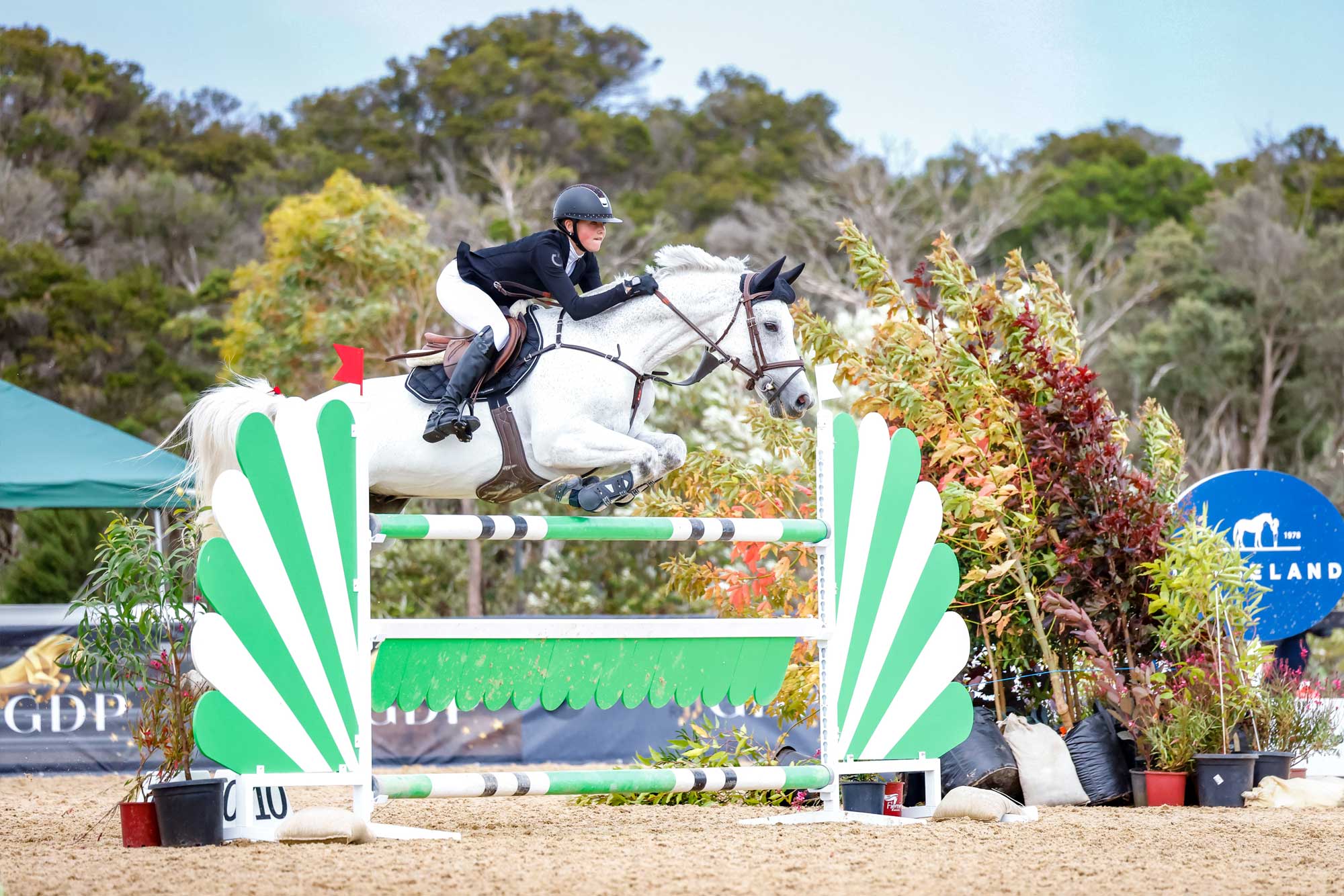 James Abernethy Photography
Above: Tahlia Spagnardi Riding Yirrkala C'est La Vie In the Orangeville Performance Horses 1.30m. Photo Credit: James Abernethy Photography.
All is set for a great weekend of jumping at the GDP Classic Show, taking place at the lovely Boneo Park on Victoria's Mornington Peninsula. With two days of competition already completed, no doubt show organisers will be hoping for some kinder weather over the weekend.
Advertisement


The feature class on Friday was the single round Dabble EQ open with the rails set at 1.40m. Going one better than their second placing in last week's Browns Sawdust Grand Prix, the win went to Queensland's Stuart Jenkins and Fairview Alicana in a clear slick 68.03 seconds. Madeline Sinderberry from NSW filled the podium by finishing in second and third place.
On Friday, the open 1.45m class was sponsored by Nutiren Ag Solutions, where a jump-off was required to separate the three combinations who went clear. In the jump-off all three recorded four faults, with the fastest being the Victorians Phillip Lever and the always exciting to watch Lomachenko, in a time of 47.49 seconds. Second place went to the in-form Stuart Jenkins and Fairview Alicana in 49.52 seconds, while last week's Grand Prix winners Billy Raymont and Caprino were third with a time more than three seconds slower.
Advertisement


The weekend will see plenty of action, including the first leg of the 2023 Stal Tops Australian Young Rider Series, the @ID Mini Prix and the feature event of the show, the Martin Collins Grand Prix. On the GDP arena, there will also be the GPI Racing Junior Championship, the 4Cyte Rising Stars Final, the Feedhouse Childrens Championship and the Homes and Acreage Amateur Championship. Along with a number of support classes, the next two days promises plenty of excitement and quality jumping.
Congratulations to all the winners and placegetters over the course of the first two days of the show who are all listed below.
THURSDAY RESULTS
@ID ARENA 1
CLASS 1A: BURNLEY BREWING – OPEN – 1.20m
| | | |
| --- | --- | --- |
| PLACE | RIDER | HORSE |
| 1st | Jena Bloomfield | Warnie |
| 2nd | Phillip Lever | Glenara Sir Bollinger |
| 3rd | Amanda Lupton | Yoicks Kitchi Rou |
| 4th | Rhys Hamlyn | Finch Farm Carlton |
| 5th | Rhys Hamlyn | Oaks Van Dyke |
| 6th | Jamie Coman | Marine Park Kandoo |
CLASS 1B: ANTARES AUSTRALIA – 6-YEAR-OLDS – 1.20m
| | | |
| --- | --- | --- |
| PLACE | RIDER | HORSE |
| 1st | Tesse Raymont | Jahita Hilary |
| 2nd | Billy Raymont | Castro |
| 3rd | Phil Stevens | Tulara Carrico |
| 4th | Zoe Waller | Kanfly GHP |
| 5th | Billy Raymont | Blue Balou PS |
CLASS 2A: ORANGEVILLE PERFORMANCE HORSES – OPEN – 1.30m
| | | |
| --- | --- | --- |
| PLACE | RIDER | HORSE |
| 1st | Phil Stevens | Baluce |
| 2nd | Conor Reed | Alpha Activity |
| 3rd | Jack Barker | Tulara Colchic |
| 4th | Andrew Lamb | Oaks Ever Red |
| 5th | Ally Lamb | Glenara Chacco DP |
| 6th | Russell Johnstone | Cantara |
CLASS 2B: SOUTHERN CROSS STABLES – 7-YEAR-OLDS – 1.30m
| | | |
| --- | --- | --- |
| PLACE | RIDER | HORSE |
| 1st | Hayden Parker | Tulara Spangenberg |
| 2nd | Ally Lamb | Kiara DP |
| 3rd | Jamie Winning-Kermond | Tulara On Trend |
| 4th | Brook Dobbin | Devos GP |
| 5th | Robert Palm | Halcyons Dare To Dream |
| 6th | Jamie Winning-Kermond | Tulara Lady Zirocca |
CLASS 3: DAPPLE EQ – OPEN – 1.40m
| | | |
| --- | --- | --- |
| PLACE | RIDER | HORSE |
| 1st | Stuart Jenkins | Fairview Alicana |
| 2nd | Madeline Sinderberry | Gredstedgaards Number One |
| 3rd | Madeline Sinderberry | Camie Z |
| 4th | Billy Raymont | Beltana Quintessential |
| 5th | Josh Collins | Cornel |
| 6th | Brook Dobbin | Gina MVNZ |
GDP ARENA 2
CLASS 4: McDERMOTT FARMS – OPEN – 0.90m
| | | |
| --- | --- | --- |
| PLACE | RIDER | HORSE |
| 1st | Marly Wright | Maeve Keeva Castiel |
| 2nd | Eliza Baird | The Comet |
| 3rd | Eliza Baird | Bling Du Rouet |
| 4th | Olivia Curtain | That's Limo |
| 5th | Ashley Fitzclarence | Hello Darling |
| 6th | Heleni Goodman | Le Strange |
CLASS 5: STRATHMERTON ENGINEERING FOXHUNTER SERIES (ROUND 1) – 1.00m
| | | |
| --- | --- | --- |
| PLACE | RIDER | HORSE |
| 1st | Olivia Curtain | Xcella |
| 2nd | Eliza Baird | Bling Du Rouet |
| 3rd | Eliza Baird | The Comet |
| 4th | Simone Tanis | Somerwaters Elite |
| 5th | Brooke Hickey | Vanilla |
| 6th | Angela Dobbin | Little Miss Trouble |
CLASS 6A: 4CYTE RISING STARS (ROUND 1) – 1.10m
| | | |
| --- | --- | --- |
| PLACE | RIDER | HORSE |
| 1st | Jena Bloomfield | Essoess |
| 2nd | Jamie Hewitt-Toms | Balou Du Rose |
| 3rd | 15 combinations tied | |
CLASS 6B: MY BEST ME PSYCHOLOGY- OPEN – 1.10m
| | | |
| --- | --- | --- |
| PLACE | RIDER | HORSE |
| =1st | Sally Simmonds | Oaks Kingfisher |
| =1st | Sarah Cork | Christiano MS |
| =1st | Tanner Robinson | Cracker |
| =1st | Brook Dobbin | Oaks Empire |
| =1st | Andrew Long | St James Palace |
| =1st | Hannah Conlon | Emma Peel GNZ |
| =1st | Sarah Cork | Fedexpress |
| =1st | Imogen Tutton | Ramirus |
| =1st | Timothy Clarke | Kanntango |
FRIDAY RESULTS
@ID ARENA 1
CLASS 7A: BARTONS WASTE – OPEN – 1.25m
| | | |
| --- | --- | --- |
| PLACE | RIDER | HORSE |
| 1st | Colleen Brook | Connollys Karachi |
| 2nd | Ella Hayward | Edena DP |
| 3rd | Phillip Lever | Larissa |
| 4th | Rhys Hamlyn | Finch Farm Carlton |
| 5th | Ally Lamb | Glenara Chacco DP |
| 6th | Dakota Pinton | Heartline NZ |
CLASS 7B: SOUTH EASTERN VETERINARY – 6-YEAR-OLDS – 1.25m
| | | |
| --- | --- | --- |
| PLACE | RIDER | HORSE |
| 1st | Billy Raymont | Blue Balou PS |
| 2nd | Billy Raymont | Castro |
| 3rd | Tesse Raymont | Jahita Hilary |
| 4th | Phil Stephens | Tulara Carrico |
| 5th | Zoe Waller | Kanfly GHP |
CLASS 8A: AMBERWOOD PARK – OPEN – 1.35m
| | | |
| --- | --- | --- |
| PLACE | RIDER | HORSE |
| 1st | Conor Reed | Alpha Activity |
| 2nd | Kristy Bruhn | James' Bentley |
| 3rd | Nina Griffiths | Zamorra S |
| 4th | Conor Reed | Leopoldo MVNZ |
| 5th | Russell Johnstone | Daprice |
| 6th | Jena Bloomfield | Warnie |
CLASS 8B: YALAMBI STUD – 7-YEAR-OLDS – 1.35m
| | | |
| --- | --- | --- |
| PLACE | RIDER | HORSE |
| 1st | Billy Raymont | Tulara Dakchico |
| 2nd | Brook Dobbin | Devos GP |
| 3rd | Jamie Winning-Kermond | Tulara Lady Zirocca |
| 4th | Jamie Winning-Kermond | Tulara On Trend |
| 5th | Robert Palm | Halcyons Dare To Dream |
| 6th | Georgia Bouzaid | Benthen's Balou |
CLASS 9: NUTIREN AG SOLUTIONS – OPEN – 1.45m
| | | |
| --- | --- | --- |
| PLACE | RIDER | HORSE |
| 1st | Phillip Lever | Lomachenko |
| 2nd | Stuart Jenkins | Fairview Alicana |
| 3rd | Billy Raymont | Caprino |
| 4th | Madeline Sinderberry | Camie Z |
| 5th | Josh Collins | Cornel |
| 6th | Jamie Winning-Kermond | Tulara Stolensky |
GDP ARENA 2
CLASS 10: PRICE KENT RACING – OPEN – 0.90m
| | | |
| --- | --- | --- |
| PLACE | RIDER | HORSE |
| 1st | Olivia Curtain | Indi's Mr Zorba Jones |
| 2nd | Zara Yunghams | Calaza Park Ellira |
| 3rd | Hannah Wigg | Coldstream Sin City |
| 4th | Olivia Curtain | That's Limo |
| 5th | Ashley Fitzclarence | Hello Darling |
| 6th | Jack Barker | Hazelwood Obi |
CLASS 11 STRATHMERTON ENGINEERING FOXHUNTER SERIES (ROUND 2) – 1.00m
| | | |
| --- | --- | --- |
| PLACE | RIDER | HORSE |
| 1st | Simone Tanis | Somerwaters Elite |
| 2nd | Tayla Anderson | Casino Nights |
| 3rd | Angela Dobbin | Little Miss Trouble |
| 4th | Ally Lamb | Diamond B Franklin |
| 5th | Jack Barker | Tulara Karash |
| 6th | Hannah Doolan | Embrook Stables Charlie |
CLASS 12A: 4CYTE RISING STARS (ROUND 2) – 1.15m
| | | |
| --- | --- | --- |
| PLACE | RIDER | HORSE |
| 1st | Jamie Hewitt-Toms | Balou Du Rose |
| 2nd | August Tilders | Patangas Kandy Kane |
| 3rd | Amanda Madigan | Diamond B Bleubry |
| 4th | Mark Lindh | Charamae |
| 5th | Ally Lamb | Fantasia DP |
| 6th | Kate Beadel | Escape E |
CLASS 12B: OPEN – 1.15m
| | | |
| --- | --- | --- |
| PLACE | RIDER | HORSE |
| 1st | Tanner Robinson | Vidacious |
| 2nd | Jack Barker | Yalambis Corlandia |
| 3rd | Kelly Lees | Wildon Park Tulouch |
| 4th | Imogen Lindh | Blackall Park Koraleigh |
| 5th | Tanner Robinson | Charlie |
| 6th | Imogen Lindh | Licaviv |
Results sourced from online.equipe.com
View Comments