Hamood on a high at Larapinta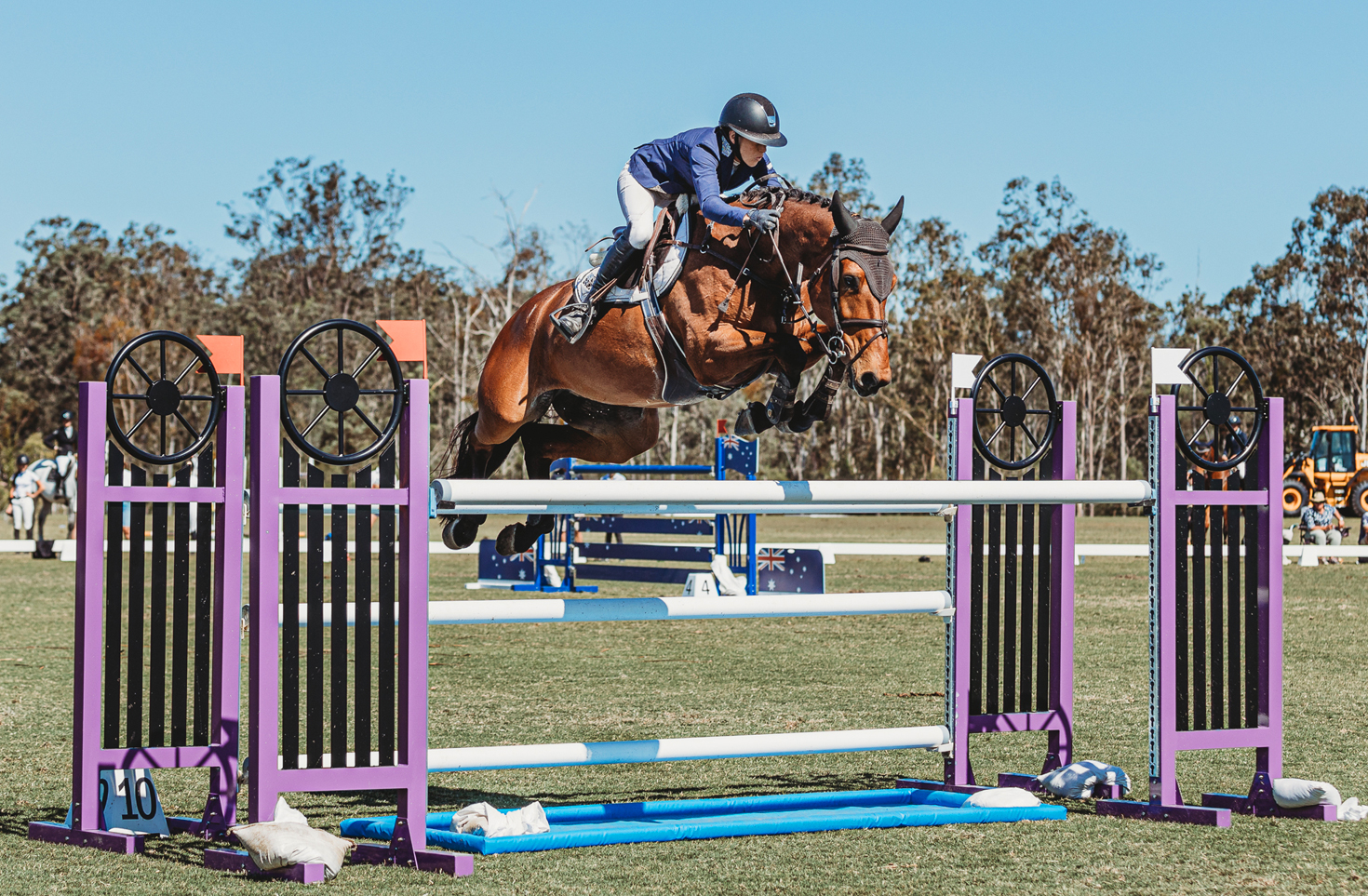 Equico Studios
Above: Olivia Hamood and Jane Fonda DVD. Photo credit Equico Studios
Three wonderful days of Jumping competition wrapped up this afternoon at the beautiful Larapinta Equestrian Centre located on the southern outskirts of Brisbane. With action spread across four arenas, there was a class for everyone. Heights ranged from 60cm classes to the feature class of the weekend, the 1.40-1.45 Grand Prix, co-sponsored by Pink Hills Pastoral Company and BTL Plant Hire – held in warm sunny conditions, the spectators were not disappointed.
Advertisement


A total of 25 Queensland based combinations were on the start list for the two-round Grand Prix, set to tackle the Graeme Watts designed course, which saw four clear rounds, the fastest of which was achieved by Olivia Hamood and her family-owned mare Jane Fonda DVD. Also recording clear rounds were Peter McMahon and KS Sovereign's Cadel and the newly-weds Billy and Tesse Raymont combining with Black Jack IXE and Allwynds Valherro respectively. The two round format saw these four combinations as well as eight other combinations who finished the first round with a single rail all returning for the second round, although with each of these combinations carrying forward their four faults into the second round, the four clear combinations held an obvious advantage.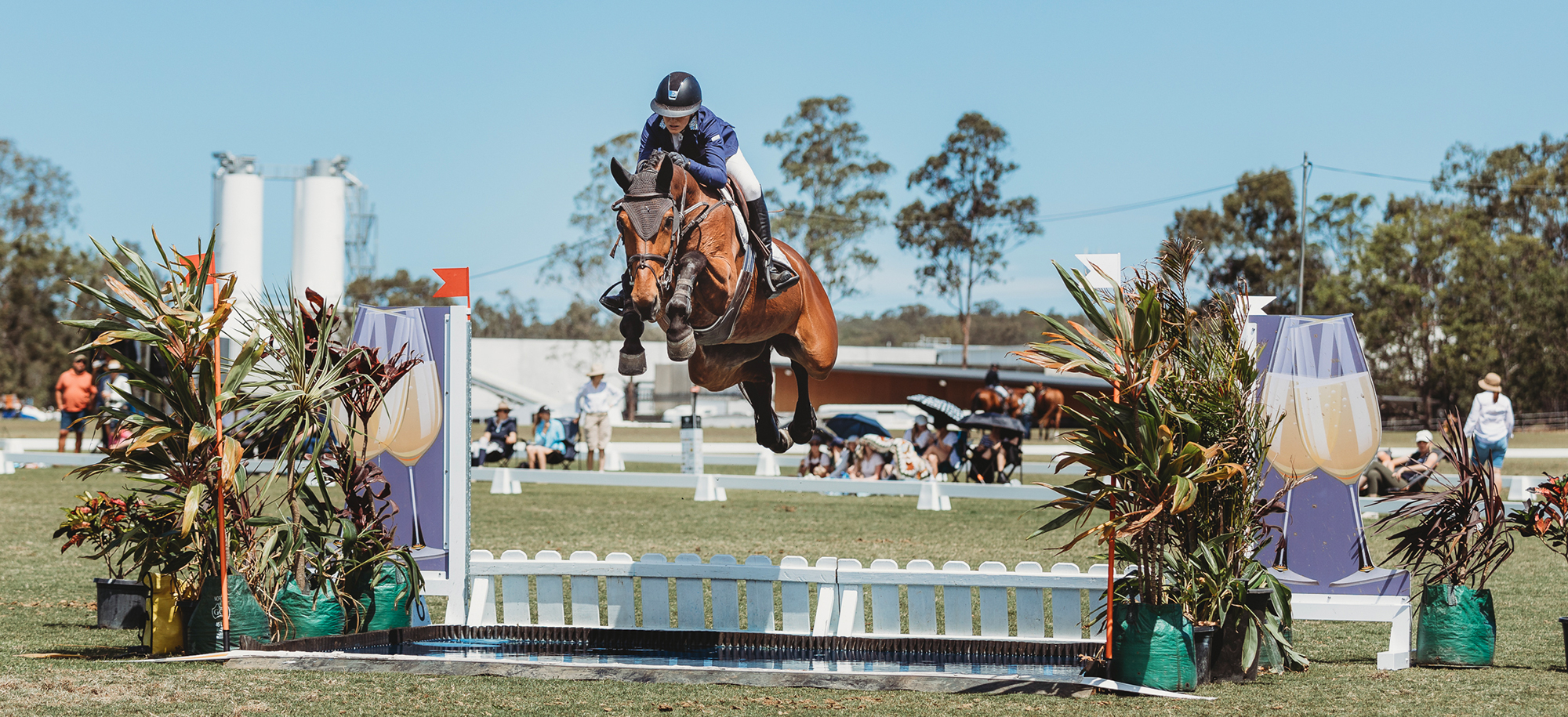 Olivia Hamood and Jane Fonda DVD. Photo credit Equico Studios.
Coming out in seeded order for the second round, after the eight four-faulters had finished, six of whom took a round two rail to finish with a total of 8 penalties, while two went clear to put some pressure on the first round clear combinations which were yet to come.
Advertisement


First of these on the course was Tesse Raymont and the gelding she owns, Allwynds Valherro. If they were feeling the pressure, it did not show as they had a fantastic round, again going clear to finish on a total of zero and the lead in the class. Next to go were Billy Raymont and his stallion Black Jack IXE. They rose to the occasion also going double clear, however, with a time 4.5 seconds quicker, to snatch the lead from his wife and with just two combinations to come, secure a place on the podium.
Advertisement


Second last to go was the very experienced, 2008 Beijing Olympian Peter McMahon and KS Soveriegn's Cadel. Emulating the two combinations before him, they also went double clear and with a time less than half a second quicker than Raymont (Billy), to allow then to sit in the lead with just Olivia Hamood and Jane Fonda DVD to come. Hamood and Jane Fonda DVD were going to have to repeat their first round performance; fast and clear. As it turned out, they were more than up to the occasion. They had a magnificent round, going clear and finishing in 44.61 seconds, just pipping McMahon's time by 0.11 seconds, to take a well-deserved victory in a very exciting competition.
The top six finishers in the Grand Prix were as follows:
CLASS 21: Pink Hills Pastoral Co / BTL Plant Hire: Grand Prix – 1.40-1.45m
| | | |
| --- | --- | --- |
| PLACE | RIDER | HORSE |
| 1st | Olivia Hamood | Jane Fonda DVD |
| 2nd | Peter McMahon | K.S. Sovereigns Cadel |
| 3rd | Billy Raymont | Black Jack IXE |
| 4th | Tesse Raymont | Allwynds Valherro |
| 5th | Billy Raymont | YPH Capulet |
| 6th | Chris Holland | Elsa |
Congratulations goes to all the winners and placegetters over the weekend. Below is a full listing of the top6 six placegetters in every class held in the show.
FRIDAY RESULTS
JCB Arena 1
CLASS 1: Ipswich Saddleworld: Special Two Phase – 1.15m
| | | |
| --- | --- | --- |
| PLACE | RIDER | HORSE |
| 1st | Tyler Short | Belle Phlynn Park Corizon |
| 2nd | Jessie Knight | Vidori |
| 3rd | Gemma Creighton | Ricochet CG |
| 4th | Kaitlyn Parlevliet | Koyuna Galaxy |
| 5th | Tara Khan | Lanardo |
| 6th | Alison Ford | Elijah |
CLASS 2: Bernie's Produce: Special Two Phase – 1.25m
| | | |
| --- | --- | --- |
| PLACE | RIDER | HORSE |
| 1st | Robert Goodwin | Landerson |
| 2nd | Clem Smith | Quantico 12 |
| 3rd | Gemma Creighton | Gizmo |
| 4th | Gemma Creighton | Dad Des Brimbelles Z |
| 5th | Sam Overton | Point Break |
| 6th | Matthew Afford | La Luna Cucinelli |
CLASS 3: Buchanan Farriers: AM7 – 1.35m
| | | |
| --- | --- | --- |
| PLACE | RIDER | HORSE |
| 1st | Merrick Ubank | Elmo |
| 2nd | Billy Raymont | Black Jack IXE |
| 3rd | Clem Smith | Alite |
| 4th | Olivia Hamood | Jane Fonda DVD |
| 5th | Mattea Davidson | Checkamour D |
| 6th | Shane Davidson | Viva Blue |
Stone Axe Pastoral Arena 2
CLASS 4: Davidson Equestrian: Special Two Phase – 1.05m
| | | |
| --- | --- | --- |
| PLACE | RIDER | HORSE |
| 1st | Olivia Hamood | Concorde GHP |
| 2nd | Chelsea Jefferies | All Bling |
| 3rd | Kate Jackwitz | Riverdowns Tinka |
| 4th | Bella Youngberry | Notdaneprince |
| 5th | Mattea Davidson | Capriati D |
| 6th | Nora Palasthy | Kahean Trooper Diamond |
CLASS 5: Elite Equestrian: Special Two Phase – 1.10m
| | | |
| --- | --- | --- |
| PLACE | RIDER | HORSE |
| 1st | Robert Goodwin | Oaks Costa Rica |
| 2nd | Amy Bradfield | Bradun Park Hughie |
| 3rd | Sarah Harms | Calveston Cavalier |
| 4th | Olivia Hamood | Diamond B Bedazzled |
| 5th | Olivia Hamood | Normandy GHP |
| 6th | Sam Overton | Cha Cha Blue GHP |
Black Jack IXE Arena 3
CLASS 6: Team Dougall / Mick's Home Maintenance: Special Two Phase – 0.60-0.70m
| | | |
| --- | --- | --- |
| PLACE | RIDER | HORSE |
| 1st | Francesca Dooley | Voodoo Child |
| 2nd | Lorna Clifford | Kahean Trooper Nelson |
| 3rd | Scarlett Landman | Murraydale Park Sandman |
| 4th | Bree Wiblen | Lady Carinartus |
| 5th | Jameson Bazzan | Bundaleer Harmony |
| 6th | Sienna Goodrich | Hocus Pokus |
CLASS 7: Team Dougall / Mick's Home Maintenance: Special Two Phase – 0.70-0.80m
| | | |
| --- | --- | --- |
| PLACE | RIDER | HORSE |
| 1st | Lily Short | Mauve Keeva Casteil |
| 2nd | Kaya Zielinski | Lady Of Diamonds |
| 3rd | Grace Fullarton | Lewis |
| 4th | Natalie Siiankoski | Mars |
| 5th | Rose Malone | Gervaso |
| 6th | Jameson Bazzan | Bundaleer Harmony |
The Cat Clinic Arena 4
CLASS 8: Fairview Performance Horses: Special Two Phase – 0.80-0.90m
| | | |
| --- | --- | --- |
| PLACE | RIDER | HORSE |
| 1st | Kaya Zielinski | Lady Of Diamonds |
| 2nd | Anita Bridge | Genuine Article |
| 3rd | Arianna Sing | Scarlett O'Hara |
| 4th | Daisy Harrison | Clipsy |
| 5th | Lorna Clifford | Ngahiwi Possum |
| 6th | Ella Vizer | Sounds Of Crystal |
CLASS 9: Air and Gas Industries: Special Two Phase – 0.90-1.00m
| | | |
| --- | --- | --- |
| PLACE | RIDER | HORSE |
| 1st | Charli Wallis | Galaxy Park Gunpoint |
| 2nd | Tom Brasch | B Boy |
| 3rd | Simone Sorenson | Bayview Wishlist |
| 4th | Tyler Short | Grannus Legacy |
| 5th | Dana Seymour | Rhyme Thyme |
| 6th | Charlie Thorne | Witz Fabio |
SATURDAY RESULTS
JCB Arena 1
CLASS 13: Elite Equine: Amateur – 1.15m
| | | |
| --- | --- | --- |
| PLACE | RIDER | HORSE |
| 1st | Thomas Madigan | Finch Farm Tango |
| 2nd | Alison Denny | Bellhaven Cyrus |
| 3rd | Angus Graham | Bluejack |
| 4th | Thomas Madigan | Yalambi's Carmen |
| 5th | Sarah Weiss | Twins Delux |
| 6th | Mia Smith | Sangster |
CLASS 10: Brice trailers: Open – 1.30m
| | | |
| --- | --- | --- |
| PLACE | RIDER | HORSE |
| 1st | Andrew Cooper | Annie Jane |
| 2nd | Stuart Jenkins | Fairview Alicana |
| 3rd | Gemma Creighton | Dada Des Brimbelles Z |
| 4th | Shane Davidson | Viva Blue |
| 5th | Hayley Morris | Warrego Ruben |
| 6th | Kelly Slater | Balmoral Cougar Pedy |
CLASS 11: Ipswich Saddleworld: Open – 1.40m
| | | |
| --- | --- | --- |
| PLACE | RIDER | HORSE |
| 1st | Billy Raymont | YPH Capulet |
| 2nd | Matt Kidston | Calgary GNZ |
| 3rd | Kirstie Ansell | Tulara Stolensky |
| 4th | Chris Holland | Elsa |
| 5th | Clem Smith | Oaks Conjuror |
| 6th | Olivia Hamood | Knock Out 111 |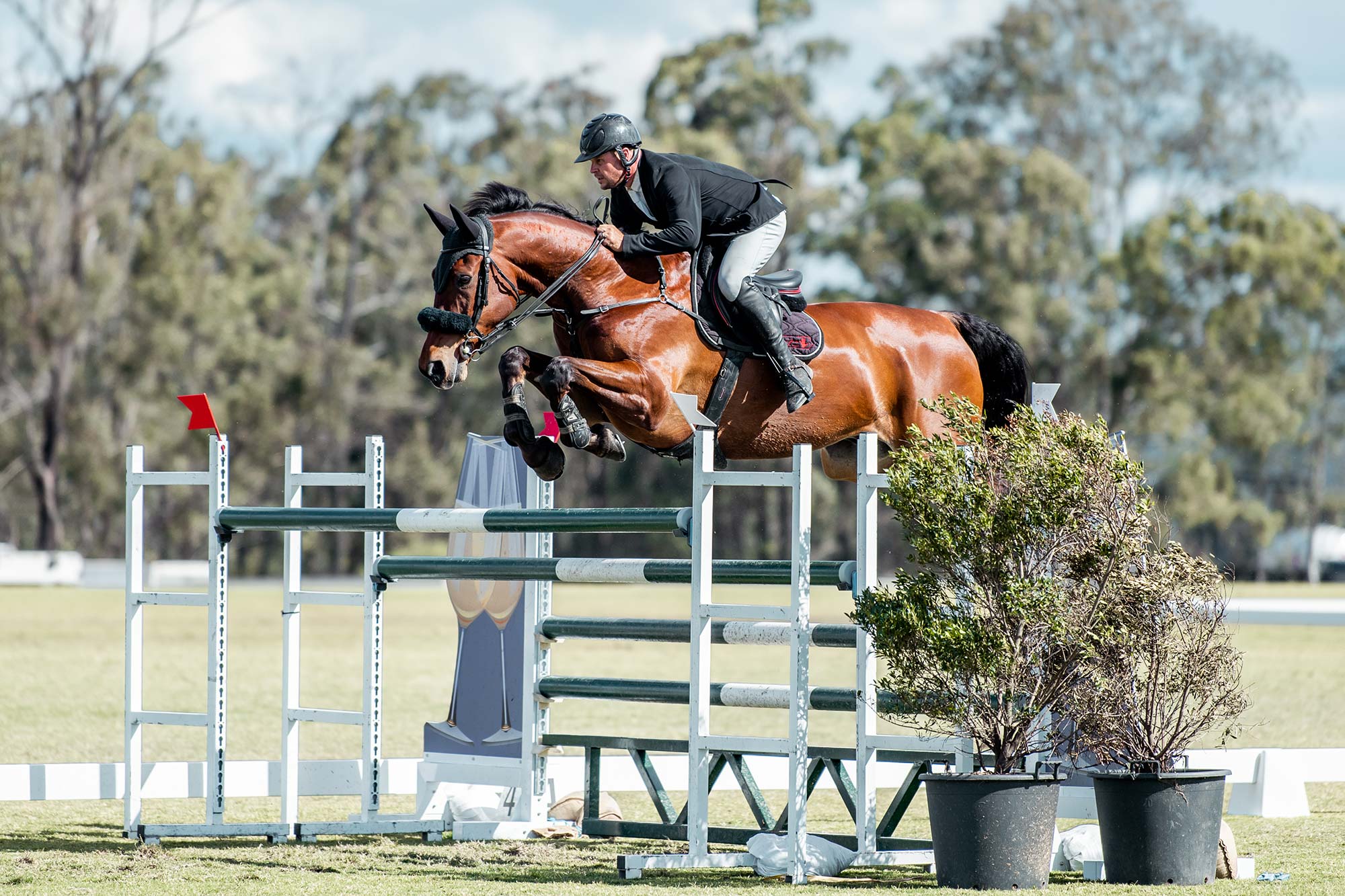 Billy Raymont and YPH Capulet. Photo Credit: Jasmine Dunmore Photography
CLASS 12: Stone Axe Pastoral: Open Speed Championship – 1.25m
| | | |
| --- | --- | --- |
| PLACE | RIDER | HORSE |
| 1st | Andrew Cooper | Sharvalley Thunder |
| 2nd | Cody Tincknell | James Continue |
| 3rd | Clem Smith | Quantico 12 |
| 4th | Hayley Morris | Kissing The Sky |
| 5th | Maleah Lang-McMahon | Finch Farm Carlsberg |
| 6th | Tara Khan | Lanardo |
Stone Axe Pastoral Arena 2
CLASS 14A: Hardi Sprayers: Newcomers – 1.05m
| | | |
| --- | --- | --- |
| PLACE | RIDER | HORSE |
| 1st | Paige Valintine | Lenore Park Mirror Image |
| 2nd | Jamie Raymont | Just Summertime |
| 3rd | Zack Baldwin | EM Code Blue |
| 4th | Shane Davidson | Spectre D |
| 5th | Georgia Robertson | Belrock Ciara |
| 6th | Peter McMahon | K.S. Thomas |
CLASS 15A: Buchanan Farriers: Special Two Phase – 1.10m
| | | |
| --- | --- | --- |
| PLACE | RIDER | HORSE |
| 1st | Jamie Raymont | Just Casper |
| 2nd | Cody Tincknell | Diamon J Connect The Dots |
| 3rd | Billy Raymont | Finch Farm Milan |
| 4th | Jodie Skeels | Laurel Glen Tupelo Honey |
| 5th | Olivia Hamood | Diamond B Bedazzled |
| 6th | Bree Wiblen | Silverado EZ |
CLASS 15B: Peachester Lodge: TSHA Group 1 – 1.10m
| | | |
| --- | --- | --- |
| PLACE | RIDER | HORSE |
| 1st | Maleah Lang-McMahon | Royal Talisman |
| 2nd | Bella Wozniak | Simply Red Charged |
| 3rd | Hugh Buchanan | Its Bandito |
| 4th | Paige Johnston | WP Cool As |
| 5th | Elkee-Lang McMahon | Ned O'Reilly |
| 6th | Zali Young | Smooth Flight |
Black Jack IXE Arena 3
CLASS 16A: Bernie's Produce: Special Two Phase – 0.80-0.90m
| | | |
| --- | --- | --- |
| PLACE | RIDER | HORSE |
| 1st | Lily Short | Mauve Keeva Casteil |
| 2nd | James Hosie | Viewmont Buster |
| 3rd | Simone Sorensen | Bayview Wishlist |
| 4th | Harriet Smith | I'm a Cowboy |
| 5th | Jaime Page | Bellisaro |
| 6th | Lorna Clifford | Ngahiwi Possum |
CLASS 16B: Peachester Lodge: TSHA Slipper – 0.80-0.90m
| | | |
| --- | --- | --- |
| PLACE | RIDER | HORSE |
| 1st | Anita Bridge | Genuine Article |
| 2nd | Ella Vizer | Ormond Road |
| 3rd | Tyler Short | Gallant Girl |
| 4th | Katelyn James | It's A Good Life |
| 5th | Robert Goodwin | Flash Sammy |
| 6th | Sarah Weiss | Waratone |
CLASS 17A: Team Dougall / Mick's Home Maintenance: Special Two Phase – 0.90-1.00m
| | | |
| --- | --- | --- |
| PLACE | RIDER | HORSE |
| 1st | Heidee Grisbrook | Bon Visage |
| 2nd | John Broadbent | Bounce |
| 3rd | Charlie Thorne | Witz Fabio |
| 4th | Anastasia Fox | Strained lyrics |
| 5th | Lorna Clifford | Ngahiwi Possum |
| 6th | Ditta Vourdousis | Armada Raycon |
The Cat Clinic Arena 4
CLASS 18: Embrook Stables: Special Two Phase – 0.60-0.70m
| | | |
| --- | --- | --- |
| PLACE | RIDER | HORSE |
| 1st | Jameson Bazzan | Bundaleer Harmony |
| 2nd | Bella Wozniak | Bellisteros |
| 3rd | Daisy Harrison | Get Up and Go |
| 4th | Georgia Gunew | Mr Macquarie |
| 5th | Ella Vizer | Dusty |
| 6th | Jaycie Trace | Kracker Jax LB |
CLASS 19: Embrook Stables: Special Two Phase – 0.70-0.80m
| | | |
| --- | --- | --- |
| PLACE | RIDER | HORSE |
| 1st | Lily Short | Mauve Keeva Casteil |
| 2nd | Kaya Zielinski | Lady Of Diamonds |
| 3rd | Jameson Bazzan | Bundaleer Harmony |
| 4th | Lorna Clifford | Kahean Trooper Nelson |
| 5th | Katelyn James | It's A Good Life |
| 6th | Emily Seagrave | Scarlett Storm |
CLASS 14B: Peachester Lodge: TSHA Group 2 – 1.05m
| | | |
| --- | --- | --- |
| PLACE | RIDER | HORSE |
| 1st | Bella Wozniak | Simply Red Charged |
| 2nd | Skye Hosie | Bellrego |
| 3rd | Jaime Page | JPS War Dragon |
| 4th | Jaycie Trace | Die Hard Diva |
| 5th | Bridgette Thompson | On Vacation |
| 6th | Brittney Young | Titanomagnetite |
CLASS 17B: Peachester Lodge: TSHA Group 3 – 0.90-1.00m
| | | |
| --- | --- | --- |
| PLACE | RIDER | HORSE |
| 1st | Jaycie Trace | Die Hard Diva |
| 2nd | Madison Gunther | Dakota Sun |
| 3rd | Isabella Forsyth | Ethereal Moonlight Shadow |
| 4th | Bridgette Thompson | On Vacation |
| 5th | Olivia Rolfe | Disney Diva |
| 6th | Ella Vizer | Sounds of Crystal |
SUNDAY RESULTS
JCB Arena 1
CLASS 20: Langs Building Supplies: Future Stars Championship
| | | |
| --- | --- | --- |
| PLACE | RIDER | HORSE |
| 1st | Andrew Cooper | Sharvalley Thunder |
| 2nd | Peter McMahon | K.S. Rubellite |
| 3rd | Billy Raymont | Tulara Forpaccio |
| 4th | Chloe Hughes | Ketut |
| 5th | Gemma Creighton | Diangella |
| 6th | Shane Davidson | Viva Blue |
CLASS 21: Pink Hills Pastoral Co / BTL Plant Hire: Grand Prix – 1.40-1.45m
| | | |
| --- | --- | --- |
| PLACE | RIDER | HORSE |
| 1st | Olivia Hamood | Jane Fonda DVD |
| 2nd | Peter McMahon | K.S. Sovereigns Cadel |
| 3rd | Billy Raymont | Black Jack IXE |
| 4th | Tesse Raymont | Allwynds Valherro |
| 5th | Billy Raymont | YPH Capulet |
| 6th | Chris Holland | Elsa |
CLASS 22: Brice Trailers: Championship – 1.30m
| | | |
| --- | --- | --- |
| PLACE | RIDER | HORSE |
| 1st | Hayley Morris | Kissing The Sky |
| 2nd | Andrew Cooper | Manhattan |
| 3rd | Clem Smith | Quantico 12 |
| 4th | Gemma Creighton | Its Silkbridge |
| 5th | Maleah Lang-McMahon | PSS Chantilly |
| 6th | Kelly Slater | Balmoral Cougar Pedy |
Stone Axe Pastoral Arena 2
CLASS 23: Black Jack IXE: Amateur Championship – 1.15m
| | | |
| --- | --- | --- |
| PLACE | RIDER | HORSE |
| 1st | Thomas Madigan | Finch Farm Tango |
| 2nd | Alison Denny | Bellhaven Cyrus |
| 3rd | Mia Smith | Sangster |
| 4th | Holly Penfold | Just Dutch |
| 5th | Kate Jackwitz | Desert Sands Vavoom |
| 6th | Thomas Madigan | La Chance |
CLASS 24: Jayem Performance Horses: Junior Championship – 1.10m
| | | |
| --- | --- | --- |
| PLACE | RIDER | HORSE |
| 1st | Maleah Lang-McMahon | Finch Farm Carlsberg |
| 2nd | Cody Tincknell | CC's Casper |
| 3rd | Emily Lang-McMahon | Glenara Mudslide |
| 4th | Olivia Hewitt-Toms | Celerity Park LM Star |
| 5th | Matisse Weeks | TCG Savvy |
| 6th | Simone Sorensen | Yalambi's Karijini |
CLASS 25: Rundle Constructions / Bates Equine: Open – 1.15m
| | | |
| --- | --- | --- |
| PLACE | RIDER | HORSE |
| 1st | Billy Raymont | Denison Park Poppy |
| 2nd | Billy Raymont | Finch Farm Milan |
| 3rd | Paige Johnston | Lilivale Falks Prince |
| 4th | Courtney Scott | Santa Cruz |
| 5th | Cody Tincknell | Lady Quincella Gold |
| 6th | Tyrone Latham | Christalou |
Black Jack IXE Arena 3
CLASS 26: Hardi Sprayers: Special Two Phase – 0.60-0.70m
| | | |
| --- | --- | --- |
| PLACE | RIDER | HORSE |
| 1st | Lily Short | Mauve Keeva Casteil |
| 2nd | Lorna Clifford | Kahean Trooper Nelson |
| 3rd | Ella Vizer | Dusty |
| 4th | Jameson Bazzan | Bundaleer Harmony |
| 5th | Scarlett Landman | Murraydale Park Sandman |
| 6th | Melanie Fernandes Ferreira | Kenlock Wenita Sky |
CLASS 27: Fairview Performance Horses: Special Two Phase – 0.70-0.80m
| | | |
| --- | --- | --- |
| PLACE | RIDER | HORSE |
| 1st | Lily Short | Mauve Keeva Casteil |
| 2nd | Jameson Bazzan | Bundaleer Harmony |
| 3rd | Kaya Zielinski | Lady of Diamonds |
| 4th | Lorna Clifford | Kahean Trooper Nelson |
| 5th | Jaycie Trace | Kracker Jax LB |
| 6th | Katelyn James | It's a good life |
The Cat Clinic Arena 4
CLASS 28: Ipswich Saddleworld: Special Two Phase – 0.80-0.90m
| | | |
| --- | --- | --- |
| PLACE | RIDER | HORSE |
| 1st | Harriet Smith | I'm a Cowboy |
| 2nd | James Hosie | Viewmont Buster |
| 3rd | Ella Vizer | Sounds of Crystal |
| 4th | Lily Short | Rosewood Symphony |
| 5th | Kaya Zielinski | Lady of Diamonds |
| 6th | Ella Vizer | Ormond Road |
CLASS 29: Hardi Sprayers: Special Two Phase – 0.90-1.00m
| | | |
| --- | --- | --- |
| PLACE | RIDER | HORSE |
| 1st | Harriet Smith | I'm a Cowboy |
| 2nd | Amy Bradfield | Silver Shades |
| 3rd | Ditta Vourdousis | Armada Raycon |
| 4th | Lorna Clifford | Ngahiwi Possum |
| 5th | Olivia Galetto | Decibel |
| 6th | Bridgette Thompson | On Vacation |
Results sourced from online.equipe.com
View Comments