James Arkins secures Grand Prix win at Stonewall Championships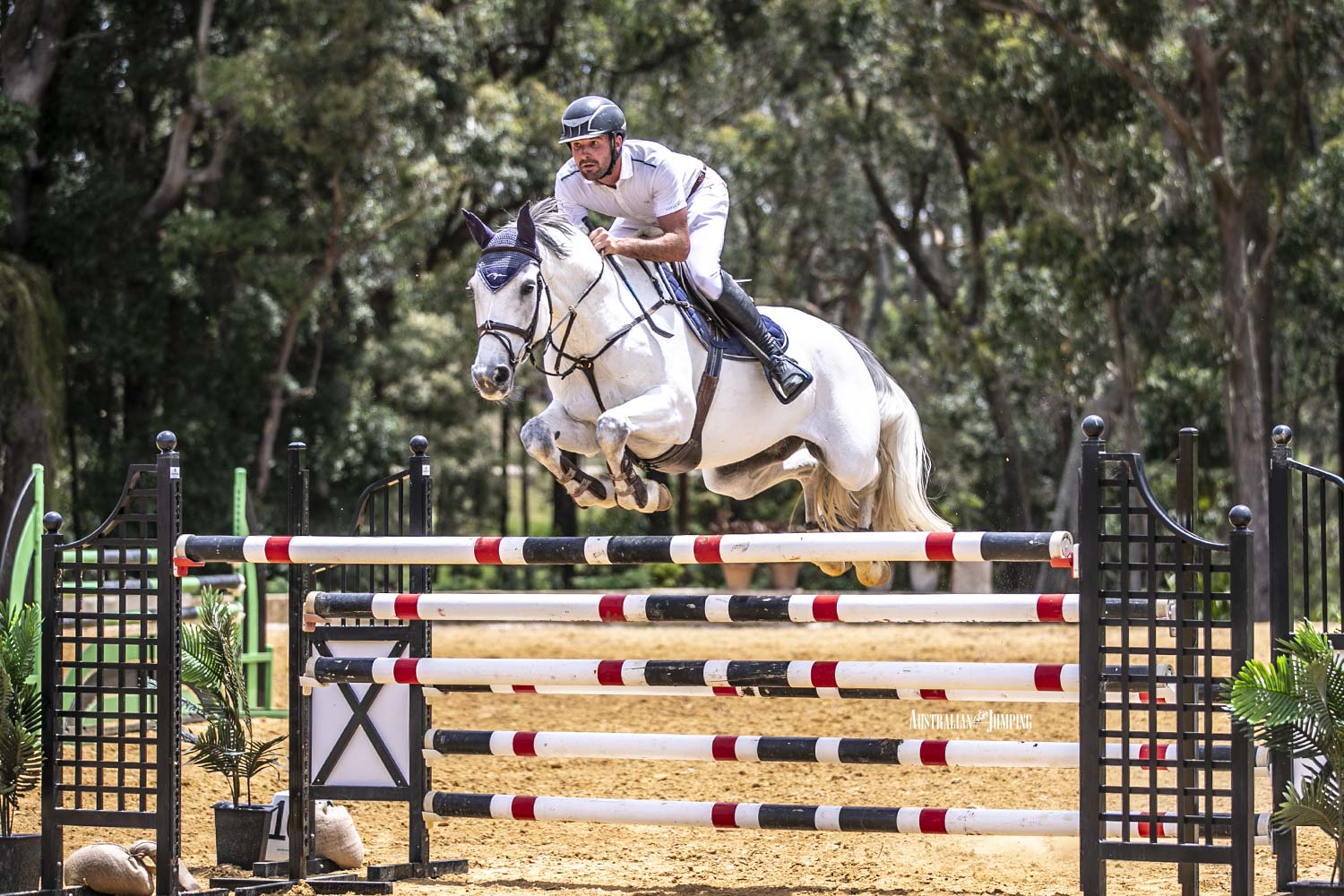 Australian Jumping
Above: James Arkins and Avenden Indigo
A wonderful three days of jumping competition concluded this afternoon at the Stonewall Equestrian Centre, situated on the NSW Central Coast. Organised by Heath and Krissy Harris, with the help of a very dedicated team, the show was a wonderful success, despite the temperature on third day nudging 40 degrees C, and strong winds possibly knocking down more rails than the competitors.
Advertisement


The last class of the day today was the feature class of the weekend, the 1.35m-1.40m Grand Prix sponsored by the Shugg Group. Held over two rounds, nineteen combinations lined up to face the Mark Atkins designed course. In the first round, there were 12 clear combinations and a further five who took a single rail, so with penalties carrying through to the second round, it was virtually anybody's to win. Both James Arkins, who took a harmless fall in the warm-up arena and Queensland visitor Olivia Hamood, each took three horses into the class and with all being real chances as the second round commenced, they would have felt confident of filling the podium. The second round saw five of the twelve first round clears again record a clear round, so it was down to times, to sort out the placegetters. Fastest of these was James Arkins and his 12-year-old gelding Aveden Indigo, who completed the course in 44.39 seconds. Second and third placings could not be split with both Olivia Hamood with Alan III Z and Maleah-Lang-McMahon with PSS Chantilly both recording a time of 45.51 seconds. The 2019 NSW Junior Championship combination of Annaleise Wansey and Kolora Stud St Patrick filled fourth place.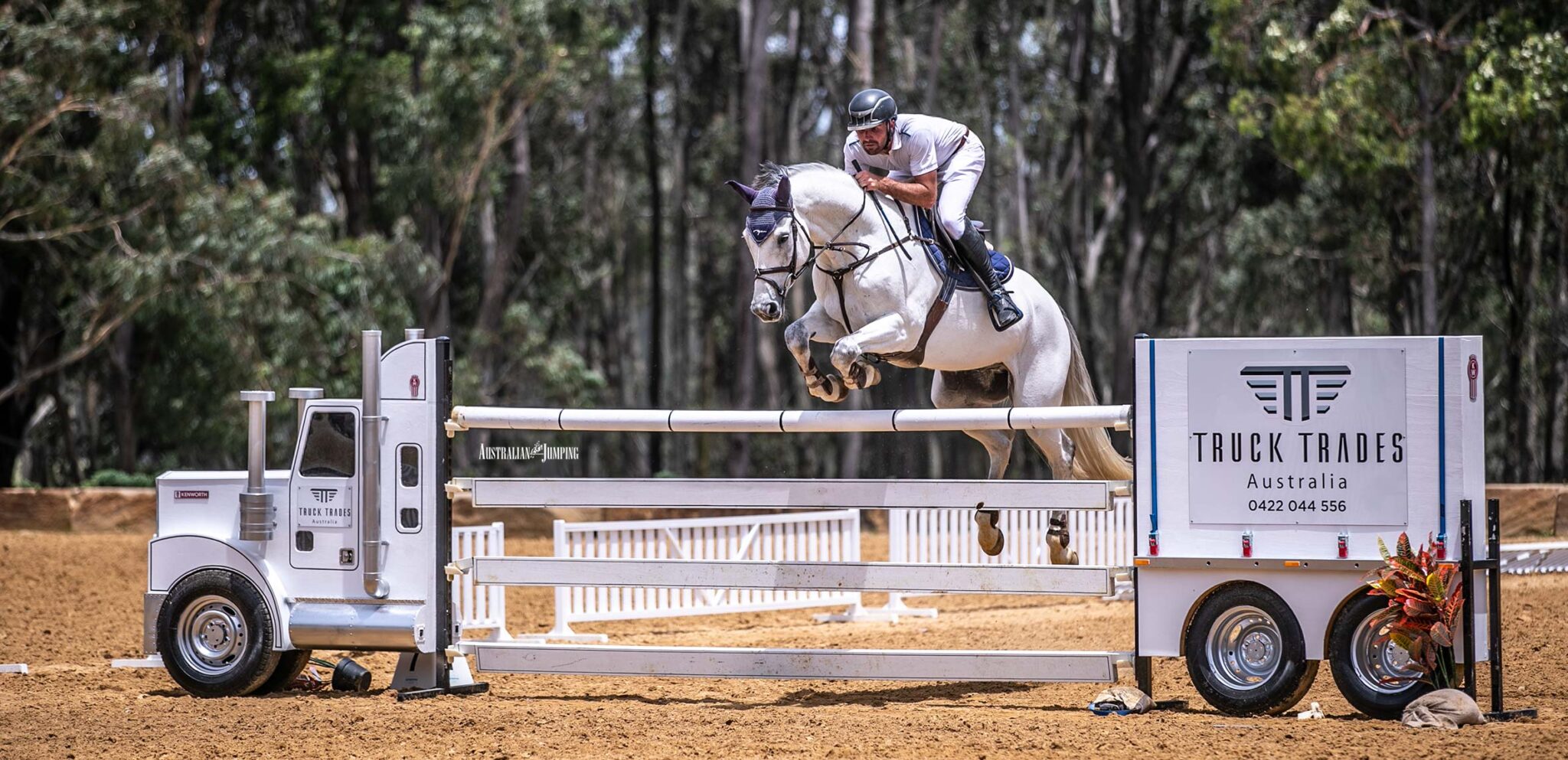 James Arkins and Avenden Indigo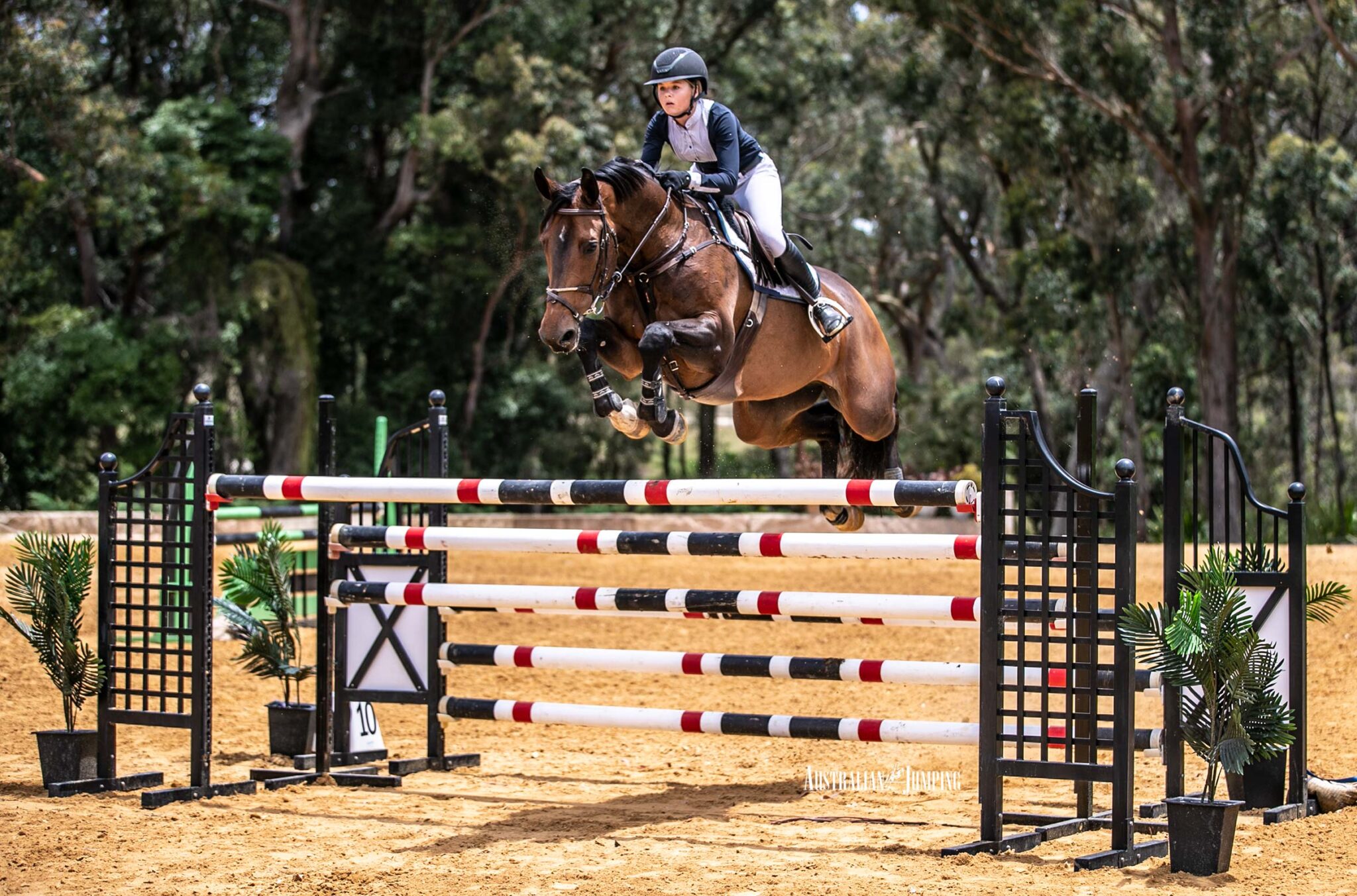 Maleah-Lang-McMahon with PSS Chantilly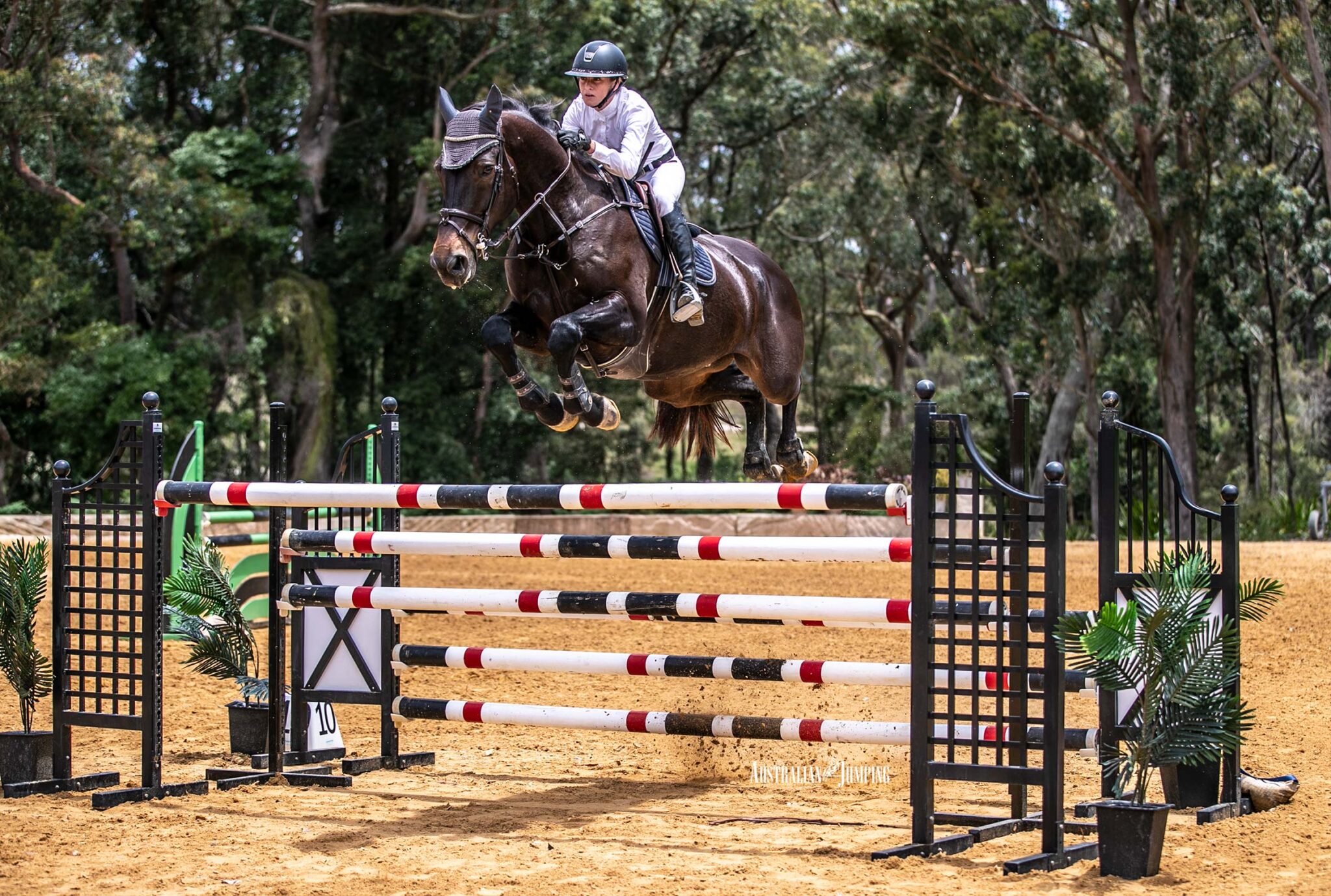 Olivia Hamood with Alan III Z
Prior to the Grand Prix there was plenty of action to keep the large crowd enthralled. Three classes were decided, which included a Speed Class and two events for the thoroughbreds, organised by the Thoroughbred Sport Horse Association (TSHA).
The first class of the day was he 1.25 Speed Class, sponsored by the Wyong Equine Clinic. Sixth combination out were Olivia Hamood and Lola GHP, who got the day off to a flying start for her, going clear in 63.52 seconds to take the lead. It was short lived, however, when ninth out pairing of James Arkins and Rosthwaite Zante raced around the course in just 58.82 seconds to take up the running. Arkins rode with vigour and purpose and it looked as if he was going to be hard to beat. In lucky thirteenth place in the order of go, Queensland teenager, Maleah Lang-McMahon, who recently was awarded a Sport Australia Hall of Fame (SAHOF) Scholarship fairly sizzled around the course aboard Vakarra Champagne to record a time of 56.46 and take the lead. With only three further combinations to come, probably the only real danger to Lang-McMahon was fellow Queensland visitor Olivia Hamood and Sundance GHP. This combination gave it their all, however, failed to take the lead by about 1.5 seconds. It was enough to knock Arkins and Rosthwaite Zante back into third.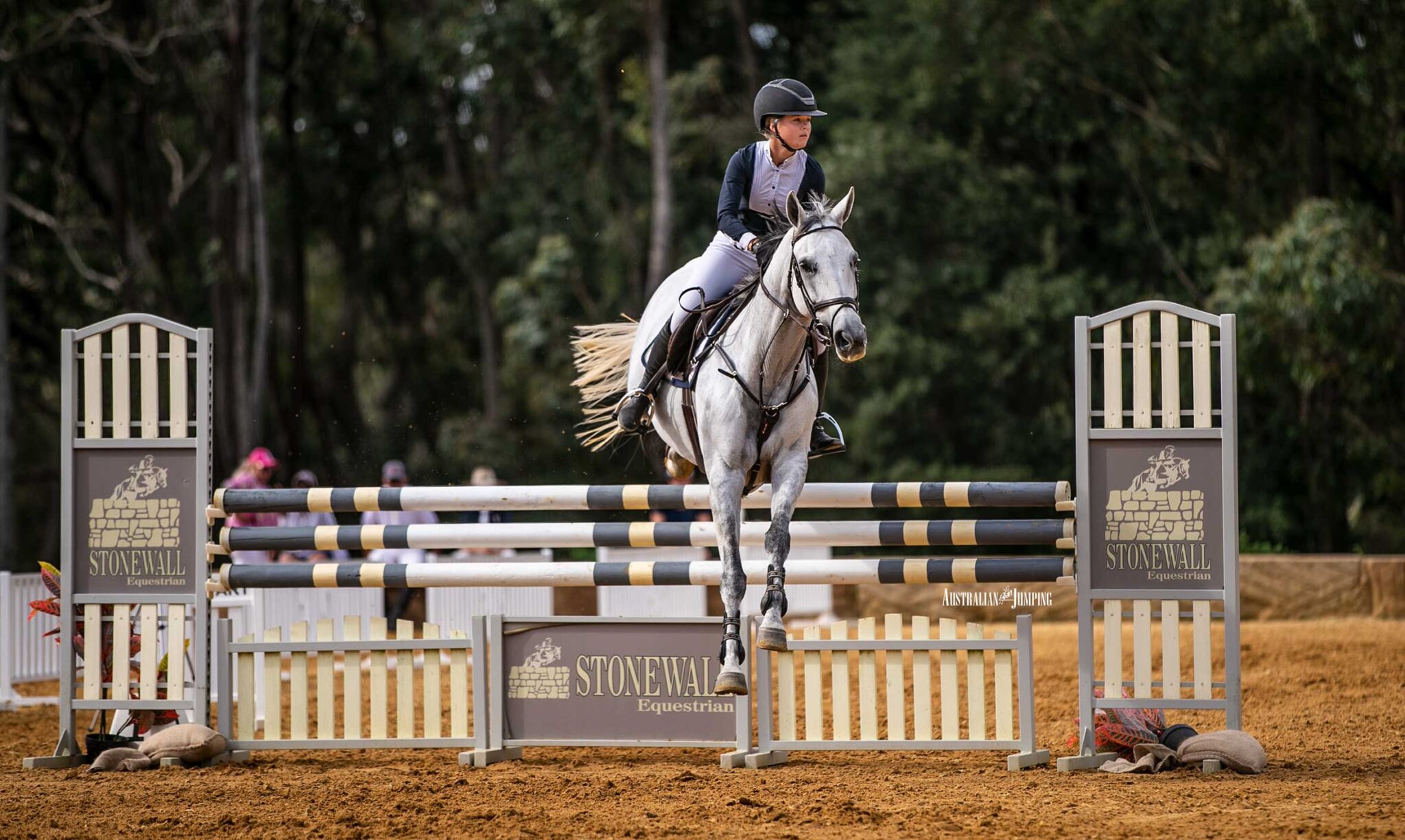 Maleah Lang-McMahon and Vakarra Champagne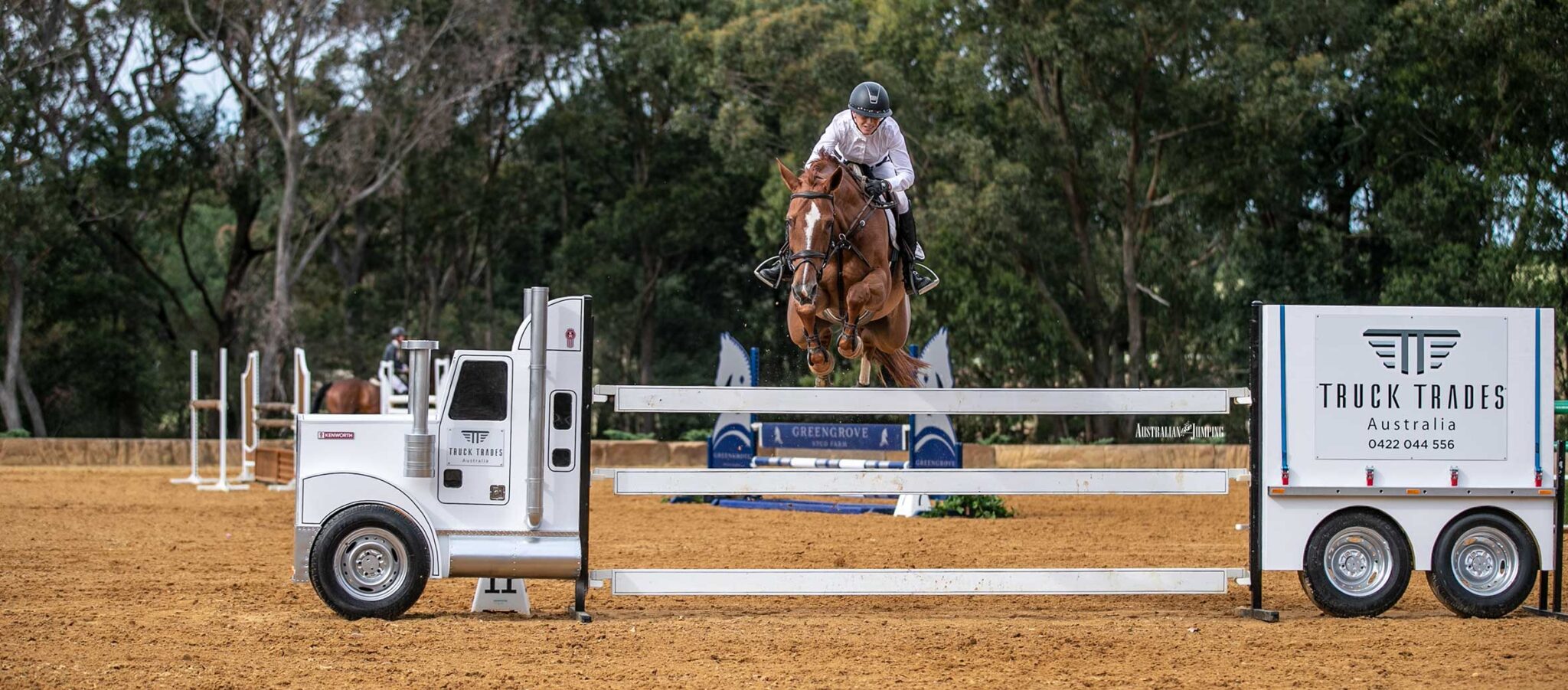 Olivia Hamood and Sundance GHP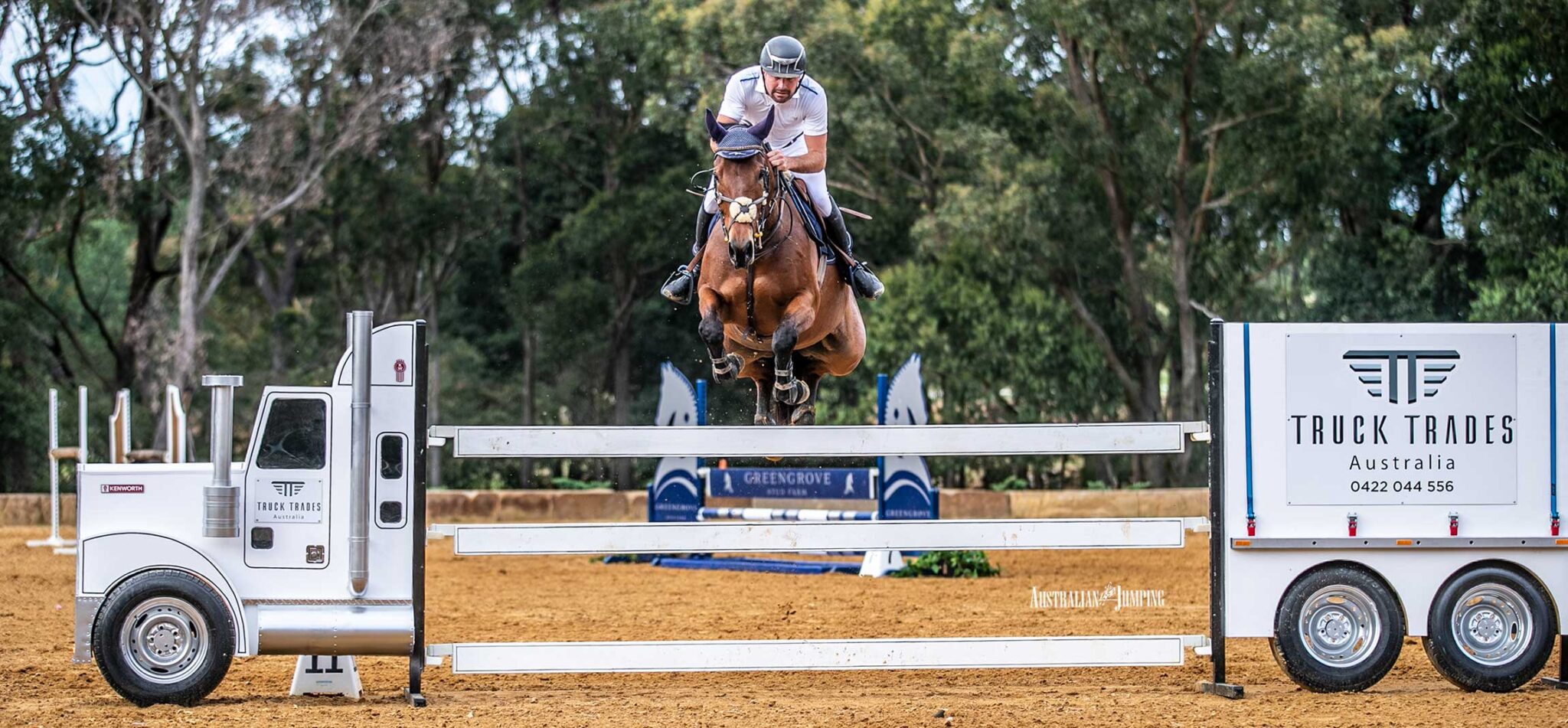 James Arkins and Rosthwaite Zante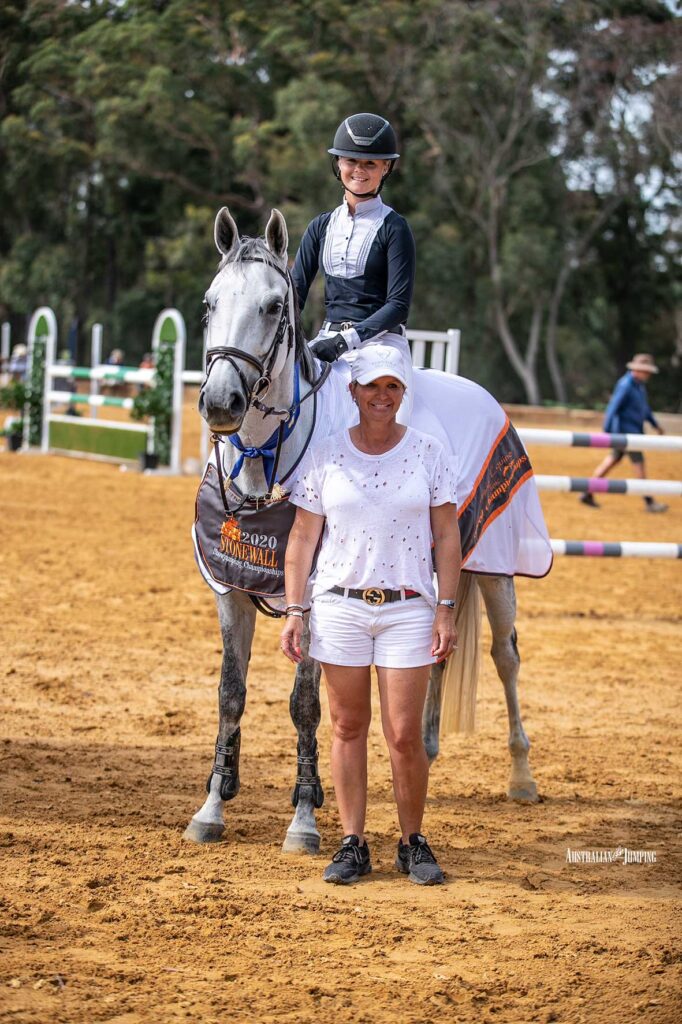 Next up it was time for the thoroughbreds to take over the show. The TSHA aims to create second careers for retired race-horses by organising competitions open only to thoroughbreds. Their main objective is to work with show organisers to create dedicated thoroughbred classes and to secure funding for prize-money, thereby creating a market for off-the-track horses. It is hoped that once the thoroughbred competition circuit matures, it will increase the retraining and rehoming of racehorses as increasing numbers of people wish to become involved.
Advertisement

The first such class was the 1.10m Group 2 class, sponsored by Cooper Racing. Eleven combinations saw eight clear rounds to set up an exciting jump off. Taking the win was Rosthwaite Al Capone, who used all his thoroughbred speed to take the win in almost 2.5 seconds clear of second. Expertly ridden by James Arkins, they were deserved winners. Jumping legend, Vicky Roycroft aboard Tommy filled second place with a further six seconds back to Jessica Bott and her 9-year-old grey mare Raise An Angel.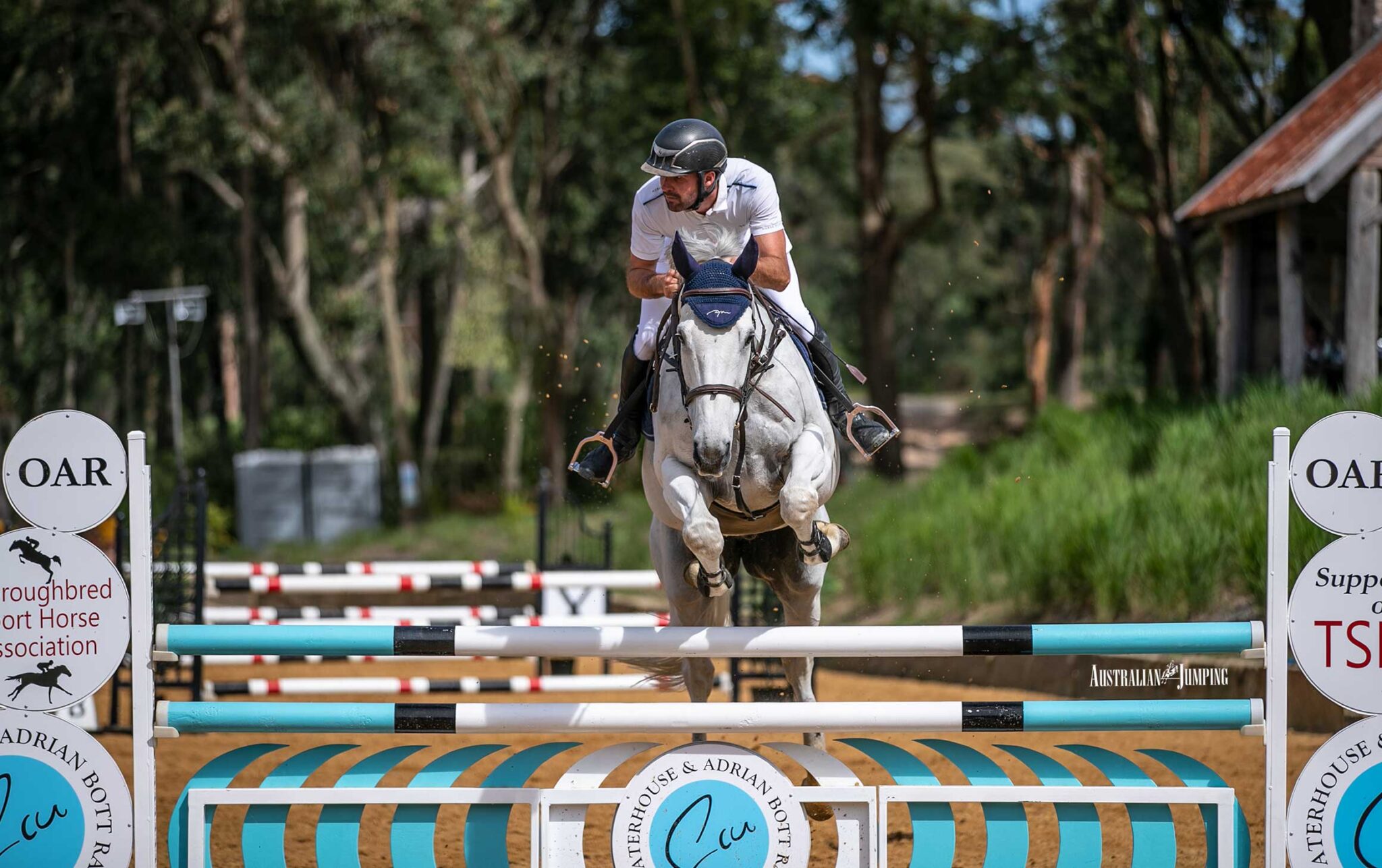 James Arkins and Rosthwaite Al Capone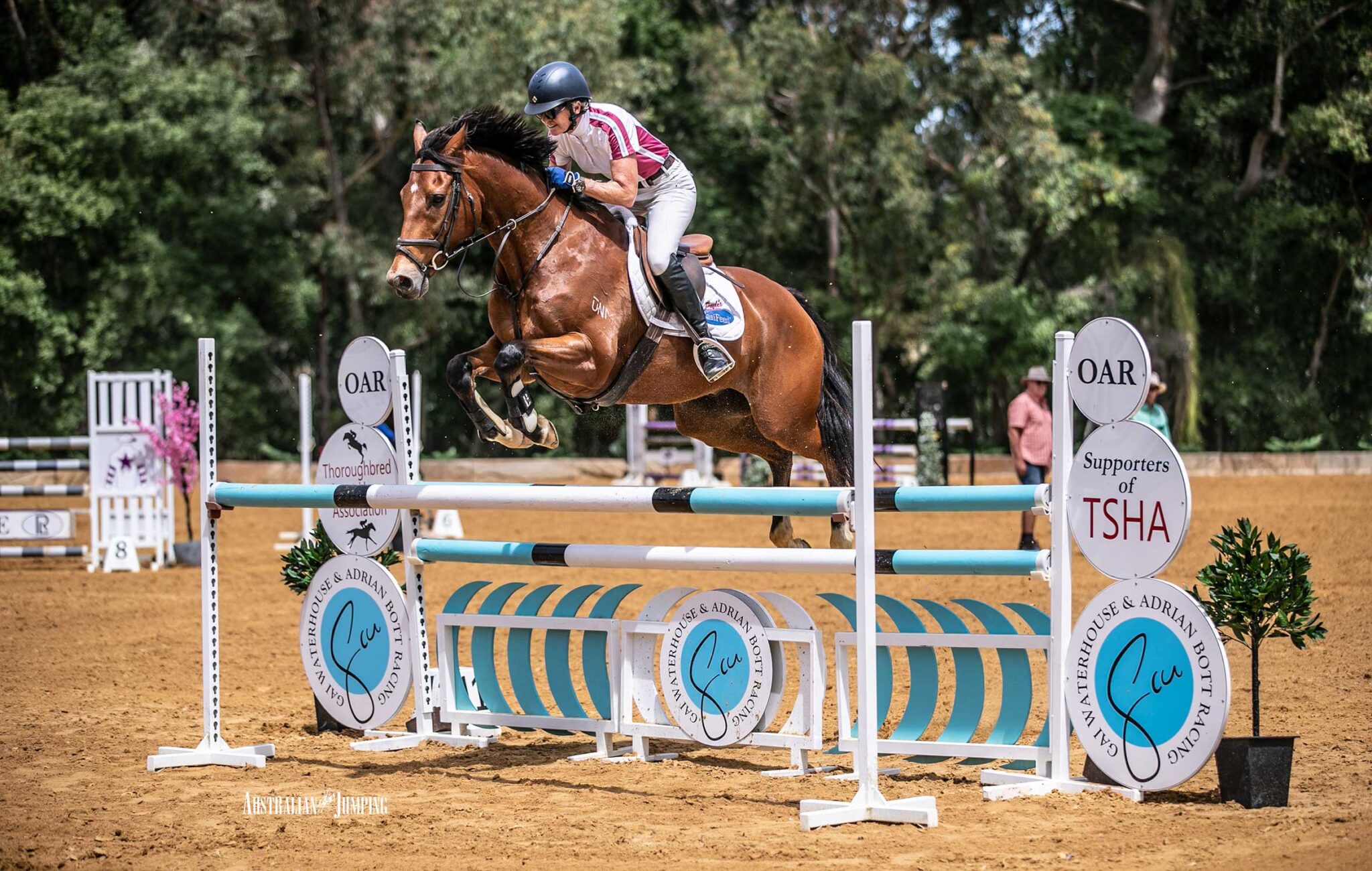 Vicky Roycroft and Tommy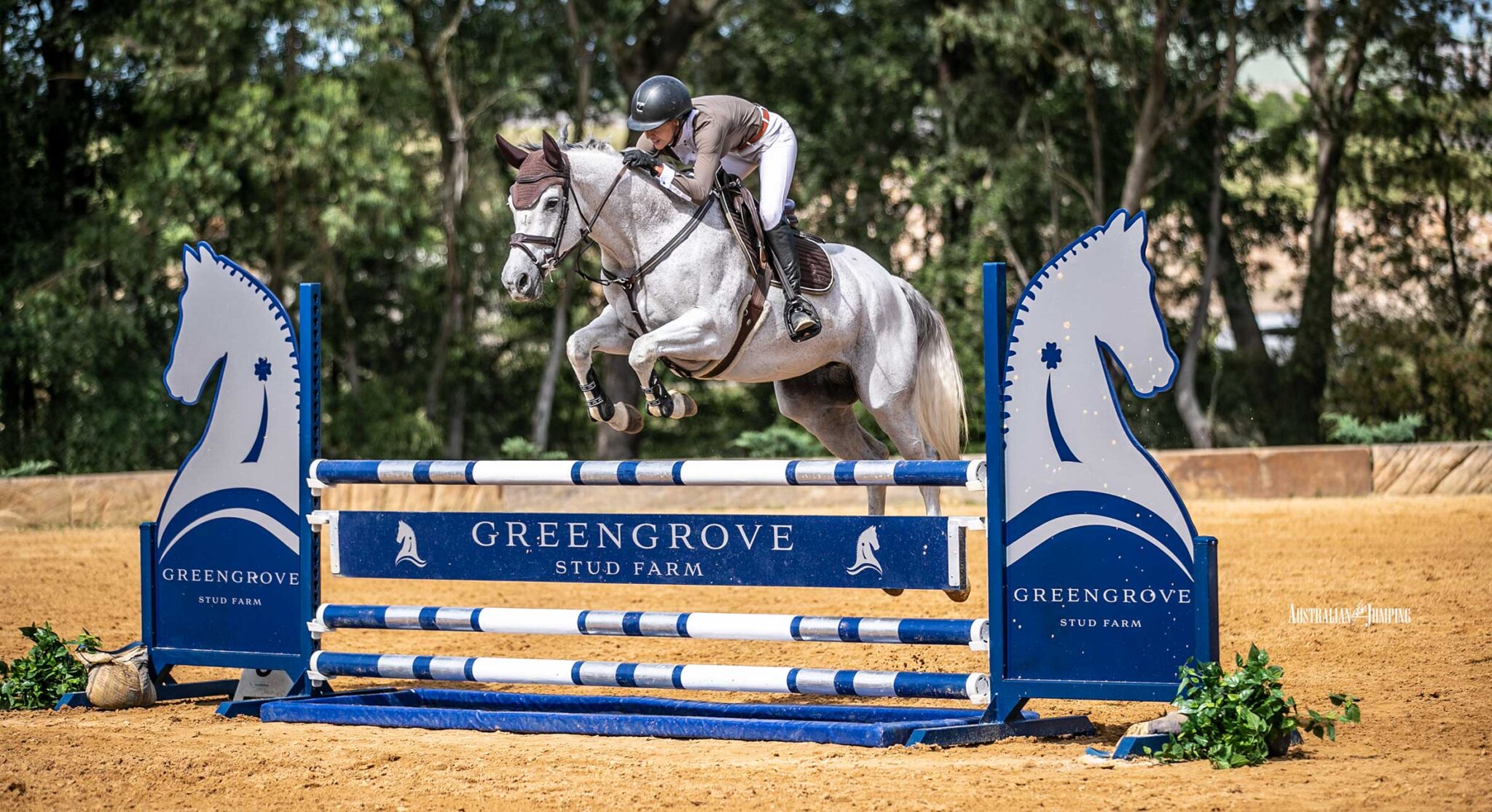 Jessica Bott and Raise An Angel

The third class of the day was the feature class of the weekend for the thoroughbreds. At 1.20m and sponsored by Gai Waterhouse & Adrian Bott Racing, most of the combinations from the previous class returned to battle it out, this time for $2,500 prizemoney.
This time experience came to the fore and it was long time thoroubreds as jumpers advocate Vicki Roycroft and Tommy going one better to take the win by virtue of recording double clear rounds and an electrifying jump-off time of just 38.66 seconds. The only other combination going double clear was Elissa Schneider and Carve It Up, who took the careful and steady option in the jump off. Their time was some eight seconds slower than Roycroft's, but it was enough to beat the other two combinations in the jump off, who, although going significantly quicker than Schneider, both took a rail. Fastest of this pair were Jessica Bott and Raise An Angel who again had to settle for third place. The Sponsor for this class, Gai Waterhouse & Adrian Bott Racing were represented by Adrian Bott at the presentation, who in a lovely twist, was able to present his wife with the ribbon for taking third place.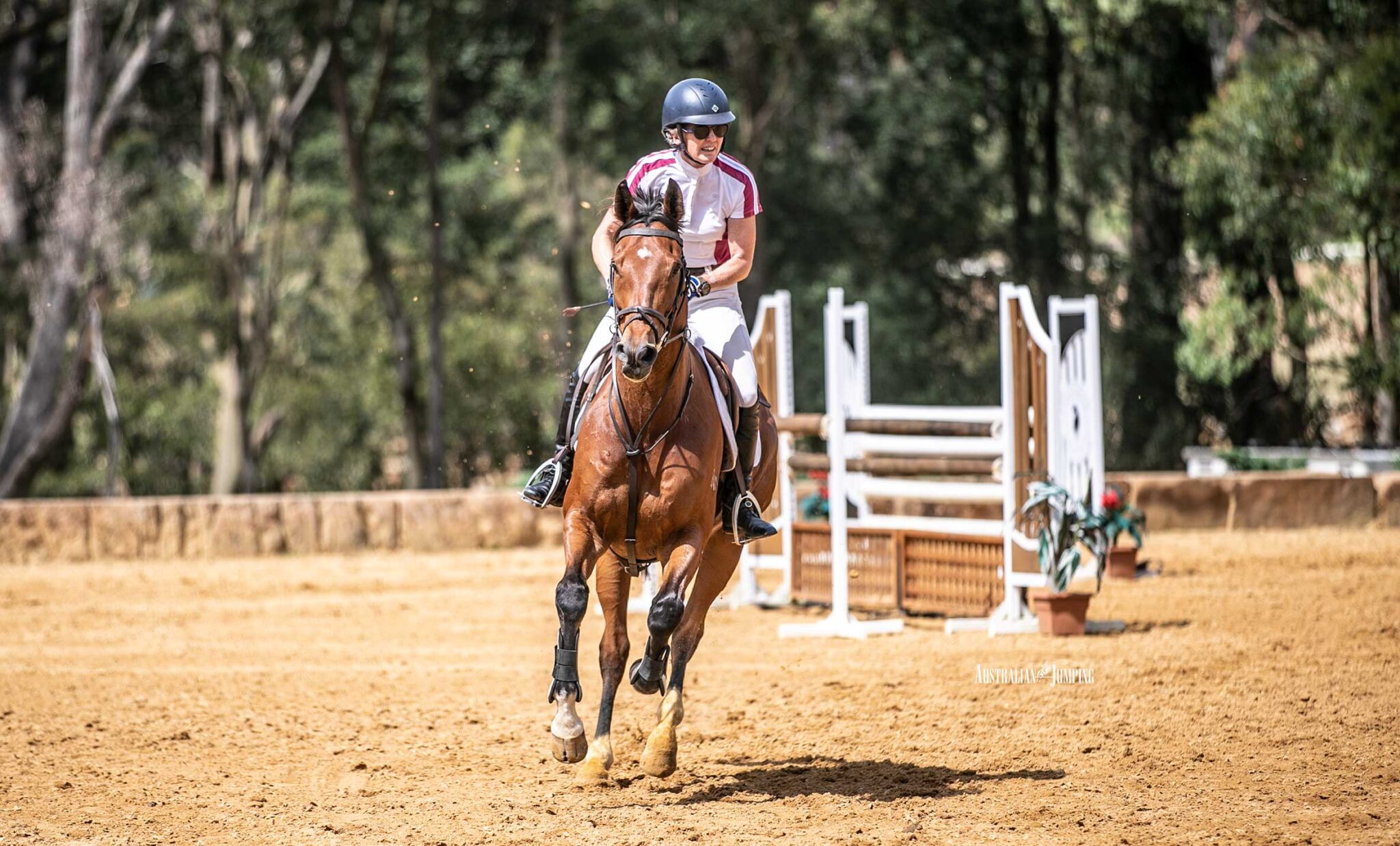 Vicky Roycroft and Tommy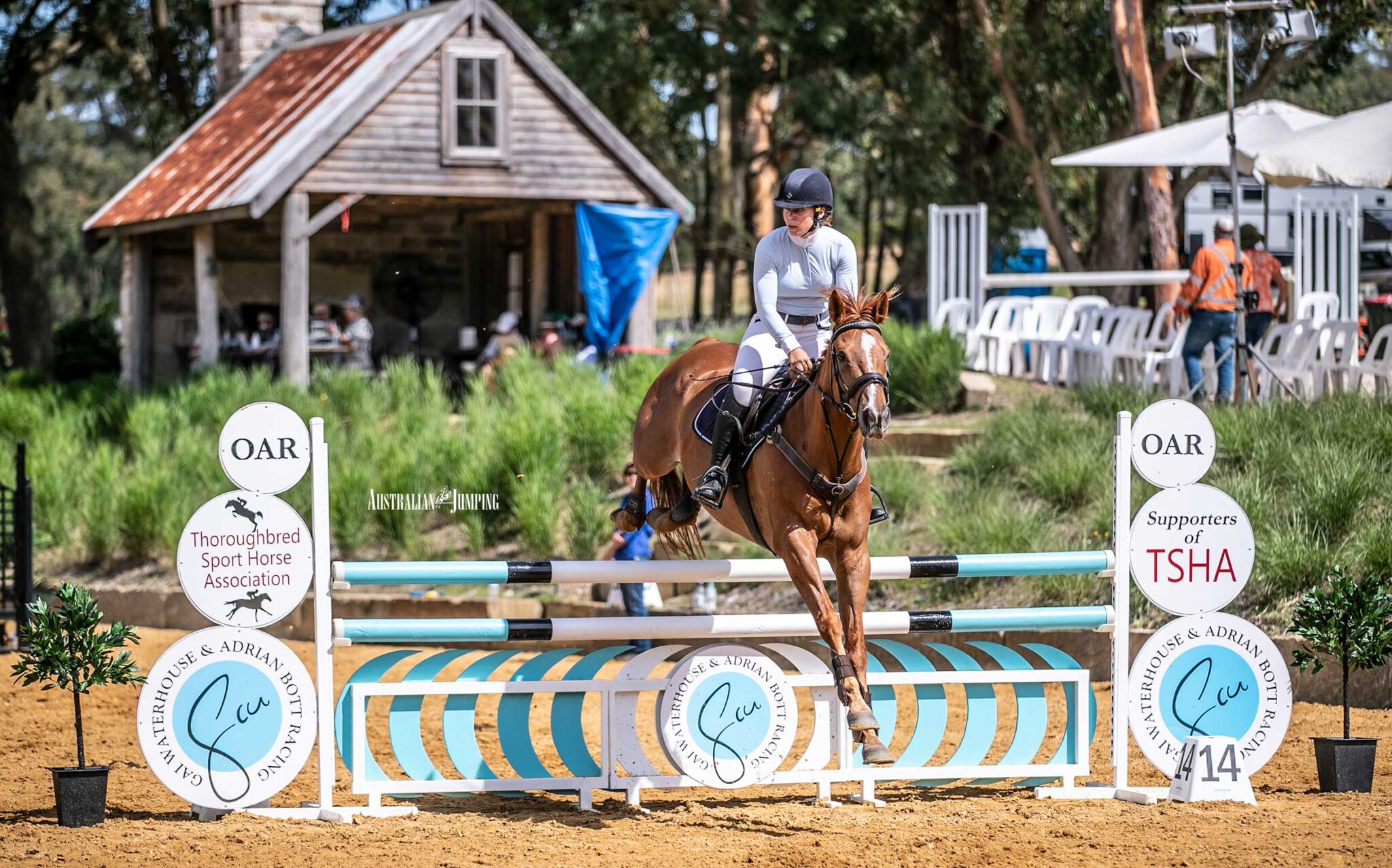 Elissa Schneider and Carve It Up


Jessica Bott and Raise An Angel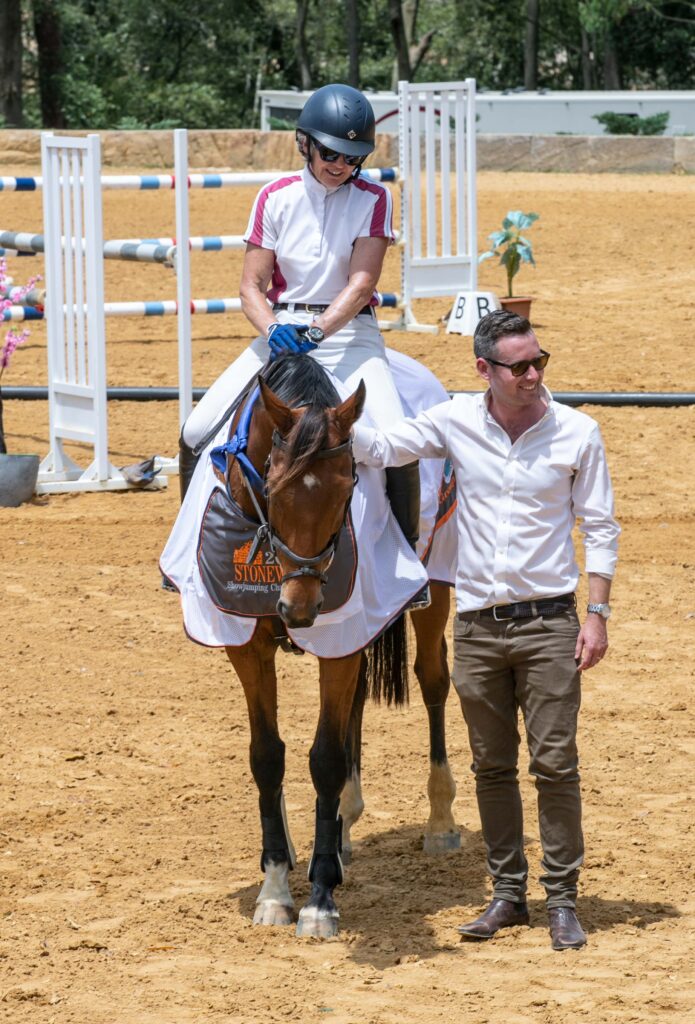 Vicki Roycroft and Tommy with class sponsor Adrian Bott.
All in all, it was a fantastic day of jumping, albeit in trying conditions, at a beautiful equestrian property. The arena was immaculately manicured and is set in a beautiful Australian bushland setting. The judges box is a two-sided colonial style sandstone hut and we understand that Krissy and Heath have extensive plans to develop the property into a Spruce Meadows style facility. We look forward to following this beautiful facility's development over the coming years.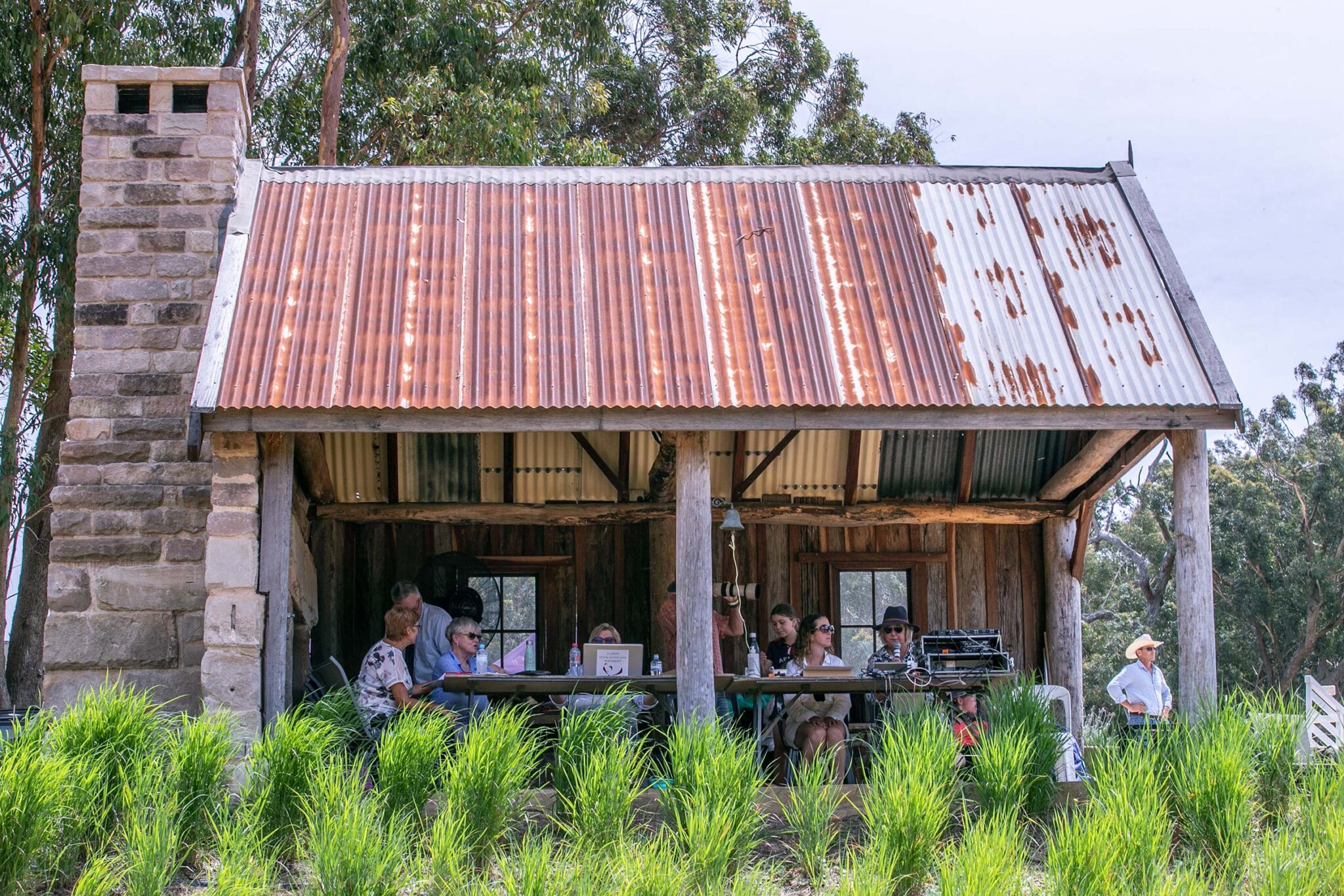 On the competition front, James Arkins was the most successful rider on the day, taking two wins and a third, and it was great to see the fine work done by the TSHA in organising feature classes for the Thoroughbreds.
Congratulations goes to all the winners and placegetters. See below for a full listing of all the results from the show.
FRIDAY RESULTS
CLASS 1A: James Mooney Equestrian – (Super 2-phase) – Open – 0.90m
The first six placings in this class were:
| | | |
| --- | --- | --- |
| PLACE | RIDER | HORSE |
| 1st | William Mathew | Grand Helana |
| 2nd | Ashley Cutler | Fairlight R |
| 3rd | Nelson Smyth | Laurel Glen Supanova |
| 4th | David Cooper | Celerity Park Regal Jester |
| 5th | Emma Brauer | Romac Pepe |
| 6th | Charlee Shoebridge | Falcon Dusky Bear |
CLASS 1B: Cairn Bespoke Transition Solutions – (Super 2-phase) – TSHA – 0.90m
The first six placings in this class were:
| | | |
| --- | --- | --- |
| PLACE | RIDER | HORSE |
| 1st | Nicole Kennedy | Astro |
| 2nd | Craig Barrett | Giddy Up Venice |
| 3rd | Sophie Hugh | Berio |
| 4th | Sienna Bellis | Rosthwaite Al Capone |
| 5th | Bryia Anderson | DP Democracy |
| 6th | Nelson Smyth | Stella Artois |
CLASS 2: Axiom AP – (238.2.2) – TSHA – 1.00m
The first six placings in this class were:
| | | |
| --- | --- | --- |
| PLACE | RIDER | HORSE |
| 1st | Tayla Norley | Luck In Toyland |
| 2nd | Sienna Bellis | Rosthwaite Al Capone |
| 3rd | Leila Wyrill | Jadan Park Acapella |
| 4th | Jeremy Inglis | Rusty |
| 5th | Mark Atkins | Emmaville Breeze |
| 6th | Nelson Smyth | Stella Artois |
CLASS 3A: Roycroft Stables & HRSCO – (238.2.1) – Newcomers – 1.05m
The first six placings in this class were:
| | | |
| --- | --- | --- |
| PLACE | RIDER | HORSE |
| 1st | Nicole Kennedy | Mr Muscles |
| 2nd | Robyn Parker | Street Wise |
| 3rd | Emma Brauer | Romac Pepe |
| 4th | Natalie De Souza | Romley Corsair |
| 5th | Bryia Anderson | Yarramalong Georgi |
| 6th | Jessica Bott | Rosthwaite Belvedere |
CLASS 3B: Shoey's Automotive – (238.2.1) – Open – 1.05m
The first six placings in this class were:
| | | |
| --- | --- | --- |
| PLACE | RIDER | HORSE |
| 1st | Charly Robinson-Smith | Our Peace Maker |
| 2nd | David Cooper | Celerity Park Regal Jester |
| 3rd | Vicki Roycroft | Tommy |
| 4th | Samantha Dernee | YPH Coachella |
| 5th | Ashley Cutler | Emcee Vagabond |
| 6th | Laura Norley | Luck In Toyland |
CLASS 4: Gosford Private Joint and Bone Centre – (Super 2-phase) – Open – 1.15m
The first six placings in this class were:
| | | |
| --- | --- | --- |
| PLACE | RIDER | HORSE |
| 1st | Charly Robinson-Smith | Our Peace Maker |
| 2nd | Anneliese Wansey | Aveden Indigo |
| 3rd | Grace Kay | Celerity Park Faberge |
| 4th | Vicki Roycroft | Tommy |
| 5th | Natalie De Souza | Romley Corsair |
| 6th | Samantha Dernee | YPH Coachella |
SATURDAY RESULTS
CLASS 5: Somersby Law – (238.2.1) – Open – 1.10m
The first six placings in this class were:
| | | |
| --- | --- | --- |
| PLACE | RIDER | HORSE |
| 1st | Charlie Magnier | Master Stevie G |
| 2nd | Chloe Palmer | Woodbury Lost In The Moment |
| 3rd | Samantha Dernee | YPH Coachella |
| 4th | Skye Sylvester | Celerity Park Fantastik |
| 5th | Sarah Louise McMillan | Texas |
| 6th | Sarah Crossen | Verdelho RJ3 |
CLASS 6: Storm Park Produce Grand Prix – (238.2.2) – Newcomers – 1.05m
The first six placings in this class were:
| | | |
| --- | --- | --- |
| PLACE | RIDER | HORSE |
| 1st | Emma Brauer | Romac Pepe |
| 2nd | Natalie De Souza | Romley Corsair |
| 3rd | Jessica Bott | Rosthwaite Belvedere |
| 4th | Mikala Spark | Steel Play |
| 5th | Sophia Masciantonio | Revelwood Mckenzie |
| 6th | Bryia Anderson | Yarramalong Georgi |
CLASS 7: Central Coast Showjumping Club – (238.2.2) – Open – 1.20m
The first six placings in this class were:
| | | |
| --- | --- | --- |
| PLACE | RIDER | HORSE |
| 1st | Maleah Lang-McMahon | Finch Farm Carlsberg |
| 2nd | James Arkins | Cobra De Capello |
| 3rd | Maleah Lang-McMahon | Vakarra Champagne |
| 4th | Vicki Roycroft | Licaviv |
| 5th | Vicki Roycroft | Converse |
| 6th | Maverick Miles | Emcee Revolver |
CLASS 8: Greengrove Stud Farm – (238.2.1) – Open – 1.30m
The first six placings in this class were:
| | | |
| --- | --- | --- |
| PLACE | RIDER | HORSE |
| 1st | James Arkins | WP Grandiamo |
| 2nd | Chris Holland | Elsa |
| 3rd | Maleah Lang-McMahon | K.S. Capulet Ego Z |
| 4th | James Arkins | Joevaro R |
| 5th | Anneliese Wansey | Kolora Stud St Patrick |
| 6th | Olivia Hamood | Knock Out III |
SUNDAY RESULTS
CLASS 9: Wyong Equine Clinic – Speed Championship – 1.25m
The first six placings in this class were:
| | | |
| --- | --- | --- |
| PLACE | RIDER | HORSE |
| 1st | Maleah Lang-McMahon | Vakarra Champagne |
| 2nd | Olivia Hamood | Sundance GHP |
| 3rd | James Arkins | Rosthwaite Zante |
| 4th | Olivia Hamood | Lola GHP |
| 5th | Vicki Roycroft | Converse |
| 6th | Kelly Bridgland | Showtym Burrow |
CLASS 10: Cooper Racing – (238.2.2) – TSHA – 1.10m
The first six placings in this class were:
| | | |
| --- | --- | --- |
| PLACE | RIDER | HORSE |
| 1st | James Arkins | Rosthwaite Al Capone |
| 2nd | Vicki Roycroft | Tommy |
| 3rd | Jessica Bott | Raise An Angel |
| 4th | Elissa Schneider | Carve It Up |
| 5th | Charlie Richardson | Bellbirds Sandpiper |
| 6th | Cade Hunter | Boombenny |
CLASS 11: Gai Waterhouse/Adrian Bott Racing Grand Prix – TSHA – 1.20m
The first six placings in this class were:
| | | |
| --- | --- | --- |
| PLACE | RIDER | HORSE |
| 1st | Vicki Roycroft | Tommy |
| 2nd | Elissa Schneider | Carve It Up |
| 3rd | Jessica Bott | Raise An Angel |
| 4th | Blair Richardson | Rosthwaite Johnny English |
| 5th | Charlie Richardson | Maverick |
| 6th | James Arkins | Rosthwaite Al Capone |
CLASS 12: Shugg Group Grand Prix – Open – 1.35m-1.40m
The first six placings in this class were:
| | | |
| --- | --- | --- |
| PLACE | RIDER | HORSE |
| 1st | James Arkins | Aveden Indigo |
| =2nd | Olivia Hamood | Alan 111 Z |
| =2nd | Maleah Lang-McMahon | PSS Chantilly |
| 4th | Anneliese Wansey | Kolora Stud St Patrick |
| 5th | James Mooney | KPH Cavatina |
| 6th | Olivia Hamood | Knock Out III |
Results sourced from Global Entries Online
View Comments