JPR takes out main class from Day 1 of Waratah Showjumping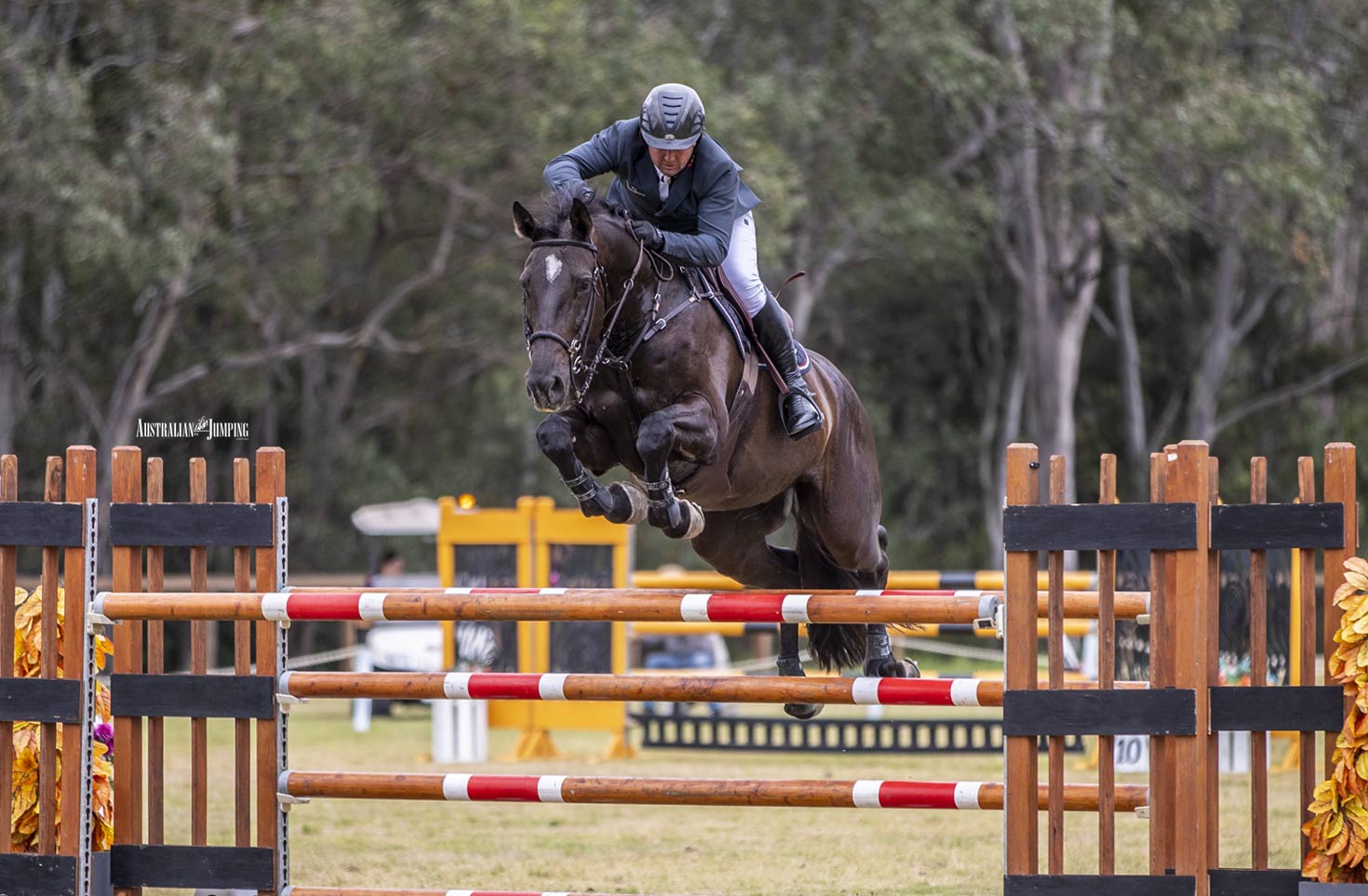 Australian Jumping
Held under strict COVID-Safe conditions, the first of the three days of Waratah Showjumping was held today at Sydney International Equestrian Centre. For many, this was the first competition since shows came to a standstill in March and there was a great atmosphere (even without the usual spectators). Under mainly grey skies, 54 combinations kicked off the day with the Camden Equine Clinic 1.20m, won convincingly by Jess Rice-Ward and her lovely grey Dinero, with Paige McBaine and Greengrove Rebel having a great round to finish second. The 1.20m Orangeville Performance Horses Junior class was won by a delighted Lucy Locke on the wonderful little gelding Quero Quero who has delivered so many great results in the past for Erin Buswell.
Advertisement


The main class of the day was the EMCEE Apparel 1.40m which, although only a small field of  9 combinations, was hotly contested and won by JPR (AKA James Paterson-Robinson!) riding Alyssa Ho's Equador MVNZ.  It was great to see JPR, who only returned to Australia last year after many years in Europe, back in business on the show scene.
Congratulations to Edwena Mitchell and her team for their determination in pulling together this great event after a number of COVID driven false starts.
Congratulations to all the winners and place-getters. Full results from today are presented below.
RING 1
CLASS 1A: Camden Equine Clinic – Open – 1.20m
The first six placings in this class were:
| | | |
| --- | --- | --- |
| PLACE | RIDER | HORSE |
| 1st | Jess Rice-Ward | Dinero |
| 2nd | Paige McBain | Greengrove Rebel |
| 3rd | Jamie Priestley | Team Priestley Kitara Lanson |
| 4th | Gaby Herbosa | Kaloona Virago |
| 5th | Madi Sinderberry | Rosthwaite Vigilante II |
| 6th | Jamie Kermond | Tulara Colchic |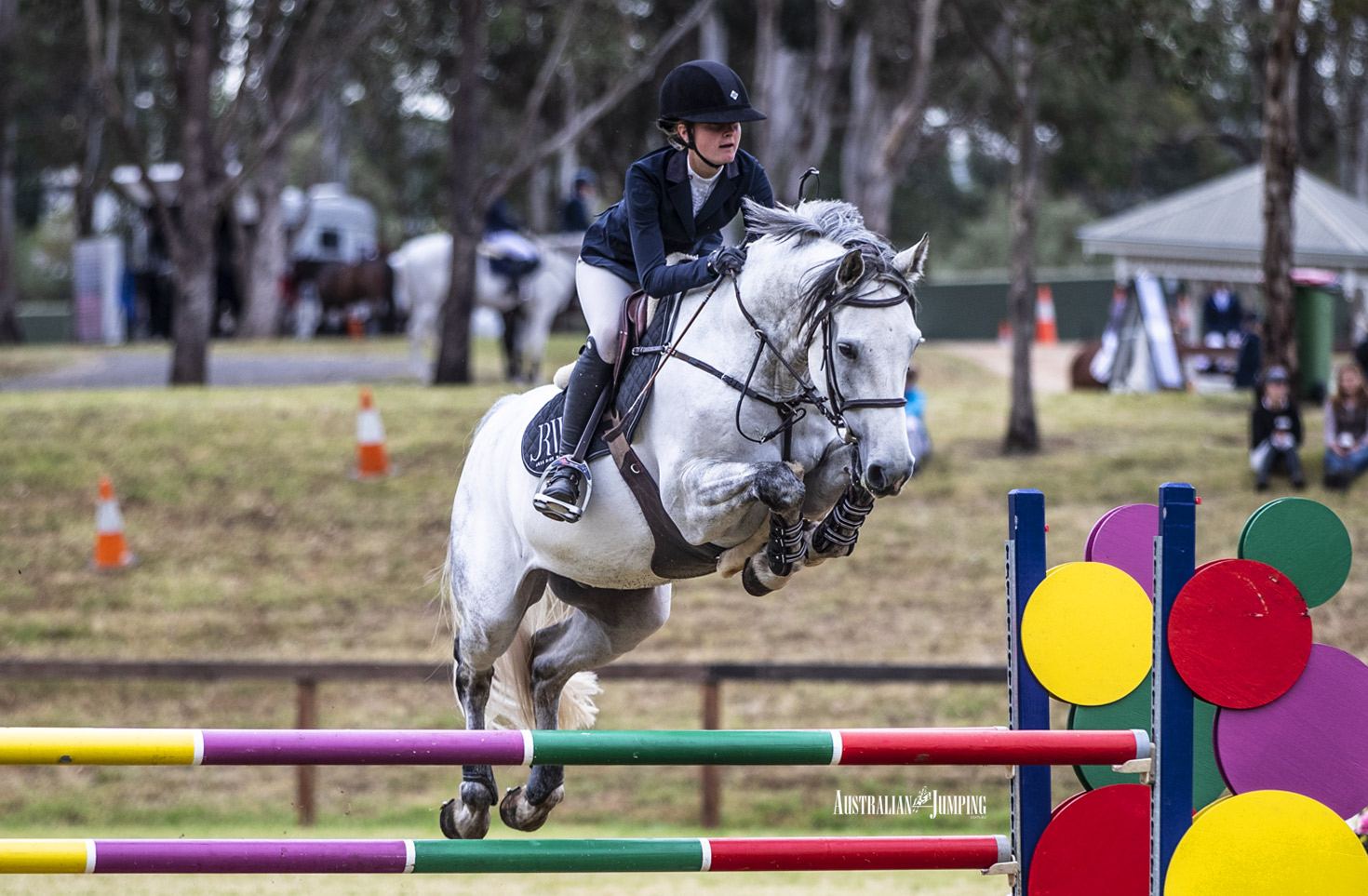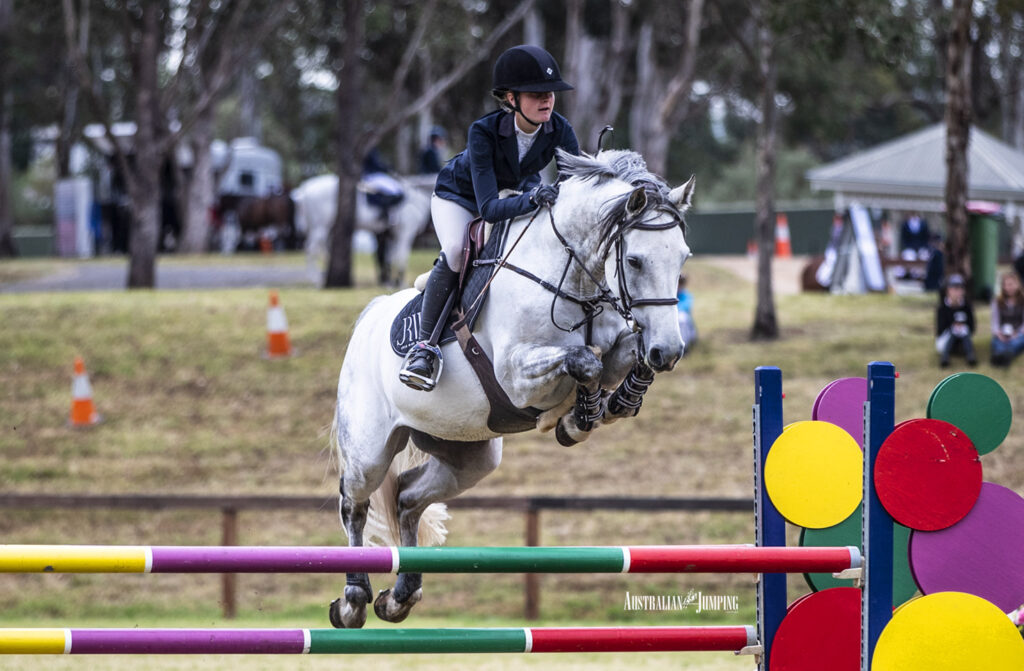 Jess Rice-Ward and Dinero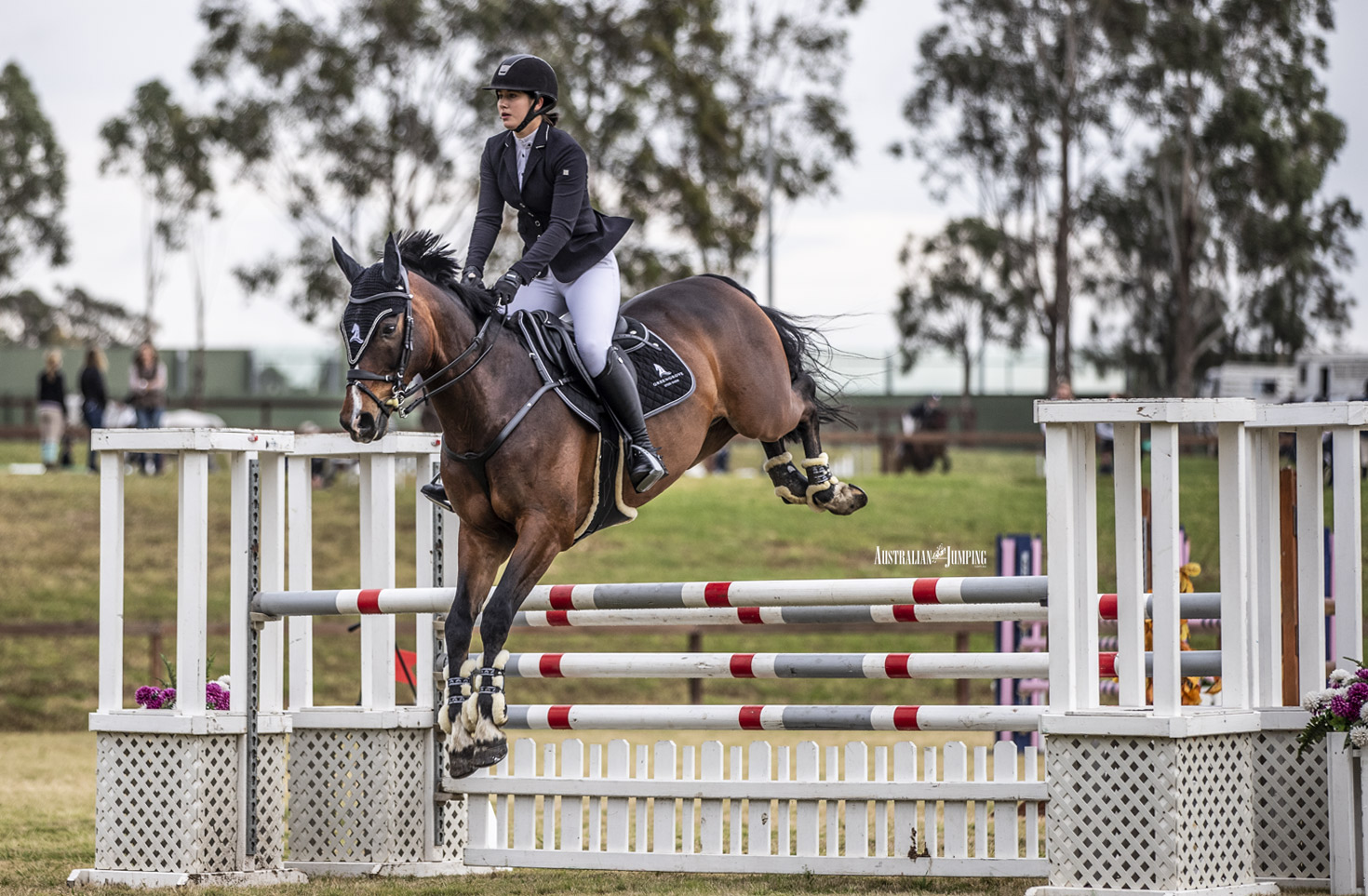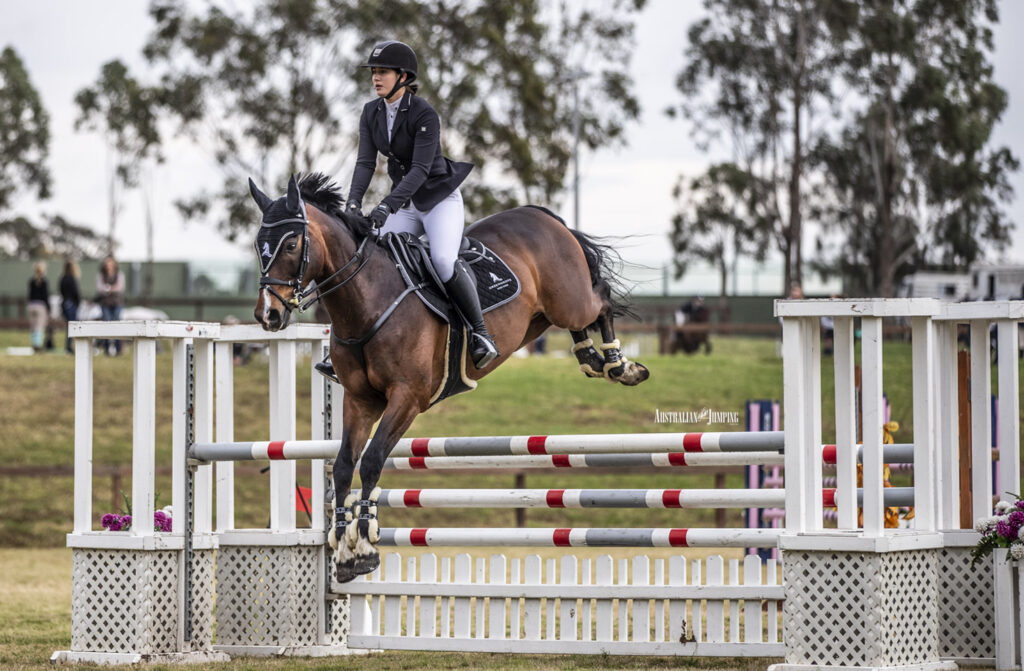 Paige McBain and Greengrove Rebel
CLASS 1B: Orangeville Performance Horses – Junior – 1.20m
The first six placings in this class were:
| | | |
| --- | --- | --- |
| PLACE | RIDER | HORSE |
| 1st | Lucy Locke | Quero Quero |
| 2nd | Clemency Hughes | Nicolette |
| 3rd | Lauren Routledge | Tamingas Bellhaven Colletto |
| 4th | Lucy Locke | Diamont |
| 5th | Olivia Chambers | Anjarro Stud Mischief |
| 6th | Olivia Chambers | Picobella |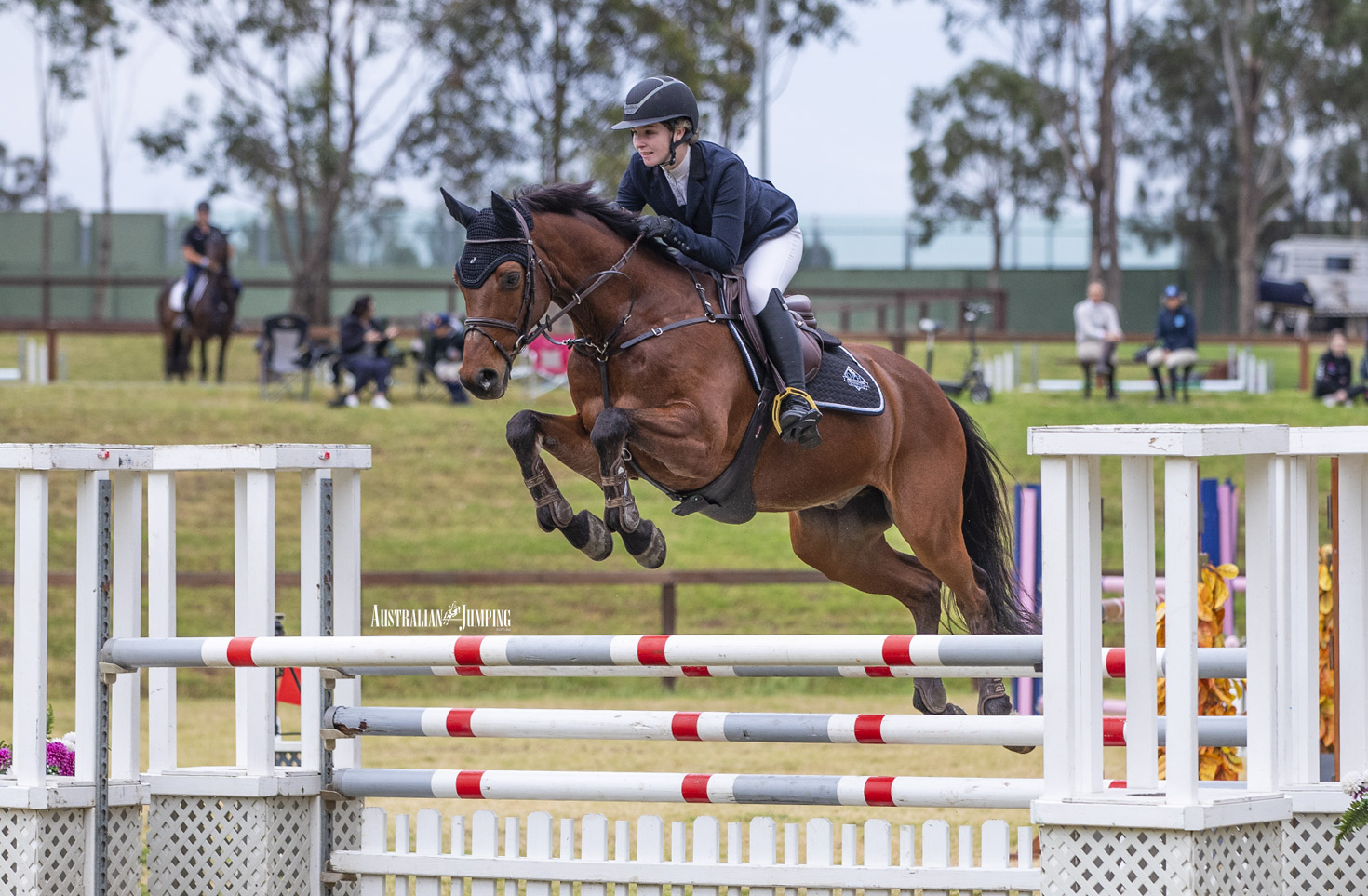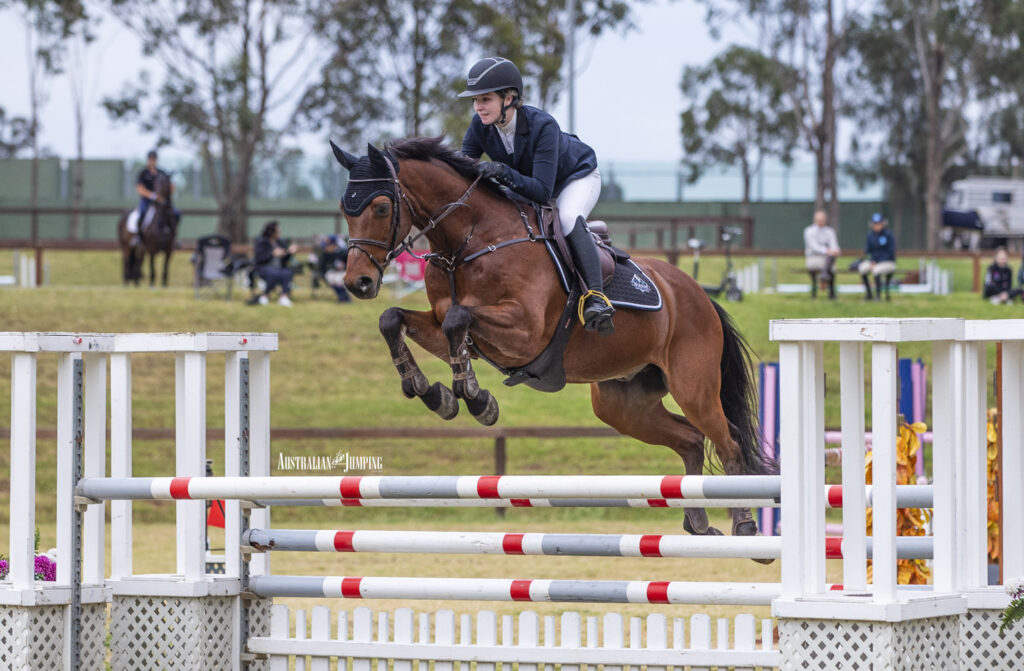 Lucy Locke and Quero Quero
CLASS 2A: Team Priestley – Open – 1.30m
The first six placings in this class were:
| | | |
| --- | --- | --- |
| PLACE | RIDER | HORSE |
| 1st | Tom McDermott | BS On Air |
| 2nd | Tom McDermott | Warraleigh Park Cortez |
| 3rd | James Paterson-Robinson | Riverton Rose Royale |
| 4th | Gabrielle Chugg | KG Queenie |
| 5th | Jess Brown | Redgum Conan |
| 6th | Brad Frankum | Oaks Calypso |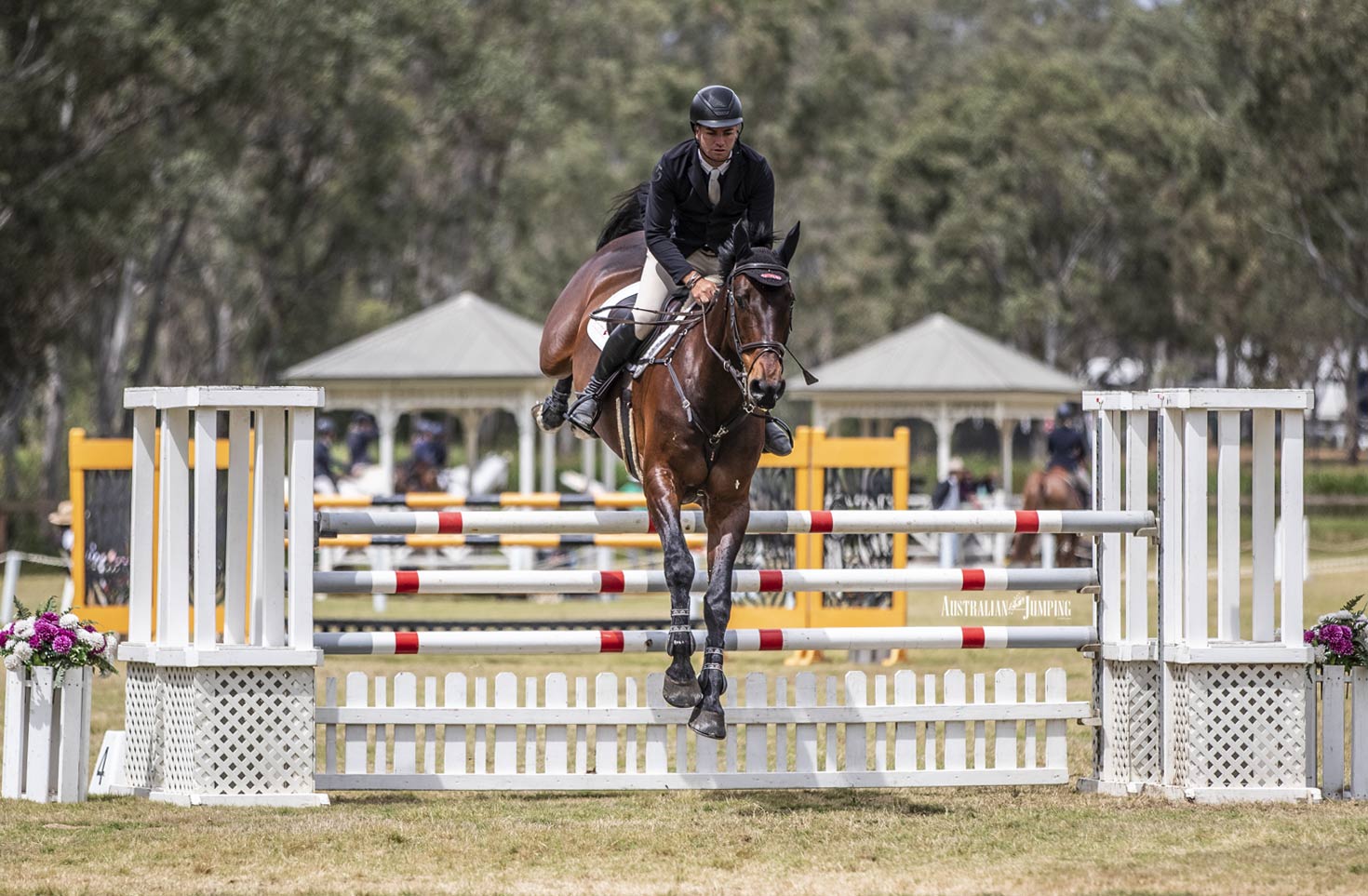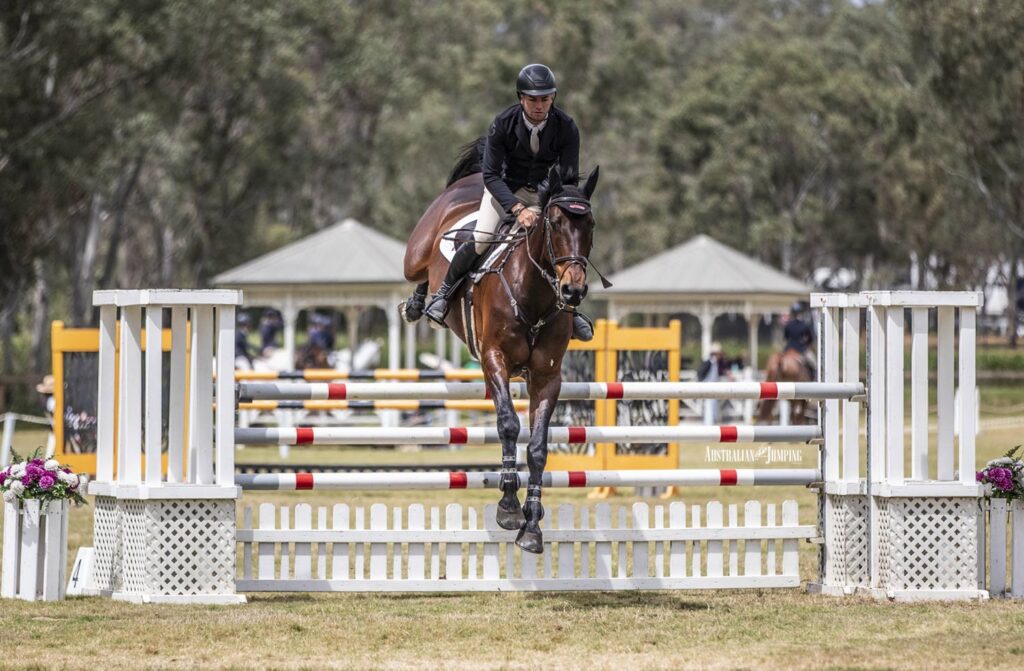 Tom McDermott and BS on Air
CLASS 2B: Kohnke's Own – Young Rider – 1.30m
The first six placings in this class were:
| | | |
| --- | --- | --- |
| PLACE | RIDER | HORSE |
| 1st | William Dight | Thea |
| 2nd | Madi Sinderberry | Aveden Indigo |
| 3rd | Jess Rice-Ward | CP Southern Cross |
| 4th | Anneliese Wansey | Kolora Stud St Patrick |
| 5th | Charlie Eason | Oaks Coolangatta |
| 6th | Clemency Hughes | Diamond B Corvina |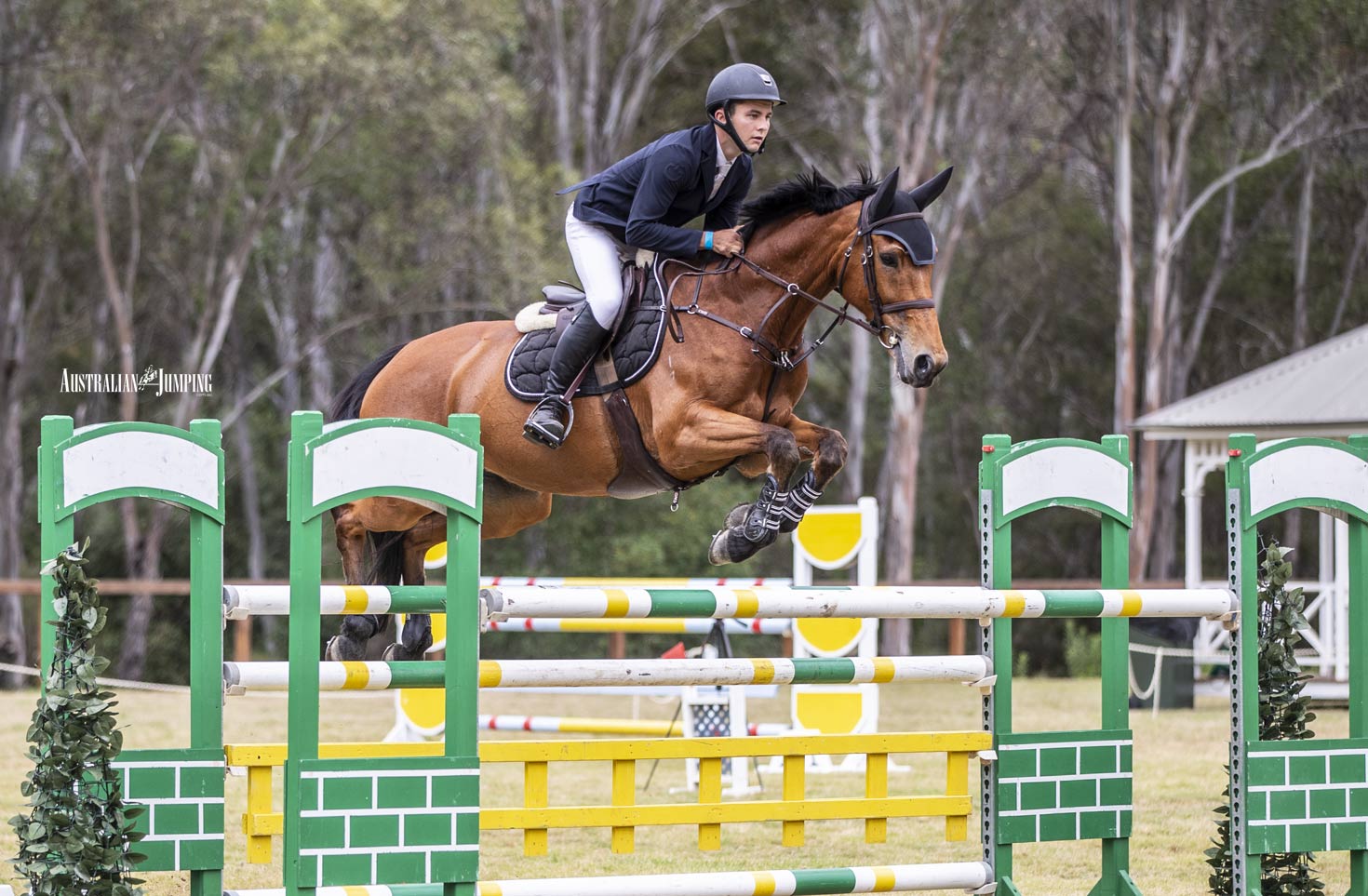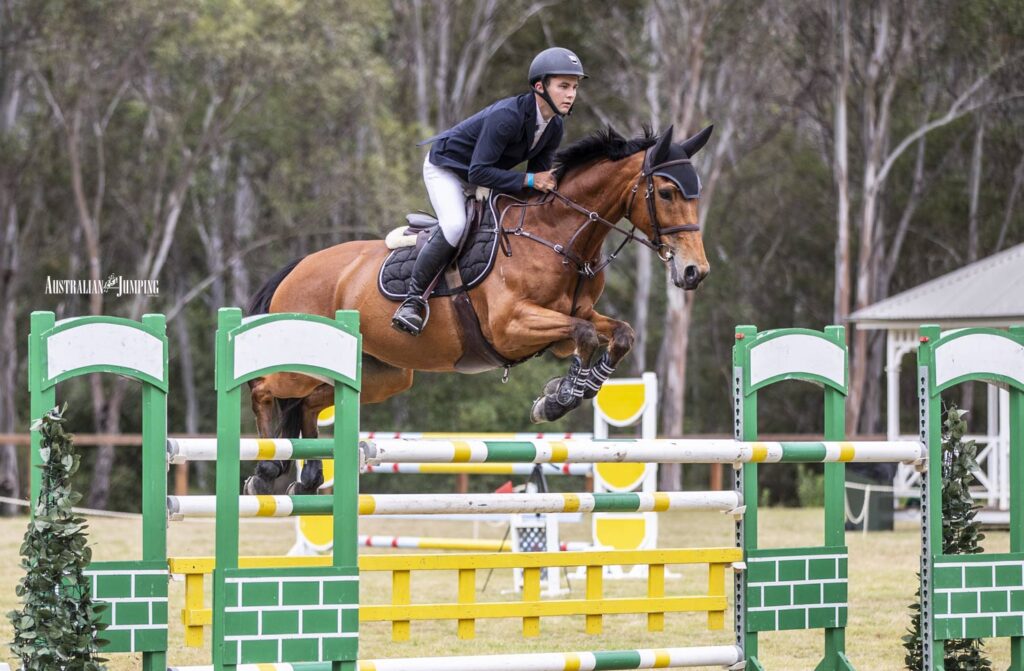 Will Dight and Thea
CLASS 3: Emcee Apparel – Open – 1.40m
The first six placings in this class were:
| | | |
| --- | --- | --- |
| PLACE | RIDER | HORSE |
| 1st | James Paterson-Robinson | Equador MVNZ |
| 2nd | Tom McDermott | Yalambis Finnigan |
| 3rd | Jamie Priestley | Courage |
| 4th | Tom McDermott | Cachassini II |
| 5th | Amanda Madigan | Diamond B Vivienne |
| 6th | Brad Frankum | Oaks Calypso |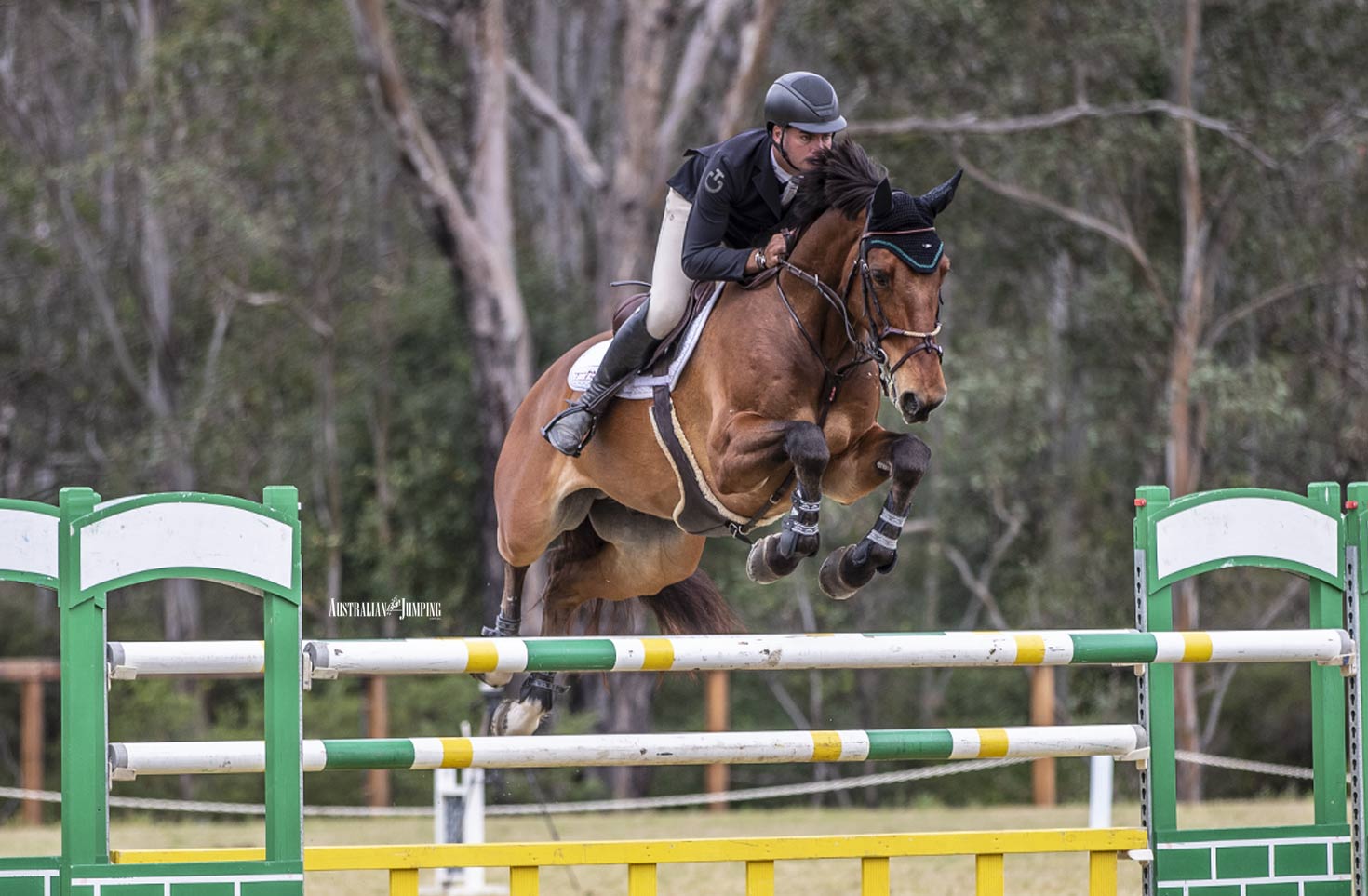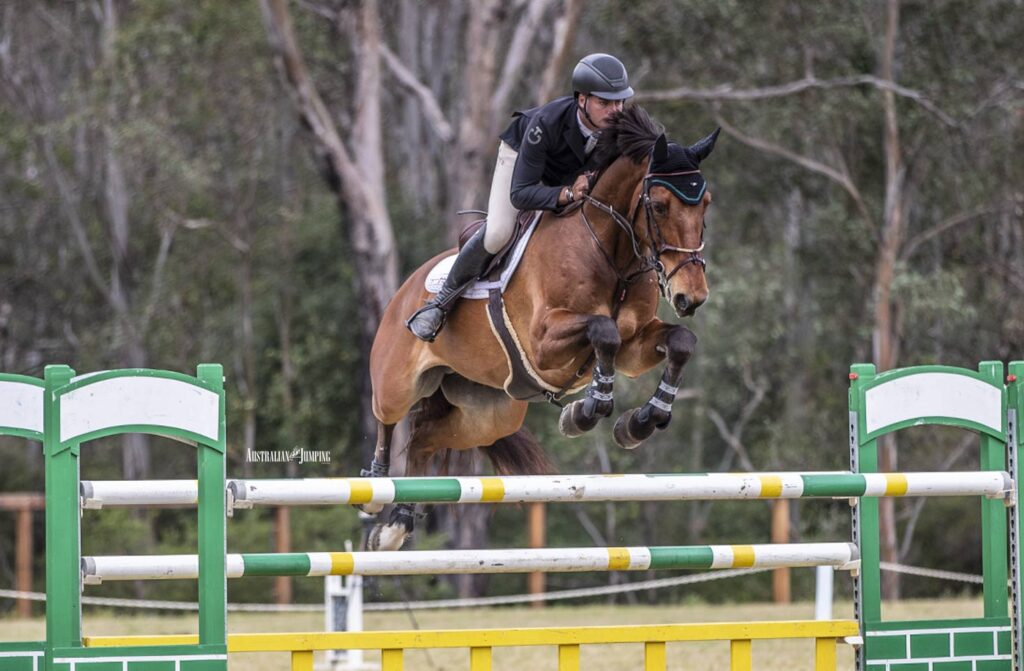 Tom McDermott and Yalambis Finnigan
CLASS 7A: Tom Sutherland Farrier Services – Open – 1.10m-1.15m
The first six placings in this class were:
| | | |
| --- | --- | --- |
| PLACE | RIDER | HORSE |
| 1st | Krissy Harris | Corvette GHP |
| 2nd | Jamie Priestley | Team Priestley Leda Ego Z |
| 3rd | Emme Smith | Balou Bell |
| 4th | Mikaela MacNamara | Oaks Colombia |
| 5th | Sarah-Louise McMillan | Bellhaven Cordina |
| 6th | Rhys Stones | Riverton Cassini Royale |
CLASS 7B: Junior – 1.10m-1.15m
The first six placings in this class were:
| | | |
| --- | --- | --- |
| PLACE | RIDER | HORSE |
| 1st | Aria Baker | That's Limo |
| 2nd | Lara Christoffelsz | Bellhaven Catatani |
| 3rd | Molly Stubberfield | Dalwin Artiste |
| 4th | Estella Dinnigan Wilkins | Cobra De Capello |
| 5th | Ella Hayward | Barrabadeen Calypso |
| 6th | Molly Stubberfield | Wallawest Kaos |
Advertisement

CLASS 7C: Amateur – 1.10m-1.15m
The first six placings in this class were:
| | | |
| --- | --- | --- |
| PLACE | RIDER | HORSE |
| 1st | Nikita Moore | Keilor Calico |
| 2nd | Kate Lee | Rosthwaite Balouna |
| 3rd | Kylie Hawkins | Callidor |
| 4th | Nathan Wood | Castell |
| 5th | Jacqui Kennett | Yalambis Illawarra |
| 6th | Georgia Leva | Redleaf Caprioska |
RING 2 – Sponsored by Trailrace
CLASS 4A: Junior – 0.90m
The first six placings in this class were:
| | | |
| --- | --- | --- |
| PLACE | RIDER | HORSE |
| 1st | Lochie Colquhoun | Tarampa View Patterson |
| 2nd | Ayla Ryan | Kiss This Spot |
| 3rd | Sophie Baldwin | Alcheringa Tradition |
| 4th | Lois Fleming | Cera Cadett |
| 5th | Pippa Walsh | Wonder Woman |
| 6th | Izzy Olivier | Yandoo Aphrodite |
CLASS 4B: Open – 0.90m
The first six placings in this class were:
| | | |
| --- | --- | --- |
| PLACE | RIDER | HORSE |
| 1st | Amanda Madigan | Verdict By Direction |
| 2nd | Sharon Beahan | Tichino Fiorucci |
| 3rd | Sue Middleton | Rudolph |
| 4th | Josh Collins | Cera Carinya |
| 5th | Bronte Webb | Cal |
| 6th | Emily Newman | Catch Me |
CLASS 4C: Oaks Sporthorses – 4-year-olds – 0.90m
The first six placings in this class were:
| | | |
| --- | --- | --- |
| PLACE | RIDER | HORSE |
| 1st | Madi Sinderberry | Blueberry R |
| 2nd | Jess Brown | Oaks Conspiracy |
| 3rd | Amanda Madigan | Diamond B Bleubry |
| 4th | Elaine Robl | Sagesse |
| 5th | Jamie Kermond | John Snow |
| 6th | Sarah Duggan | Diamond B Gem |
CLASS 5A: Open – 1.00m
The first six placings in this class were:
| | | |
| --- | --- | --- |
| PLACE | RIDER | HORSE |
| 1st | Sophie Baldwin | Alcheringa Tradition |
| 2nd | Lily-Rose Baxter | Foxhill Cruise |
| 3rd | Charlie Magnier | KEC Sophia |
| 4th | Sarah Lawley | Coppabella Valour |
| 5th | Tess McInerney | Yalambi's Fair Diamond |
| 6th | Melanie Heygate | Oaks Quebec |
CLASS 5B: Diamond B Farm Horses – 5-year-olds – 1.00m
The first six placings in this class were:
| | | |
| --- | --- | --- |
| PLACE | RIDER | HORSE |
| 1st | Amanda Madigan | Diamond B Bedazzled |
| 2nd | Amanda Madigan | Diamond B Baton Rouge |
| 3rd | Paige McBain | Greengrove Calle I |
| 4th | Emma Smith | Calabasas G |
| 5th | Tom McDermott | Yalambi's Kandy Ripple |
| 6th | David Cameron | RR Monster |
CLASS 6A: BJW Equine – Open – 1.05m-1.10m
The first six placings in this class were:
| | | |
| --- | --- | --- |
| PLACE | RIDER | HORSE |
| 1st | Charlotte Chambers | Amaretto MVNZ |
| 2nd | Krissy Harris | RR Corakai |
| 3rd | Jamie Kermond | John Snow |
| 4th | Elizabeth Koob | Diamond B Corino |
| 5th | Sarah Lawley | Coppabella Valour |
| 6th | James Hetherington | Keilor Kurrajong |
CLASS 6B: Junior – 1.05m-1.10m
The first six placings in this class were:
| | | |
| --- | --- | --- |
| PLACE | RIDER | HORSE |
| 1st | Charlie Magnier | Master Stevie G |
| 2nd | Ella Hayward | Barrabadeen Calypso |
| 3rd | Emma Peters | Liniano Ml |
| 4th | Molly Stubberfield | Wallawest Kaos |
| 5th | Molly Stubberfield | Dalwin Artiste |
| 6th | Callum Wald | JEP Texas |
CLASS 6C: Oaks Sporthorses – 5&6-year-olds – 1.05m-1.10m
The first six placings in this class were:
| | | |
| --- | --- | --- |
| PLACE | RIDER | HORSE |
| 1st | Jennifer Wood | Tulara Daquine |
| 2nd | Colleen Brook | Connollys Karachi |
| 3rd | Maddie Cox | Vamous B |
| 4th | Colleen Brook | Connollys Karuba |
| 5th | David Cameron | Oaks Excite |
| 6th | Jennifer Wood | Oaks 007 |
Results sourced from Global Entries Online
View Comments