Jumping in Sydney resumes after the big wet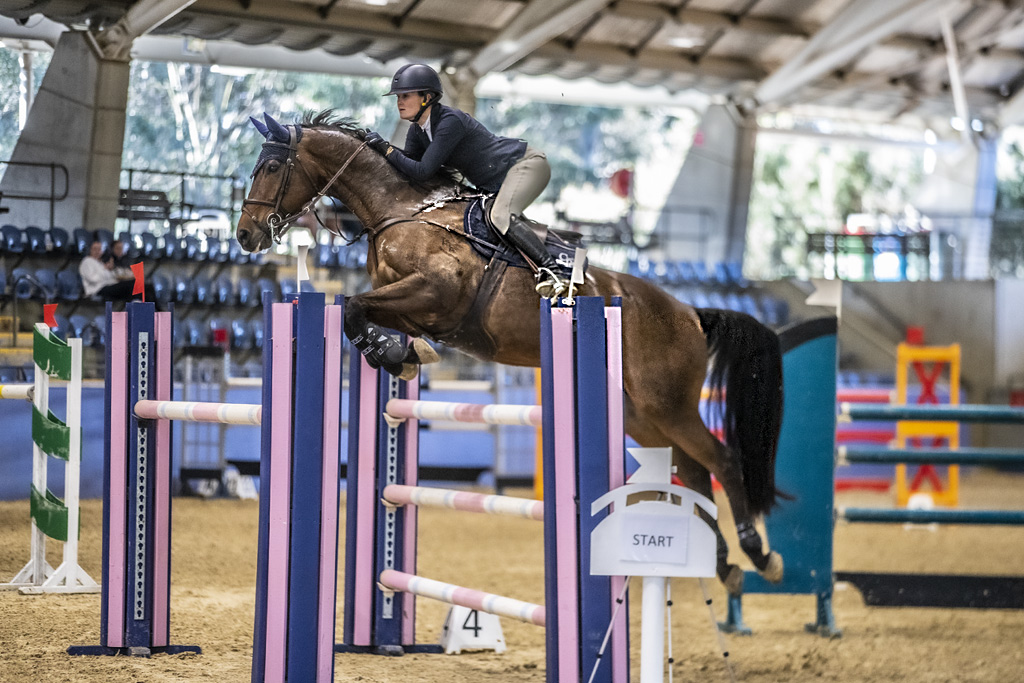 Australian Jumping
Above: Amelia Douglass and Finch Farm Cadel
Jumping NSW conducted their Winter Showjumping Classic over the weekend at the Sydney International Equestrian Centre (SIEC) which was a welcome return to competition after the deluge of rain that much of the east coast has been experiencing.
Advertisement


The feature class of the weekend was the Andoo Australia Open 1.40m class, which saw six combinations contest an exciting jump off, which produced four double clear performances. Fasted in the jump off were Amelia Douglass and Finch Farm Cadel, in a time of 33.80 seconds.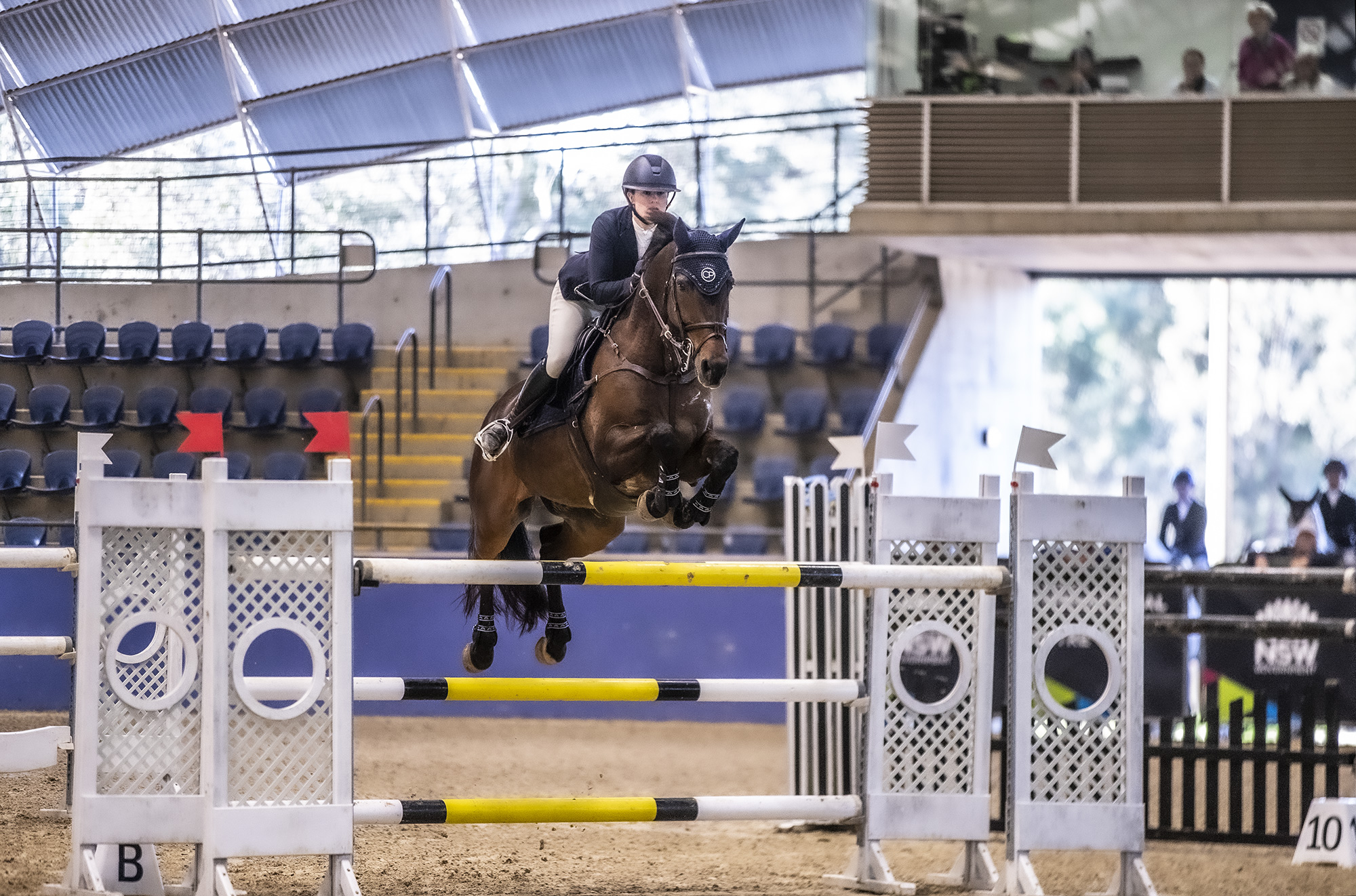 Above: Amelia Douglass and Finch Farm Cadel
Second, with a time of 34.47 seconds was Tom McDermott and his stunning stallion Cachassini II, with third place going to Amber Fuller and Nopal Van Tallaert, just 0.28 seconds behind.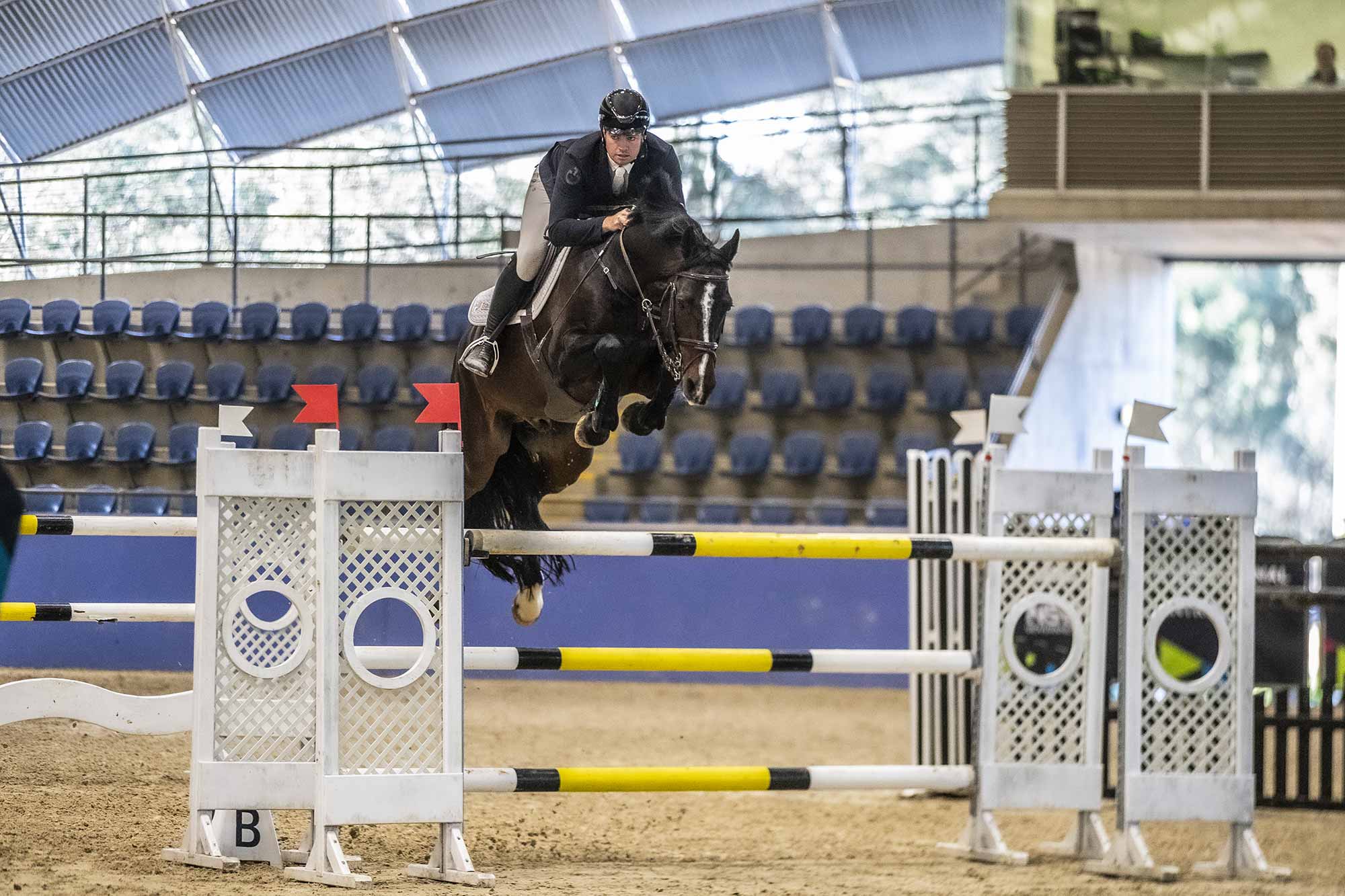 Above: Tom McDermott and Cachassini II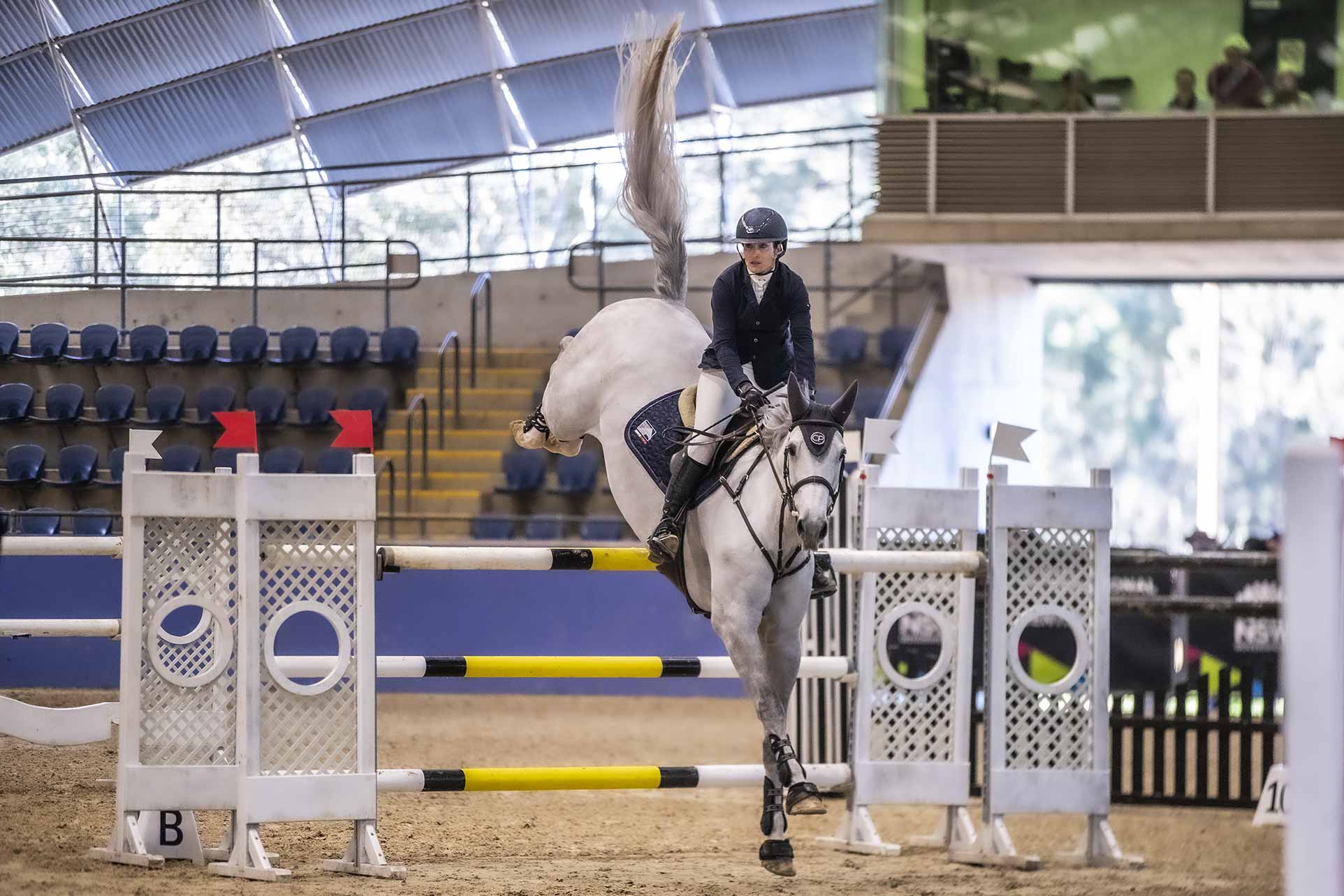 Above: Amber Fuller and Nopal Van Tallaert
The most successful riders of the show were Sophie Scarce and Makaylah Fenwick, who each won three classes. Scarce combined with three different horses, over the two days. She won with Daffodil The Frog in the Young Rider 1.20m class and with Fatalie in an pen 0.80m class of Saturday and followed that up with a Sunday win with Christella in the 1.20m competition for 6 and 7 year old horses.
Makaylah Fenwick and The Garrett combined to win Open 0.90m classes on both Saturday and Sunday as well as taking out the Open 1.00m class on Sunday with Grace and Glory.
Advertisement


Securing two victories on the weekend was the evergreen Andrew Inglis who combined with Laracas to take out both the Open 1.20m and open 1.30m classes on Saturday.
It was a great weekend of competition which we hope the weather allows much more of over the second half of 2022.
Congratulations goes to all the winners and placegetters over the two days. The first six combinations in all classes are listed below:
SATURDAY RESULTS
CLASS 1: GEOPRO FOOTING: OPEN – 1.10m
| | | |
| --- | --- | --- |
| PLACE | RIDER | HORSE |
| 1st | Mackenzie Patterson Hollibone | Vivajoy |
| 2nd | Charlie Magnier | Master Stevie G |
| 3rd | Alexandra Inglis | Diamond B Babybel |
| 4th | Jake Tomlinson | Vinchino |
| 5th | Charlie Magnier | Quinn Z |
| 6th | Jett Newman | Wanda |
CLASS 2A: JEIR PARK: OPEN – 1.20m
| | | |
| --- | --- | --- |
| PLACE | RIDER | HORSE |
| 1st | Andrew Inglis | Laracas |
| 2nd | Emily Riley | Rhapsody In Blue |
| 3rd | Colleen Brook | Connollys Karachi |
| 4th | George Riley | Valmira |
| 5th | Natalie Mohr | Dylano |
| 6th | Andrew Inglis | Alillie |
CLASS 2B: ANDREW INGLIS: YOUNG RIDER – 1.20m
| | | |
| --- | --- | --- |
| PLACE | RIDER | HORSE |
| 1st | Sophie Scarce | Daffodil The Frog |
| 2nd | Jess Rice-Ward | Dinero |
| 3rd | Milly Fisher | Yandoo Pasadena |
| 4th | Tyla Hackett | Global PH Cocofino |
| 5th | Abbey Kuiper | Cera Carlina |
| 6th | Ella Hayward | Edena DP |
CLASS 3: CHATHAM PARK: OPEN – 1.30m
| | | |
| --- | --- | --- |
| PLACE | RIDER | HORSE |
| 1st | Andrew Inglis | Laracas |
| 2nd | Andrew Inglis | Alillie |
| 3rd | Tess McInerney | Alpha Centauri |
| 4th | Sarah Duggan | Dublin |
| 5th | Madeline Sinderberry | Camie Z |
| 6th | Emma Smith | Oaks Abracadabra |
CLASS 4A: SPRING OAK VETERINARYREHABILITATION: OPEN – 0.80m
| | | |
| --- | --- | --- |
| PLACE | RIDER | HORSE |
| 1st | Sophie Scarce | Fatalie |
| 2nd | Emerson Stuchbery | Indiana Goodtimes |
| 3rd | Rose Read | India |
| 4th | Nikita Moore | Burrunbar Hot N Sassy |
| 5th | Jane Hemingway-Mohr | Victoria D'Ivraie |
| 6th | Vicki Roycroft | Wilson |
CLASS 4B: ANDREW INGLIS: JUNIOR RIDERS – 0.80m
| | | |
| --- | --- | --- |
| PLACE | RIDER | HORSE |
| 1st | Luiza Dias Marucio | Moonbah Ridge Truffles |
| 2nd | Evie Magnier | Mirabelle Patterson |
| 3rd | Molly Mooney | Blast Off |
| 4th | Olivia Wiesner | Napoleon |
| 5th | Alexa Garcia | Spirit |
| 6th | Lyon Tyndall | Louie |
CLASS 5: LEADING EDGE PERSONAL DEVELOPMENT: OPEN – 0.90m
| | | |
| --- | --- | --- |
| PLACE | RIDER | HORSE |
| 1st | Makaylah Fenwick | The Garrett |
| 2nd | Grace Maher | WS Raising Roxy |
| 3rd | Jasmine Spira | Avenly Bundy |
| 4th | Amelie Burns | Wyevale Shooting Star |
| 5th | Emerson Stuchbery | Indiana Goodtimes |
| 6th | Claudia Studdert | Sevante |
CLASS 6: PEPPERTREE ARCADIA: OPEN – 1.00m
| | | |
| --- | --- | --- |
| PLACE | RIDER | HORSE |
| 1st | Makaylah Fenwick | Grace And Glory |
| 2nd | Grace Maher | WS Raising Roxy |
| 3rd | Amelie Burns | Wyevale Shooting Star |
| 4th | Maria Jahnel | PPP San Hai |
| 5th | Tori Doak | Blackall Park Campari |
| 6th | Krissy Harris | Blue Flame AKA Blue Banjo |
SUNDAY RESULTS
CLASS 7A: WILLOW WOOD STABLES: OPEN – 1.20m
| | | |
| --- | --- | --- |
| PLACE | RIDER | HORSE |
| 1st | Charlie Magnier | Quinn Z |
| 2nd | Charlie Magnier | Master Stevie G |
| 3rd | Krissy Harris | Corvette GHP |
| 4th | Jeff Penza | Fireball |
| 5th | Milly Fisher | Yandoo Pasadena |
| 6th | Maverick Miles | Corakai |
CLASS 7B: DIAMOND B FARM: 6 & 7 YEAR OLD HORSES – 1.20m
| | | |
| --- | --- | --- |
| PLACE | RIDER | HORSE |
| 1st | Sophie Scarce | Christella |
| 2nd | Matt Irvine | Greengrove Calle I |
| 3rd | Tallara Cameron | Tulara Darkensky |
| 4th | Clara Palm | Tulara Lady Zirocca |
| 5th | Amanda Madigan | Diamond B Beyonce |
| 6th | William Mathew | KPH Maddison |
CLASS 8: EMCO EQUINE: OPEN – 1.30m
| | | |
| --- | --- | --- |
| PLACE | RIDER | HORSE |
| 1st | Madeline Sinderberry | Balentino |
| 2nd | Andrew Inglis | Alillie |
| 3rd | Milly Fisher | Pica Bleu |
| 4th | Andrew Inglis | Laracas |
| 5th | Isobel Guinness | Cassandro B |
| 6th | Tallara Cameron | Finch Farm Spruce |
CLASS 9: ANDOO AUSTRALIA: OPEN – 1.40m
| | | |
| --- | --- | --- |
| PLACE | RIDER | HORSE |
| 1st | Amelia Douglass | Finch Farm Cadel |
| 2nd | Tom McDermott | Cachassini II |
| 3rd | Amber Fuller | Nopal Van Tallaert |
| 4th | Amanda Madigan | Diamond B Vivienne |
| 5th | Amelia Douglass | Upper Class Z |
| 6th | Izabella Stone | Oaks Ventriloquist |
CLASS 10: CAMDEN HIRE: OPEN – 0.90m
| | | |
| --- | --- | --- |
| PLACE | RIDER | HORSE |
| 1st | Makaylah Fenwick | The Garrett |
| 2nd | Amy Thomson | Irish Reign |
| 3rd | William Hodgekiss | Twins Grand Zulu |
| 4th | Amy Thomson | Remembrance Day |
| 5th | Emerson Stuchbery | Indiana Goodtimes |
| 6th | Tori Doak | Blackall Park Campari |
CLASS 11: TOM MCDERMOTT: OPEN – 1.00m
| | | |
| --- | --- | --- |
| PLACE | RIDER | HORSE |
| 1st | Emerson Stuchbery | Indiana Goodtimes |
| 2nd | Makaylah Fenwick | The Garrett |
| 3rd | Teigan Matthews | Baloubell |
| 4th | Tori Doak | Blackall Park Campari |
| 5th | Tayla Norley | KPH Cholula |
| 6th | Jacqueline Basquil | Converse |
CLASS 12A: LONG MEADOWS STABLES: OPEN – 1.10m
| | | |
| --- | --- | --- |
| PLACE | RIDER | HORSE |
| 1st | Jacqueline Basquil | Converse |
| 2nd | Madeline Sinderbery | Oaks Kestrel |
| 3rd | Aoife Scanlon | Traleen Park Sir Bongin |
| 4th | Mark Atkins | Elite Partners |
| 5th | Emma Smith | Oaks Encryption |
| 6th | Rowena Mitchell | Kinnordy Gambler |
CLASS 12B: JUNIOR RIDERS – 1.10m
| | | |
| --- | --- | --- |
| PLACE | RIDER | HORSE |
| 1st | Harriet Stratton | Asham Riverman |
| 2nd | Aria Baker | That's Limo |
| 3rd | Emma Peters | Liniano ML |
| 4th | Makaylah Fenwick | Grace And Glory |
| 5th | Jake Tomlinson | Vinchino |
| 6th | Zara Smith | Catena |
Results sourced from Global Entries Online
View Comments