Local rider Andrew Inglis stars at Hawkesbury Show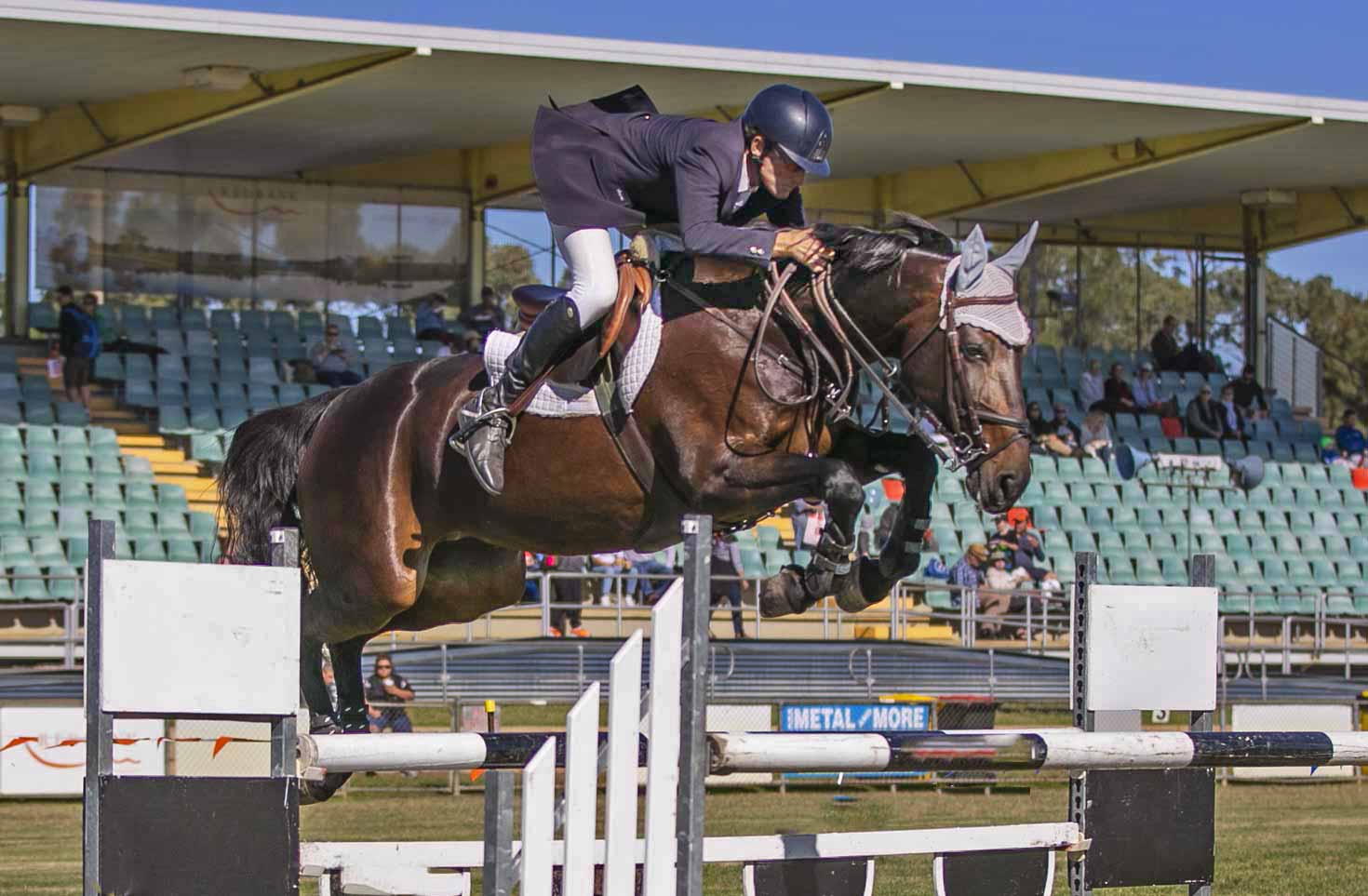 Australian Jumping
Above: Andrew Inglis and Alillie
Last weekend saw the 134th annual Hawkesbury Show held at the Hawkesbury Showgrounds at Clarendon, on the north-western outskirts of Sydney. With last year's Show cancelled due to COVID-19, huge crowds were attracted to the event, which was held under clear blue skies and in perfect autumn weather. Among a plethora of attractions and activities at the show, a very competitive Jumping program was scheduled across the Show with classes ranging from 0.45m to a Grand Prix.
Advertisement

The very experienced local rider Andrew Inglis was the star of the show. Inglis, who was a reserve for the Jumping team at the Sydney Olympics won the Open 1.25m class, the Speed Championship, the Mini-Prix, and the feature class, the Grand Prix.
The www.showbags.com.au sponsored Grand Prix drew a small but classy field. The 2018 Australian World Cup series winning combination of Aaron Hadlow and Vahlinvader were entered as was the current Australian Senior Champion Tom McDermott in combination with both Yalambi's Harvard and Yalambi's Finnigan, a horse he had success with at the recent Sydney Royal Show.
Advertisement


In the competition over two rounds, there were just five combinations who had clear first rounds, however only two of these could repeat the performance in the second round to tie on a total of zero penalties. Andrew Inglis from Maroota and Alillie were the fastest of these in the second round, finishing in 48.51 seconds, just ahead of Wilberforce's Tallara Cameron and Cassandro B in 48.74 seconds. Finishing with a time of 46.76 seconds, Josh Collins and Cornel would have taken the win if it wasn't for them taking just a single rail in the second round, had to settle for third place.
The first six placegetters in the Grand Prix were as follows:
CLASS 11: WWW.Showbags.com.au – Grand Prix
| | | |
| --- | --- | --- |
| PLACE | RIDER | HORSE |
| 1st | Andrew Inglis | Alillie |
| 2nd | Tallara Cameron | Cassandro B |
| 3rd | Josh Collins | Cornel |
| 4th | Tom McDermott | Yalambi's Finnigan |
| 5th | Aaron Hadlow | Vahlinvader |
| 6th | Emma Smith | Cordelia Ego Z |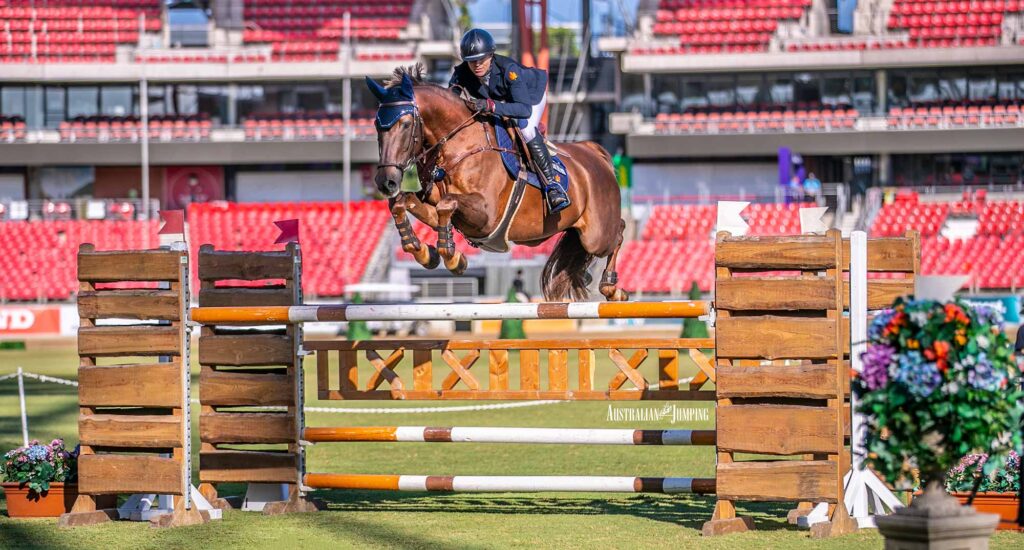 Tallara Cameron and Cassandro B earlier this month at Sydney Royal.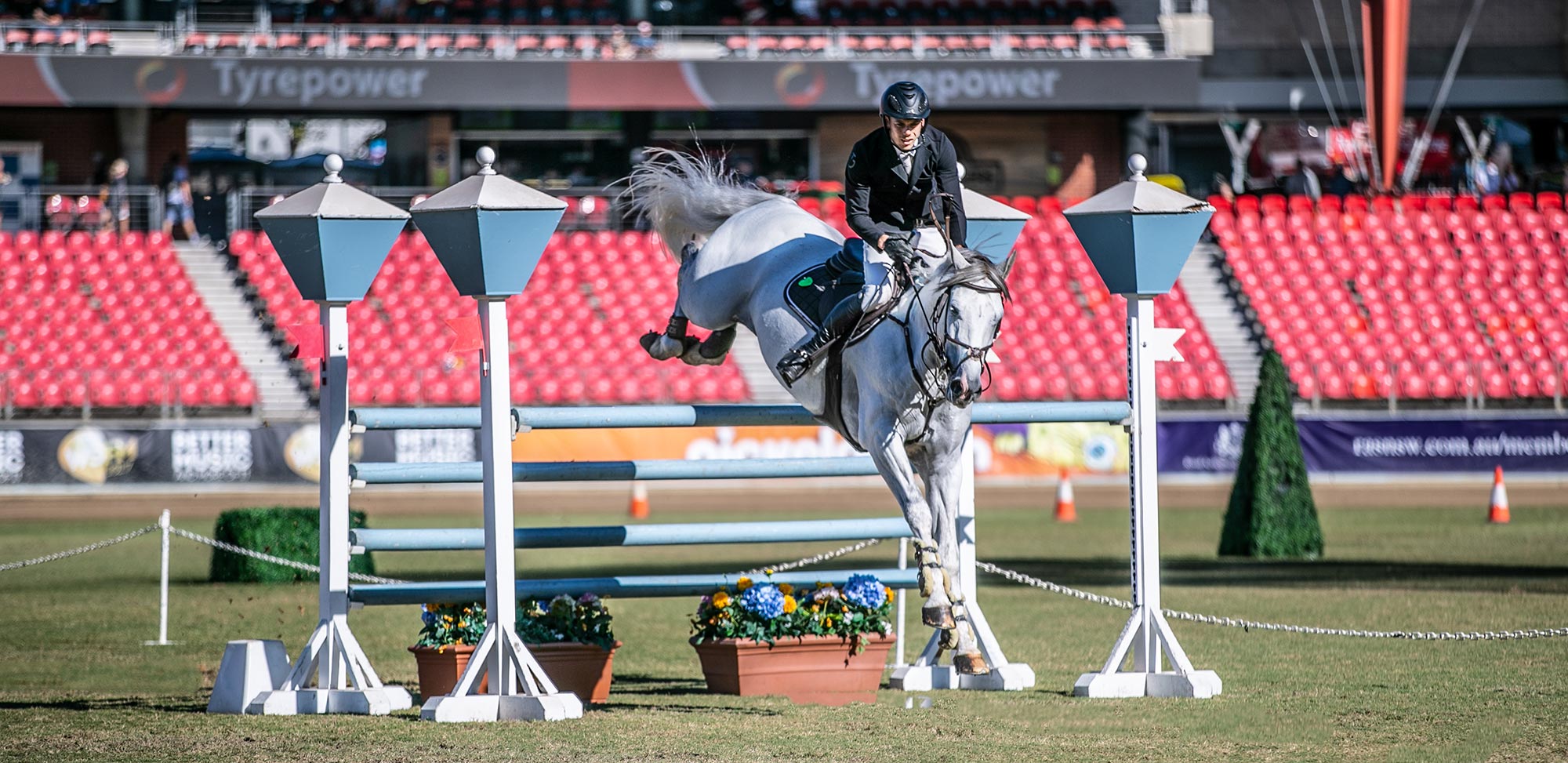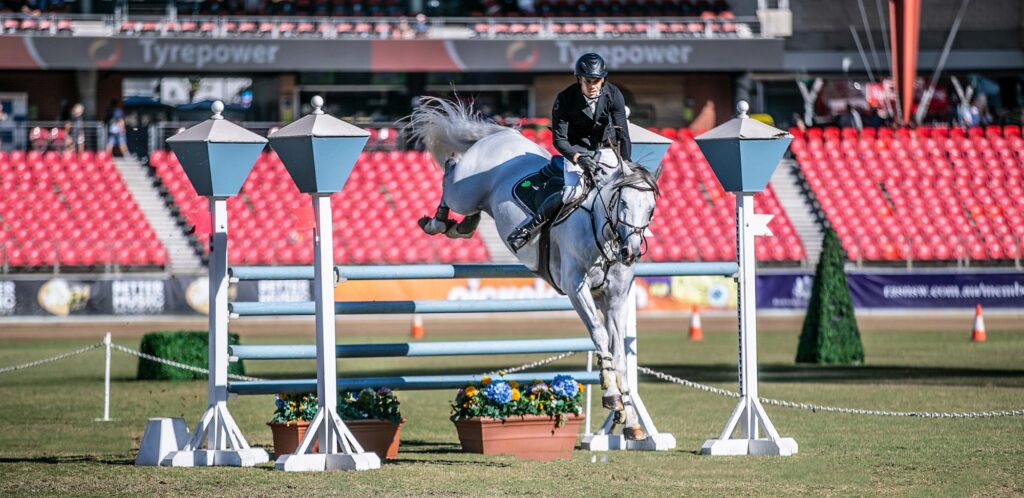 Josh Collins and Cornel earlier this month at Sydney Royal.
Congratulations goes to all the winners and placegetters over the course of the show.
The first six placings in all other classes are listed below.
CLASS 1: Annette Kohen – Open – 0.45m
| | | |
| --- | --- | --- |
| PLACE | RIDER | HORSE |
| 1st | Trista Mitchell | Kitra Park Dazzle Me |
| 2nd | Emily Conn | Dee |
| 3rd | Oliver Kings | Moonwind Park Philedelphia |
| 4th | Georgia Wiesener | Misty |
| 5th | Alexa Garcia | Spirit |
| 6th | Evie Magnier | Pencader Recital |
CLASS 2B: Annette Kohen – Open – 0.60m
| | | |
| --- | --- | --- |
| PLACE | RIDER | HORSE |
| 1st | Trista Mitchell | Kitra Park Dazzle Me |
| 2nd | Emily Conn | Ace |
| 3rd | Rylie Watson-Gill | TT Nikita Greenwood |
| 4th | Len Foster | Koonama Take A Bow |
| 5th | Kiara Radke | Black Hill Tornado |
| 6th | Georgia Cleary | Captain Chocolate |
CLASS 3B: Windsor Toyota – Open – 0.75m
| | | |
| --- | --- | --- |
| PLACE | RIDER | HORSE |
| 1st | Lily-Jane Burchett | TT Simply Priceless |
| 2nd | Olivia Dubois Mcintosh | TT Cedarhill Scooter |
| 3rd | Ashley Cutler | Fairlight R |
| 4th | Rylie Watson-Gill | TT Nikita Greenwood |
| 5th | Francesca Bull | TT Moonman |
| 6th | Maddison Morris | Bronson |
CLASS 4B: Windsor Toyota – Open – 0.90m
| | | |
| --- | --- | --- |
| PLACE | RIDER | HORSE |
| 1st | Georgia Cleary | Captain Tucker |
| 2nd | Olivia Dubois Mcintosh | TT Cedarhill Scooter |
| 3rd | Serina Ridge | Joey |
| 4th | Mackenzie Patterson Hollibone | Sunview Lenas Playboy |
| 5th | Lucie Aldridge | The Comet |
| 6th | Lochie Colquhoun | Tarampa View Patterson |
CLASS 9A: WWW.Showbags.com.au – Horses Under 20 points – 1.15m
| | | |
| --- | --- | --- |
| PLACE | RIDER | HORSE |
| 1st | Colleen Brook | Connollys Karachi |
| 2nd | Sam Watson | Finch Farm Cracker |
| 3rd | Jane Wilcox | Quantico |
| 4th | David Cameron | Oaks Excite |
| 5th | Emma Peters | Liniano ML |
| 6th | Tess McInerney | Quintation |
CLASS 9B: WWW.Showbags.com.au – Horses 20 points and over – 1.15m
| | | |
| --- | --- | --- |
| PLACE | RIDER | HORSE |
| 1st | Michelle Spiteri | Araluen Gold |
| 2nd | Tess McInerney | Holmwood Valentine |
| 3rd | Natalie Mohr | Dylano |
| 4th | Andrew Inglis | Indiana Goodtimes |
| 5th | Isabella Hughes | Beethoven |
| 6th | Clemency Hughes | Nicolette |
CLASS 10: WWW.Showbags.com.au – Open – 1.25m
| | | |
| --- | --- | --- |
| PLACE | RIDER | HORSE |
| 1st | Andrew Inglis | Indiana Goodtimes |
| 2nd | Sam Watson | Oaks Donatello |
| 3rd | Clemency Hughes | Nicolette |
| 4th | Emma Smith | Lumi |
| =5th | Ashley Cutler | Emcee Vagabond |
| =5th | Andrew Inglis | Laracas |
CLASS 12: Showbag Warehouse – Mini-Prix
| | | |
| --- | --- | --- |
| PLACE | RIDER | HORSE |
| 1st | Andrew Inglis | Laracas |
| 2nd | David Cameron | Alan 111 Z |
| 3rd | David Cameron | Halona |
| 4th | Lucie Aldridge | Ollie Olae |
| 5th | Clemency Hughes | Diamond B Corvina |
| 6th | Ashley Cutler | Kinnordy Rhena |
CLASS 14A: Windsor Toyota – Open – 0.90m
| | | |
| --- | --- | --- |
| PLACE | RIDER | HORSE |
| 1st | Jasmine Spira | Avenly Bundy |
| 2nd | Jessica Wilson-Aarsen | TT Moon Man |
| 3rd | Jett Newman | Armarndo Otis |
| 4th | Lauryn Vader | Survivor |
| 5th | Lily-Jane Burchett | TT Simply Priceless |
| 6th | Sharon Beahan | Happy |
CLASS 14B: Thoroughbred Sport Horse Association – Slipper Class – 0.90m
| | | |
| --- | --- | --- |
| PLACE | RIDER | HORSE |
| 1st | Lori James | Restauranter SHP |
| 2nd | Elaine Robl | Sagesse |
| 3rd | Martina Kovacs | Sterntaler Midnight Music |
| 4th | Jeremy Williams | Dalton |
| 5th | Katie Taliana | Puzzle Street |
| 6th | Emma Fontanot | Fidem Elpis Amor |
CLASS 15A: Windsor Toyota – Amateur – 1.00-1.05m
| | | |
| --- | --- | --- |
| PLACE | RIDER | HORSE |
| 1st | Lori James | Illusion SHP |
| 2nd | Jane Hemingway-Mohr | Victoria D'ivraie |
| 3rd | Stephanie Mackillop | TM For Your Eyes Only |
| 4th | Zara Watson | Elias C |
| 5th | Natalie De Souza | Romley Corsair |
| 6th | Abby West | Aniklas |
CLASS 15B: Windsor Toyota – Open – 1.00-1.05m
| | | |
| --- | --- | --- |
| PLACE | RIDER | HORSE |
| 1st | Jett Newman | Alley |
| 2nd | Lauryn Vader | Survivor |
| 3rd | Ashley Cutler | Fairlight R |
| 4th | Lily Jane Burchett | TT Simply Priceless |
| 5th | Jasmine Spira | Avenly Bundy |
| 6th | Jasmine Spira | Quin Marvel |
CLASS 15C: Thoroughbred Sport Horse Association – Group 4 Class – 1.00-1.05m
| | | |
| --- | --- | --- |
| PLACE | RIDER | HORSE |
| 1st | Molly Barry | La Muso |
| 2nd | Nicole Creighton-Jones | Rustic Fire |
| 3rd | Elaine Robl | Lucky Decision |
| 4th | Lori James | Restauranter SHP |
| 5th | Jeremy Inglis | Rusty |
| 6th | Elaine Robl | Sagesse |
CLASS 16A: Windsor Toyota – Jumping NSW Amateur Series – 1.15m
| | | |
| --- | --- | --- |
| PLACE | RIDER | HORSE |
| 1st | Natalie De Souza | Romley Corsair |
| 2nd | Jane Hemingway-Mohr | Victoria D'ivraie |
| 3rd | Jim Scobie | Boomerang Cafe |
| 4th | Ysolde Okumura-Jones | Valkyrja |
| 5th | Jim Scobie | Soxdown |
| 6th | Louise Barnes | Squirrels Hollow Sparrow |
CLASS 16B: Thoroughbred Sport Horse Association – Group 2 Class – 1.15m
| | | |
| --- | --- | --- |
| PLACE | RIDER | HORSE |
| 1st | Elissa Schneider | Carve It Up |
| 2nd | Sarah Dooley | River Phoenix |
| 3rd | Hayley Robl | Lucky Decision |
| 4th | Michelle Spiteri | Araluen Gold |
| 5th | Leila Wyrill | Jadan Park Acapella |
| 6th | Nicole Creighton-Jones | Rustic Fire |
CLASS 17A: Windsor Toyota – Speed Championship – 1.25m
| | | |
| --- | --- | --- |
| PLACE | RIDER | HORSE |
| 1st | Andrew Inglis | Indiana Goodtimes |
| 2nd | Ashley Cutler | Kinnordy Rhena |
| 3rd | Andrew Inglis | Laracas |
| 4th | Nicholas Taliana | Adesman |
| 5th | Ashley Cutler | Emcee Vagabond |
| 6th | Natalie Mohr | Dylano |
CLASS 17B: Thoroughbred Sport Horse Association – Speed Class – 1.25m
| | | |
| --- | --- | --- |
| PLACE | RIDER | HORSE |
| 1st | Tori Cureton | Double The Bank |
| 2nd | Elissa Schneider | Carve It Up |
| 3rd | Leila Wyrill | Jadan Park Acapella |
(only three placegetters in this class)
Results sourced from Global Entries Online
View Comments