Mixed results for Aussie show jumpers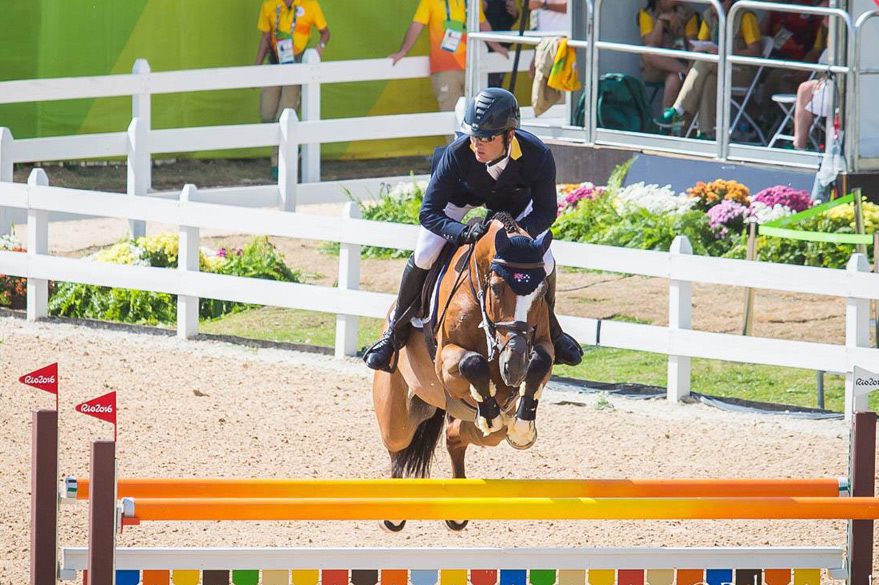 Rebecca Ashton
Source:AOC
Australia has bowed out of the team's show jumping competition but team members Edwina Tops-Alexander and Matt Williams remain alive in the individual event. To progress to Wednesday's team final the Aussies needed to finish the day in the top eight.
Matt Williams and Valinski S had the Aussies off to the best possible start with a clear round but penalties from other combinations and an elimination for Scott Keach will see the team finish in 13th position. Williams was again out first for Australia and his precise round put the team in good stead. Although the team's score was reset to zero, penalties from Sunday's qualifier still remain relevant in the individual event. It has Williams sitting on eight penalties and equal 30th position leading into Wednesday's third individual qualifier.
"My horse has got used to the atmosphere, he's got used to the ring so we went out there a little bit more relaxed and when he's relaxed he looks more fresh; he wakes up a bit," said Williams.
"I got him about 10 months ago, he's a very competitive horse. He tries really hard and he believes in me so it's a good combination."
Edwina Tops-Alexander, riding Lintea Tequila, picked up five penalties (four jumping, one time) but her clear round from Sunday combined with today's result has her ranked equal 26th which has her comfortably through to the third individual qualifier.
"My horse is jumping out of her skin, she is in such great shape," said Tops-Alexander. "I'm happy with the result, she couldn't have jumped better and she tried her heart out. Normally she hasn't got the bigger stride and she's eating up the strides here which is fantastic."
Scott Keach, representing Australia at his second Olympic Games, had an unfortunate fall at the water jump and was eliminated.
"He's been pretty consistent with it, he jumped it the other day fine," said Keach.
"He was very spooky, which is not normal for him. I had him very fresh because I wanted him to be jumping well for the rest of the week, maybe he was a little too fresh and spooky as a result."
It is also the end of the Games for James Paterson-Robinson who, with Amarillo, picked up nine penalties. Paterson-Robinson ends his second Olympic Games in 53rd position individually.
"He jumped very well, he was unlucky in the triple combination he stepped on his shoe and I think that's how he got the fault," said Paterson-Robinson. "But his jumping for the rest was very good. With the water he didn't jump far enough, it's a difficult water. I was happy with him."
The third jumping qualifier begins on Wednesday, day 12 of the Games, at 10am Rio time (11pm AEST).
There are three individual qualifiers (these also double as team rounds). The top 35 ranked combinations at the end of the third individual qualifier will progress to the individual final to be held on Friday.
Scores reset to zero for Friday's individual final which consists of two rounds (A & B). The top 20 will go through to round B.
Michelle Cook
olympics.com.au
View Comments