Olivia Hamood and Jane Fonda DVD take Riders' Cup win in Caboolture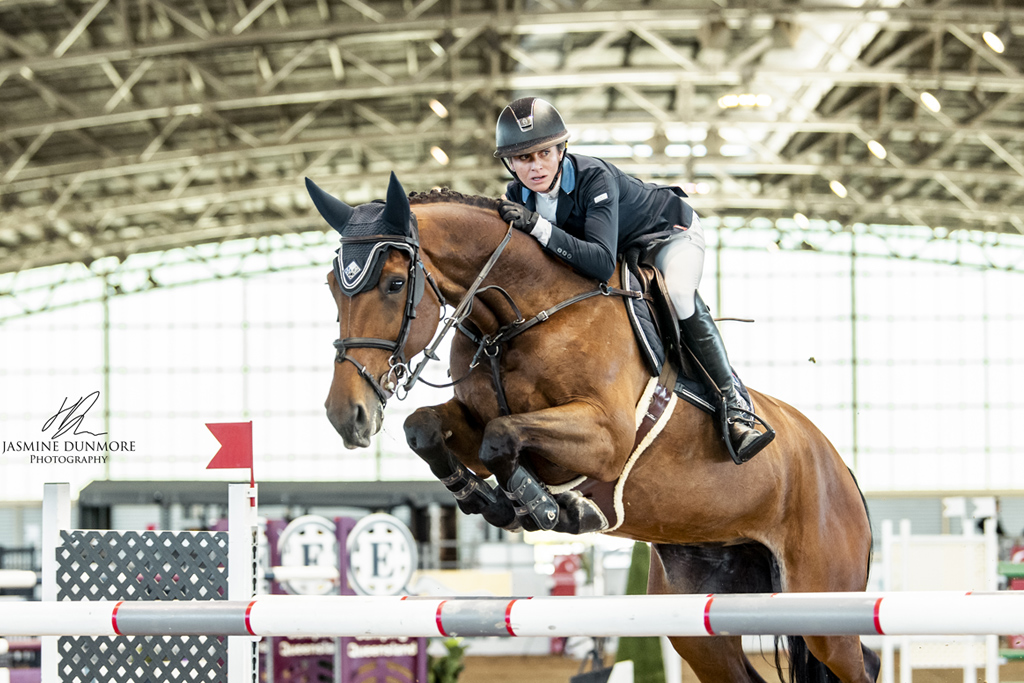 Jasmine Dunmore Photography
Above: Olivia Hamood and Jane Fonda DVD. Photo Credit: Jasmine Dunmore Photography.
The action has well and truly kicked off in Caboolture at the Queensland State Equestrian Centre (QSEC) for the 2022 Festival of Showjumping & Caboolture FEI World Cup.
Advertisement


Jumping started on Thursday with a few classes across two arenas then ramped up yesterday with classes filling up the day across the three arenas. The feature class in the indoor arena yesterday was the 1.45m Riders' Cup which saw 30 combinations tackle the Gavin Chester designed course over two rounds.  There were three clear's in Round 1 –  Queenslander's Olivia Hamood with Jane Fonda DVD and Sam Overton with Oaks Cassanova along with visitors from New Zealand Brooke Edgecombe and LT Holst Andrea. With Sam deciding to not to take part in the jump-off and Brooke taking a rail, it was Olivia who took the win with the the only double clear.
Advertisement


We  look forward with great anticipation to the World Cup Qualifier that starts this evening at 6pm.
See below for the results from the first two days of competition.
THURSDAY RESULTS
PEACHESTER LODGE ARENA
CLASS 1: FINCH FARM: OPEN – 1.15m
| | | |
| --- | --- | --- |
| PLACE | RIDER | HORSE |
| 1st | Courtney Scott | Quinzella Z |
| 2nd | Robert Freeman | ES Canada |
| 3rd | Robert Freeman | Saint Dunstan |
| =4th | Matt Gaske | Casell |
| =4th | Alexandra Inglis | Diamond B Babybel |
| 6th | Clinton Van Der Sanden | SE Campari |
CLASS 2: FINCH FARM: OPEN – 1.25m
| | | |
| --- | --- | --- |
| PLACE | RIDER | HORSE |
| 1st | Matthew Afford | La Luna Cucinelli |
| 2nd | Carly Overton | Pabello |
| 3rd | James Paterson-Robinson | Diamond B Baton Rouge |
| 4th | Rhys Stones | ES Ella |
| 5th | Jamie Priestley | Oaks Diamantina |
| 6th | Samantha Dernee | Centenda |
CLASS 3: FINCH FARM: OPEN – 1.15m
| | | |
| --- | --- | --- |
| PLACE | RIDER | HORSE |
| 1st | Hayley Morris | Ahava JBS |
| 2nd | Clem Smith | Quantico 12 |
| 3rd | Sam Overton | Oaks Cassanova |
| 4th | Clem Smith | Oaks Conjuror |
| 5th | Brock Harvey | Powerhouse Park Ego Roc |
| 6th | Hayley Morris | Corlara QSH |
FRIDAY RESULTS
PEACHESTER LODGE ARENA
CLASS 4: WILARK SPORTHORSES: Horses Under 40 points – 1.20m
| | | |
| --- | --- | --- |
| PLACE | RIDER | HORSE |
| 1st | Robert Goodwin | Caveton Park Legacy |
| 2nd | Brock Harvey | Thunderbolt |
| 3rd | Jessie Smith | SPR Pardoux |
| 4th | Tyrone Latham | Arion Carasun |
| 5th | Olivia Hamood | Diamond B Bedazzled |
| 6th | Robert Goodwin | Oaks Costa Rica |
CLASS 5: LDK SENIORS LIVING: THE RIDERS CUP – 1.45m
| | | |
| --- | --- | --- |
| PLACE | RIDER | HORSE |
| 1st | Olivia Hamood | Jane Fonda DVD |
| 2nd | Brooke Edgecombe | LT Holst Andrea |
| 3rd | Sam Overton | Oaks Cassanova |
| 4th | Izabella Stone | Tulara Stolzette |
| 5th | Tom McDermott | Cooley Gangster |
| 6th | Hayden James | James' Carrera |
CLASS 6A: KILCOY RURAL: YOUNG RIDERS – 1.30m
| | | |
| --- | --- | --- |
| PLACE | RIDER | HORSE |
| 1st | Cody Tincknell | James Continue |
| 2nd | Cody Tincknell | Screwdriver |
| 3rd | Phoebe Riordan | Diamond B Versailles |
| 4th | Simone Sorensen | Yalambis Karijini |
| 5th | Bella Du Plessis | Monte Carlo MVNZ |
| 6th | Bella Du Plessis | Onessa MVNZ |
CLASS 6B: ICEPACK: OPEN – 1.30m
| | | |
| --- | --- | --- |
| PLACE | RIDER | HORSE |
| 1st | Clem Smith | Quantico 12 |
| 2nd | Jamie Priestley | Oaks Diamantina |
| 3rd | Tom McDermott | Elegance De La Charmille |
| 4th | Gemma Creighton | Its Silkbridge |
| 5th | Courtney Scott | Second Chance |
| 6th | Bree Wiblen | Silverado EZ |
LDK ARENA
CLASS 12: GREG GRANT SADDLERY: UP AND COMING – 1.05m
| | | |
| --- | --- | --- |
| PLACE | RIDER | HORSE |
| 1st | Rockell Williamson-Rudder | DornAmour |
| 2nd | Matt Kidston | Finch Farm Carbon Copy |
| 3rd | Carly Overton | Oaks Conspiracy |
| 4th | Sarah Upton | Super Nova BEP |
| 5th | Clinton Van Der Sanden | SE Kahlua |
| 6th | William Wood | Westie |
CLASS 13A: GREG GRANT SADDLERY: JUNIORS – 1.10m
| | | |
| --- | --- | --- |
| PLACE | RIDER | HORSE |
| 1st | Shani Massignani | Esscort Dominator |
| 2nd | Mack Rudder | Springvale Stalymag |
| 3rd | Skye Hosie | Bellrego |
| 4th | Mackenzie Patterson-Hollibone | Vivajoy |
| 5th | Cody Tincknell | Diamon J Connect The Dots |
| 6th | Jasmine Jensen | Delphine NZPH |
CLASS 13B: EMCO EQUINE: OPEN – 1.10m
| | | |
| --- | --- | --- |
| PLACE | RIDER | HORSE |
| 1st | Anna White | Body Builder |
| 2nd | Anita Bridge | Genuine Princess |
| 3rd | Ashlee Christensen | Laurel Glen Harleys Girl |
| 4th | Simar Singh | Bolong Park Kervachi |
| 5th | Jodie Skeels | Laurel Glen Tupelo Honey |
| 6th | Michael Short | Belle Phlynn Park Carmichael |
CLASS 14A: GREG GRANT SADDLERY: JUNIORS – 1.20m
| | | |
| --- | --- | --- |
| PLACE | RIDER | HORSE |
| 1st | Emmy Ravenscroft | Sacrefemme |
| 2nd | Emmy Ravenscroft | Forever |
| 3rd | Olivia Hewitt-Toms | Lushious Lexie |
| 4th | Ryly Zoellner | Finch Farm Tatijana |
| 5th | Lily Short | Finch Farm Delto |
| 6th | Olivia Hewitt-Toms | Celerity Park LM Star |
CLASS 14B: JPR EQUESTRIAN: OPEN – 1.20m
| | | |
| --- | --- | --- |
| PLACE | RIDER | HORSE |
| 1st | Sophie Fisher | Zara PPH |
| 2nd | Paige Johnson | Lilivale Falks Prince |
| 3rd | Gemma Creighton | Ricochet CG |
| 4th | Blake Jones | Limo |
| 5th | Deziree Roos | Powerful Sphere |
| 6th | Philip Knight | Pippins D'Mae |
BASSETT BARKS ARENA
CLASS 21: JASMINE DUNMORE PHOTOGRAPHY: OPEN – 0.80m
| | | |
| --- | --- | --- |
| PLACE | RIDER | HORSE |
| 1st | Heidee Grisbrook | It's What |
| 2nd | Ellisha Wade | Princess |
| 3rd | Hayley Morris | Ester |
| 4th | Nicky Meredith | Dora |
| 5th | Arabella Wilson | Painted Princess |
| 6th | Melanie Webb | Magic Springs |
CLASS 22A: GALLAGHER INSURANCE BROKERS: OPEN – 0.90m
| | | |
| --- | --- | --- |
| PLACE | RIDER | HORSE |
| 1st | Jasmine Jensen | Wondaree Odin |
| 2nd | Anita Bridge | Genuine Article |
| 3rd | Emily Uebergang | Catalina Dream LLP |
| 4th | Bella Youngberry | Galaxy Guru YPT |
| 5th | Alex Martin | Chasing The Dream |
| 6th | Aaron Williamson | Wilark Q Reign |
CLASS 22B: PENELOPE STORE: CHILDREN U/14 YEARS – 0.90m
| | | |
| --- | --- | --- |
| PLACE | RIDER | HORSE |
| 1st | Finnigan Bazzan | CC's Astro Girl |
| 2nd | Harriet Smith | Im A Cowboy |
| 3rd | Kaya Zielinski | Lady Of Diamonds |
| 4th | Jameson Bazzan | Zippity Doo Dah |
| 5th | Holly Taunton | Nawarrah Austin Powers |
| 6th | Holly Taunton | Celerity Park Regal Jester |
CLASS 23: ETHEREAL EQUESTRIAN: OPEN – 1.00m
| | | |
| --- | --- | --- |
| PLACE | RIDER | HORSE |
| 1st | Simone Sorenson | Bayview Wishlist |
| 2nd | Scarlett McKimmie | Animatrix |
| 3rd | Chloe Barlow | Devil Wears Prada |
| 4th | Ella Butel | Vakarra Cayerado |
| 5th | Sam Overton | Lagertha |
| 6th | Claire Crocombe | It's Escort |
Results sourced from online.equipe.com
View Comments