Olympic showjumper and ex-eventer Scott Keach: An exclusive interview
Seumas Marwood
Scott Keach was born in Tasmania, grew up in Western Australia and lived in South Australia where he went to high school and university. He represented Australia at the 1988 Seoul Olympics on the Eventing Team, alongside Andrew Hoy, Barry Roycroft and David Green and again represented Australia at the 2016 Rio Olympics – this time on the Jumping Team.
Scott was recently shortlisted on the Australian Jumping team for WEG 2018 and our Freelance Reporter Seumas Marwood caught up with Scott a couple of weeks ago to have a chat with him about his early riding days, his experiences as an eventer and his eventual switch to jumping. This wide-reaching interview goes on to cover the challenges Scott faced in the lead up to the Rio 2016 Olympics, his current team of horses and the state of jumping in the US and the opportunities that exist there for Australian riders looking to compete on the international stage. Finally, Scott shares his thoughts on WEG and the preparations he is making in the lead up.
We hope you enjoy listening to this interview.
---
Seumas Marwood – Australian Jumping Freelance Reporter
We are delighted to introduce Seumas Marwood. Seumas has had a long and distinguished career as an eventer. He has ridden at the top level for almost 40 years, having competed overseas at Badminton and Luhmuhlen and in numerous Australian CCI4* events. As an Australian selector, Seumas has served two terms as an Olympic and WEG selector and was Chairman of selectors for Eventing. He was the Riders Representative on Equestrian Australia's National Eventing Committee from 1997 until 2004.
His media work has taken him back to the Badminton Horse Trials as a press representative for Equestrian Australia and he has prolific commentary experience at Adelaide CCI4*, Melbourne CCI3* and Sydney CCI3* events.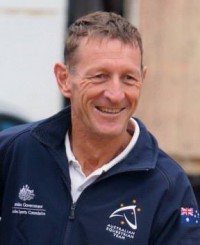 View Comments