Raymont Reigns at Queensland Indoor Titles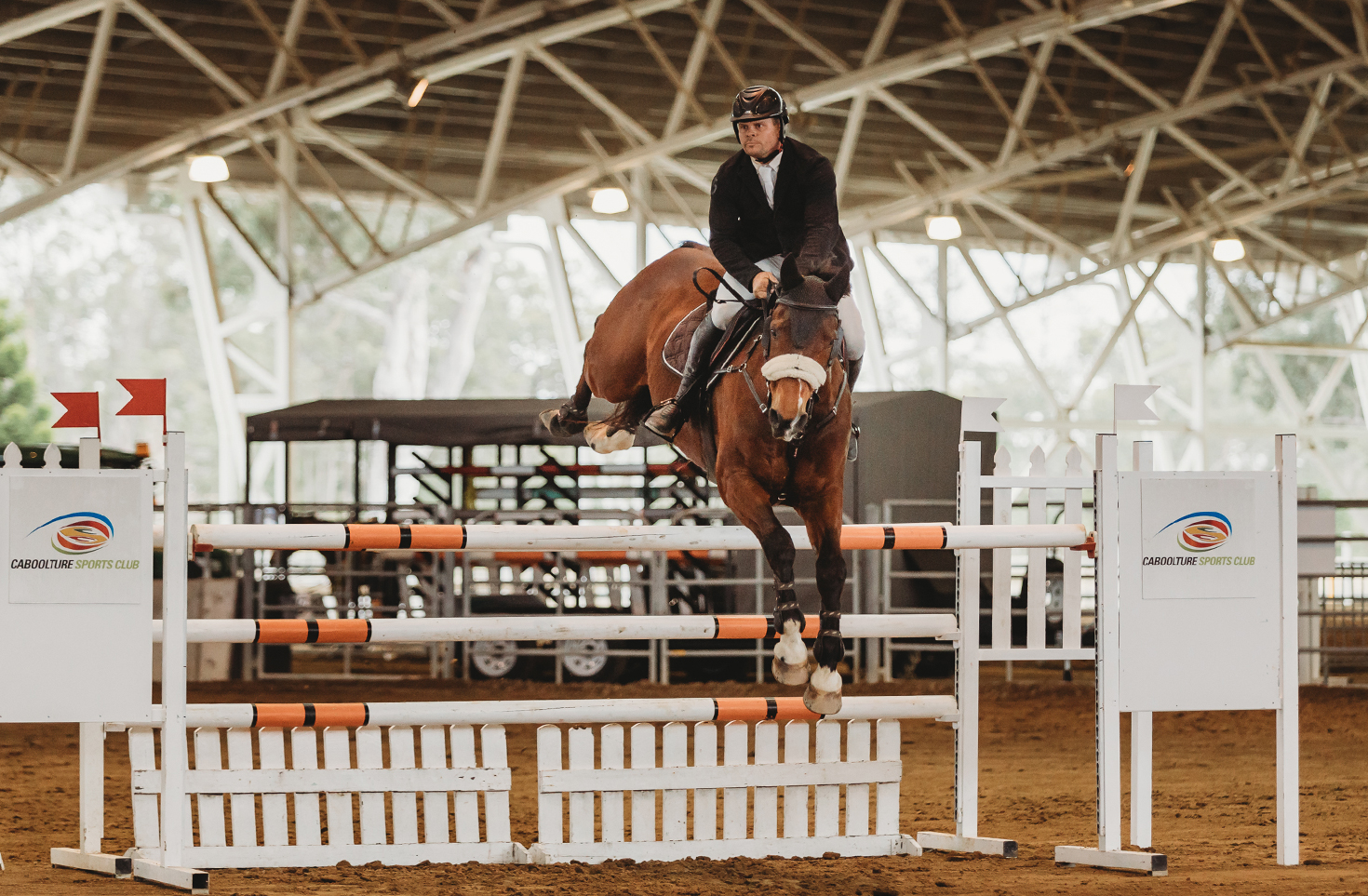 Equico Studios
Above: Billy Raymont and Anton. Photo credit: Equico Studios
The Queensland Showjumping Club held its September Classic Show last weekend, which incorporated the Jumping Queensland Indoor Championships. Held at the Queensland State Equestrian Centre at Caboolture over two days the action filled the main indoor arena as well as two outdoor ones.
Advertisement


Saturday saw the West Vets Amateur Queensland Indoor Championship decided with the win going to Jessie Knight in combination with the Vivant gelding Vidori, in a wonderful double clear performance. They took the win by almost 2 seconds from the only other double clear combination, Holly Penfold and Just Dutch. Nicole Murphy and JayEm Amablique followed up their clear first round with a single rail in the jump-off, to secure third place.
Held on Saturday evening, the last class of the day in the Indoor Arena was the H&H Equestrian sponsored Junior Queensland Indoor Championship. In the same arena that she competed in the first round of the Australian Jumping Teams League back in June, it was local star Maleah Lang-McMahon who stole the show. With two nominations in the class, she managed to complete clear rounds on both to qualify for an eight combination jump-off, in which she again went clear twice in times swift enough to fill first and second placings. Combining with the 11-year-old gelding Finch Farm Carlsberg, a sizzling jump-off time of 30.38 seconds secured the win by almost two seconds from another gelding, Royal Talisman, a horse we are more used to seeing in Eventing competition. Kaitlyn Parlevliet combined with a gelding owned by her parents, Koyuna Galaxy, to take third, a mere 0.05 seconds off second.
Advertisement


The Kennedy Home Future Stars Queensland Indoor Championship was decided on Sunday and was taken out by Hayley Morris and a young mare she owns, Lady Constance, in a three-way jump-off. Despite taking a rail, their time was over two seconds faster than second placed, Robert Goodwin and Oaks Costa Rica, who also took a single rail in the jump-off. Another mare, also ridden by Hayley Morris, Corlara QSH, had a slow jump-off, however finished third.
Hayley Morris and Lady Constance. Photo credit: Equico Studios.
Once again demonstrating her quality, the Icepack Queensland Young Rider Indoor Championship was won by Maleah Lang-McMahon and the Chacco Blue mare PSS Chantilly in another double clear performance. The only other double clear performance was delivered by Brooke Dougall and My Locky to fill second place, while Tara Khan and Lanardo combined to take third.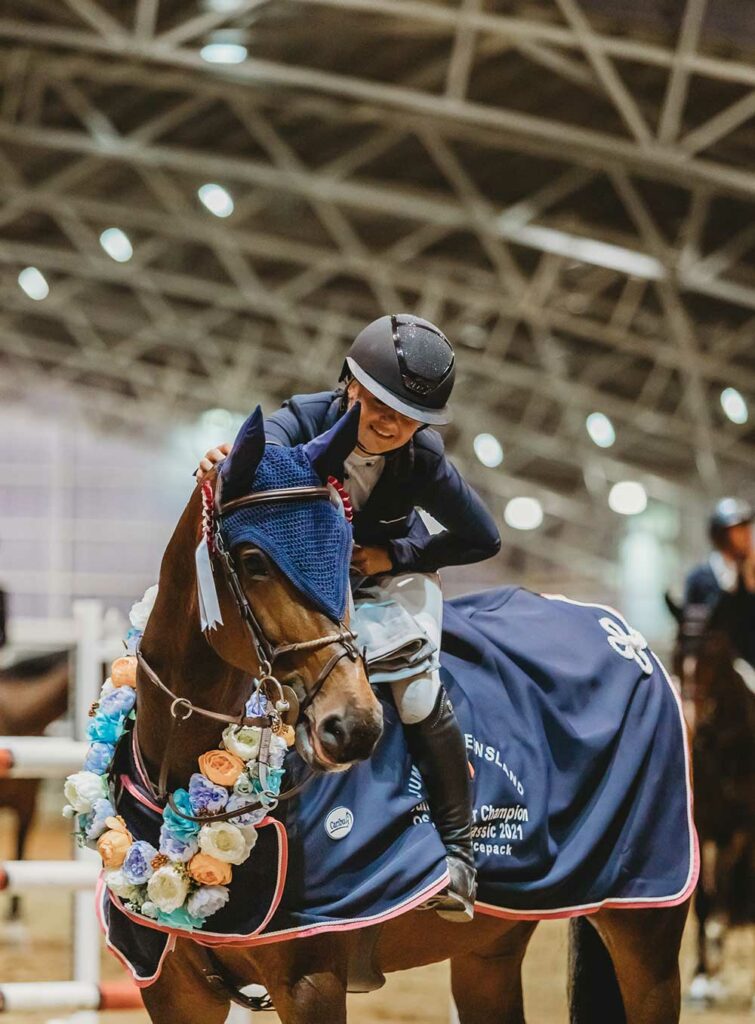 Maleah Lang-McMahon and PSS Chantilly. Photo credit: Equico Studios
A trio of sponsors, namely, Genelite, Healey Racing and Coast 2 Coast Horse Transport put their name to the Senior Queensland Indoor Championship which was conducted on Sunday afternoon, in a class that was nominated by Australian Representative rider Billy Raymont. Raymont combined with the only two horses to record double clear rounds to secure both first and second place for himself. Partnered with Anton who is now 18-years-old, they finished the jump-off some 2.5 seconds faster than Brooke Langbecker's former mount, Black Jack IXE in second. Third place went to Sam Overton and Oaks Cassanova, who recorded just a single rail in the jump-off. Fourth and fifth place went to Olivia Hamood and Knock Out 111 and Jane Fonda DVD respectively.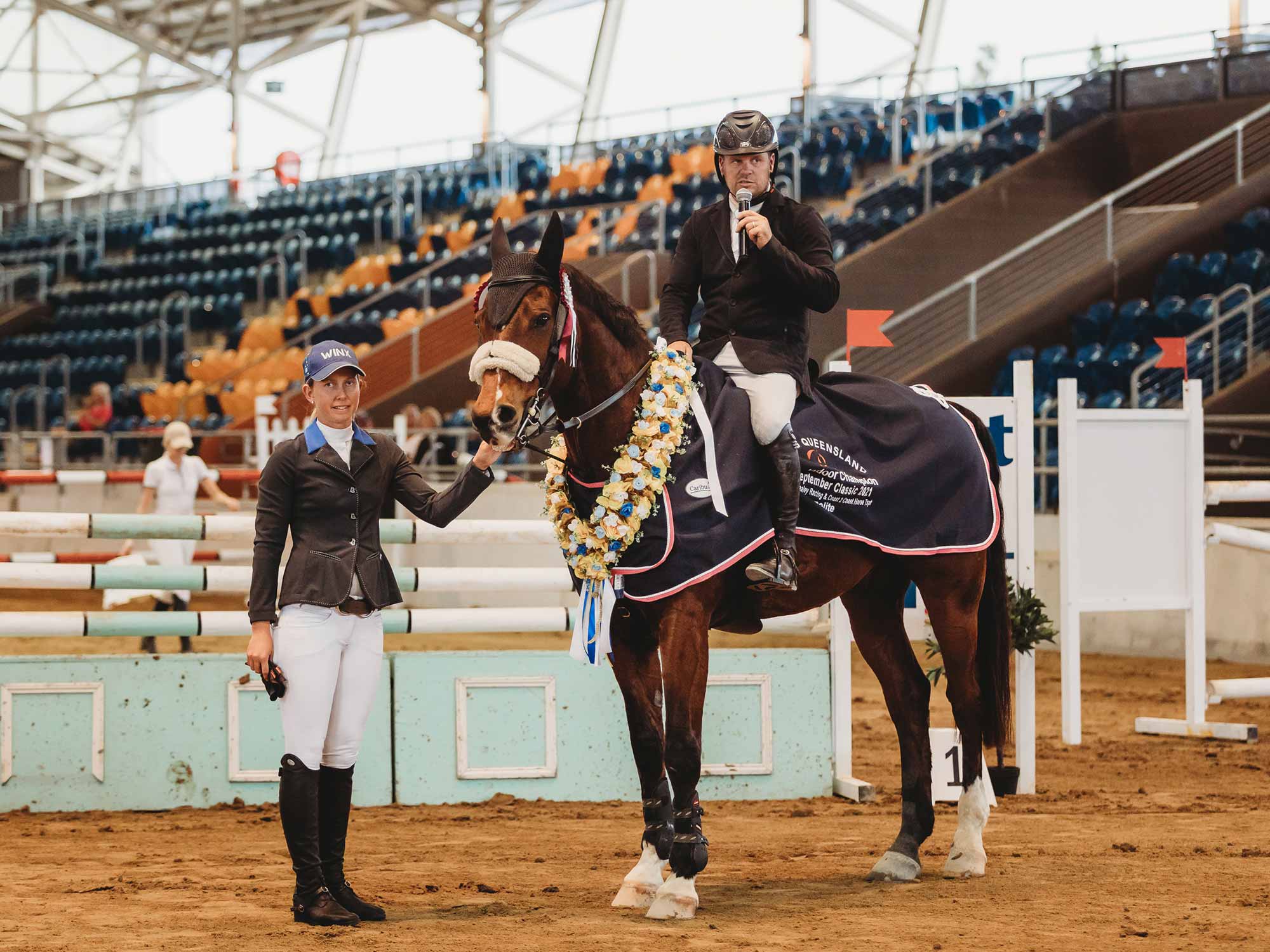 Kelly Slater from Healey Racing with Billy Raymont and Anton. Photo credit: Equico Studios
In other classes, the Queensland Indoor Championship for horses under 20 points went to Matthew Whalley and Shadow Seventy, while the Oaks Sport Horses sponsored Young Horse Championship was won by Robert Freeman and Saint Dunstan. The Prestige Horse Transport QSJC Childrens' Championship was taken out by Kirra Nicholls and Finch Farm Class Act.
Congratulations goes to all the winners and placegetters as well as the how organisers for putting on such a great show.
The first six placegetters in all classes held are listed below.
SATURDAY RESULTS
Indoor Arena
CLASS 1B: Oaks Sporthorses: Young Horse Championship – 1.05m
| | | |
| --- | --- | --- |
| PLACE | RIDER | HORSE |
| 1st | Robert Freeman | Saint Dunstan |
| 2nd | Brittany Ireland | La Luna Celeste |
| 3rd | Shane Davidson | Spectre D |
| 4th | Olivia Hamood | Normandy GHP |
| 5th | Billy Raymont | Tulara Bellensky |
| 6th | Olivia Hamood | Yirrkala Enzo |
CLASS 2A: John England Drainage: Open – 1.20m
| | | |
| --- | --- | --- |
| PLACE | RIDER | HORSE |
| 1st | Robert Goodwin | Oaks Costa Rica |
| 2nd | Billy Raymont | YPH Capulet |
| 3rd | Hayley Morris | Lady Constance |
| 4th | Clen Smith | Quantico 12 |
| 5th | Holly Douglas | Kissing The Sky |
| 6th | Hayley Morris | Corlara QSH |
CLASS 2B: West Vets: Amateur Indoor Queensland Championship – 1.20m
| | | |
| --- | --- | --- |
| PLACE | RIDER | HORSE |
| 1st | Jessie Knight | Vidori |
| 2nd | Holly Penfold | Just Dutch |
| 3rd | Nicole Murphy | JayEm Amablique |
| 4th | James Ferrier | Gyroscope |
| 5th | Jacinta Kennedy | Tulara Comet |
| 6th | Mia Smith | Sangster |
CLASS 3: Precinct Realty: Open – 1.35m
| | | |
| --- | --- | --- |
| PLACE | RIDER | HORSE |
| 1st | Billy Raymont | Anton |
| 2nd | Matthew Afford | Kaluna Salute |
| 3rd | Shane Davidson | Viva Blue |
| 4th | Clem Smith | Quantico 12 |
| 5th | Mattea Davidson | Checkamour D |
| 6th | Stuart Jenkins | Adecci |
CLASS 4: H&H Equestrian: Junior Indoor Queensland Championship – 1.20m
| | | |
| --- | --- | --- |
| PLACE | RIDER | HORSE |
| 1st | Maleah Lang-McMahon | Finch Farm Carlsberg |
| 2nd | Maleah Lang-McMahon | Royal Talisman |
| 3rd | Kaitlyn Parlevliet | Koyuna Galaxy |
| 4th | Kayla Johnston | Swingtime Vulcan |
| 5th | Jamie Hewitt-Toms | Devereaux Sea Salt |
| 6th | Emily Lang-McMahon | Glenara Mudslide |
Outdoor Arena 2
CLASS 1A: Ethereal Equestrian: Open – 1.05m
| | | |
| --- | --- | --- |
| PLACE | RIDER | HORSE |
| 1st | Jamie Raymont | Lady Croft |
| 2nd | Sarah Weiss | Twins Delux |
| 3rd | Kate Jackwitz | Riverdowns Tinka |
| 4th | Isabella Forsyth | Ethereal Moonlight Shadow |
| 5th | Rockell Williamson-Rudder | Springvale Stalymag |
| 6th | Madison Searle | Miss Florentine |
CLASS 11A: SJ Paints and Warmbloods: Special Two Phase – 0.90m
| | | |
| --- | --- | --- |
| PLACE | RIDER | HORSE |
| 1st | Lily Short | Rosewood Symphony |
| 2nd | Jaime Page | Sobrroan Park Animosity |
| 3rd | Georgina Roberts | Life To The Max |
| 4th | Claudia Wyatt | Bradyvale Illusion |
| 5th | Josie Rosa | Baloubabe Z |
| 6th | Cassie Stokes | Keepsake CS |
CLASS 11B: Mystery Downs TSHA Slipper Class: Special Two Phase – 0.90m
| | | |
| --- | --- | --- |
| PLACE | RIDER | HORSE |
| 1st | Michael Short | Pathfinder |
| 2nd | Jaime Page | Vodashow |
| 3rd | Isabella Forsyth | Ethereal Moonlight Shadow |
| 4th | Tom Brasch | B Boy |
| 5th | Ella Vizer | Ormond Road |
| 6th | Lily Short | Gallant Girl |
Outdoor Arena 3
CLASS 9: SJ Paints and Warmbloods: Special Two Phase – 0.60m
| | | |
| --- | --- | --- |
| PLACE | RIDER | HORSE |
| 1st | Arabella Wilson | Glenormiston Christie |
| 2nd | Ella Vizer | Dusty |
| 3rd | Phoebe Shannon | PS Frank The Tank |
| 4th | Tanya Coulter | Indiana Belle |
| 5th | Lorna Clifford | Kahean Trooper Nelson |
| 6th | Mardi Stevenson | Bombarding |
CLASS 10: Vibrant Body Studio: Special Two Phase – 0.75m
| | | |
| --- | --- | --- |
| PLACE | RIDER | HORSE |
| 1st | Lily Short | Mauve Keeva Casteil |
| 2nd | Josie Rosa | Baloubabe Z |
| 3rd | Kaya Ziellinski | Lady Of Diamonds |
| 4th | Daisy Harrison | Clipsy |
| 5th | Mia Pace | Miss Bella |
| 6th | Finnigan Bazzan | CC's Astro Girl |
CLASS 12: CDS Professional Farrier: Special Two Phase – 1.00m
| | | |
| --- | --- | --- |
| PLACE | RIDER | HORSE |
| 1st | Michael Short | Grannus Legacy |
| 2nd | Matisse Weeks | TCG Savvy |
| 3rd | Nora Palasthy | Kaheam Trooper Diamond |
| 4th | Lily Short | Finch Farm Delto |
| 5th | Jaime Page | Kinnordy Rilke |
| 6th | Kirra Nicholls | Finch Farm Class Act |
SUNDAY RESULTS
Indoor Arena
CLASS 5A: Jumping QLD: Indoor Championship (Under 20 points) – 1.10m
| | | |
| --- | --- | --- |
| PLACE | RIDER | HORSE |
| 1st | Matthew Whalley | Shadow Seventy |
| 2nd | Robert Goodwin | Warrego William |
| 3rd | Billy Raymont | Denison Park Poppy |
| 4th | Chloe Hughes | Deedle |
| 5th | Olivia Hamood | Normandy GHP |
| 6th | Brittany Ireland | La Luna Celeste |
CLASS 6: Kennedy Homes: Future Stars Queensland Indoor Championship – 1.25m
(Includes Kilcoy Rural Bonus)
| | | |
| --- | --- | --- |
| PLACE | RIDER | HORSE |
| 1st | Hayley Morris | Lady Constance |
| 2nd | Robert Goodwin | Oaks Costa Rica |
| 3rd | Hayley Morris | Corlara QSH |
| 4th | Billy Raymont | Tulara Forpaccio |
| 5th | Robert Freeman | ES Canada |
| 6th | Tyrone Latham | Arion Carasun |
CLASS 7: Genelite, Healey Racing and Coast 2 Coast Horse Transport: Senior Queensland Indoor Championship
| | | |
| --- | --- | --- |
| PLACE | RIDER | HORSE |
| 1st | Billy Raymont | Anton |
| 2nd | Billy Raymont | Black Jack IXE |
| 3rd | Sam Overton | Oaks Cassanova |
| 4th | Olivia Hamood | Knock Out 111 |
| 5th | Olivia Hamood | Jane Fonda DVD |
| 6th | Tesse Cook | Allwynds Valherro |
CLASS 8A: Icepack: Young Rider Queensland Indoor Championship – 1.30m
| | | |
| --- | --- | --- |
| PLACE | RIDER | HORSE |
| 1st | Maleah Lang-McMahon | PSS Chantilly |
| 2nd | Brooke Dougall | My Locky |
| 3rd | Tara Khan | Lanardo |
| 4th | Kaitlyn Parlevliet | Koyuna Galaxy |
| 5th | Bree Wiblen | Silverado Ez |
| 6th | Cody Tincknell | Barabadeen Sir Lancelot |
CLASS 8B: TC Equestrian: The Riders Cup – 1.30m
| | | |
| --- | --- | --- |
| PLACE | RIDER | HORSE |
| 1st | Clem Smith | Quantico 12 |
| 2nd | Hayden James | James' Carrera |
| 3rd | Matt Kidston | Finch Farm Costanza |
| 4th | Sam Overton | Point Break |
| 5th | Holly Douglas | Kissing The Sky |
| 6th | Carly Overton | Pabello |
Outdoor Arena 2
CLASS 5B: Mystery Downs TSHA Queensland Indoor Championship – 1.10m
| | | |
| --- | --- | --- |
| PLACE | RIDER | HORSE |
| 1st | Paige Johnston | WP Cool As |
| 2nd | Nicole Condon | Magicians Secret |
| 3rd | Ava Wood | Sharatan |
| 4th | Kylie Zabel | Dusty Girl |
| 5th | Shelley Andrews | Gully Gosh |
| 6th | Amy Bradfield | Silver Shades |
CLASS 16A: OZ Shots Photography: A2 – 1.00m
| | | |
| --- | --- | --- |
| PLACE | RIDER | HORSE |
| 1st | Jaime Page | Caribbean JPS |
| 2nd | Michael Short | Cabalito Wind TP |
| 3rd | Nora Palasthy | Kahean Trooper Diamond |
| 4th | Jamie Hewitt-Toms | Balou du Rose |
| 5th | Sarah Weiss | Waratone |
| 6th | Emmy Ravenscroft | Sacrefem |
CLASS 16B: Prestige Horse Transport: QSJC Childrens' Championship – 1.00m
| | | |
| --- | --- | --- |
| PLACE | RIDER | HORSE |
| 1st | Kirra Nicholls | Finch Farm Class Act |
| 2nd | Geneva Searle | Grey Opinion |
| 3rd | Matisse Weeks | TCG Savvy |
| 4th | Claudia Wyatt | Bradyvale Illusion |
| 5th | Lily Short | Rosewood Symphony |
| 6th | Lily Short | Belle Phlynn Park Corizon |
Outdoor Arena 3
CLASS 13: CDS Professional Farrier: A2 – 0.70m
| | | |
| --- | --- | --- |
| PLACE | RIDER | HORSE |
| 1st | Lily Short | Struck Gold |
| 2nd | Emily Seagrave | Scarlett Storm |
| 3rd | Lorna Clifford | Kahean Trooper Nelson |
| 4th | Jameson Bazzan | Bundaleer Harmony |
| 5th | Tabitha Little | Deedee |
| 6th | Jessica Turner | Vodashow |
CLASS 14: Vibrant Body Studio: A2 – 0.80m
| | | |
| --- | --- | --- |
| PLACE | RIDER | HORSE |
| 1st | Lily Short | Struck Gold |
| 2nd | Finnigan Bazzan | CC's Astro Girl |
| 3rd | Lorna Clifford | Kahean Trooper Nelson |
| 4th | Olivia Jackson | Sultan |
| 5th | Mia Pace | Miss Bella |
| 6th | Alexandra Marles | Switch On |
CLASS 15: SJS Home Services: A2 – 0.90m
| | | |
| --- | --- | --- |
| PLACE | RIDER | HORSE |
| 1st | Jaime Page | Bellisaro |
| 2nd | Fuschia Criss | Dark Knight Koko |
| 3rd | Nora Palasthy | Kahean Trooper Diamond |
| 4th | Finnigan Bazzan | CC's Astro Girl |
| 5th | Josie Rosa | Baloubabe Z |
| 6th | Tom Brasch | B Boy |
Results sourced from online.equipe.com
View Comments