Raymont Reigns at Queensland State Titles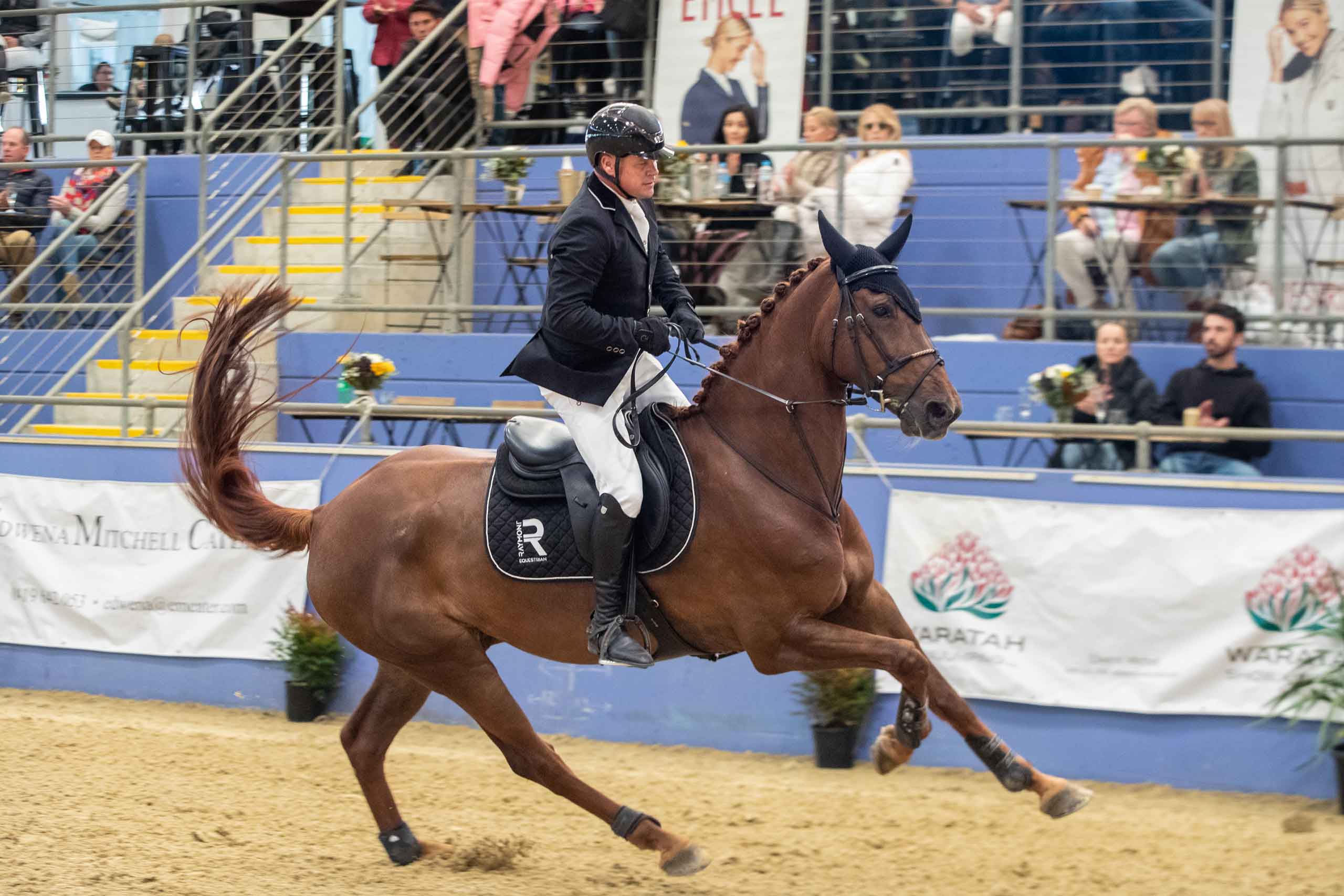 Australian Jumping
Above: Billy Raymont & Caprino earlier this year at the Waratah Showjumping World Cup.
Maryborough, on the Queensland Fraser Coast, about 250 kilometres north, of Brisbane played host last weekend to the Queensland State Titles. Held at the Showgrounds, it was the first time that Maryborough had hosted the titles for more than 15 years and with classes ranging from 0.60m to the State Senior Title, there was a competition for everyone to enter. Especially pleasing was the opportunity that this venue provided for local competitors to compete, without the need to travel to Brisbane for the weekend.
Advertisement


Saturday and Sunday classes saw a range of championship Qualifiers as well as a number of separate Open classes, however it was on Monday that finals were held in all the championships.
The first championship decided on the second arena, sponsored by Peachester Lodge was the Jumping Queensland Childrens State Championship. There were three clear rounds, meaning that a jump-off was required to sort out the podium positions and with all three combinations again going clear it came down to times. Finishing in a time of just 29.33 seconds the win and the State Championship title went to 12-year-old rider Harriet Smith and gelding I'm A Cowboy. James Hosie and Aces Tulara Devine with a time of 31.92 seconds were named as State Reserve Champions while Harriet showed her class, also claiming third place with the mare Spring Rain.
The Munce Racing Jumping Queensland Novice State Championship was won by Jorja Lenehan and her mare Centeria Vos, as the fastest double clear. Second place, almost three seconds slower were Savina O'Loughlin and Oxlea Rev, who relegated Erin Buswell and MD Kann Gamble into third place by just 0.04 seconds, both with fine double clear efforts.
On the Cooloola Custom Stockfeed main arena, the first title of the day was the Finch Farm Amateur State Championship. The title went to Emily Uebergang and her mare Sandy Creek Loulou, after a fantastic double clear performance. Second place went to Holly Penfold and Just Dutch, with Sarah Weiss and Twins Delux in third place with all three podium places going double clear.
Advertisement


Clear winners of the WestVETS Young Rider State Title were Tayla Parlevliet and gelding Flash Drive. They were the only double clear performers on the day and thoroughly deserved the win. Holly Tomkins and Finch Farm Vroom were named State Reserve Champions after taking a rail in the jump off. Jamie Hewitt-Toms and her mare Balou Du Rose were unfortunately eliminated in the jump-off, however, with only three combinations invited into the jump off, their performance was enough for third place in the championship.
Queensland Family Pools and Spas sponsored the Fraser Coast State Championship final, with the win going to Chris Tomkins and his gelding Caraca Jack with a clear jump off time of 43.67 seconds. They were less than a second faster than the other double clear combination of Ross Smith and Valentino QSH, who had to settle to be named as State Reserve Champions. Taking two rails in the three-way jump off meant that Julia Paulger and her gelding RR Corakai had to settle for third.
There were only five combinations entered in the Peachester Lodge Senior State Championship final and Billy Raymont made the class his own. Held over two rounds Billy and Caprino, owned by Jacinta Kinsella, were the only combination to record a clean sheet to take the win. Not only were they the only double clear combination, but they recorded the fastest time in each of the rounds. Second place went to Billy again, this time riding Dakardo, finishing on a total of four penalties. Third place went to Matthew Afford and La Luna Cucinelli, who redeemed themselves in the second round by going clear, after racking up a total of 19 penalties in the first round.
The final class of the program was the Cooloola Custom Stockfeed State Junior Championship, saving the most competitive class of the day for the end. There were 21 combinations entered in the final, which saw 10 clear rounds, setting up a thrilling jump off, in which four went clear again. The win, with a time of 42.96 seconds went to Elkee Lang-McMahon, riding her sister Maleah's mare Lily El Mare. Thery were just 0.02 seconds faster than the State Reserve Champions Skye Hosie and her mare AMS Ajaccio NZPH. There was a margin of almost two seconds back to the third place, which was achieved by once again Elkee, this time riding Royal Talisman.
It was a great weekend of jumping and we look forward to seeing how many of these Queensland State Champion combinations head to Sydney to compete in the Australian Championships in just a few weeks time.
Congratulations goes to all the winners and placegetters across the three days of competition.
A full listing of the top six finishers in all classes held over course of the show appears below.
SATURDAY RESULTS
COOLOOLA CUSTOM STOCKFEED ARENA
CLASS 1A: HOWARD LANDSCAPE AND PRODUCE SUPPLIES: OPEN – 1.20m
| | | |
| --- | --- | --- |
| PLACE | RIDER | HORSE |
| 1st | Cody Tincknell | Conquest |
| 2nd | Hayley Morris | Red Hot Chilli Pepper |
| 3rd | Julia Paulger | Cozikann |
| 4th | Hayley Morris | Ngahiwi Storm |
| 5th | Jamie Hewitt-Toms | Balou Du Rose |
| 6th | Hayley Morris | Quite Cellini |
CLASS 1B: QUAST METAL FABRICATION: 1ST JUNIOR QUALIFIER – 1.20m
| | | |
| --- | --- | --- |
| PLACE | RIDER | HORSE |
| 1st | Skye Hosie | Athena NZPH |
| 2nd | Elkee Lang-McMahon | Royal Talisman |
| 3rd | Lily Short | Hecanrockme |
| 4th | James Hosie | Red Sambuca |
| 5th | Tayla Ryan | Greengrove Hestia |
| 6th | April Davies | Oaks Conspiracy |
CLASS 2: BUTET QUEENSLAND: 1ST FRASER COAST QUALIFIER – 1.25m
| | | |
| --- | --- | --- |
| PLACE | RIDER | HORSE |
| 1st | Erin Buswell | Oaks Quickstep |
| 2nd | Matthew Afford | La Luna Countess FZ |
| 3rd | Brett Warren | Vertigo TPH |
| 4th | Chris Tomkins | Caraca Jack |
| 5th | Hayden James | Delphine NZPH |
| 6th | Hayley Morris | On The Point Laurent Perrier |
CLASS 3: EDWARDS SADDLEWORLD TOOWOOMBA: 1ST YOUNG RIDER QUALIFIER – 1.30m
| | | |
| --- | --- | --- |
| PLACE | RIDER | HORSE |
| 1st | Fushia Criss | Dual Diamond |
| 2nd | Ben Bates | Beltana Quinessential |
| 3rd | Tayla Parlevliet | Flash Drive |
| 4th | Holly Tomkins | Finch Farm Vroom |
| 5th | Kayla Johnston | Swingtime Vulcan |
| 6th | Paige Johnston | Lilivale Falks Prince |
CLASS 4: QUEENSLAND SHOWJUMPING CLUB: 1ST SENIOR QUALIFIER – 1.40m
| | | |
| --- | --- | --- |
| PLACE | RIDER | HORSE |
| 1st | Billy Raymont | Caprino |
| 2nd | Billy Raymont | Dakardo |
| 3rd | Brett Warren | Cassata TPH |
| 4th | Matthew Afford | La Luna Cucinelli |
| 5th | Fuschia Criss | Dual Dialmond |
| 6th | John Robertson | Elansu Lady Salsa |
PEACHESTER LODGE ARENA
CLASS 5: BURNETT ZONE 7 PONY CLUBS: 1ST CHILDRENS QUALIFIER – 0.95m
| | | |
| --- | --- | --- |
| PLACE | RIDER | HORSE |
| 1st | James Hosie | Aces Tulara Devine |
| 2nd | Harriet Smith | I'm A Cowboy |
| 3rd | Storm Harvey | Sail The Stars |
| 4th | Harriet Smith | Spring Rain |
| 5th | Lily Short | Belle Phylnn Park Cooper |
| 6th | Ivy Harris | Shady Creek Chance Encounter |
CLASS 6A: PEACHESTER LODGE: OPEN – 1.05m
| | | |
| --- | --- | --- |
| PLACE | RIDER | HORSE |
| 1st | James Hosie | Red Sambuca |
| 2nd | Kadell Sykes | Rocket Of Gold |
| 3rd | Jacinta Kennedy | Tulara Willow |
| =4th | Brent Berg | Elysian Fields Peanut |
| =4th | Billy Raymont | Tulara Colin |
| 6th | Millie Warren | Watermark Farm Ducati |
CLASS 6B: THE SADDLE HUB: 1ST NOVICE QUALIFIER – 1.05m
| | | |
| --- | --- | --- |
| PLACE | RIDER | HORSE |
| 1st | Matilda Stokes | Hello My Hero |
| 2nd | Michael Short | Belle Phlynn Park Castilo |
| 3rd | Brett Cantle | QEB Calvin C |
| 4th | Sarah Weiss | Belcam HB |
| 5th | Sophie Shaffer | Carter Just |
| 6th | Bailey McAuliffe | Calgary Stampede |
CLASS 7: ICD PROPERTY MAINTENANCE: OPEN – 1.10m
| | | |
| --- | --- | --- |
| PLACE | RIDER | HORSE |
| 1st | Haydie Bird | Etoile Quality |
| 2nd | Brent Berg | Elysian Fields Peanut |
| 3rd | Ava Jensen | Charlo |
| 4th | Victoria Hawthorne | Cecee |
| 5th | David Finch | Premonition |
| 6th | Jaime Page | Pele |
CLASS 8A: FRASER COAST NURSERY AND GARDEN CENTRE: OPEN – 1.15m
| | | |
| --- | --- | --- |
| PLACE | RIDER | HORSE |
| 1st | Skye Hosie | AMS Ajaccio NZPH |
| 2nd | Billy Raymont | Mountain View Our Balou |
| 3rd | Isabella Forsyth | Ethereal Dream Catcher |
| 4th | Kadell Sykes | Cartel |
| 5th | Cody Tincknell | Pier Gynt Nautilus F |
| 6th | Ava Jensen | Charlo |
CLASS 8B: OZ SHOTZ PHOTOGRAPHY: 1ST AMATEUR QUALIFIER – 1.15m
| | | |
| --- | --- | --- |
| PLACE | RIDER | HORSE |
| 1st | Emily Uebergang | Sandy Creek Loulou |
| 2nd | Holly Penfold | Just Dutch |
| 3rd | Ashlee Christensen | Laurel Glen Harleys Girl |
| 4th | Deziree Roos | Powerful Sphere |
| 5th | Sarah Weiss | Twins Delux |
| 6th | Jaime Page | Caribbean JPS |
CARRATUM PARK ARENA
CLASS 9: GRAHAMS PET CARE AND AGISTMENT: OPEN – 0.60m
| | | |
| --- | --- | --- |
| PLACE | RIDER | HORSE |
| 1st | Annalise Cooper-Morgan | Fox Fire Night Music |
| 2nd | Annalise Cooper-Morgan | Gem Park Royalty |
| 3rd | Ivy Westley | Fair Go Oreo |
| 4th | Isla Jensen | Brooklee Smallchange |
| 5th | Emily Cucca | Luna |
| 6th | Isla Jensen | Arielen Vincent |
CLASS 10: TIARO PONY CLUB: OPEN – 0.70m
| | | |
| --- | --- | --- |
| PLACE | RIDER | HORSE |
| 1st | Annalise Cooper-Morgan | Fox Fire Night Music |
| 2nd | Julia Dalgetty | Lady Of Diamonds |
| 3rd | Hunter Potter-Lowe | Witz Fabio |
| 4th | Kassie Pontifex | Disney Patch |
| 5th | Annika Dean | ES Astina |
| 6th | Hannah Baade | Harry Hotschod |
CLASS 11: FRASER COAST RURAL SUPPLIES: OPEN – 0.80m
| | | |
| --- | --- | --- |
| PLACE | RIDER | HORSE |
| 1st | Annika Dean | ES Astina |
| 2nd | Julia Dalgetty | Lady Of Diamonds |
| 3rd | Brooke Robertson | Prince Dat |
| 4th | Hunter Potter-Lowe | Witz Fabio |
| 5th | Kyrie de Jong | Rammstein |
| 6th | Hamin Michelle Lee | Totally Blue NZPH |
CLASS 12: MEGA MIN EQUINE ENHANCER: OPEN – 0.90m
| | | |
| --- | --- | --- |
| PLACE | RIDER | HORSE |
| 1st | Hollie Hodges | Kenda Park Top Gun |
| 2nd | Lorna Clifford | Ngahiwi Possum |
| 3rd | Storm Harvey | Sail The Stars |
| 4th | Courtney Scott | Striking Ed |
| 5th | Isabella Forsyth | Ethereal Moonlight Shadow |
| 6th | Billy Raymont | Jaheta Hilda |
SUNDAY RESULTS
COOLOOLA CUSTOM STOCKFEED ARENA
CLASS 13A: OPEN – 1.20m
| | | |
| --- | --- | --- |
| PLACE | RIDER | HORSE |
| 1st | Hayley Morris | Ngahiwi Storm |
| 2nd | Peter McMahon | Ellisimo |
| 3rd | Victoria Hawthorne | Cecee |
| 4th | Billy Raymont | Mountain View Our Balou |
| 5th | Holly Penfold | Just Dutch |
| 6th | Lorna Clifford | Waratone |
CLASS 13B: JOHN ENGLAND DRAINAGE CONTRACTOR: 2ND JUNIOR QUALIFIER – 1.20m
| | | |
| --- | --- | --- |
| PLACE | RIDER | HORSE |
| 1st | Kadell Sykes | Cartel |
| 2nd | James Hosie | Red Sambuca |
| 3rd | Elkee Lang-McMahon | Lily El Mare |
| 4th | James Hosie | Kiwi Storm |
| 5th | Tayla Ryan | Greengrove Hestia |
| 6th | April Davies | Oaks Conspiracy |
CLASS 14: 2ND YOUNG RIDER QUALIFIER – 1.30m
| | | |
| --- | --- | --- |
| PLACE | RIDER | HORSE |
| 1st | Cody Tincknell | Conquest |
| 2nd | Holly Tomkins | Finch Farm Vroom |
| 3rd | Fuschia Criss | Dual Diamond |
| 4th | Kayla Johnston | Swingtime Vulcan |
| 5th | Jamie Hewitt-Toms | Balou Du Rose |
| 6th | Tayla Parlevliet | Flash Drive |
CLASS 15: 2ND FRASER COAST QUALIFIER – 1.30m
| | | |
| --- | --- | --- |
| PLACE | RIDER | HORSE |
| 1st | Hayley Morris | On The Point Laurent Perrier |
| 2nd | Skye Hosie | Athena NZPH |
| 3rd | Julia Paulger | RR Corakai |
| 4th | Hayley Morris | Takapoto Truffles |
| 5th | Brett Warren | Vertigo TPH |
| 6th | Chris Tomkins | Maracas |
CLASS 16 CAVALORE EQUICARE: 2ND SENIOR QUALIFIER – 1.45m
| | | |
| --- | --- | --- |
| PLACE | RIDER | HORSE |
| 1st | Billy Raymont | Caprino |
| 2nd | Matthew Afford | La Luna Cucinelli |
| 3rd | Brett Warren | Cassata TPH |
| 4th | Billy Raymont | Dakardo |
| 5th | Fuschia Criss | Dual Diamond |
PEACHESTER LODGE ARENA
CLASS 17A: A B BROWBANDS & GARLANDS: OPEN – 1.00m
| | | |
| --- | --- | --- |
| PLACE | RIDER | HORSE |
| 1st | Isabella Forsyth | Ethereal Moonlight Shadow |
| 2nd | Lorna Clifford | Ngahiwi Possum |
| 3rd | Sophie Frouws | Pacific Ambition |
| 4th | Billy Raymont | Jaheta Hilda |
| 5th | Hamin Michelle Lee | Totally Blue NZPH |
| 6th | Aleisha Lorensen | Finch Farm Chrysler |
CLASS 17B: HICLASS EQUESTRIAN: 2ND CHILDRENS QUALIFIER – 1.00m
| | | |
| --- | --- | --- |
| PLACE | RIDER | HORSE |
| 1st | Harriet Smith | I'm A Cowboy |
| 2nd | James Hosie | Aces Tulara Devine |
| 3rd | Lily Short | Belle Phylnn Park Cooper |
| 4th | Harriet Smith | Spring Rain |
| 5th | Annalise Cooper-Morgan | Law Abiding Citizen |
| 6th | Mahli Pereka | Wicked Fraar |
CLASS 18: K & R PLUMBING SUPPLIES: OPEN – 1.05m
| | | |
| --- | --- | --- |
| PLACE | RIDER | HORSE |
| 1st | Lorna Clifford | Ngahiwi Possum |
| 2nd | Matilda Stokes | Hello My Hero |
| 3rd | Sophie Frouws | Pacific Ambition |
| 4th | Bailey McAuliffe | Calgary Stampede |
| 5th | Ava Jensen | Saltando B |
| 6th | Jorja Lenehan | Centeria Vos |
CLASS 19A: ARIAT: OPEN – 1.10m
| | | |
| --- | --- | --- |
| PLACE | RIDER | HORSE |
| 1st | Jaime Page | Caribbean JPS |
| 2nd | Jaime Page | War Dragon |
| 3rd | Billy Raymont | Tulara Colin |
| 4th | Kadell Sykes | Rocket Of Gold |
| 5th | David Finch | Premonition |
| 6th | Millie Warren | Watermark Farm Ducati |
CLASS 19B: GALA EQUINE: 2ND NOVICE QUALIFIER – 1.10m
| | | |
| --- | --- | --- |
| PLACE | RIDER | HORSE |
| 1st | Michael Short | BNW Vittoria |
| 2nd | Sophie Shaffer | Lyric |
| 3rd | Anjaali Drury | Dynamite Doll |
| 4th | Jorja Lenehan | Centeria Vos |
| 5th | Matthew Whalley | Glenara Cherise TS |
| 6th | Sarah Weiss | Belcam HB |
CLASS 20A: OPEN – 1.15m
| | | |
| --- | --- | --- |
| PLACE | RIDER | HORSE |
| 1st | Skye Hosie | AMS Ajaccio NZPH |
| 2nd | Lorna Clifford | Waratone |
| 3rd | Billy Raymont | Tulara Colin |
| 4th | Jaycie Trace | Bush Poet |
| 5th | Isabella Forsyth | Ethereal Dream Catcher |
| 6th | Kadell Sykes | Cartel |
CLASS 20B: 2ND AMATEUR QUALIFIER – 1.15m
| | | |
| --- | --- | --- |
| PLACE | RIDER | HORSE |
| 1st | Victoria Hawthorne | Cecee |
| 2nd | Jaime Page | Caribbean JPS |
| 3rd | Rochelle Lewis | Gold Melody |
| 4th | Emily Uebergang | Sandy Creek Loulou |
| 5th | Brent Berg | Elysian Fields Peanut |
| 6th | Chelsea Maxwell | Couta Rocks |
CARRATUM PARK ARENA
CLASS 21: GRAHAMS PET CARE AND AGISTMENT: OPEN – 0.60m
| | | |
| --- | --- | --- |
| PLACE | RIDER | HORSE |
| 1st | Hannah Baade | Harry Hotschod |
| 2nd | Annalise Cooper-Morgan | Gem Park Royalty |
| 3rd | Ivy Westley | Fair Go Oreo |
| 4th | Isla Jensen | Brooklee Smallchange |
| 5th | Jett Biffin | CSU Bolt |
| 6th | Sarah Weiss | Laurel Glen Voodoo Balou |
CLASS 22: HERVEY BAY PONY CLUB: OPEN – 0.70m
| | | |
| --- | --- | --- |
| PLACE | RIDER | HORSE |
| 1st | Annalise Cooper-Morgan | Fox Fire Night Music |
| 2nd | Julia Dalgetty | Lady Of Diamonds |
| 3rd | Alice Beasley | Painted Princess |
| 4th | Hannah Baade | Harry Hotschod |
| 5th | Addison Vivian | Mirabelle Ruby |
| 6th | Bethany McKay | Secret King |
CLASS 23: AUSSIE BLUE HEALER PRODUCTS: OPEN – 0.80m
| | | |
| --- | --- | --- |
| PLACE | RIDER | HORSE |
| 1st | Julia Dalgetty | Lady Of Diamonds |
| 2nd | Hunter Potter-Lowe | Witz Fabio |
| 3rd | Brooke Robertson | Prince Dat |
| 4th | Madison Robertson | Publishing Power |
| 5th | Paige Johnston | Lady |
| 6th | Tegan Dennien | Jiuliano |
CLASS 24: FRASER COAST RURAL SUPPLIES: OPEN – 0.90m
| | | |
| --- | --- | --- |
| PLACE | RIDER | HORSE |
| 1st | Mahli Pereka | Wicked Fraar |
| 2nd | Brooke Robertson | Prince Dat |
| 3rd | Millie Warren | Haida Gwaii |
| 4th | Mackenzie Irvine-Doonan | Perfect Time |
| 5th | Hamin Michelle Lee | Totally Blue NZPH |
| 6th | Mya Roth | Roger Wilco |
MONDAY RESULTS
COOLOOLA CUSTOM STOCKFEED ARENA
CLASS 28: FINCH FARM: JUMPING QUEENSLAND AMATEUR STATE CHAMPIONSHIP – 1.15m
| | | |
| --- | --- | --- |
| PLACE | RIDER | HORSE |
| 1st | Emily Uebergang | Sandy Creek Loulou |
| 2nd | Holly Penfold | Just Dutch |
| 3rd | Sarah Weiss | Twins Delux |
| 4th | Chelsea Maxwell | Couta Rocks |
| 5th | Victoria Hawthorne | Cecee |
| 6th | Katelyn Burgess | B F Shoshoni |
CLASS 25: WESTVETS: JUMPING QUEENSLAND YOUNG RIDER STATE CHAMPIONSHIP – 1.30m
| | | |
| --- | --- | --- |
| PLACE | RIDER | HORSE |
| 1st | Tayla Parlevliet | Flash Drive |
| 2nd | Holly Tomkins | Finch Farm Vroom |
| 3rd | Jamie Hewitt-Toms | Balou Du Rose |
| 4th | Kayla Johnston | Swingtime Vulcan |
| 5th | Paige Johnston | Lilivale Falks Prince |
| 6th | Fuschia Criss | Dual Diamond |
CLASS 26: QUEENSLAND FAMILY POOLS & SPAS: JUMPING QUEENSLAND FRASER COAST STATE CHAMPIONSHIP – 1.35m
| | | |
| --- | --- | --- |
| PLACE | RIDER | HORSE |
| 1st | Chris Tomkins | Caraca Jack |
| 2nd | Ross Smith | Valentino QSH |
| 3rd | Julia Paulger | RR Corakai |
| 4th | Matthew Whalley | Cydonia |
| 5th | Hayley Morris | On The Point Laurent Perrier |
| 6th | Hayden James | Delphine NZPH |
CLASS 27: PEACHESTER LODGE: JUMPING QUEENSLAND SENIOR STATE CHAMPIONSHIP – 1.50m
| | | |
| --- | --- | --- |
| PLACE | RIDER | HORSE |
| 1st | Billy Raymont | Caprine |
| 2nd | Billy Raymont | Dakardo |
| 3rd | Matthew Afford | La Luna Cucinelli |
| 4th | Brett Warren | Cassata TPH |
| 5th | John Robertson | Elansu Lady Salsa |
CLASS 29: COOLOOLA CUSTOM STOCKFEED: JUMPING QUEENSLAND JUNIOR STATE CHAMPIONSHIP – 1.20m
| | | |
| --- | --- | --- |
| PLACE | RIDER | HORSE |
| 1st | Elkee Lang-McMahon | Lily El Mare |
| 2nd | Skye Hosie | AMS Ajaccio NZPH |
| 3rd | Elkee Lang-McMahon | Royal Talisman |
| 4th | Jaycie Trace | Bush Poet |
| 5th | Skye Hosie | Athena NZPH |
| 6th | Isabella Forsyth | Ethereal Dream Catcher |
PEACHESTER LODGE ARENA
CLASS 31: CARRATUM PARK: JUMPING QUEENSLAND CHILDRENS STATE CHAMPIONSHIP – 1.05m
| | | |
| --- | --- | --- |
| PLACE | RIDER | HORSE |
| 1st | Harriet Smith | I'm A Cowboy |
| 2nd | James Hosie | Aces Tulara Devine |
| 3rd | Harriet Smith | Spring Rain |
| 4th | Ava Jensen | Saltando B |
| 5th | Storm Harvey | Sail The Stars |
| 6th | Lily Short | Belle Phylnn Park Cooper |
CLASS 33: NON FINALISTS: OPEN – 1.05m
| | | |
| --- | --- | --- |
| PLACE | RIDER | HORSE |
| 1st | Isabella Forsyth | Ethereal Moonlight Shadow |
| 2nd | John Robertson | Natale |
| 3rd | Jaycie Trace | My Calligraphy |
| 4th | David Finch | Finch Farm Canaveral |
| 5th | Ashton Stallan | Donegal Bai Lassie |
| 6th | Tim Hawthorne | Fairview Calquidam |
CLASS 32: MUNCE RACING: JUMPING QUEENSLAND NOVICE STATE CHAMPIONSHIP – 1.10m
| | | |
| --- | --- | --- |
| PLACE | RIDER | HORSE |
| 1st | Jorja Lenehan | Centeria Vos |
| 2nd | Savina O'Loughlin | Oxlea Rev |
| 3rd | Erin Buswell | MD Kann Gamble |
| 4th | Holly Penfold | One Inch Punch |
| 5th | Brett Cantle | QEB Calvin C |
| 6th | Michael Short | Belle Phylnn Park Charlotte |
CLASS 30: NON-FINALISTS: OPEN – 1.20m
| | | |
| --- | --- | --- |
| PLACE | RIDER | HORSE |
| 1st | Hayley Morris | Ngahiwi Storm |
| 2nd | Hayley Morris | Quite Cellini |
| 3rd | Hayley Morris | Red Hot Chilli Pepper |
| 4th | David Finch | Premonition |
| 5th | Peter McMahon | Finch Farm Charlie |
| 6th | Peter McMahon | Ellisimo |
Results sourced from equipe.com
View Comments