Round 10 – Brisbane Isuzu Championships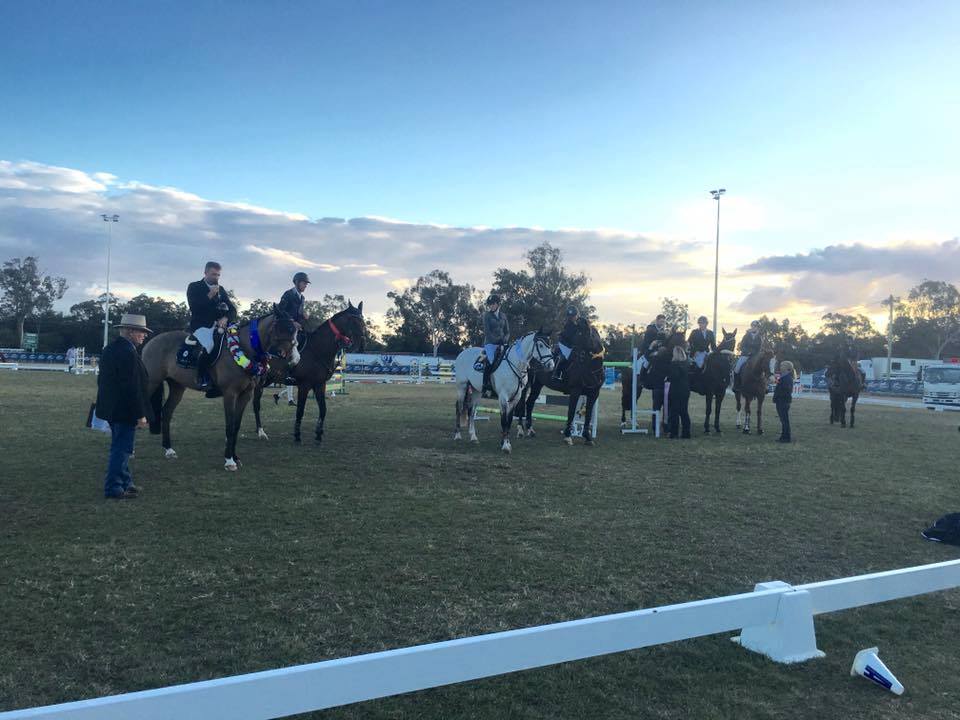 Jumping Queensland
Source: Jumping Queensland
It was a tough few days going into the Championship for the Organising Committee with the decision to change the event from Indoors to Outdoors. The Indoor Arena had been resurfaced and was unfortunately not to a standard that could be used for jumping. So focus went to the Outdoor Arena with all hands on deck to improve the surface and that they did with aerating and watering. Congratulations to this long time hardworking group of people who have put on a great event every year. Much appreciated by all the riders.
Twenty One Horses lined up to jump the 1.40m to 1.45m Gerrit Becker track including riders from SA, NSW & Queensland. Nine horses jumped clear in the first round and along with horses with 5 faults or less were invited back for the second round. It was a long careful track. Only four horses jumped clear in the second round two of these being young up and coming stars Carado GHP & KayEm Bambalou. Clem Smith & Guru looked set to take the win but its not all over till James Arkins has given it his best shot and that he did. James was last out and rode the Queensland bred Davinci's Pride to win the Brisbane Isuzu Champonships.
Brisbane Izuzu Championship
1st  James Arkins- Davincis Pride
2nd Clem Smith – Guru
3rd Olivia Hamood – Carado GHP
4th Kristy Bruhn – KayEm Bambalou
5th Robert Goodwin – Copilot
6th Tom Sedger – Landgate
7th Kristy Bruhn – Jack
8th Olivia Hamood – Nero GHP
9th Gemma Creighton – It's Phenix
10th Tom Sedger – Getwatuwant
The Overall Winner of the 2016 Grand Prix Horse of the Year will win a Service Fee from Finch Farm plus the $1000 Mitavite. Runner up Horse courier $500 Voucher plus $250 Equestrian Queensland Membership. Third place a pair JER Stirrups Australia Classic Stirrups plus $200 Voucher from Edwards Saddleworld.
Leading Lady Rider will receive a Stud Guard valued at $275.00 from Hawkesbury River Saddle Co & Harris Entertainment.
Thank you to our Sponsors for your support of this serires.
View Comments