Rowan Willis and Cartouch III win the Traverse City Staller Welcome Stake CSI4*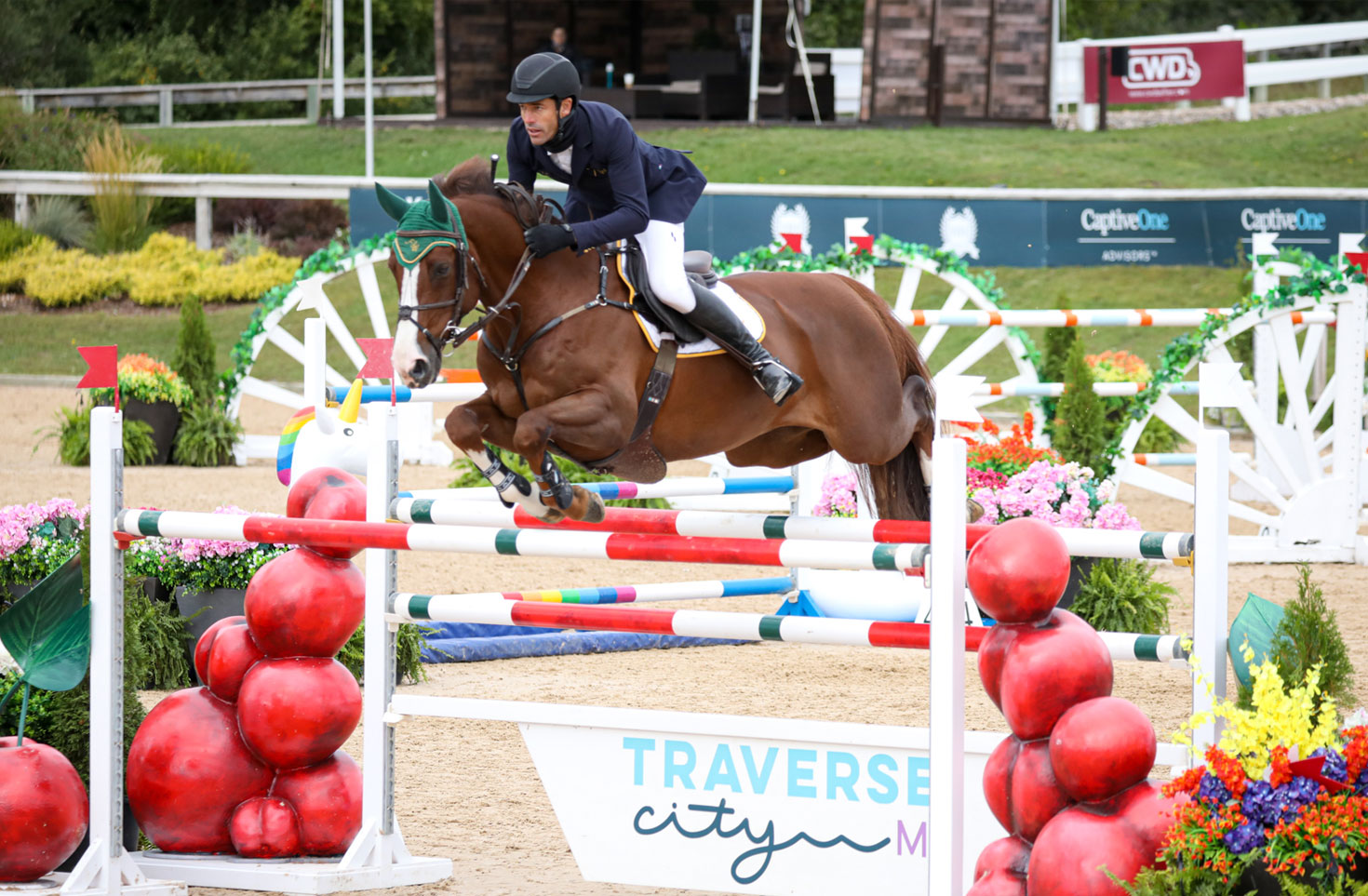 Elaine Wessel / Phelps Media Group
Above: Rowan Willis and  Cartouch III. Photo Credit: Elaine Wessel / Phelps Media Group
Source: Traverse City, Michigan
International competition commenced Thursday at Flintfields Horse Park, the home of the 50th American Gold Cup CSI4*, presented by CaptiveOne Advisors LLC. The first FEI class of the week brought a sizeable field of 89 entries to centerstage for the $36,600 Staller Welcome Stake CSI4*.
Hailing from 11 nations, including the United States, Israel, Ireland, Great Britain, Puerto Rico, Switzerland, Colombia, Chile, Brazil, Australia and Canada, the diverse pack of contenders featured nine previous winners of the prestigious American Gold Cup trophy, which is the ultimate ambition of the week's elite riders that will be awarded Sunday.
Advertisement


Off to a great start during his first visit to Traverse City and debut at the American Gold Cup, Rowan Willis (AUS) navigated his own Cartouch III to a speedy victory, leading the class almost entirely from start to finish.
For the power-and-speed competition, veteran course designer Guilherme Jorge (BRA) fabricated a track that was well-suited to the task at hand of separating the best-performing entries from the rest of the field. First to take to the ring, Gavin Harley (IRL) successfully completed the first pattern of fences aboard Very Chic du Tillard and advanced immediately into the speed portion, maintaining his momentum and tripping the timers clear in 28.79 seconds to set the early precedent. Within the first quarter of the class, the lead changed hands a number of time, with Molly Ashe Cawley (USA) and Berdien, Alberto Michan (ISR) on Cosa Nostra and Alise Oken (USA) aboard Shangri-La each taking a turn at the top before the lead finally settled on Willis and Cartouch III, who had pushed the time quicker to a fault-free 26.36 seconds.
Though more than 70 subsequent combinations tried to usurp the leaders from their throne, Willis and Cartouch III never fell from the top of the leaderboard, solidifying them as the victors.
In an interview from the Winner's Circle with Rowan: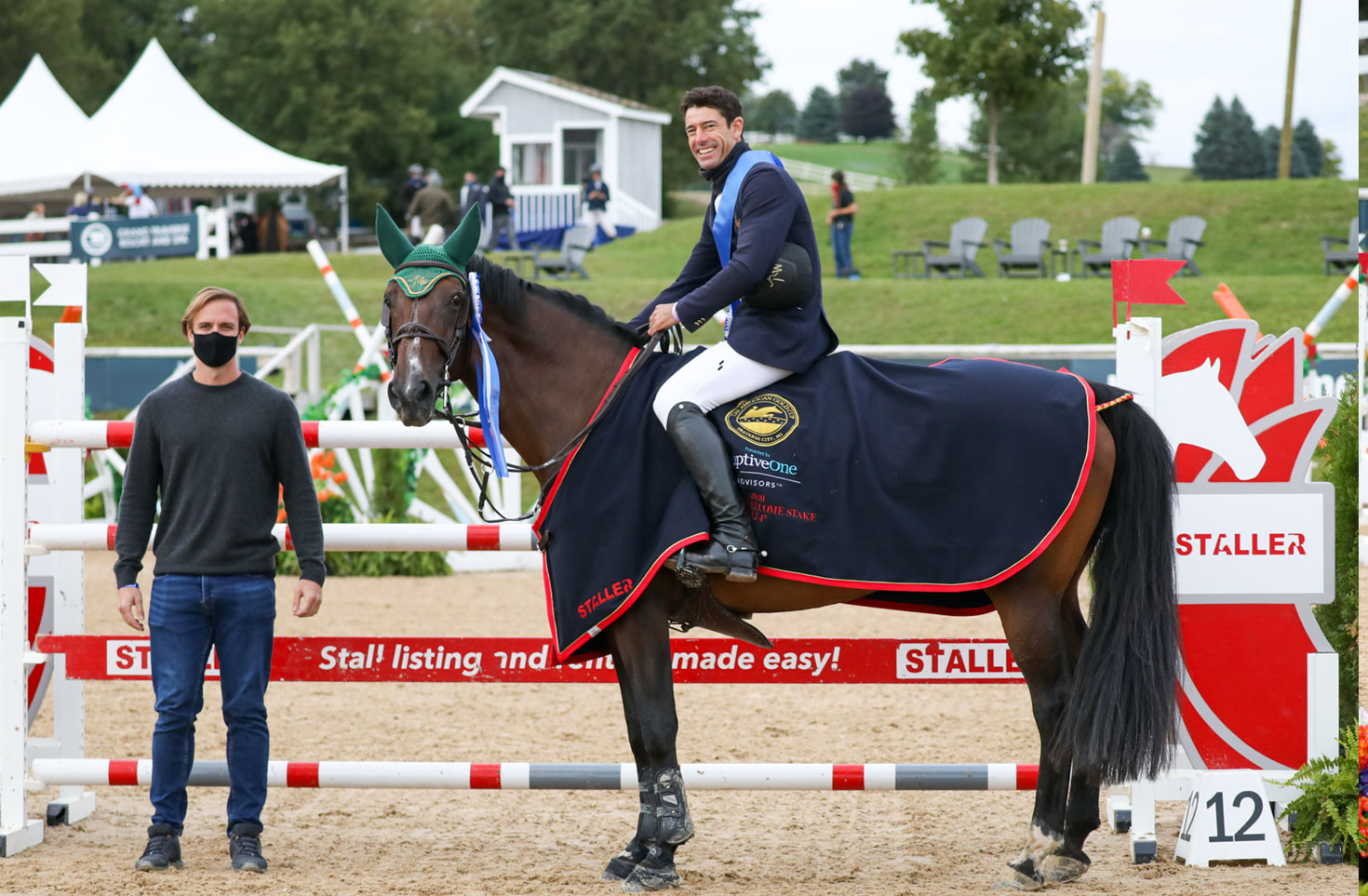 Rowan Willis on Wellington Grandorie for the presentation. Photo Credit: Allyson Lagiovane / Phelps Sports
Advertisement


RESULTS
$36,600 Staller Welcome Stake CSI4*:
Place / Horse / Rider / Country / Owner / R2 Faults | R2 Time
1. Cartouch III / Rowan Willis / AUS / Rowan Willis / 0 | 26.360
2. Bull Run's Prince of Peace / Kristen Vanderveen / USA / Kristen Vanderveen / 0 | 26.990
3. Appolon Bleu / Alison Robitaille / USA / Alison Firestone LLC / 0 | 27.170
4. Great White / Daisy Farish / USA / Daisy Farish / 0 | 27.430
5. Quilimbo / Schuyler Riley / USA / E2 Show Jumpers / 0 | 27.550
6. Latino Van De Looise Heide / Sarah Hubbard / USA / Hubbard Horses LLC / 0 | 27.560
7. Bettina Des Celtes / Erynn Ballard / CAN / Ilan Ferder / 0 | 27.600
8. Don's Diamant / Natalie Dean / USA / Marigold Sporthorses LLC / 0 | 27.910
9. Shangri-la / Alise Oken / USA / Hi Hopes Farm LLC / 0 | 28.150
10. Cosa Nostra / Alberto Michan / ISR / Alberto Michan / 0 | 28.260
11. Darquito / Andrew Bourns / USA / Andrew Bourns / 0 | 28.420
12. Athos D'elle / Katherine Dinan / USA / Grant Road Partners Llc / 0 | 28.640
View Comments