Sam Overton claims title as sun sets on Qld State Champs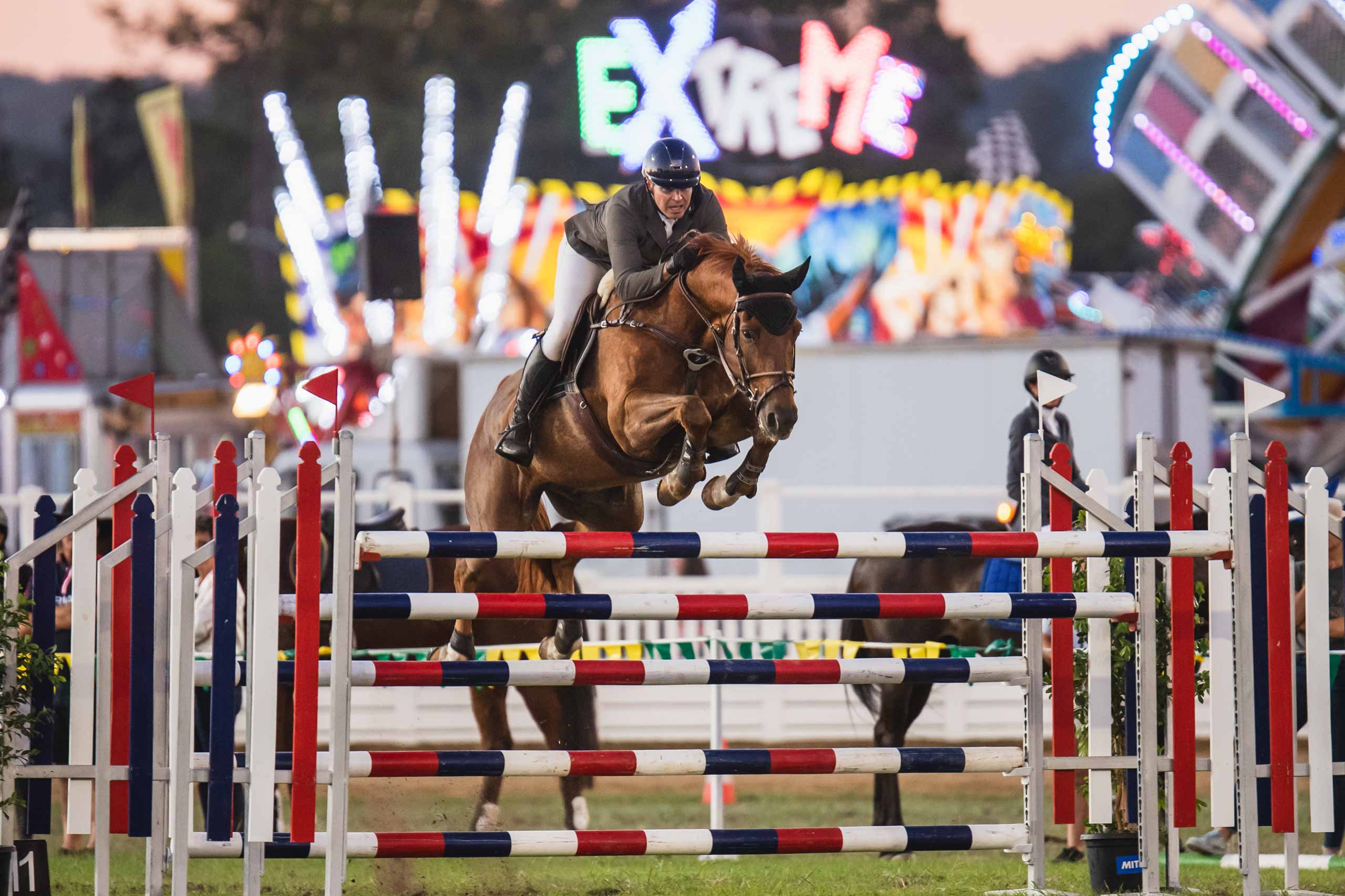 McDukes Photography
Above: Sam Overton and Oaks Casanova. Photo credit: McDukes Photography
By all accounts, the Jumping Queensland State Titles run at Gympie Show over the past three days were a great success. The jumping was of the highest standard, with the Graeme Watts built courses big and very technical. The grounds were prepared perfectly by the Gympie team and congratulations goes to all involved.
Advertisement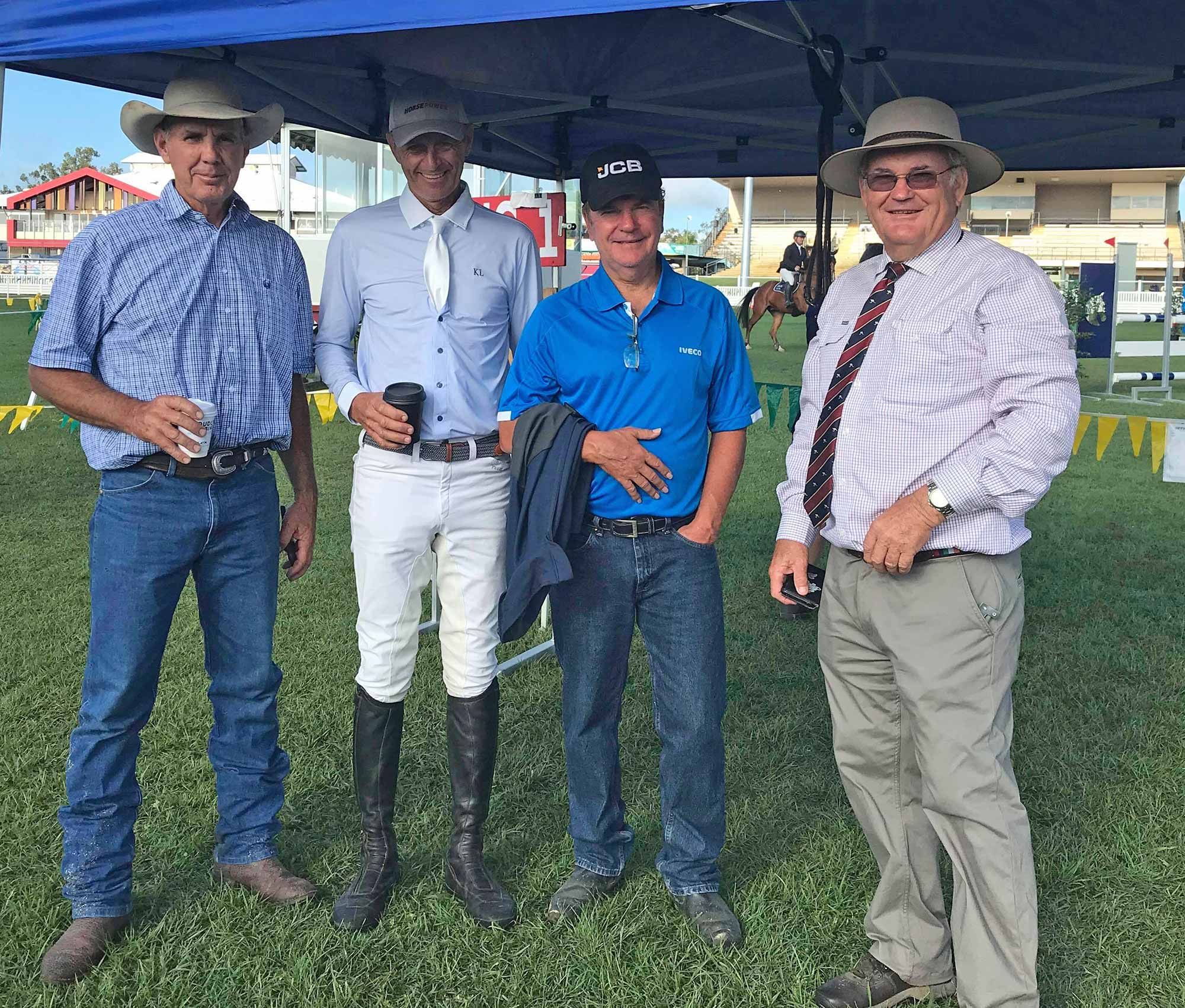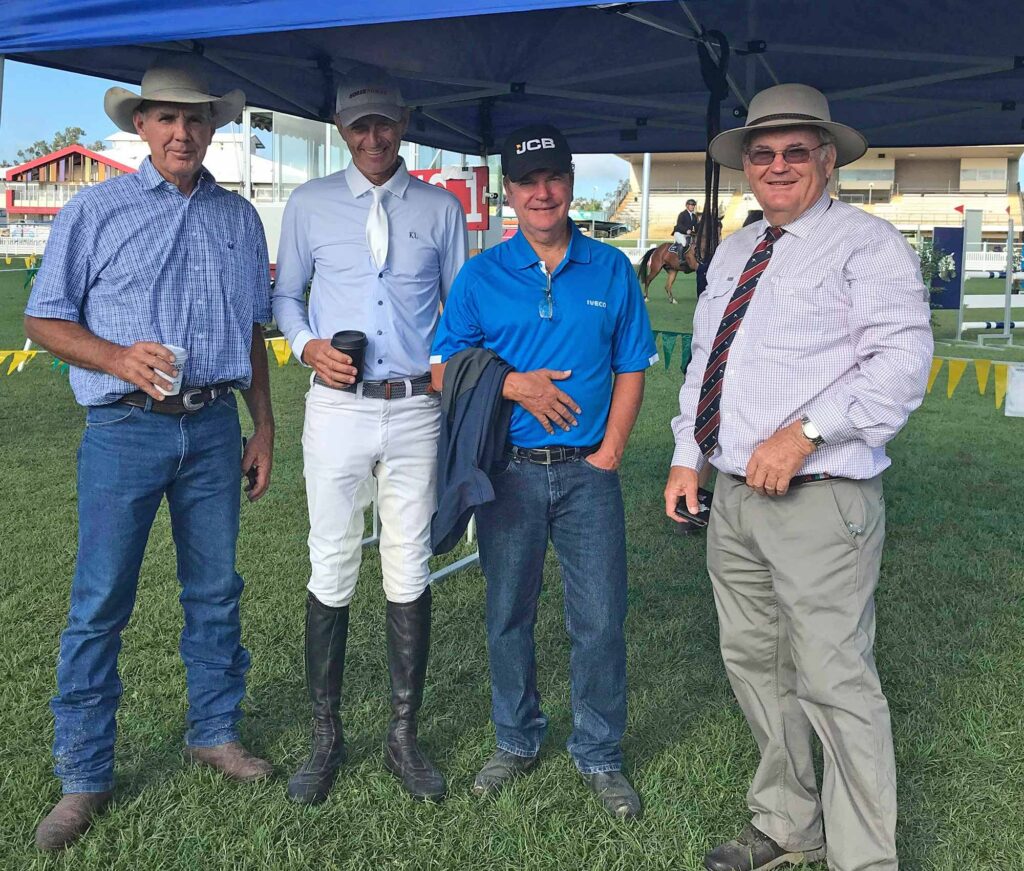 Above: Peter Simmonds, Clem Smith, Peter Carcary and Graeme Watts
Advertisement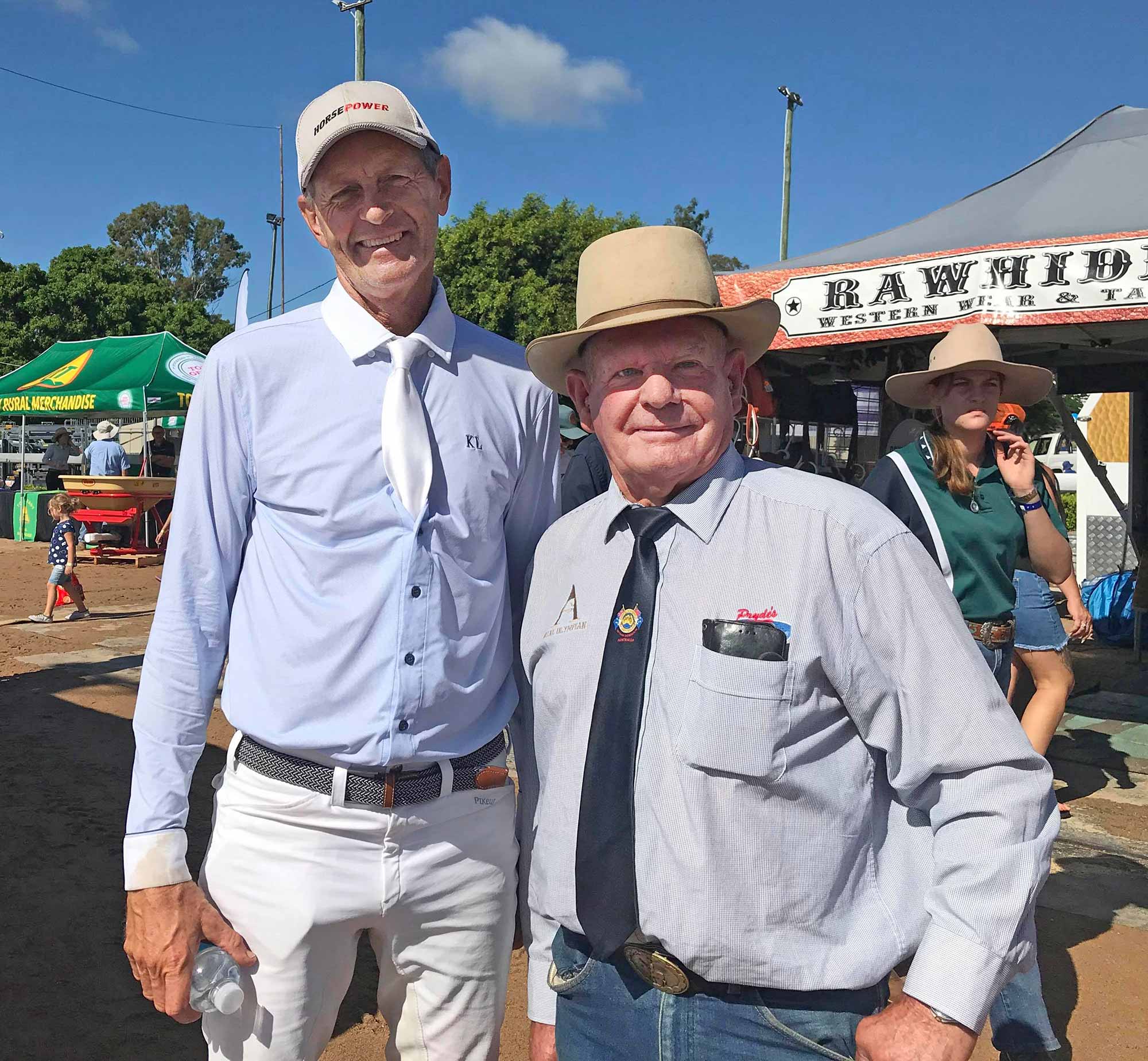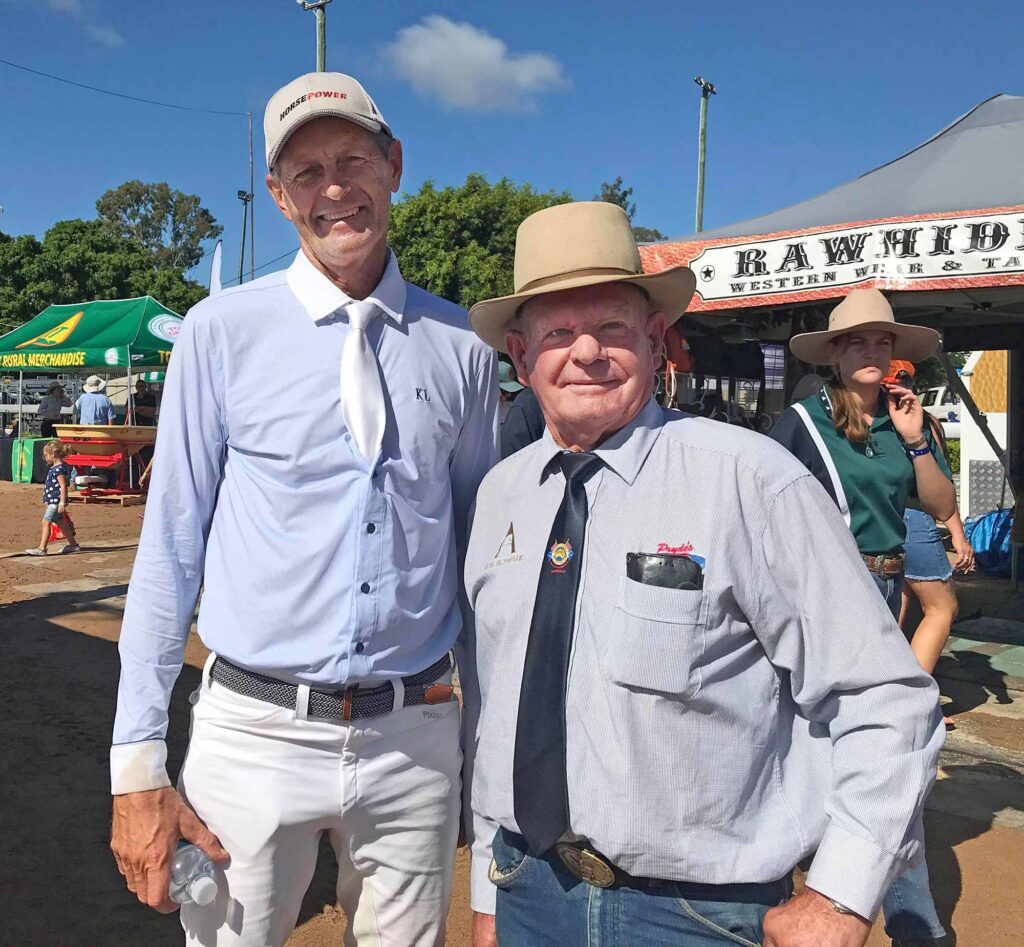 Above: Clem Smith and John Fahey
Congratulations to all the winners and placegetters in particular to Sam Overton, who took out the Senior Championship in fine style and Hayley Morris who was named leading rider of the show.
Advertisement


Below are the first six placegetters in all classes:
THURSDAY
CLASS 2101: Open (238.2.2) – 1.10m
Sponsored by: SHEPHERD'S BETTA HOME LIVING GYMPIE and MASONDALE HEAVY HAULAGE
| | | |
| --- | --- | --- |
| PLACE | RIDER | HORSE |
| 1st | Matthew Whalley | Shadow Seventy |
| 2nd | Rosie Oliver | Carina |
| 3rd | Olivia Hamood | Diamond B Bdazzled |
| 4th | Sally Simmonds | Oaks Kingfisher |
| 5th | Ashlee Christensen | N Harleys Girl |
| 6th | Rebecca Jenkins | Tulara Willow |
CLASS 2102: Horses Under 40 points (238.2.2) – 1.20m
Sponsored by: BROWN MACAULAY & WARREN CHARTERED ACCOUNTANTS
| | | |
| --- | --- | --- |
| PLACE | RIDER | HORSE |
| 1st | Hayley Morris | Gisborne Girl |
| 2nd | Sally Simmonds | Choi MS |
| 3rd | Holly Douglas | Kissing The Sky |
| 4th | Jaime Hewitt-Toms | Deveraux Sea Salt |
| 5th | Tayla Parlivliet | Flash Drive |
| 6th | Sam Overton | Pabello |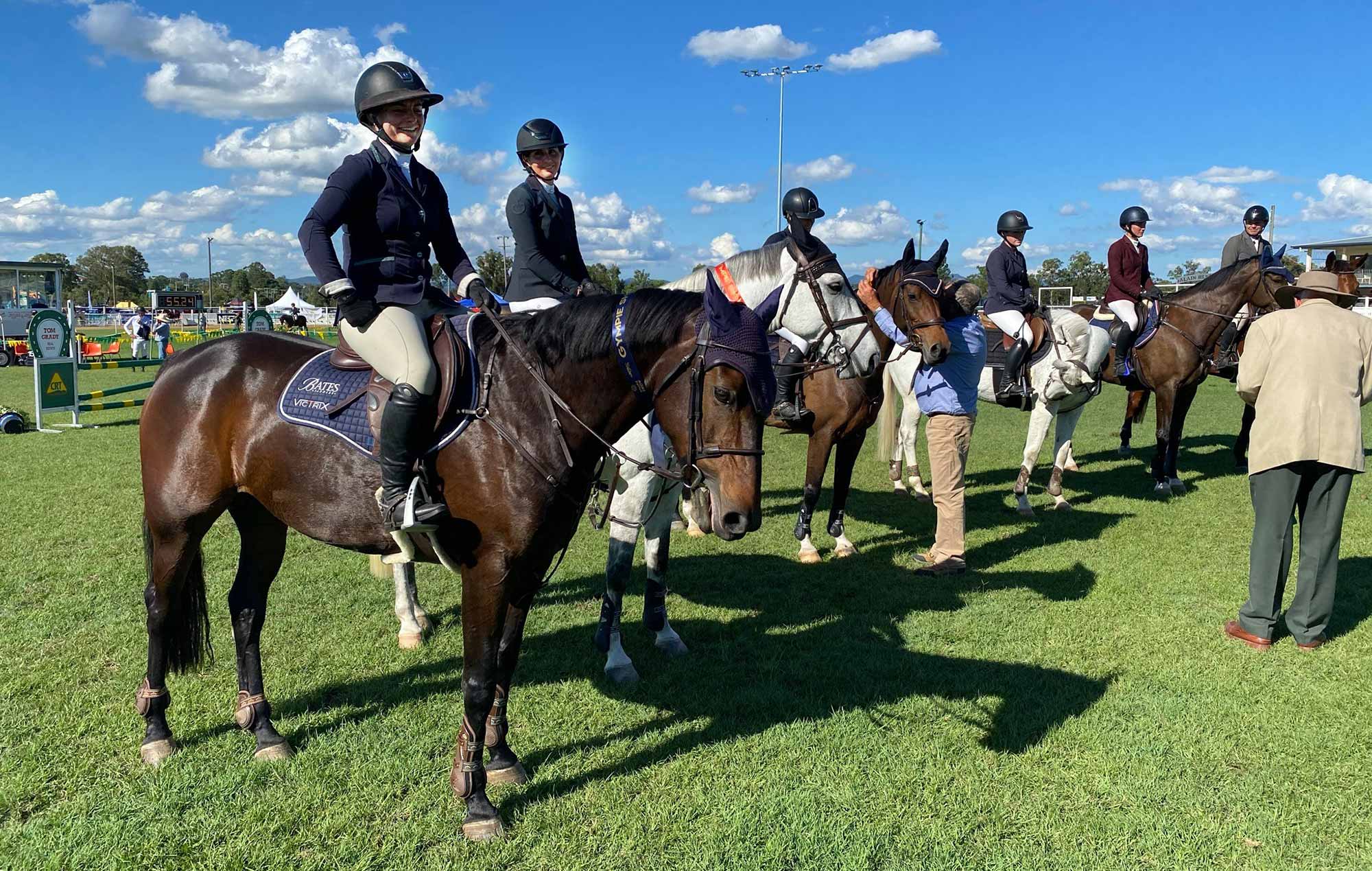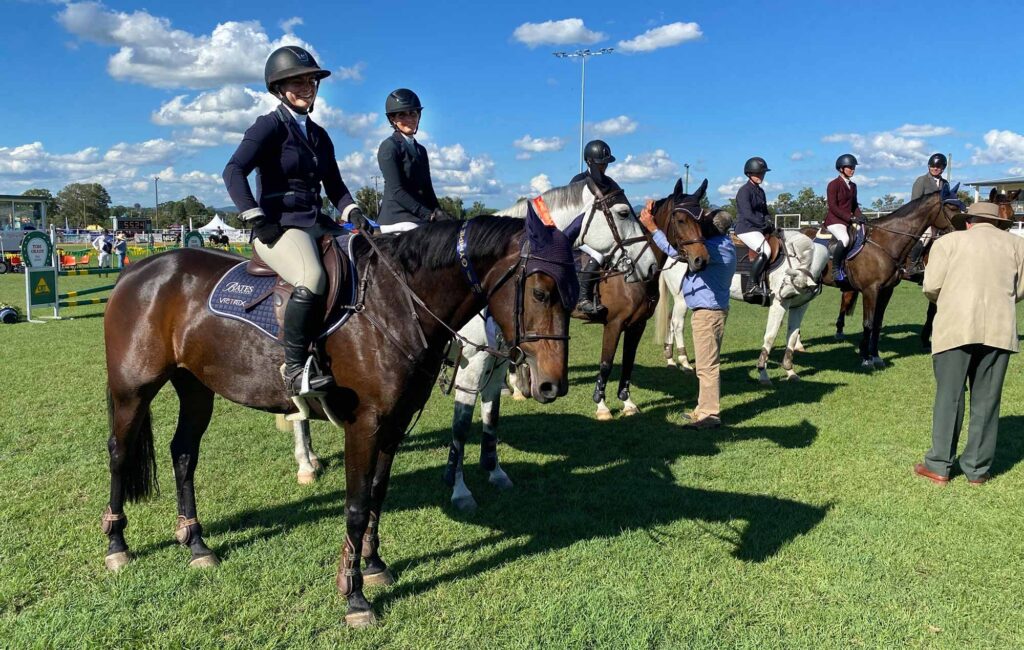 CLASS 2103: Open (238.2.2) – 1.30m
Sponsored by: BROWN MACAULAY & WARREN CHARTERED ACCOUNTANTS
| | | |
| --- | --- | --- |
| PLACE | RIDER | HORSE |
| 1st | Kirstie Ansell | Tulara Stolensky |
| 2nd | Olivia Hamood | Jane Fonda DVD |
| 3rd | Shane Davidson | Jaybee Vision |
| 4th | Shane Davidson | Oaks Cassanova |
| 5th | Matthew Whalley | Kamare Vendetta |
| 6th | Brett Warren | Vertigo |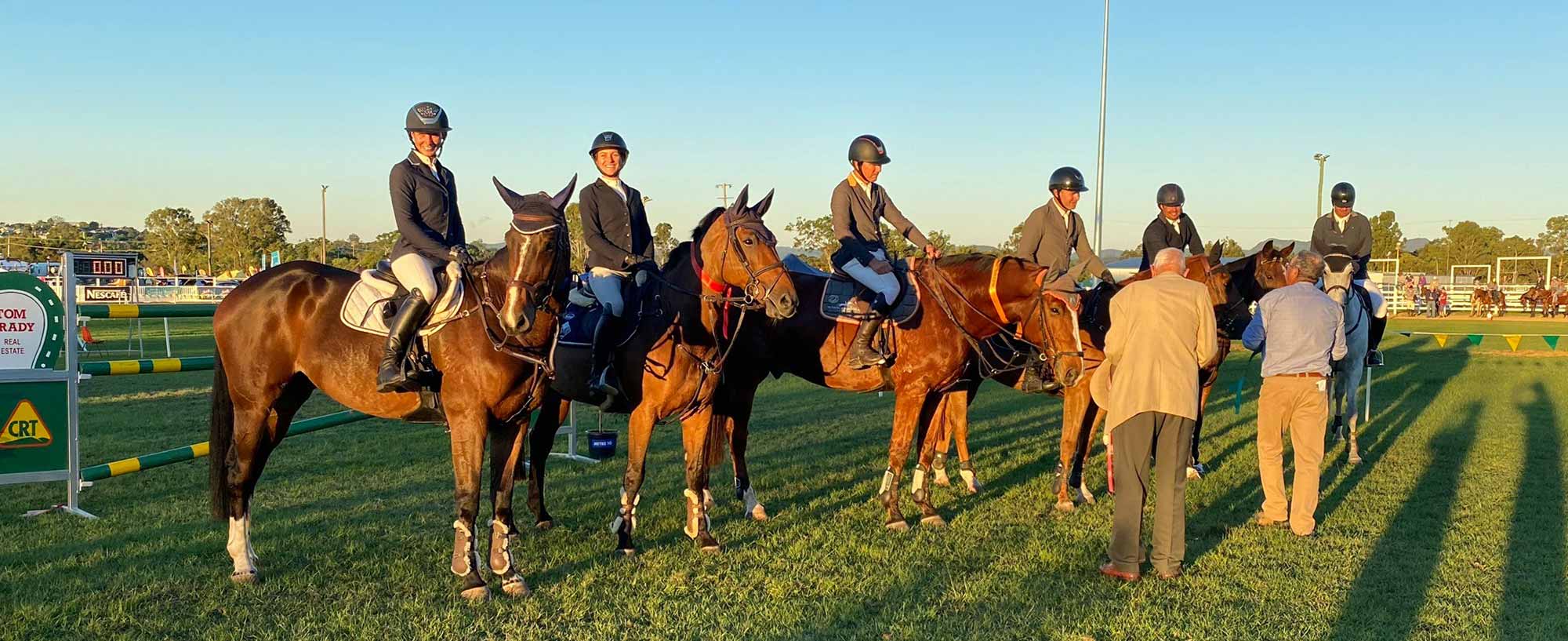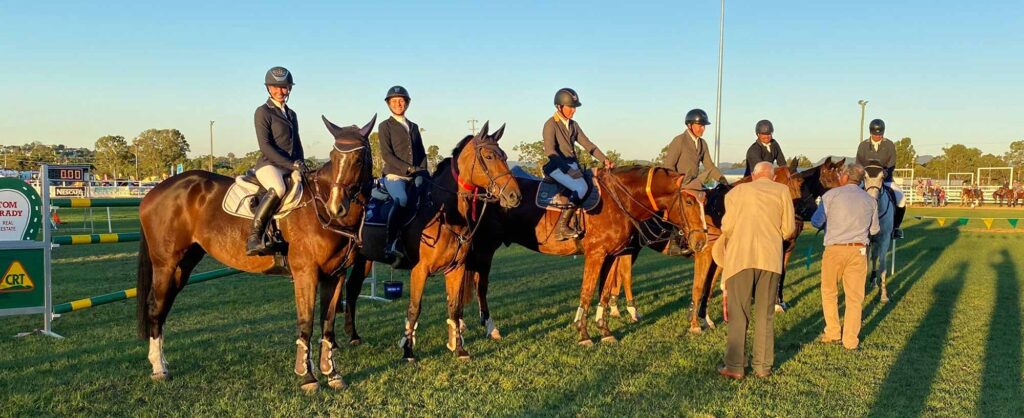 FRIDAY
CLASS 2106: Thoroughbred Horses (238.2.2) – 1.15m
Sponsored by: GYMPIE TURF CLUB and MASONDALE HEAVY HAULAGE
| | | |
| --- | --- | --- |
| PLACE | RIDER | HORSE |
| 1st | Deziree Roos | Powerful Sphere |
| 2nd | Emily Patterson | Star Struck |
| 3rd | Chloe Taylor | Northern Star |
| 4th | Cameron Moffatt | Isabella Rose |
| 5th | Clem Smith | Bush Poet |
CLASS 2107: EFA Queensland State Championship – horses under 20 points (238.2.2) – 1.15m
Sponsored by: ROBERTSON BROS SAWMILL, BROWN MACAULAY & WARREN CHARTERED ACCOUNTANTS, GYMPIE BUILDING COMPANY and OAKVALE HOMES
| | | |
| --- | --- | --- |
| PLACE | RIDER | HORSE |
| 1st | Hayley Morris | Lady Eros |
| 2nd | Tyrone Latham | Arion Curasun |
| 3rd | Rebecca Jenkins | Tulara Willow |
| 4th | Matthew Whalley | Shadow Seventy |
| 5th | Mark Nicholls | Obama |
| 6th | Kayla Johnston | Swing Time Vulcan |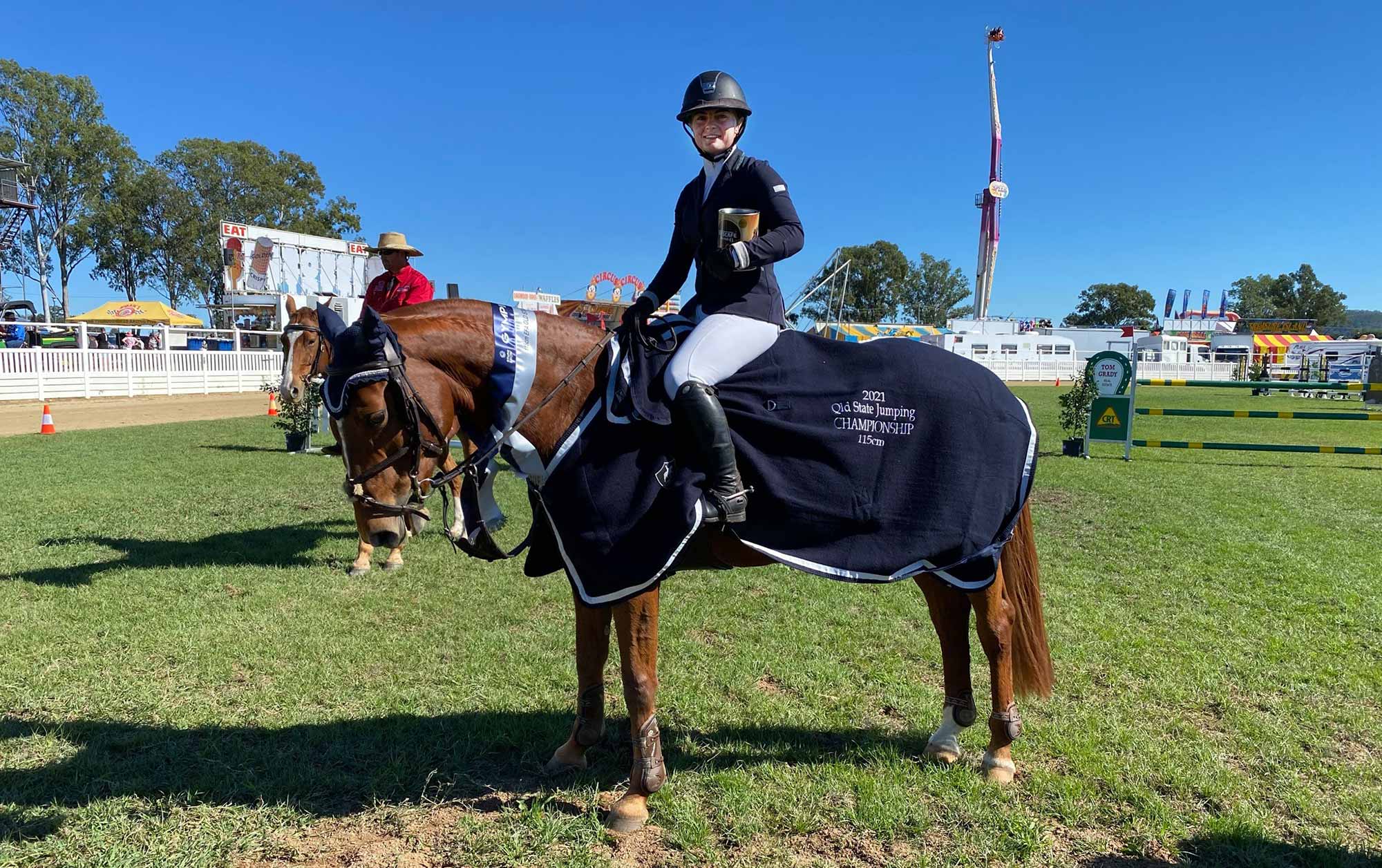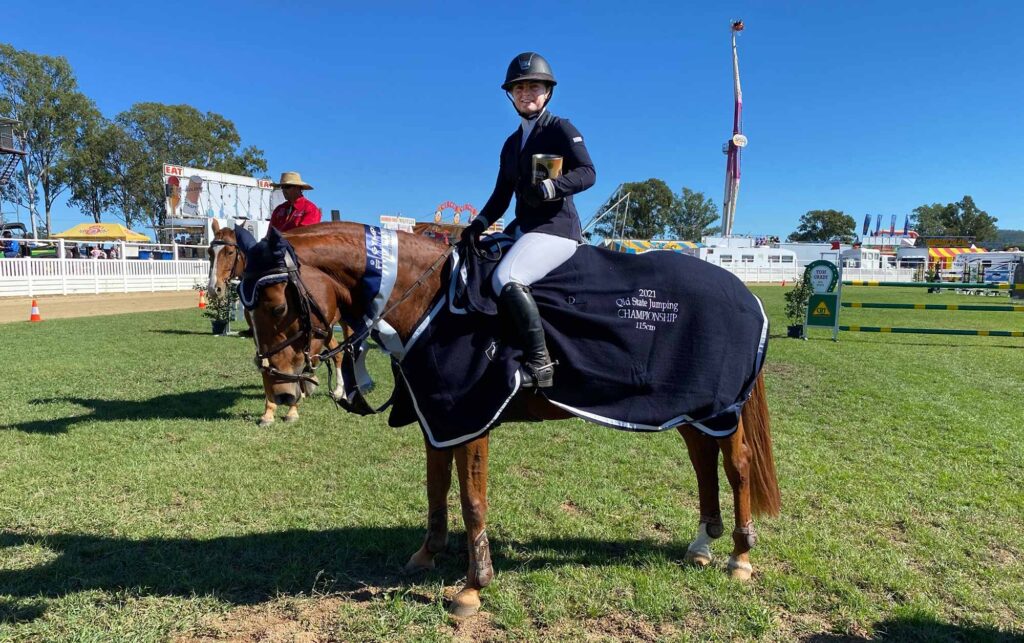 CLASS 2108: EFA Queensland State Championship – horses under 40 points (238.2.2) – 1.25m
Sponsored by: OAKVALE HOMES
| | | |
| --- | --- | --- |
| PLACE | RIDER | HORSE |
| 1st | Hayley Morris | Corlara |
| 2nd | Tesse Cooke | Allwynds Vallero |
| 3rd | Clem Smith | Oaks Conjuror |
| 4th | Brett Warren | Cassatta |
| 5th | Shane Davidson | HJB Vigilanti |
| 6th | Sally Simmonds | Oaks Kingfisher |
CLASS 2109: The Topsy Bath Memorial Grand Prix – EFA Queensland State Championship
Sponsored by: COOLOOLA MILK, COOLOOLA PUMP AND IRRIGATION and BROWN MACAULAY & WARREN CHARTERED ACCOUNTANTS
| | | |
| --- | --- | --- |
| PLACE | RIDER | HORSE |
| 1st | Sam Overton | Oaks Casanova |
| 2nd | Billy Raymont | Anton |
| 3rd | Olivia Hamood | Jane Fonda DVD |
| 4th | Olivia Hamood | Knock Out 111 |
| 5th | Billy Raymont | Black Jack IXE |
| 6th | Emily Patterson | Libertarian |
SATURDAY
CLASS 2110: Gympie Show Society Children's Show Jumping Championship (238.2.2) – 1.00m
Sponsored by: ROYAL SEATING HIRE
| | | |
| --- | --- | --- |
| PLACE | RIDER | HORSE |
| 1st | Georgia Roberts | Life To The Max |
| 2nd | Georgia Cronin | Mervyn |
| 3rd | Lily Short | King Of Soul |
| 4th | Tyler Short | Granus Legacy |
| 5th | Lily Short | Rose Wood |
| 6th | Ella Viser | Ebay |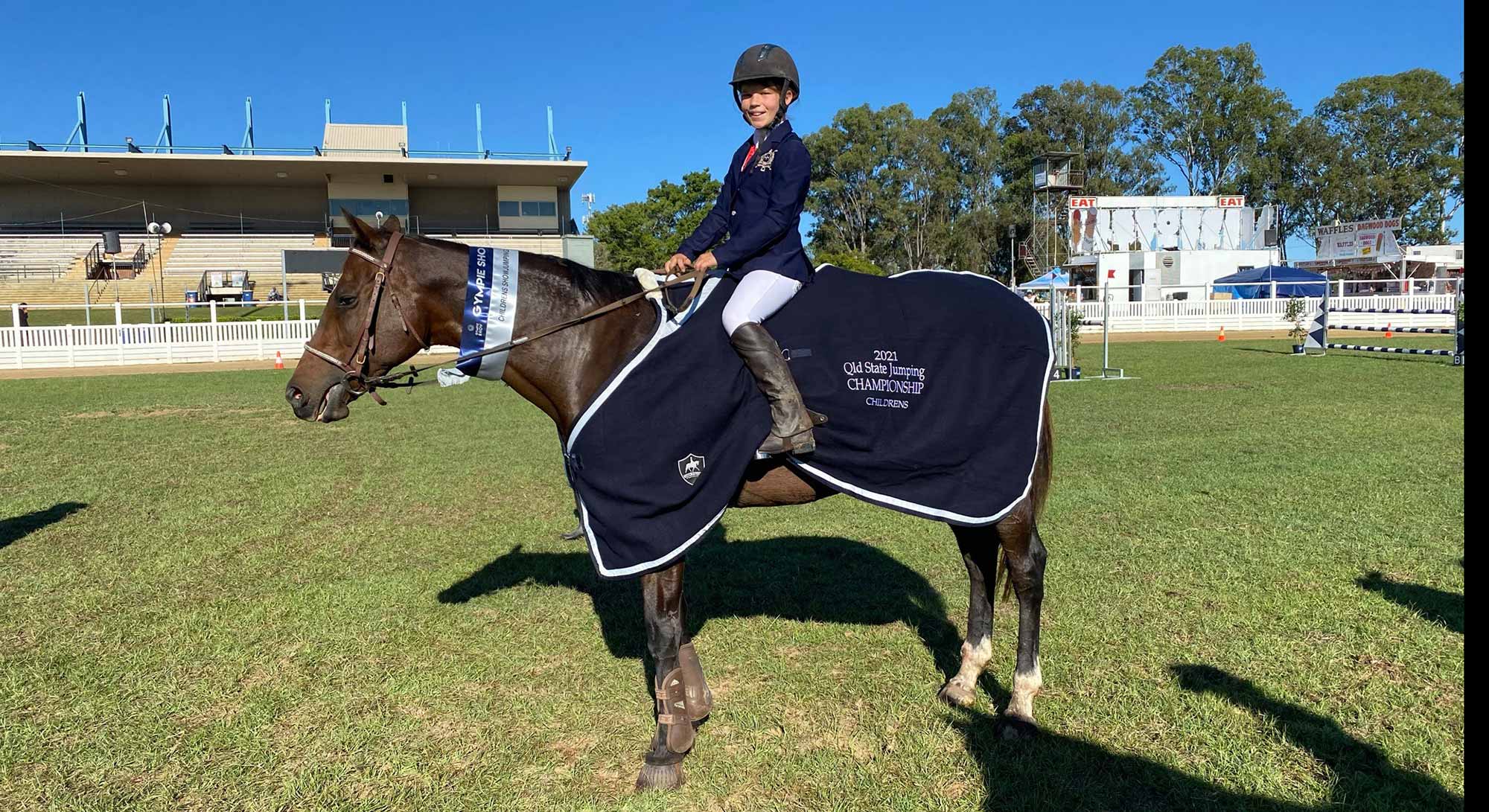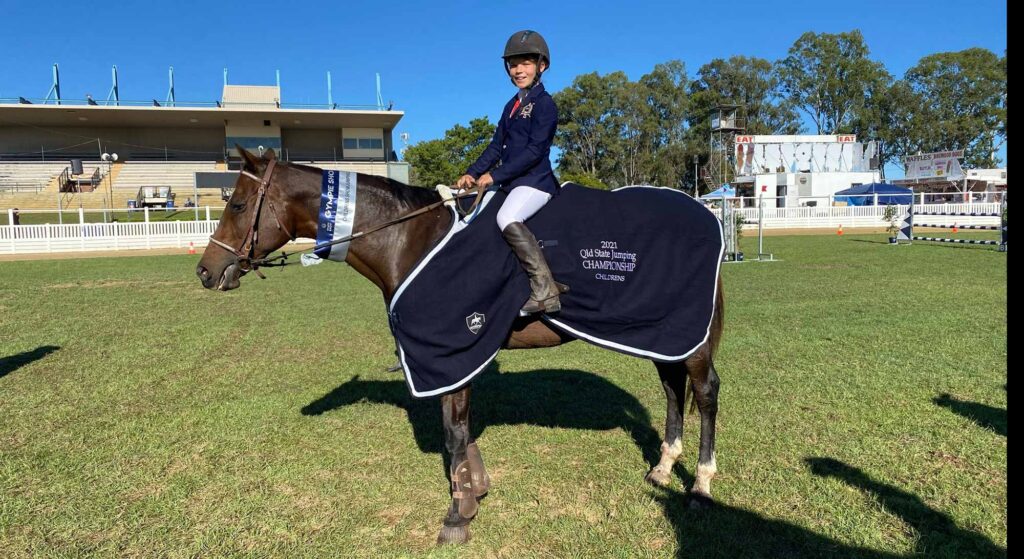 CLASS 2111: Gympie Show Society Junior Show Jumping Championship (238.2.2)
Sponsored by: ROYAL SEATING HIRE and DORE WEBB LAWYERS
| | | |
| --- | --- | --- |
| PLACE | RIDER | HORSE |
| 1st | Kaitlyn Parlevliet | Stella |
| 2nd | Jamie Hewitt-Toms | Devereaux Sea Salt |
| 3rd | Cody Tincknell | Connect The Dots |
| 4th | Kaitlyn Parlevliet | Galaxy |
| 5th | Grace Overton | CD Visage |
| 6th | Sarah Harms | C Cavalier |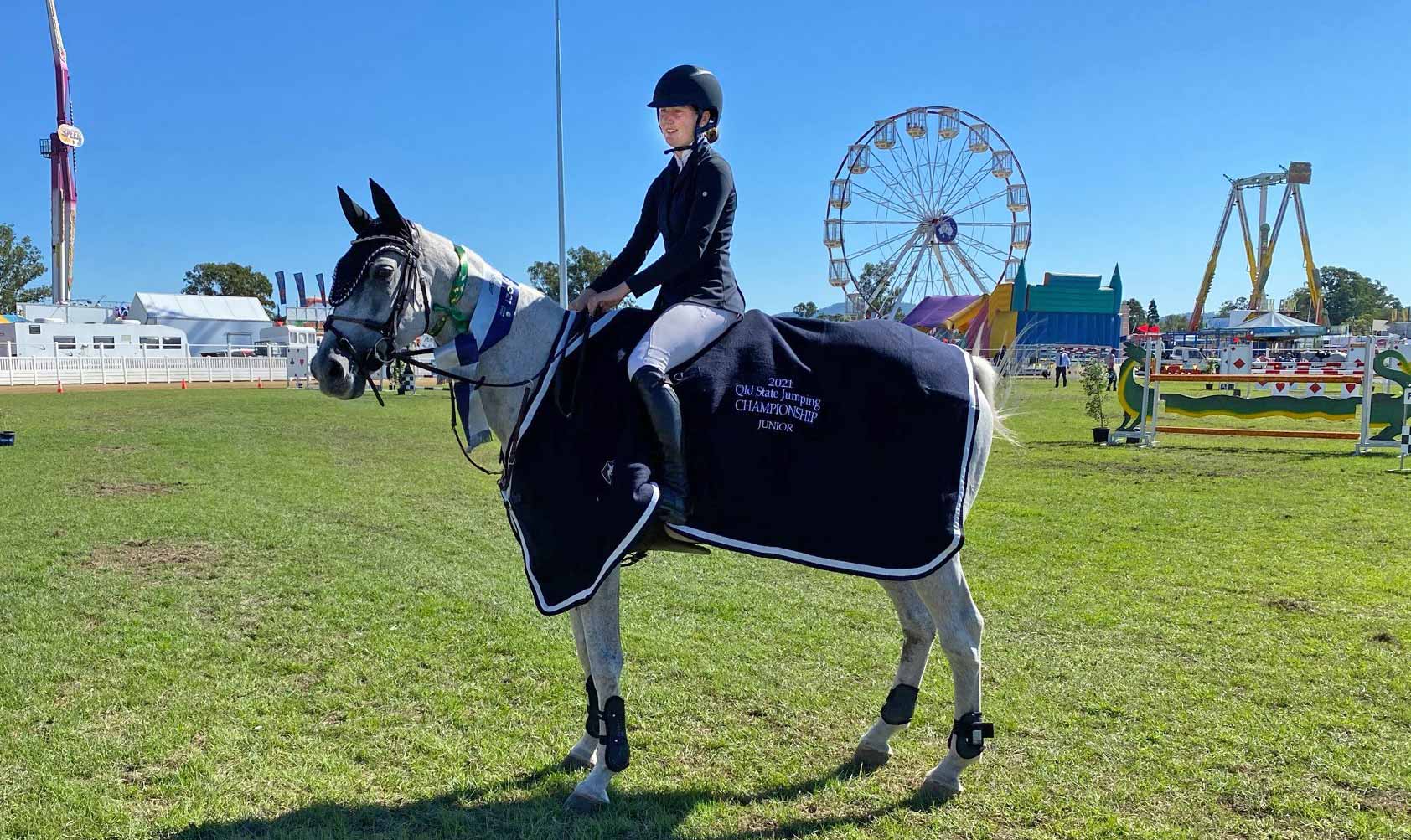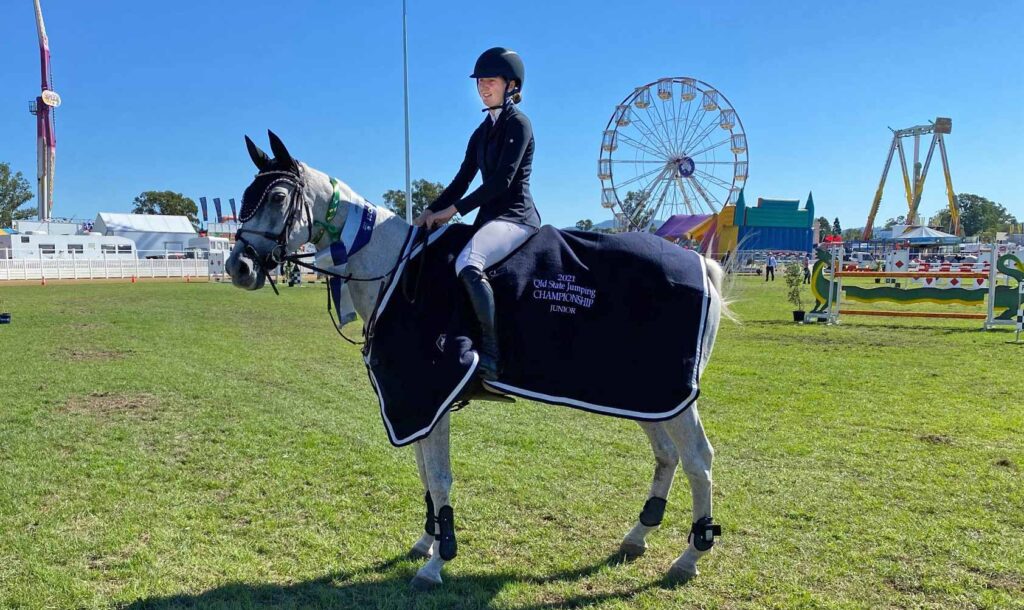 CLASS 2112: Gympie Show Society Young Rider's Show Jumping Championship (238.2.2)
Sponsored by: GYMPIE DIESEL & DYNO
| | | |
| --- | --- | --- |
| PLACE | RIDER | HORSE |
| 1st | Tayla Parlevliet | Flash Drive |
| 2nd | Mia McNaught | Balloon |
| 3rd | Tayla Parlevliet | Fairview Lorini C |
| 4th | Sally Simmonds | Chio MS |
| 5th | Cameron Moffatt | HPS Minou |
| 6th | Grace Overton | Pabello |
Results and photos supplied by Jumping Queensland
View Comments