Solid performance by Australia in Nations Cup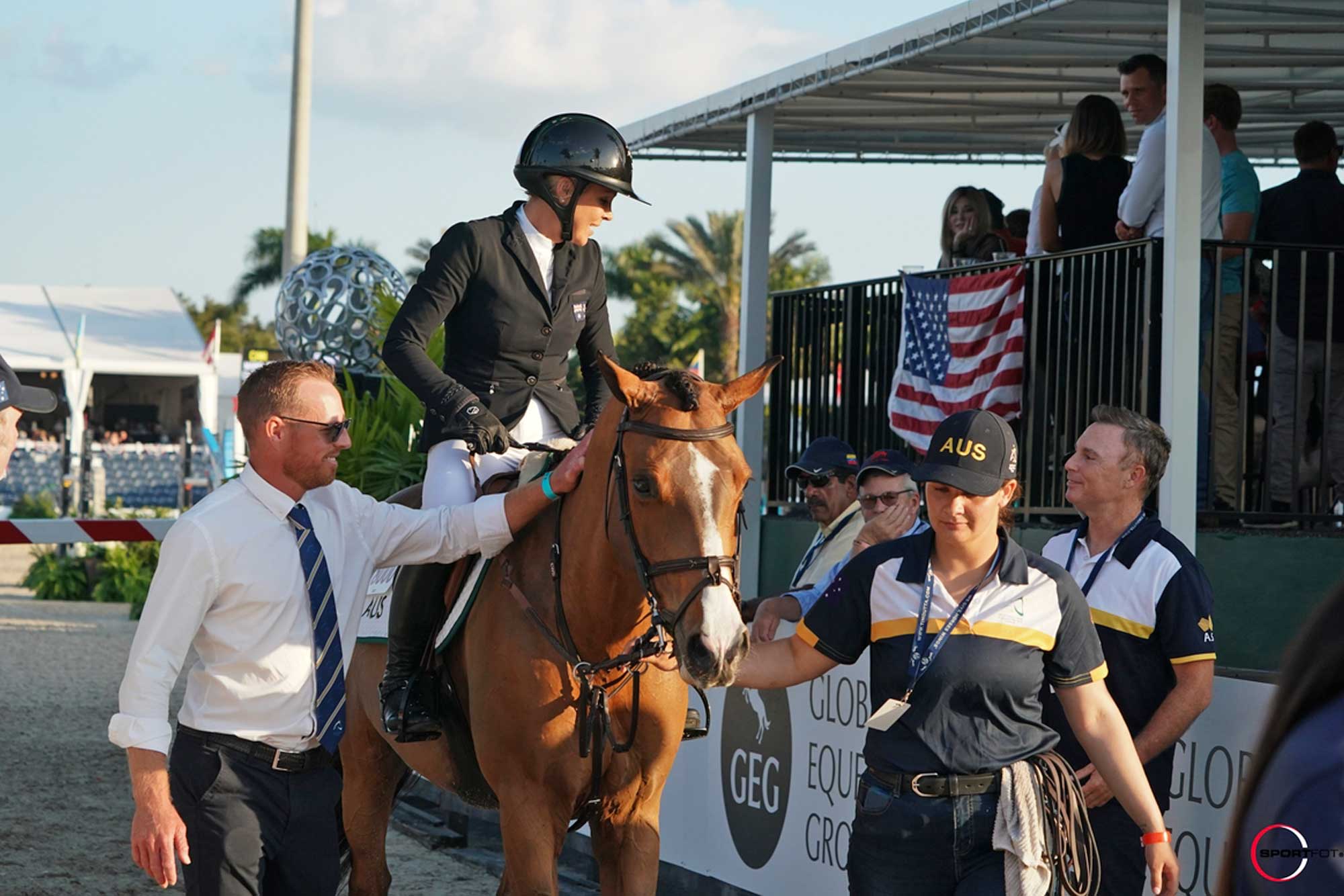 SportFot
Four Australian combinations took to the course over the weekend at the Wellington International Equestrian Centre, in Florida as part of our first FEI Nations Cup event of 2023. It was an important event in the context of determining the team that will represent Australia at the final qualifying competition to be held mid-year in an effort to qualify a team for the 2024 Paris Olympics.
Advertisement


Our team consisted of two combinations who were part of our Wellington Nations Cup team in 2022, namely Lauren Balcomb and Verdini D'Houtveld Z and David Cameron and Oaks Come by Chance. They were joined this year by Thaisa Erwin and Vanturo and three-time Olympian Matt Williams and ABC Quantum Cruise.
Eleven countries were entered in the competition, with each team comprising either three or four combinations. As Australia had a team of four, they were afforded the luxury of a drop score with only the best three scores counting in each round. After the first round, the top eight nations came back to battle for the final placings.
Third combination on course and first for the Aussies were David Cameron and Oaks Come By Chance. They had a great round with just a single rail down at fence 4A.
Our next combination were Thaisa Erwin and the 11-year-old gelding Vanturo. They started their round really well, however a couple of rails at the tail end of their performance saw them finish on a total of eight faults.
Advertisement


Third out for the Australians were US based Lauren Balcomb and Verdini D'Houtveld Z. Just as they did in the first round last year, they led the way for Australia with a fantastic clear round, stopping the clock at 70.19 seconds.
Our fourth combination were Matt Williams and ABC Quantum Cruise, a 14-year-old gelding that Matt only took over riding about six weeks ago. Unfortunately for them, they retired before the end of their round, which saw them relegated to the team drop score leaving Team Australia on a total of 12 faults (Cameron 4, Erwin 8 and Balcomb 0) after Round 1.
This placed the team in fifth, securing a spot in the second round. The team positions after Round 1 were as follows:
| | | |
| --- | --- | --- |
| PLACE | COUNTRY | SCORE |
| 1st | Belgium | 4 |
| =2nd | Canada | 8 |
| =2nd | Brazil | 8 |
| =2nd | Ireland | 8 |
| 5th | Australia | 12 |
| 6th | Mexico | 16 |
| 7th | Great Britain | 17 |
| 8th | United States | 20 |
| 9th | Argentina | 21 |
| 10th | Chile | 28 |
| 11th | Venezuela | 33 |
After a break of about an hour, the second round commenced, this time under lights which was sure to add some challenges.
Following the order from the first round, the first Australian combination out were David Cameron and 12-year-old gelding Oaks Come By Chance, whose dam, Oaks Milky Way, carried Hilary Scott in the Worlds Championships in Herning last year. They incurred 12 faults which is probably not the Round 2 start Australia was looking for. The pressure was now on the three combinations to come.
Thaisa Erwin and Vanturo were the next Australian combination on course. They improved on their first round performance, putting down just a single rail and would go on to be the second best performed of the four Australian combinations.
Next out were the Round 1 stars Lauren Balcomb and the 12-year-old gelding Verdini D'Houtveld Z. They were unable to emulate their first round clear, taking two rails to end the day on a total of eight faults.
Our final pair were Matt Williams and ABC Quantum Cruise, who were looking to avenge their first round retirement. They delivered a much improved performance taking two rails to also finish on eight faults. This performance saw David Cameron and Oaks Come By Chance relegated to the drop score and Australia finish with a total of 20 Round 2 faults (Erwin 4, Balcomb 8 and Williams 8).
The meant a total of 32 faults over the two rounds and just being piped for fifth place by the United States team on times.
The final placing of sixth was a solid performance which replicated our placing in this event in 2022.
The win went to Canada in a magnificent performance, going one better than their second placing last year. The feature of their night was seeing all three riders who came out in the second round go clear.
Brazil and Ireland were both tied on a total of 16 faults, however, Brazil were awarded second place based on times. Ireland had to settle for third place after topping the podium last year.
It was a very encouraging performance by the Australians, beating home jumping powerhouses Great Britain and Belgium who fell away in Round 2 where two combinations were eliminated and one retired.
Afterwards, Australian Chef d'equipe Todd Hinde said, "It was two rounds of tough competition tonight and our team showed some great performances with new young horses that are stepping up to this Nations Cup level.
"It is always a privilege to be competing amongst some of the most quality combinations from around the world, so for the Australian Team to finish overall in 6th place, it shows the camaraderie and hard work from all four riders and their teams. This definitely shows promising things to come for the future."
We look forward to watching Australia fight for Olympic qualification at a mid-year show to be held in Valkenswaard, Netherlands.
Full placings of the top eight nations are listed below:
| | | | | |
| --- | --- | --- | --- | --- |
| PLACE | COUNTRY | R1 | R2 | TOTAL |
| 1st | Canada | 8 | 0 | 8 |
| 2nd | Brazil | 8 | 8 | 16* |
| 3rd | Ireland | 8 | 8 | 16* |
| 4th | Mexico | 16 | 1 | 17 |
| 5th | United States | 20 | 12 | 32* |
| 6th | Australia | 12 | 20 | 32* |
| 7th | Great Britain | 17 | 25 | 42 |
| 8th | Belgium | 4 | DNF | DNF |
*Placings based on times.
View Comments