Stephen Dingwall takes the Gundagai Grand Prix – Again!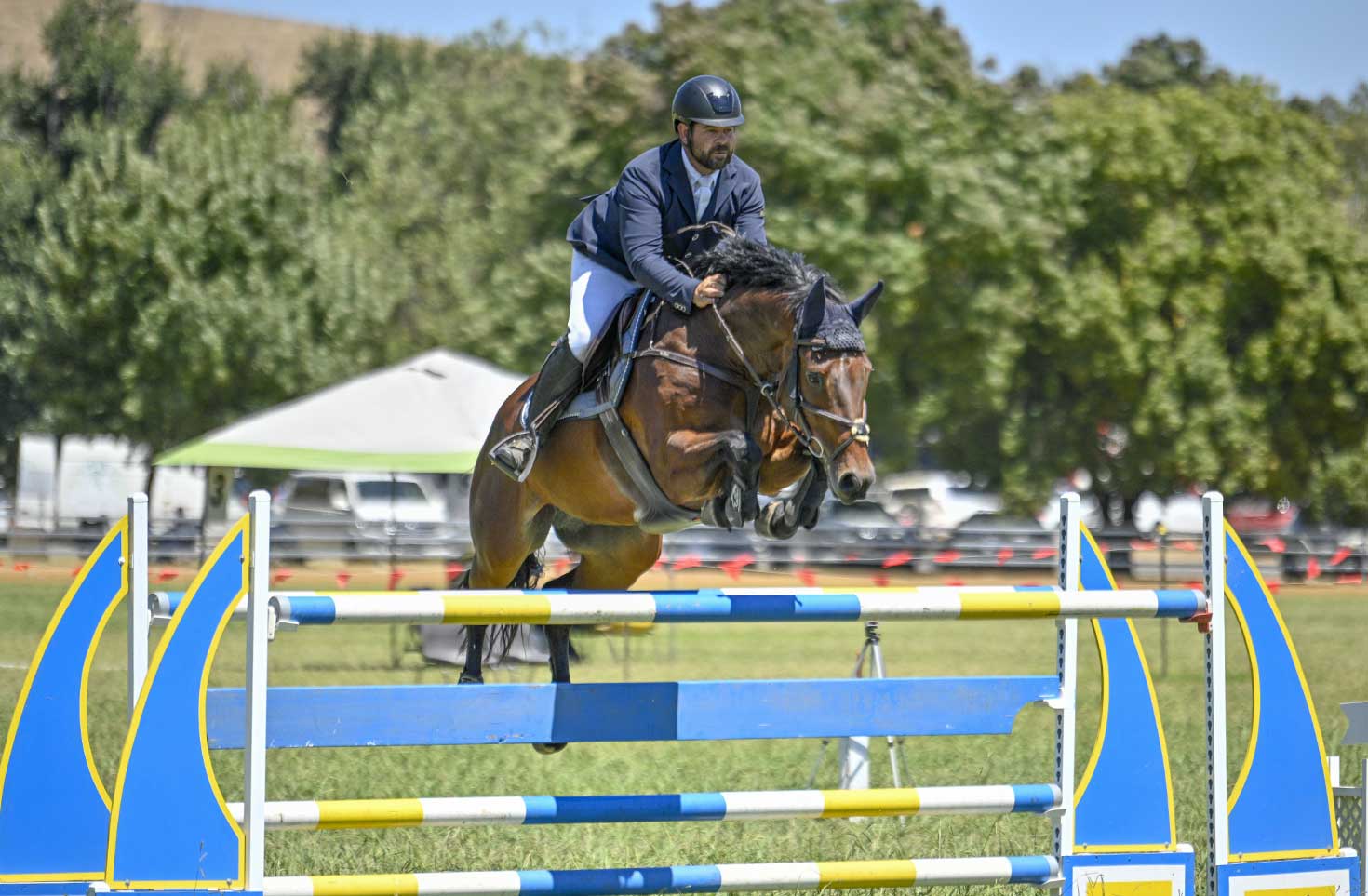 Govern Images
Above: Stephen Dingwall and Cavalier Du Rouet. Photo Credit: Govern Images
Three days of wonderful jumping action wrapped up yesterday afternoon as part of the 131st Annual Gundagai Show. Held over two arenas, there was plenty of action, with the show's headline class, the 1.35-1.40m Grand Prix conducted on Saturday afternoon.
Advertisement


The Grand Prix was won by Murrumbateman's Stephen Dingwall and Cavalier Du Rouet, who, in a wonderful effort, now have taken out this event for the past four years. Second place went to Grant Hughes and his lovely grey, Emmaville Blue Diamond, while third went to Bega rider, Lane Clarke and the very talented mare Valentine Lodge Vanna. It was a great weekend for this combination, who also won an open 1.30-1.35m class on Friday and the Speed Championship on Sunday. Just off the podium in the Grand Prix, filling fourth were 2016 NSW Senior Title winners, Emily Riley and Rhapsody in Blue.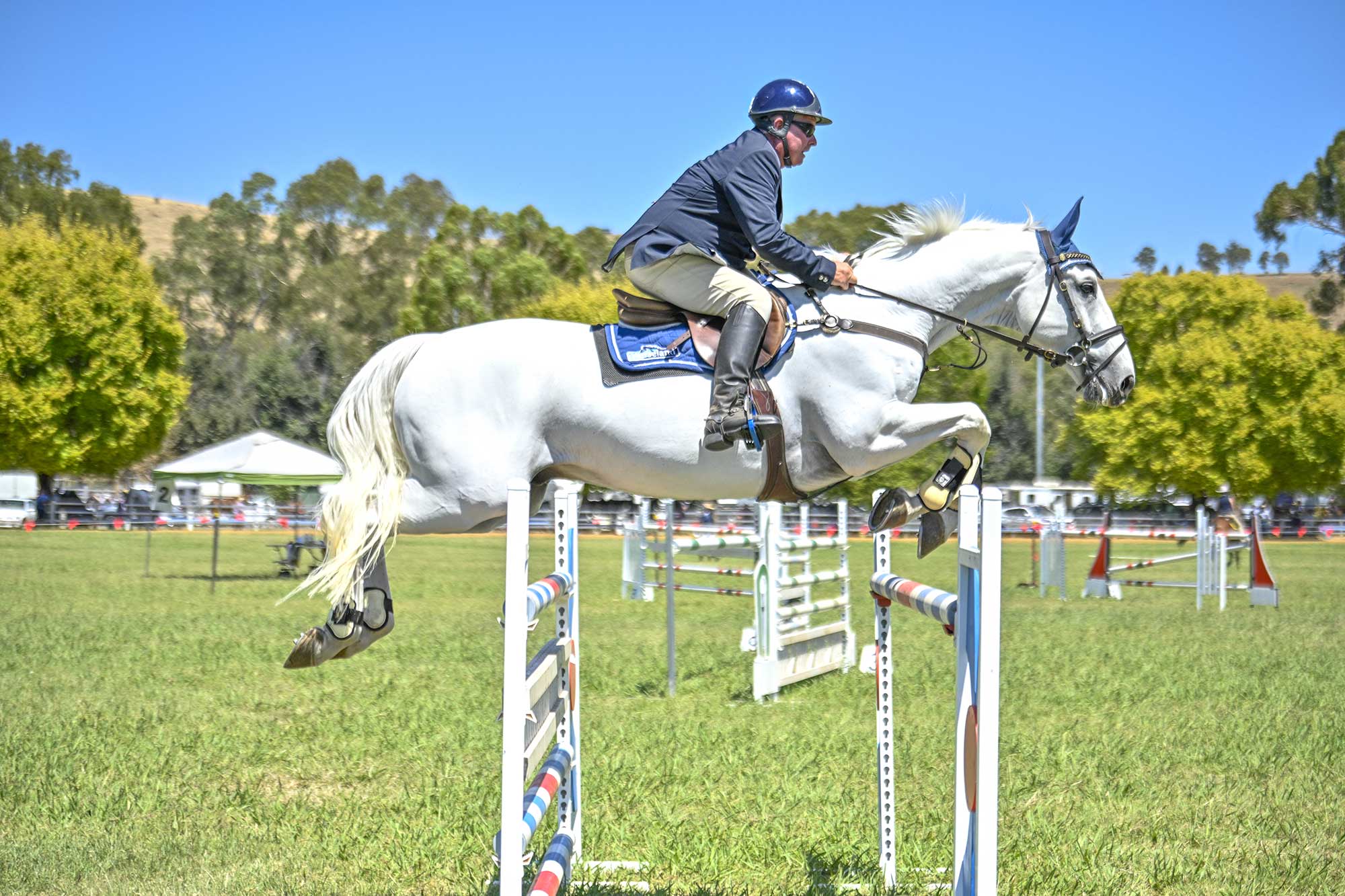 Grant Hughes and Emmaville Blue Diamond. Photo Credit: Govern Images
The most successful rider of the weekend was Charly Robinson-Smith who managed to win a massive six classes, four of which were with her thoroughbred mare Pure Obsession (0.90m, 1.00m and 1.05m twice). She picked up the other two wins with Charisma II, including the main Junior class at 1.25m.
Advertisement


Other multiple class winners from the show were Kylie Cooley, who won twice with Vesper (0.75m and 1.00m) and once with Brooke (0.90m), with a pair of wins recorded by the following combinations, Sue West and Emmaville Lamborghini, both in Adult 0.60m classes, Indianna Cornius-Randall and Foxhall Miranda, both in Junior 0.75m classes and Holly Pulford and Magic Blur, both in 0.60m Junior Classes. Also winning twice were Rachael Vella and Vellara Delerium, who took out the first round on the 2022 NSW Amateur Rider Series as well as an Open 1.15m class.
Congratulations to all the winners and placegetters from the show. Placegetters in all classes are listed below.
FRIDAY RESULTS
ARENA 1
CLASS 1: OPEN SUPERPHASE – 0.90m
| | | |
| --- | --- | --- |
| PLACE | RIDER | HORSE |
| 1st | Charly Robinson-Smith | Pure Obsession |
| 2nd | Meghan Fahey | Benjarra Diego |
| 3rd | Gabriella Mannell | Athena |
| 4th | Sarah Dreverman | Emmaville Gem |
| 5th | Alyssa Hughes | Emmaville Pine |
| 6th | Luke Dickinson | Anembo Darcy |
CLASS 2A: SUPERPHASE (Horses under 6 points) – 1.05m
| | | |
| --- | --- | --- |
| PLACE | RIDER | HORSE |
| 1st | Ella Fisher | Blackall Park Vancouver |
| 2nd | Sarah Dreverman | Emmaville Silverton |
| 3rd | Katelyn Staples | Emmaville Amigo |
| 4th | Samantha Harrison | Springfield Firefly |
| 5th | Anna Musgrove | Statford Narnia |
| 6th | Luke Dickinson | Anembo Darcy |
CLASS 2B: OPEN SUPERPHASE – 1.05m
| | | |
| --- | --- | --- |
| PLACE | RIDER | HORSE |
| 1st | Charly Robinson-Smith | Pure Obsession |
| 2nd | Olivia Emmert | Emmaville Tia Maria |
| 3rd | Kayla Hogg | Redfoo |
| 4th | Laura Harland | Oaks 007 |
| 5th | Gem McGufficke | Indeed |
| 6th | Gabriella Mannell | Athena |
CLASS 3A: OPEN SUPERPHASE – 1.10-1.15m
| | | |
| --- | --- | --- |
| PLACE | RIDER | HORSE |
| 1st | Tori Doak | Blackall Park Rap |
| 2nd | Robert Grimson | Cooper |
| 3rd | Lane Clarke | Miss Super Nova |
| 4th | Sarah Dreverman | Tulara Forrie |
| 5th | Rachel Vella | Vellara Delerium |
| 6th | Ella Fisher | Blackall Park Vancouver |
CLASS 3B: SUPERPHASE (Juniors) – 1.10-1.15m
| | | |
| --- | --- | --- |
| PLACE | RIDER | HORSE |
| 1st | Charly Robinson-Smith | Carisma II |
| 2nd | Charly Robinson-Smith | Our Peace Maker |
| 3rd | Indianna Cornius-Randall | BP High Society |
| 4th | Kayla Hogg | Redfoo |
| 5th | Maddison Brighton | Anembo Monarch |
| 6th | Holly Pulford | Master Spook |
CLASS 4A: OPEN SUPERPHASE – 1.20m
| | | |
| --- | --- | --- |
| PLACE | RIDER | HORSE |
| 1st | Sarah Dreverman | Tulara Forrie |
| 2nd | Grant Hughes | Emmaville Twist |
| 3rd | Lane Clarke | Valentine Lodge Vanna |
| 4th | Sarah Dreverman | Emmaville Van Gogh |
| 5th | Clare Anderson | Outlawed W |
| 6th | Melissa Jasprizza | Woodsend Merlot |
CLASS 4B: SUPERPHASE (Young Riders) – 1.20m – Results Incomplete
CLASS 5: OPEN SUPERPHASE – 1.30-1.35m
| | | |
| --- | --- | --- |
| PLACE | RIDER | HORSE |
| 1st | Lane Clarke | Valentine Lodge Vanna |
| 2nd | Melissa Jasprizza | Just Frank |
| 3rd | Sarah Dreverman | Emmaville Van Gogh |
| 4th | Grant Hughes | Emmaville Blue Diamond |
| 5th | Charly Robinson-Smith | Martango |
| 6th | Emily Riley | Rhapsody In Blue |
ARENA 2
CLASS 16A: SUPERPHASE (Juniors) – 0.60m
| | | |
| --- | --- | --- |
| PLACE | RIDER | HORSE |
| 1st | Jada Burgun | Missile Higgins |
| 2nd | Ruben White | Ellie |
| 3rd | Madelayne Burgess | Hyperium II |
| 4th | Katy Robinson | Horse |
| 5th | Abby Crawford | Bygeorge |
| 6th | Piper Dennis | Soberup |
CLASS 16B: SUPERPHASE (Seniors) – 0.60m
| | | |
| --- | --- | --- |
| PLACE | RIDER | HORSE |
| 1st | Sue West | Emmaville Lamborghini |
| 2nd | Prudence Baker | Mi Amigo Pedro |
| 3rd | Jade Willis | With A Kurl |
| 4th | Milla Watkins | Alfie |
| 5th | Erin Roddy | Oaks Coronet |
| 6th | Erin Roddy | HL Black Orchid |
CLASS 17A: SUPERPHASE (Juniors) – 0.75m
| | | |
| --- | --- | --- |
| PLACE | RIDER | HORSE |
| 1st | Indianna Cornius-Randall | Foxhall Miranda |
| 2nd | Jada Burgun | Little Revoli Star |
| 3rd | Ruben White | Ellie |
| 4th | Madelayne Burgess | Hyperium II |
| 5th | Katy Robinson | Horse |
| 6th | Abby Crawford | Phisachi |
CLASS 17B: SUPERPHASE (Seniors) – 0.75m
| | | |
| --- | --- | --- |
| PLACE | RIDER | HORSE |
| 1st | Kylie Cooley | Vesper |
| 2nd | Alyson Burgess | Mack |
| 3rd | Kerrie Tanner | Overdane |
| 4th | Sarah Holdsworth | Stella |
| 5th | Natalie Barrett | Springshot B |
| 6th | Erin Roddy | Oaks Coronet |
CLASS 18A: SUPERPHASE (Juniors) – 0.90m
| | | |
| --- | --- | --- |
| PLACE | RIDER | HORSE |
| 1st | Katy Robinson | GB Wavey Davey |
| 2nd | Lexi Oag | (not noted in results) |
| 3rd | Jorja Rusten | Empire Shadow |
| 4th | Casey Tritschler | Sassy |
| 5th | Cassie Nicholls | Brookton |
| 6th | Laureen Wagner | Flash |
CLASS 18B: SUPERPHASE (Seniors) – 0.90m
| | | |
| --- | --- | --- |
| PLACE | RIDER | HORSE |
| 1st | Kylie Cooley | Brooke |
| 2nd | Casey Tritscher | Sassy |
| 3rd | Vicki Cowdroy | Anembo Treasure |
| 4th | AJ Jones | Ebeneezer |
| 5th | Geoff Prisk | Miss Mister |
| 6th | Natalie Barrett | Springshot B |
CLASS 19: OPEN SUPERPHASE – 1.00m
| | | |
| --- | --- | --- |
| PLACE | RIDER | HORSE |
| 1st | Kylie Cooley | Vesper |
| 2nd | Maddison Vallender | Costa Rica |
| 3rd | Robert Grimson | Socks |
| 4th | Katie Henderson | Esperanto |
| 5th | Natalie Melis | Starview Clancy |
| 6th | Jorja Rusten | Empire Shadow |
SATURDAY RESULTS
ARENA 1
CLASS 6A: OPEN AM7 – 1.10-1.15m
| | | |
| --- | --- | --- |
| PLACE | RIDER | HORSE |
| 1st | Kristle Lee Cross | Little Bit Of Blue |
| 2nd | Sarah Dreverman | Tulara Forrie |
| 3rd | Ella Fisher | Blackall Park Vancouver |
| 4th | Stephen Dingwall | Cavalier Alouette |
| 5th | Craig Matthews | Maumahara |
| 6th | Laura Harland | Oaks 007 |
CLASS 6B: AM7 (Juniors) – 1.10-1.15m
| | | |
| --- | --- | --- |
| PLACE | RIDER | HORSE |
| 1st | Kayla Hogg | Redfoo |
| 2nd | Holly Pulford | Master Spook |
| 3rd | Maddison Brighton | Anembo Monarch |
| 4th | Charly Robinson-Smith | Our Peace Maker |
| 5th | Indianna Cornius-Randall | BP High Society |
| 6th | Monet Stevenson | Master Footloose |
CLASS 7A: OPEN AM7 – 1.25m
| | | |
| --- | --- | --- |
| PLACE | RIDER | HORSE |
| 1st | Stephen Dingwall | Cavalier Du Rouet |
| 2nd | Sarah Dreverman | Emmaville Van Gogh |
| 3rd | George Riley | Valmira |
| 4th | Lane Clarke | Valentine Lodge Vanna |
| 5th | Michael Cross | Little Bear |
| 6th | Grant Hughes | Emmaville Twist |
CLASS 7B: AM7 (Young Riders) – 1.25m
| | | |
| --- | --- | --- |
| PLACE | RIDER | HORSE |
| 1st | Charly Robinson-Smith | Carisma II |
| 2nd | Mikaela MacNamara | SS Star's Knight |
| 3rd | Charly Robinson-Smith | Martango |
| 4th | Katelyn Staples | KC Spotabug |
| 5th | Gracie Dawes | Castell |
CLASS 8: AM5 – NSW AMATEUR SERIES – 1.15-1.20m
| | | |
| --- | --- | --- |
| PLACE | RIDER | HORSE |
| 1st | Rachael Vella | Vellara Delerium |
| 2nd | Samantha Harrison | Springfield Firefly |
| 3rd | Joy Collins | Old Red |
| 4th | Tori Doak | Blackall Park Rap |
| 5th | Olivia Emmert | Emmaville Tia Maria |
| 6th | Tommy Ladhams | Warrego Windom |
CLASS 9: OPEN – GRAND PRIX – 1.35-1.40m
| | | |
| --- | --- | --- |
| PLACE | RIDER | HORSE |
| 1st | Stephen Dingwall | Cavalier Du Rouet |
| 2nd | Grant Hughes | Emmaville Blue Diamond |
| 3rd | Lane Clarke | Valentine Lodge Vanna |
| 4th | Emily Riley | Rhapsody In Blue |
| 5th | William Mathew | KPH Maddison |
CLASS 10A: AM7 – (Horses under 6 points) – 1.05m
| | | |
| --- | --- | --- |
| PLACE | RIDER | HORSE |
| 1st | Timothy Fahey | Valentine Lodge Hirocco Bug |
| 2nd | Lane Clarke | Oaks True Blue |
| 3rd | Lane Clarke | Noblewood Park Calentine |
| 4th | Lane Clarke | Mr Rio |
| 5th | Angelica Pickup | Paratai Finn |
| 6th | Cec Staples | Yaramlea Poindexter |
CLASS 10B: AM7 – OPEN – 1.05m
| | | |
| --- | --- | --- |
| PLACE | RIDER | HORSE |
| 1st | Charly Robinson-Smith | Pure Obsession |
| 2nd | Charly Robinson-Smith | Our Peacemaker |
| 3rd | Indianna Cornius-Randall | BP High Society |
| 4th | Gem McGufficke | Indeed |
| 5th | Gabriella Mannell | Athena |
| 6th | Stephen Dingwall | Arkos |
ARENA 2
CLASS 20A: A2 (Juniors) – 0.60m
| | | |
| --- | --- | --- |
| PLACE | RIDER | HORSE |
| 1st | Holly Pulford | Magic Blur |
| 2nd | Zoe Willis | Black Boot |
| 3rd | Jada Burgun | Missile Higgins |
| 4th | Abby Crawford | Phisachi |
| 5th | Abby Crawford | Bygeorge |
| 6th | Zoe Willis | Harmony |
CLASS 20B: A2 (Seniors) – 0.60m
| | | |
| --- | --- | --- |
| PLACE | RIDER | HORSE |
| 1st | Sue West | Emmaville Lamborghini |
| 2nd | Milla Watkins | Alfie |
| 3rd | Jade Willis | With A Kurl |
| 4th | Prudence Baker | Mi Amigo Pedro |
| 5th | Chloe Carruthers | Noble Command |
| 6th | Ryan McDermott | GSH Diamond Adonis |
CLASS 21A: A2 (Juniors) – 0.75m
| | | |
| --- | --- | --- |
| PLACE | RIDER | HORSE |
| 1st | Indianna Cornius-Randall | Foxhall Miranda |
| 2nd | Jada Burgun | Missile Higgins |
| 3rd | Zoe Willis | Harmony |
| 4th | Abby Crawford | How Buzzar |
| 5th | Payten Collins | Sir Billy The Kid |
| 6th | Samara Hanna | Samson |
CLASS 21B: A2 (Seniors) – 0.75m
| | | |
| --- | --- | --- |
| PLACE | RIDER | HORSE |
| 1st | Leigh Nelson | Deluxe Trouble |
| 2nd | Kylie Cooley | Vesper |
| 3rd | Emma Ianniello | Hit The Lights |
| 4th | Cecil Staples | RR Roll With It |
| 5th | Erin Roddy | Oaks Coronet |
| 6th | Jade Willis | With A Kurl |
CLASS 22A: A2 (Juniors) – 0.90m
| | | |
| --- | --- | --- |
| PLACE | RIDER | HORSE |
| 1st | Gabriella Mannell | Athena |
| 2nd | Zoe Willis | Black Boots |
| 3rd | Amelie Burns | Wyevale Shooting Star |
| 4th | Maddie Brighton | Anembo Frost |
| 5th | Payten Collins | Sir Billy The Kid |
| 6th | Katy Robinson | GB Wavey Davey |
CLASS 22B: A2 (Seniors) – 0.90m
| | | |
| --- | --- | --- |
| PLACE | RIDER | HORSE |
| 1st | Zoe Tritschler | CZ I Don't Dance |
| 2nd | Breanna Lennon | BH The Menace |
| 3rd | Grace Aksila | High Jinks |
| 4th | Cec Staples | Yarramlea Poindexter |
| 5th | Heidi Staples | Freckles |
| 6th | Brian Lucas | Gilmore Charlie |
CLASS 23: A2 – OPEN – 1.00m
| | | |
| --- | --- | --- |
| PLACE | RIDER | HORSE |
| 1st | Charly Robinson-Smith | Pure Obsession |
| 2nd | Charly Robinson-Smith | GB Ruby |
| 3rd | Kylie Cooley | Vesper |
| 4th | Amelie Burns | Wyevale Shooting Star |
| 5th | Breanna Lennon | BH The Menace |
| 6th | Kayla Hogg | Line Em Up Charlie |
SUNDAY RESULTS
ARENA 1
CLASS 12: OPEN A2 – 1.05m
| | | |
| --- | --- | --- |
| PLACE | RIDER | HORSE |
| 1st | Joy Collins | Old Red |
| 2nd | Olivia Emmert | Emmaville Tia Maria |
| 3rd | Kylie Cooley | Wallaroo Viva |
| 4th | Lane Clarke | Mr Rio |
| 5th | Catelin Crawford | Costador D |
| 6th | Lane Clarke | Noblewood Park Calentine |
CLASS 13: OPEN A2 – 1.15m
| | | |
| --- | --- | --- |
| PLACE | RIDER | HORSE |
| 1st | Rachael Vella | Vellara Delerium |
| 2nd | Michael Cross | Little Bear |
| 3rd | Sarah Dreverman | Tulara Forrie |
| 4th | Katelyn Staples | KC Spotabug |
| 5th | Clare Anderson | Outlawed W |
| 6th | Michael Cross | Emmaville Da Vinci |
CLASS 14: SPEED CHAMPIONSHIP – 1.20-1.25m
| | | |
| --- | --- | --- |
| PLACE | RIDER | HORSE |
| 1st | Lane Clarke | Valentine Lodge Vanna |
| 2nd | Sarah Dreverman | Emmaville Van Gogh |
| 3rd | Kristle Lee Cross | Little Bit Of Blue |
| 4th | George Riley | Valmira |
| 5th | Charly Robinson-Smith | Carisma II |
| 6th | Clare Anderson | Soberup |
CLASS 15: OPEN A2 – 1.35m
| | | |
| --- | --- | --- |
| PLACE | RIDER | HORSE |
| 1st | Grant Hughes | Emmaville Blue Diamond |
| 2nd | Emily Riley | Rhapsody In Blue |
| 3rd | Sarah Dreverman | Emmaville Van Gogh |
| 4th | Charly Robinson-Smith | Martango |
| 5th | Lane Clarke | Valentine Lodge Vanna |
| 6th | Mikaela MacNamara | SS Star's Knight |
ARENA 2
CLASS 24A: SUPERPHASE (Juniors) – 0.60m
| | | |
| --- | --- | --- |
| PLACE | RIDER | HORSE |
| 1st | Holly Pulford | Magic Blur |
| 2nd | Katy Robinson | GB Ruby |
| 3rd | Ruben White | Ellie |
| 4th | Abby Crawford | Bygeorge |
| 5th | Katy Robinson | Horse |
| 6th | Tyla Smith | Diva |
CLASS 24B: SUPERPHASE (Seniors) – 0.60m
| | | |
| --- | --- | --- |
| PLACE | RIDER | HORSE |
| 1st | Chloe Carruthers | Wallaroo Cornets Meteor |
| 2nd | Prudence Baker | Mi Amigo Pedro |
| 3rd | Eleanor Miller | Kaloona Aces High |
| 4th | Anna Rowley | So Cheeky |
| 5th | Casey Tritschler | Rufus |
| 6th | Glenys Noble | Uchelwr Ffelics |
CLASS 25A: SUPERPHASE (Juniors) – 0.75m
| | | |
| --- | --- | --- |
| PLACE | RIDER | HORSE |
| 1st | Abby Crawford | How Buzzar |
| 2nd | Holly Pulford | Magic Blur |
| 3rd | Macy White | Max |
| 4th | Abby Crawford | Bygeorge |
CLASS 25B: SUPERPHASE (Seniors) – 0.75m
| | | |
| --- | --- | --- |
| PLACE | RIDER | HORSE |
| 1st | Maggie MacDonald | Muzzleburst |
| 2nd | Leigh Nelson | Deluxe Trouble |
| 3rd | David McCallion | Cavalier Clayton Charlie |
| 4th | Robin Bell | Astin Brae II |
| 5th | Kerrie Tanner | Overdane |
| 6th | Hamish Ross | Gypsy |
CLASS 26A: SUPERPHASE (Juniors) – 0.90m
| | | |
| --- | --- | --- |
| PLACE | RIDER | HORSE |
| 1st | Macy White | Max |
| 2nd | Payten Collins | Mr Rio |
| 3rd | Lily Judd | Gordex B |
| 4th | Gabriella Mannell | Mystic Roy |
| 5th | Jada Burgun | Little Revoli Star |
| 6th | Abby Crawford | How Buzzar |
CLASS 26B: SUPERPHASE (Seniors) – 0.90m
| | | |
| --- | --- | --- |
| PLACE | RIDER | HORSE |
| 1st | Heidi Staples | Freckles |
| 2nd | Grace Aksila | High Jinks |
| 3rd | Caitlyn Crawford | Barnett's Hero |
| 4th | Hayley Battersby | Donald |
| 5th | Chloe Sawell | Triholm Hills Takoda |
| 6th | Kylie Cooley | Vesper |
CLASS 27: SUPERPHASE – OPEN – 1.00m
| | | |
| --- | --- | --- |
| PLACE | RIDER | HORSE |
| 1st | Jorja Rusten | Empire Shadow |
| 2nd | Amelie Burns | Wyevale Shooting Star |
| 3rd | Kylie Cooley | Brooke |
| 4th | Kylie Cooley | Vesper |
| 5th | Amy Platt | Lennard |
| 6th | Breanna Lennon | BH The Menace |
Results sourced from globalentriesonline.com.au
View Comments