Steven Hill triumphs in front of home crowd in Horseware Australia Grand Prix at EQUITANA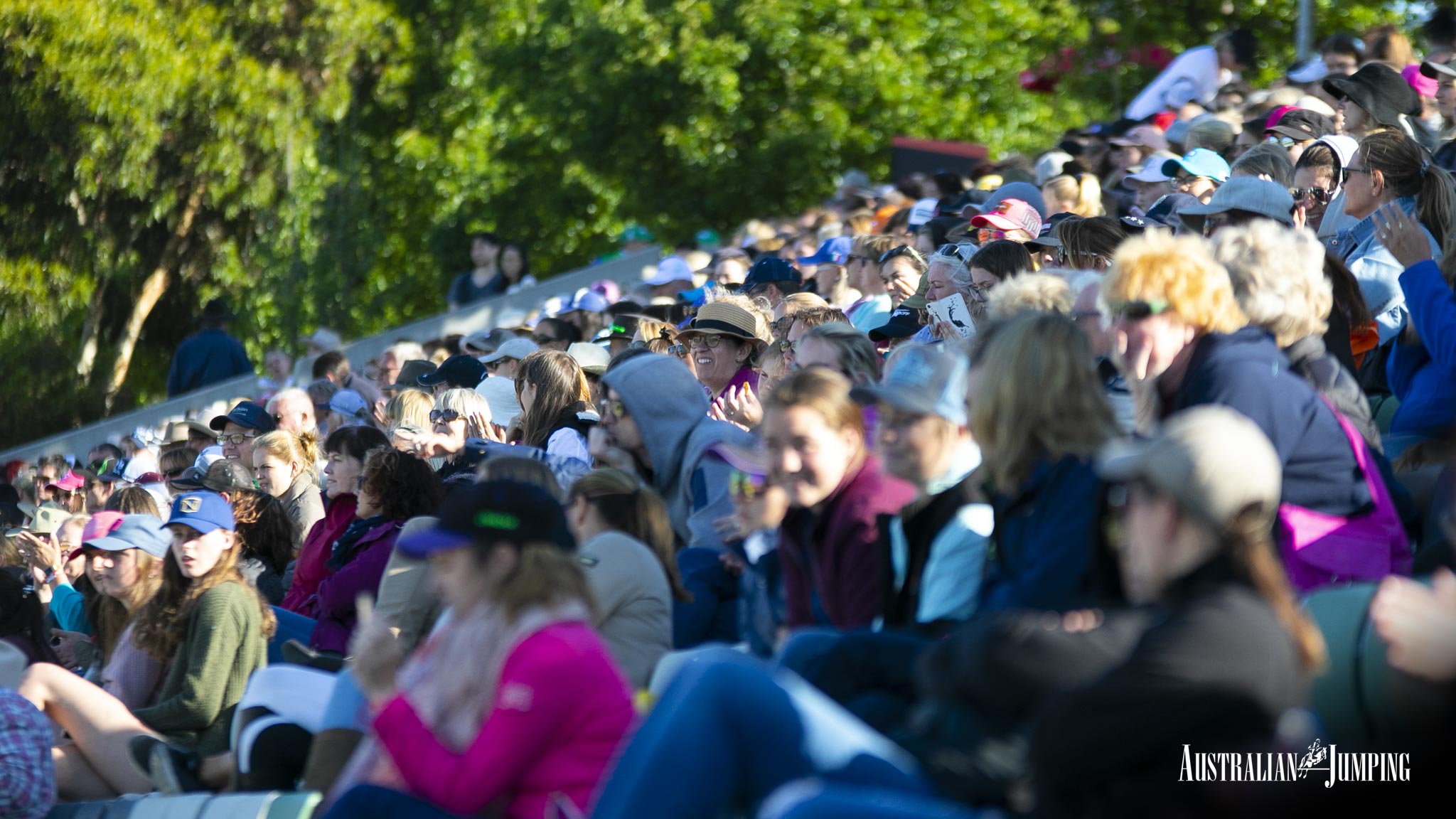 Australian Jumping
The highlight of the jumping program at Equitana 2018 was held this evening on the Rowville Competition Arena. The Horseware Australia Jumping Grand Prix attracted 38 of the finest jumping combinations in the country, who assembled for the opportunity to vie for the richest prize money in any jumping event in the country this year, over $130,000.
Advertisement

It would be hard to imagine a more stellar field of riders, including current State Senior Champions from NSW, Victoria and Queensland, winners of past Australian Senior Championships and two of our 2018 Australian Jumping Team and don't forget a couple of riders with Olympic Games experience!
Designed by Australia's leading course builder, Gavin Chester, the course not only looked fantastic, but proved to be appropriately challenging for this very talented field. Every advantage point was occupied by a massive crowd who enjoyed weather, not only perfect for spectating, but absolutely suited to jumping.
With our hearts still racing from the final day of the Australian Championships last Sunday, there was no let up in excitement from the crowd, who enjoyed this spectacle of jumping from beginning to end.
Advertisement

The course turned out to be quite a challenge for many, with only 20 of the 38 combinations able to record less than ten penalties. The first clear round was achieved by yesterday's Horseware Australia Jumping Prelude winner, Chris Chugg, this time riding his gelding PSS Levilensky, in 76.51 seconds. We had to wait for the fifteenth out, Katie Laurie and Casebrook Lomond for the next clear, in 77.03.
Steven Hill had a fantastic first round on Yalambis Bellini Star, the horse his parents Dianne and the late Bruce had bought as a two-year-old for his 21st birthday, to go clear in 77.15.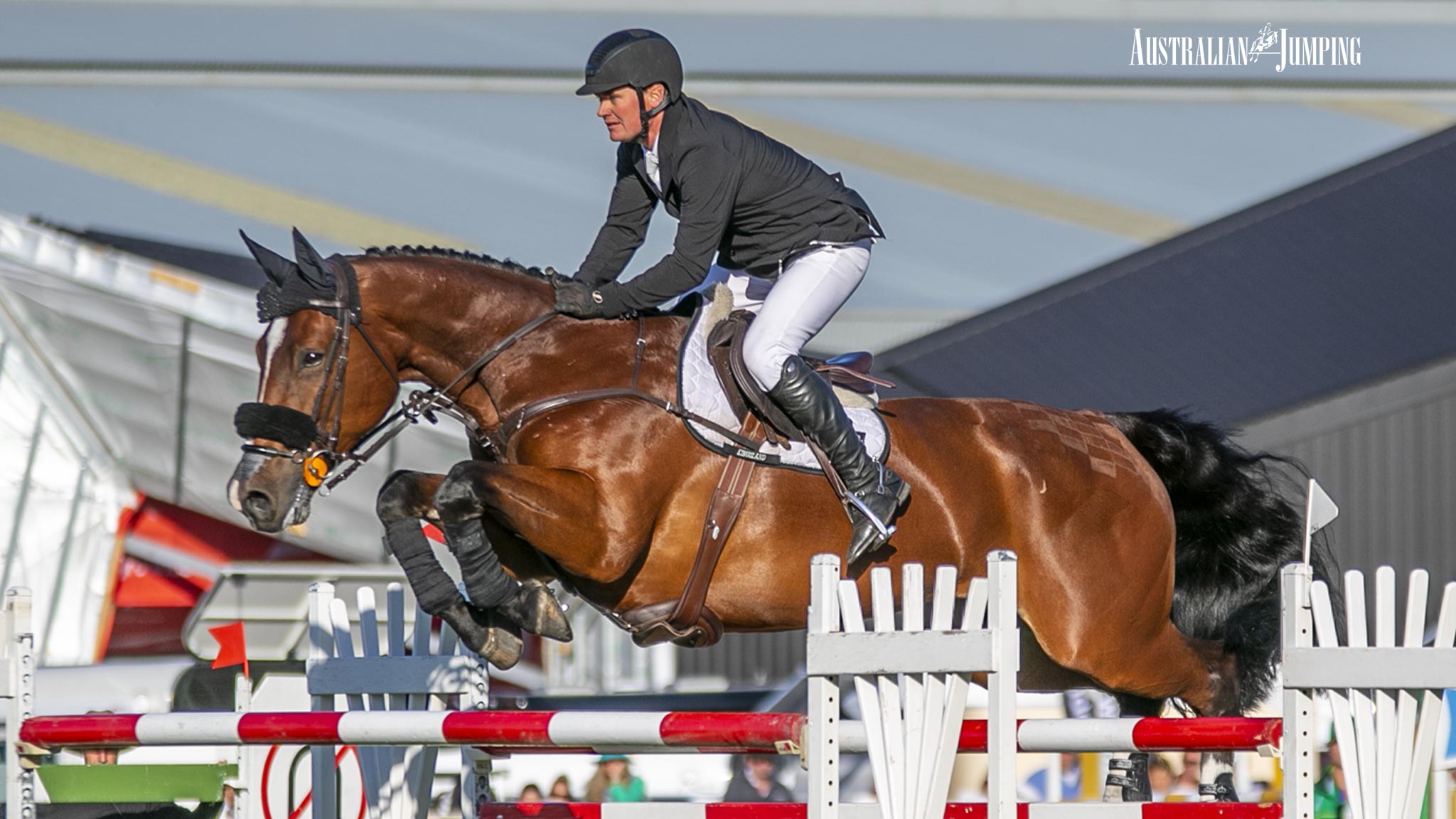 Steven Hill and Yalambis Bellini Star
Our next rider was Chris Chugg, who drew on all his experience to go clear again, this time on Cera Cassiago, in a time of 74.17, which turned out to be the fastest clear in Round 1.
Right at the end of the round, the four combinations already clear were joined by Gabrielle Kuna and her striking mare Flaire in the fastest time of Round 1 – 76.27 seconds.
In Round 2, the five clear combinations were joined by all eight 4-faulters to make up a Round 2 field of 13. There was less than four seconds difference between the fastest of the 13 and the slowest. This was an equally matched group and it would take nerves of steel, experience and supreme ability, to be the one to stand out from the rest and take the bulk of the prizemoney.
First to go were the four faulters in order from slowest to fastest (except for some slight variations due to riders with more than one horse in the last 13). Tom McDermott and Yalambis Finnegan were first out, and although they were quick, they took two rails to end up on 12 penalties. Almost certainly out of contention.
Clay Simmonds and Oaks Castanza were the next to tackle the course, to go  clear in a fast time of 57.23 seconds. Their total was four faults from the two rounds combined.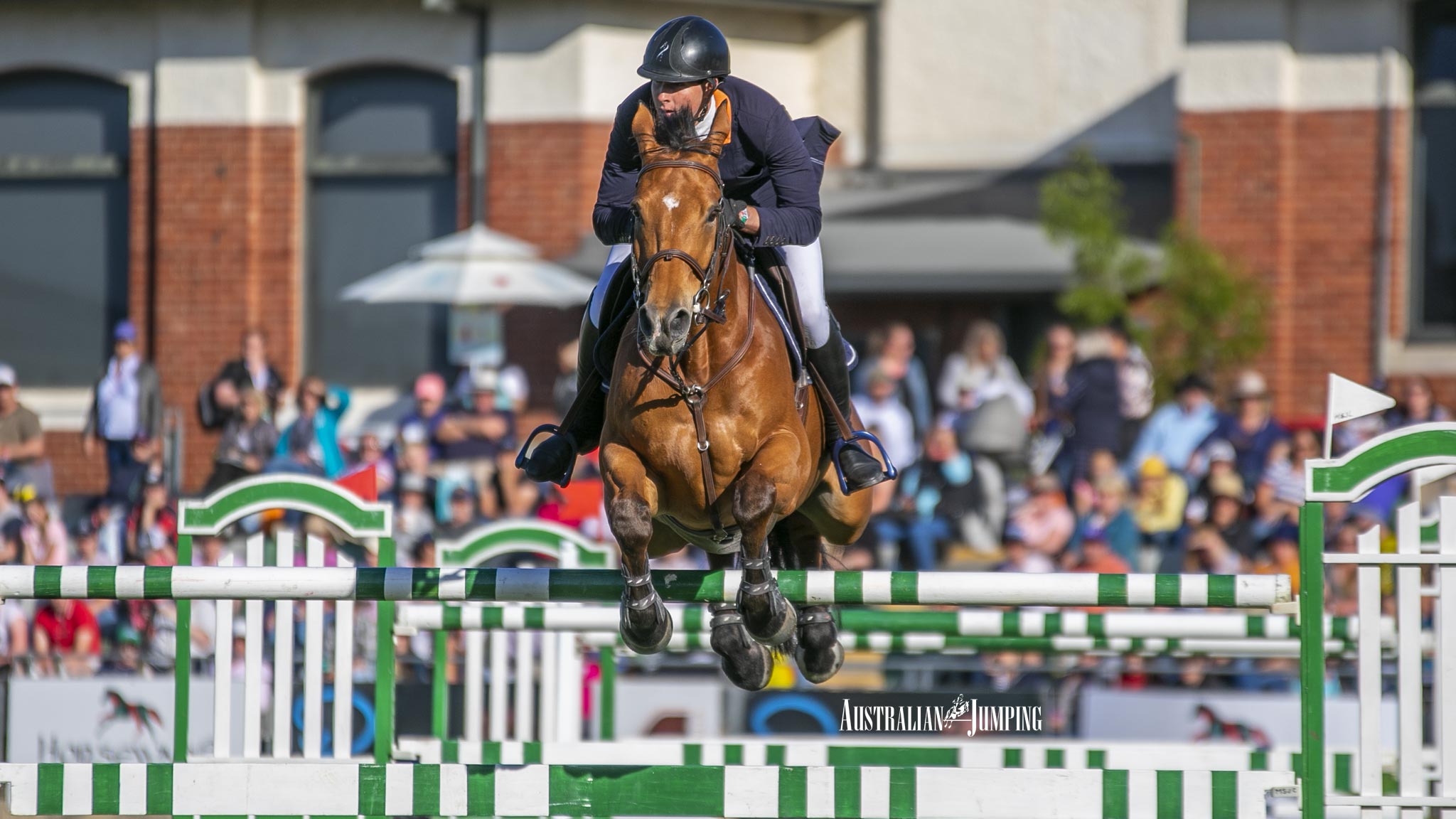 Clay Simmonds and Oaks Castanza
We didn't see any further clear rounds until Brooke Langbecker and Quintago 1 delivered the second clear of Round 2 and also remaining on the 4 faults carried from Round 1. The last of the 4-faulters to go were the runners up in last weekend's Australian Senior Championship, Tom McDermott and Elegance De La Charmille. They took a single rail to end up on eight penalties, which placed them in fourth place for the time being.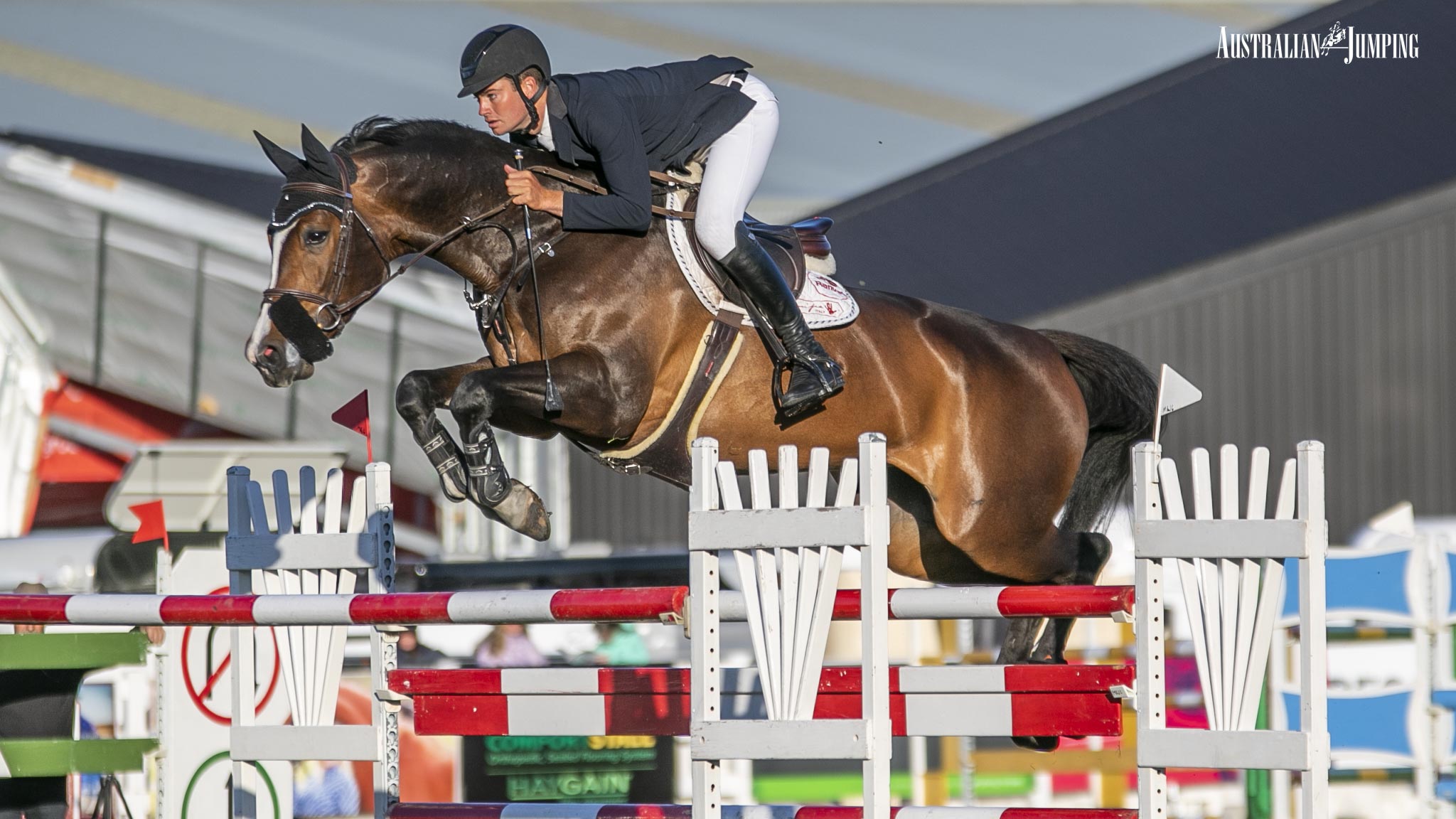 Tom McDermott and Elegance De La Charmille
Now it was time for the five clear combinations in Round 1 to come out. They each faced one of three possible outcomes: secure a second clear and be right in contention for the title, incur four or less penalties and, depending on time, still be right in the mix but not able to win, or, incur more than 4 penalties and drop right out of contention. In a nail-biting final part to the evening's proceedings, we saw all of the above.
First of these five out were Chris Chugg and PSS Levilensky, going clear in 63.69 seconds to claim top position on the leader board.
Next to ride was Katie Laurie on Casebrooke Lomond, who unfortunately incurred two rails and a single time penalty to drop out of contention, eventually finishing in ninth place.
Third last out was Victorian rider Steven Hill and Yalambis Bellini Star. To the cheers of the crowd they had a magnificent round, clear in 57.44 seconds, to take the lead by over six seconds from Chugg. With just two combinations left, Hill knew that he was in a with a very real chance at the title.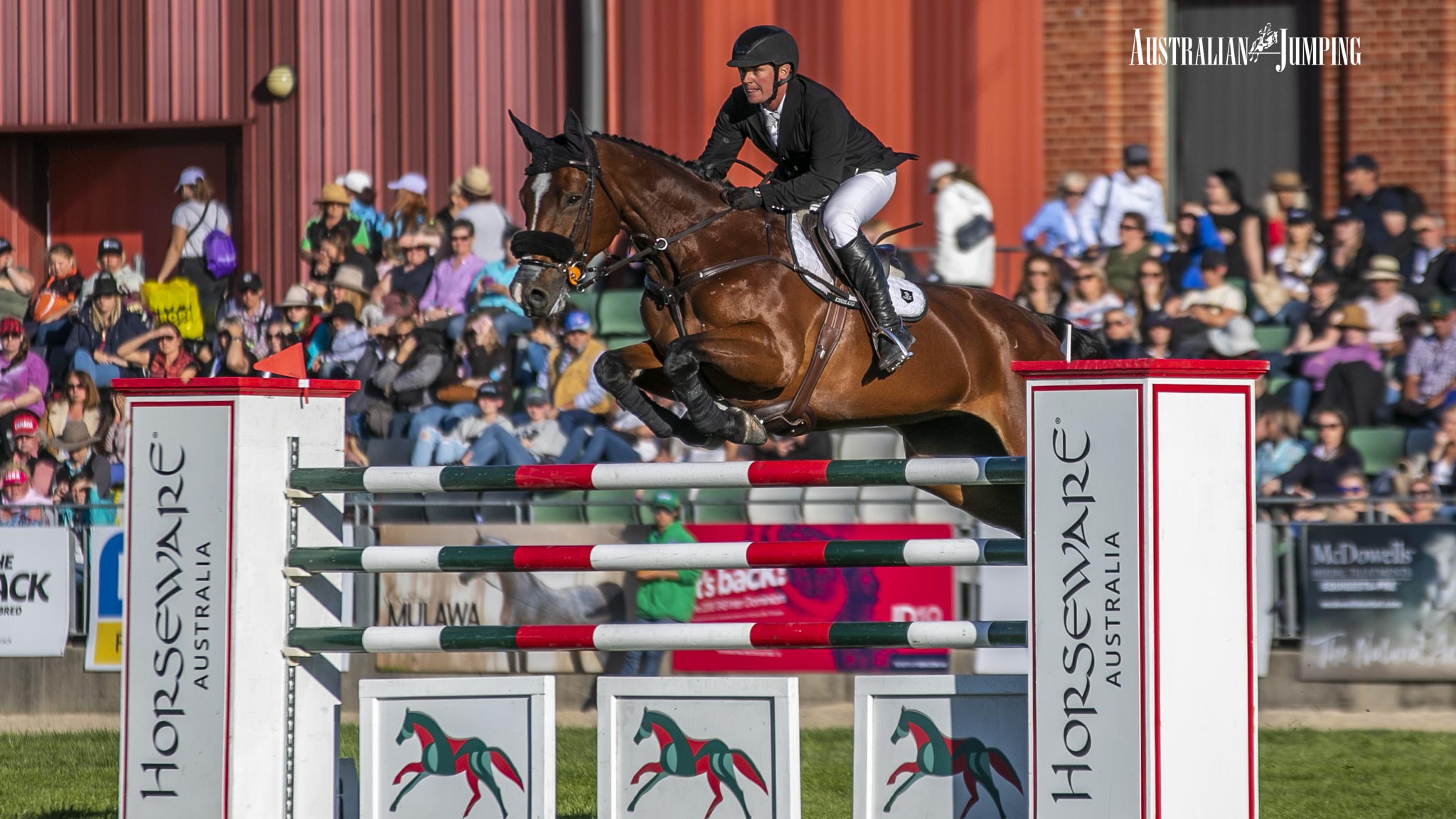 Steven Hill and Yalambis Bellini Star
Not having to wait long to try and retake the lead, the penultimate combination of Chris Chugg and Cera Cassiago came out knowing that they had to go fast to have any chance of eclipsing Hill. They gave it their all, until, unfortunately, Chugg and Cera Cassiago parted ways and were eliminated.
Last out on the course was Gabrielle Kuna and her magnificent mare, Flaire. They knew exactly what was required to take the win. Ride clear in less than 57.44 seconds to secure the richest prize on the Australian Jumping calendar. The combination started well, however, not long into the ride a single rail was dislodged. Kuna and Flaire completed the course with just that single rail down in a time only half a second slower than Simmonds, to take fourth place.
Local boy Steven Hill and the extraordinary Yalambis Bellini Star had prevailed, much to the delight of the crowd.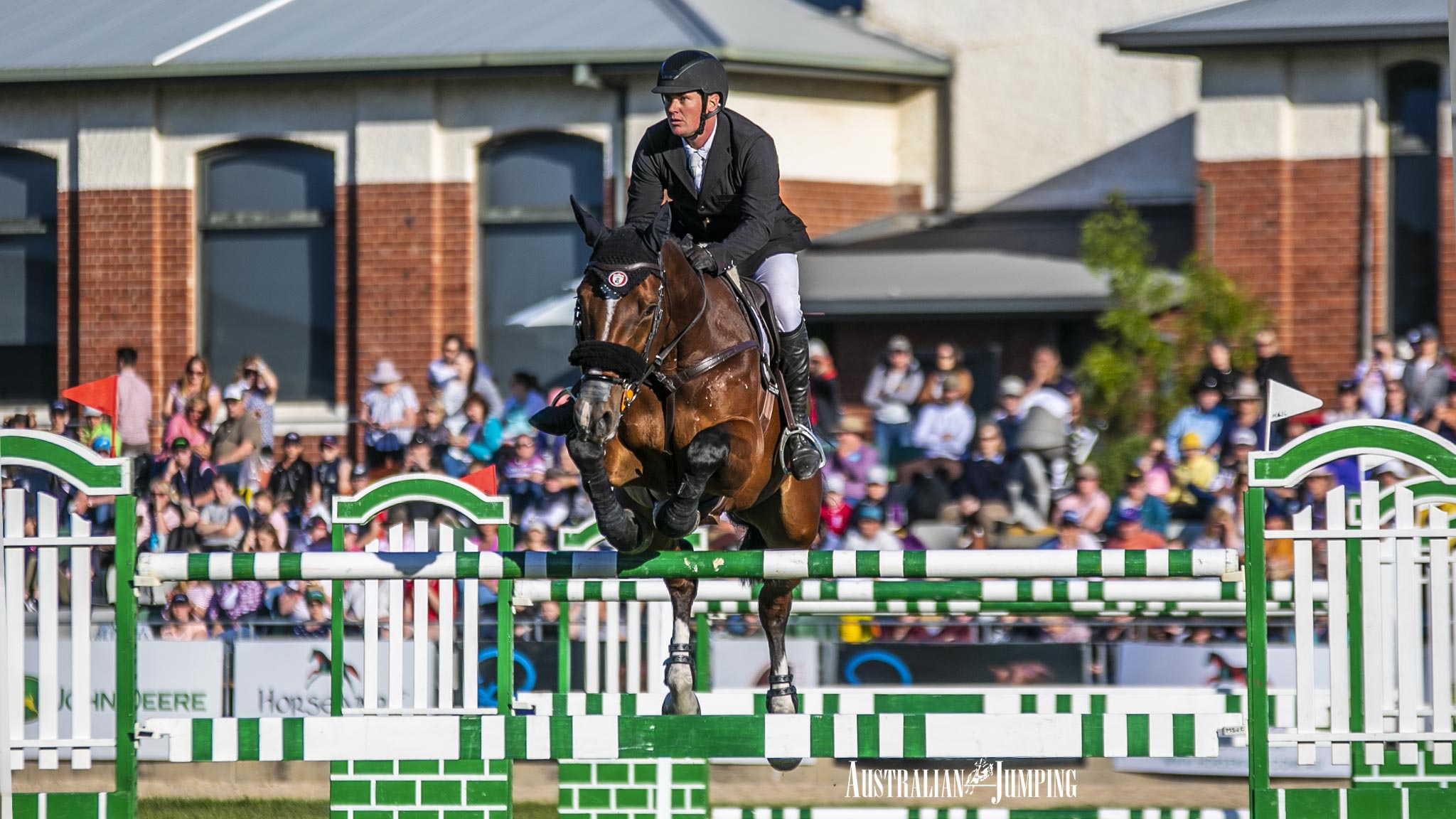 The top 13 placings in the Horseware Australia Jumping Grand Prix are below. Full results can be downloaded HERE.
| | | |
| --- | --- | --- |
|   | RIDER | HORSE |
| 1st | Steven Hill | Yalambis Bellini Star |
| 2nd | Chris Chugg | PSS Levilensky |
| 3rd | Clay Simmonds | Oaks Castanza |
| 4th | Gabrielle Kuna | Flaire |
| 5th | Brooke Langbecker | Quintago 1 |
| 6th | Jennifer Wood | Cocaine Ego Z |
| 7th | Tom McDermott | Elegance De La Charmille |
| 8th | Tesse Cook | Heatherton Park Alfonz |
| 9th | Katie Laurie | Casebrooke Lomond |
| 10th | Tom McDermott | Yalambis Finnigan |
| 11th | Katie Laurie | Esteban MVNZ |
| 12th | Chris Chugg | Cera Cassiago |
| 13th | Clem Smith | Alite |
View Comments