Sydney at it's best for JNSW Winter Classic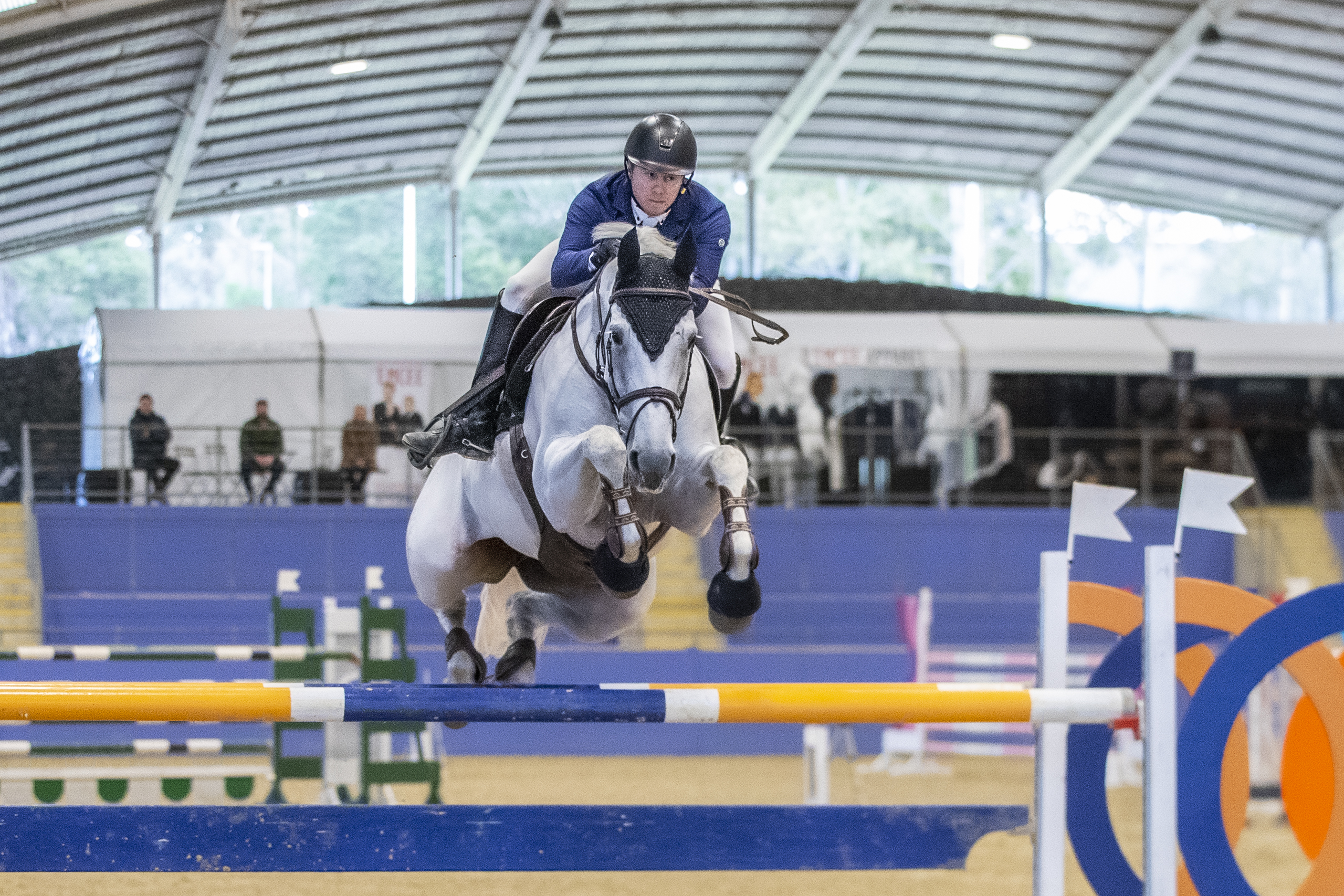 Australian Jumping
Above: Aaron Hadlow and Cera Stiletto.
Jumping NSW conducted their Winter Showjumping Classic over the weekend at the Sydney International Equestrian Centre (SIEC) which saw a number of combinations warming up for the World Cup shows coming up in both Sydney and Tamworth in August.
Classes were spread across two arenas with the indoor arena hosting the major classes of the weekend.
Advertisement


The feature class of the weekend was an Open 1.40m competition held on Sunday afternoon, which saw five combinations contest an exciting jump off, producing two double clear performances. The fastest of these was by the mini prix winners from the Sydney Royal Show in April, Aaron Hadlow and Cera Stiletto who took just 40.12 seconds to complete the jump off course. Second place, with a time of 46.94 seconds went to James Mooney and KPH Cavatina, while the fastest four faulter in the jump off, Nicholas Taliana and Adesman claimed the prize for third.
The most successful rider of the show was Makaylah Fenwick who won three classes to equal her effort from this show last year. Makaylah combined with Grace And Glory to win the Open 1.10m class on Saturday, in which she also finished second with The Garret. In Sunday's Open 1.10m class Makaylah again finished first and second, this time taking the win with The Garret and second place with Grace and Glory. Earlier on Sunday, Makaylah had been successful in the Open 1.20m class with Grace and Glory. To top things off, Makaylah was aboard a third horse, Rainbow Man, for a third placing in the 1.00m class for Novice Young Riders
While Makaylah flew the flag for the younger riders at the show, Andrew Inglis, representing the more senior riders at the show, also picked up three wins for the show, going one better than their pair of wins last year. Andrew combined with Indiana Goodtimes for wins in an Open 1.20m class on Saturday and then an Open 1.30m class on Sunday. This followed on from a win at 1.30m with Alillie on the previous day. A pair of second placings as well as a pair of thirds topped of an excellent weekend for Andrew.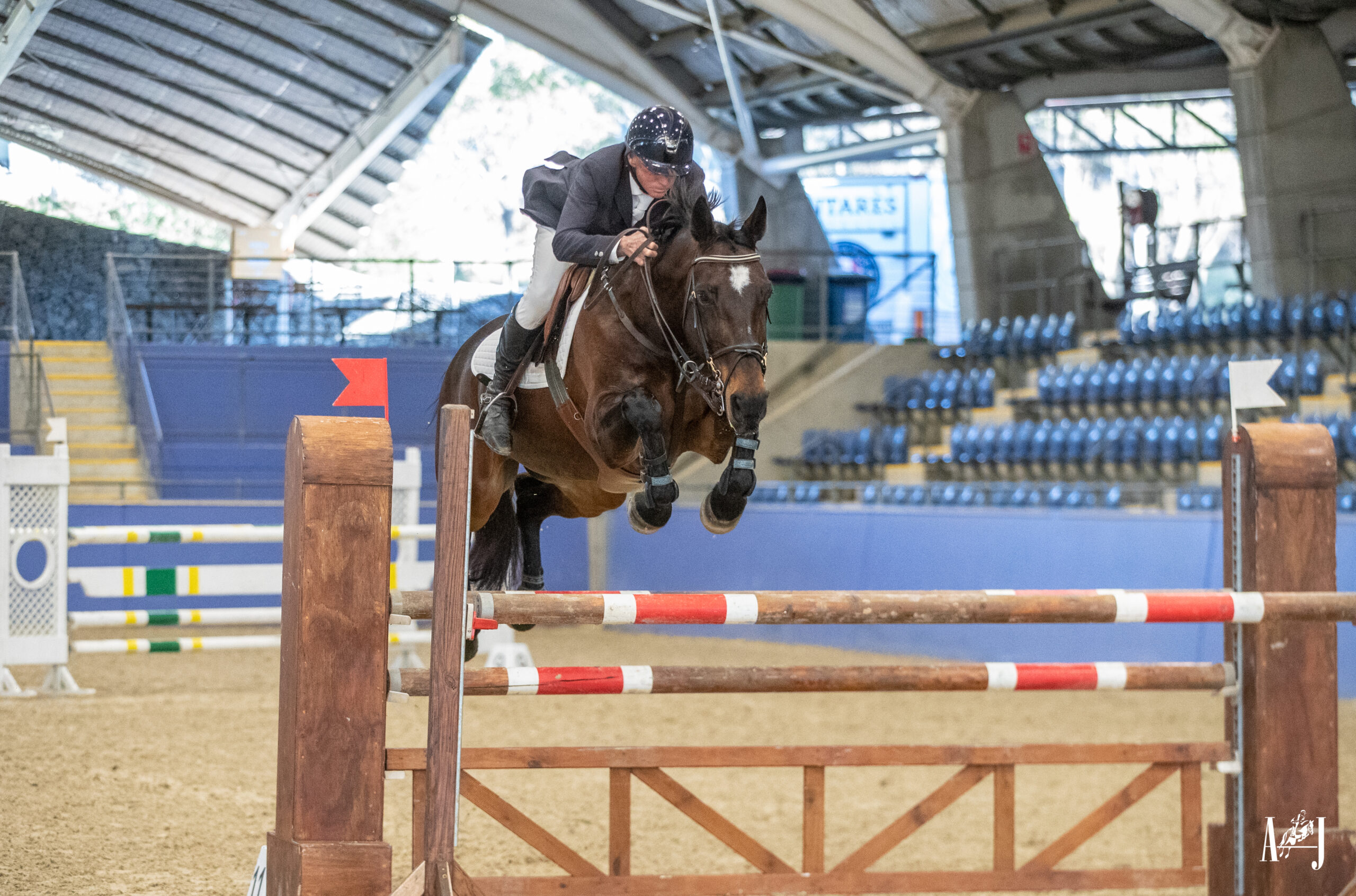 Above: Andrew Inglis and Alillie.
Mention should also be made of the efforts of Bridie Smith and Karizmah Tiara, who went undefeated in a pair of Open 1.00m classes, one on each day of the show.
Congratulations goes to all the winners and placegetters over the two days. The first six combinations in all classes are listed below:
SATURDAY RESULTS
INDOOR ARENA
CLASS 1A: OPEN – 1.10m
| | | |
| --- | --- | --- |
| PLACE | RIDER | HORSE |
| 1st | Makaylah Fenwick | Grace And Glory |
| 2nd | Makaylah Fenwick | The Garret |
| 3rd | Paton Simpson | Port Commands |
| 4th | Lori James | Bond Girl SHP |
| 5th | Jacqueline Basquil | Converse |
| 6th | Amelia Douglass | Bickleys Leviosa |
CLASS 1B: JUNIOR RIDERS – 1.10m
| | | |
| --- | --- | --- |
| PLACE | RIDER | HORSE |
| 1st | Emma Galea | Noonamah Valentina |
| 2nd | Jett Newman | Wanda |
| 3rd | Molly Mooney | Wallaroo Carnival |
| 4th | Alexandra Inglis | Glenara Affogato |
| 5th | Alexandra Machlin | Lanardo |
| 6th | Josephine Connors | Narrado MVNZ |
CLASS 2A: OPEN – 1.20m
| | | |
| --- | --- | --- |
| PLACE | RIDER | HORSE |
| 1st | Andrew Inglis | Indiana Goodtimes |
| 2nd | Jake Tomlinson | Vinchino |
| 3rd | Jett Newman | Wanda |
| 4th | Andrew Inglis | Alillie |
| 5th | Charlie Magnier | Master Stevie G |
| 6th | Georgia Apps | Finch Farm Viduka |
CLASS 2B: YOUNG RIDERS – 1.20m
| | | |
| --- | --- | --- |
| PLACE | RIDER | HORSE |
| 1st | Mackenzie Patterson Hollibone | Vivajoy |
| 2nd | Alexandra Inglis | Glenara Affogato |
| 3rd | Clemency Hughes | YPH Capulet |
| 4th | Sophie Scarce | Christella |
| 5th | Lara Christoffelsz | Yalambis Jasmine |
| 6th | Sophie Scarce | JB Daffodil The Frog |
CLASS 3: OPEN – 1.30m
| | | |
| --- | --- | --- |
| PLACE | RIDER | HORSE |
| 1st | Andrew Inglis | Alillie |
| 2nd | Maverick Miles | Verdasco |
| 3rd | Andrew Inglis | Laracas |
| 4th | Nicholas Taliana | Revelwood Wynston Street |
| 5th | Nicholas Taliana | Adesman |
| 6th | Jess Brown | Oaks Cryptic |
OUTOOR ARENA
CLASS 4A: OPEN – 0.80m
| | | |
| --- | --- | --- |
| PLACE | RIDER | HORSE |
| 1st | Sashi Arnott | Arden Elsa |
| 2nd | Kathy Ward | Cassis Z Ten Halven |
| 3rd | Sashi Arnott | Captain Lightning Bolt |
| 4th | Amanda Madigan | Diamond B Ever After |
| 5th | Emily Hawker | JF Cash Only |
| 6th | Grace Locock | Yarrawa Contrast |
CLASS 4B: NOVICE JUNIOR RIDERS – 0.80m
| | | |
| --- | --- | --- |
| PLACE | RIDER | HORSE |
| 1st | Evie Magnier | Mirabelle Patterson |
| 2nd | Jasmine Cook | Sherbet Wizz Fizz |
| 3rd | Emma Fontanot | Fidem Elpis Amor |
| 4th | Evie Magnier | Sir King Charles |
| 5th | Anneliese Breiner | Phisher Park Mr Sachmo |
| 6th | Grace Vassallo | Just Peachy |
CLASS 5: OPEN – 0.90m
| | | |
| --- | --- | --- |
| PLACE | RIDER | HORSE |
| 1st | Jasmine Cook | Sherbet Wizz Fizz |
| 2nd | Tyla Smith | Diva Leggera |
| 3rd | Evie Magnier | Sir King Charles |
| 4th | Tyla Smith | Game Player |
| 5th | Caitlin Biddle | Ballinton Summer Lady |
| 6th | Stephanie Cass | Blueberry R |
CLASS 6: OPEN – 1.00m
| | | |
| --- | --- | --- |
| PLACE | RIDER | HORSE |
| 1st | Bridie Smith | Karizmah Tiara |
| 2nd | Ruby Conlon | Lamondale Mika |
| 3rd | Tyla Smith | Game Player |
| 4th | Sashi Arnott | Arden Elsa |
| 5th | William Mathew | Grand Helana |
| 6th | Grace Maher | WS Raising Roxy |
CLASS 7: AMATEUR – 1.15m
| | | |
| --- | --- | --- |
| PLACE | RIDER | HORSE |
| 1st | Jacqueline Basquil | Converse |
| 2nd | Jim Scobie | Fernhill Aussie Balou |
| 3rd | Melanie Heygate | Oaks Quebec |
| 4th | Lori James | Bond Girl SHP |
| 5th | Annabelle Trainor | Tulara Wat Cassini Rose |
| 6th | Nicole Kennedy | Kanga CSNZ |
SUNDAY RESULTS
INDOOR ARENA
CLASS 8: OPEN – 1.20m
| | | |
| --- | --- | --- |
| PLACE | RIDER | HORSE |
| 1st | Makaylah Fenwick | Grace And Glory |
| 2nd | Andrew Inglis | Indiana Goodtimes |
| 3rd | Andrew Inglis | Alillie |
| 4th | Colleen Brook | Connollys Karachi |
| 5th | Annabelle Trainor | Tulara Wat Cassini Rose |
| 6th | Shannon Breen | Lontache Blue PS |
CLASS 9A: OPEN – 1.30m
| | | |
| --- | --- | --- |
| PLACE | RIDER | HORSE |
| 1st | Andrew Inglis | Indiana Goodtimes |
| 2nd | Andrew Inglis | Alillie |
| 3rd | Charlie Magnier | Quinn Z |
| 4th | Aaron Hadlow | Kosmos |
| 5th | Ric Serrao | Jaybee Vision |
| 6th | Tom McDermott | Mr Lincoln B |
CLASS 9B: YOUNG HORSES – 1.30m
| | | |
| --- | --- | --- |
| PLACE | RIDER | HORSE |
| 1st | Ella Hayward | Edena DP |
| 2nd | Sophie Scarce | Christella |
| 3rd | Jess Brown | Oaks Cryptic |
| 4th | Amelia Douglass | Quidessa VG |
| 5th | Jamie Winning-Kermond | Benthen's Balou |
| 6th | Amanda Madigan | Diamond B Beyonce |
CLASS 10: OPEN – 1.40m
| | | |
| --- | --- | --- |
| PLACE | RIDER | HORSE |
| 1st | Aaron Hadlow | Cera Stiletto |
| 2nd | James Mooney | KPH Cavatina |
| 3rd | Nicholas Taliana | Adesman |
| 4th | William Dight | Thea |
| 5th | Tom McDermott | Mr Lincoln B |
| 6th | Sarah Duggan | Dublin |
OUTOOR ARENA
CLASS 11: OPEN – 0.90m
| | | |
| --- | --- | --- |
| PLACE | RIDER | HORSE |
| 1st | William Hodgekiss | Anembo Jedi |
| 2nd | Paton Simpson | HP Zahlia |
| 3rd | Alexa Garcia | Spannerkop |
| 4th | Sarah Shady | APH Libretta |
| 5th | Ruth Galea | Checka |
| 6th | Sandra Tremier | TT Pilot 23 |
CLASS 12A: OPEN – 1.00m
| | | |
| --- | --- | --- |
| PLACE | RIDER | HORSE |
| 1st | Bridie Smith | Karizmah Tiara |
| 2nd | William Hodgekiss | Anembo Jedi |
| 3rd | Jake Tomlinson | Hollywood |
| 4th | Alexa Garcia | Spannerkop |
| 5th | Charli Stevens | Royal River Phantasia |
| 6th | Grace Locock | Falcon Island |
CLASS 12B: NOVICE YOUNG RIDERS – 1.00m
| | | |
| --- | --- | --- |
| PLACE | RIDER | HORSE |
| 1st | Paton Simpson | Port Commands |
| 2nd | Madi Nolis | BP Spring Carnival |
| 3rd | Makaylah Fenwick | Rainbow Man |
| 4th | Sarah Shady | APH Libretta |
| 5th | Olivia Johnson | RR Amoretus |
| 6th | Eden McMahon | Beatrix |
CLASS 13: OPEN – 1.10m
| | | |
| --- | --- | --- |
| PLACE | RIDER | HORSE |
| 1st | Makaylah Fenwick | The Garret |
| 2nd | Makaylah Fenwick | Grace And Glory |
| 3rd | Paton Simpson | Port Commands |
| 4th | Sarah Crossen | Vermoral RJ3 |
| 5th | Clara Palm | Phantom Bronte |
| 6th | Matilda McCarroll | Cosmic Cube |
Results sourced from globalentriesonline.com.au
View Comments