The action heats up at Boneo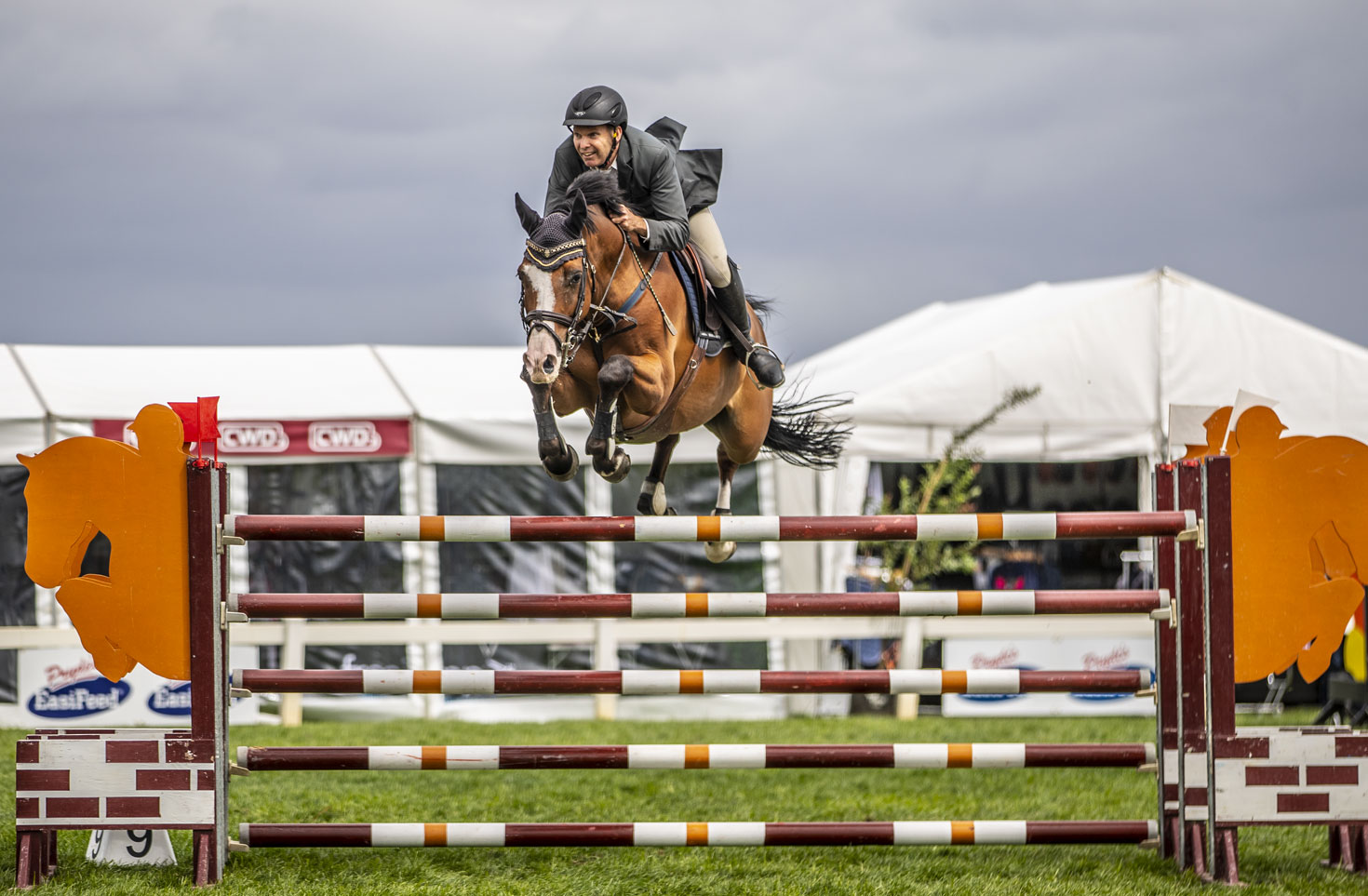 Australian Jumping
Above: Russell Johnstone and Daprice
There was a palpable level of excitement in the air this morning as the action got underway on the second day of the Pryde's EasiFeed Australian Jumping Championships. It was the first full day of competition with the action coming thick and fast across all four competition arenas. By the end of the day every series conducted in a qualifying rounds, then final format, were underway, with combinations vying for places in finals scheduled for Saturday and Sunday.
Advertisement


The action on the Pryde's EasiFeed Main Arena got underway with the first round of the Horseland Australian Junior Championship. A total of 54 of the best Junior combinations in the country lined up for the class which was run as a speed class. Just when the placings looked to be set, it was late in the draw that Victorian State squad member Hayden Parker and mare Yirrkala Pippi Longstockings came out and showed the others how it is done. They flashed around the course and despite incurring a four second time addition for taking a rail, they finished with an adjusted time of 65.83 seconds. Fellow Victorian Zoe Waller and Bequest, who were leading until Parker produced the round of the class, were relegated to second place where they finished in a time of 67.05, also despite taking a rail. The fastest clear round of the day went to NSW based rider Anneliese Wansey and Grandiamo, who finished in third place with a time of 67.13 seconds. These Junior riders will compete in their second qualifying round tomorrow afternoon, with the aim to start Sunday's final with as few penalties as possible.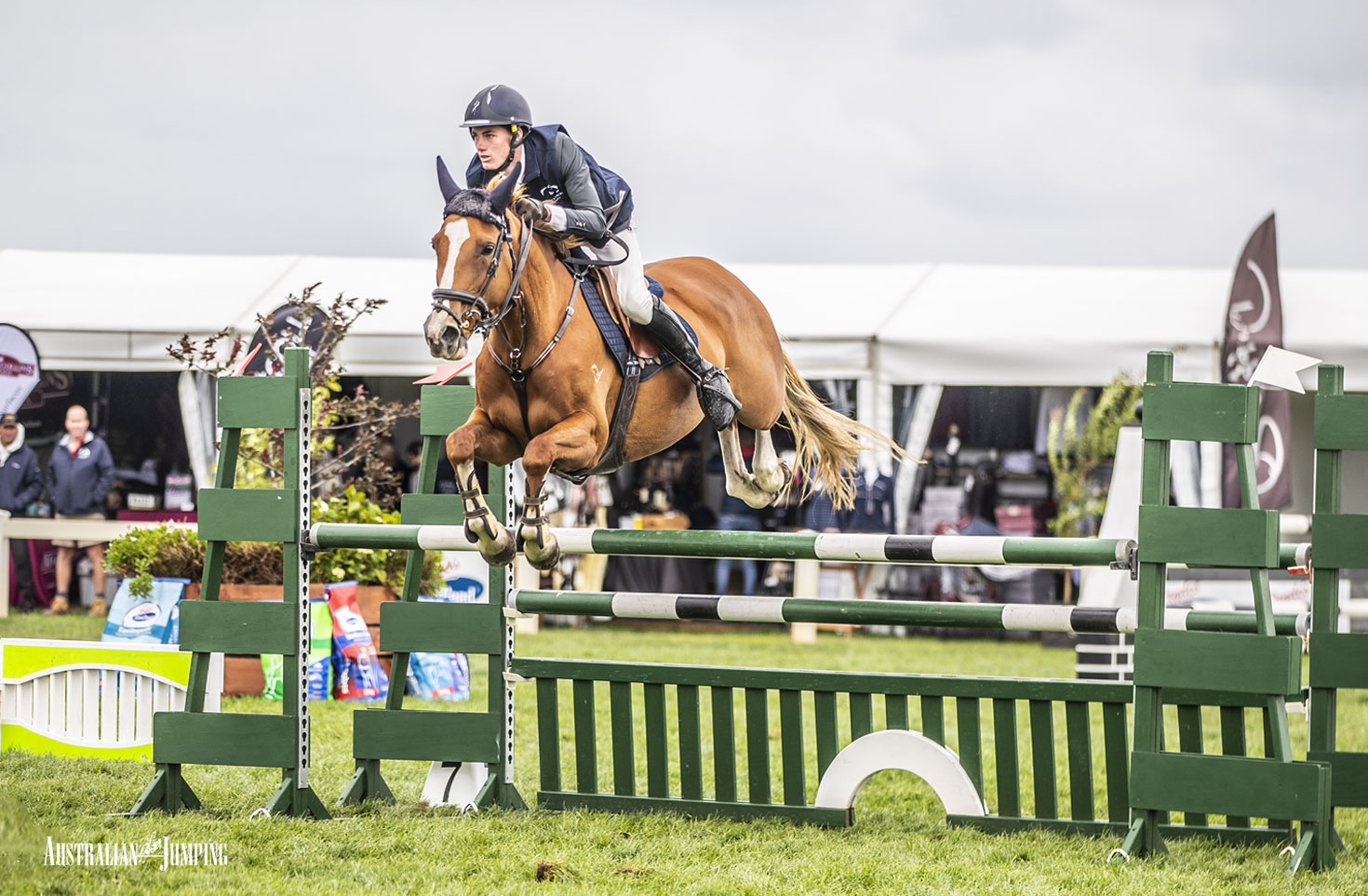 Hayden Parker and mare Yirrkala Pippi Longstockings
Next up, it was time for the premier series of the show, the Pryde's EasiFeed Australian Senior Championship to start with their first Qualifying class. Also run as a speed class, first out was Russell Johnstone and Daprice who set a fast clear time of 67.73 seconds. They sat in the lead as the next 16 combinations came and went and it wasn't until the equally experienced Chris Chugg and Cera Cassiago completed their round in 67.54 seconds that Johnstone was relegated to second place. That is the way things remained until the end of the round, with third place being filled by the winning combination from last weekend's World Wetlands Day Grand Prix Phillip Lever and Lomachenko, in a time of 68.53 seconds. As with the Junior Championship, combinations in the Senior Championship will compete in their second round tomorrow with a rest day on Saturday before Sunday's Final.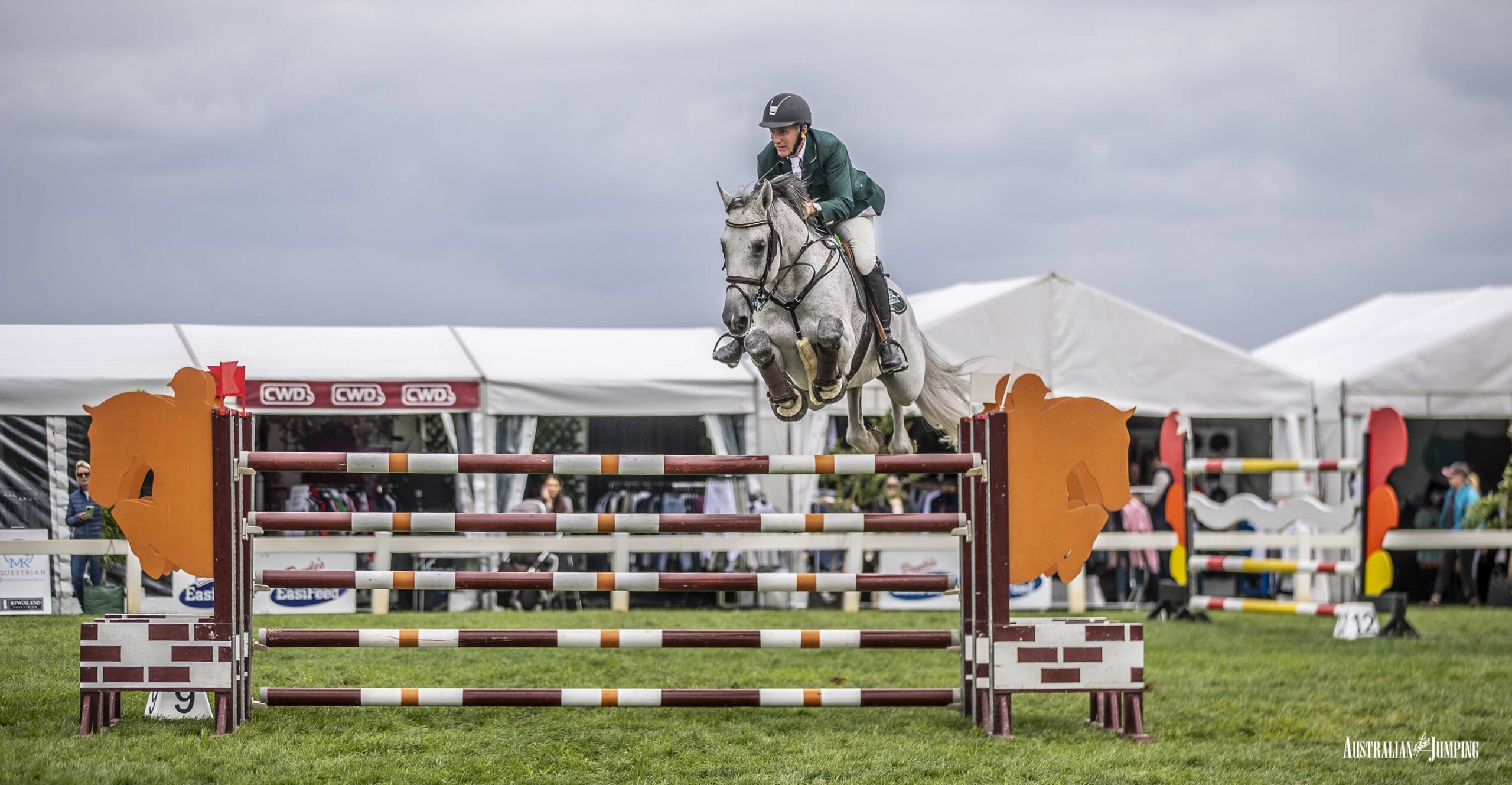 Above: Chris Chugg and Cera Cassiago
Next up it was time for the Young Riders to strut their stuff. The first round of the Racing Hearts Australian Young Rider Championship was an exciting speed class from beginning to end. First out was Amelia Douglass and her lovely grey mare Upper Class Z who set a cracking pace, setting a time of 69.16 seconds despite taking a rail. In the end, it was a visitor from Western Australia, who came out near the end of the list and showed those who had gone before them how it was done. Tessa Lill and Yalambi's Hugo Boss took the win in a very handy 65.48 seconds from Lucie Aldridge and Ollie Olae who finished in 65.73 seconds. Third place went to Amelia Douglass and a new ride for her, Yalambi's J'adore in 68.05 seconds after taking a rail during their round. The Young Riders will have their second round tomorrow, prior to a Final, scheduled for Sunday.
Under threatening skies, the second round of the Kiernan Plant Hire Future Stars competition was the next class held on the main arena. Once again, conducted as a speed class Madeline Sinderberry and Balentino whipped around the course, with no incurred penalties to finish in a time of 70.09 seconds and take the win. Second place went to the experienced Victorian Brook Dobbin and his lovely mare, Velvet Cate in 70.49 seconds. Robert Goodwin and Oaks Costa Rica completed the podium, finishing in 71.03 minutes. The Future Stars final will be held on Saturday, where all participants in the series will be eligible to compete and all will start on equal terms.
Advertisement


The final class today was the second round of the Beaconhills College Australian Children's Championship which gave the youngsters their last chance to push they way up the rankings prior to Saturday's Final. A total of 35 combinations entered, producing 11 clear rounds, which coincidentally is the age of our winner! Competing against other riders up to three years older than her, Zara Adnams and Tally-Ho Primrose produced a brilliant jump off round to finish in just 46.61 seconds. There was only one other double clear performance and that was by Charlie Magnier and Master Stevie G from NSW who were just pipped on time, when they took 46.69 seconds. Third place went to South Australian visitor, Imogen Lindh and Nightwish. The final for this Championship will be held on Saturday morning with Charlee Dobbin and Lovegrove, the only combination starting on zero penalties, thanks to their first and fourth placings in the heats.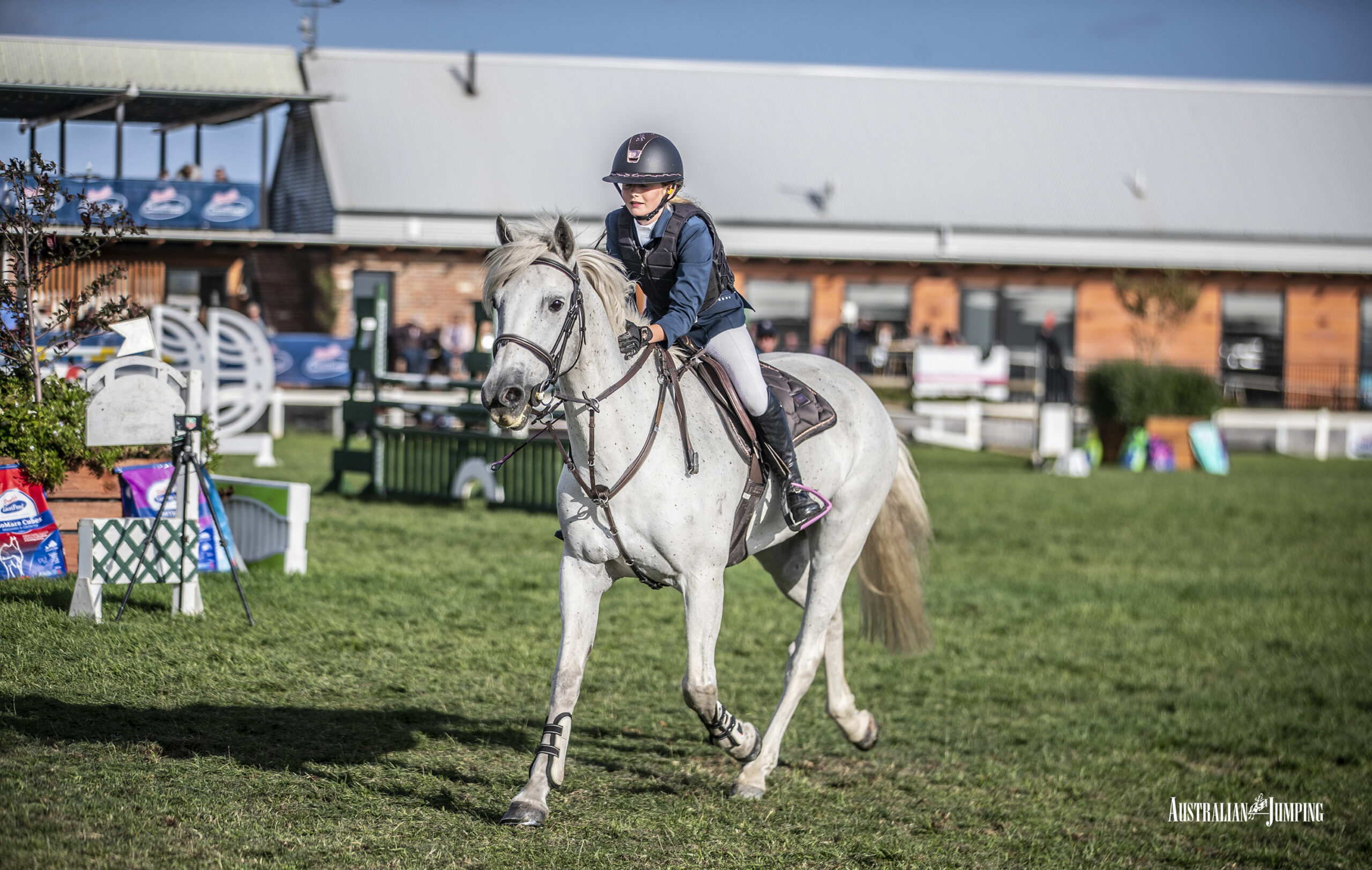 Zara Adnams and Tally-Ho Primrose
The Arilla Sand Arena 2 saw plenty of exciting action today. The competition started with the first round of the Vranken-Pommery Australia Ruby Series.  Today saw some great jumping with almost half of the start list of 39 combinations clear, creating an 18-way jump off. Of these, 10 went double clear meaning that to fill a placing all the rails had to stay up twice. In a highly competitive class where less than 0.10 seconds separated the podium placings, the win went to Georgia Bouzaid and Vitess in 39.39 seconds. In second place was Jessie Rice-Ward and Dinero by the bearest of margins in 39.40 seconds. Third went to Victorian combination, Kate Beadel and Lily Elmare in 39.48 seconds.
The second round of the Interpath Mini Prix competition was held next, with the win going to Billy Raymont and Kablesse Kavita who went double clear with a jump off time of 40.06 seconds. Russell Johnstone followed up his second placing in the Senior Championship round earlier with another second, going double clear with Dondersteen in a time of 40.95 seconds. Third place was filled by Rebecca Jenkins and Lola HH, also double clear in 41.84 seconds. The final of this series is scheduled for Saturday where all competitors in the series will be able to compete.
The next class decided on Arena 2 was the Icepack 110cm Open. This was won by Sarah Weiss and Twins Delux in a time of 64.59 seconds. They were very closely followed by Tasmanian visitors, Ruby Hirst and Foxleigh Partly Cloudy in 64.67 seconds. Third place went to Hannah Wigg and Clifton Court Luxardo in 64.85 seconds.
The final class decided was the first round of the Racing Victoria Off The Track Championship. Restricted to retired thoroughbred horses, this class was taken out by Brad Cunningham and Stellaluna, clear in 64.39 seconds. Stellaluna is going much better in the jumping world than she ever did in the racing world. Sired by Reward for Effort, she raced under the name Full Of Emotion and her career consisted of just two starts where she finished last on both occasions. She was retired from racing after her second start saw her finish more than 50 lengths behind the winner. Second place went to Darcy Wade and Miss Delfyne, more than two seconds slower in 66.71 seconds. Katie Clark, from South Australia and Katelle Grand finished third in 69.02 seconds. The second round of this series will be tomorrow, with a final scheduled for Saturday.
For the first time in the Championships, we saw competition today on the Tulara Warmbloods Arena 3. The opening class was Round 1 of the Equestrian Victoria Amateur Series Competition. A great clear round by Kelly Lees and Ohio Silver saw them take the win in a time of 72.50 seconds. Daniel Leach and Kilara Park Cassius Clay were second in 73.77 seconds and a time of 74.52 seconds saw Gaby Herbosa and Kaloona Virago fill third place. A second qualifying round will be conducted tomorrow, before the top 50% of combinations compete in Saturday's final.
The next class was the second round of the Volpaia Park Emerald Series. In a great performance Teagan Chester and Callista, who finished third in Round 1, flew around the course in just 77.88 seconds, almost three seconds clear of the second placed Dale Frew and APH Solace in 80.87 seconds. Third place went to Jess Kiernan and Amenadiel in 82.53, despite taking a rail. The top 50% of combinations, based on performances in the two rounds, have qualified for Saturday's final.
The Sproules Farm 125cm Open class was the final event on The Tulara Warmbloods Ring 3 this afternoon. There were only eight combinations entered, however, six of them recorded clear rounds and came back for a jump off. After the jump off there were five double clears so it came down to time. Fastest was Murray Lamperd and Sebastian, with a jump off time of 36.22 seconds. Second place went to Billy Raymont and Bicento in 37.56 seconds. In third, was Melissa Backman and Blackall Park Coloe taking 39.90 seconds to complete the course.
There was also plenty of action on Arena 4 today, with the first rounds of three separate series. Each of these Series are conducted over three rounds and each combination scores points according to where they finish on the results list. After the three rounds points are added and the top 50% will be invited to participate in a final on Sunday.
The first class conducted was the first round of the Heiniger Ivory Series. With the rails set at 80cm for the three qualifying rounds and then raised to only 85cm in the final, this class is for everybody. Conducted as a speed class all the placegetters left the rails up with the quickest being 11 year old Victorian rider Zara Adnams and Elcarium Starlight in a time of 47.00 seconds. Second and third place went to a pair of Queenslanders, Kaya Zielinski and Lady Of Diamonds second in 48.19 seconds and Lorna Clifford and Kahean Trooper Nelson third in 50.17 seconds.
Next class was the first round of the Yandoo Equestrian Pearl Series. Out of 47 starting combinations, the fastest clear round was achieved by Queensland rider Simone Sorensen and Bayview Wish List, in a time of 53.71 seconds. Second place went to Ava Kennedy and Piper Arrow in 56.41 seconds with Tayla Anderson and Casino Nights coming in third in 62.26 seconds.
Wrapping up the day was the first round of the Chase Equestrian Opal Series. A great standard of jumping saw 80 combinations entered, producing 35 clear rounds. After a huge jump-off there were still 21 combinations yet to incur a fault. The fastest of these, and therefore the win went to Nellie Rogers and Rocket Rod in a jump off time of 30.21 seconds. Second place went to Zara Adnams and Dingmac Disco King who scooted around the course in 30.89 seconds. Over two seconds behind in third place was Simone Sorensen and Bayview Wish List in a time of 33.22 seconds. Round 2 of this series will be held tomorrow.
All in all, it was a great day of jumping. All the series are now underway and the action is sure to heat up tomorrow as we get closer to the weekend's finals.
Below are details of all the winners and placegetters from today:
PRYDE'S EASIFEED MAIN ARENA
CLASS 6: HORSELAND – AUSTRALIAN JUNIOR CHAMPIONSHIP (ROUND 1) – 1.20-1.25m
| | | |
| --- | --- | --- |
| PLACE | RIDER | HORSE |
| 1st | Hayden Parker | Yirrkala Pippi Longstockings |
| 2nd | Zoe Waller | Bequest |
| 3rd | Anneliese Wansey | Grandiamo |
| 4th | Phoebe Riordan | Diamond B Versailles |
| 5th | Ella Hayward | Edena DP |
| 6th | Jack Barker | Yandoo Zenzel HBC |
| 7th | Aria Baker | That's Limo |
| 8th | Clemency Hughes | Diamond B Corvina |
| 9th | Georgia Price | Zara PPH |
| 10th | Abbey Kuiper | KS Vakarra Champagne |
| 11th | Jordyn Lee-Madgwick | Cera Cadett |
| 12th | Anneliese Wansey | Kolora Stud St Patrick |
CLASS 7: PRYDE'S EASIFEED – AUSTRALIAN SENIOR CHAMPIONSHIP (ROUND 1) – 1.45-1.50m
| | | |
| --- | --- | --- |
| PLACE | RIDER | HORSE |
| 1st | Chris Chugg | Cera Cassiago |
| 2nd | Russell Johnstone | Daprice |
| 3rd | Phillip Lever | Lomachenko |
| 4th | Gabrielle Chugg | PSS Levilensky |
| 5th | Olivia Hamood | Jane Fonda DVD |
| 6th | Billy Raymont | Black Jack IXE |
| 7th | Amanda Madigan | Diamond B Vivienne |
| 8th | Kate Hinschen | Oaks Ventriloquist |
| 9th | Anthony Thomas | SL Donato |
| 10th | Josh Collins | Cornel |
CLASS 8: RACING HEARTS – AUSTRALIAN YOUNG RIDER CHAMPIONSHIP (ROUND 1) – 1.30-1.35m
| | | |
| --- | --- | --- |
| PLACE | RIDER | HORSE |
| 1st | Tessa Lill | Yalambi's Hugo Boss |
| 2nd | Lucie Aldridge | Ollie Olae |
| 3rd | Amelia Douglass | Yalambi's Jadore |
| 4th | Jessie Rice-Ward | CP Southern Cross |
| 5th | Madeline Sinderberry | Camie Z |
| 6th | Georgia Bouzaid | A P Ninja |
| 7th | Amelia Douglass | Sirius Du Granit |
| 8th | Amelia Douglass | Upper Class Z |
| 9th | Will Dight | Thea |
| 10th | Bella Du Plessis | Monte Carlo MVNZ |
CLASS 9: KIERNAN PLANT HIRE – FUTURE STARS (ROUND 2) – MINIMUM 1.30m
| | | |
| --- | --- | --- |
| PLACE | RIDER | HORSE |
| 1st | Madeline Sinderberry | Balentino |
| 2nd | Brook Dobbin | Velvet Cate |
| 3rd | Robert Goodwin | Oaks Costa Rica |
| 4th | Josh Collins | Yalambi's Ikon |
| 5th | Stuart Jenkins | Fairview Cambridge |
| 6th | Phil Stevens | Baluce |
| 7th | Phillip Lever | Bellhaven Chanceux |
| 8th | Rhys Stones | Riverton Kanntador |
| 9th | Stuart Jenkins | Fairview Alicana |
| 10th | Phillip Lever | BP Jedak Du Rouet |
CLASS 10: BEACONHILLS COLLEGE – AUSTRALIAN CHILDREN'S CHAMPIONSHIP (ROUND 2) – 1.10-1.15m
| | | |
| --- | --- | --- |
| PLACE | RIDER | HORSE |
| 1st | Zara Adnams | Tally-Ho Primrose |
| 2nd | Charlie Magnier | Master Stevie G |
| 3rd | Imogen Lindh | Nightwish |
| 4th | Charlie Dobbin | Lovegrove |
| 5th | Joel Lamb | Emcee Holly Go Lightly |
| 6th | Jett Newman | Wanda |
| 7th | Mirri Lang | Another Billion |
| 8th | Imogen Lindh | Blackall Park Koraleigh |
| 9th | Sienna Holdsworth-Rose | Atlas E |
| 10th | Tanner Robinson | Charlie |
ARILLA – RING 2
CLASS 11: VRANKEN-POMMERY AUSTRALIA – RUBY SERIES (ROUND 1) – MINIMUM 1.25m
| | | |
| --- | --- | --- |
| PLACE | RIDER | HORSE |
| 1st | Georgia Bouzaid | Vitess |
| 2nd | Jessie Rice-Ward | Dinero |
| 3rd | Kate Beadel | Lily Elmare |
| 4th | Stuart Jenkins | Incredible C |
| 5th | Billy Raymont | Tulara Forpaccio |
| 6th | Jane Wilcox | Miss Pippa |
| 7th | Tess McInerney | Quintation |
| 8th | Rhys Stones | PPP Seductor |
| 9th | James Paterson-Robinson | Diamond B Baton Rouge |
| 10th | Suzie Williams | Cavalli Park Ciara |
CLASS 12: INTERPATH – MINI PRIX (ROUND 2) – MINIMUM 1.40m
| | | |
| --- | --- | --- |
| PLACE | RIDER | HORSE |
| 1st | Billy Raymont | Kablesse Kavita |
| 2nd | Russell Johnstone | Dondersteen |
| 3rd | Rebecca Jenkins | Lola HH |
| 4th | Chloe Hughes | Watermark Farm Oz |
| 5th | Jess Kiernan | Hemsworth |
| 6th | Rhys Stones | Othello MVNZ |
| 7th | Billy Raymont | YPH Capulet |
| 8th | Clem Smith | Quantico 12 |
| 9th | Sam Overton | Yirrkala Cameron |
| 10th | Frida Lindgren | Big Dream Z |
CLASS 13A: ICEPACK – OPEN – 1.10m
| | | |
| --- | --- | --- |
| PLACE | RIDER | HORSE |
| 1st | Sarah Weiss | Twins Delux |
| 2nd | Ruby Hirst | Foxleigh Partly Cloudy |
| 3rd | Hannah Wigg | Clifton Court Luxardo |
| 4th | Murray Lampard | Lushious Lourdes |
| 5th | Zara Smith | Another Sportsman |
| 6th | Hanna Lamb | RBH Mr Image |
| 7th | Clyde Shera Jones | Si Si Strike |
| 8th | Mark Nicholls | Diorite |
CLASS 13B: RACING VICTORIA – OFF THE TRACK CHAMPIONSHIP (ROUND 1) – 1.10m
| | | |
| --- | --- | --- |
| PLACE | RIDER | HORSE |
| 1st | Brad Cunningham | Stellaluna |
| 2nd | Darcy Wade | Miss Delfyne |
| 3rd | Katie Clark | Katelle Grand |
| 4th | Cassie Palm | Honey Steels Gold |
| 5th | Lauren Bolzon | Madagascar |
| 6th | Sarah Moody | Hanks |
| 7th | Arienne Holdsworth-Rose | Glenayre Skyline |
| 8th | Laura Darvall | Trespasser |
TULARA WARMBLOODS – RING 3
CLASS 14: EQUESTRIAN VICTORIA – AMATEUR SERIES (ROUND 1) – 1.20m
| | | |
| --- | --- | --- |
| PLACE | RIDER | HORSE |
| 1st | Kelly Lees | Ohio Silver |
| 2nd | Daniel Leach | Kilara Park Cassius Clay |
| 3rd | Gaby Herbosa | Kaloona Virago |
| 4th | Paige Cartwright | Kitara Boizel |
| 5th | Stuart Abrahams | Vainquer |
| 6th | Sarah Weiss | Twins Delux |
| 7th | Christie Freeman | Quevida |
| 8th | Nina Griffiths | Zamorra S |
CLASS 15: VOLPAIA PARK – EMERALD SERIES (ROUND 2) – MINIMUM 1.10m
| | | |
| --- | --- | --- |
| PLACE | RIDER | HORSE |
| 1st | Teagan Chester | Callista |
| 2nd | Dale Frew | APH Solace |
| 3rd | Jess Kiernan | Amenadiel |
| 4th | Billy Raymont | Jaheta Hilary |
| 5th | Hannah Wigg | Clifton Court Luxardo |
| 6th | Tyrone Latham | Arion Carasun |
| 7th | James Harvey | GC Chicane |
| 8th | Jamie Hewitt-Toms | Balou Du Rose |
| 9th | Olivia Hamood | Diamond B Bedazzled |
| 10th | Chris Chugg | CF Camanche |
CLASS 16: SPROULES FARM – OPEN – 1.25m
| | | |
| --- | --- | --- |
| PLACE | RIDER | HORSE |
| 1st | Murray Lamperd | Sebastian |
| 2nd | Billy Raymont | Bicento |
| 3rd | Melissa Backman | Blackall Park Coloe |
| 4th | Tess McInerney | Warraleigh Park Cortez |
| 5th | Kylie Hawkins | Callidor |
| 6th | Mackenzie Johnson | Along Came Polly |
| 7th | James Harvey | Patangas Hiccup |
| 8th | Murray Lamperd | Secret Mojo |
RING 4
CLASS 17: HEINIGER – IVORY SERIES (ROUND 1) – 0.80m
| | | |
| --- | --- | --- |
| PLACE | RIDER | HORSE |
| 1st | Zara Adnams | Elcarium Starlight |
| 2nd | Kaya Zielinski | Lady Of Diamonds |
| 3rd | Lorna Clifford | Kahean Trooper Nelson |
| 4th | Ava Kennedy | Piper Arrow |
| 5th | Sunday Borrack | Benmore Pizazz |
| 6th | Hayley Dalton | Lily Stardust |
| 7th | Anna Michalczyk | Candlebark Showday |
| 8th | Mack Whelan | Narni |
CLASS 18: YANDOO EQUESTRIAN – PEARL SERIES (ROUND 1) – 0.90m
| | | |
| --- | --- | --- |
| PLACE | RIDER | HORSE |
| 1st | Simone Sorenson | Bayview Wish List |
| 2nd | Ava Kennedy | Piper Arrow |
| 3rd | Tayla Anderson | Casino Nights |
| 4th | Ruby Vears | James Bond |
| 5th | Emmy Fraser | Lane End Mac |
| 6th | Simone Tanis | Peter Rabbit |
| 7th | Charlotte Alexander | Leo |
| 8th | Evie Magnier | Mirabel Patterson |
CLASS 19: CHASE EQUESTRIAN – OPAL SERIES (ROUND 1) – 1.00m
| | | |
| --- | --- | --- |
| PLACE | RIDER | HORSE |
| 1st | Nellie Rogers | Rocket Rod |
| 2nd | Zara Adnams | Dingmac Disco King |
| 3rd | Simone Sorenson | Bayview Wish List |
| 4th | Nellie Rogers | Valiant Star |
| 5th | Rebecca Wright | Sparkling Midnight |
| 6th | Billy Raymont | Jaheta Hazel |
| 7th | Anabelle Klintberg | Eye Catcher |
| 8th | Bek Carrolan | That's Not It |
Results sourced from online.equipe.com
View Comments