The Australian Jumping Championships blows into Sydney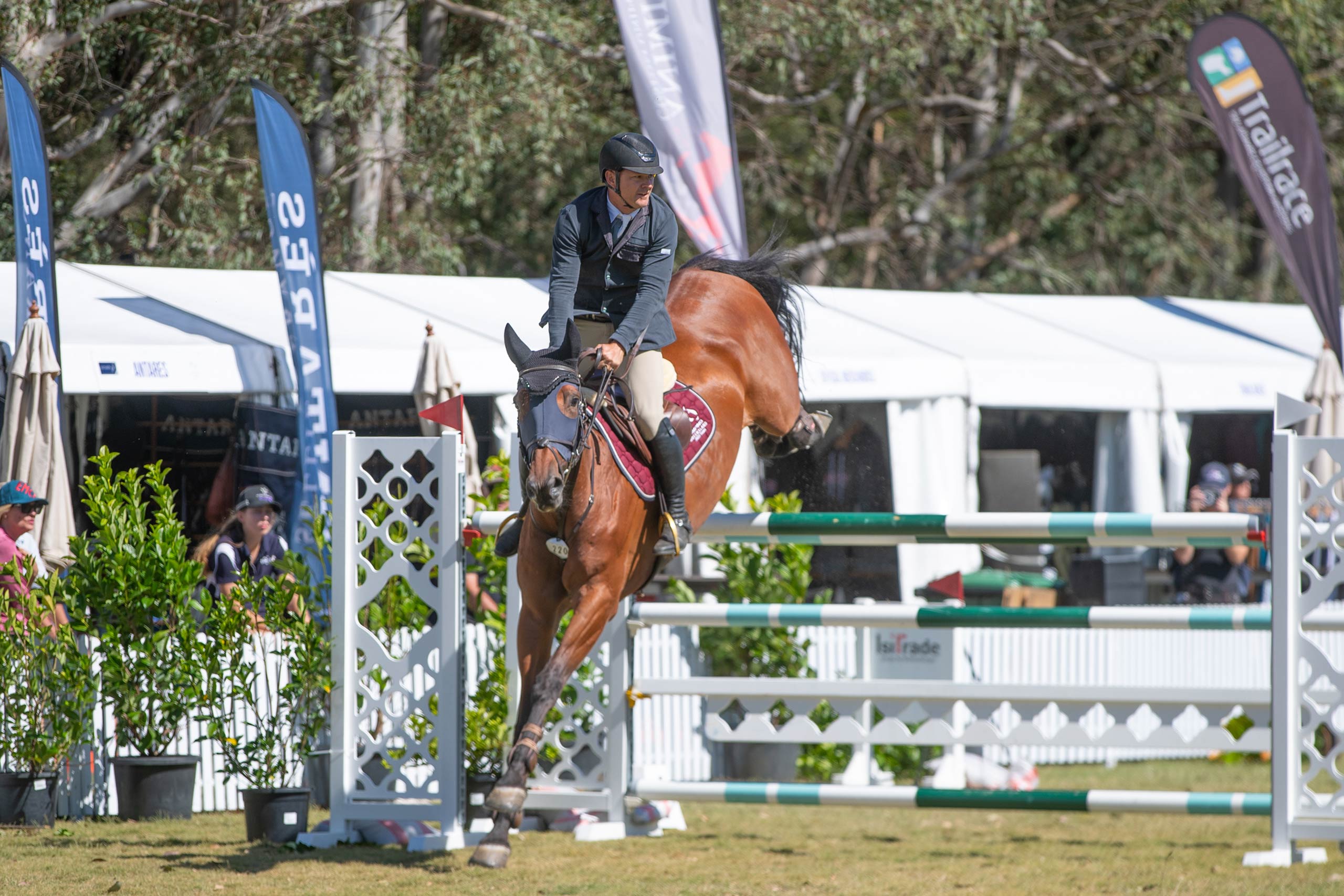 Australian Jumping
The Australian Jumping Championships opened today with classes held across two arenas. Despite strong winds not only delaying the start of action, but holding up proceedings throughout the day. The scheduled day of classes were completed and we look forward to classes proceeding for the rest of the show without delays due to the wind.
Advertisement


Arena 1 saw three classes scheduled for completion, all first rounds of championship series with the first class completed being round 1 of the Young Rider Championship. Leaving all the rails up and completing the course in just 71.32 seconds were the in-form Victorian combination of Hayden Parker and Tulara Spangenburg. Second place with a clear round of 75.80 seconds were William Wood and Celerity Park Veestar with Jack Barker and Tulara Colchic finishing third, in a time of 76.51 seconds.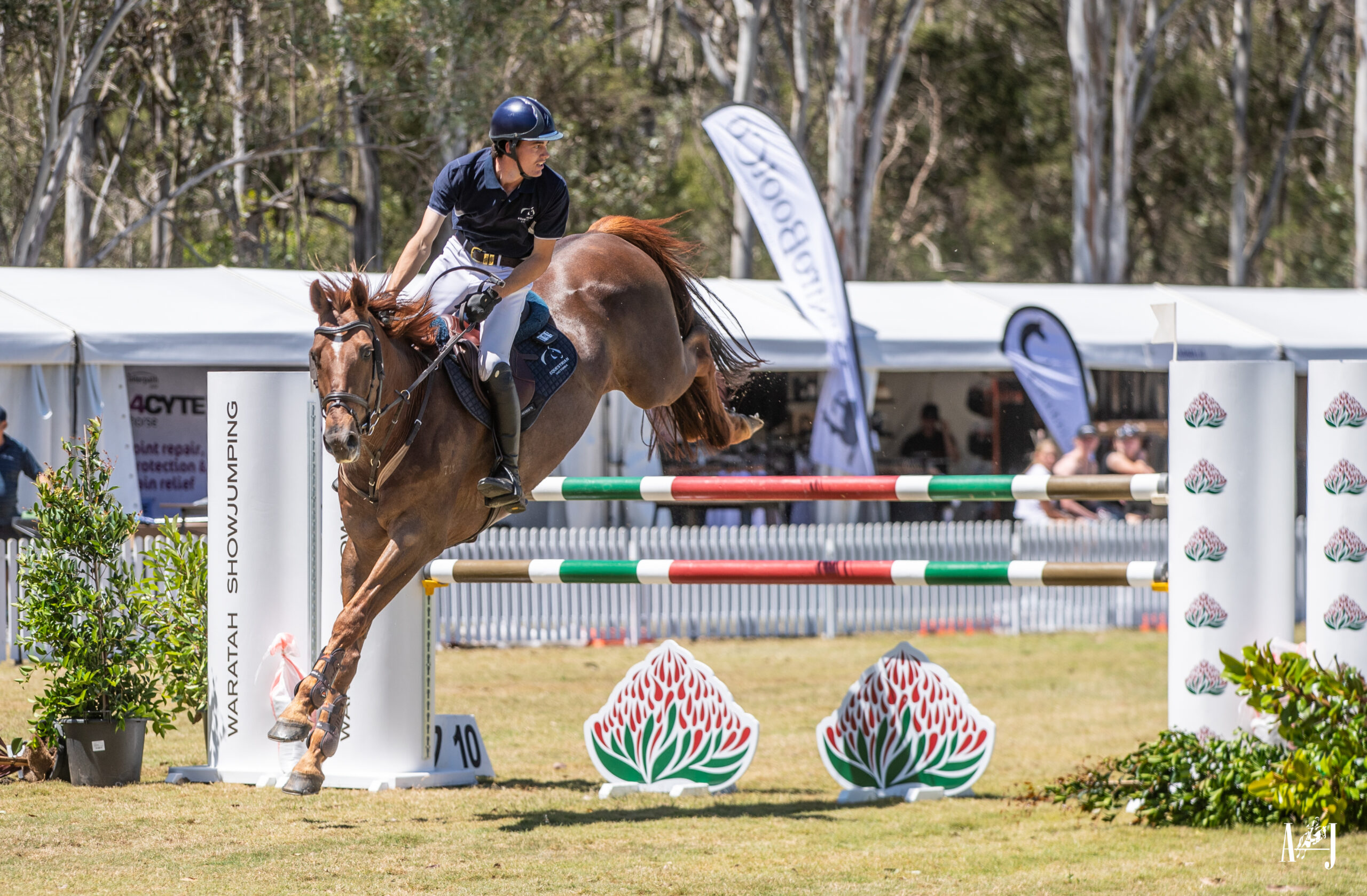 Above: Hayden Parker and Tulara Spangenburg.
The next class completed was the first round of the Australian Senior Championship, which was conducted as a speed class, where the podium was dominated by visitors from Queensland. The win went to Stuart Jenkins and Fairview Alicana who had a clear round in a time of 68.41 seconds. Fellow Queenslanders, Sam Overton and Oaks Cassanova, the winners of the 2022 Australian World Cup Qualifying Series, recorded a faster raw time, however a rail cost them, finishing with a time of 70.95 seconds in second place. The local combination of Amber Fuller and Nopal Van Tallaert flew the flag for NSW finishing in third with 4 faults pushing their final time to 74.29 seconds.
The final class on Arena 1 was the first round of the Ruby Series. Only three of the 27 combinations entered recorded a clear round and a jump off was required to sort out the podium placings. In an all-Queensland podium, the win went to Clem Smith and Quantico 12 with a double clear effort and a jump off time of 39.07 seconds. Second place went to Olivia Hamood and Yirrkala Miss Darcy, also double clear, in a time of 40.18 seconds. Third place also went to Olivia Hamood, this time riding Yirrkala Cassey, going clear in the jump off in a time of 41.89 seconds.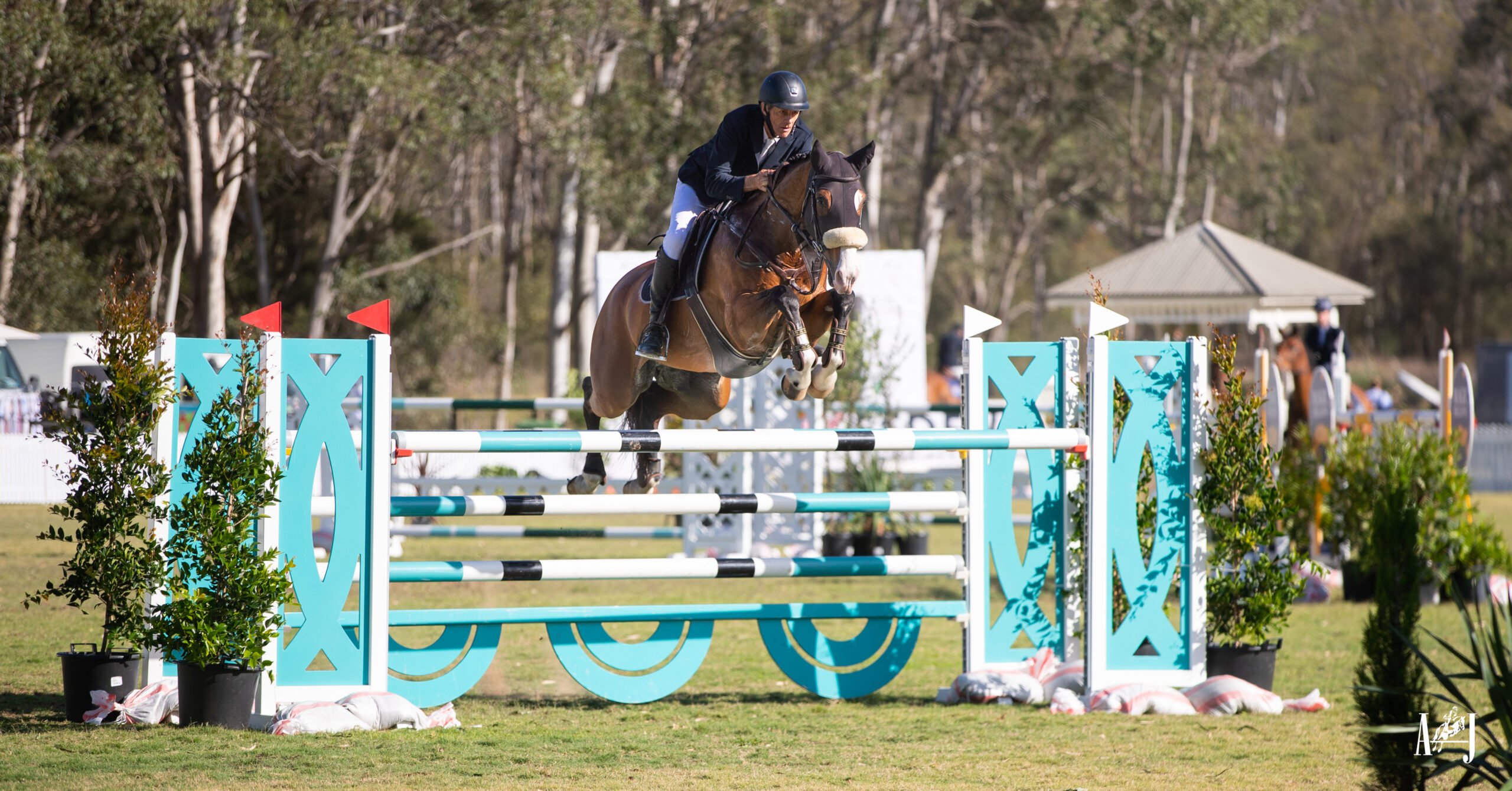 Above: Clem Smith and Quantico 12.
The Pryde's Easifeed Arena 2 saw four classes conducted on day 1 of the championships. After a late start, the first class on was the Oaks Sport Horses Emerald Series for Young Horses Round 1. This class saw 36 combinations on the start list, 19 of which recorded a clear round. The fastest of these and the win went to Samantha Dernee and gelding Glenara Leonardo Z in a time of 63.33 seconds. Mares carried riders to second and third places with Jessica Stalling and Kanntina in second with a time of 64.93 seconds and Courtney Scott and Pearls N Diamonds in third, taking 66.08 seconds to complete the course.
The second class decided on Arena two was the Pattis Hire first round of the Open section of the Emerald Series. A start list of 32 combinations managed to record a massive 20 clear rounds, despite the blustery conditions. Winning the class, with a margin of more than four seconds were Queensland visitors Cody Tincknell and the interestingly named Pier Gynt Nautillus F. They were the only combination to crack the 60 second mark, recording 59.85 seconds. Second place went to Murrumbateman based rider Rachael Vella and Vellara Delerium, finishing in 63.94 seconds with another Queensland combination of Grace Overton and Vertical Valley Bella Boop in third in 67.25 seconds.
The next class on Arena 2 was the first round of the Thoroughbred Sport Horses Association TSHA Series, where only 13 combinations made up the start list. There were five clear rounds which set up a fascinating jump off to decide how the $650 prizemoney on offer would be distributed among the top four. A second clear jump off round in a sizzling time of 37.71 seconds was enough for Lori James and Restauranteur SHP to take the win. Second place, also double clear were the Victorian combination of Lucy Borrack and her gelding Oscar Boscaiola in a time of 43.75 seconds. Despite accumulating eight penalties in the jump off, a time of 43.94 seconds was enough to secure third place for Queenslanders Fuschia Criss and mare Amazena. The Sebring mare Foxhill Cruise carried Lily-Rose Baxter to fourth place.
Action on Arena 2 wrapped up with the first round of the Global Entries Online Amateur Series. A total of 24 combinations were entered which produced a total of 10 clear rounds, requiring a jump off to determine the winner. In the jump off, six of the 10 combinations again went clear with the fastest being Jacqui Kennett and Oaks Kenya, who completed the course in 39.06 seconds. Second place went to Victoria Montana and Jellystone Park Cinzano just a smidge behind, finishing in 39.53 seconds. Rounding out the podium were the in-form combination of Courtney Cusack and Sandhills Swing, who completed the jump off in 36.95 seconds. With six double clear performances, this is going to be an exciting series, which will wrap up in a final, scheduled for Saturday.
It was a fantastic day of jumping action, despite the delays caused by the strong winds. We look forward to another day of top jumping action tomorrow, after which, first rounds will have been held in all series making up this championship show.
Congratulations to all the winners and placegetters on day 1 of the Championships, all of which are listed below
DAY 1 – TUESDAY RESULTS
MAIN ARENA
CLASS 1: ORANGEVILLE PERFORMANCE HORSES: YOUNG RIDER CHAMPIONSHIP (ROUND 1) – MINIMUM 1.35m
| | | |
| --- | --- | --- |
| PLACE | RIDER | HORSE |
| 1st | Hayden Parker | Tulara Spangenburg |
| 2nd | William Wood | Celerity Park Veestar |
| 3rd | Jack Barker | Tulara Colchic |
| 4th | Georgia Bouzaid | Vitess |
| 5th | Clemency Hughes | YPH Capulet |
CLASS 2: SENIOR CHAMPIONSHIP (ROUND 1) – MINIMUM 1.50m
| | | |
| --- | --- | --- |
| PLACE | RIDER | HORSE |
| 1st | Stuart Jenkins | Fairview Alicana |
| 2nd | Sam Overton | Oaks Cassanova |
| 3rd | Amber Fuller | Nopal Van Tallaert |
| 4th | Clem Smith | Oaks Conjuror |
| 5th | Russell Johnstone | Daprice |
| 6th | Madeline Sinderberry | Camie Z |
| 7th | Phillip Level | Billionaire NZPH |
| 8th | Tom McDermott | Cooley Gangster |
CLASS 3: SYDNEY JUMPING ASSOCIATOIN – RUBY SERIES (ROUND 1) – MINIMUM 1.30m
| | | |
| --- | --- | --- |
| PLACE | RIDER | HORSE |
| 1st | Clem Smith | Quantico 12 |
| 2nd | Olivia Hamood | Yirrkala Miss Darcy |
| 3rd | Olivia Hamood | Yirrkala Cassey |
| 4th | Rebecca Jenkins | Denison Park Style |
| 5th | Jessica Stalling | Parallax SCF |
| 6th | Ananda Kennard | Yalambis Jadore |
PYRDE'S EASIFEED ARENA 2
CLASS 4A: OAKS SPORT HORSES – EMERALD SERIES-YOUNG HORSE SECTION (ROUND 1) – MINIMUM 1.10m
| | | |
| --- | --- | --- |
| PLACE | RIDER | HORSE |
| 1st | Samantha Dernee | Glenara Leonardo Z |
| 2nd | Jessica Stalling | Kanntina |
| 3rd | Courtney Scott | Pearls N Diamonds |
| 4th | Tallara Cameron | La Traviata |
| 5th | Charlie Richardson | A Foxy Lady |
| 6th | James Paterson-Robinson | Team Priestley Katniss |
| 7th | Madeline Sinderberry | Oaks Everest |
| 8th | James Paterson-Robinson | Yirrkala Dior |
CLASS 4B: PATTIS HIRE – EMERALD SERIES-OPEN SECTION (ROUND 1) – MINIMUM 1.10m
| | | |
| --- | --- | --- |
| PLACE | RIDER | HORSE |
| 1st | Cody Tincknell | Pier Gynt Nautillus F |
| 2nd | Rachael Vella | Vellara Delerium |
| 3rd | Grace Overton | Vertical Valley Bella Boop |
| 4th | Monique Barrett | Dusky Farm Duncan |
| 5th | James Paterson-Robinson | Czuko |
| 6th | Natalie Mohr | Talbot Cece |
CLASS 5: THOROUGHBRRED SPORT HORSE ASSOCIATION – TSHA SERIES (ROUND 1) – MINIMUM 1.10m
| | | |
| --- | --- | --- |
| PLACE | RIDER | HORSE |
| 1st | Lori James | Restauranteur SHP |
| 2nd | Lucy Borrack | Oscar Boscaiola |
| 3rd | Fuschia Criss | Amazena |
| 4th | Lily-Rose Baxter | Foxhill Cruise |
CLASS 6: GLOBAL ENTRIES ONLINE – AMATEUR SERIES (ROUND 1) – MINIMUM 1.10m
| | | |
| --- | --- | --- |
| PLACE | RIDER | HORSE |
| 1st | Jacqui Kennett | Oaks Kenya |
| 2nd | Victoria Montano | Jellystone Park Cinzano |
| 3rd | Courtney Cusack | Sandhills Swing |
| 4th | Victoria Montano | Carina 1 |
| 5th | Sarah Dodd | Carmine |
| 6th | Abby West | Aniklas |
Results sourced from equipe.com
View Comments