The Big Wet hits Waratah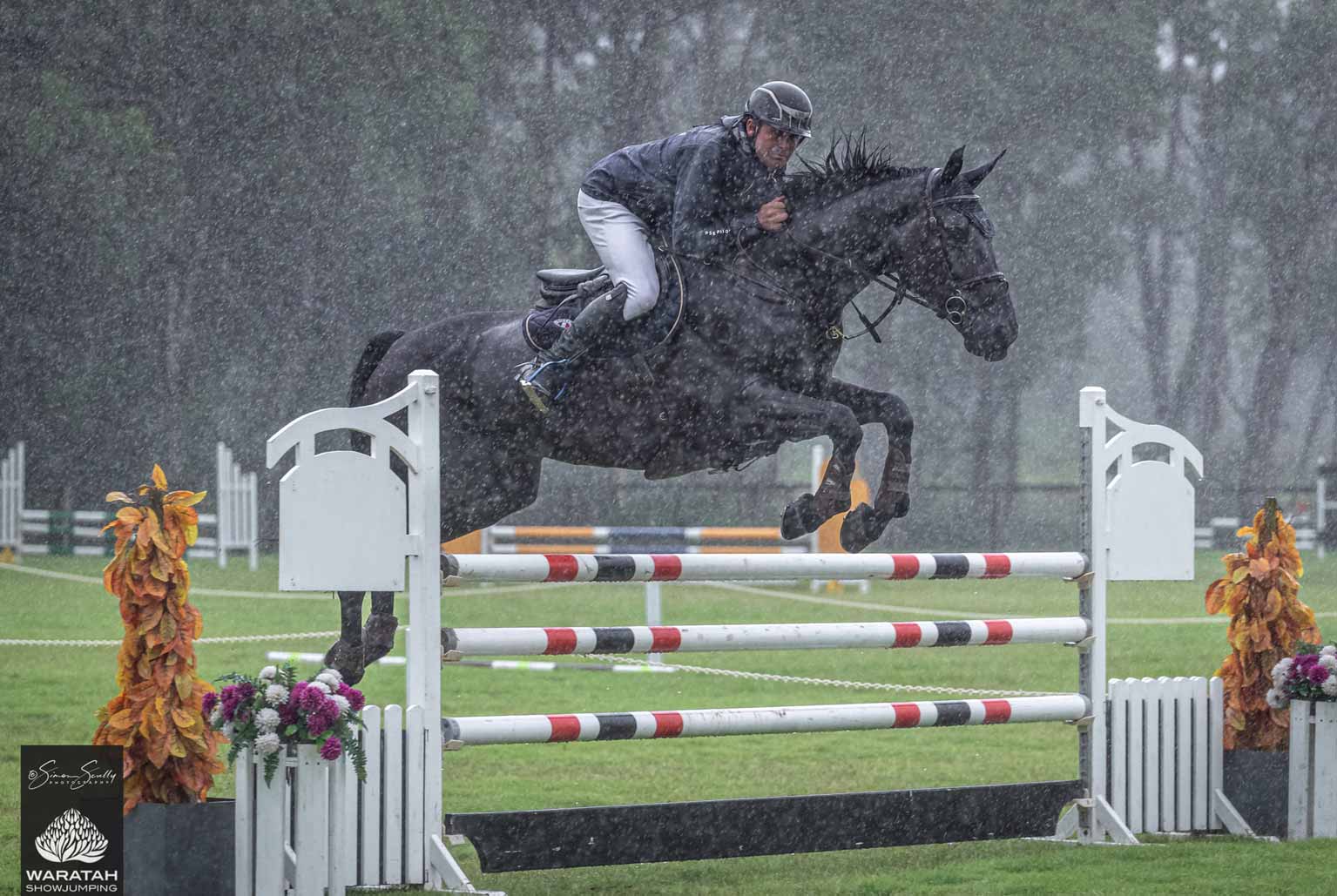 Simon Scully Photography
Above: James Arkins and Yalambis Jaguar. Photo credit: Simon Scully Photography
A seriously large amount of rain hit Sydney today with Sydney Equestrian Centre being no exception. Unfortunately this resulted in delays for a number of classes on the second day of Waratah Showjumping and the cancellation of the Grand Prix.
The tough kept going though, and we have the results below to prove it!
Advertisement


Congratulations to all the winners and placegetters from today across both arenas.
SATURDAY RESULTS
RING 1
CLASS 7A: Open – 1.30-1.35m
The only placings in this class was:
| | | |
| --- | --- | --- |
| PLACE | RIDER | HORSE |
| 1st | Maverick Miles | Cavalier Ludicrous |
CLASS 7B: Samantha Magnusson – Young Rider – 1.30-1.35m
The only four placings in this class were:
| | | |
| --- | --- | --- |
| PLACE | RIDER | HORSE |
| 1st | Madeline Sinderberry | Keilor Bamboo |
| 2nd | Charlie Richardson | Mavrick |
| 3rd | Madeline Sinderberry | Balentino |
| 4th | Lucie Aldridge | Ollie Olae |
CLASS 9A: HR Forestry – Open – 1.20m
The first six placings in this class were:
| | | |
| --- | --- | --- |
| PLACE | RIDER | HORSE |
| 1st | James Arkins | Yalambi Jaguar |
| 2nd | Tom McDermott | BB On Air |
| 3rd | Maverick Miles | Emcee Holly Golightly |
| 4th | Jack Haynes | She's A Diva |
| 5th | Krissy Harris | Corvette GHP |
| 6th | James Arkins | Rosthwaite Cover Girl |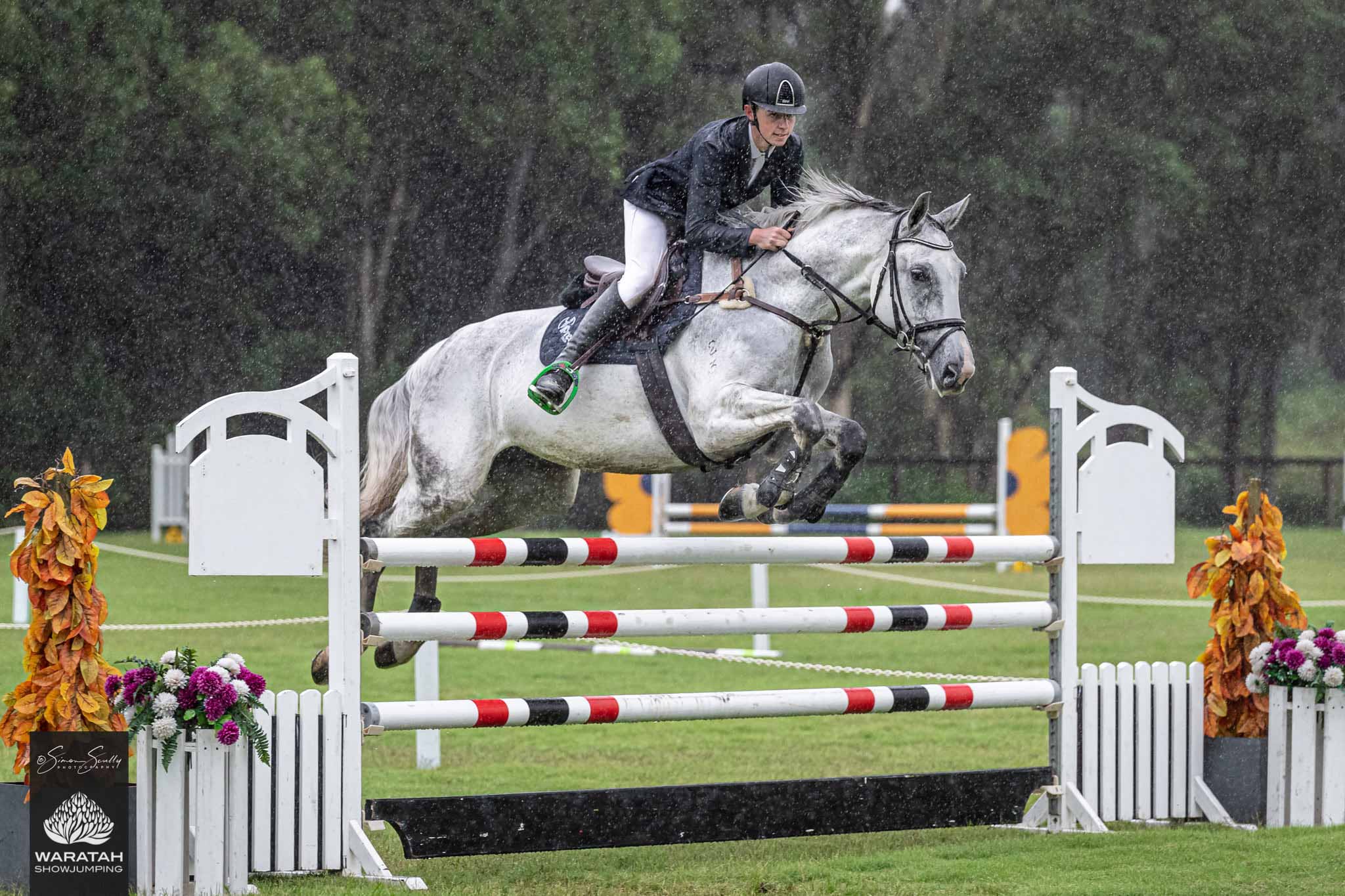 Jack Haynes and She's A Diva. Photo credit: Simon Scully Photography
CLASS 9B: Junior – 1.20m
The only three placings in this class were:
| | | |
| --- | --- | --- |
| PLACE | RIDER | HORSE |
| 1st | Aria Baker | That's Limo |
| 2nd | Jessica Galea | Checka |
| 3rd | Lara Christoffelsz | Bellhaven Catatani |
CLASS 9C: Hawkesbury River Saddle Co. – TSHA – 1.20m
The only placings in this class was:
| | | |
| --- | --- | --- |
| PLACE | RIDER | HORSE |
| 1st | Charlie Richardson | Bellbirds Sandpiper |
TRAILRACE RING 2
CLASS 20A: Adult – 0.75m
The first six placings in this class were:
| | | |
| --- | --- | --- |
| PLACE | RIDER | HORSE |
| 1st | Lita Hernandez | Dubendorf Xanda |
| 2nd | Nikita Moore | Moon Landing |
| 3rd | Laura Sloey | Redleaf Cabbage |
| 4th | Jeremy Williams | Bobby |
| 5th | Gina Eddie | Augustine |
| 6th | Sally Lancaster | Albert |
CLASS 20B: Junior – 0.75m
The first six placings in this class were:
| | | |
| --- | --- | --- |
| PLACE | RIDER | HORSE |
| 1st | Harriet King | Alkyra Acrobat |
| 2nd | Sophie Walker | Kelecyn Princess |
| 3rd | Olivia Carter | Flowervale Maserati |
| 4th | Emily Mohrmann | Tintagel Girl |
| 5th | Elyssia Collier | Steadfast Cpt. Jack Sparrow |
| 6th | Isobel Olivier | Hannah's Quest |
CLASS 10A: Adult – 0.90m
The first six placings in this class were:
| | | |
| --- | --- | --- |
| PLACE | RIDER | HORSE |
| 1st | Emma Lees | Macleay Corella |
| 2nd | Mathilde Furlan | PPP San Hai |
| 3rd | Lori James | Illusion SHP |
| 4th | Lita Hernandez | Dubendorf Xanda |
| 5th | Tara Sheridan | Views Reflection |
| 6th | Mathilde Furlan | PPP Can Can |
CLASS 10B: Hawkesbury River Saddle Co – TSHA – 0.90m
The first six placings in this class were:
| | | |
| --- | --- | --- |
| PLACE | RIDER | HORSE |
| 1st | Tara Sheridan | Views Equus |
| 2nd | Blair Richardson | Another Night |
| 3rd | Lori James | Restauranter SHP |
| 4th | Jessica Acheson | Lamasery |
| 5th | Sophie Walker | Kelecyn Princess |
| 6th | Nikita Moore | Moon Landing |
CLASS 10C: Junior – 0.90m
The first six placings in this class were:
| | | |
| --- | --- | --- |
| PLACE | RIDER | HORSE |
| 1st | Jasmine Spira | Avenly Bundy |
| 2nd | Harriet Stratton | Ascham Riverman |
| 3rd | Abby Coates | Wafalu Nulla |
| 4th | Harriet King | Alkyra Acrobat |
| 5th | Isobel Olivier | Yandoo Aphrodite |
| 6th | Pippa Walsh | Wonder Woman |
CLASS 11A: Adult – 1.00m
The first six placings in this class were:
| | | |
| --- | --- | --- |
| PLACE | RIDER | HORSE |
| 1st | Michael Lees | Ipod |
| 2nd | Tara Sheridan | Tallyho Views Horizon |
| 3rd | Charlotte Chambers | Amaretto MVNZ |
| 4th | Tara Sheridan | Views Reflection |
| 5th | Lauren Daly | River Side Antique |
| 6th | Maddi Sinderberry | Astronomical |
CLASS 11B: Hawkesbury River Saddle Co – TSHA – 1.00m
The only four placings in this class were:
| | | |
| --- | --- | --- |
| PLACE | RIDER | HORSE |
| 1st | Lori James | Restauranter SHP |
| 2nd | Blair Richardson | Another Night |
| 3rd | Jessica Acheson | Lamasery |
| 4th | Tara Sheridan | Views Equus |
CLASS 11C: Junior – 1.00m
The first six placings in this class were:
| | | |
| --- | --- | --- |
| PLACE | RIDER | HORSE |
| 1st | Harriet Stratton | Ascham Riverman |
| 2nd | Isobel Olivier | Yandoo Aphrodite |
| 3rd | Mackenzie Patterson Hollibone | Bolong Park Ego Cyrano |
| 4th | Lily-Rose Baxter | Foxhill Cruise |
| 5th | Ella Hayward | Barrabadeen Calypso |
| 6th | Abby Coates | Wafalu Nulla |
CLASS 12A: Adult – 1.10m
The first six placings in this class were:
| | | |
| --- | --- | --- |
| PLACE | RIDER | HORSE |
| 1st | Tara Sheridan | Tallyho Views Horizon |
| 2nd | Elizabeth Koob | Lady Vivacious |
| 3rd | Coco Miles | Emcee Ezra |
| 4th | Colleen Brook | Connollys Karachi |
| 5th | Jane Wilcox | Quantico |
| 6th | Michael Lees | Ipod |
CLASS 12B: Hawkesbury River Saddle Co – TSHA – 1.10m
The only two placings in this class were:
| | | |
| --- | --- | --- |
| PLACE | RIDER | HORSE |
| 1st | Blair Richardson | Rothswaite Johnny English |
| 2nd | Jeremy Williams | Pineapple Express |
CLASS 12C: Junior – 1.10m
The first six placings in this class were:
| | | |
| --- | --- | --- |
| PLACE | RIDER | HORSE |
| 1st | Charlie Magnier | Master Stevie G |
| 2nd | Lara Christoffelsz | Bellhaven Catatani |
| 3rd | Lara Christoffelsz | Checkin Charlie |
| 4th | Charlie Magnier | KEC Sofia |
| 5th | Sienna Zwar | Warrego Tinkerbell |
| 6th | Savannah Nuttall | Uptown Girl |
Results sourced from Global Entries Online
View Comments