Thoroughbreds on show at Equimillion long weekend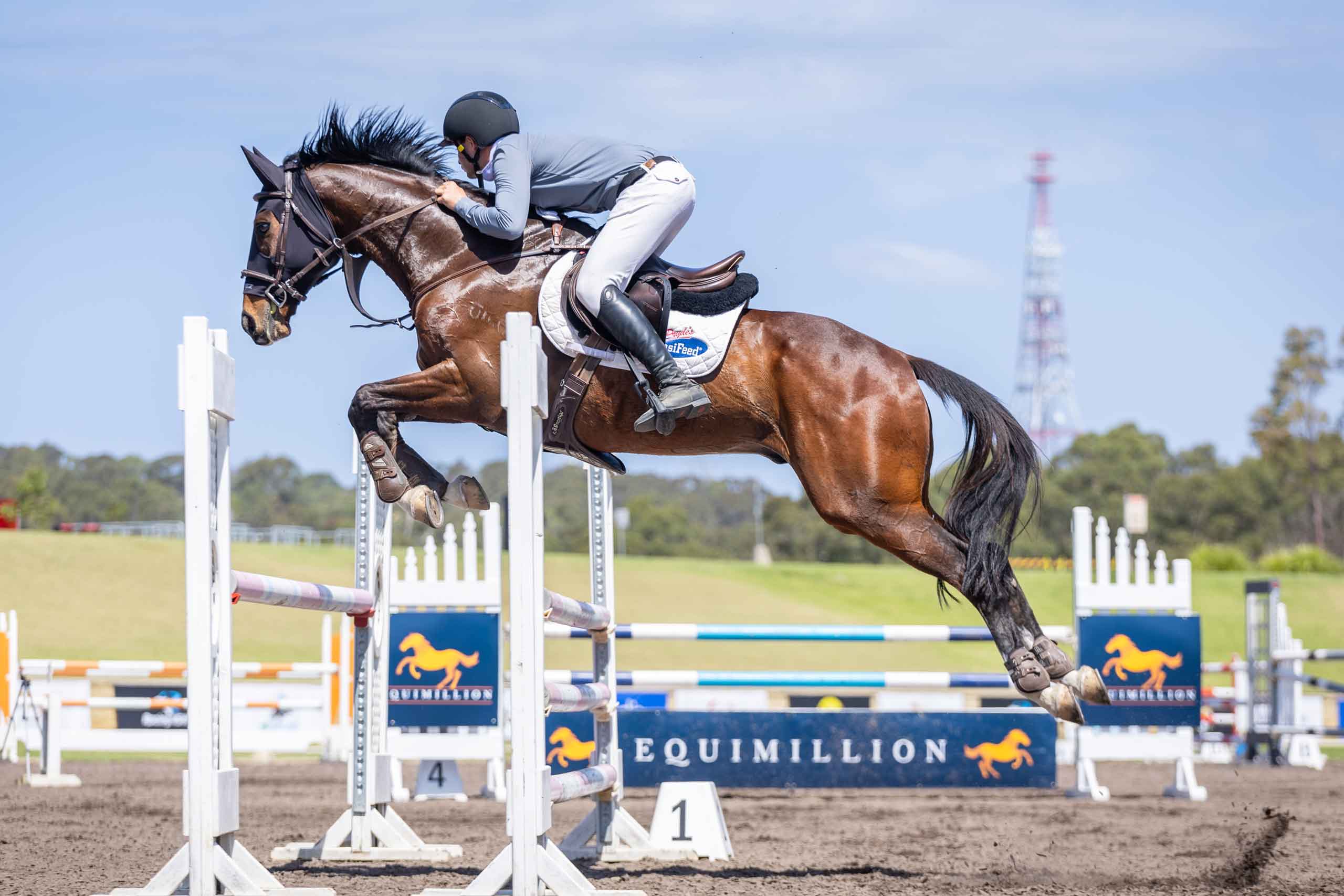 Simon Scully Photography
Photo Credit: Simon Scully Photography.
The inaugural Equimillion show was held at Sydney International Equestrian Centre (SIEC) last weekend and has been hailed a great success by all involved. A joint venture between Equestrian Australia and Racing NSW, the purpose of the event was to showcase the versatility and adaptability of Off-The-Track thoroughbreds and to encourage their transition into other equine pursuits once their racing careers have ended. Competitions were held in Dressage, Show Horse, Eventing and Jumping, which was the focus of Equimillion on the final day of the NSW long weekend.
Advertisement


There were a number of restrictions on entries with eligibility criteria focussed around horses that raced and are registered in NSW. Jumping competitions ranged from 0.65m up to 1.10m with most heights catering for Junior, Amateur and Open divisions. Classes were also conducted under super phase rules as well as jump offs with the winners of each category claiming the bulk of the $30,000 on offer per category.
The jumping competitions drew a wide range of competitors, with beginner Juniors riders competing in the 0.65m, up to three-time Olympic medalist, Shane Rose, who won a class at 1.10m with The Bandit. Horses on show ranged from at least one who won at Group 1 level three times and raced in the Melbourne Cup, winning over $3.5M (Avilius). At the other end of the scale, Let It Be, despite impeccable breeding, only raced three times with its best result a ninth placing and no prize money to speak of.
The most successful rider on the day was 16-year-old Central Coast rider Makaylah Fenwick, who competed on a number of horses. Pairing with The Garret, who only managed a single win from 29 starts on the track, they won both 1.00m Open classes, without disturbing the rails. The above mentioned Let It Be, now competing under the name Let It Bee, found long awaited success, by carrying Makayla to a victory in the two-phase open 0.90m class. Rounding off a great day for this very promising young rider, she won the open 0.90m jump off class with Rainbow Man, who in a racing career of 17 starts, never greeted the judge.
With there already being talk of another Equimillion event next year, it is anticipated that the substantial prize money on offer will encourage horse enthusiasts to take up Off-The Track thoroughbreds and put them to good use in other equestrian sports, giving them a second life after racing.
A full listing of the top six finishers in all classes held on the Jumping day at Equimillions are listed below.
ARENA 1
CLASS 30: TWO PHASE SPECIAL – JUNIOR – 0.90m
| | | |
| --- | --- | --- |
| PLACE | RIDER | HORSE |
| 1st | Naomi Kelly | Keitaro |
| 2nd | Matthew Kerridge | Glenrock Park Stevie Wonder |
| 3rd | Brooke Garland | Bakers Image |
| 4th | Shai Dever | SK Red Regal |
| 5th | Skye McCoullough | Absolut Crush |
| 6th | Stephanie Saunders | Test The Stars |
CLASS 31: TWO PHASE SPECIAL – AMATEUR – 0.90m
| | | |
| --- | --- | --- |
| PLACE | RIDER | HORSE |
| 1st | Antonia Foster | Little Gabbs |
| 2nd | Jacqui Goodwin | Practical |
| 3rd | Olivia Johnson | Super Tycoon |
| 4th | Hannah Hopkins | Found Out |
| 5th | Asarri Mcphee | The Dood |
| 6th | Tara Madgwick | Daybreak Del Pietro |
CLASS 32: TWO PHASE SPECIAL – OPEN – 0.90m
| | | |
| --- | --- | --- |
| PLACE | RIDER | HORSE |
| 1st | Makaylah Fenwick | Let It Bee |
| 2nd | Katelyn Staples | Maverick 3MC |
| 3rd | Ludovic Bernadat | Merlin |
| 4th | Shenae Lowings | Yiyi |
| 5th | Anthony Priestley | Patchy Rain |
| 6th | Makaylah Fenwick | Rainbow Man |
CLASS 33: TWO PHASE SPECIAL – JUNIOR – 1.00m
| | | |
| --- | --- | --- |
| PLACE | RIDER | HORSE |
| 1st | Maddison Brighton | Anembo Monarch |
| 2nd | Tyler Kelly | Koko Envy |
| 3rd | Toller Cave | Selassie |
| 4th | Molly Tillett | Cause For Applause |
| 5th | Thomas Irwin | Willwong |
| 6th | Skye McCoullough | Royal Reggie |
CLASS 34: TWO PHASE SPECIAL – AMATEUR – 1.00m
| | | |
| --- | --- | --- |
| PLACE | RIDER | HORSE |
| 1st | Elsa Ribal-vigneau | Kuiper Belt |
| 2nd | Tinky Konecny | Hot And Spicey |
| 3rd | Shanae Bohr-Howell | Daunies Surprise |
| 4th | Elodie Mourlet | Fly Too High |
| 5th | Tim Trihey | Radish J |
| 6th | Brooke Somers | Magic Mike |
CLASS 35: TWO PHASE SPECIAL – OPEN – 1.00m
| | | |
| --- | --- | --- |
| PLACE | RIDER | HORSE |
| 1st | Makaylah Fenwick | The Garret |
| 2nd | Charlotte Darcelier | Karlo Rosso |
| 3rd | Madeline Sinderberry | Cmb Soxonfox |
| 4th | Rod McQueen | SP Moonlit |
| 5th | Nicky Lyle | Remington Hill |
| 6th | Jessica Rae | Launch It GP |
CLASS 36: TWO PHASE SPECIAL – OPEN – 1.10m
| | | |
| --- | --- | --- |
| PLACE | RIDER | HORSE |
| 1st | Shane Rose | The Bandit |
| 2nd | Sam Lyle | Maximus Prime |
| 3rd | Katelyn Staples | Emmaville Amigo |
| 4th | Jessica Bott | Raise An Angel |
| 5th | Matilda McCarroll | Cosmic Cube |
| 6th | Cade Hunter | Boombenny |
CLASS 301: 238 2.2 – JUNIOR – 0.90m
| | | |
| --- | --- | --- |
| PLACE | RIDER | HORSE |
| 1st | Naomi Kelly | Keitaro |
| 2nd | Mitchell Greentree | Bridgeview Lad |
| 3rd | Matthew Kerridge | Glenrock Park Stevie Wonder |
| 4th | Shai Dever | SK Red Regal |
| 5th | Brooke Garland | Bakers Image |
| 6th | Stephanie Saunders | Test The Stars |
CLASS 311: 238 2.2 – AMATEUR – 0.90m
| | | |
| --- | --- | --- |
| PLACE | RIDER | HORSE |
| 1st | Rachel Lollback | HR Magic Moments |
| 2nd | Tonya Burrowes | Bell Farm Renegade Master |
| 3rd | Jeff Penza | Bojack |
| 4th | Angus Stewart | Our Party Animal |
| 5th | Asarri Mcphee | The Dood |
| 6th | Olivia Johnson | Super Tycoon |
CLASS 321: 238 2.2 – OPEN – 0.90m
| | | |
| --- | --- | --- |
| PLACE | RIDER | HORSE |
| 1st | Makaylah Fenwick | Rainbow Man |
| 2nd | Katelyn Staples | Maverick 3MC |
| 3rd | Amber Pollard | Gold Mount |
| 4th | Makaylah Fenwick | Let It Bee |
| 5th | Anthony Priestley | Patchy Rain |
| 6th | Shenae Lowings | Yiyi |
CLASS 331: 238 2.2 – JUNIOR – 1.00m
| | | |
| --- | --- | --- |
| PLACE | RIDER | HORSE |
| 1st | Molly Tillett | Cause For Applause |
| 2nd | Ella Dennis | Sydneysider |
| 3rd | Skye McCoullough | Royal Reggie |
| 4th | Maddison Brighton | Anembo Monarch |
| 5th | Emily Worgan | Prodane |
| 6th | Thomas Irwin | Willwong |
CLASS 341: 238 2.2 – AMATEUR – 1.00m
| | | |
| --- | --- | --- |
| PLACE | RIDER | HORSE |
| 1st | Tinky Konecny | Hot And Spicey |
| 2nd | Shanae Bohr-Howell | Daunies Surprise |
| 3rd | Emily Dockray | Coolart Farm Choice |
| 4th | Petrina White | Stars Aligned |
| 5th | Elsa Ribal-Vigneau | Kuiper Belt |
| 6th | Jim Scobie | Boomerang Cafe |
CLASS 351: 238 2.2 – OPEN – 1.00m
| | | |
| --- | --- | --- |
| PLACE | RIDER | HORSE |
| 1st | Makaylah Fenwick | The Garret |
| 2nd | Nicky Lyle | Remington Hill |
| 3rd | Madeline Sinderberry | Cmb Soxonfox |
| 4th | Jessica Rae | Launch It GP |
| 5th | Charlotte Darcelier | Karlo Rosso |
| 6th | Rod McQueen | SP Moonlit |
CLASS 361: 238 2.2 – OPEN – 1.10m
| | | |
| --- | --- | --- |
| PLACE | RIDER | HORSE |
| 1st | Jessica Bott | Raise An Angel |
| 2nd | Makaylah Fenwick | Grace And Glory |
| 3rd | Matilda Mccarroll | Cosmic Cube |
| 4th | Rebecca Swinton | Moonwalk |
| 5th | Shane Rose | The Bandit |
| 6th | Anna White | Row Boat |
ARENA 4
CLASS 25: TWO PHASE SPECIAL – JUNIOR – 0.65m
| | | |
| --- | --- | --- |
| PLACE | RIDER | HORSE |
| 1st | Dakota Robertson | Topless |
| 2nd | Jett Newman | Kitra Park Petch |
| 3rd | Oliver Barrett | Godini |
| 4th | Ryan Darvill | Buckle Up Toby |
| 5th | Jessica Galea | Godunov |
| 6th | Thomas Irwin | Sweet Thomas |
CLASS 26: TWO PHASE SPECIAL – AMATEUR – 0.65m
| | | |
| --- | --- | --- |
| PLACE | RIDER | HORSE |
| 1st | Amanda Williams | Recife Beach |
| 2nd | Natashia Radford | Alon Bay |
| 3rd | Alyssa Dryden | Urban Prince |
| 4th | Sherie Palamara | Exploration |
| 5th | Lisa Mitchell | Emerald A Star |
| 6th | Olivia Telfer | JP Horshack |
CLASS 27: TWO PHASE SPECIAL – JUNIOR – 0.80m
| | | |
| --- | --- | --- |
| PLACE | RIDER | HORSE |
| 1st | Zachery Palamara | Monsun Soldier |
| 2nd | Paige Baxter | Lilha Park Pepper |
| 3rd | Danielle O'Hara | Uncle Sam |
| 4th | Mara McGavern | Araluen Bella |
| 5th | Ava-Grace Hawker | Bobs Cooltoo |
| 6th | Emma Morton | Cosmo The Colonel |
CLASS 28: TWO PHASE SPECIAL – AMATEUR – 0.80m
| | | |
| --- | --- | --- |
| PLACE | RIDER | HORSE |
| 1st | Antonia Bearda | Up To No Good |
| 2nd | Kate Edwards | Midtown Magic |
| 3rd | Taylor Drayton | Divine Vudoo |
| 4th | Ian Dix | Cellarman |
| 5th | Asarri Mcphee | Jimmy Hendrix |
| 6th | Katelyn Fenech | Choisir Moi |
CLASS 29: TWO PHASE SPECIAL – OPEN – 0.80m
| | | |
| --- | --- | --- |
| PLACE | RIDER | HORSE |
| 1st | Kaden Weaver | Sir Gwynn |
| 2nd | Sam Lyle | Hoylonny |
| 3rd | Kylie Zabel | Adelaide Moment FP |
| 4th | Emma Sullivan | Countess Rostova |
| 5th | Victoria Cowdry | Cut Em Up |
| 6th | Kayla McEwen | Lots Of Dreams |
CLASS 251: 238 2.2 – JUNIOR – 0.65m
| | | |
| --- | --- | --- |
| PLACE | RIDER | HORSE |
| 1st | Dakota Robertson | Topless |
| 2nd | Oliver Barrett | Godini |
| 3rd | Jessica Galea | Godunov |
| 4th | Ryan Darvill | Buckle Up Toby |
| 5th | Lola-Lee-Lou Hoefer-Dunne | Big City Lights |
| 6th | Thomas Irwin | Sweet Thomas |
CLASS 261: 238 2.2 – AMATEUR – 0.65m
| | | |
| --- | --- | --- |
| PLACE | RIDER | HORSE |
| 1st | Natashia Radford | Alon Bay |
| 2nd | Sienna Hlavaty | Jeddore |
| 3rd | Lisa Mitchell | Emerald A Star |
| 4th | Sally-Ann Gemenis | Golden Tycoon |
| 5th | Molly-Rose Renowden | Willinga Stirling |
| 6th | Madeleine Dahan | Index Society |
CLASS 271: 238 2.2 – JUNIOR – 0.80m
| | | |
| --- | --- | --- |
| PLACE | RIDER | HORSE |
| 1st | Ava-Grace Hawker | Bobs Cooltoo |
| 2nd | Anneliese Breiner | Phisher Park Mr Satchmo |
| 3rd | Mara Mcgavern | Araluen Bella |
| 4th | Isabella Hughes | Always Roses |
| 5th | Zachery Palamara | Monsun Soldier |
| 6th | Taylor Sulter | Totally Intoxicated |
CLASS 281: 238 2.2 – AMATEUR – 0.80m
| | | |
| --- | --- | --- |
| PLACE | RIDER | HORSE |
| 1st | Kate Edwards | Midtown Magic |
| 2nd | Asarri Mcphee | Jimmy Hendrix |
| 3rd | Samantha Croft | Pippin Took |
| 4th | Jasmine Ritter | Conte Grigio |
| 5th | Taylor Drayton | Divine Vudoo |
| 6th | Casey Romanos | Xylo Rocks |
CLASS 291: 238 2.2 – OPEN – 0.80m
| | | |
| --- | --- | --- |
| PLACE | RIDER | HORSE |
| 1st | Sam Lyle | Hoylonny |
| 2nd | Kayla McEwen | Lots Of Dreams |
| 3rd | Alexandra Vodermair | TJ Hilfiger |
| 4th | Kylie Zabel | Adelaide Moment FP |
| 5th | Kaden Weaver | Sir Gwynn |
| 6th | Anthony Priestley | Queens Will Play |
Results sourced from www.snafflebytes.net
View Comments