Tom McDermott and Alpha Activity take out the 2019 Boneo Cup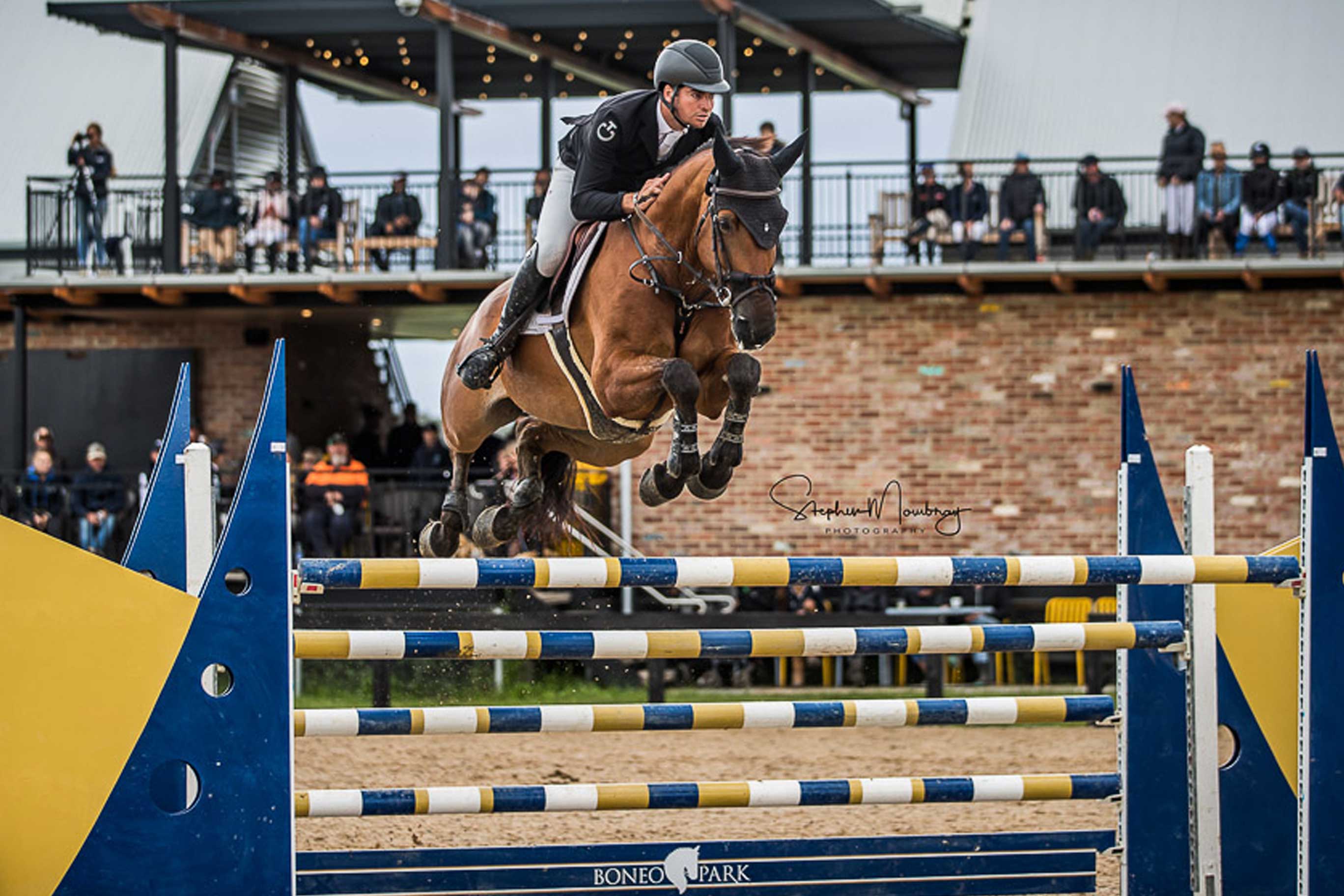 Stephen Mowbray
The premier event of the Total Animal Supplies Boneo Cup Show was run and won this afternoon at the Boneo Park Equine complex on the beautiful Mornington Peninsula. The Boneo Park Cup was contested by 36 of the best combinations around, with many using this event as a warm-up for the Pryde's Easifeed Australian Jumping Championships, starting in just a few days time.
In cool, cloudy conditions, ten combinations achieved Round 1 clears, the fastest of which was recorded by Western Australian, Chelsea Kessey and Diamond B Vigo. These ten combinations along with the two fastest of three who recorded a single time penalty were invited back for a second round to determine the Cup winner.
Advertisement

First out in Round 2 were Emma Smith and Yalambis Carmen who took a rail to finish on a total of 5 penalties. The other pair carrying a single time penalty from Round 1, Adam Metcalfe and Mec Aston were next out and by going clear finished on just 1 penalty, putting the pressure on the 10 first round clears. Only a double clear would win.
The first of these ten combinations were Tom McDermott and Alpha Activity. They had a magnificent round, going clear in 45.17 seconds to take the lead, however, with a further nine combinations to come, it was going to be a long wait for McDermott if he was to take the win.
The next pair out were James Harvey and Tyrone VDL, however three rails saw them drop well out of contention. Last year's winner, Olivia Hamood, this time in partnership with Alan 111 Z were next. A fantastic ride saw them go clear, however they were almost exactly 1 second slower than McDermott and slotted into second place. Another Queenslander, Sam Overton and Point Break were next, however, a single rail put an end to their aspirations. Now there were six combinations to come and the combination of McDermott and Alpha Activity were still in the lead.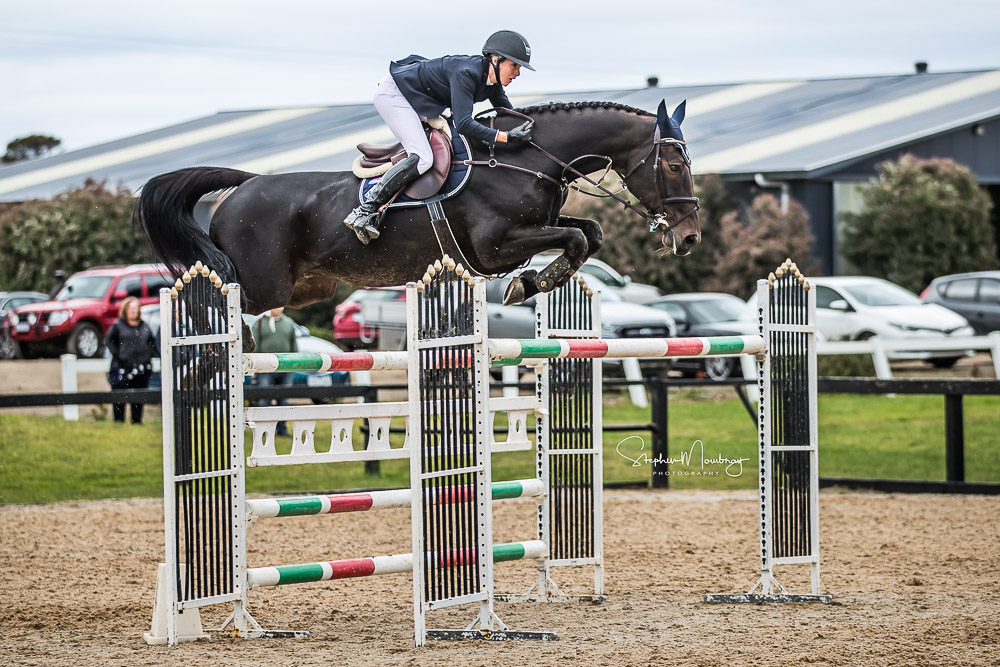 Olivia Hamood and Alan 111 Z. Photo Credit: Stephen Mowbray Photography
Australian WEG representative Billy Raymont was next to challenge McDermott's lead on two different mounts. First he rode Anssioso Z to record a clear round, but a time of 46.71 saw them drop into third place. After a short delay, Raymont appeared next on Anton, however, despite another clear round, their time was just a little slower than that recorded on Anssioso Z, leaving Raymont occupying both third and fourth place. Next to challenge McDermott was McDermott himself, this time riding Elegance De La Charmille, however, they took a rail to finish a little down the order. With just three combinations to come, McDermott and Alpha Activity were still hanging on to the lead and the question on everybody's lips was – could he stay there?


Billy Raymont and Anssioso Z.  Photo Credit: Stephen Mowbray Photography
The next pair to try and knock them off the top of the leader board were Jessie Rice-Ward and CP Southern Cross. They went clear, however, a time some 8 seconds slower than McDermott meant that their aspirations of victory were thwarted. The 2018 Cup Holder, Olivia Hamood was next out to have a second tilt at McDermott. Riding the mare Jane Fonda DVD, a single rail however put them out of contention.
Advertisement


So after watching eight combinations come and go, McDermott and Alpha Activity were still in the lead with only the last combination of Chelsea Kessey and Diamond B Vigo standing between them an victory. They attacked the course with vigour and approaching the last it was clear to the clock-watchers among the crowd, that they were going to post a very competitive time, but they still had to go clear – and all was looking good – right up until the very last fence. Sadly for them, they clipped the top rail and as it thudded to the ground along with Kessey's hope of victory. However all was not lost for them as they ended up in seventh place, the fastest of all those finishing with four faults.
So Tom McDermott and Alpha Activity took the win. A sweet victory for this pair and a step up from their fourth placing in last year's Cup. We wonder if this victory is a sign of big things to come for McDermott in the coming week? Time will tell!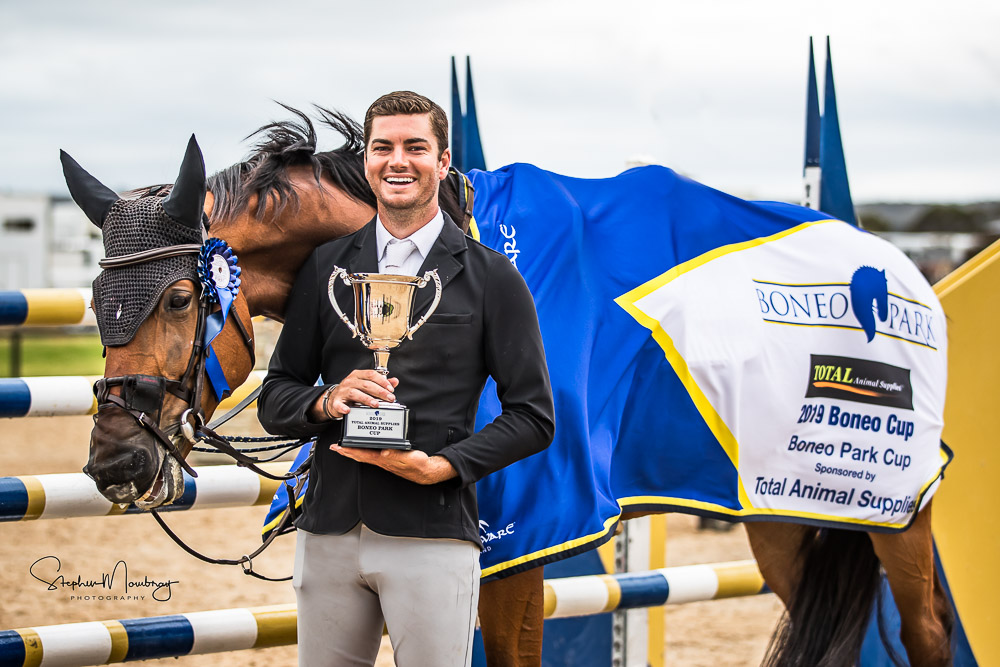 Tom McDermott and Alpha Activity. Photo Credit: Stephen Mowbray Photography
The top 12 placings in the Boneo Park Cup were:
| | | |
| --- | --- | --- |
| PLACE | RIDER | HORSE |
| 1st | Tom McDermott | Alpha Activity |
| 2nd | Olivia Hamood | Alan 111 Z |
| 3rd | Billy Raymont | Anssioso Z |
| 4th | Billy Raymont | Anton |
| 5th | Jessie Rice-Ward | CP Southern Cross |
| 6th | Adam Metcalfe | Mec Aston |
| 7th | Chelsea Kessey | Diamond B Vigo |
| 8th | Olivia Hamood | Jane Fonda DVD |
| 9th | Tom McDermott | Elegance De La Charmille |
| 10th | Sam Overton | Point Break |
| 11th | Emma Smith | Yalambis Carmen |
| 12th | James Harvey | Tyrone VDL |
View Comments