Victorian State Titles open in fine style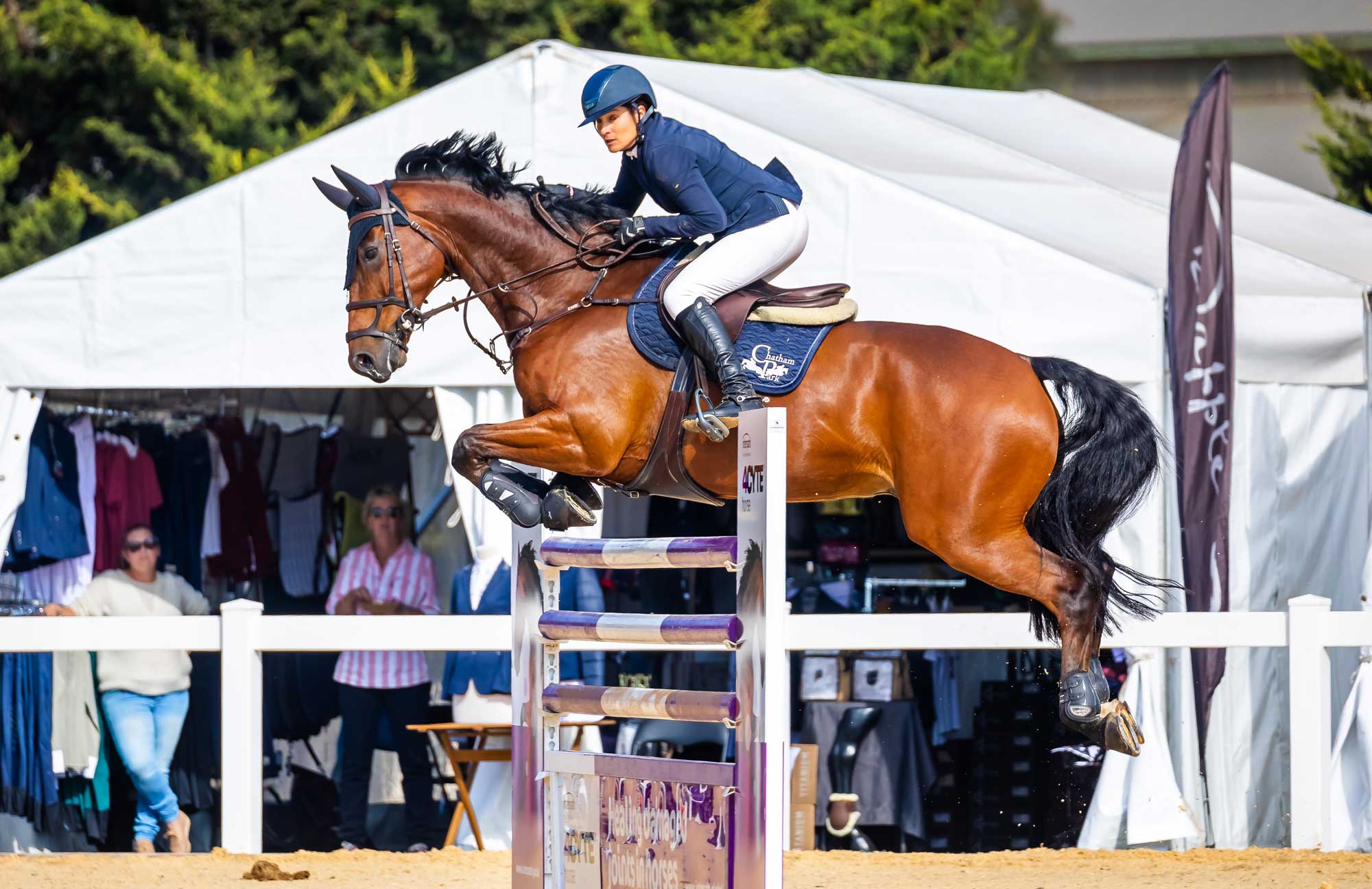 One Eyed Frog Photography
Above: Amber Fuller and CP Aretino. Photo Credit: One Eyed Frog Photography
Fastastically prepared arenas and wonderful weather made for perfect conditions for jumping on the first day of the Victorian Jumping Titles, held at the Werribee Park National Equestrian Centre.
The first class in the main ring this morning was Round 1 of the PetSTOCK sponsored Victorian Children's Championship, which was taken out by Victorian Junior Development squad member Zara Adnams and Digmac Disco King.
Advertisement

Round 1 of the Glenwood Park – Victorian Junior Championship was won by Zoe Waller and Bequest.
Sydney based Young Rider, Lucie Aldridge in combination with Ollie Olae, were the winners of the first round of the Tri Fixx – Victorian Young Rider Championship.
Amber Fuller and CP Aretino, returning to the venue where they won the First Round of the Australian World Cup Qualifying series last month, showed their liking for Werribee, by winning the first round of the Martin Collins – Victorian Senior Championship, which sets them up nicely for a tilt at the title.
Advertisement


The highlight of the outside rings was the double win by Nellie Rogers and Rocket Rod in first rounds of both the KER – Gem Twist Series and the Carbine Chemicals – Stroller Series over 0.90m and 1.00m respectively.
Below are the first six placegetter in all classes conducted.
Congratulations to all the winners and placegetters.
RING 1
CLASS 1: PetSTOCK – Victorian Children's Championship (Round 1) – 1.00m
| | | |
| --- | --- | --- |
| PLACE | RIDER | HORSE |
| 1st | Zara Adnams | Digmac Disco King |
| 2nd | Sophie Baldwin | Alcheringa Tradition |
| 3rd | Tanner Robinson | Shady Creek Blue Fire |
| 4th | Charlee Dobbin | Lovegrove |
| 5th | Zara Young | Captain Lightning Bolt |
| 6th | Harley McNaughton | Mobile App |
CLASS 2: Glenwood Park – Victorian Junior Championship (Round 1) – 1.15m
| | | |
| --- | --- | --- |
| PLACE | RIDER | HORSE |
| 1st | Zoe Waller | Bequest |
| 2nd | Lucy Locke | Diamont |
| 3rd | Sienna Holdsworth-Rose | Coolart Farm Short Torque |
| 4th | Chloe Versteegen | MC Pico Diamond |
| 5th | Tanner Robinson | Bringmoore |
| 6th | Jack Barker | Mighty Tosca |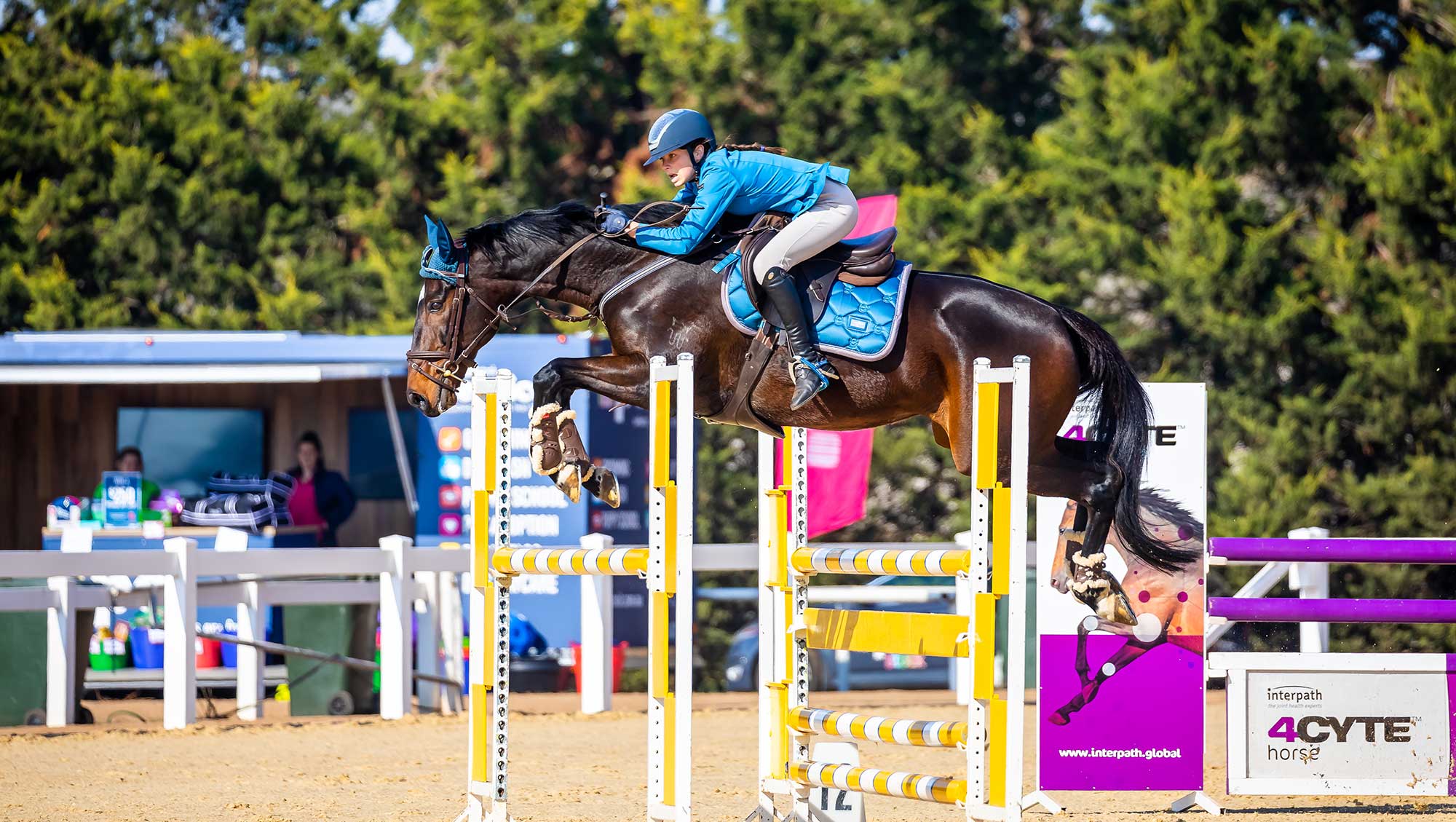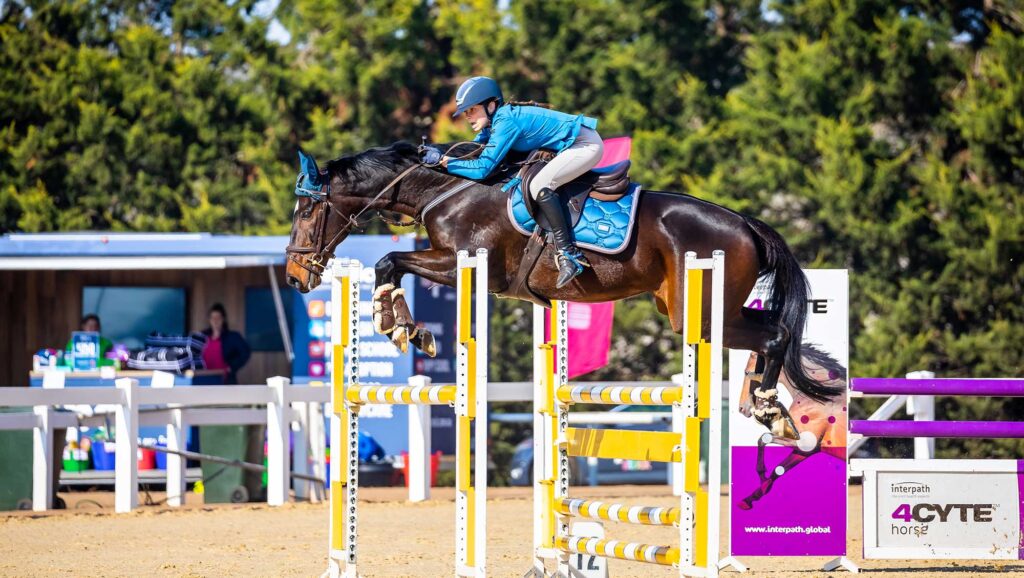 Zoe Waller and Bequest. Photo Credit: One Eyed Frog Photography
CLASS 3: Tri Fixx – Victorian Young Rider Championship (Round 1) – 1.30m
| | | |
| --- | --- | --- |
| PLACE | RIDER | HORSE |
| 1st | Lucie Aldridge | Ollie Olae |
| 2nd | Madeline Sinderberry | Keilor Bamboo |
| 3rd | Jess Rice-Ward | CP Southern Cross |
| 4th | Chloe Versteegen | Diamond B Vigo |
| 5th | Milly Fisher | Pica Bleu |
| 6th | Bella Du Plessis | Monte Carlo MVNZ |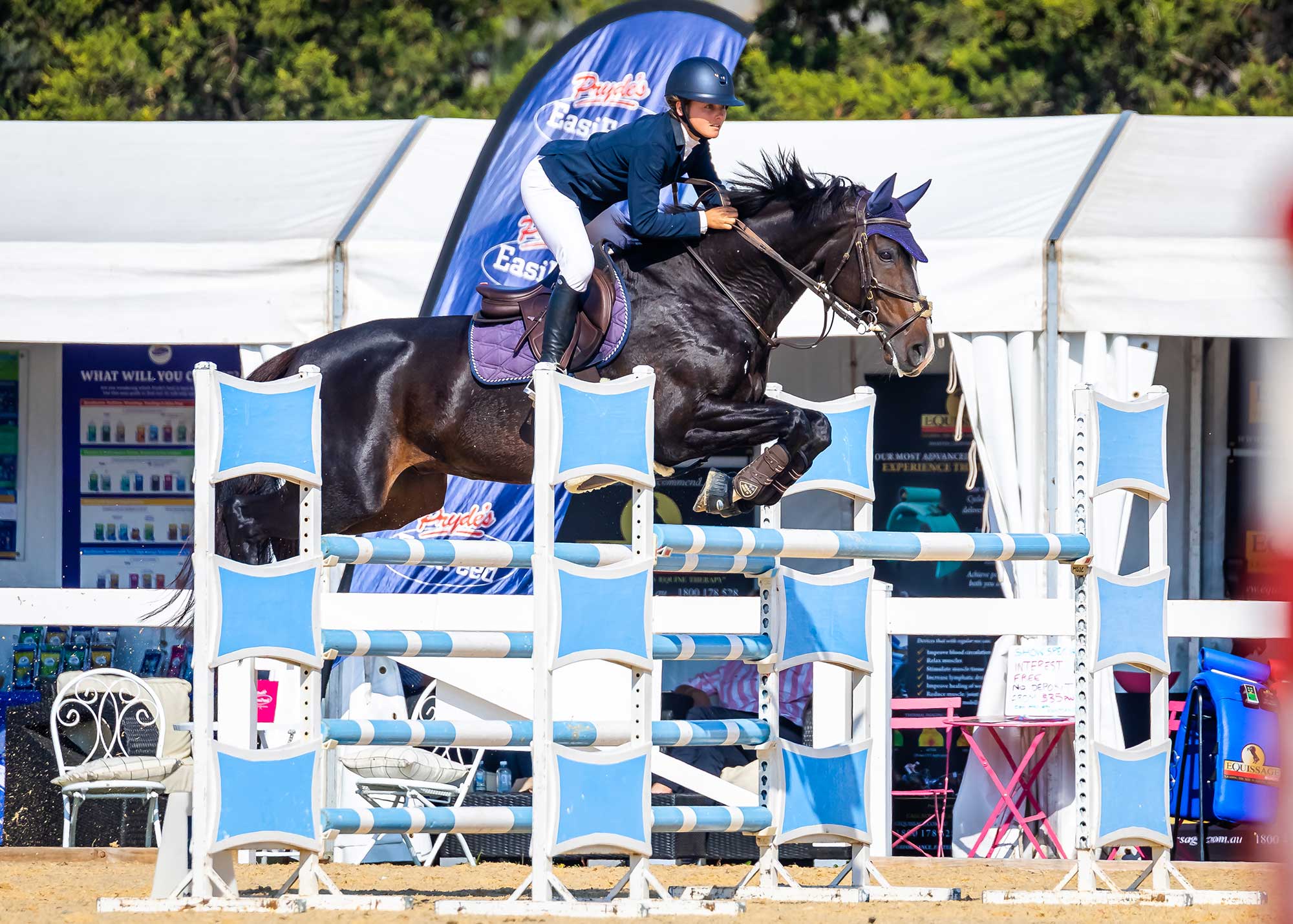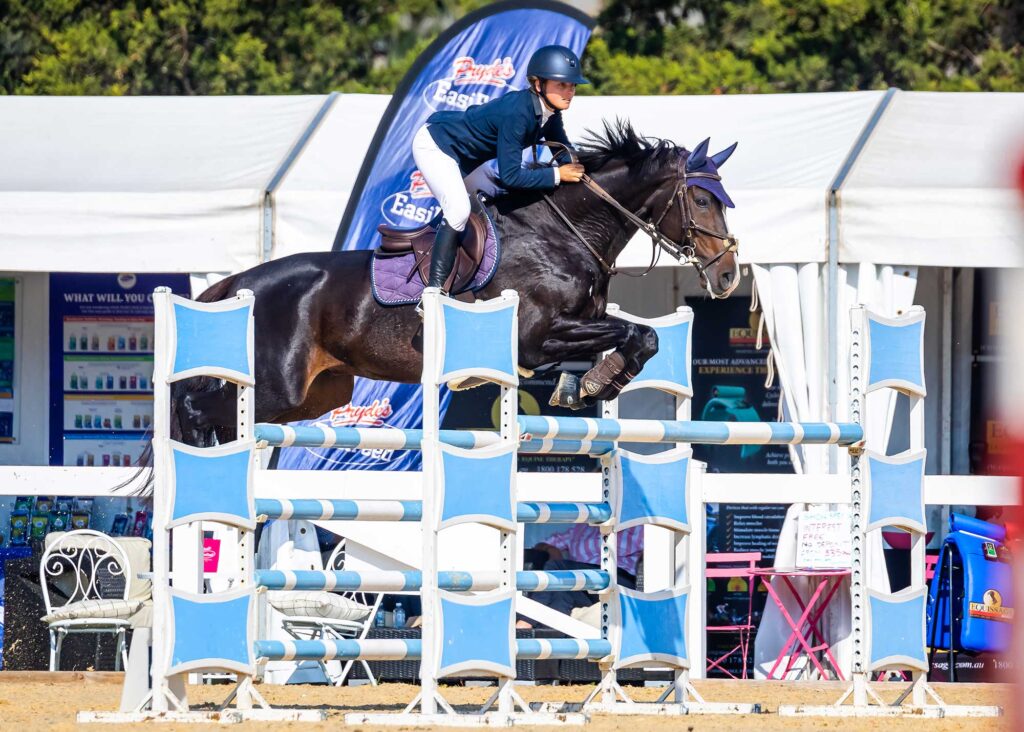 Lucie Aldridge and Ollie Olae. Photo Credit: One Eyed Frog Photography
CLASS 4: Martin Collins – Victorian Senior Championship (Round 1) – 1.40m
| | | |
| --- | --- | --- |
| PLACE | RIDER | HORSE |
| 1st | Amber Fuller | CP Aretino |
| 2nd | Ally Lamb | Eagle Rock |
| 3rd | Paul Brent | Kablesse Kavita |
| 4th | Frida Lindgren | Ashleigh City Lights |
| 5th | Amanda Ross | RLE Poynstown Will |
| 6th | Jess Pateman | Celso |
CLASS 5: 4Cyte – Stars of the Future Series (Round 1) – 1.25m
Results not available of time of publishing
RING 2
CLASS 6: IRT – Amateur Series (Round 1) – 1.20m
| | | |
| --- | --- | --- |
| PLACE | RIDER | HORSE |
| 1st | Daniel Leach | Killara Park Cassius Clay |
| 2nd | Estelle Landy | El Nino Vivace |
| 3rd | Robert Agnew | LH Beckham |
| 4th | Kaitlin Smith | Classico |
| 5th | Cindy Morrison | Noblewood Park Lucinda |
| 6th | Paige Cartwright | Kitara Boizel |
CLASS 7: Kiernan Plant Hire – Mini-Prix Series (Round 1) – 1.35m
| | | |
| --- | --- | --- |
| PLACE | RIDER | HORSE |
| 1st | Murray Lamperd | Sebastian |
| 2nd | Amber Fuller | Nopal Van Tallaert |
| 3rd | Phillip Lever | Lomachenko |
| 4th | Jess Stones | Chatina JRE |
| 5th | Sarah Duggan | Dublin |
| 6th | David Cameron | Alan III Z |
CLASS 8: Premier Floats – Milton Series (Round 1) – 1.20m
| | | |
| --- | --- | --- |
| PLACE | RIDER | HORSE |
| 1st | Emily Hill | W-A-T Sword |
| 2nd | Jena Bloomfield | Warnie |
| 3rd | Kristy Bruhn | Blackall Park Koraleigh |
| 4th | Teagan Chester | Calista |
| 5th | Sam Watson | Finch Farm Cracker |
| 6th | Michelle Clinton-Brent | Cavalli Park Bella |
PRYDE'S EASIFEED – RING 3
CLASS 9: KER – Gem Twist Series (Round 1) – 0.90m
| | | |
| --- | --- | --- |
| PLACE | RIDER | HORSE |
| 1st | Nellie Rogers | Rocket Rod |
| 2nd | Caleb Bertram | Ceejay Park Private Buddy |
| 3rd | Stewart Hay | RR Montaro |
| 4th | Ivy Bailey | Mr Flash |
| 5th | Louise Abey | Leminx |
| 6th | Ingrid McElvaney | Everybody Tango |
CLASS 10: Carbine Chemicals – Stroller Series (Round 1) – 1.00m
| | | |
| --- | --- | --- |
| PLACE | RIDER | HORSE |
| 1st | Nellie Rogers | Rocket Rod |
| 2nd | Darcy Wade | Miss Delfyne |
| 3rd | Stewart Hay | RR Montaro |
| 4th | Lachie Wake | Diamond B Bonafides |
| 5th | Kate Beadel | Flex E |
| 6th | Ingrid McElvaney | Everybody Tango |
CLASS 11A: Barton Equine – Hickstead Series (Round 1) – 1.10m
Results not available of time of publishing
CLASS 11B: Racing Victoria – OTT Series (Round 1) – 1.10m
Results not available of time of publishing
Results sourced from www.equussentials.com and the Jumping Victoria Facebook Page
View Comments