Young Gun Simmonds wins first World Cup of the season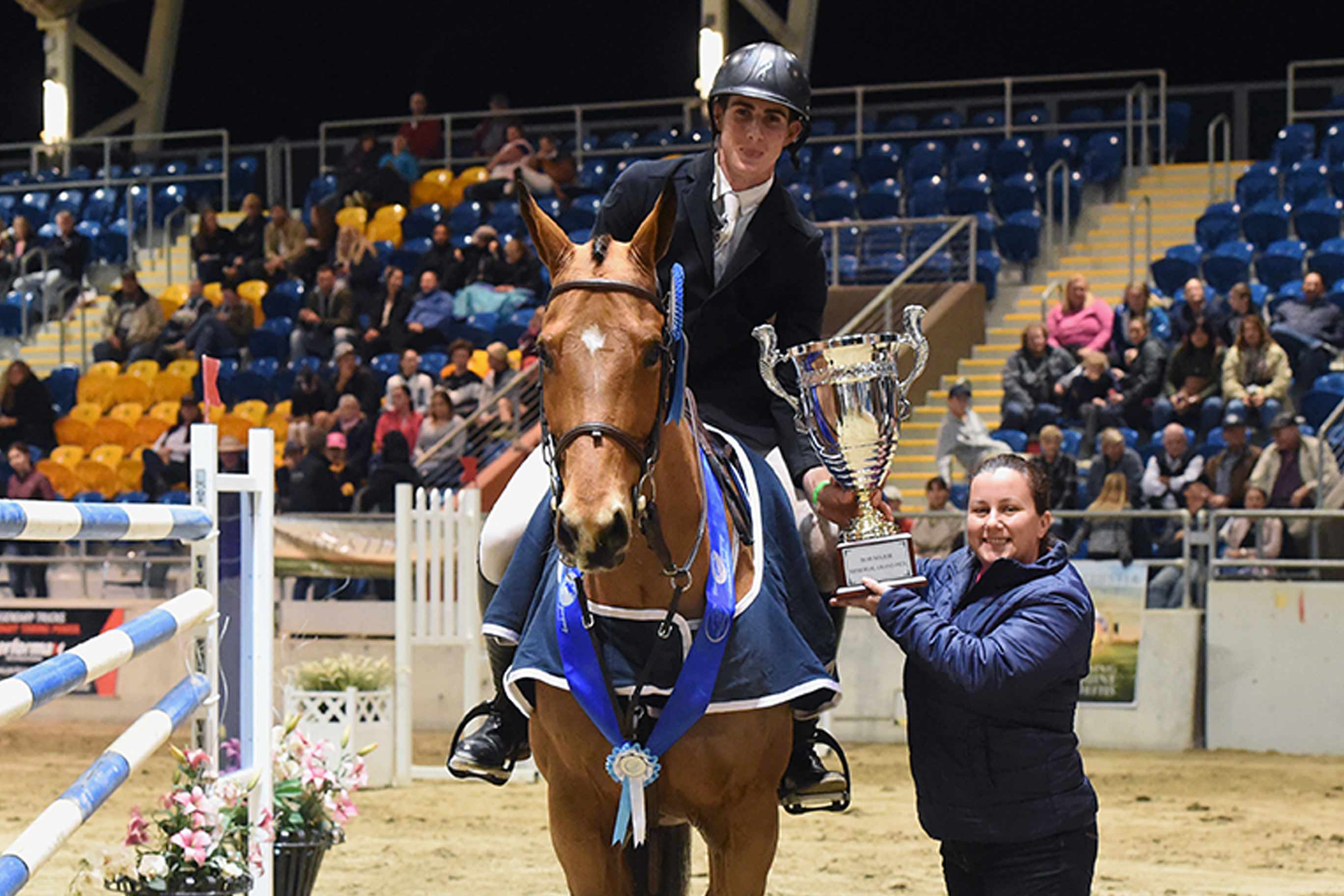 Oz Shotz Photography
The first of the Australian World Cup Qualifiers for the 2019/2020 season, the FEI Caboolture World Cup, was held last night in front of an enthusiastic crowd at the Queensland State Equestrian Centre (QSEC).
There were 28 starters in the 1.45m Michael Haese designed course, which delivered a massive 15 clears in Round 1.
Advertisement

Round 2 was full of excitement, with current Australian Senior Champions Amber Fuller and CP Aretino delivering the first clear in a time of 50.41.  Fuller held onto the lead until Chris Chugg came out on PSS Levilensky to take the second clear in 46.21. We waited for another 5 riders until we saw our next clear, with current Australian Young Rider Champion Erin Buswell and her lovely little gelding Quero Quero delivering a clear, but in a slower time of 57.80.
Tom McDermott and Elegance de La Charmille came out next and gave it a great shot, finishing in 45.75, but with 4 faults.
Then came the highlight of the evening, when 19 year old Clay Simmonds and his super partner Oaks Castanza delivered an incredible clear taking more than 2 seconds off Chugg's time, finishing in 44.14.
The last combination out, Billy Raymont and Anton were the only ones remaining who could take the win off Simmonds. Flying around the course in 40.27 it looked like they had it in the bag, but a heartbreaking rail at the second last put an end to their chances.
So there it was, the 2018/2019 Australian FEI Jumping World Cup™ Rookie of the Year, Clay Simmonds claimed the victory. Simmonds certainly made an impression in the past year, with four World Cup starts last season and placing in all of them including an impressive first place in his World Cup debut at Sale, VIC at the end of 2018.
Advertisement


The placegetters were as follows:
| | | |
| --- | --- | --- |
| PLACE | RIDER | HORSE |
| 1 | Clay Simmonds | Oaks Castanza |
| 2 | Chris Chugg | PSS Levilensky |
| 3 | Amber Fuller | CP Aretino |
| 4 | Erin Buswell | Quero Quero |
| 5 | Billy Raymont | Anton |
| 6 | Katie Laurie | Cera Caruso |
| 7 | Tom McDermott | Elegance de La Charmille |
| 8 | Merrick Ubank | Alantinus |
| 9 | Matthew  Afford | Kaluna Salute |
| 10 | Matt Kidston | Calgary GNZ |
| 11 | Aaron Hadlow | Vahlinvader |
| 12 | Brooke  Langbecker | Quintago 1 |
Caboolture was a great start to the season for many of these riders and we caught up with Erin Buswell afterwards who said "The Caboolture World Cup round felt great! Quero was in great form and felt like he was jumping out of his skin. I chose to rest him for the main class and it paid off! I always enjoy jumping in the Caboolture World Cup because the atmosphere is always ecstatic!"
Australian Jumping look forward to what the rest of the season will bring!
Advertisement

View Comments