event History
Sydney Royal History – EFA Perpetual Cup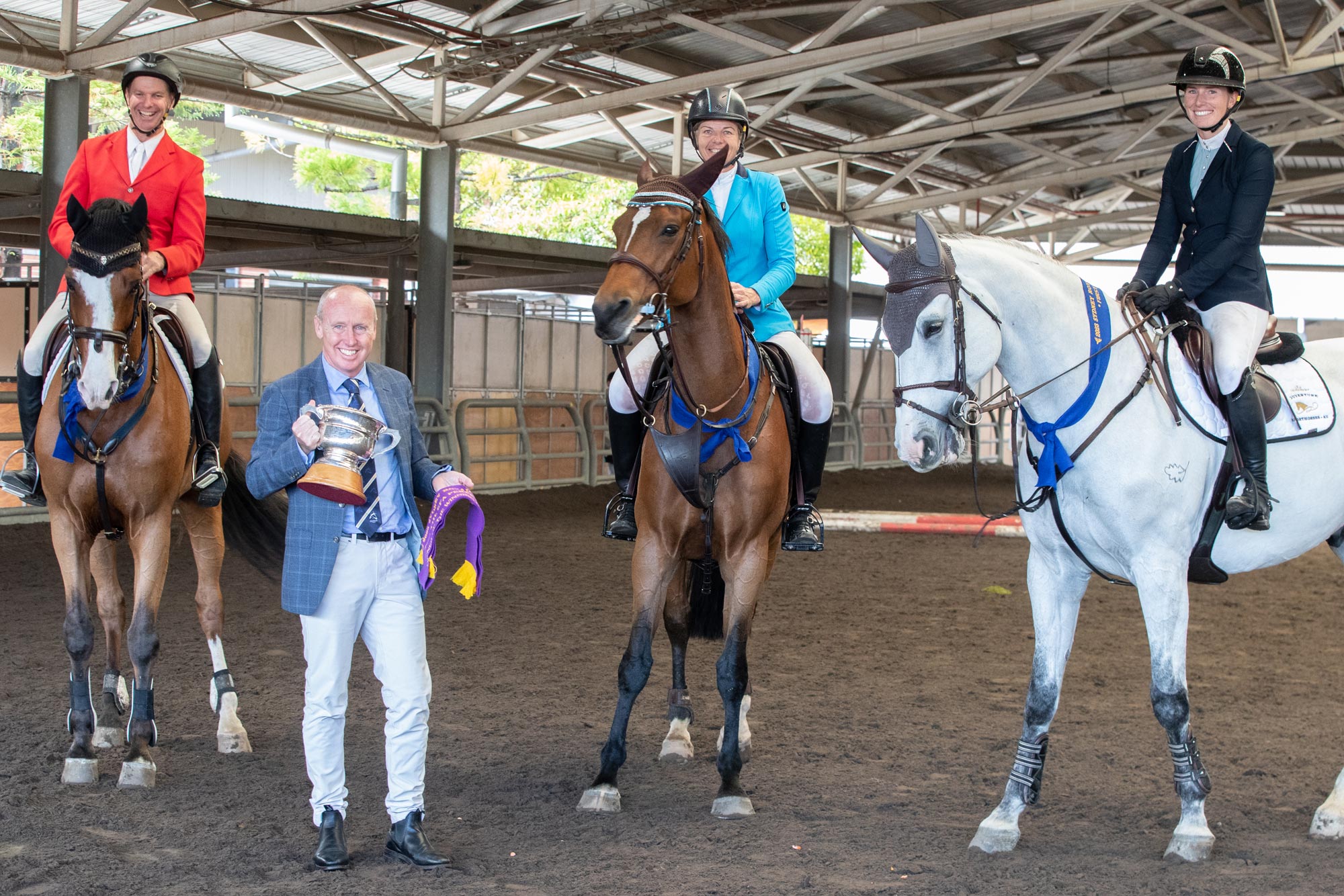 Australian Jumping
Above: Joint winners of the EFA Cup in 2023 (Daprice, Diamond B Vivienne and Oaks Ventriloquist) with CEO of Equestrian Australia, Darren Gocher.
The EFA Perpetual Cup was donated by the President of the Equestrian Federation of Australia (NSW Branch) and first presented in 1951. It is awarded to the owner of the winning Horse in Class 857 (Jumping Contest Table A, Article 238, 2.2.) Section 1 Final.
The EFA Perpetual Cup is a twin handled electroplated silver rose bowl with a wire cover, raised on a circular timber base. It was probably made by WJ Sanders of Sydney and was retailed by Fairfax & Roberts.
We had a very unusual situation in 2023 where no jump off was held due to weather/conditions of the ground therefore the three clear combinations from Round 1 were placed equal first:
Amanda Madigan & Diamond B Vivienne (Vivant X Diamond B Conseal (by Conquistador))
Izabella Stone & Oaks Ventriloquist (Vivant X Renata Ego Z (by Rex Z)
Russell Johnstone & Daprice (Quaprice X Larusa (by Accord II)
Advertisement


LIST OF PREVIOUS WINNERS

| | | |
| --- | --- | --- |
| YEAR | EXHIBITER | HORSE |
| 1951 | Pearson & Williamson | Seafarer |
| 1952 | ML Baillieu & R Richardson | Sylvester |
| 1953 | DE Faulkner | Bluey |
| 1954 | VJ Hurley | Tumbleweed |
| 1955 | HJ Delamont | Suncup |
| 1956 | TH Loy & JC Maxwell | Prince |
| 1957 | Gooch Bros | Hero |
| 1958 | R Richardson & NE Fear | Upright |
| 1959 | Gooch Bros | Royal |
| 1960 | MJ Pearson, Miss M Williamson & B Jacobs | Red King |
| 1961 | F Mairinger & A Higgins | Coronation |
| 1962 | TJ Dwyer | Ocean Foam |
| 1963 | TJ Dwyer | Ocean Foam |
| 1964 | H & K Foletta | Scotch |
| 1965 | WS & H Hunter | Lindon |
| 1966 | RW & Mrs Hyem | Coronation |
| 1967 | K & M Bacon & L Taylor | High & Mighty |
| 1968 | J Fahey | Maestro |
| 1969 | H Mullins | Jet |
| 1970 | KA & MG Bacon | Chichester |
| 1971 | KA & MG Bacon | Simon |
| 1972 | KA & MG Bacon | Chichester |
| 1973 (equal) | KA & MG Bacon | Chichester |
| 1973 (equal) | K McVean & F McMahon | Blue Gift |
| 1974 | Mrs MG Bacon & SE Fear | Melody Maker |
| 1975 | KP Bourke & RW Pritchard | Jon |
| 1976 | C Smith | Sanskrit |
| 1977 | T Norman | Tao |
| 1978 | G Smith | Peddie Cash |
| 1979 | C & K Smith & V Burns | HiSummit |
| 1980 | D Asimus & S Cawston | Matlock |
| 1981 | PA Winston | Hengist |
| 1982 | Miss S Cawston, D Asimus & B Jones | Beau Brian |
| 1983 | GD Jones & P Judd | Mr Shrimpton |
| 1984 | D & R Asimus & Convale P/L | Golden Grand |
| 1985 | KP Bourke & R Pritchard | Touraliady |
| 1986 | KP Bourke & R Pritchard | Touraliady |
| 1987 | Miss CJ Brook | Carlbrook Rebound |
| 1988 | W & V Roycroft & Kanella P/L | Mickey Mouse |
| 1989 | GE Sanna | Westend Evita |
| 1990 | Kanella P/L | Mickey Mouse |
| 1991 | Kanella P/L | Mickey Mouse |
| 1992 | Miss M Lang | Odds On |
| 1993 | DR Brideoake | Zaphod |
| 1994 | Tony Barlow Showjumping Team | Tony Barlow Sorento |
| 1995 | RJ Johnstone | Southern Contrast |
| 1996 | JJ Bloomfield | T-Rex |
| 1997 | DS Scott | Jox |
| 1998 | N Asimus | Nonix Leparc |
| 1999 | A D Thomas | Fluke |
| 2000 | C J Chugg & Banj P/L | Diamond B Ego |
| 2001 | J & S Coman, R Brown & H McMillan | LL Zazu |
| 2002 | G & P Smith & H Bowman | Quickstitch |
| 2003 | Kanella Pty Limited | Coalminer |
| 2004 | A Inglis & N Rose | Silver Braid |
| 2005 | W & V Roycroft | Ricardo D |
| 2006 | Roycroft Stables | Infatuation |
| 2007 | L Lever | Ashleigh Drossel Dan |
| 2008 | T Amitrano | Mr Innocent |
| 2009 | Ashleigh Drossel Dan | LeverEquine |
| 2010 | Sunburst Equestrian P/L | Koyuna Sun Set |
| 2011 | Julia Hargreaves | Vedor |
| 2012 | McDermott Family & Mrs Carole Mason | CP Rolex |
| 2013 | Jamie Kermond | Valhalla |
| 2014 | Timothy Clarke | Caltango |
| 2015 | McDermott Family | Airtime 2 GHP |
| 2016 | Lisa Cubitt | Amaretto MVNZ |
| 2017 | Mr Stuart & Mrs Becky Jenkins | Fairview Aliquidam |
| 2018 | Andrew Lamb | CP Argento |
| 2019 | Chuggy Equestrian Pty Ltd | PSS Levilensky |
| 2020 | Cancelled due to COVID-19 | |
| 2021 | Diamond B Farm Pty Ltd | Diamond B Vivienne |
| 2022 | EMCO Equine | Cornel |
| 2023 (equal) | McCann Pty Ltd G. D. & S. L. | Daprice |
| 2023 (equal) | Izabella Stone | Oaks Ventriloquist |
| 2023 (equal) | Diamond B Farm Pty Ltd | Diamond B Vivienne |
View Comments