event History
Sydney Royal History – The Frank Thomas Memorial Perpetual Trophy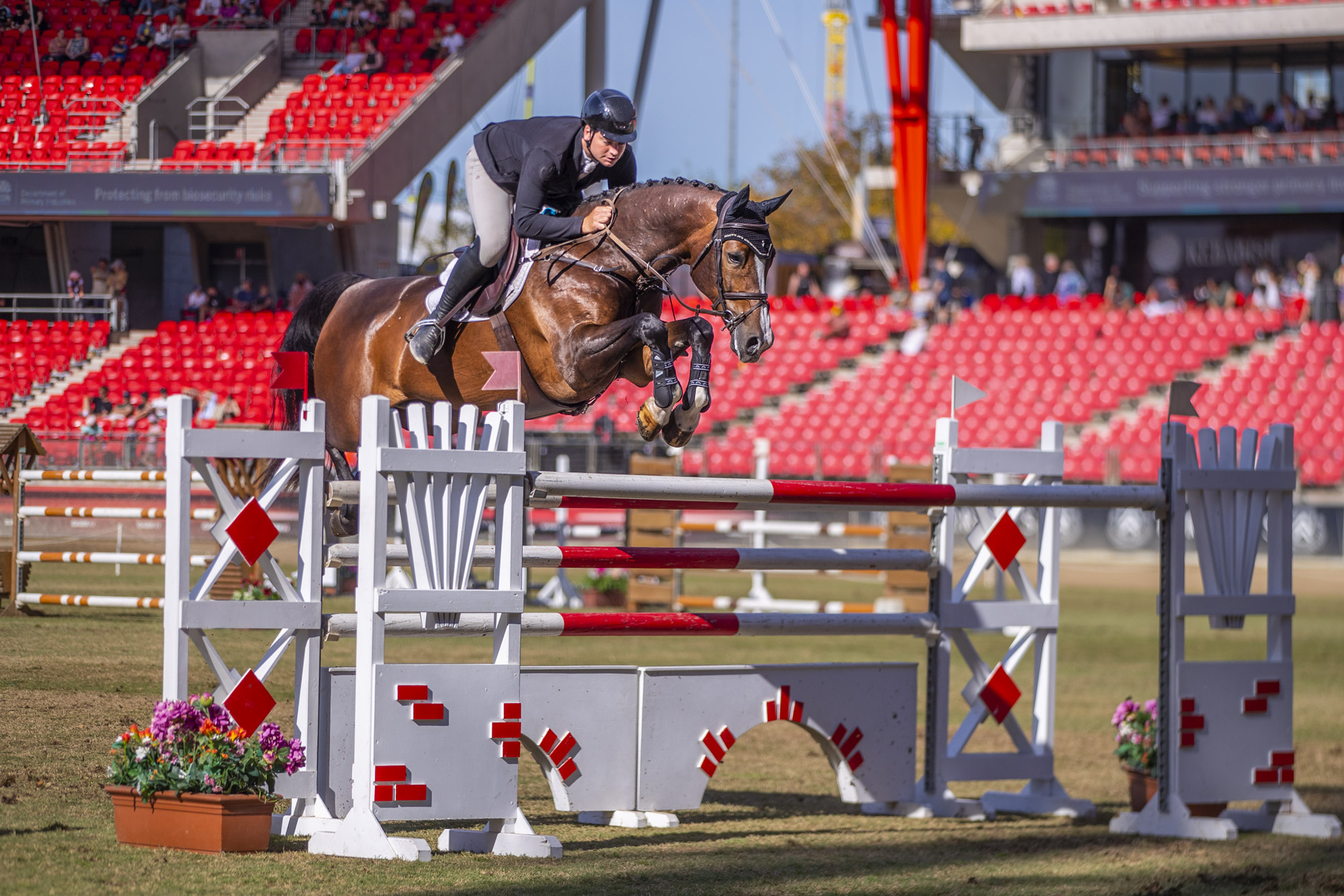 Australian Jumping
The Frank Thomas Memorial Perpetual Trophy is awarded to the owner of the winning horse in the Grand Prix. This award was donated by the family of the late Frank Thomas. His wife Evelyn and sons Michael, Anthony, Ian and Peter, chose this event as the most appropriate and fitting memorial of Frank's work over the years with the Horse Section of the RAS.
Advertisement


Mr Thomas first became involved in the Horse Section, particularly showjumping, in the late 1950's and continued until his death in 1985. Initially he worked as a Steward and then for many years as a Judge. To the best knowledge of his family, he never missed a Royal Easter Show and enjoyed his RAS friends' company on a yearly "holiday" at the Show. For many years, Mr Thomas was an RAS Councillor of Queensland (Toowoomba). He was elected an Honorary Member of the RAS of NSW.
First presented in 1986, the trophy is a whitehill silver-plated wine cooler, raised on a timber plinth.
LIST OF PREVIOUS WINNERS
| | | |
| --- | --- | --- |
| YEAR | EXHIBITER | HORSE |
| 1986 | D Asimus, Mrs R Christie & Canrale P/L | Golden Grand |
| 1987 | GE Sanna | E.B.A. Schnapps |
| 1988 | Event Cancelled | |
| 1989 | Miss CJ Brook | De Nero |
| 1990 | Event Cancelled | |
| 1991 | Tony Barlow Menswear | Tony Barlow Focus |
| 1992 | Equestrian Bloodstock Agency | Hunky Dory |
| 1993 | B Munt | Rambo |
| 1994 | J Fahey / Tony Barlow Menswear | Tony Barlow Sorrento |
| 1995 | Ms G Powell & Saddleworld | Yabba Dabba Doo |
| 1996 | Allan Newham P/L & GE Sanna | Turfmaster |
| 1997 | DS Scott | Jox |
| 1998 | AJ Williams | November Rain |
| 1999 | CJ Chugg | Skyhigh II |
| 2000 | CJ Chugg & Banj P/L | Diamond B Ego |
| 2001 | Kanella Pty Ltd | Luna Luna |
| 2002 | G & P Smith & H Bowman | Quick Stitch |
| 2003 | G Sanna & T Game & S & K Tinney | Boxster |
| 2004 | Miss T Erwin | The Countryman |
| 2005 | G & Mrs C Chapman | Mr Burns |
| 2006 | R Brown & G & C Chapman | Mr Burns |
| 2007 | P Athanasoff & CA Hooke & Wirragulla P/L | Wirragulla Nicklaus |
| 2008 | Adam Mellers | Animate (imp) |
| 2009 | Partnership Kerrie & Jamie Winning | Yandoo Vangelo |
| 2010 | Clem Smith | Dark Ages |
| 2011 | Julia Hargreaves | Vedor |
| 2012 | Tripp Family & Thomas McDermott | CP Romantic Dream |
| 2013 | Mrs Sharon Slater | CP Ulixes |
| 2014 | Mr Russell Johnstone | Borealis Centurion |
| 2015 | Mr Rory Hovell | Yalambi's Carpinoz |
| 2016 | Mstr James Hetherington | Jaybee Caribus |
| 2017 | Mr Billy Raymont | Anton |
| 2018 | Clinton John Beresford | Emmaville Jitterbug |
| 2019 | Thomas & Greg & Jennie McDermott | Elegance De La Charmille |
| 2020 | Cancelled due to COVID-19 | |
| 2021 | Miss Tess McInerney | Warraleigh Park Cortez |
| 2022 | Thomas McDermott | Elegance De La Charmille |
| 2023 | Diamond B Farm Pty Ltd | Diamond B Vivienne |
View Comments