A Classic weekend wraps up at Boneo Park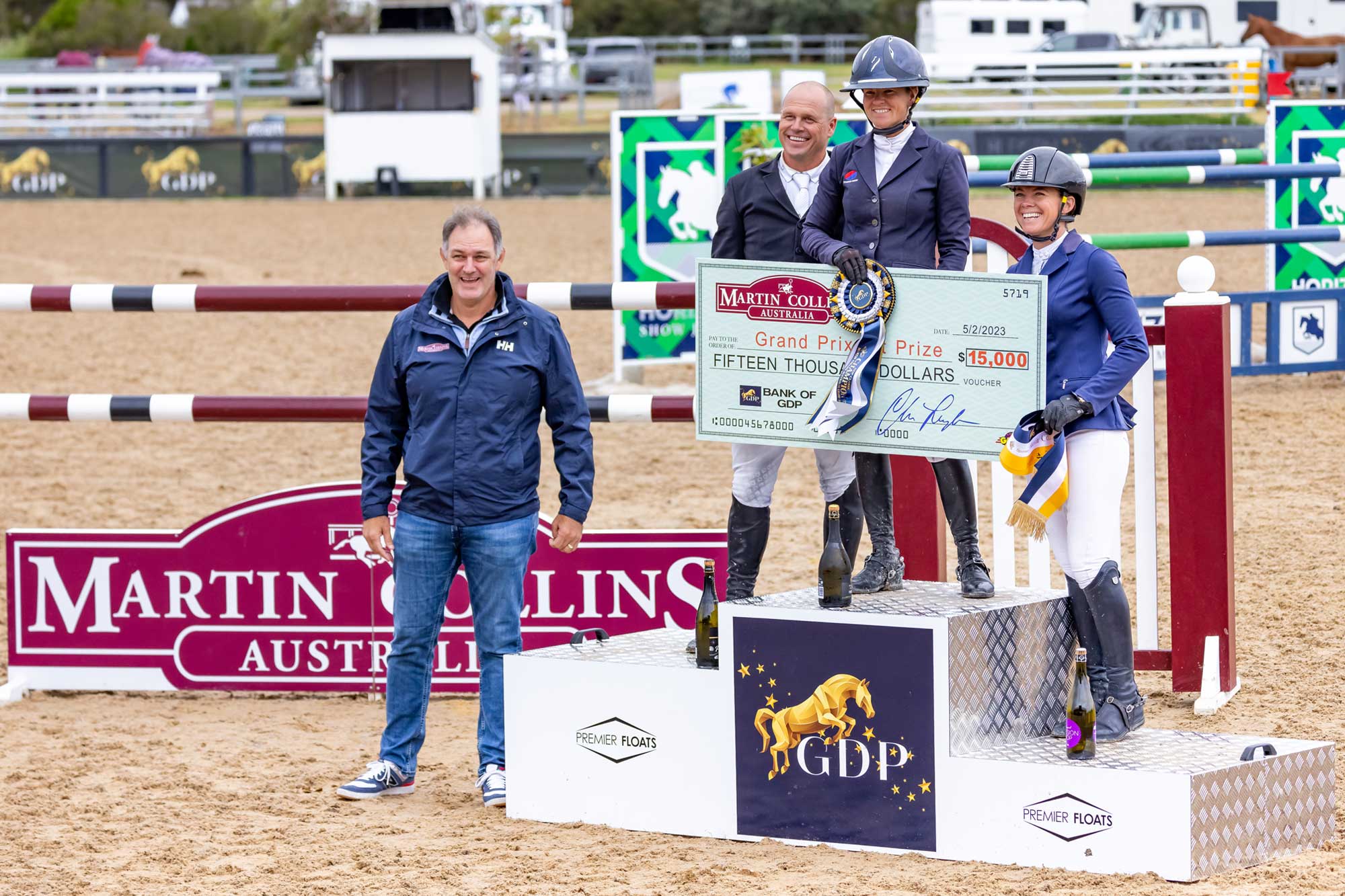 One Eyed Frog Photography
Above: All smiles on the Grand Prix Podium.
The four-day GDP Classic Show wrapped up yesterday at the lovely Boneo Park, with a day of exciting finals.
The show started on Thursday and we reported on the first two days of action HERE.
The feature class on Saturday was the first Leg of the 2023 Stal Tops Australian Young Rider Series which saw an impressive win to the Victorian Combination of Hayden Parker and Tulara Spangenberg. We previously published a full wrap on this class; click HERE for the whole story.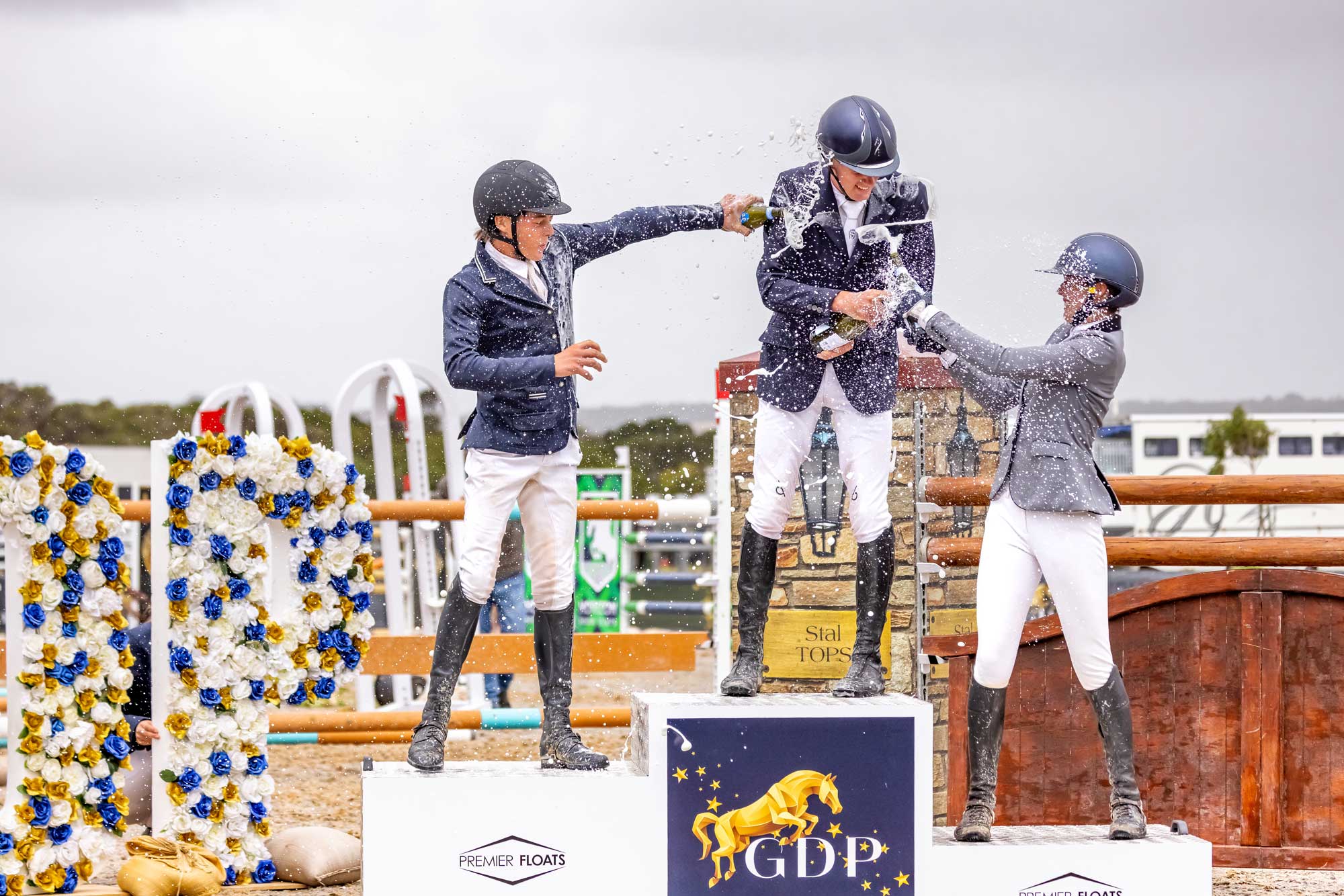 Stal Tops Podium: Photo Credit: One Eyed Frog Photography.
Also on Saturday was the 4Cyte Rising Stars Final, which was won by Jena Bloomfield and Essoess who were quickest in the jump-off by almost three seconds, beating home six other double clear combinations.
Advertisement


Sunday saw a range of finals action. On the GDP Arena 2, the action started with the Feedhouse Children's Championship, where a small field of nine combinations saw a six-way jump-off required to sort out the placings. After the jump-off there were three double clears with the win going to Amelia Tsilfidis and Pride of Gold in a time of 39.46. Second went to Zara Adnams with a mount that is fairly new to her, Nicolette, in a time of 41.88 seconds while in third were Olivia Curtain and another new mount That's Limo in 44.07 seconds.
The Homes and Acreage Amateur Championship was dominated by Andrew Long who came in first and second. In an all double clear podium, the win was with St James Palace in 38.99 seconds and second was with Hidden Option in 39.89 seconds. Robyn Todd and her gelding Rodeo Drive LC were third with a jump-off time of 40.77 seconds.
In the main @ID arena, the first class to be decided yesterday was the GPI racing Junior Championship, where the top five placings delivered double clear performances. The win went to the very in form Jack Barker who completed the jump-off with gelding Yandoo Zenzel HBC in an even 41 seconds. A time of 41.62 seconds was enough to secure second place for Olivia Price and Lafayette MVNZ with Tanner Robinson and Vidacious rounding out the podium with a time of 41.66, just 0.04 seconds off second place.
Advertisement


The @ID Mini Prix was decided over two rounds with the top eight Round 1 performances invited back for a second ride. The top three all kept a clean sheet with the win and $6,000 prize money going to Madeline Sinderberry and her mare Camie Z, with nearly a four second advantage over the second placed Russell Johnstone and Dondersteen. Just two seconds slower in third place were Adam Johnston and his gelding Up.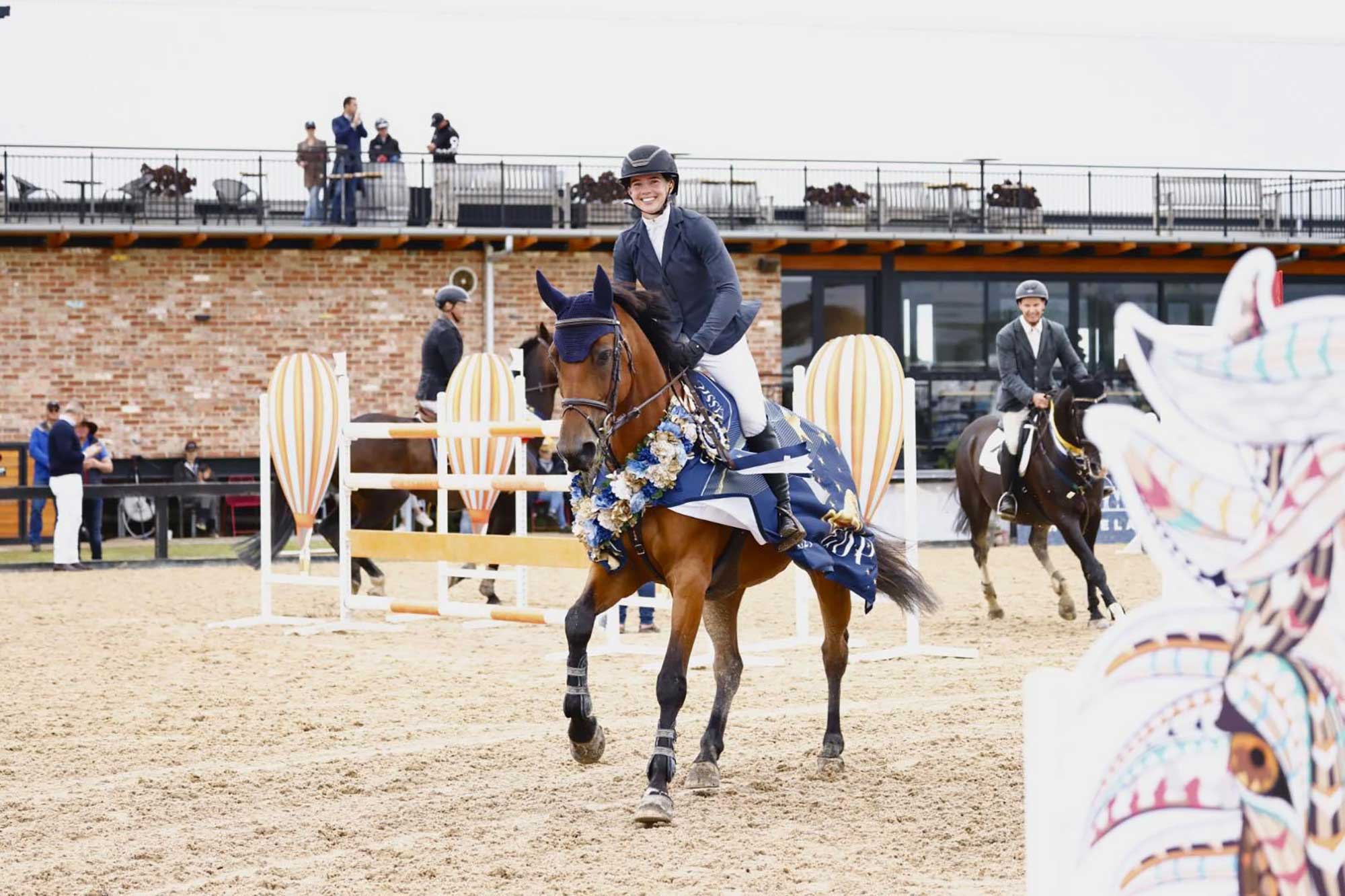 Madeline Sinderberry and Camie Z. Photo Credit: James Abernethy.
The last class for the weekend was the feature Martin Collins Grand Prix, which, with the rails set at 1.60m, attracted a very classy field. Eight of the 15 starting combinations who were battling for a total of $50,000 in prize money were invited back for a second round and at the end of that, there were still two combinations on a total of zero faults. The win and the largest share of the prize money went to NSW's Jamie Winning-Kermond and the Yandoo Equestrian owned mare Tulara Stolensky who completed the second round in a time of 48.40. They were just over three seconds clear of the runners-up, Billy Raymont and Caprino who were fresh from their success in the Grand Prix last weekend at Boneo Park. Third place went to the fastest combination with a total of four faults, being Jess Pateman and Celso in a time of 50.76 seconds. Less than a second faster than Sarah McMillan and Tyrone VDL.
It was a great win to Jamie and Tulara Stolensky which has been knocking on the door of a big win since they finished fourth in the Australian Mini Prix Championship back in November at this same venue. We look forward to seeing how the career of this horse plays out.
Congratulations to all the winners and placegetters over the course of the final two days of the show who are all listed below.
SATURDAY RESULTS
@ID ARENA 1
CLASS 13: PRYDE'S EASIFEED – JUNIOR – 1.20m
| | | |
| --- | --- | --- |
| PLACE | RIDER | HORSE |
| 1st | Zoe Waller | Bequest |
| 2nd | Tanner Robinson | Vidacious |
| 3rd | Cecilia Clements | Southern Stars Ferrari |
| 4th | Tanner Robinson | Cracker |
| 5th | Jasmine Reynolds | La Pazz |
| 6th | Lyla Ferrari | Myridersnota Roxstar |
CLASS 14: STAL TOPS SERIES (LEG 1) – YOUNG RIDER – 1.35m
| | | |
| --- | --- | --- |
| PLACE | RIDER | HORSE |
| 1st | Hayden Parker | Tulara Spangenberg |
| 2nd | Jack Barker | Tulara Colchic |
| 3rd | Lorna Reilly | Bellhaven Jazz |
| 4th | Chase Naylor | Misty Blue Ego Z |
| 5th | Lucy Locke | Quero Quero |
| 6th | Hamish Prime | Diaritt |
CLASS 15: PINK HILLS PASTORAL – FUTURE STARS – 1.30m
| | | |
| --- | --- | --- |
| PLACE | RIDER | HORSE |
| 1st | Ally Lamb | Glenara Chacco DP |
| 2nd | Jamie Winning-Kermond | Tulara Lady Zirocca |
| 3rd | Brook Dobbin | Devos GP |
| 4th | Adam Johnston | Gonna Fly Now |
| 5th | Sam Williams | Oaks Kiribati |
| 6th | Madeline Sinderberry | Balentino |
CLASS 16: EQUINE INTERNATIONAL AIRFREIGHT – OPEN – 1.30m
| | | |
| --- | --- | --- |
| PLACE | RIDER | HORSE |
| 1st | Phillip Lever | Larissa |
| 2nd | Russell Johnstone | Dondersteen |
| 3rd | Carly Overton | Pabello |
| 4th | Mark Lindh | Six Pack |
| 5th | Adam Prime | Saddle Up Smudge |
| 6th | Suzie Williams | Commander NZPH |
CLASS 17: ED McNAIR – JUNIOR – 6-Bar
| | | |
| --- | --- | --- |
| PLACE | RIDER | HORSE |
| 1st | Joel Lamb | Clasique Andor |
| 2nd | Tanner Robinson | Charlie |
| 3rd | Tanner Robinson | Yalambis Corlandia |
| 4th | Jasmine Reynolds | La Pazz |
| 5th | Zara Yunghanns | Buck |
| 6th | Lyla Ferrari | Mobile App |
GDP ARENA 2
CLASS 18: 4CYTE – RISING STARS (FINAL) – 1.20m
| | | |
| --- | --- | --- |
| PLACE | RIDER | HORSE |
| 1st | Jena Bloomfield | Essoess |
| 2nd | Frida Lindgren | Wondaree Colleen |
| 3rd | Jamie Hewitt-Toms | Balou Du Rose |
| 4th | Charlee Dobbin | Sweet Dreams |
| 5th | Sarah McMillan | Everest JEP |
| 6th | Tori Stuckey | 24 Karat |
CLASS 19: EMCEE APPARREL – CHILDRENS – 1.05
| | | |
| --- | --- | --- |
| PLACE | RIDER | HORSE |
| 1st | Amelia Tsilfidis | Pride Of Gold |
| 2nd | Lucy Borrack | Mighty Tosca |
| 3rd | Harley McNaughton | Glenbrooke Archie Bunker |
| 4th | Olivia Curtain | That's Limo |
| 5th | Darby Beadel | Jaybee Tarack |
| 6th | Harley McNaughton | Viewmont Apricot |
CLASS 20A: HOMES AND ACREAGE – AMATEUR – 1.10m
| | | |
| --- | --- | --- |
| PLACE | RIDER | HORSE |
| 1st | Andrew Long | Hidden Option |
| 2nd | Robyn Todd | Rodeo Drive LC |
| 3rd | Andrew Long | St James Palace |
| 4th | Imogen Tutton | Ramirus |
| 5th | Vanessa Weir | Jaybee Artiste B |
| 6th | Annabelle Trainor | Tulara WAT Cassini Rose |
CLASS 20B: BUNDY PARK SPORT HORSES – OPEN – 1.10m
| | | |
| --- | --- | --- |
| PLACE | RIDER | HORSE |
| 1st | Tanner Robinson | Yalambis Corlandia |
| 2nd | Kate Beadel | Parole E |
| 3rd | Kelly Lees | Wildon Park Tulouch |
| 4th | Isabella Lloyd | Bashboy |
| 5th | Grace Overton | JEP Texas |
| 6th | Vanessa Weir | VL Deja Vu |
SUNDAY RESULTS
@ID ARENA 1
CLASS 23: GPI RACING – JUNIOR CHAMPIONSHIP – 1.20-1.25m
| | | |
| --- | --- | --- |
| PLACE | RIDER | HORSE |
| 1st | Jack Barker | Yandoo Zenzel HBC |
| 2nd | Olivia Price | Lafayette MVNZ |
| 3rd | Tanner Robinson | Vidacious |
| 4th | Cecilia Clements | Southern Stars Ferrari |
| 5th | Jasmine Reynolds | La Pazz |
| 6th | Ella Hayward | Edena DP |
CLASS 21: @ID – MINI PRIX – 1.40m
| | | |
| --- | --- | --- |
| PLACE | RIDER | HORSE |
| 1st | Madeline Sinderberry | Camie Z |
| 2nd | Russell Johnstone | Dondersteen |
| 3rd | Adam Johnstone | Up |
| 4th | Frida Lindgren | Van Damme |
| 5th | Savanna Hopkinson | BP Karmen |
| 6th | Russell Johnstone | Cantara |
CLASS 22: MARTIN COLLINS – GRAND PRIX – 1.60m
| | | |
| --- | --- | --- |
| PLACE | RIDER | HORSE |
| 1st | Jamie Winning-Kermond | Tulara Stolensky |
| 2nd | Billy Raymont | Caprino |
| 3rd | Jess Pateman | Celso |
| 4th | Sarah McMillan | Tyrone VDL |
| 5th | Josh Collins | Cornel |
| 6th | Emma Collins | Cordelia Ego Z |
GDP ARENA 2
CLASS 24: FEEDHOUSE – CHILDREN'S CHAMPIONSHIP – 1.10m
| | | |
| --- | --- | --- |
| PLACE | RIDER | HORSE |
| 1st | Amelia Tsilfidis | Pride Of Gold |
| 2nd | Zara Adnams | Nicolette |
| 3rd | Olivia Curtain | That's Limo |
| 4th | Zara Adnams | Tally Ho Primrose |
| 5th | Lucy Borrack | Mighty Tosca |
| 6th | Darby Beadel | Jaybee Tarak |
CLASS 25: HOMES AND ACREAGE – AMATEUR CHAMPIONSHIP – 1.20m
| | | |
| --- | --- | --- |
| PLACE | RIDER | HORSE |
| 1st | Andrew Long | St James Palace |
| 2nd | Andrew Long | Hidden Option |
| 3rd | Robyn Todd | Rodeo Drive LC |
| 4th | Imogen Tutton | Ramirus |
| 5th | Ellen Trigger | Woodleigh Lizst |
| 6th | Ken Weir | BP Jedak Du Rouet |
CLASS 26: STRATHMERTONDRILLING FOXHUNTER FINAL – 1.05m
| | | |
| --- | --- | --- |
| PLACE | RIDER | HORSE |
| 1st | Angela Dobbin | Little Miss Trouble |
| 2nd | Brooke Hickey | KS Snapchat |
| 3rd | Hannah Doolan | Embrook Stables Charlie |
| 4th | Jack Barker | Tulara karash |
| 5th | Simone Tanis | Somerwaters Elite |
| 6th | Shannon Kelly | Starwatch R |
Results sourced from online.equipe.com
View Comments