Anthony Thomas and SL Donato – 2020 SA State Champions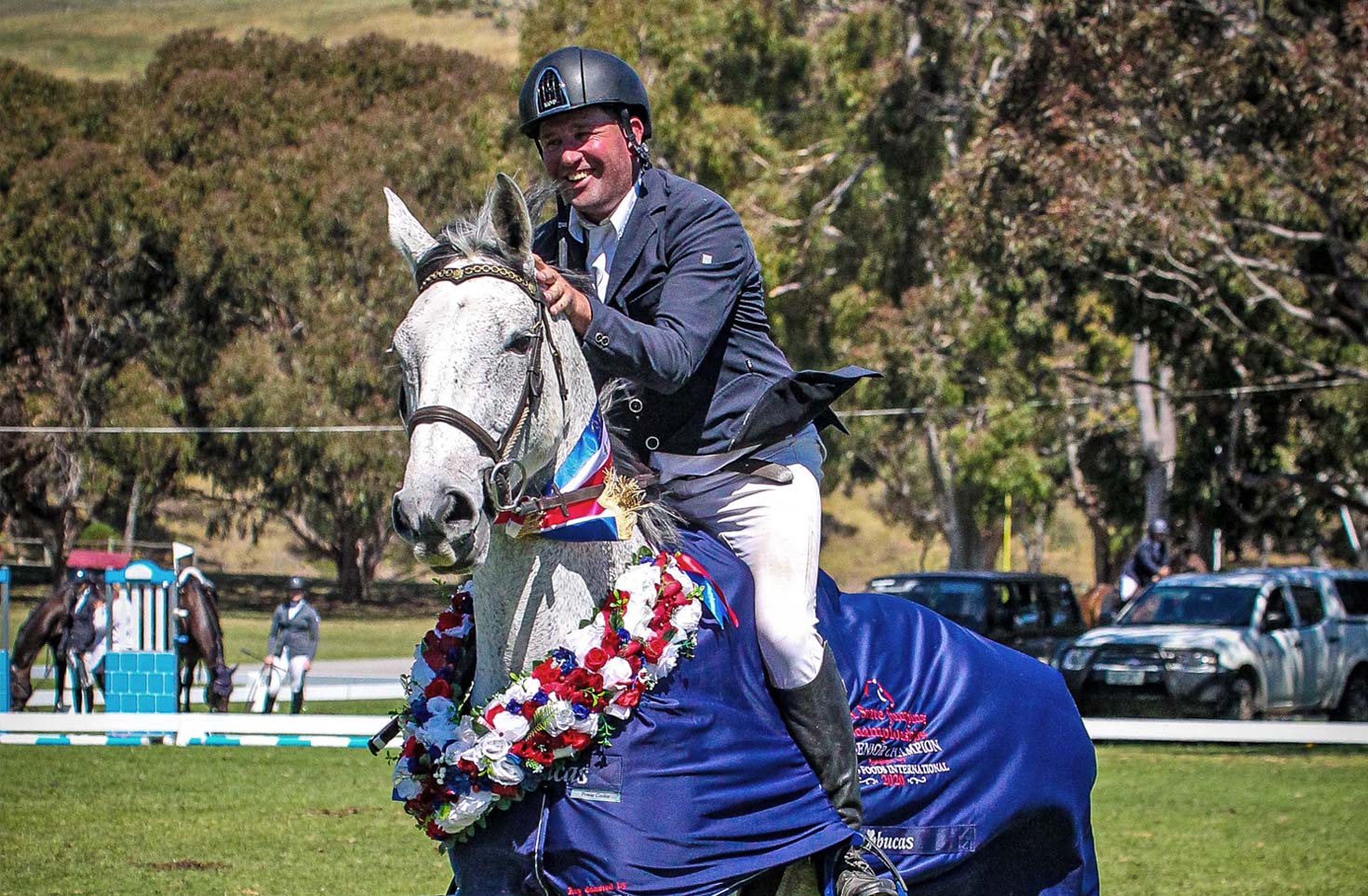 Manning Photography
Above: Anthony Thomas and SL Donato. Photo Credit: Manning Photography.
Held at the beautiful Wirrina Cove, the same location that Adelaide Hills Showjumping Club had their inaugural show a few weeks ago. The Thomas Foods International South Australian State Titles were a fantastic event held under beautiful blue Adelaide skies.
Advertisement


In particular, it was a great weekend for Anthony Thomas and SL Donato (previously ridden by Clint Beresford), winning both the John Bruggerman Grand Prix on Saturday and the SA Senior State Championship (ahead of last year's Champions Kristy Bruhn and Jack) yesterday and coming second in the 1.30m on Friday behind Susie Verco and Captivate.
Conor Reed and Leopoldo MVNZ took out the Young Rider Championship and Regan O'Brien and Billara Woodbine the Junior Title (also taking out the Junior GP on Saturday).
The Senior State Speed Championship was taken out by Ashleigh Westcott with Con Brio and the Junior Speed Championships by Alexandra Morris and Starlight Dazzle Razzle.
The Thoroughbred Sports Horse Association (TSHA) sponsored a number of classes at these championships which were once again very popular. The best performed Thoroughbred in Arena 2 – Racing SA was won by Sophie Vears and MV King.
We congratulate the organisers for getting this event up and running after it was cancelled earlier in the year as a result of COVID.
Advertisement

Congratulations to all the winners and placegetters over the weekend.  See below for all available results.
FRIDAY RESULTS
DAPPLE EQ ARENA 1
CLASS 1: Jumping SA – Open – 1.05m
The first five placings in this class were:
| | | |
| --- | --- | --- |
| PLACE | RIDER | HORSE |
| 1st | Sarah Willoughby | Sunday Best |
| 2nd | Kristy Bruhn | Blackall Park Koraleigh |
| 3rd | Wendy Schaeffer-Macdonald | Mayfield Be Brazen |
| 4th | Regan O'Brien | Billara Woodbine |
| 5th | Brooke Spencer | Lunar Rhythm |
CLASS 2: Little Equine Co. – Open – 1.15m
The first five placings in this class were:
| | | |
| --- | --- | --- |
| PLACE | RIDER | HORSE |
| 1st | Ashleigh Westcott | Con Brio |
| 2nd | Conor Reed | Dollar Girl MS |
| 3rd | Kristy Bruhn | James' Bentley |
| 4th | Wendy Schaeffer-Macdonald | Sparkling Sun |
| 5th | Gabrielle Thomas | Gothenburg |
CLASS 3: Frankie & Co Branding – Open – 1.25m
The first five placings in this class were:
| | | |
| --- | --- | --- |
| PLACE | RIDER | HORSE |
| 1st | Conor Reed | Clasique Dorien |
| 2nd | Mark Lindh | Caboom |
| 3rd | Ashleigh Westcott | Land Of The Free |
| 4th | Troy Woollard | Centago |
| 5th | Kate Crauford | Oaks Cairo |
CLASS 4: Piccadilly Vineyards – Open – 1.30m
The first four placings in this class were:
| | | |
| --- | --- | --- |
| PLACE | RIDER | HORSE |
| 1st | Susie Verco | Captivate |
| 2nd | Anthony Thomas | SL Donato |
| 3rd | Mark Lindh | Six Pack |
| 4th | Kurt Siviour | Gringo |
ARENA 2
CLASS 16: Open – 0.80m
The first five placings in this class were:
| | | |
| --- | --- | --- |
| PLACE | RIDER | HORSE |
| 1st | Ruby Vears | Ward Room |
| 2nd | Trudi Day | Riverside Pebbles |
| 3rd | Ella Manning | Rivington Little Bird |
| 4th | Lauren Bolzon | Glenormiston Buchail |
| 5th | Emma Crowder | Valeurs |
CLASS 17: Open – 0.90m
The first five placings in this class were:
| | | |
| --- | --- | --- |
| PLACE | RIDER | HORSE |
| 1st | Millicent Quigley-Smith | E.A.B.S Moretti |
| 2nd | Sophie Vears | MV King |
| 3rd | Nat Robinson | Sharben Park Warrago |
| 4th | Kate Schlichting | Bacchus |
| 5th | Georgia Cheesman | Oratario's Pride |
CLASS 18: Open – 1.00m
The first five placings in this class were:
| | | |
| --- | --- | --- |
| PLACE | RIDER | HORSE |
| 1st | Kristy Bruhn | Cash Splash |
| 2nd | Emma McCrae | Krackers |
| 3rd | Jaimie Stichel | Minx GHP |
| 4th | Trudi Day | Riverside My Mugatea |
| 5th | Wendy Schaeffer-Macdonald | Leonardos Puzzle |
CLASS 19: Open – 1.10m
Results not available
SATURDAY RESULTS
DAPPLE EQ ARENA 1
CLASS 6: Physiokey Equine – Open – 1.10m
The first five placings in this class were:
| | | |
| --- | --- | --- |
| PLACE | RIDER | HORSE |
| 1st | Kristy Bruhn | Blackall Park Koraleigh |
| 2nd | Carla Cerchi | Tyranosaurus Rex |
| 3rd | Adam Beckel | MEC Armarni |
| 4th | Alexandra Morris | Starlight Dazzle Razzle |
| 5th | Rachelle Verma | Gizella |
CLASS 7: Hanns Horse Transport – Open – 1.20m
The first five placings in this class were:
| | | |
| --- | --- | --- |
| PLACE | RIDER | HORSE |
| 1st | Conor Reed | Leopoldo MVNZ |
| 2nd | Carla Cerchi | Tyranosaurus Rex |
| 3rd | Mark Lindh | Caboom |
| 4th | Michelle Clark | Worlds Apart |
| 5th | Adam Beckel | MEC Armarni |
CLASS 8: Thomas Foods International – John Bruggemann Grand Prix – 1.35m-1.40m
Garland Sponsor: Jaimee Bruggemann. Rug Sponsor: Adelaide Hills Equestrian
The first four placings in this class were:
| | | |
| --- | --- | --- |
| PLACE | RIDER | HORSE |
| 1st | Anthony Thomas | SL Donato |
| 2nd | Susie Verco | Captivate |
| 3rd | Adam Crouch | Oaks Pindari |
| 4th | Kristy Bruhn | Jack |
CLASS 9: Mrs Rae Brice – "Monalita" Junior Grand Prix – 1.15m-1.20m
The first five placings in this class were:
| | | |
| --- | --- | --- |
| PLACE | RIDER | HORSE |
| 1st | Regan OBrien | Billara Woodbine |
| 2nd | Abigail Lewis | MEC Gossip |
| 3rd | Lauren Bolzon | Madagascar |
| 4th | Sophia Craddock | Sandon Grove Bobby Royal |
| 5th | Harry Beckel | Partyrocker |
CLASS 10: McDonald Dunlop – SA State Speed Championship – 1.20m
The first five placings in this class were:
| | | |
| --- | --- | --- |
| PLACE | RIDER | HORSE |
| 1st | Ashleigh Westcott | Con Brio |
| 2nd | Conor Reed | Dollar Girl MS |
| 3rd | Sarah Willoughby | Sunday Best |
| 4th | Troy Woollard | Centago |
| 5th | Sarah Willoughby | Mister Rochester |
CLASS 5: Morphettville Equine Clinic – Junior Speed Championship – 1.10m
The first five placings in this class were:
| | | |
| --- | --- | --- |
| PLACE | RIDER | HORSE |
| 1st | Alexandra Morris | Starlight Dazzle Razzle |
| 2nd | Sophia Craddock | Sandon Grove Bobby Royal |
| 3rd | Abigail Lewis | MEC Gossip |
| 4th | Hannah Conlon | Metal Edge |
| 5th | Hannah Conlon | Emma Peel GNZ |
ARENA 2
CLASS 20.1: Open – 0.80m
The first five placings in this class were:
| | | |
| --- | --- | --- |
| PLACE | RIDER | HORSE |
| 1st | Ruby Vears | Ward Room |
| 2nd | Sasha Crawford | What A Gem |
| 3rd | Elizabeth Hayman | Statford Diamonte |
| 4th | Natasha Price | Ralph |
| 5th | Kirsty Baldock | Boston |
CLASS 20.2: Thomson & Redwood – Junior Series – 0.80m
The first five placings in this class were:
| | | |
| --- | --- | --- |
| PLACE | RIDER | HORSE |
| 1st | Ella Manning | Wychwoood |
| 2nd | Lingling Yuan | Belhaven Jtaime |
| 3rd | Ella Manning | NM Leopold |
| 4th | Ella Manning | Rivington Little Bird |
| 5th | Alexia Datsopoulos | Oxlea Oscar |
CLASS 20.3: Thoroughbred Sport Horse Association – 0.80m
The first four placings in this class were:
| | | |
| --- | --- | --- |
| PLACE | RIDER | HORSE |
| 1st | Sophie Vears | MV King |
| 2nd | Trudi Day | Riverside Pebbles |
| 3rd | Elizabeth Bartel | O'Fennessy |
| 4th | Renata Rix | Arkenstone |
CLASS 21.1: Open – 0.90m
The first five placings in this class were:
| | | |
| --- | --- | --- |
| PLACE | RIDER | HORSE |
| 1st | Tamara Bakker | Kingsbrook Victory |
| 2nd | Ella Manning | Wychwoood |
| 3rd | Nat Robinson | Sharben Park Warrago |
| 4th | Jill Ramsey | Statford Nori |
| 5th | Ella Manning | NM Leopold |
CLASS 21.2: Thoroughbred Sport Horse Association – 0.90m
The first five placings in this class were:
| | | |
| --- | --- | --- |
| PLACE | RIDER | HORSE |
| 1st | Sophie Vears | MV King |
| 2nd | Zara Young | Captain Lightning Bolt |
| 3rd | Georgia Cheesman | Oratario's Pride |
| 4th | Chelsea Clarke | Horseshoe Bay |
| 5th | Tess Gerhardy | Just Bob |
CLASS 22.1: Open – 1.00m
The first five placings in this class were:
| | | |
| --- | --- | --- |
| PLACE | RIDER | HORSE |
| 1st | Ashleigh Rigney | Rifling |
| 2nd | Savannah Drake | Ice Breaker |
| 3rd | Katherine Maitland | Wimborne Confession |
| 4th | Millicent Quigley-Smith | E.A.B.S Moretti |
| 5th | Sophie Compton | Desert Dusk |
CLASS 22.2: Thoroughbred Sport Horse Association – 1.00m
The first five placings in this class were:
| | | |
| --- | --- | --- |
| PLACE | RIDER | HORSE |
| 1st | Kristy Bruhn | Cash Splash |
| 2nd | Susie Verco | Gargamel |
| 3rd | Georgia Cheesman | Oratario's Pride |
| 4th | Zara Young | Captain Lightning Bolt |
| 5th | Sarah Willoughby | Sunday Best |
CLASS 23.1: Strathalbyn SJ Club – Open – 1.10m
The first five placings in this class were:
| | | |
| --- | --- | --- |
| PLACE | RIDER | HORSE |
| 1st | Brooke Spencer | Lunar Rhythm |
| 2nd | Sophie Compton | Desert Dusk |
| 3rd | Kaitlin Smith | Classico |
| 4th | Emma McCrae | Krackers |
| 5th | Charlie Germein | Warrego Dinozzo |
CLASS 23.2: Thoroughbred Sport Horse Association – 1.10m
The first five placings in this class were:
| | | |
| --- | --- | --- |
| PLACE | RIDER | HORSE |
| 1st | Jasmin Dawe | Turn It Up |
| 2nd | Sarah Willoughby | Mister Rochester |
| 3rd | Kristy Bruhn | Cash Splash |
| 4th | Trudi Day | Riverside My Mugatea |
| 5th | Susie Verco | Gargamel |
SUNDAY RESULTS
DAPPLE EQ ARENA 1
CLASS 11: Toucan Finance – Open – 1.15m
The first five placings in this class were:
| | | |
| --- | --- | --- |
| PLACE | RIDER | HORSE |
| 1st | Ashleigh Westcott | Con Brio |
| 2nd | Wendy Schaeffer-Macdonald | Sparkling Sun |
| 3rd | Adam Beckel | MEC Armarni |
| 4th | Mark Lindh | Suete Deerne |
| 5th | Conor Reed | Caveton Park Legacy |
CLASS 12: Evolution Animal Care – Mini Prix – 1.25m-1.35m
The first five placings in this class were:
| | | |
| --- | --- | --- |
| PLACE | RIDER | HORSE |
| 1st | Kristy Bruhn | James' Bentley |
| 2nd | Lara Pizimolas | JEP Frapant |
| 3rd | Megan Jones | Guhr |
| 4th | Ashleigh Westcott | Land Of The Free |
| 5th | Wendy Schaeffer-Macdonald | Gitta Bella |
CLASS 13: Dapple EQ – SA Young Rider Championship – 1.30m-1.35m
The first three placings in this class were:
| | | |
| --- | --- | --- |
| PLACE | RIDER | HORSE |
| 1st | Conor Reed | Leopoldo MVNZ |
| 2nd | Troy Woollard | Centago |
| 3rd | Kate Crauford | Oaks Cairo |
CLASS 14: Thomas Foods International and Evolution Animal Care – SA Senior Championship – 1.40m-1.50m
The first six placings in this class were:
| | | |
| --- | --- | --- |
| PLACE | RIDER | HORSE |
| 1st | Anthony Thomas | SL Donato |
| 2nd | Kristy Bruhn | Jack |
| 3rd | Mark Lindh | Six Pack |
| 4th | Susie Verco | Captivate |
| 5th | Michelle Clark | Ulouve B Z |
| 6th | Adam Crouch | Oaks Pindari |
CLASS 15: Thomas Foods International – SA Junior Championship – 1.20m
The first six placings in this class were:
| | | |
| --- | --- | --- |
| PLACE | RIDER | HORSE |
| 1st | Regan O'Brien | Billara Woodbine |
| 2nd | Gabrielle Thomas | Gothenburg |
| 3rd | Harry Beckel | Partyrocker |
| 4th | Hannah Conlon | Emma Peel GNZ |
| 5th | Sophia Craddock | Sandon Grove Bobby Royal |
| 6th | Lauren Bolzon | Madagascar |
ARENA 2
CLASS 24: Hanns Horse Transport – Open – 0.85m
The first five placings in this class were:
| | | |
| --- | --- | --- |
| PLACE | RIDER | HORSE |
| 1st | Tamara Bakker | Kingsbrook Victory |
| 2nd | Ruby Vears | Ward Room |
| 3rd | Ella Manning | NM Leopold |
| 4th | Chelsea Clarke | Horseshoe Bay |
| 5th | Elizabeth Hayman | Statford Diamonte |
CLASS 25: Mallala Show Jumping Club – Open – 0.95m
The first five placings in this class were:
| | | |
| --- | --- | --- |
| PLACE | RIDER | HORSE |
| 1st | Sophie Vears | MV King |
| 2nd | Ashleigh Rigney | Rifling |
| 3rd | Lingling Yuan | Belhaven Jtaime |
| 4th | Ella Manning | NM Leopold |
| 5th | Zara Young | Captain Lightning Bolt |
CLASS 26: Dapple EQ – Open – 1.04m
The first five placings in this class were:
| | | |
| --- | --- | --- |
| PLACE | RIDER | HORSE |
| 1st | Brooke Spencer | Lunar Rhythm |
| 2nd | Ashleigh Rigney | Rifling |
| 3rd | Emma McCrae | Krackers |
| 4th | Lilly McBain | Renown Mr Truman |
| 5th | Savannah Drake | Ice Breaker |
CLASS 27: Evolution Animal Care – Open – 1.15m
The first four placings in this class were:
| | | |
| --- | --- | --- |
| PLACE | RIDER | HORSE |
| 1st | Wendy Schaeffer-Macdonald | Sun Quest |
| 2nd | Luke Jones | Spirit |
| 3rd | Trudi Day | Riverside My Mugatea |
| 4th | Brooke Spencer | Lunar Rhythm |
Results sourced from South Australian State Jumping Championships Facebook Page
View Comments