Australian State Team Champions declared at Aus Champs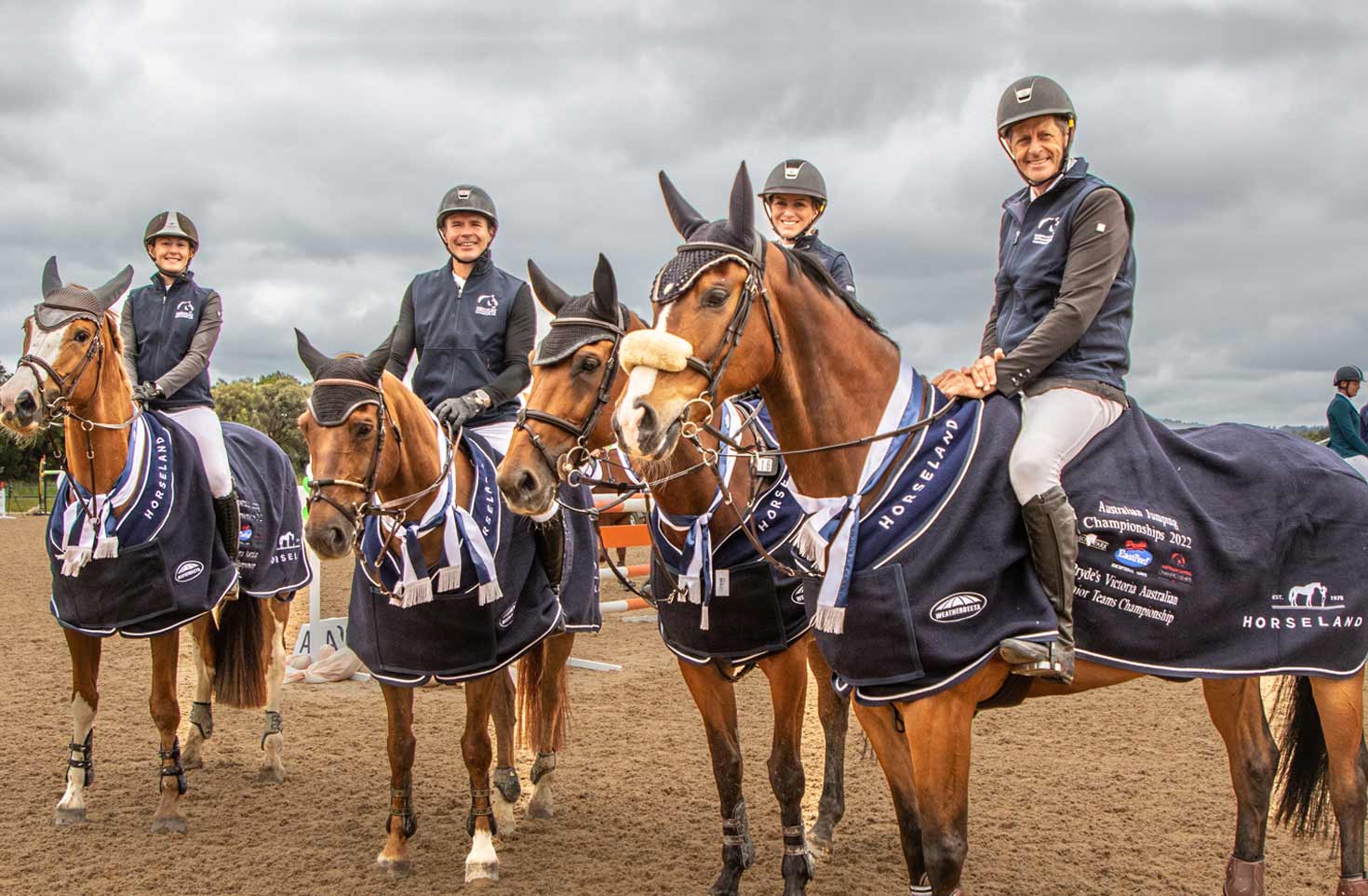 Australian Jumping
The team competitions at the Pryde's EasiFeed Australian Jumping championships have been decided today – see all the details below:
YOUNG RIDER TEAMS CHALLENGE
Held in Conjunction with the Racing Hearts Australian Young Rider Championship, the Victorian team has won the Young Rider teams competition from Queensland, NSW and Western Australia.
Victoria were clear winners, finishing on a total of 5 points, adding just 4 penalties today to their overnight score of 1. Victoria were the only team to record two clear rounds today, namely Tilley Fair with Oaks Constantino and Kendall Richards with Bonita Aurelia.
The battle for second and third was very close. Queensland started the day on zero, however 16 penalties today took them to a total of 16. NSW started on 6, but only added 12 today to finish on 18. Fourth place went to team WA, who despite only starting today with 4, added a further 18, without the benefit of a drop-score.
Advertisement


The placings and team members are listed below:
FIRST – VICTORIA (5 points)
Tilley Fair and Oaks Constantino
Hayden Parker and Tulara Spangenberg
Conor Reed and Leopoldo MVNZ
Kendall Richards and Bonita Aurelia
SECOND – QUEENSLAND (16 points)
Fuschia Criss and Dual Diamond
Chris Holland and Elsa
Chase Naylor and Misty Blue Ego Z
Cody Tincknell and Screwdriver
THIRD – NSW (18 points)
Bella Du Plessis and Monte Carlo MVNZ
Clemency Hughes and Diamond B Corvina
Jess Rice-Ward and Dinero
Sally Simmonds and Oaks Kingfisher
FOURTH – WESTERN AUSTRALIA (22 points)
Georgia Bouzaid and Vitess
Paris Castledine and Finch Farm Spruce
Saachi Travers and Kareenyas Gypsy Belle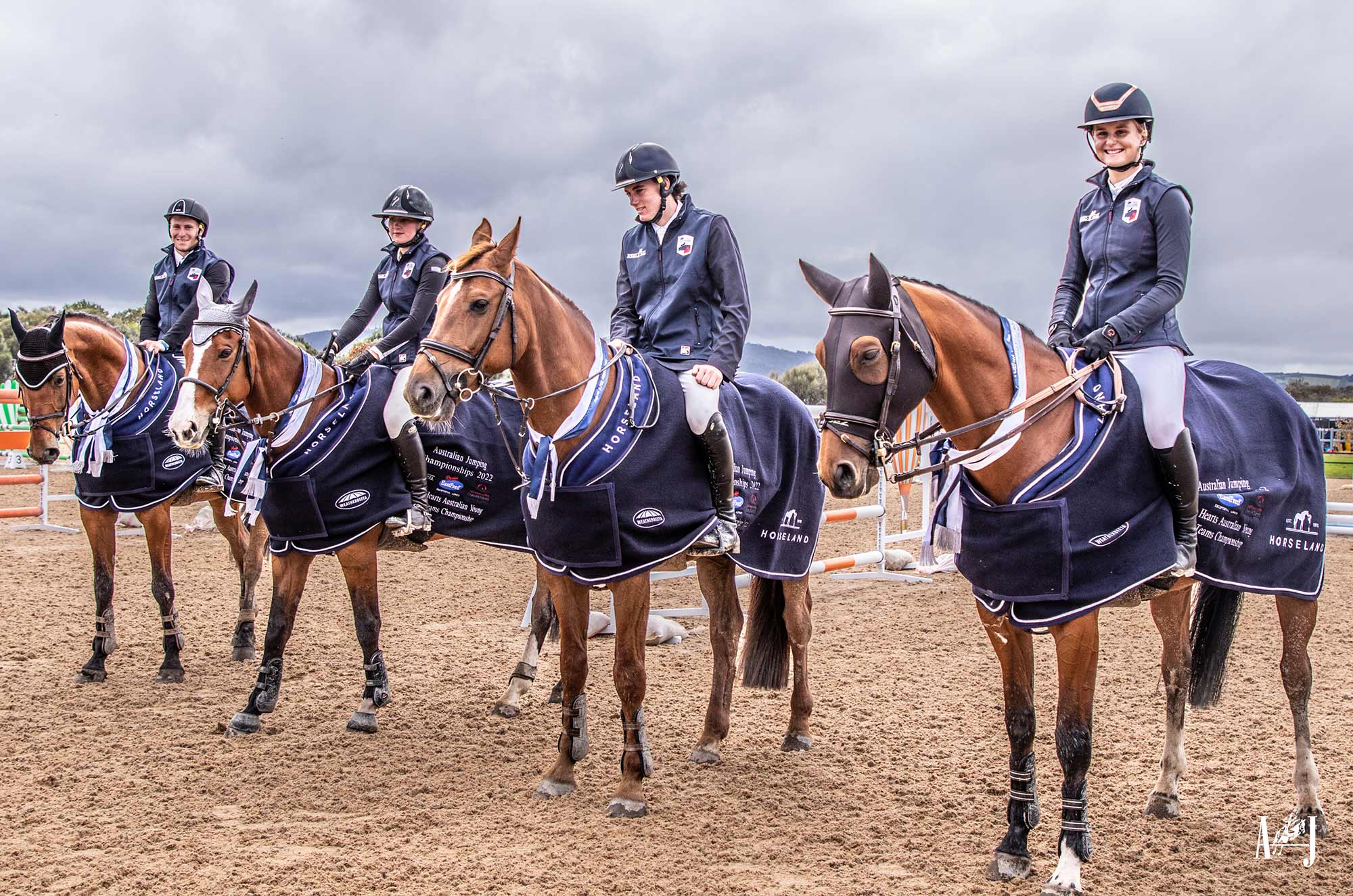 SENIOR TEAMS CHALLENGE
For the second year in a row, the Queensland Senior Team have won the Teams Challenge at the Australian Jumping Championships. Run in conjunction with the Pryde's EasiFeed Australian Senior Championship, Queensland came into today's class carrying 4 penalties, however a pair of clear rounds today helped them to only accrue a total of 8. The NSW Team started the day on zero penalties, but unfortunately for them, all four combinations incurred penalties and after their highest score was discarded, their total finished on 12 and second place. Victoria started the day carrying 10 penalties and had a total of 5 rails added to place them in third on 30 points. Congratulations to the Queensland team.
Advertisement


The placings and team members are listed below:
FIRST – QUEENSLAND (8 points)
Mattea Davidson and Checkamour D
Olivia Hamood and Jane Fonda DVD
Sam Overton and Oaks Cassanova
Clem Smith and Oaks Conjuror
SECOND – NEW SOUTH WALES (12 points)
Josh Collins and Cornel
Amber Fuller and Nopal Van Tallaert
Tom McDermott and Elegance De La Charmille
Amanda Madigan and Diamond B Vivienne
THIRD – VICTORIA (30 points)
Brook Dobbin and Gina MVNZ
Russell Johnstone and Daprice
Ally Lamb and Eagle Rock
Andrew Lamb and Denison Park Spartava

JUNIOR TEAM CHALLENGE
After a great performance yesterday where three of their team members finished in the top four places, Team NSW started the day on zero penalties, however, an unfortunate elimination and five rails down today gave them a total of 20 for the competition and they had to settle for third place.
Both Queensland and Victoria started the day tied on a score of seven and with both teams taking a pair of rails each today, they finished tied for the lead with a score of 15. A countback was carried out and when total times of the riders today were taken into account, Queensland were declared the winners, with Victoria relegated to second place. Congratulations goes to Queensland for adding this title to the Senior Teams title they won earlier in the day.
The placings and team members are listed below:
FIRST – QUEENSLAND (15 points)
Olivia Hewitt-Toms and Celerity Park LM Star
Hannah Overton and Chironic Dominant Visage
Simone Sorensen and Viva Blue
Cody Tincknell and Barabadeen Sir Lancelot
SECOND – VICTORIA (15 points)
Jack Barker and Tulara Colchic
Cecelia Clements and Southern Stars Ferrari
Tilley Fair and Bella Bonita
Elissa Stephens and Da Vince
THIRD – NEW SOUTH WALES (20 points)
Ella Hayward and Edena DP
Charlie Magnier and Quinn Z
Jett Newman and Wanda
Charly Robinson-Smith and Martango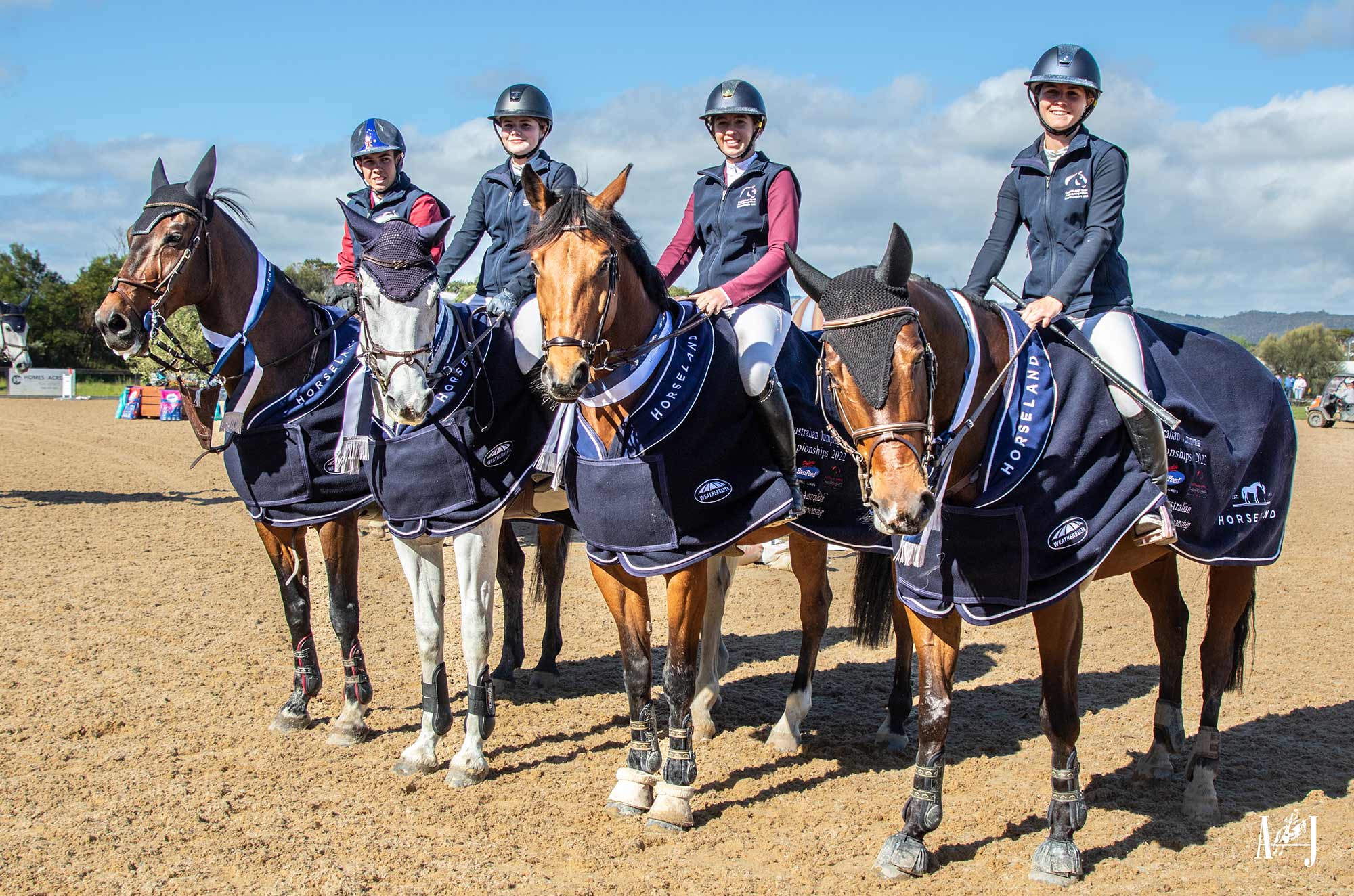 View Comments